Are you looking for delicious vegetarian and vegan food in Asheville, NC? As locals, don't miss these fantastic vegetarian and vegan restaurants in Asheville for dine-in and takeout.
Is Asheville, NC vegan friendly? You bet!
With a plethora of vegan and vegetarian restaurants, a vegan festival, and even a vegan discount card, you can grab the best vegan and vegetarian food in Asheville.
In fact, one of the reasons that we moved to Asheville included the eclectic food scene. It's no secret that I have IBD/Ulcerative colitis and my husband has Celiac disease.
Needless to say, we aren't the easiest people to feed. Food can make us severely ill.
Luckily for us, Asheville is a diverse haven for food preferences, intolerances, and allergies — and of course, trying something new. It's incredibly easy to find vegetarian and vegan restaurants in Asheville.
While there are restaurants dedicated to serving only vegetarian or vegan food, menus at many establishments are well-labeled with vegan, veggie, and gluten-free options.
Chefs won't growl at you or take offense if you need dietary accommodations, either. Your servers won't think you are being picky or on a fad diet. Asheville gets it.
While we are not a vegan or vegetarian household, we do eat at a lot of vegan restaurants in Asheville. We also have many vegan friends here.
So, where can you eat delicious vegan and vegetarian food in Asheville? What are the best Asheville vegetarian and vegan restaurants?
Keep reading to taste test your way through the Asheville vegan foodie scene. Please keep in mind that there are a ton of restaurants in AVL serving vegan and veggie options; we are only picking a few. Let's get started!
Read More: Explore all of Asheville's Fabulous Restaurant Scene
This post may contain affiliate links for products and services we recommend. If you make a purchase through these links, at no additional cost to you, we will earn a small commission. Read the full disclosure here.
25 Best Vegetarian And Vegan Restaurants In Asheville
Dedicated Vegan Restaurants In Asheville
*Please always double-check hours and procedures. Some restaurants are only offering takeout at this time.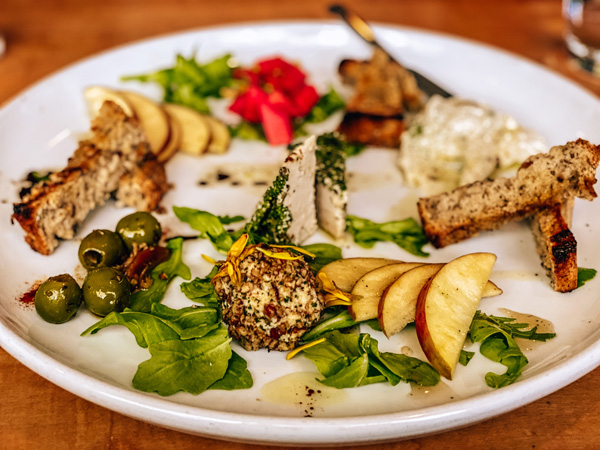 The absolute best vegan restaurant in Asheville, Plant is a must. Plant is food. Everything at Plant is vegan, and we live for their cheese plate. Find full meals, small plates, appetizers, and delicious cocktails.

Plant is located at 165 Merrimon Avenue, Asheville, NC 28801. We highly suggest calling to make advanced reservations at (828) 258-7500.
We also consider Plant the best fine dining restaurant in AVL for all things vegan.
Looking for cold-pressed juices and raw and vegan food in Asheville? Head to Pulp & Sprout for vegan yogurt, cheesecake, and smoothies. Plus, beets.
Elements Real Food is located at 233 S Liberty St, Asheville, NC 28801.
**Updates for 2021: The Sunflower Diner in the West Village Market & Deli (WVM) announced its closing in July 2021. You can still purchase gluten-free and vegan and veggie treats at the WVM.
Never Miss Another Asheville Update
Are you tired of generic Asheville travel itineraries? Do you want to experience the magic of Asheville like a local?
Grab our free Asheville Favorites checklist today, including restaurants, breweries, and hiking. Plus, get local updates straight to your inbox. Sign up here.
Vegetarian Restaurants In Asheville With Vegan Options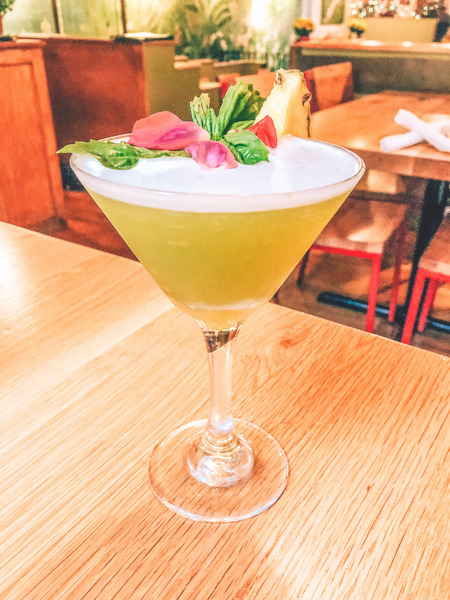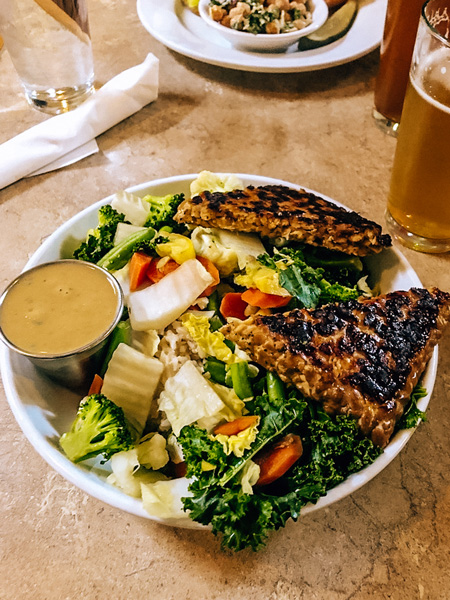 For vegetarian food with gluten-free and vegan options in the heart of downtown Asheville, Laughing Seed is one of our favorites. Think tempeh 'Reuben' and a noodle-less lasagna.
We celebrated Valentine's Day here, and their cocktails are equally fabulous. Laughing Seed is located at 40 Wall St, Asheville, NC 28801.
Where can you get vegan soul food in Asheville? Rosetta's upstairs cafe promises a cozy setting overlooking downtown with sharable vegan plates, sandwiches, soups, salads, and entrees.
The menu also labels gluten, soy, nuts, and alliums.

The downstairs Buchi Bar serves up wines, beers, local mead and ciders, homemade sodas, and Buchi Kombucha. Rosetta's Kitchen is located at 116 N Lexington Ave, Asheville, NC 28801.
Restaurants With Vegan & Vegetarian Food Options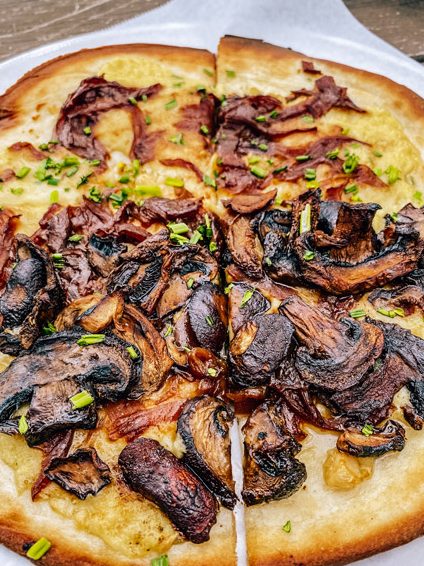 Located in West Asheville, UpCountry surprised us with their gluten-free pizza crust and Darë Vegan Cheese for their pizzas.
They have a veggie pizza option, and we highly recommend the Mixed Mushroom pizza with vegan cheese. UpCountry Brewing's address is 1042 Haywood Road, Asheville, NC 28806. They also have a Brevard location.
Craving vegan pizza in Asheville? Asheville Pizza and Brewing offers vegan cheese as well as gluten-free crust — and it's delicious. They don't have a ton of other vegan and veggie options but go for the pizza.
Asheville Brewing is also one of the best family-friendly restaurants in AVL.

Asheville Brewing has multiple locations at 675 Merrimon Ave (North), 77 Coxe Avenue (Downtown), and 1850 Hendersonville Road Suite A (South).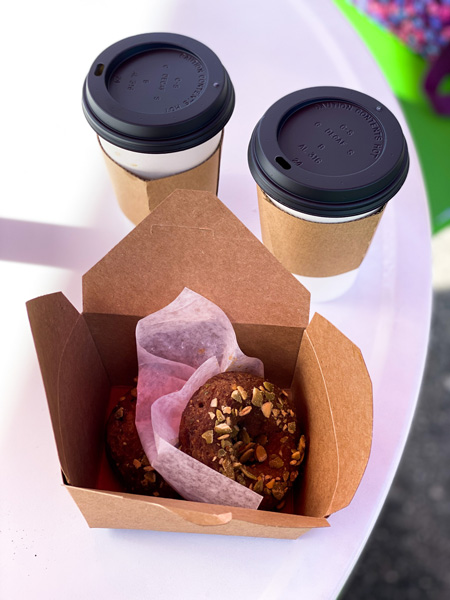 A dedicated gluten-free bakery and cafe, BimBeriBon is perfect for a vegan breakfast in Asheville.
BimBeriBon serves up vegan and gluten-free donuts, vegan nachos and bowls, and even vegan egg sandwiches.
They are only open from Fridays to Sundays and are located at 697 Haywood Rd, Asheville, NC 28806.
Green Sage is all about pure food. We love their bowls and smoothies. Perfect for breakfast, brunch, or lunch, they label their menus for gluten-sensitive, vegan, and organic eaters.
Green Sage has multiple Asheville locations at 5 Broadway St. (Downtown), 633 Merrimon Ave., Suite A (North), 1800 Hendersonville Rd. (South), and 70 Westgate Pky. (Westgate).
Don't miss more great lunch spots in Asheville.
All of the Asheville sushi restaurants offer vegan and veggie options. Most notable, Zen Sushi in North Asheville labels their menus, too, with vegetarian, raw, and gluten-free options.
Zen, The Maddess AVL, and Green Tea are our go-to spots for fairly priced and delicious sushi.

Zen is located at 640 Merrimon Ave, Asheville, NC 28804. The Hop Ice Cream — also on this list — is located in the same plaza.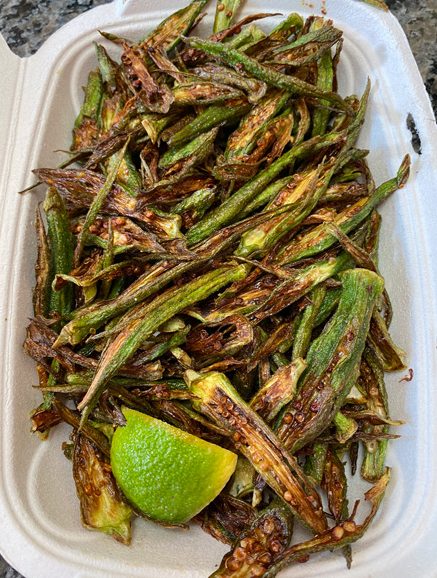 Award-winning Indian street food is where it's at. Did you know that 'Chai Pani' colloquially translates to grabbing tea and a snack?
Their menu marks vegan, vegetarian, and gluten-sensitive. Two words: Okra fries. Chai Pani is located at 22 Battery Park Ave, Asheville, NC 28801.
We also love Biryani Express and Mela for the best Indian food in Asheville.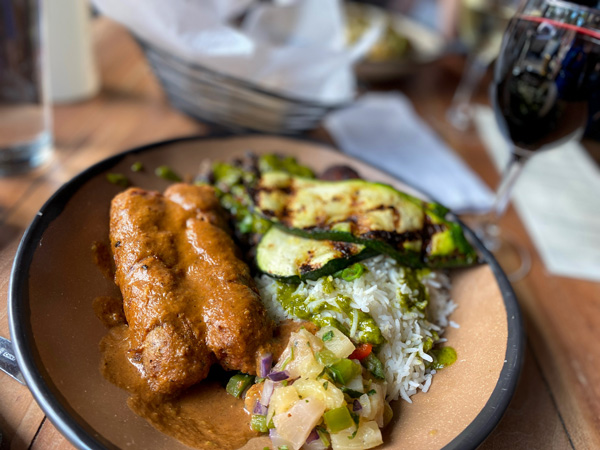 Nine Mile is a Caribbean-inspired, vegetarian-friendly restaurant with a well-labeled intolerance and allergy menu.
I'm not going to lie: I ate here while recovering from a bout of, no joke, pancreatitis. Caused by an allergic reaction to medicine & not my love of booze…
Go to the original Historic Montford location at 233 Montford Ave, Asheville, NC 28804. You can also find Nine Mile at 751 Haywood Rd. (West) and Biltmore Park Town Square, near Luella's BBQ (South).
Poke bowls with tofu substitutions? Yes, please! Build your own poke bowl or burrito at Yum Poke Spot.
Yum labels their menus with raw, gluten-free, and spicy. They provide endless fruit and veggie toppings. Yum Poke Spot is located in downtown Asheville at 45 Asheland Avenue Unit 101, Asheville, NC 28801.
Zia Taqueria is one of the best taco joints in Asheville with vegan options. They serve up a delicious cashew cream sauce as well as a vegan burrito bowl topped with cauliflower, veggies, and vegan protein selections.
Sit outside on their huge patio or dine inside. Don't forget to order a margarita — one of the best in town.
Zia Taqueria is located in West Asheville at 521 Haywood Rd, Asheville, NC 28806, and they have their own parking lot. If the lot is full, park next door at the church with the Park Mobile app.
We have two favorite Thai places in town, Suwana's and Thai Pearl. Thai Pearl in West Asheville is also gluten-free, vegan, and veggie-friendly.
Although not labeled on the menu, you can find vegan and vegetarian rice and noodle dishes at Suwana's, which is located in the heart of Downtown Asheville.
You can also request or ask about gluten-free items. Suwana's is located at 11 Broadway St, Asheville, NC 28801. We order a lot of takeout from here.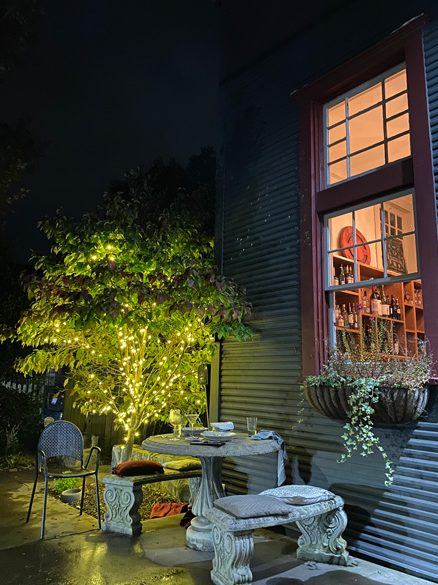 Looking for Italian with vegan and vegetarian options in Asheville? Along with Plant, my other favorite restaurant for special nights out is Chiesa.

Italian is a little harder for me, but if they aren't slammed, the chef will make food accommodations and modifications.
They also label gluten-free, vegan, and vegetarian options on their menu. Chiesa is located at 152 Montford Ave, Asheville, NC 28801.
Although not the best spot for vegans in Asheville, if you are craving Southern BBQ, Luella's offers a BBQ tempeh option.
Luella's has two Asheville locations: 501 Merrimon Avenue (North) & 33 Town Square Blvd., Biltmore Park (South).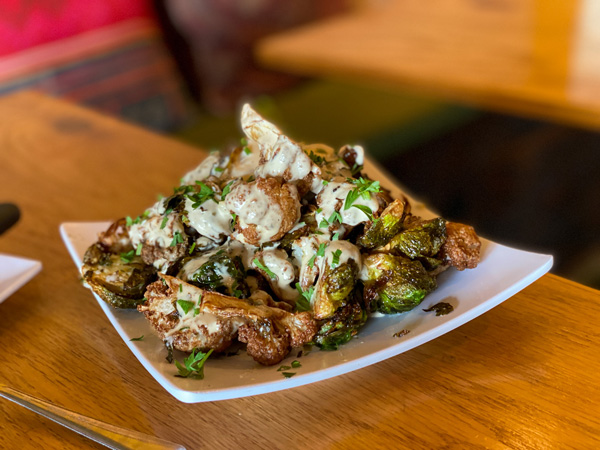 For Lebanese-inspired cuisine and a menu that labels gluten-free, vegetarian, and vegan food in Asheville, try Gypsy Queen Cuisine (GQC).
Think wraps, falafels, and fried Brussels sprouts with cauliflower. Gypsy Queen is located at 807 Patton Avenue, Asheville, NC 28806.
GQC is one of our favorite West Asheville restaurants.
Farm Burger has tons of restaurants throughout the South. For vegan burgers in Asheville, our friends love Farm Burger.
They also have gluten-free bread and keto-friendly options. Farm Burger is located at 10 Patton Ave. (Downtown) and 1831 Hendersonville Rd. (South Asheville).
Eating Vegetarian Or Vegan In Asheville? Save This Post For Later
Vegetarian & Vegan Asheville Food Trucks
Seen at Asheville breweries like Ginger's Revenge, Catawba, and Archetype Brewing, The Trashy Vegan is another go-to for vegan burgers as well as grilled cheese and loaded tater tots.
They also offer gluten-free bread. Don't miss their rotating schedule with times and locations on Instagram.
Looking for another food truck with vegan food in Asheville? Root Down now has a permanent location at Salvage Station as well as a roaming food truck.
Their menu changes, but think vegan sausage, bites, and sandwich options. Find them here.
Where To Get Vegan Desserts In Asheville
When we heard that we could order vegan hot chocolate and truffles in Asheville, we *ran* to French Broad Chocolate Lounge. The Chocolate Lounge is located at 10 South Pack Square, Asheville NC 28801.
Asheville has even more fantastic spots for coffee with vegan milk options — Izzy's is great.
Looking for more vegan desserts in Asheville? We love the vegan ice cream at The Hop Ice Cream Cafe. In the fall, you can get a plop of vegan ice cream on top of hot apple cider.

Their North location at 640 Merrimon Ave. is near two other vegan restaurants on this list: Zen Sushi & Green Sage (North). Their West location is 721 Haywood Rd.
Handmade, vegan Asheville doughnuts? Yesssss… Not all of their products are vegan, but they'll let you know. Vortex is located at 32 Banks Ave #106, Asheville, NC 28801.
Don't miss all of Asheville's Sugary Donuts Spots.
Restaurants That Accommodate Vegetarian & Vegan (And Gluten-Free) Requests
Most of the Asheville restaurants will find a way to accommodate vegan and vegetarian requests when possible along with food intolerances and allergies. A few notable ones: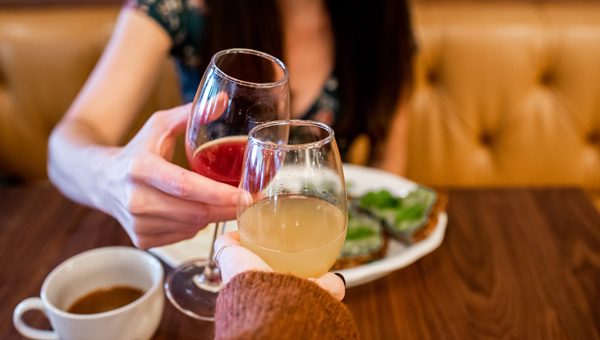 Tupelo is a downtown Asheville tourist hotspot because it's yum! They offer breakfast all day, delicious cocktails, and locally sourced Southern cuisine.
You can navigate greens and bowls and ask for modifications. Same for those gf folks.
Tupelo has two AVL locations at 12 College St. (Downtown) and 1829 Hendersonville Rd. (Downtown).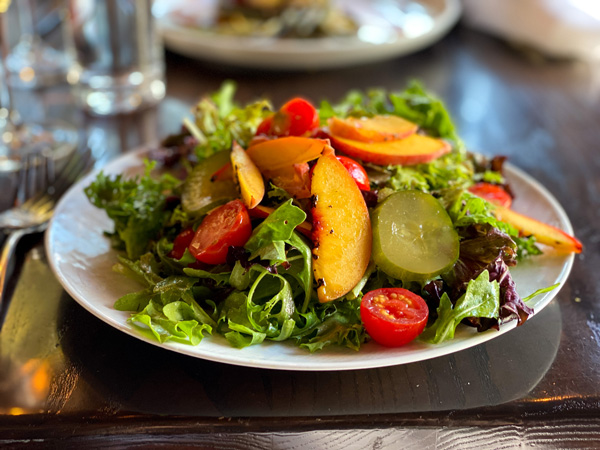 We met with friends the evening we announced our big Asheville move years ago. Notably, Posana's has a dedicated gluten-free kitchen and you can make vegan and veggie (and food intolerances) substitutions.

Posana's is a fancier downtown restaurant. You can find Posana at 1 Biltmore Ave, Asheville, NC 28801, and French Broad Chocolate Lounge is across the street.
Find even more gluten-free restaurants across Asheville.
More Vegan Asheville Fun & Resources
Veg Discount Card
Don't forget to check out The Asheville Vegan Society and purchase your Veg Discount Card. As of 2021, cards are only $15.00 and good for one year. Grab discounts at many — but not all — of the vegetarian and vegan restaurants in Asheville on this list.
Asheville VeganFest
Did you know that every year, Asheville hosts a vegan festival? Don't miss the Asheville VeganFest, filled with vendors serving up vegan food and beer and lifestyle products. Find public speakers and so much more.
Darë Vegan Cheese
Newer to the Asheville vegan scene, Darë Vegan Cheese is the best. You can find their artisan and aged vegan products at farmer's markets, Grata Pizzeria, South Slope Cheese Co., French Broad Food Co-Op, and West Village Market and Deli — to name a few.
Save These Asheville Vegetarian & Vegan Restaurants For Later
Are you ready to fill up on delicious vegetarian and vegan food in Asheville?
Where do you love to go for vegan in Asheville? What about vegetarian cuisine? Let us know your favorite Asheville vegan and vegetarian restaurants in the comments.
See our Top Places To Stay in Asheville.

Don't miss out on these Asheville properties on Booking.com, too.
Still Hungry? Head This Way:
Our Guide To AVL Food and Booze
Best Asheville Restaurants According To Locals
Where To Order AVL Takeout and Delivery
Gluten-free Asheville
Find Food By Cuisine:
Top Thai Food Restaurants In Asheville
Best Sushi Restaurants In Asheville
Restaurants Serving Up Delicious Indian Cuisine
Famous Asheville BBQ

Don't miss our best things to do in Asheville, too→