Are you looking for some of the best wineries in Asheville, NC? As locals, we'll share our favorite Asheville wineries, go-to AVL wine bars, and the top wineries near Asheville, including the Hendersonville wineries.
It's no secret that we are from CT and love the CT wine trail. Then, we moved to Florida where citrus wines and the muscadine grape ruled.
We've also wine tasted all over the world with some of our favorites being the Sicilian, French, and Portuguese vineyards.
With that said, North Carolina produces quite a few delicious wines. Who knew? I prefer deep and spicy reds and an oaked Chardonnay, smooth Chenin Blanc, or Gewürztraminer.
---
This post may contain affiliate links for products and services I recommend. If you make a purchase through these links, at no additional cost to you, I will earn a small commission. Read the full disclosure here.
---
Like Florida, the muscadine grape is also popular in North Carolina — but not always for me. You'll even catch The NC Muscadine Grape Association.
I did a grape and wine tasting with them this year — and you can pick muscadine grapes at some of the vineyards. Did you know that you could make pies with muscadines?
So, if you are headed to Western North Carolina, what are some of the top wineries near Asheville, NC that you can visit?
Are there even any Asheville wineries and wine bars in the sea of foamy beer? Plus, are the wineries in Asheville any good?
We have quite a few favorite vineyards as Asheville locals, including the Hendersonville wineries like Burntshirt, Point Lookout, and St. Paul. Don't skip the Asheville wineries like plēb and, of course, Biltmore Winery.
We'll tell you all about the best vineyards near Asheville, what to expect, what to drink, and so much more. Let's get started!
Need to soak up all of that NC wine? Don't miss The Best Asheville Restaurants.
See our Top Places To Stay in Asheville.

Don't miss out on these Asheville properties on Booking.com, too→
Best Asheville Wineries
Let's start with the wineries in Asheville, NC. There aren't a lot, but they are definitely worth a visit.
Biltmore Winery
Biltmore Estate is famous as the largest home in the United States. We've attended multiple sponsored wine tours at Biltmore, and I can honestly say that I love all that they have to offer for wine lovers. You can easily spend a full day on the Estate.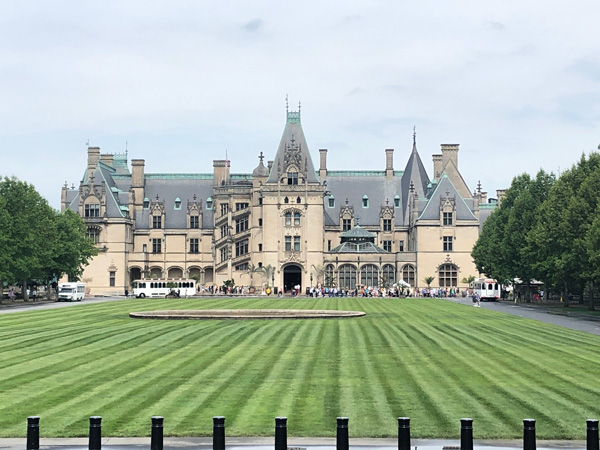 Biltmore visitors must pay for a full-priced ticket to access the winery, even if you aren't planning on visiting the house. Tickets are $60+, and they include touring the home, having access to all of the grounds, trails, and restaurants, and a free wine tasting.
We are annual passholders mostly for the 22-miles of hiking trails and winery (wine discounts!). See all the things that you can do at Biltmore here→
P.S. Biltmore's Winery is fairly young, and in 1985, the winery took over Biltmore's former dairy space. Fun fact: As you walk through the tunnel to the tasting room and wine store, that's where they used to transport the cow manure. I love this little tidbit of information because the tunnel is gorgeously lit at Christmas. You'd just never know…
---
---
Biltmore Wine Tours
You can learn more about Biltmore wines on their Behind The Scenes Winery Tour — where you also taste their premium wines and see how champagne is made. With a small group, enjoy a private wine tasting separate from the public tasting area. I loved this tour, which is $10.
A second (sponsored) Biltmore wine tour that we've enjoyed even though we are lactose-intolerant includes the Red Wine and Chocolate Tour. For $35 a person, you receive a small tour and then head to Biltmore's clock and bell tower for the tasting. The chocolates come from the infamous French Broad Chocolates — another Asheville must.
Know that their blue foil wines are local NC grapes, and the black labels are only sold on the property.
Biltmore Wine
Biltmore has endless varieties of wine. For whites, we like the Chardonnay, Chenin Blanc, and Gewurztraminer. For reds, the Syrah, Cabernet Sauvignon, and Barbera are delicious. They also have Rosé, sparkling wine, and seasonal wines with gorgeous labels — just to name a few.
Biltmore Location
For Asheville wineries, Biltmore is both iconic and at the center of it all. The address for Biltmore is 1 Lodge St, Asheville, NC 28803. They can be reached at 800.411.3812.
Plan on drinking all of the wine? You can also stay overnight at The Village Hotel on Biltmore Estate or The Inn On Biltmore Estate.
---
---
plēb urban winery
For more wineries in Asheville, check out plēb urban winery located in the River Arts District (RAD). One of the best Asheville wineries for space and ambiance, your eyes and taste buds will love you.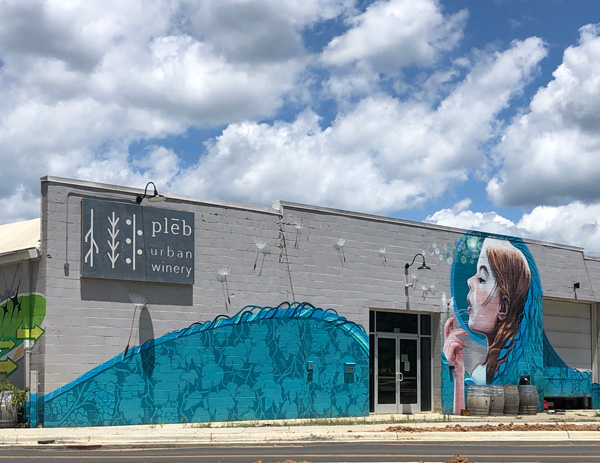 Plēb outsources grapes from local farms, and they create small-batch tapped and canned wines. They practice minimal intervention winemaking with little to no alterations to the grape, juice, or wine. You have to have a taste or appreciation for wines in cans, though. It's just different.
I highly recommend ordering a wine flight as you sit at a wine barrel high-top in an urban-esque garage filled with beautiful murals. Outside you'll find more urban art, a skate park, and Wedge Brewing. You can explore artists' studios and shops around this area and take a stroll along the French Broad River.
plēb urban winery Wines
At plēb, visitors will find the usual reds and whites along with blends, a Chambourcin, a sparkling Riesling, and a Grüner Veltliner. You can also order a wine flight. For Asheville wineries, I'd say they truly have the most unique wine flavors.
plēb urban winery Location
plēb urban winery is located at 89 Lyman Street in Asheville, NC. They can be reached at 828-774-5062.
---
---
Little Switzerland Orchard & Winery
One of our bucket list wineries in Asheville includes Little Switzerland Orchard & Winery. They offer small batch ciders, wines, and meads.
Little Switzerland Orchard & Winery is located at 405 Elk Park Drive, Asheville, North Carolina 28804.
---
---
Wine Bars In Asheville, NC
Although technically not official Asheville wineries, Asheville does have a few wine bars:
5 Walnut Wine Bar – Located in downtown Asheville, find an eclectic list of wines in a cute rustic and pastel bar.

Bottle Riot – Situated in the River Arts District, enter a cozy wine bar with food.

Leo's House Of Thirst – Brand new to AVL, our friends headed here for a fancy dinner and sizable wine list.

Battery Park Book Exchange – A champagne bar in a used bookstore? Yes, please. I cannot tell a lie: Battery Park Book Exchange is part of the reason we moved to Asheville. Explore a massive wine list, and they have literary cocktails.
(Sadly, both the Rustic Grape and Sante Wine Bar closed in 2020)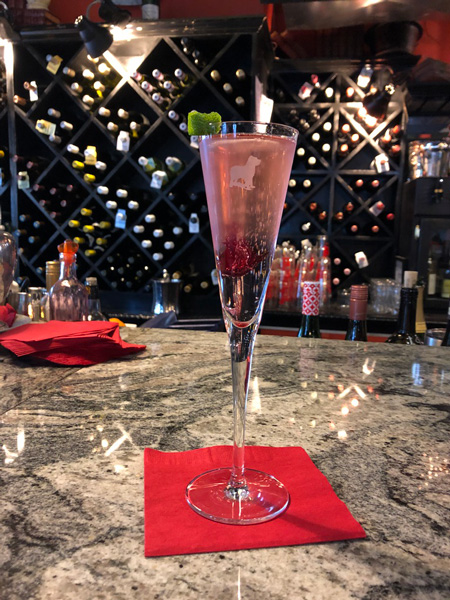 ---
Where Can You Stay Near The Asheville Wineries & Wine Bars?
Aloft – Downtown Asheville – If you are looking to stay in downtown Asheville, the Aloft hotel is newly renovated as of 2020. Vibrant local murals, updated rooms, and hipster public areas greet visitors. They host live music, have a sexy new bar, and the patio space overlooks bustling downtown AVL, amazing for people-watching. Did I mention there is a rooftop pool overlooking the mountains?
Hampton Inn And Suites Asheville Biltmore Area  – Although this hotel is on busy Brevard Road – NC-191 – across from the Asheville Outlets, it's one of our favorites before moving to Asheville. Clean, updated, and in the middle of everything, you can access downtown, Biltmore, and the Blue Ridge Parkway fairly quickly. Plus, you can grab a quick breakfast with tons of food options nearby if you want a hiking lunch for the road.
See our Top Places To Stay in Asheville.

Don't miss out on these Asheville properties on Booking.com, too→
---
Want the full boozy tour? Be sure to check out these Asheville Distilleries, too.
---
Delicious Wineries Near Asheville, NC
For Asheville wineries and wine bars literally in the city, the above are our favorite picks. If you want to drive a little farther out, below are some of the top recommended wineries near Asheville, NC.
Marked Tree Vineyard
Marked Tree Vineyard is a brand new 2020 winery near Asheville located in Flat Rock, NC. We headed here on a foggy night and fell in love with the spooky ambiance.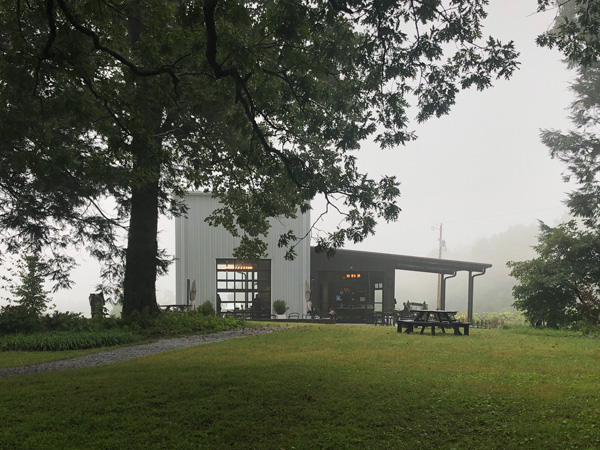 Picture dense but romantic fog encircling a modern winery with gorgeous vineyard views. Sliding and windowed 'garage' doors on every other wall open up to the grapes.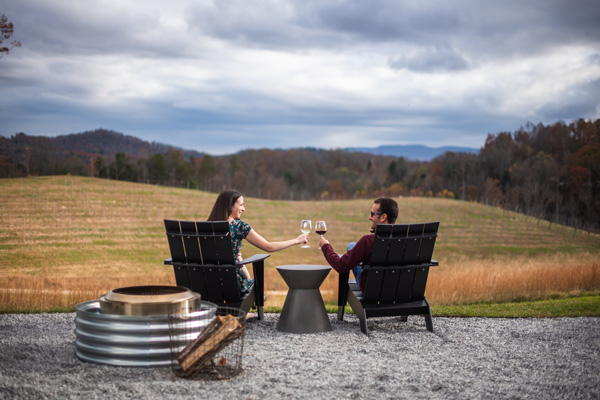 There are numerous outdoor seating areas around the winery — picnic tables, Adirondack chairs, and cafe tables — and you'll even spot a few ancient fireplaces throughout the property.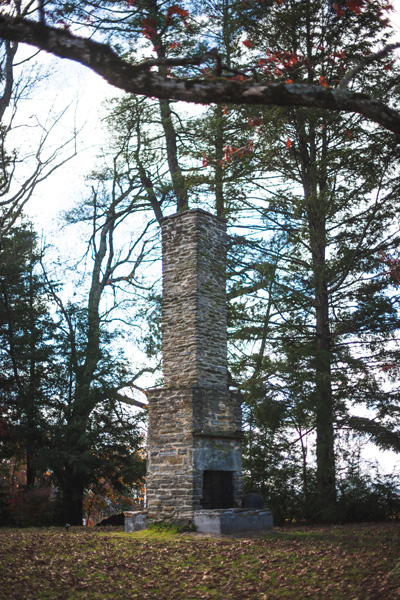 Back in the day, people believed that ghosts settled in the fireplaces. When someone tore down a house, the fireplace remained.
Out of the wineries near Asheville, most unique to Marked Tree Vineyard is their gorgeous wine bottle labels filled with sketches of trees, owls, and their dogs. They host special wine club events along with yoga and forest bathing. Their sweet furry family members wander the property.
Marked Tree Vineyard Wines
Their Chardonel is almost like a Moscato play on a Chardonnay, and you'll find a Cab Franc and Rosé, too. You can also take a wine tour.
We did a wine tasting here for $15 each/5 wines along with light snacks — smoked trout with gluten-free crackers, anyone? — and I preferred their Watershed while Tom enjoyed the Petit Verdot.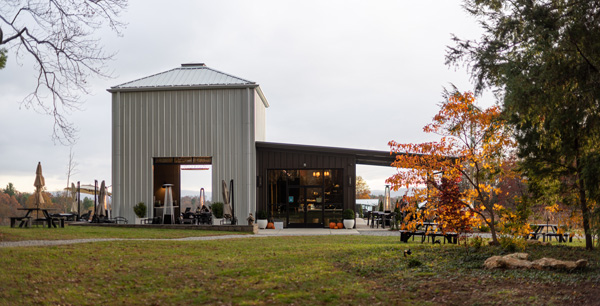 Marked Tree Vineyard Flat Rock Location
Marked Tree Vineyard is located at 623 Deep Gap Road Flat Rock, NC 28731. They can be reached at 828-513-3773.
Marked Tree Vineyard Asheville Location
Marked Tree opened a new wine tasting room in Asheville, The Grape, at the end of 2020:
14 Aston Street
Asheville, NC 28801
---
Need to fill your stomach up while taste testing all the booze? Don't miss these Delicious Places To Eat In Asheville, NC.
---
Hendersonville Wineries
Did you know that Hendersonville is not only famous for its apple orchards and cideries but also for its wine? The wineries in Hendersonville host some of our favorite vineyards near Asheville, NC and are less than a 45-minute drive away.
The Hendersonville wineries are also pretty close to each other. I recommend either having a designated driver or staying nearby and Uber'ing to see them all.
In the fall, we like to visit an apple orchard, head to Burntshirt for a glass or two of wine, and order GrubHub delivery from Joey's NY Bagels for lunch.
---
---
Burntshirt Vineyards
We are wine club members at Burtnshirt Vineyards, and we love their Hendersonville and Chimney Rock locations.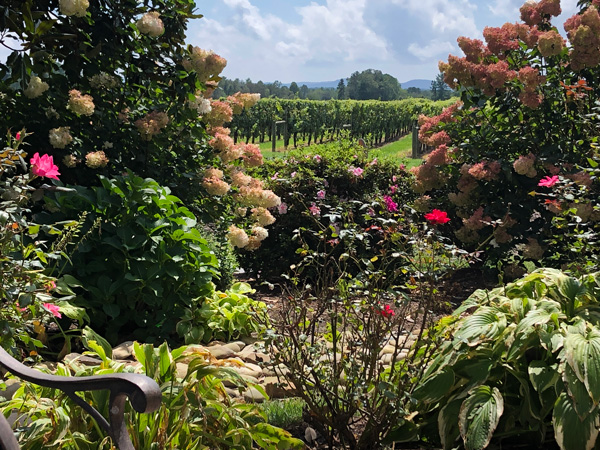 Named one of the best wineries in North Carolina, both Burntshirt locations are stunning. I love their French and American Chardonnay. In the fall and winter, they offer seasonal wines and spiced Glühwein. Don't miss their Rock Bottom Red at the Chimney Rock location.
Burtnshirt has a patio overlooking the vineyards, a weeping angel fountain (let me know in the comments if you get this reference), and a firepit.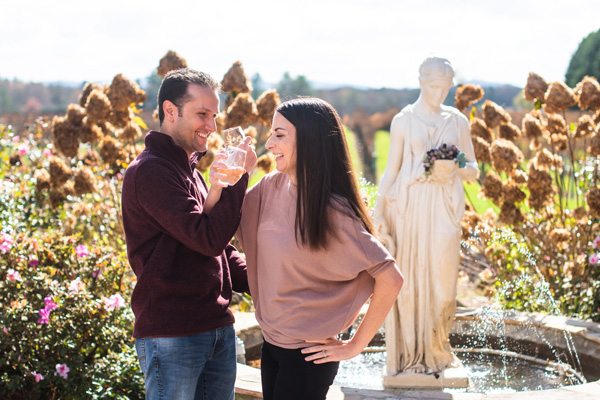 Did I mention that Burntshirt Vineyards adorns their trees with hanging wine bottles? Plus, they have a nifty little gift shop and offer wine tours. We own all sorts of fun things from Burntshirt that aren't just wine: wind chimes, terracotta watering cones, a cat face mask…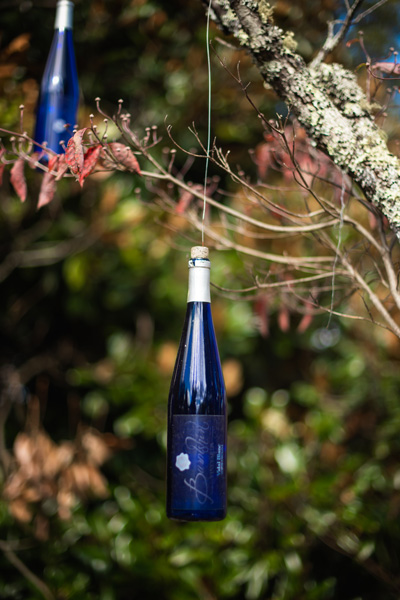 Burntshirt Vineyards Wines
We've done two wine tastings at Burntshirt Vineyards, and it's $10 for 7 wines and the glass. A few wines at Burntshirt include Merlot, Cabernet Sauvignon and Franc, Vidal Blanc, Apple Wine, and a Villa Rosa.
Burntshirt Vineyards Locations
The Hendersonville Burntshirt location is 2695 Sugarloaf Rd, Hendersonville, NC 28792, and they can be reached at 828-685-2402.
Burntshirt's Chimney Rock location is 438 Main St, Chimney Rock, NC 28720, and their phone number is 828-436-2490.
Saint Paul Mountain Vineyards/Saint Paul Mountain Farms
One of the first wineries near Asheville that we visited before moving here, Saint Paul Mountain Farms is incredibly cozy with delicious wines.
They have three locations with a vineyard in Hendersonville (which we will talk about here), a cidery, and a Flat Rock location.
Saint Paul Mountain Vineyards has an inviting stone fireplace and an open-air patio. Last year, we found ourselves sipping homemade stew from crockpots after enjoying a wine tasting.
Outside of the Asheville wineries, these guys have some of Tom's favorite wine.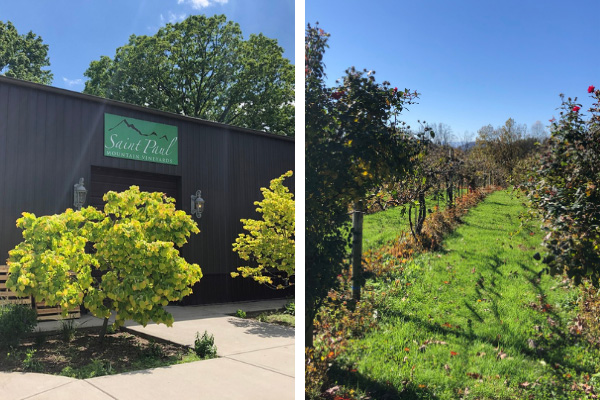 Saint Paul Mountain Vineyards Wines
St. Paul offers a variety of reds, whites, and ciders. Their go-to red is the Chestnut Gap, and they have a series of Rieslings and Chardonnays that I enjoy along with a Petit Verdot and Merlot.
Saint Paul Mountain Vineyards Location
St. Paul Mountain Vineyards is located at 588 Chestnut Gap Rd, Hendersonville NC, 28792. They can be reached at 828-685-4002.
Point Lookout Vineyards
If you are looking for one of the best wineries near Asheville with views, check out Point Lookout Vineyards. They boast of 30-mile panoramic views of the gorgeous mountains.
We did a wine tasting here while enjoying dinner from their food truck. Explore multiple rooms, including an area with massive windows and fireplaces overlooking WNC. Point Lookout Vineyards is also popular for live music and weddings.
Point Lookout Vineyards Wines
Point Lookout, like the other Hendersonville wineries, has Riesling, Chardonnay, Merlot, Cab, and a Petit Verdot. They also make a few eclectic blends.
Point Lookout Vineyards Location
Point Lookout is located at 408 Appleola Road in Hendersonville, NC. Their phone number is 828-808-8923.
A Few More Wineries Near Asheville, NC On Our Bucket List
Addison Farms Vineyard – A fourth-generation family farm, Addison creates small-batch, fine wines, including a Cabernet Franc, Petit Verdot, Sangiovese, and Petit Manseng.

Silver Fork Winery – Located in Morganton, NC, Silver Fork offers a rustic tasting room and outdoor patio.
Stone Ashe Vineyards – Another Hendersonville winery with vineyard views, Stone Ashe Vineyards specializes in Bordeaux-based grape varieties. Find Merlot, Sauvignon Blanc, Cabernet Franc Rosé, Chardonnay, and Riesling.
Where can you stay if touring the wineries near Hendersonville & Flat Rock?
1898 Waverly Inn Bed and Breakfast — While house hunting, we stayed at this sweet B&B. We loved their social happy hour and friendly hosts. You can walk into downtown Hendersonville, NC from here.
The Charleston Inn — If The Waverly is booked, these guys are right next door and look equally awesome.
What are your favorite Asheville wineries? Have you visited any of the wineries near Asheville and across WNC?
We'd love to know about your favorite wineries in Asheville. Which ones have you visited? What are your favorite wines? Have you officially toured the Asheville wineries or just dropped in for a tasting or glass?

North Carolina has a delicious wine trail. While we did not include all of the vineyards in Asheville, if you think we missed something big or loved a different winery more, let us know in the comments.
If You Love Booze & Food, You May Also Enjoy:
Food & Drink In Asheville
Best Asheville Restaurants For Foodies
Best Breweries In Asheville, NC
Breweries In Brevard For After Waterfall Chasing
Delicious Asheville Distilleries For Cocktails & Spirits
Looking For More To Do? Head Here Next:
Fun Things To Do In And Around Hendersonville, NC
Our Ultimate List Of Everything To Do In Asheville
Where To Stay In AVL