14 Gorgeous Fall Hikes Near Asheville For Top Foliage
Discover the best fall hikes near Asheville, NC for gorgeous fall foliage in the North Carolina mountains. These are easy-to-moderate trails.
Asheville in the fall is one of our favorite times to hit the trails. The temperatures grow cooler, and the Blue Ridge Mountains light up with gorgeous fall foliage.
We love hopping on the winding, two-lane Blue Ridge Parkway, chasing waterfalls, and stopping for photos at scenic overlooks.
Not to mention those short and long as well as easy-to-moderate hiking trails boasting panoramic views of the North Carolina Mountains.
So, whether you are a local or visitor, what are the best fall hikes in Asheville – and the Asheville area – for top fall foliage? Which ones are great for the family and Fido?
As residents, keep reading to discover our top Asheville fall hikes. Learn what to expect, when to go with our fall color forecast, and what else is nearby.
With quick access to the Pisgah National Forest, Appalachian Trail, Great Smoky Mountains National Park, BRP, and Grandfather Mountain, we have plenty of suggestions. Let's get started.
This post may contain affiliate links that earn us a commission at no extra cost to you. If you love these guides, support Uncorked Asheville here.
Our Top Three Picks For Fall Hikes (Asheville Area)
While there are plenty of beautiful fall foliage hikes near Asheville, for length, fall colors, distance, and the best things to do nearby, these are our top picks:
Black Balsam & Art Loeb Trail – BRP & moderate 2-mile out and back; early October
Craggy Gardens – BRP hike with a scenic drive; around 2 miles & great for picnics; early to mid-October
The NC Arboretum – Low-key in South Asheville with gardens as well as hiking, biking, and nature trails; nearby Bent Creek Experimental Forest & Lake Powhatan access; late October
14 Best Fall Hikes Near Asheville
Be sure to plan your visit against our WNC Mountain Fall Foliage Forecast. See the best times and places by elevation to catch the gorgeous changing leaves around Asheville.
1. Graveyard Fields & Loop
One of the most popular Blue Ridge Parkway hikes in the fall, Graveyard Fields and Loop is one of the first places to see peak fall foliage in Western North Carolina. This is a moderate, 3-mile+, out-and-back hike with waterfalls.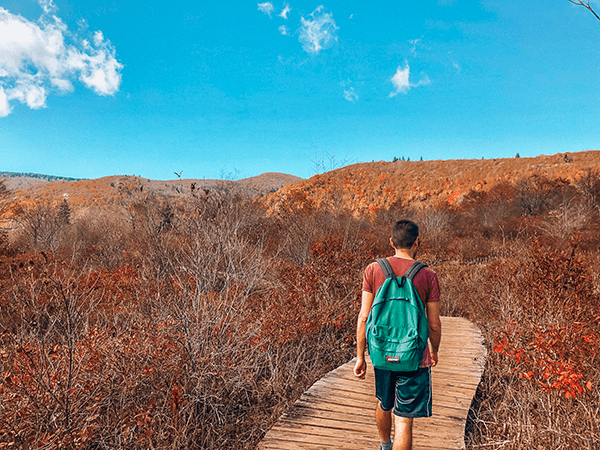 Located on the Blue Ridge Parkway past the Mount Pisgah area, Graveyard Fields is one hour+ from Asheville.
This is one of the best fall hikes near Asheville for vibrant colors. Head here around the last week of September into early October and expect an incredibly scenic drive along the changing BRP.
The multiple hiking trails boast two unique, rocky waterfalls: Upper and Lower (Second) Falls.
Lower Falls is about .4 miles from the trailhead when you take a right after the footbridge. Loop back to hit the actual Graveyard Loop.
Be forewarned, heading to Upper Falls can be confusing. The hike is about 3 miles round trip. Encounter slippery rocks and streams. After rain, expect mud.
For stunning Asheville fall hikes, spy Black Balsam Knob. Parts of the trail intersect with the Mountains-To-Sea Trail. There are other trails around Graveyard Loop, including Graveyard Ridge Trail.
Graveyard Fields Address
Address: Graveyard Fields, Canton, NC 28716
Graveyard Fields is at Milepost 418.8 south of Asheville. The tiny parking lot fills up quickly. You will also find basic restroom facilities here.
2. Black Balsam Via The Art Loeb or Sam Knob Trails
One of our top hikes every year, we love following the section of the Art Loeb Trail that passes through Black Balsam Knob and Sam Knob. This is one of the best places – and highest elevations – to catch fall foliage peaking in early October. Black Balsam Knob is about a 2-mile, out-and-back hike.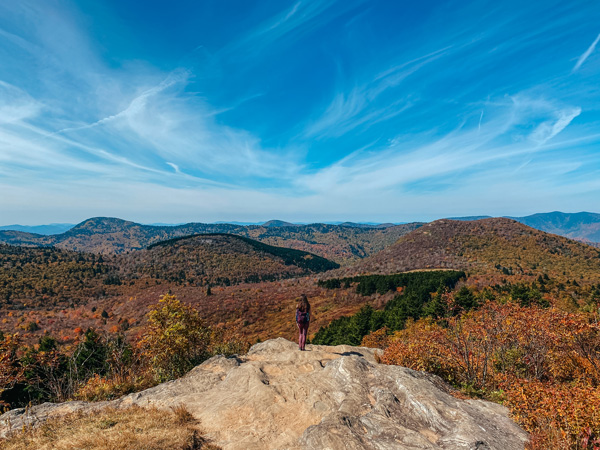 Another one of the best Asheville hikes in the fall, the Black Balsam and Art Loeb Trail is about one hour from Asheville.
From the parking lot, the hike to Black Balsam Knob is about 2 miles as an out and back. However, we like to dip over to Sam Knob. Others continue along the Art Loeb Trail to Tennent Mountain.
Black Balsam is a moderately short, family-friendly hike. We see school groups here quite frequently. Navigate over rocks, and encounter a 400-foot elevation gain.
Many also bring their pets, although smaller dogs may struggle with the rocky parts.
Black Balsam Address
Address: Black Balsam Knob Rd, Canton, NC 28716
Black Balsam is located at Milepost 420 on the Blue Ridge Parkway. There are numerous lots and parking areas around multiple access points and trailheads. The main lot has basic pit toilets.
3. Mount Pisgah Trail
Many people love to stay at the Mount Pisgah Inn and hike around the Mount Pisgah area. As one of the most popular hikes in Asheville in the fall, hike the Mount Pisgah Trail in early October. This is a moderate, 2.6-mile out-and-back trail with panoramic views.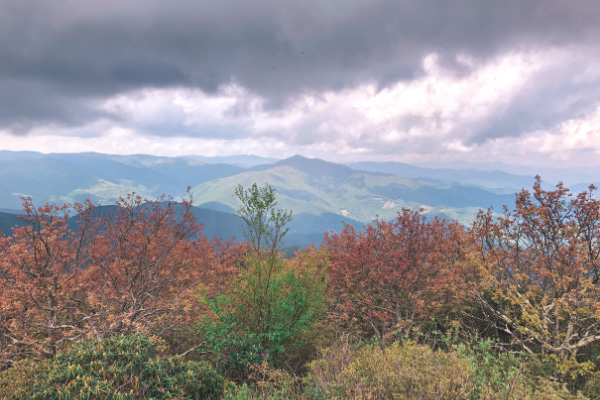 Visitors swarm to Mount Pisgah for hiking, picnics, and accommodations. At about 40 minutes away from Asheville, it is a great place to experience the beauty of the NC mountains.
The Mount Pisgah Trail is a 2.6-mile out and back with a tough 750-foot elevation gain. The top peaks at a 5,721-foot summit at the observation deck.
The rocks can be slippery, and hiking poles aren't necessarily a bad idea. Across the street, enjoy the Mount Pisgah picnic area.
Just keep your eye on the weather; we've gotten caught at the top in the rain.
Mount Pisgah Address
Address: Mount Pisgah Trail, North Carolina 28716
Mount Pisgah is around Milepost 407.6 along the Blue Ridge Parkway. For more terrific fall hikes near Asheville, pair Mount Pisgah with Graveyard Fields or Black Balsam. Or, if you are not afraid of heights, hike the gravel road to a fire tower at Fryingpan Mountain for breathtaking 360-degree views.
4. Craggy Pinnacle
Craggy Pinnacle is one of the shortest fall hikes in Asheville at 0.7 miles each way. Head this way in early October. With panoramic views, many love ascending Craggy Pinnacle to catch a stunning sunset.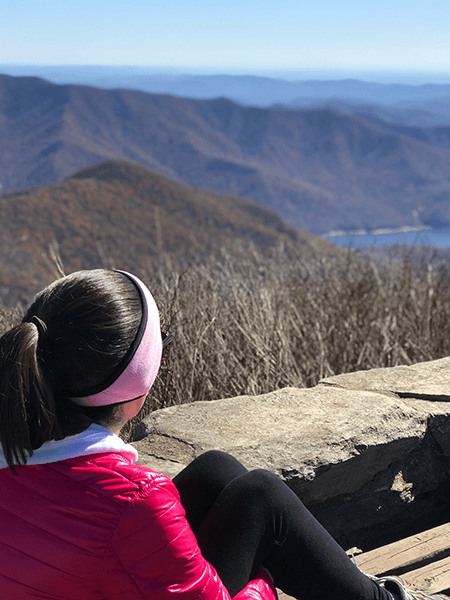 Under 40 minutes from Asheville, the Craggy Pinnacle hike is a 1.4-mile, round-trip out and back. We always take a few detours when it's not foggy.
While a moderate hike up rocks and packed dirt, at the peak, spy the Asheville Watershed, Craggy Gardens, and Mount Mitchell.
You'll also find at least three scenic viewing areas around the top with short run-off trails.
Fog loves to hug up on Craggy Pinnacle; sometimes you'll be lost in the clouds. The trail also becomes icier late into October/early November, especially after rain. The foliage dissipates around then too.
We've hiked Craggy Pinnacle during both the fog and ice. The trail gets slippery. Wear good hiking shoes.
How To Get To Craggy Pinnacle
Craggy Pinnacle: 3641 Blue Ridge Pkwy, Barnardsville, NC 28709
Driving north from Asheville, Craggy Pinnacle is located at Milepost 364.1 on the Blue Ridge Parkway past the tunnel after the Craggy Gardens Visitor Center.
The lot entrance isn't well labeled as you turn in. Look for a two-tiered parking lot and signs once you enter. 'Craggy Dome' is the official trailhead. There are no restrooms here; try the Visitor Center or Craggy Gardens, which have seasonal facilities. For more nearby Asheville fall hikes, try Mount Mitchell State Park and Little and Big Butt.
5. Craggy Gardens
As locals, we most frequent Craggy Gardens for its scenic trail and charcoal grill picnic area. We prefer parking at the Craggy Gardens picnic area, which is about 35 minutes from Asheville. This is a 2-mile out-and-back best for fall foliage in the early weeks of October.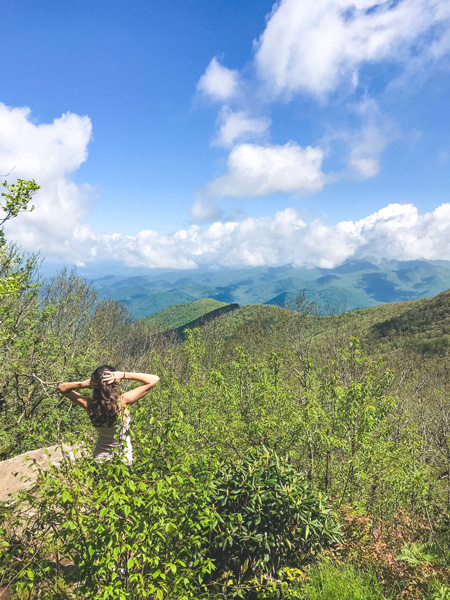 For families, pets, and picnickers, Craggy Gardens is one of the best fall hikes near Asheville for all that it has to offer.
There are two ways to access the trails: Craggy Gardens Picnic Area and the Craggy Gardens Visitor Center.
We prefer picnic area access. Here, enjoy seasonally opened facilities/full restrooms (not pit toilets), ample parking, and an easy-to-moderate trail. We just love packing charcoal and grilling too.
On the opposite end of the trail, the Craggy Gardens Visitor Center provides stunning views of the Asheville fall colors along with seasonal restrooms, snacks, and a souvenir shop.
The Visitor Center gets busy, though, and it's not always easy to find parking, especially on the weekends.
The Craggy Gardens Trail is about 2 miles round trip with a gazebo and beautiful fields known as Craggy Flats. Of course, you'll find flowers and heart-stopping, panoramic mountain views.
Read more about our favorite hikes, including Craggy Pinnacle, on this master list of our top Asheville hiking trails for any time of year.
Craggy Gardens Access Points
Address: Craggy Gardens Visitor Center (MP 364.4) – 364 Blue Ridge Pkwy, Black Mountain, NC 28711 or Craggy Gardens Picnic Area (MP 367.6) – 3676 Blue Ridge Pkwy, Barnardsville, NC 28709
Craggy Gardens (not including the Dome) has two easy access points off of the Blue Ridge Parkway. Mileposts 364.4-367.6 will help guide you.
6. Craven Gap
Unlike the other great hikes in Asheville in the fall, Craven Gap is much more secluded with fewer views. However, narrow paths, quaint streams, and this view await you. Plus, we'll follow in Michelle Obama's footsteps any day. Craven Gap in the fall is nicest towards the end of October.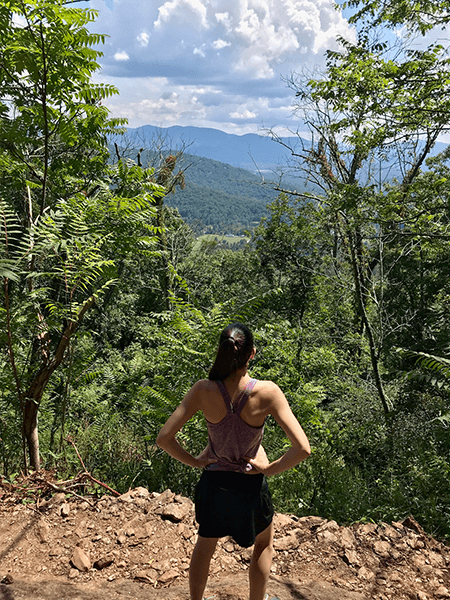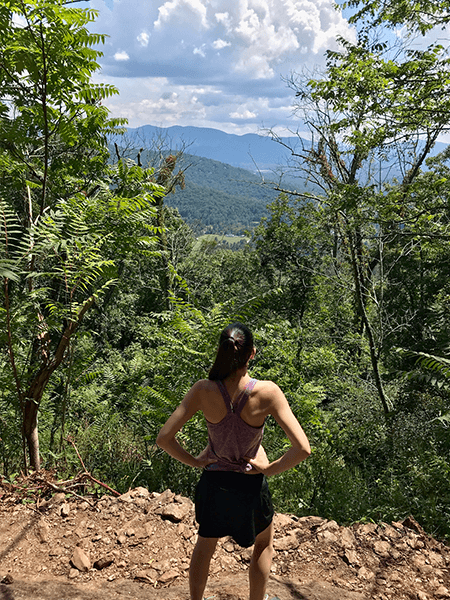 Craven Gap is quite special and probably one of the most local hikes in the area. Plus, it's only about 20 minutes by car from Asheville's historic center.
As part of the Mountains-To-Sea Trail, this is a narrow and moderate 5-mile round-trip trek.
While you won't find a ton of breathtaking vistas here, this trail is just off the Blue Ridge Parkway and stays pretty quiet.
In fact, back in 2010, Michelle and Barack Obama hiked here because the trail promised privacy and security. Read more about their visit on Blue Ridge Outdoors.
Along the Craven Gap Trail, encounter mini-caves, a wooden bridge, and ladder steps along with endless baby streams. The trail spits you out onto the Blue Ridge Parkway at the other end.
To some, Craven Gap is underwhelming if you want those Craggy Garden views. To others, head here for exercise and serenity in nature.
Craven Gap Access
Address: Craven Gap Trail, Asheville, NC 28805
The unmarked Craven Gap trailhead sits at the end of a winding dirt road. Look for the off-road parking lot with a tiny staircase. There are no facilities here so it's just you and Mother Nature – and maybe some black bears. Look for Milepost 377.4.
7. Biltmore Estate Hiking Trails
As one of Asheville's biggest attractions for visitors, tour America's largest home, wine taste at Biltmore Winery, and enjoy the hiking trails. Our favorite trail combination, hike the Lagoon and Deer Park Trails up to Biltmore's Walled Garden. The fall foliage peaks here in late October.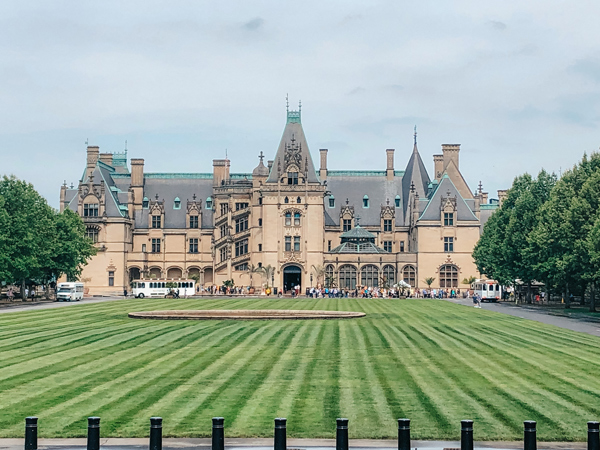 One of the best fall hikes in Asheville to avoid the crowds and Blue Ridge Parkway congestion, we love historic Biltmore Estate – even as locals.
The estate entrance is about 10 minutes from many of Asheville's top neighborhoods. However, a ticket, annual pass, or overnight property reservation is required to access the grounds.
Biltmore Estate is rich in history and forestry education. There is so much to do at the property for couples as well as families. It's easy to spend a day here.
Even better, Biltmore has over 22 miles of trails and gardens. Encounter walking, running, and biking trails ranging in length and difficulty.
Rent bikes on the property at the Bike Barn which is a popular family activity.
Many times, we've walked from Antler Hill Village to the Walled Gardens to spy those gorgeous Biltmore Blooms in their gardens (spring through fall). Catch a glimpse of Biltmore House from the Lagoon.
Peruse all of our Biltmore Estate Guides as locals and passholders before going.
Biltmore Estate Address
Biltmore is located at 1 Lodge Street Asheville, NC. Take a look at the Biltmore Estate Trails Map here.
8. DuPont State Forest
If you love chasing waterfalls across the "Land of Waterfalls," a visit to DuPont State Recreational Forest in Cedar Mountain is a must. In fact, this area might even look familiar if you enjoy popular movies. Head here around mid-October for a 3-mile, 3-waterfall hike.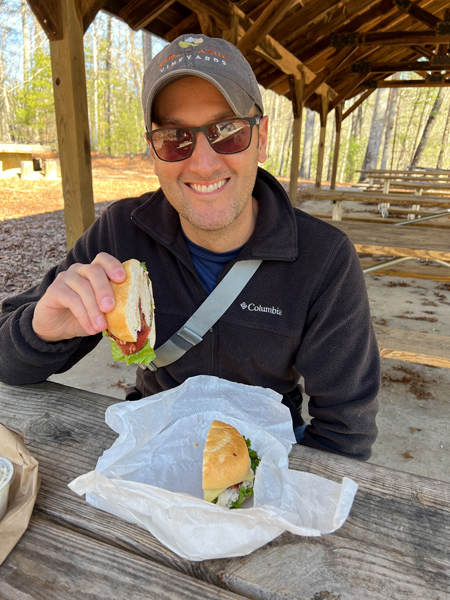 Another one of our favorite Asheville hikes in the fall, The Hunger Games waterfalls are gorgeous.
This beautiful, waterfall-filled State Park will not disappoint. DuPont State Forest is about 45 minutes from Asheville, close to Brevard and Hendersonville. Both are great single-day, road trips from Asheville.
If you park at the Hooker Falls Access Area, head right first instead of crossing the scenic bridge. Follow the trail for .25 miles to Hooker Falls.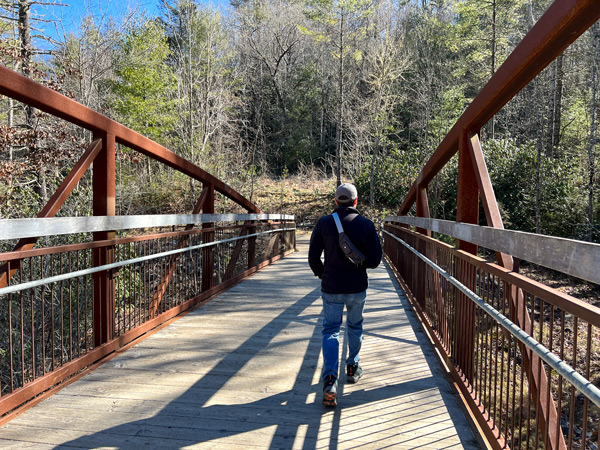 Then, loop back up over the bridge for an easy-to-moderate climb across rocks and packed dirt to see Triple Falls and High Falls.
DuPont also has a walking loop, picnic areas, a covered bridge, and a visitor center. Both parking areas have facilities.
If you are looking for longer fall hikes near Asheville, continue on past the covered bridge to Bridal Veil Falls.
This is an additional 4-mile, out-and-back hike and another NC filming location for The Last of the Mohicans.
DuPont State Recreational Forest Address
Website: DuPont State Recreational Forest in Cedar Mountain
It is free to park at DuPont. We typically park at the Hooker Falls Access Area, which has restroom facilities. If parking fills up, you might have to drive to other lots. You cannot park on the side of the road.
9. Bent Creek Experimental Forest
For some of the most local and best fall hikes in Asheville, Bent Creek Experimental Forest is where residents go for terrific mountain biking trails and easy hikes around Lake Powhatan. For fall foliage, the best time to visit is late October.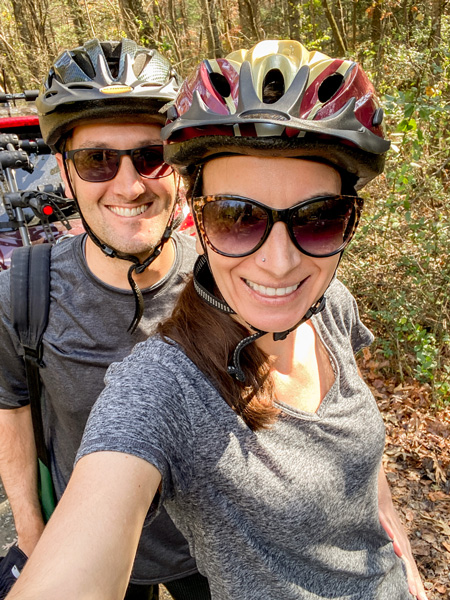 Bent Creek Experimental Forest is full of trails ranging in length and difficulty. You'll see families teaching their kids how to mountain bike here as well as serious mountain bikers further back in the forest.
For both mountain bikers and hikers, many enjoy The Hard Times Trail which connects Bent Creek Experimental Forest to The NC Arboretum.
You'll also encounter one of Asheville's pretty lakes, Lake Powhatan, and a waterfall dam.
It is free to access the Bent Creek Experimental Forest. There are parking lots as well as street parking around trails. This area grows especially busy on the weekends.
We love coming here to catch those vibrant Asheville fall colors without actually hopping on the Blue Ridge Parkway.
Bent Creek Experimental Forest Location
Located immediately before The NC Arboretum and the entrance to the BRP, look for parking around the Hard Times Trailhead at 375 Wesley Branch Rd, Asheville, NC 28806. Read more about Bent Creek Experimental Forest from the USDA Forest Service.
10. Chimney Rock State Park
Chimney Rock State Park is a great way to end your WNC leaf-peeping season around late October and into early November. The park is named after its 535-million-year-old monolith. This is one of the best fall hikes near Asheville for families and visitors looking for iconic WNC attractions.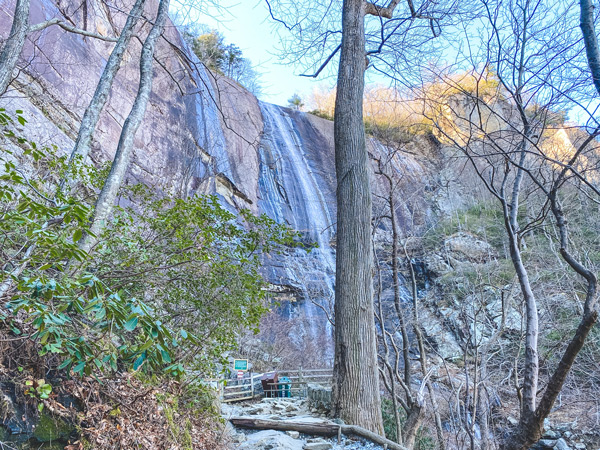 Chimney Rock is another area seething with fall visitor popularity. Just 25 miles from Asheville – about 40 minutes by car – you will have to pay to enter this state park. It's worth it!
Either take the stairs, elevator, or trails to the top of Chimney Rock to see views of Lake Lure.
Be sure to check out one of their numerous hiking trails that range in length and difficulty, or rest up in Chimney Rock's little shopping and restaurant village.
We enjoy the Hickory Nut Falls Trail, which is a moderate, 1.4-mile out and back to a cascading waterfall (that will freeze in the winter).
Nearby, hike Wildcat Rock to Little Bearwallow Falls. We also love the Lake Lure area for its Flowering Bridge and Dirty Dancing history.
If the crowds are a deterrent for you, Chimney Rock is much quieter in November through February and is one of the best places to accomplish some Asheville winter hiking.
Chimney Rock Address:
Chimney Rock is located at 431 Main St, Chimney Rock, NC 28720.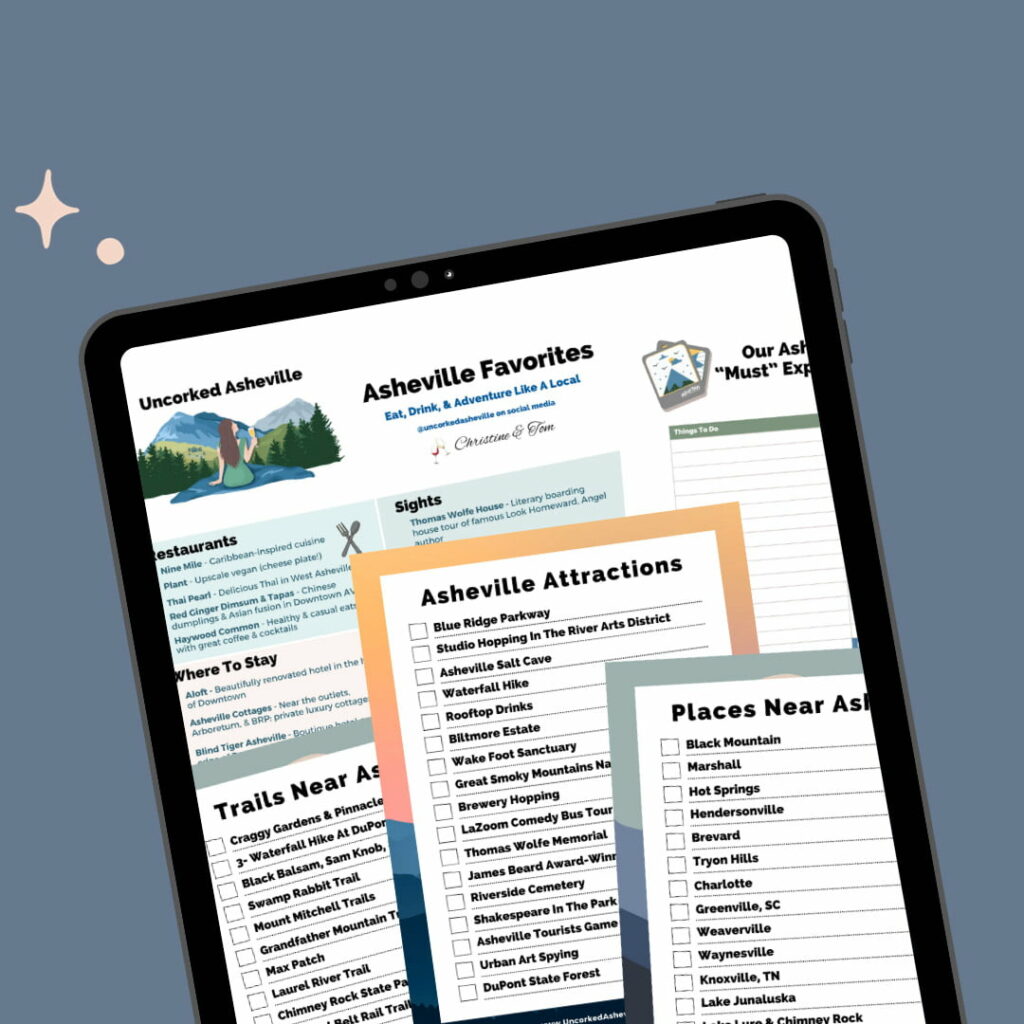 Never Miss Another Asheville Update
Experience Asheville like a local with our free attractions, dining, hiking, and day tripping guides. Get events, updates, and more straight to your inbox from Christine.
11. The North Carolina Arboretum
We've been annual members of The NC Arboretum for years; we love their hiking and nature trails, seasonal holiday lights, and beautifully manicured gardens. Visit The North Carolina Arboretum at the end of October for fall foliage. Or, head here in mid-November for the start of their Winter Lights festival.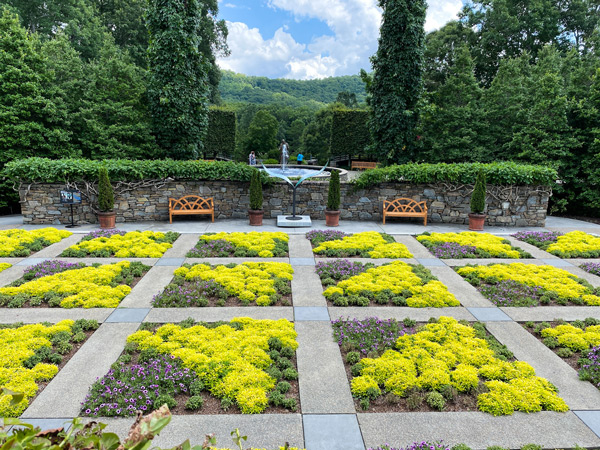 If you want to avoid the congestion along the Blue Ridge Parkway and skip the crowds, we highly recommend enjoying some of the best Asheville fall hikes at The NC Arboretum.
You will have to pay to park here; if you are a local, we suggest becoming an annual member.
Located in the Southern Appalachian Mountains south of Downtown Asheville and right off of the Blue Ridge Parkway, find nature trails, hiking and biking trails, and garden pathways.
The NC Arboretum boasts a visitor center, multiple restroom facilities, a gift shop, and a bistro serving up lighter fare and beverages.
This is also one of our favorite picnic areas from spring through fall in the Asheville area, and we visit frequently for the convenience and serenity.
We also love The NC Arboretum's annual Winter Lights event, which typically opens mid-November. Spy nature-themed Christmas displays and drink hot chocolate in the gardens.
The North Carolina Arboretum Address
There is a $20+ parking fee for personal vehicles. Be sure to check The NC Arboretum website for special exhibits.
The NC Arboretum is located at 100 Frederick Law Olmsted Way, Asheville, NC 28806.
12. Bearwallow Mountain
One of the best family-friendly Asheville hikes in the fall, Bearwallow Mountain offers two great options for hikers along with moody cows at the top. Head here in early October, and enjoy sprawling views.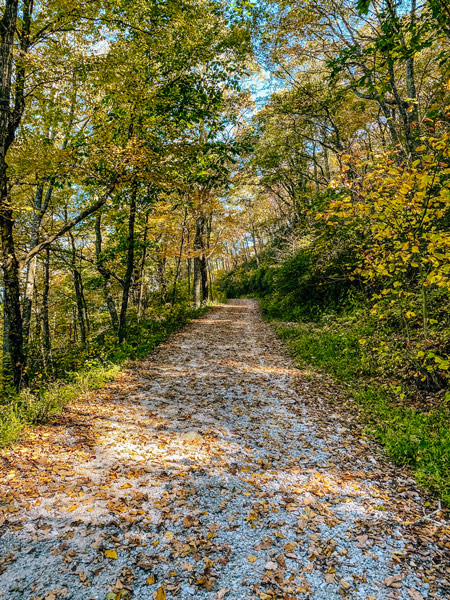 Hike Bearwallow Mountain as a 2-mile loop or an out-and-back via an access road and forest trail.
The access road is a much easier gravel hike and is perfect for families or those carrying picnic supplies. The forest trail is an easy-to-moderate hike through the trees.
Since the top is a grassy meadow sometimes filled with cows, look out for their well… you know… Plan to take your trash with you.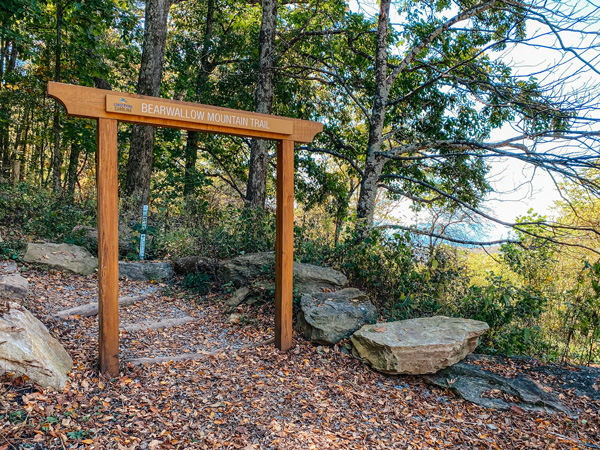 Bearwallow Mountain peaks at 4,232 feet and is aligned with the Eastern Continental Divide. Many enjoy guided yoga sessions and sunsets here.
On a clear day, look for Mount Mitchell, the Black Mountains, Mount Pisgah, the Great Smoky Mountains, and Hickory Nut Gorge. Views go as far out as South Carolina.
Across the street – and for more experienced hikers – you can also hike Trombatore Trail to Blue Ridge Pastures, one of the best moderate and long fall hikes near Asheville at 5 miles.
Bearwallow Mountain Address
From Asheville take I-240 to US-74 Alt East toward Bat Cave. Stay on US-74 Alt. Turn right onto Bearwallow Mountain Road and land on a gravel road, which can be rough on your car. The Bearwallow Mountain trail address is: 4854 Bearwallow Mountain Rd, Hendersonville, NC 28792
You'll see cars pulled off along the road, a metal gate, and marked entrances for Trombatore and Bearwallow.
13. Beaver Lake Perimeter Trail & Bird Sanctuary
Beaver Lake in North Asheville is the perfect spot to birdwatch, walk the 2-mile perimeter trail, and enjoy a more local side of AVL. This area sees peak foliage at the end of October.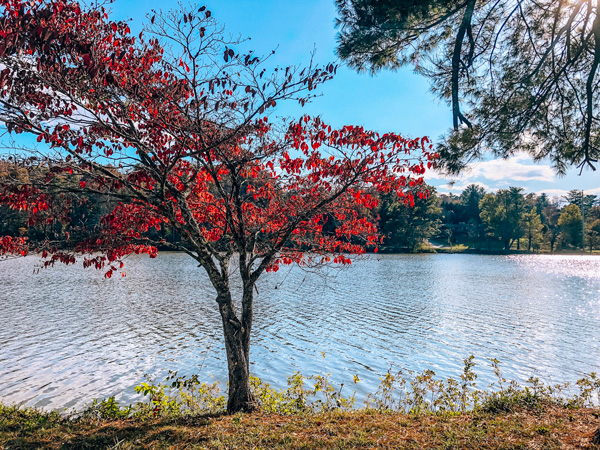 If you are looking more for nature walks and casual fall hikes in Asheville, Beaver Lake has all of the great feels.
Although a private lake in North Asheville, Beaver Lake is open to the public with sensible rules; the warden requires a permit for dogs.
Encounter a flat, packed dirt, 2-mile loop around the lake and into Beaver Lake Bird Sanctuary. Pass quaint Asheville houses.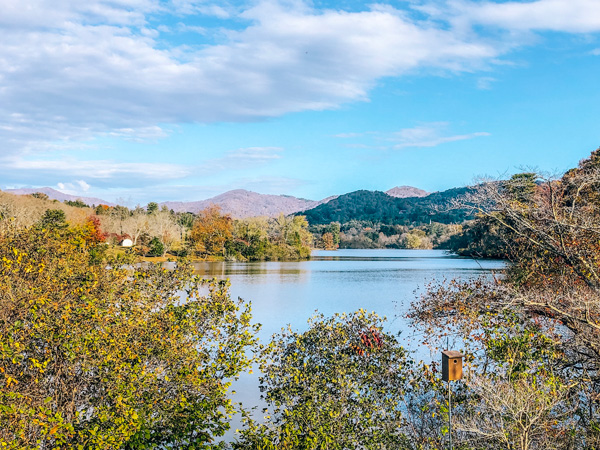 Perfect for leaf-spying and bird-watching bring a blanket to surround yourself with the mountains.
The sanctuary portion of this area is free – but you can leave a donation – and dogs are not permitted in the sanctuary.
At Beaver Lake Bird Sanctuary, encounter birds, dragonflies, and butterflies on 8 acres of land. Stay on the boardwalk and marked paths. They also host bird walks on the first Saturday of the month.
Beaver Lake Address
Beaver Lake is about 8 to 10 minutes from the heart of downtown Asheville. There is no one address for the lake but you can use the Beaver Lake Bird Sanctuary as an idea: 1056 Merrimon Ave, Asheville, NC 28804. Past the sanctuary, you will find small lots off Merrimon Ave. next to the lake or near the golf course.
14. Botanical Gardens At Asheville
Imagine 10 acres of non-profit botanical gardens with small and easy nature trails at your disposal. Talk about quick access to fall colors in your own secret garden. The Botanical Gardens at Asheville are located in North Asheville at the UNC-Asheville campus.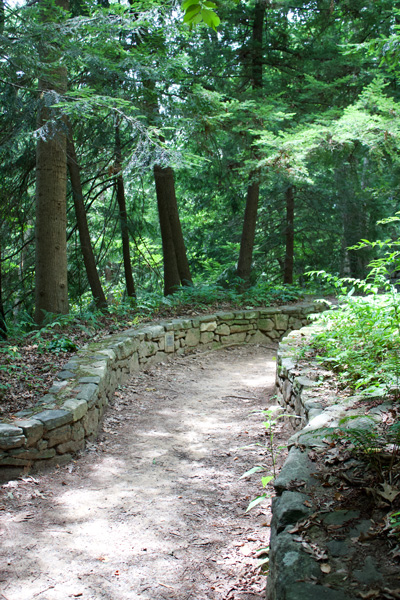 About 5-10 minutes from Downtown Asheville – and for simple and chill hikes in Asheville in the fall – the Botanical Gardens At Asheville promises stress-free nature trails.
All are casual strolls and "short hikes." Sure, these gardens aren't the Blue Ridge Parkway or as vibrant, but the landscape is cozy and sweet.
Plus, you can bring a picnic or a book to just chill. Take a break from the crowds and congested roads.
Enjoy nature walks perfect for families and couples looking for a romantic spot. During the day, the grounds are especially peaceful.
Find a literary cabin in the woods, beautiful bridges, rock formations, wildflowers, birds, labeled flora and fauna, and large streams. Many visitors love to do their fall engagement photos here.
The Botanical Gardens at Asheville has a gift shop and restrooms.
Discover more of the best private and public gardens and parks around Asheville.
Asheville Botanical Gardens Address:
Admission and parking into the Botanical Gardens At Asheville are free. The Botanical Gardens At Asheville are located at 151 W.T. Weaver Blvd. Asheville, NC 28804.
More Of The Best Asheville Hikes In The Fall
There are so many great hiking trails near Asheville that we couldn't possibly name them all.
A few more of the best fall hikes near Asheville to check out:
Tanawha Trail at Rough Ridge – A popular late-September Blue Ridge Parkway hike, enjoy views of Grandfather Mountain and Linn Cove Viaduct. This is a relatively moderate hike.
Linville Falls – Head to Linville Falls in late October for multiple trails, gorgeous waterfall views, and a visitor center with facilities. Afterward, drink wine at Linville Falls Winery.
Max Patch – A popular Appalachian Trail hike in early October, enjoy stunning views from this mountain bald. There is currently no camping here. Lover's Leap in Hot Springs also intersects with the Appalachian Trail and boasts beautiful views.
Grandfather Mountain – Another early October hike, pay to park and hit the trails. Enjoy the mile-high swinging bridge, animals, and a cafe. Look for Forrest Gump Curve.
4 Guided Asheville Fall Hikes & Tours
If you are new to the area or are visiting for a short time, it can be overwhelming to pick, plan, and even drive to these destinations.
If you love the convenience of guided tours, a few popular ones to check out include:
8 Tips For Successful Fall Hiking In Asheville
From what to wear to how not to get caught at a gate closure or lost in the fog, these are our top tips for Asheville fall hiking.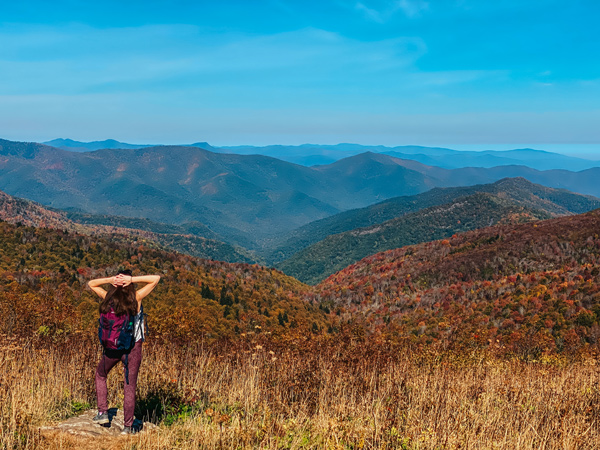 Always check with the National Park Service (NPS) before heading out on the Blue Ridge Parkway, especially if you start seeing inclement weather like ice, snow, and fog. Long stretches may close, which you might also catch on your GPS. Find all of the NPS closures here and look under 'Weather,' specifically to see if the Blue Ridge Parkway gates are closed.


Fog rolls in and out of the Blue Ridge Mountains just like at the Cliffs of Moher. One second the road is there and the next, it's gone. The same goes for those gorgeous views at places like Craggy Pinnacle and Black Balsam. While it is sunny in Asheville, it may be foggy or even rainy in the NC mountains.


Many travelers will drive below the posted speed limit; the winding roads are tricky if you are not used to them. Allow for extra time versus what your maps and navigation suggest.


The Blue Ridge Parkway has labeled scenic overlooks with designated parking. Plan for additional time to stop at them.


Watch for black bears and wildlife crossing the road. Pay attention and give way to cyclists, especially on those blind turns.


Cellular service comes in and out in the mountains. Navigate the Blue Ridge Parkway with offline maps and milepost markers.


Expect much cooler temperatures in the higher elevations; sometimes there is a 10 to 20-degree difference from 1,000 feet to 6,000 feet. Wear layers.


Hike with the proper hiking equipment, including hiking shoes. Have plenty of water, buy spray, sunscreen, and snacks. While many trails are well-labeled and heavily trafficked, others are not. We hike with a Garmin.
More WNC Fall Planning Guides
As Asheville locals, we have endless articles about where to eat and the best things to do in the area – from firsthand experience. If you are visiting Asheville in the fall, these are a few more posts to help you plan the best getaway or local excursions.
What are your favorite Asheville hikes in the fall?
Where do you enjoy hiking in the Blue Ridge Mountains in the fall? Are you a leaf chaser? Let us know in the comments.
Save your favorite fall hikes near Asheville for later: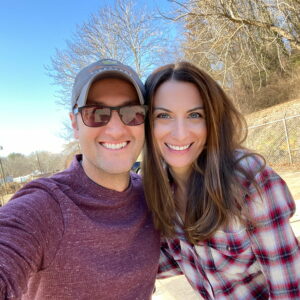 Christine (pronouns: she/her) is the owner and lead writer of Uncorked Asheville. After falling in love with those gorgeous Blue Ridge Mountains, Christine and her husband Tom decided to call Asheville, North Carolina home. When her pointy Italian nose isn't stuck in a book, Christine is adopting all of the kitties, getting lost in the forest, and drinking an ESB. She has a BA in English and History from Smith College, her MLIS from USF-Tampa, and is a former U.S. Fulbright Scholar - Indonesia. Christine also owns The Uncorked Librarian LLC with books and movies to inspire travel.