Devour the best ice cream in Asheville, including ice cream sandwiches, vegan and gluten-free treats, custard, shakes, Italian ice, and more!
Like the breweries, the Asheville ice cream shops are plentiful – and each has its own unique twist.
Imagine devouring vegan ice cream in Asheville ensconced in colorful murals and next to a bubble tea cafe.
How about decadent gelato in a chocolate shop paired with fresh local coffee? Or, a scoop or cone by the river and a creamy custard on a hot day?
Let's not forget those affogatos or old-fashioned ice cream sodas.
From AVL locals, make your way around the best ice cream shops in Asheville, NC – vegan, dairy-free, and gluten-free options included.
We always cheat a bit, too, especially since we love a good day trip. Find delicious ice cream near Asheville in cities like Hendersonville, Chimney Rock, and Black Mountain.
Of course, we cannot possibly name them all, and "best" is subjective. Be sure to let us know your favorite Asheville ice cream places in the comments. Let's get started.
Explore even more tempting dessert places in AVL.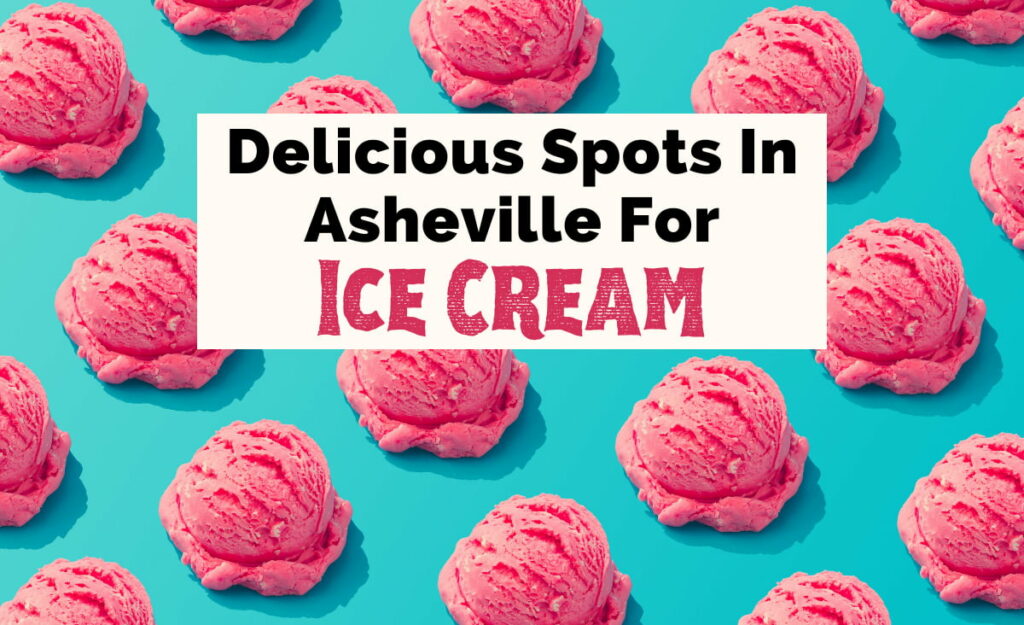 This post may contain affiliate links that earn us a commission at no extra cost to you. If you love these guides, support Uncorked Asheville here.
12 Best Spots For Ice Cream In Asheville
1. The Hop Ice Cream Cafe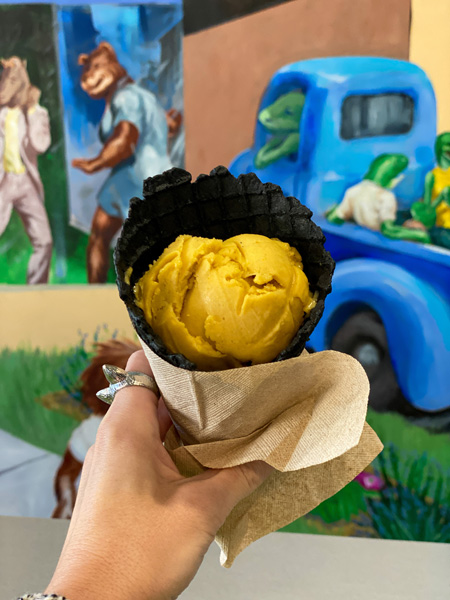 For the best vegan ice cream in Asheville, The Hop is our go-to spot.
We frequent the North Asheville cafe, and they just added Pop Bubble Tea – with specialty and build-your-own bubble teas.
Along with vegan treats, The Hop features dairy ice cream, ice cream shakes, hot apple cider floats in the fall, and affogatos.
They make their ice cream 100% from scratch. For the holidays, order ice cream rolls – with vegan and gluten-free options. Or, take a vegan or dairy pint home.
The Hop Ice Cream has multiple locations across the city – including West, North, and Downtown AVL – as well as a small cafe in Black Mountain.
The Hop is a kid-friendly restaurant with its whimsical decor and variety of flavors and treats.
Read more about exploring Asheville with kids.
The Hop Ice Cream | North Asheville Flagship Location – 640 Merrimon Ave, Asheville, NC 28804 | Find all of their locations here.
2. Ultimate Ice Cream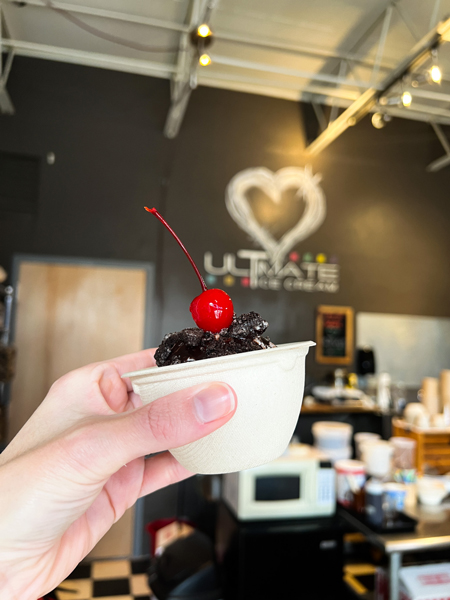 Ultimate Ice Cream has two Asheville locations, North AVL's Charlotte Street and South AVL's Tunnel Road.
The North AVL location is one of the smaller ice cream shops in Asheville on this list – with ice cream to-go – but don't let that deter you.
We always drop in after dinner around this area, and Ultimate Ice Cream serves up boozy ice cream and sorbet along with seasonal and decadent flavors.
Think cookie dough, salted caramel, brown sugar maple bacon, blue cheese, and chai – if you are lucky.
Ultimate Ice Cream also has almond milk ice cream and labels their vegan and homemade toppings. The Tunnel Road location is bigger with more flavors.
Explore more of North Asheville while here.
Ultimate Ice Cream | 1070 Tunnel Rd, Asheville, NC 28805 & 195 Charlotte St, Asheville, NC 28801
3. Sunshine Sammies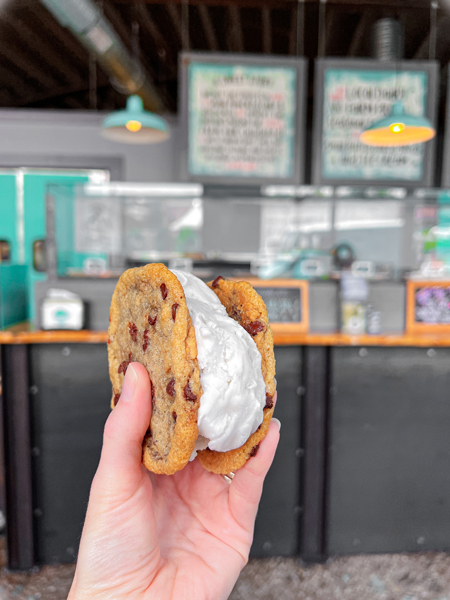 "Feed your inner child."
Asheville ice cream never smelled so good. The moment you walk into Sunshine Sammies, you'll know that you have arrived.
Scents of freshly baked cookies and homemade ice cream waft throughout this turquoise and hipster warehouse space in Downtown Asheville – South Slope.
Sunshine Sammies is most famous for their ice cream sandwiches. The best part? They have vegan and gluten-free options.
If ice cream sandwiches are too much, order a scoop or two with some Penny Cup Co. coffee. They also have seasonal food trucks that head to South AVL.
On your way in or out, stop by one of our favorite blown glass stores and studios in town, Lexington Glassworks.
Read more about Downtown Asheville's stellar restaurant scene.
Sunshine Sammies | 99 S Lexington Ave, Asheville, NC 28801
4. Whit's Frozen Custard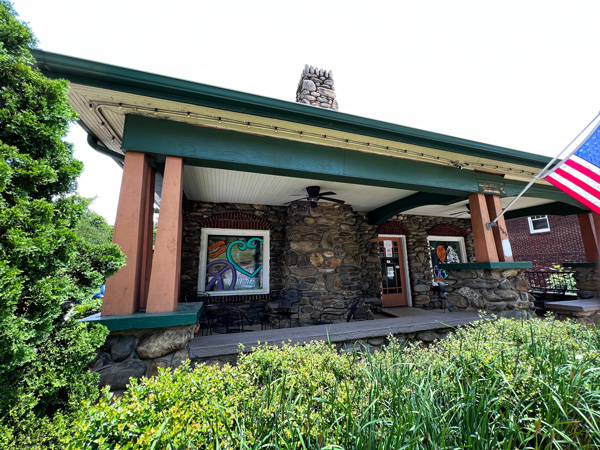 Typically, two places on Merrimon Ave will have lines of cars and crowds: Vinnie's and Whit's Frozen Custard.
Whit's is one of the only Asheville ice cream shops specializing in custard.
Indulge in that creamy and frozen goodness, made daily. Grab a cup of custard, pick up some to go, or order a custard cookie sandwich.
The toppings are endless, and of course, find cones, specialty desserts, and even a rootbeer float.
Whit's advertises vegan-friendly stores, but based on our personal experience, the Asheville locations may have one or two flavors or be completely out – we suggest calling ahead to avoid disappointment.
You'll find Whit's across the South, and along with Asheville, they have North Carolina ice cream shops in Hendersonville, Davidson, and Graham – just to name a few locations.
Whit's Frozen Custard | 565 Merrimon Ave, Asheville, NC 28804 & & Gerber Village 1840 Hendersonville Rd, Asheville, NC 28803
5. Buggy Pops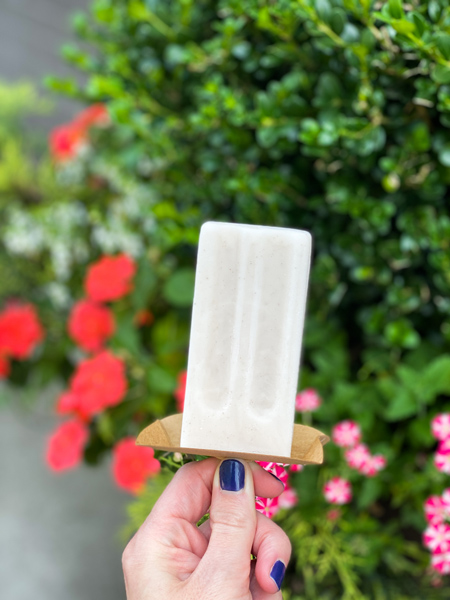 Cool off with ice cream in Asheville, annihilating vegan and dairy pops!
You are in for a real treat if you catch Buggy Pops. Just like the city's amazing food trucks, they circulate farmer's markets, events, weddings, pop-ups, and breweries like Ginger's Revenge.
For markets and events, Buggy Pops tends to pop up at the North and West Asheville Tailgate Markets, Uncommon Market, and Downtown After 5.
Many of their pops are vegan, and the flavors are incredibly refreshing like piña colada, coconut matcha, blueberry lemonade, strawberry mint, and key lime pie.
Plus, this is a small – with tons of heart – BIPOC woman-owned gourmet ice pop business in Asheville.
Buggy Pops | Find them across WNC
6. Kilwins
For chocolate fudge and ice cream in Asheville – and around WNC including Hendersonville – Kilwin's is a staple.
Who doesn't love watching chocolate being made right in front of you?
Although a franchise, their Asheville location is family-owned, opening in 1947. This Kilwins also sits next to the famous Chai Pani, one of the best Indian restaurants around.
Along with ice cream, make tough decisions between hard candies, chocolate fudge, and caramel apples.
Find puffed rice treats, rocky candy, sculpted chocolate, and chocolate-covered marshmallows.
Your vegan options will be limited, but Kilwins has sorbet.
Kilwins | 26 Battery Park Ave, Asheville, NC 28801
7. Asheville Chocolate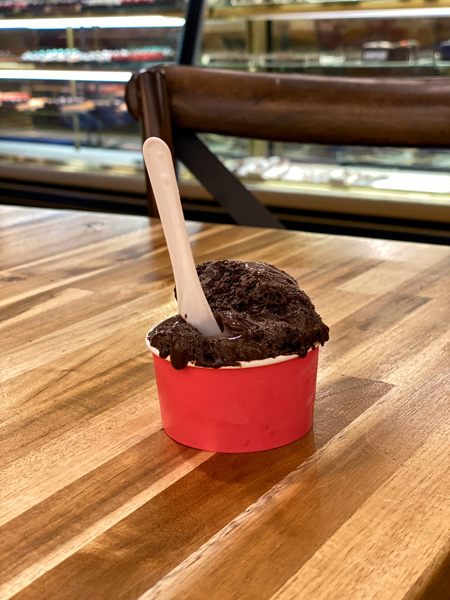 Everyone tends to know about French Broad Chocolate, another one of Asheville's mouthwatering dessert spots.
However, we tend to frequent Asheville Chocolate, which is just down the street. For ice cream in Asheville, you cannot go wrong here.
"Get chocolate sauced" with gelato, truffles, coffee, and desserts. Imagine delicious affogatos, hot chocolate, local tea, and homemade ganache mochas.
For ice cream, Asheville Chocolate features seasonal and classic flavored gelato along with rich vegan options. If you don't see vegan items on the menu, just ask.
Enjoy plentiful seating surrounded by Benjamin Walls artwork. Asheville Chocolate is also one of the best chocolate shops in Asheville.
Asheville Chocolate | 25 Broadway Street, Asheville, NC 28801
Never Miss Another Asheville Update
---
Tired of generic Asheville travel itineraries? Experience Asheville like a local with our free Asheville Favorites checklist, including restaurants, breweries, and hiking. Plus, get local updates – including events and hidden gems – straight to your inbox. Sign up here.
8. The Creamery at Biltmore Estate
Even as locals, we are annual passholders to Biltmore Estate.
How can we not be? There is so much to do at Biltmore – America's largest home – including restaurants, hiking and biking trails, and wine, wine, wine.
You will need an annual pass, ticket, or hotel reservation to enter the property, and if you do, we have just the Asheville ice cream spot for you: The Creamery.
Head to Antler Hill Village which is home to shops, a wine bar, Biltmore Winery, Cedric's Tavern, and The Creamery.
This is the original Biltmore Dairy Bar, and after a delicious estate lunch, treat yourself to ice cream, coffee, cupcakes, wine, and more.
We tend to get distracted by coffee and wine and will pull up a chair to people watch outside around this quaint area.
If you are traveling to Biltmore with kids, ice cream is one of the most kid-friendly things to do along with Biltmore's farmyard and playground.
Biltmore Estate | 1 Lodge St, Asheville, NC 28803
9. Jeremiah's Italian Ice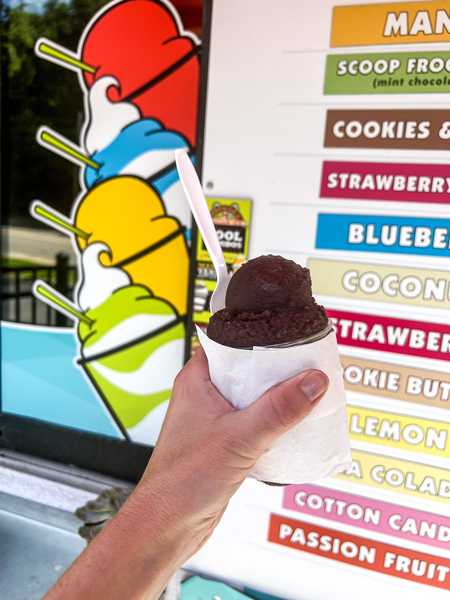 Newer to North Asheville, Jeremiah's Italian Ice sits in a former taco spot.
You'll recognize Jeremiah's immediately by the colorful mural on the side. You may also get the lyrics for "Joy to the World" stuck in your head…
For drive-thru ice cream in Asheville – with a small outdoor seating area – select from Italian ice, gelati, and soft ice cream.
For fun flavors, find black raspberry, sour green apple, blue cotton candy, cake batter, and watermelon – just to name a few.
If you have allergies and intolerances, just ask; they have a list for dairy, gluten, soy, and nuts behind the counter – we've used it!
Jeremiah's is a franchise, beginning service in 1996 in Winter Park, Florida.
Jeremiah's Italian Ice | 705 Merrimon Ave, Asheville, NC 28804
10. French Broad Chocolate Lounge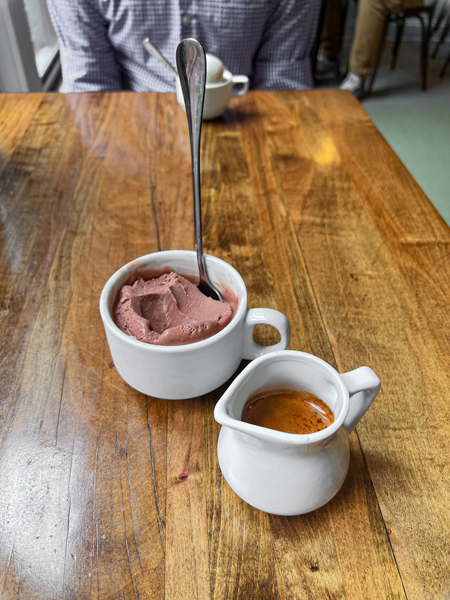 Of course, we cannot leave out one of the most well-known chocolate, coffee, and ice cream shops in Asheville, the French Broad Chocolate Lounge.
Located in the heart of Downtown Asheville in Pack Square, this is a great stop if you are attending one of Asheville's stellar festivals like the VeganFest or The Big Crafty.
French Broad Chocolate Lounge is especially fantastic if you are searching for vegan ice cream in Asheville – OK, and truffles too.
Along with dairy options, French Broad Chocolate labels gluten-free and vegan treats. Our personal favorite along with the Buddha Collection truffles is a vegan affogato.
Imagine hot espresso poured over vegan chocolate ice cream. Just don't be too surprised if you get caught in a long but quickly moving line on the weekends. It's worth it!
If tables fill up inside, sit outside or head to Pack Square, one of Asheville's pretty parks.
Explore even more great places to grab a coffee across Asheville.
French Broad Chocolate Lounge | 10 S Pack Square, Asheville, NC 28801
More Ice Cream Near Asheville, NC
11. Mike's On Main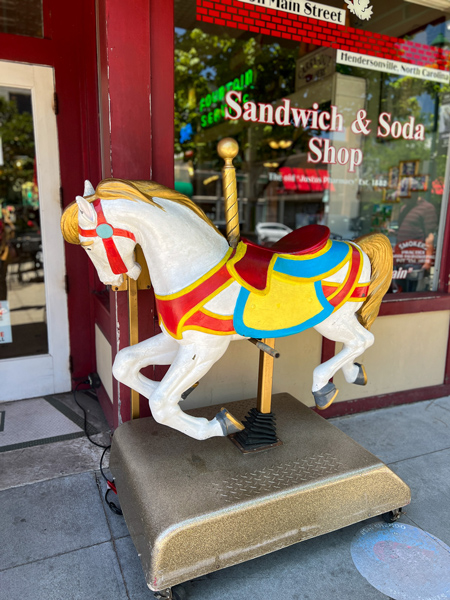 Hendersonville has the best restaurants, and Mike's On Main is perfect if you are craving nostalgia. Remember Friendly's growing up?
Budget-friendly and fun for the entire family, head here for breakfast favorites, sandwiches, soups, and burgers.
Many say that Mike's On Main has the best milkshakes in Western North Carolina, and for ice cream near Asheville, you cannot go wrong with ice cream floats and sodas.
Mike's On Main also serves up ice cream scoops, cones, sundaes, and banana splits. Did we just enter our grandparents' house?
Full disclosure that while we adore Mike's on Main, this isn't the best option if you are looking for gluten-free and vegan cuisine.
Read more about visiting Hendersonville, which is full of breweries, wineries, apple orchards, and a quaint downtown area.
Mike's On Main | 303 N Main St, Hendersonville, NC 28792
12. Village Scoop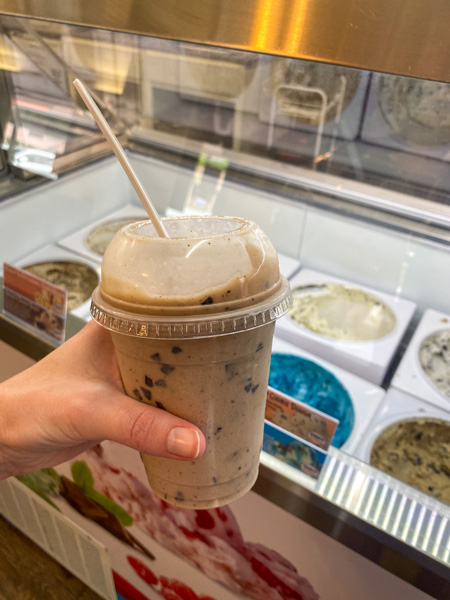 Are you day-tripping around Asheville? Chimney Rock and Lake Lure are fantastic options – located about 50-minutes away from the city.
One of the prettiest lakes near Asheville – and famous for Dirty Dancing – start your morning out on the lake, at the seasonally-opened beach, or at Lake Lure's Flowering Bridge.
Or, hike up to Chimney Rock and Hickory Nut Gap Falls.
Then, head into Chimney Rock Village for another one of the best ice cream shops near Asheville: Village Scoop.
Village Scoop has tons of ice cream flavors – and you guessed it: vegan and gluten-free options too.
Select from shakes, sundaes, banana splits, old-fashioned bottled sodas, and classic scoops.
Take your ice cream down to Rocky Broad River Walk – situated along the water and right behind Village Scoop.
Please just remember to properly dispose of your trash to keep wildlife safe. This area grows a tad congested in prime tourist season.
Village Scoop | 439 Main St, Chimney Rock, NC 28720
Save The Best Asheville Ice Cream Spots For Later: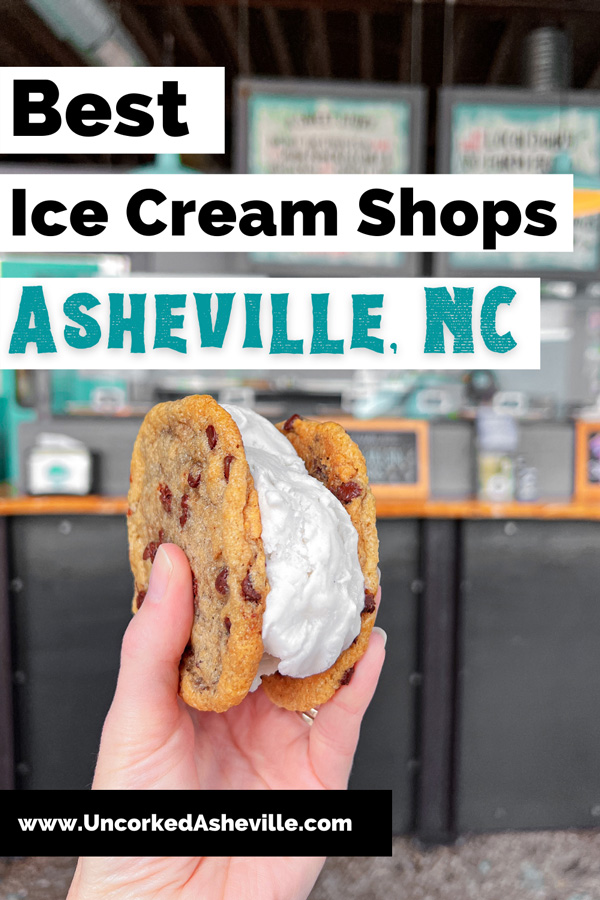 See our Top Places To Stay in Asheville.

Don't miss out on these Asheville properties on Booking.com, too.
What are your favorite ice cream shops in Asheville, NC?
Where do you love to get ice cream in Asheville? What is your favorite flavor? How about the best toppings?
You May Also Enjoy: