Do you only have 36 hours in Asheville, NC? Find Asheville restaurants, breweries, Biltmore, and so many more suggestions from a local for your short Asheville trip.
When we first visited Asheville, we only had a few days to see all of the attractions, beautiful mountains, and of course, the historic Biltmore. While I always suggest staying longer in a place to get to know the area and people, sometimes you only have time for a quick visit.
Living in Asheville now, every weekend is packed with endless activities and visiting sights unseen, including breweries, restaurants, hiking trails, and museums.
How can you possibly see it all if you only have 36 hours in Asheville? What should you see? Of course, your Asheville itinerary depends on your interests.
We love booze, books, the outdoors, and history. While you cannot possibly do it all with one full day and then some, below discover a few of our favorite Asheville recommendations to have the best, albeit brief, Asheville vacation.
If you are looking for blockbusters, this is how I would spend 36 hours in Asheville.
P.S. Don't miss our massive list of the 50 Best Things To Do In Asheville and Where To Stay In Asheville.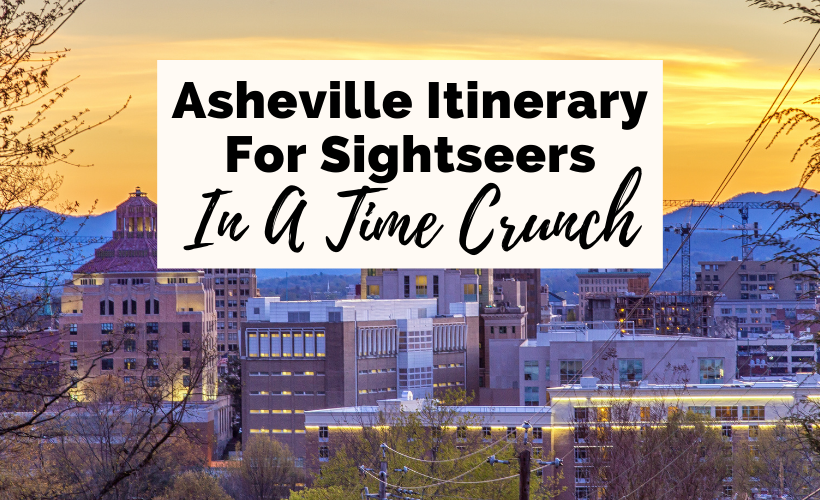 ---
This post may contain affiliate links for products and services we recommend. If you make a purchase through these links, at no additional cost to you, we will earn a small commission. Read the full disclosure here.
---
Where To Stay In Asheville
Before you start planning your short Asheville vacation, you need a place to stay.
Here are a few ideas for Asheville lodging when you only have 36 hours to drink, play, and sight-see. I've included downtown hotels, boutique, and specialty lodging, and different star ratings and priced accommodations.
Asheville, NC Hotels
Hotels and B&Bs tend to book up fast in Asheville, especially in the fall, spring, and around holidays. Make dinner reservations wherever you can, too. A few hotels to consider that either we, our friends, or others highly recommend include:
Downtown Asheville
The Foundry Hotel
AC Hotel By Marriott Downtown Asheville
Hotel Indigo
Aloft – Downtown Asheville *One of our top picks; they renovated in 2020
Near The Asheville Outlets/Biltmore
Hampton Inn And Suites Asheville Biltmore Area *Our second favorite pick. We stayed here before we moved.
DoubleTree By Hilton Biltmore/Asheville
Grand Bohemian Hotel Asheville

North Asheville/Montford
The Omni Grove Park Inn *We frequently stop by the Grove Park Inn for sunsets, drinks, and food.
1900 Inn On Montford
Don't miss our Top Asheville Hotel, Resort & B&B Picks Here.
Fun-Filled 36 Hours In Asheville Itinerary From A Local
Below, find 2 half-days and a full day list of activities for the best 36-hour Asheville itinerary. Depending on how fast you travel, you might not be able to see or do it all. Or, you might find yourself with leftover time.
You'll spot a few alternative suggestions scattered throughout. Please remember to check websites, Facebook, and hours for each recommended place. While we frequently update our content, some schedules change daily for weather and life.
Arriving In Asheville, NC: Day 1
Let's start when your plane, bus, or car lands in North Carolina. You probably cannot enjoy a full day in Asheville, but maybe you have a few hours to spare. If you are anything like us, you are ready to go exploring.
So, what should you do first?
1. Wine Taste And Mural-Spy In The River Arts District
The River Arts District in West Asheville is incredibly unique. The area is reminiscent of a mini-version of Wynwood Walls in Miami, Florida.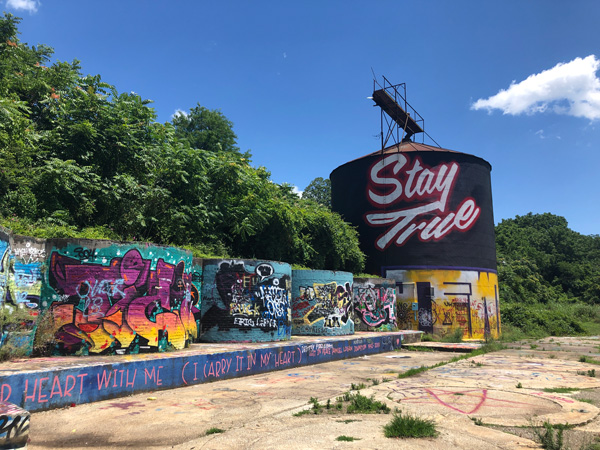 Who knew that North Carolina could have such a hipster feel, either? Plus, this is where you will find the infamous "Good Vibes" tower that now says, "Stay True," located near White Duck Taco.
Throughout the River Arts District, you'll uncover urban street art, galleries, artists' studios, shopping, food, and booze.
---
Take our virtual Asheville Murals Tour & learn more about AVL's history & artists.
---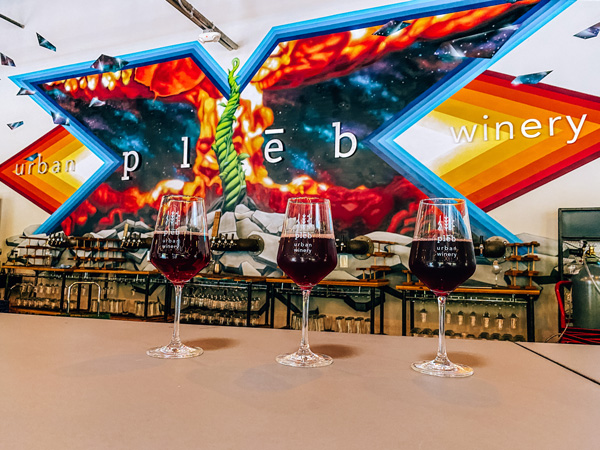 One of our favorite places to grab a drink, though, is the plēb urban winery. Plēb outsources grapes from local farms and creates small-batch tapped and canned wines.
I highly recommend ordering a wine flight as you sit at a wine barrel high-top in an urban-esque garage filled with beautiful murals.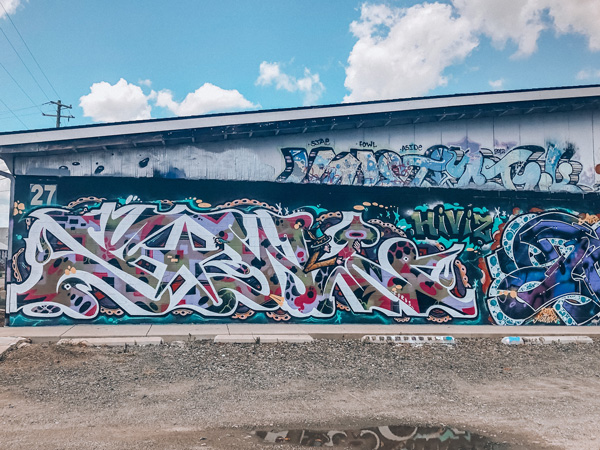 If wine isn't your jam, Wedge at Foundation is delicious for beer, too. You can walk through the alleys filled with street art behind pleb to get there.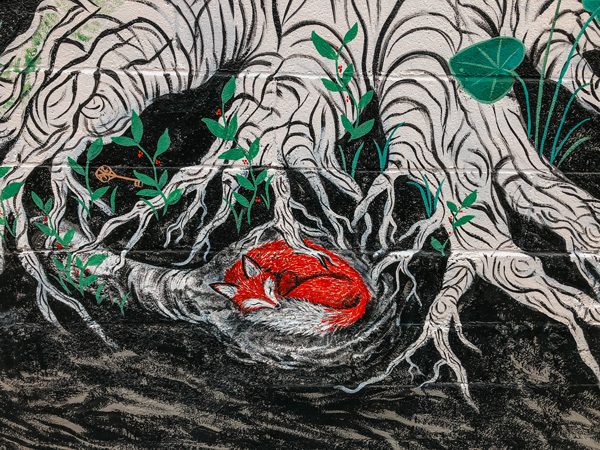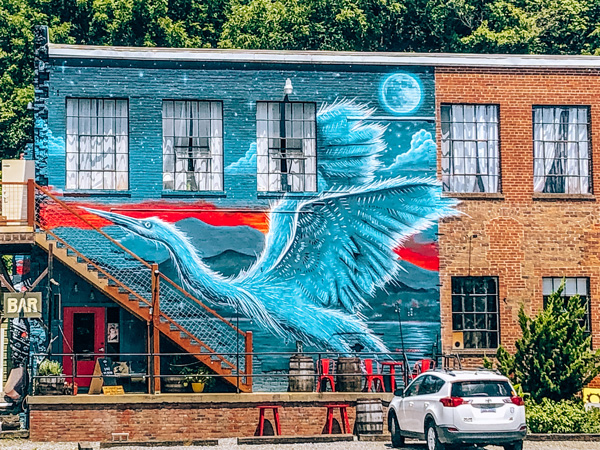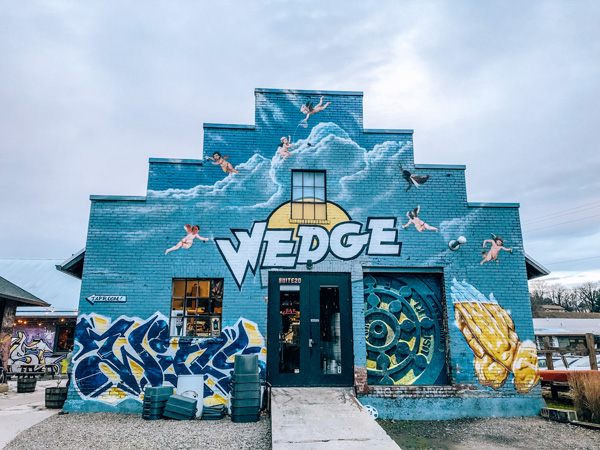 Ginger's Revenge, a gluten-free ginger beer brewery, is only a few blocks away. We also love Zillicoah Beer Company along the French Broad River.
---
---
Never Miss Another Asheville Update
Are you tired of generic Asheville travel itineraries? Do you want to experience the magic of Asheville like a local?
Grab our free Asheville Favorites checklist today, including restaurants, breweries, and hiking. Plus, get local updates straight to your inbox. Sign up here.
---
2. Create Your Own Foodie Tour Of Downtown Asheville
Asheville is a foodie town — known as Foodtopia — with allergy and intolerance-friendly food options. In fact, the stellar food is one of the reasons that we moved to Asheville.
You have to eat in downtown Asheville at least once on your trip. For some of these Asheville restaurants, it helps to plan ahead, especially on the weekend. Reservations are a near must where accepted.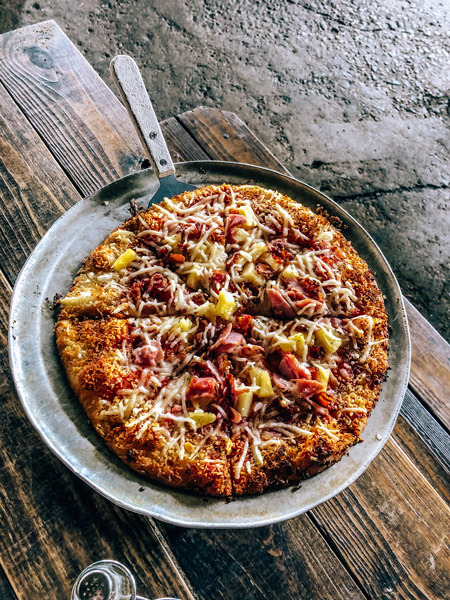 For other restaurants, you can either wait or sneak in early. Of course, weekdays are less crowded.
If you are looking for Asheville restaurants that are a little more pricy and fancy try:

Chestnut – We love sitting at the bar and ordering craft cocktails along with a charcuterie. Find different sized plates full of southern favorites with a rich and elegant flair.

Cúrate – One of the most popular and famous Asheville restaurants, Cúrate boasts of Spanish cuisine, including a delicious selection of tapas.

Posana – A little extra special to us, Posana is one of the first restaurants that we dined at while visiting Asheville. Enjoy delicious Italian meals with locally-sourced ingredients.
---
Craving a specific cuisine? Be sure to check out these Indian, Sushi, and Thai Food Restaurants.
---
A Few Of Our Favorite Places To Eat In Asheville
While Biscuit Head, Tupelo Honey, and Rhubarb are all popular choices as well, if you have 36 hours in Asheville, I'd eat here:

Plant – Although just a block north of downtown, Plant is one of my all-time favorite restaurants, ever. I'm not vegan, but I love vegan dishes more than anything. I am lactose-intolerant and can order a cheese board here.

Laughing Seed Cafe – Another delicious vegan and veggie choice, Laughing Seed Cafe is clean and healthy eating without breaking the bank. Their cocktails are equally gorgeous.

Asheville Pizza and Brewing – We frequent the Coxe Ave (Downtown) and Merrimon Ave. (North Asheville) locations. See what's on tap and order pizza (gluten-free and vegan options too!). Asheville Pizza and Brewing is family-friendly, especially if you want beer, and the Merrimon location has a movie theater.

Red Ginger Dim Sum – If you love Asian tapas and dumplings, you should try Red Ginger Dim Sum. Order at least two plates per person, and good luck picking from rice, sushi, meats, pancakes, and dumplings. I want it all.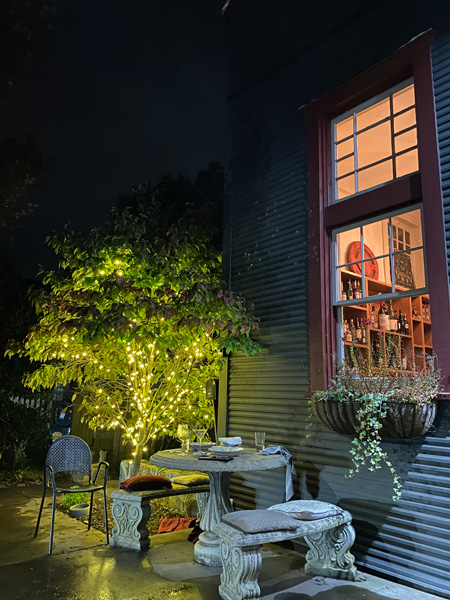 We also love Chiesa and Nine Mile in North Asheville, if you want to stay a little north of historic downtown.
Looking for more? Explore the complete list of Best Restaurants In Asheville Here.

Or, are you exhausted and want to stay in? Grab Takeout here.
---
3. Sip A Nightcap At The Battery Park Book Exchange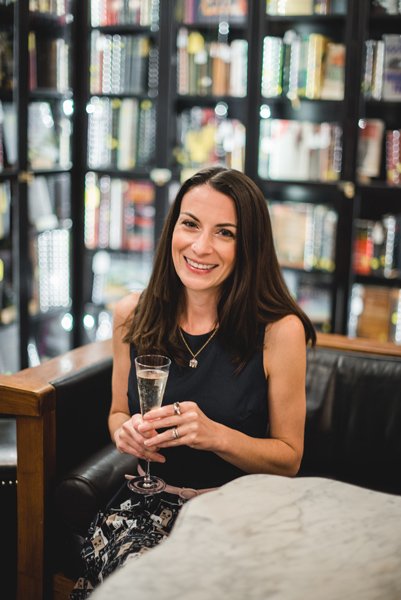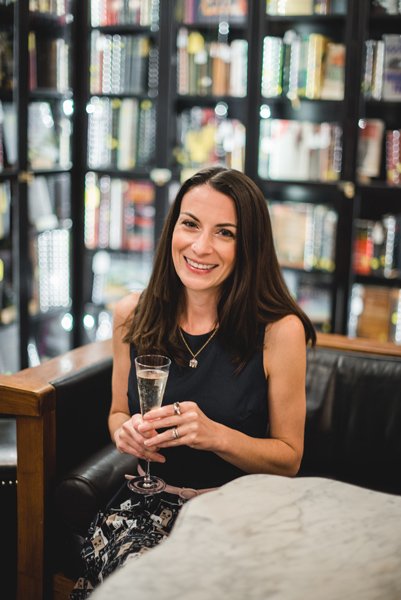 Asheville has fabulous bookstores. When we first visited Asheville, I had my eyes set on one bookish destination: Battery Park Book Exchange. You can drink champagne between the stacks.
Find literary cocktails, used books, and bookish schwag. Their wine selection is huge, and they serve a variety of other drinks like beer.
Battery Park Book Exchange hosts live music, poetry readings, and themed-events. Book clubs meet here along with bloggers, people celebrating milestones, and book nerds. It's kinda heaven.
---
---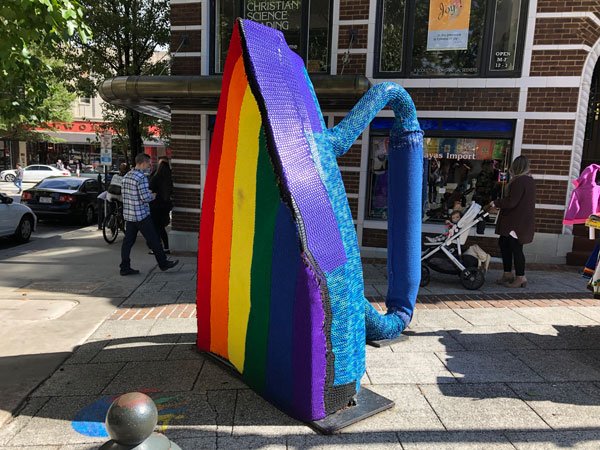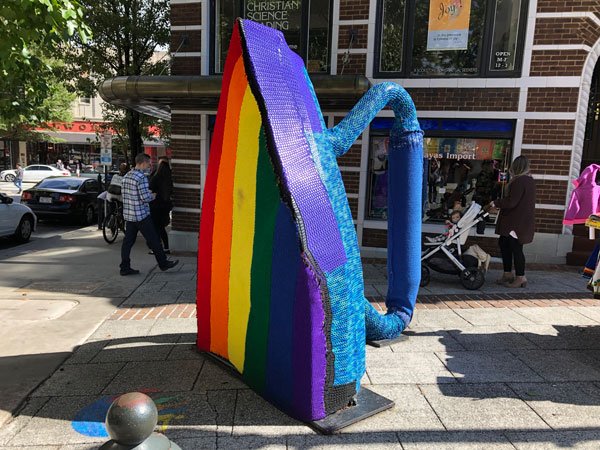 Full-Day 2 In Asheville, NC
I don't care what anyone says about the cost of tickets: If you are only in Asheville for 36 hours and you want to really SEE Asheville, you have to visit Biltmore Estate. Why? If you have a chance, read Denise Kiernan's account of the construction of the Biltmore in The Last Castle.
Also, know that you could spend a full day or two at the Biltmore. On our first visit — we are now annual passholders — we stayed for at least 6 hours.

However, if you have a short time in Asheville, here's how I'd play up this day.
4. Tour Biltmore Estate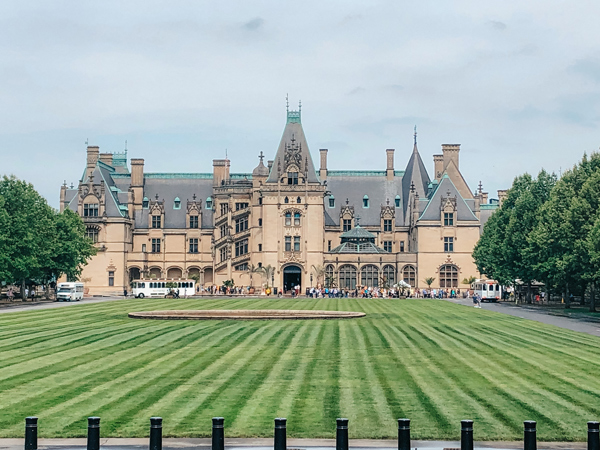 When people see pictures of the Biltmore, they usually assume that it's a luxury hotel. Yes, you can stay overnight on the surrounding properties, but sadly, you cannot sleep in the semi-creepy and haunted house. You know deep down you think that about the Biltmore house, too…
Biltmore is America's largest home and debatably the biggest in North America. Built by George and Edith Vanderbilt, with the help of Richard Morris Hunt and Frederick Law Olmstead, Biltmore is Asheville's version of the Newport mansions.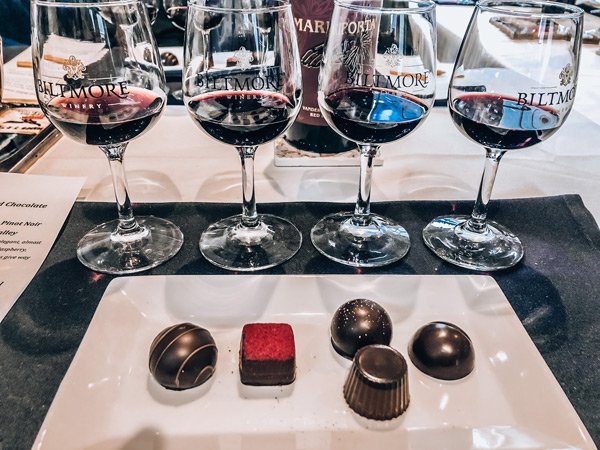 General admission tickets usually start around $54 – $70 for a self-guided tour of the house, admission to the grounds and walking trails, and a free wine tasting at the Biltmore Winery. If you book in advance, occasionally they slip in perks like a free audio-tour.
We love eating lunch at the Biltmore, and my favorites are the Stable Cafe and Cedric's Tavern. Sit in the old horse stables while munching on an egg salad sandwich. Or, pay homage to the Vanderbilt's beloved Saint Bernard over an American spread.
If you are traveling with younger children, be sure to check out these 8 Biltmore attractions with kids.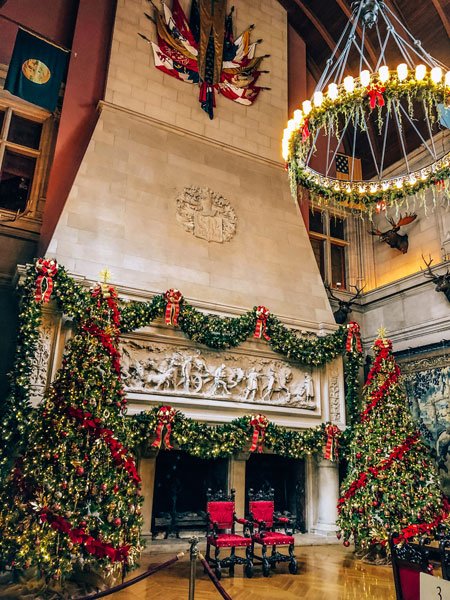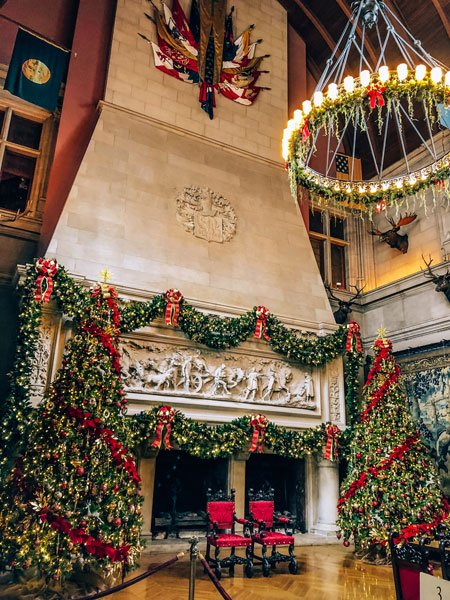 With only 36 hours in Asheville, 24 to spare, my ideal Biltmore itinerary:
Start with an early house tour (don't miss the library, swimming pool, and bowling alley)
Walk the gardens
Eat lunch on the estate, making advanced reservations
Drive to the winery for a tasting
---
---
5. Taste Test Your Way Through Asheville's Brewery Scene
With all of the drinking, you might want to Uber or at least park and pace yourselves in Asheville. The Asheville breweries are plentiful. If you don't drink, skip this section and see what else you can explore downtown in the next section.
To give you a mix of our favorite breweries in Asheville, these are the ones we frequent in downtown Asheville:

Wicked Weed – This Asheville brewery is probably one of the most well-known for tourists. Wicked Weed Brewing is always jumping. Find food, endless beers for all preferences, and cider. They also own the Funkatorium.

Bhramari Brewing – If you like unique and experimental beers, you'll love Bharmari Brewing. If you are lucky, you might catch a special sangria too. Yes, they have food and late-night options.

One World Brewing – With multiple locations, head to the basement on Patton Ave. for beer and a randomly weird but fun aliens and gamey setting. This Asheville brewery is perfect to escape the crowds.

Thirsty Monk – Do you love Belgian-Ales? Thirsty Monk is for you. Find a Belgian-beer tasting flight in the basement, and don't miss their craft cocktail rooftop bar.

Hi-Wire Brewing – I think Hi-Wire has the sweetest beers. Their downtown location is full of light and bubbling brews, famous for that rainbow mural.
---
---
6. Explore & Shop In Downtown Asheville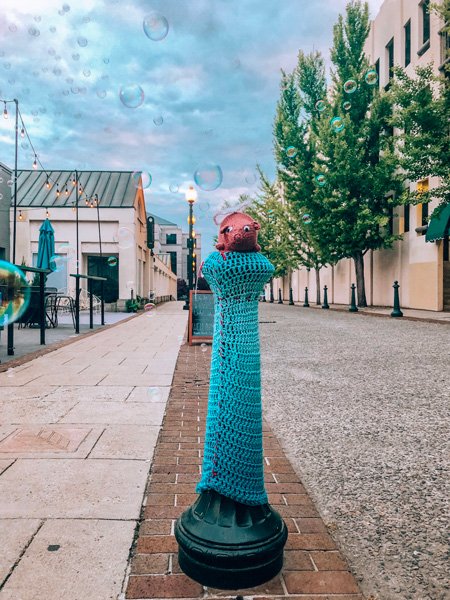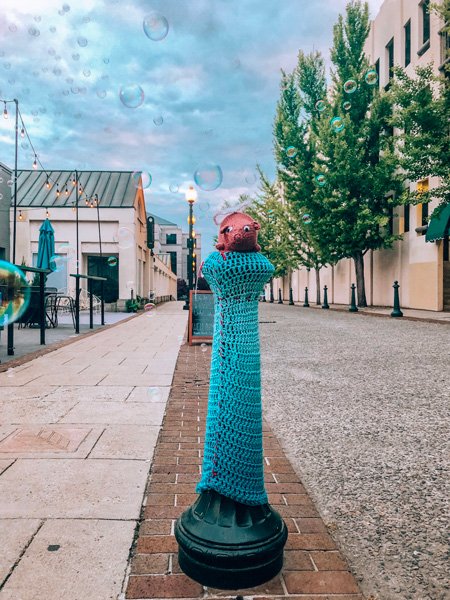 With 36 hours in Asheville, NC, if you don't have time to aimlessly walk around or shop, you might want to skip this itinerary idea.
However, a few points of interest if you have the time or are boozed out include:

7. Watch The Sunset Over Dinner At The Omni Grove Park Inn
The Omni Grove Park Inn is like adult Disney World — but also family-friendly. While you can stay here and enjoy the luxury mountain resort lifestyle, you might also visit for the Blue Ridge Mountain views, drinks, and food. They do have a spa for when you come back…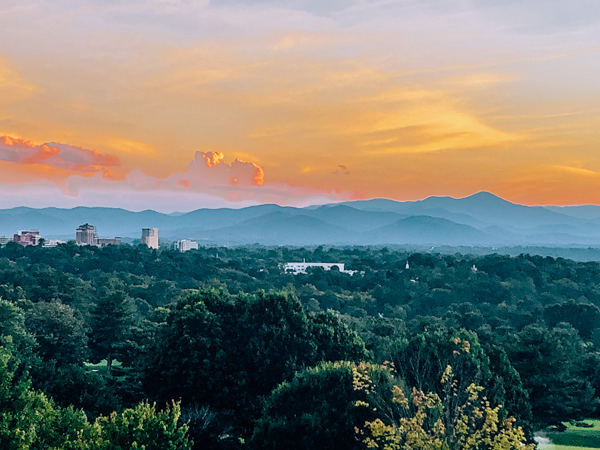 If you happen to land in Asheville around Christmas, you'll also love their holiday decor and annual gingerbread house display with hot cocoa.
Sunset Terrace is famous for its vibrant mountain sunsets. Pinks. Oranges. Purples. Am I in Santorini?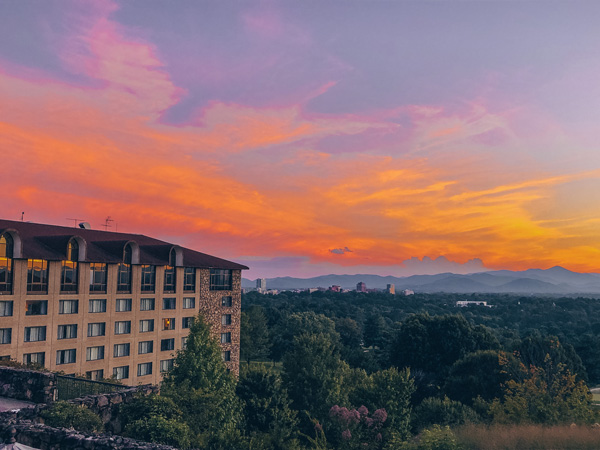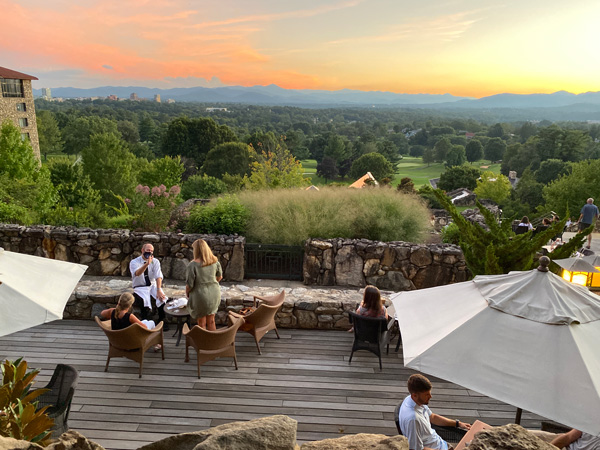 While you can dine at Sunset Terrace, you might just want to grab a drink at the Great Hall Bar and sit outside beyond the restaurant. Later, head over to Edison for dinner.
---
Never Miss Another Asheville Update
Are you tired of generic Asheville travel itineraries? Do you want to experience the magic of Asheville like a local?
Grab our free Asheville Favorites checklist today, including restaurants, breweries, and hiking. Plus, get local updates straight to your inbox. Sign up here.
---
36 Hour Asheville Itinerary: Leaving On Day 3
Sadly, your time in Asheville might be coming to an end. That just means that you will have to come back to see even more of North Carolina.

If you only have a half-day left in Asheville before heading out, here are a few of my final suggestions.
8. Drive Down The Blue Ridge Parkway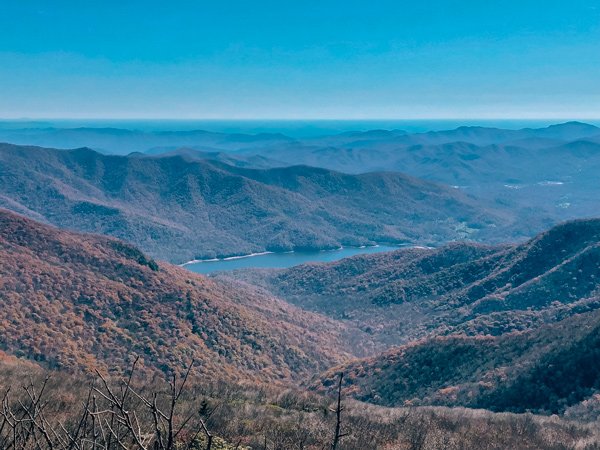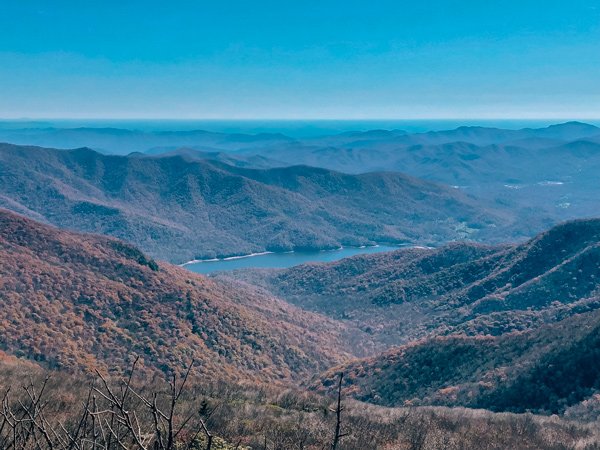 I don't know about you, but I cannot resist those gorgeous mountains.
The Blue Ridge Parkway has some of the best scenic drives and mountain views. I always think hiking in and around Asheville is a good idea.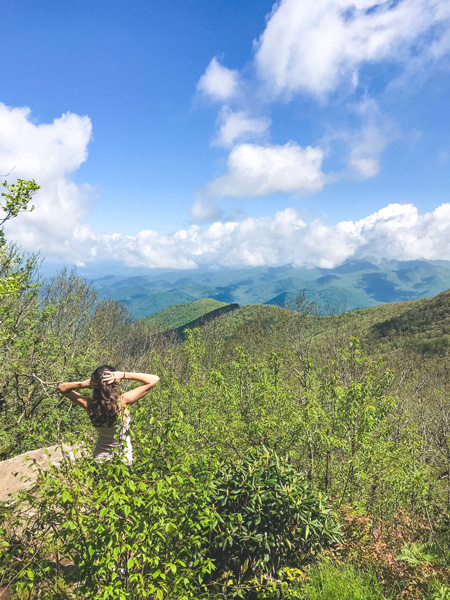 If you have a few hours in the morning, you can easily walk to the top of Craggy Pinnacle and back in under an hour. Along the drive there, you'll find multiple mountain vistas with pullovers perfect for pictures and stunning Asheville landscapes.
---
9. Eat Lunch At Sierra Nevada Brewing
(In January 2021, they are currently only offering takeout, but please check their website for updates, too.)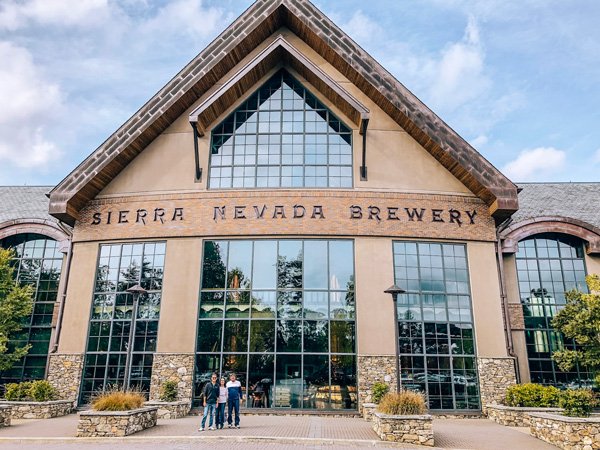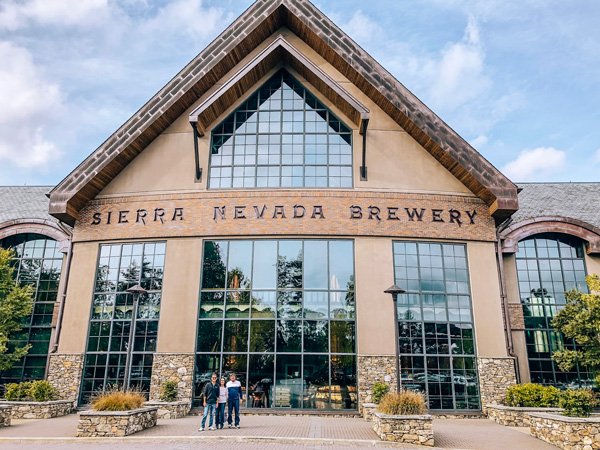 Sierra Nevada is huge, and you can tour their amazing facility. However, if you are ending your 36-hour Asheville visit, have lunch in their taproom. The brewing company is less than 10-minutes away from the Asheville airport.
Although their beers are not my personal favorite, you cannot beat sitting at one of the bars, drinking a light beer with some duck fries. Plus, the grounds are pretty impressive, and beer always puts me in a good mood before traveling.
Where Can You Stay In & Near Asheville, NC?
Aloft – Downtown Asheville – If you are looking to stay in downtown Asheville, the Aloft hotel is newly renovated as of 2020. Find colorful local murals, updated hipster rooms, and sprawling public areas. The Aloft hosts live music, has a new bar, and the patio space overlooks bustling downtown AVL. Did I mention there is a rooftop pool overlooking the mountains?
Hampton Inn And Suites Asheville Biltmore Area – Although this hotel is on busy Brevard Road – NC-191 – across from the Asheville Outlets, it's one of our favorites before moving to Asheville. Clean, updated, and in the middle of everything, you can access downtown, Biltmore, and the Blue Ridge Parkway fairly quickly.
1898 Waverly Inn Bed and Breakfast — While house hunting, we stayed at this sweet B&B in Hendersonville, NC (35-40 mins from Asheville closer to DuPont State Forest — think The Hunger Games waterfalls). We loved their social happy hour and friendly hosts. Hendersonville is a happening city, too.
Don't miss these Asheville Airbnb recommendations, too.
Are You Ready For Your Short Asheville Visit?
We love living in Asheville. The people are friendly, happy, and well hydrated. There are tons of activities, and you can enjoy both the North Carolina mountains and eclectic culture. Visit for the beer, Biltmore, and bookstores.
This post originally published on December 13, 2019 and has been updated for 2021.
More Posts To Help You Better Plan Your 36 Hours In Asheville:
50 Best Things To Do In Asheville, NC
Your Local Guide To Biltmore Estate
Asheville, NC Events By Month

Top Hiking Trails Near Asheville
Not-To-Miss Waterfalls
Food & Drink
Asheville Food & Drink Guide
Favorite Asheville Restaurants

Delicious Breweries In Asheville
Asheville Winery Guide
Distilleries In Asheville
Hotels & Seasons
Where To Stay In The Heart Of Asheville

Asheville In The Fall
Winter In Asheville