Are you looking for the best bookstores in Asheville, NC? Don't miss these Asheville bookstores, including a champagne book bar, used bookstores, and bookshops that are havens for writers and rebels.
Did you know that Asheville has a champagne book bar, a queer and feminist co-op bookstore, and a bookshop in a location where they used to auction cows?
In fact, one of the main reasons that we moved to Western North Carolina involves an Asheville bookstore. Can you guess which one pushed these boozy and bookish travel writers over the edge?
Battery Park Book Exchange! Picture sipping literary cocktails between the stacks in the heart of Downtown Asheville.
Of course, you cannot skip another one of the stellar Asheville bookstores, Malaprop's Bookstore and Cafe. Explore fantastic local book displays, attend author visits, and shop for geeky schwag.
Signing up for Malaprop's newsletter is also a must. The city truly is a book lover's dream.
So, what is our favorite bookstore in Asheville – as locals? What are some of the overall best bookstores in Asheville to drop into if you are visiting or are a resident?
We'll even share online bookshops, library book sales, and a huge bookstore near Asheville that sells toys and games. Let's get started!
Discover all of Asheville's terrific shops.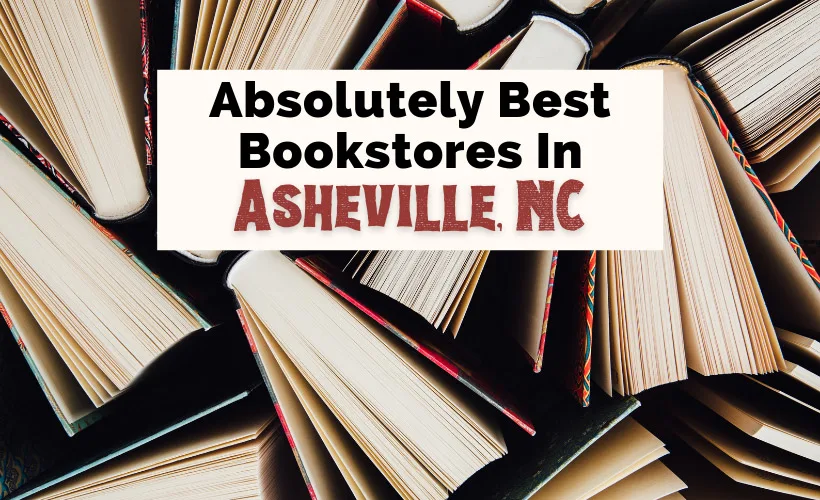 This post may contain affiliate links that earn us a commission at no extra cost to you. If you love these guides, support Uncorked Asheville here.
9 Amazing Asheville Bookstores
1. Malaprop's Bookstore/Cafe
Address: 55 Haywood Street, Asheville, NC
Website: https://www.malaprops.com/
Phone Number: (828) 254-6734
Nearby Parking Garages: Civic Center Garage or Rankin Avenue Garage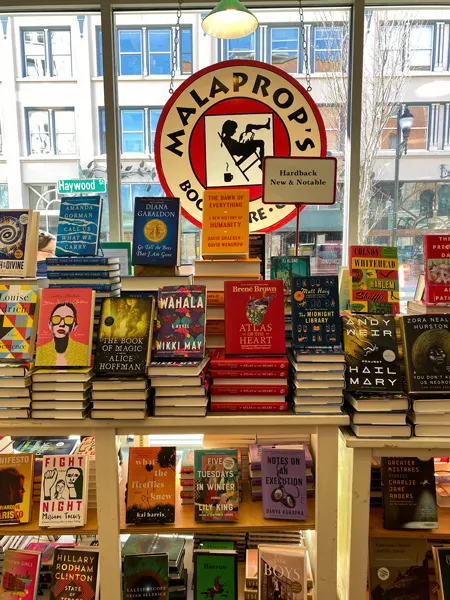 Malaprop's is our go-to Downtown Asheville bookstore, and the cafe is perfect for book lovers wishing to grab a coffee or tea.
Attend a literary event or peruse the stacks filled with shiny new books, bestsellers, and indie selections. We personally covet Malaprop's book displays.
Discover books set in Asheville, staff favorites, local travel guides, and seasonal or relevant books to read.
If you didn't already know, Asheville, North Carolina is a literary haven for writers. The state is filled with local authors like Denise Kiernan and Megan Shepherd.
Novelists, writers, historians, and poets love to talk about their books and writing at Malaprop's events.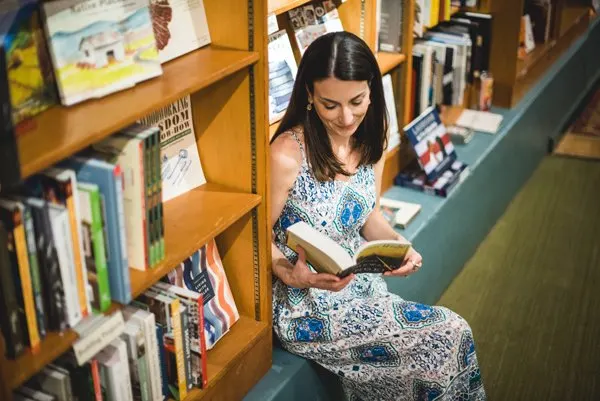 Plus, if you are a total sucker for bookish schwag, shop for astronaut cat notebooks, Shakespeare magnets, and The Little Prince socks.
Who doesn't covet a clever literary tote to carry all of their new purchases? We dare you to leave this popular bookstore empty-handed.
If you are looking for rarer and used bookstores in Asheville, Malaprop's has a sister shop, Downtown Books & News (DBN). Keep reading for the details…
Plus, a bonus is that Pack Memorial Library is close by. Drop into their small used bookstore, even if you aren't an Asheville resident. Nothing beats a good library book sale.
Discover more of the best places for coffee in Downtown Asheville, including The Rhu, French Broad Chocolate, High Five, and Double D's.
2. Firestorm Books & Coffee
West Asheville Address: 610 Haywood Road in Asheville, NC
Website: https://www.firestorm.coop/
Phone Number: (828) 255-8115
Parking: Find bike racks on Haywood Road and free street parking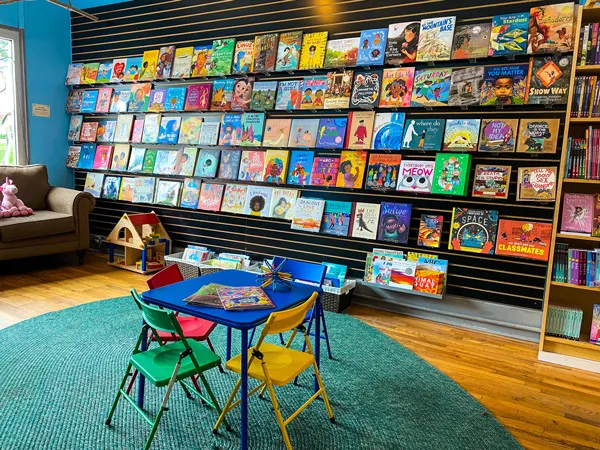 Firestorm Books & Coffee is one of the most radical and unique Asheville bookstores. They are not afraid to speak up for the community (and humanity).
A self-proclaimed queer, feminist collective, Firestorm is a worker-owned and self-managed business. Typically, BLM and "Defund the Police" signs greet visitors. This is your liberal haven.
While Firestorm operates like a nonprofit, they are actually a co-op with books and a community space for West Asheville.
Book lovers can peruse shelves of indie books, amazing diverse new book releases, artwork, and vegan treats.
They host film screenings, workshops, book clubs, and fundraisers. This is a dry (and safe) space, too.
Firestorm's goal is to reflect the needs of marginalized Southern communities. In the bathroom, find free condoms and a place to dispose of syringes with sharps.
Upcoming in 2023, Firestorm will relocate a mile away from their current site to 1022 Haywood Road, a former automotive shop.
3. Battery Park Book Exchange
Address: 1 Page Ave. Suite #101 in Asheville, NC
Facebook: https://www.facebook.com/batteryparkbookexchange/
Phone Number: (828) 252-0020
Parking: Metered street parking & the Wall Street Garage is the closest parking garage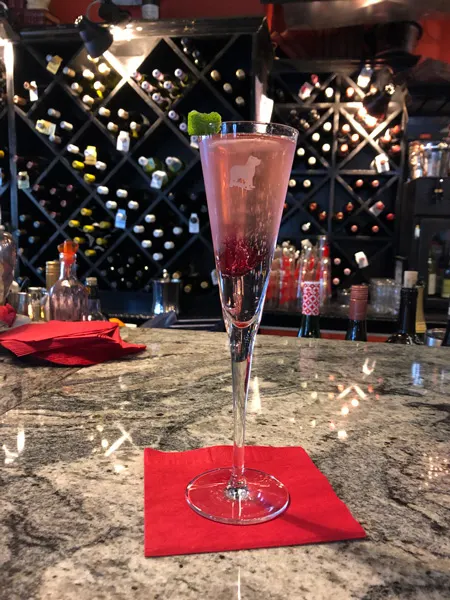 Imagine drinking champagne and literary cocktails in a used bookstore in Asheville. Sounds heavenly, right?
Although this is one of the busiest and most touristy bookstores, don't skip Battery Park Book Exchange. It also houses one of our favorite Downtown Asheville bars.
Located in the historic Grove Arcade, sit inside or outside. Taste test your way through their impressive wine collection paired with one of the best charcuterie boards in AVL.
We always order a literary cocktail crafted and named after a famous author.
Battery Park Book Exchange specializes in books about North Carolina, American and Southern history, and the Civil War.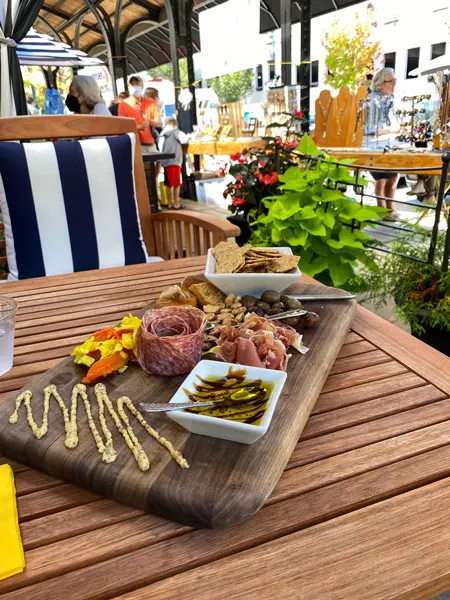 Of course, you will find pretty much any genre and type of book. Spend hours perusing the multi-level stacks.
Battery Park Book Exchange hosts live music, readings, and parties. You'll see small groups meeting for book clubs or celebrations.
If you wish to skip the crowds, we highly recommend stopping in on a weekday.
You may also want to head to the coolest and most nearby rooftop bars like Hemingway's or The Montford. Read more about Asheville's fabulous wine bars too.
4. Downtown Books & News (DBN)
Address: 67 North Lexington Ave. in Asheville, NC
Website: https://www.dbnbooks.com/
Phone Number: (828) 253-8654
Parking: While there is metered street parking, the Civic Center & Rankin Garages are your closest parking garages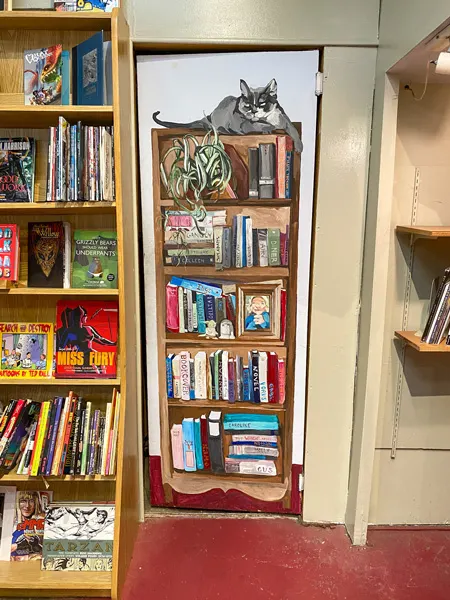 Downtown Books & News (DBN) is a used bookstore in Asheville and is the sister store to Malaprop's. DBN is also an art gallery and newsstand.
As they best explain, Downtown Books & News specializes in "metaphysical & occult, hippie how-to, homesteading & self-sufficiency, Eastern medicine, zines, things beautifully illustrated, and Easton & Franklin Press leather-bound editions."
Inside, you'll find old movie theater seating, endless bookshelves, and school desks from your childhood. It's incredibly nostalgic and cozy.
An extra cool fact: the store DBN is currently in used to be a shoe store and a jewelry store. Before then, people auctioned off their live cattle here.
P.S. We love book shopping across Asheville on a rainy day. Discover even more of Asheville's top indoor attractions and activities.
5. Bagatelle Books
Address: 428 C, Haywood Rd, Asheville, NC 28806
Website: https://www.bagatellebooks.com/
Phone Number: (828) 774-5585
Parking: Street parking along Haywood Road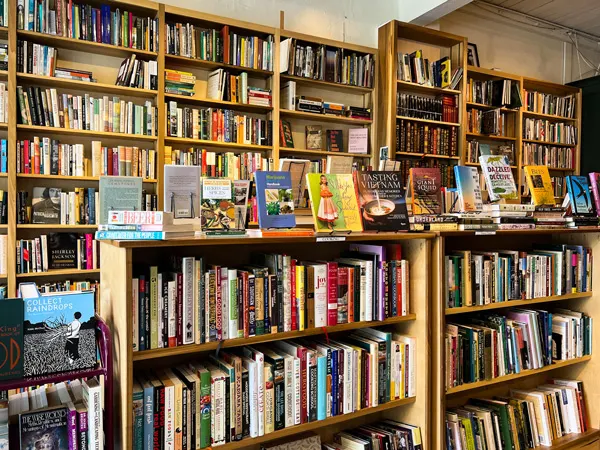 One of the smaller Asheville bookstores, Bagatelle Books sits on the lesser-frequented side of Haywood Road in West Asheville.
A newer second-hand bookshop, Bagatelle Books buys and sells used and rare books. They pride themselves on carrying "more esoteric and scarce titles."
While not as plentiful, you'll also find a few contemporary books hidden in their collection but not a ton of brand-new releases.
Bagatelle Books has a YA and children's section where you will find titles like Diary of a Wimpy Kid and Robert Beatty's Serafina series.
The bookshop consists of two main rooms, and the walls and lower shelves are filled with a plethora of books to choose from.
We recommend dropping into Bagatelle Books if you are searching for something special or specific that is harder to find in a mainstream bookstore.
Typically, Bagatelle Books is closed on Tuesdays, but always double-check hours on their website.
This Asheville bookstore is close to W.A.L.K. Asheville, Cellarest Beer Project, and Flora Asheville – a fantastic florist and plant store. We love shopping in this area.
6. Orbit DVD
Address: 781 Haywood Rd, Asheville, NC 28806
Website: https://www.orbitdvd.com/
Phone Number: (828) 251-1337
Parking: Street parking along Haywood Road & side streets; pay lots around the area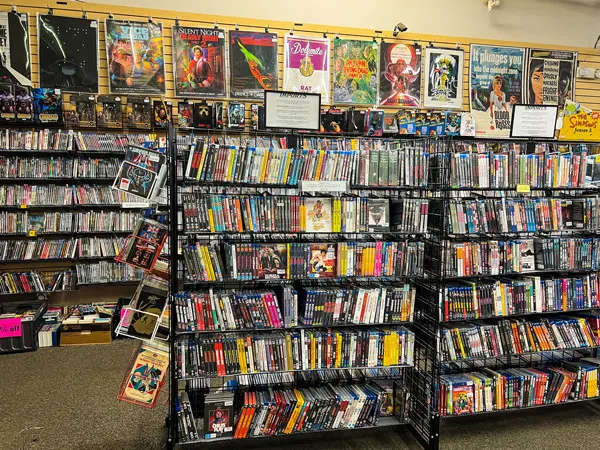 It's no secret that West Asheville is one of our favorite neighborhoods, and with all of its fantastic quirks, Orbit DVD is a hidden gem.
While not solely an Asheville bookstore, Murderinos will love Orbit DVD.
In fact, they even had Stay Sexy & Don't Get Murdered on display – along with gothic horror books like Mexican Gothic. We picked up a Grady Hendrix novel for our Croatia vacation.
Along with true crime, horror, suspense, supernatural, and thriller titles, find a sizable selection of witchcraft and fantasy books. It's a niche bookstore, and we are 100% here for it.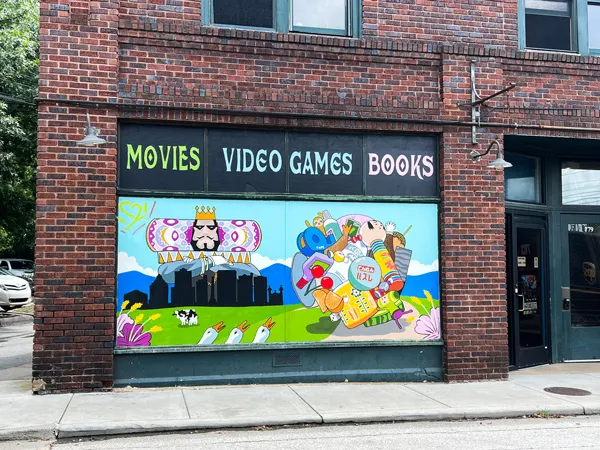 Of course, the big draw to Orbit DVD is its massive video game selection, old school and newer. We lost Tom for a bit in here.
Also, find gaming magazines, consoles, and controllers along with movies. Orbit DVD sells Funko Pop! and random but hipster schwag.
Just look for Gus Cutty's RuPaul and Dolly Parton portraits as well as Austen Mikulka's Betty White mural around Beauty Parade.
For movie buffs, be sure to check out the best movies filmed and set in North Carolina.
Never Miss Another Asheville Update
---
Tired of generic Asheville travel itineraries? Experience Asheville like a local with our free Asheville Favorites checklist, including restaurants, breweries, and hiking. Plus, get local updates – including events and hidden gems – straight to your inbox. Sign up here.
More Bookstores Near Asheville, NC
7. Sassafras On Sutton (Black Mountain)
Address: 108 Sutton Ave, Black Mountain, NC 28711
Website: https://www.sassafrasonsutton.com/
Phone Number: (828) 419-0677
Parking: You'll find numerous free lots and side street parking around Historic Downtown Black Mountain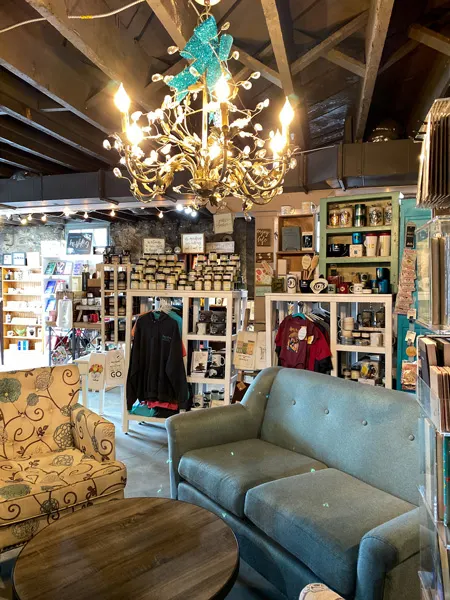 For a small Asheville day trip, Black Mountain is a gorgeous and worthy WNC mountain town. Only about 25 minutes from Downtown AVL, explore one of our favorite bookstores near Asheville.
As you stroll up to Sassafras On Sutton, you'll know that you are in for a fabulous and bookish experience. The store is a literary nerd's oasis.
Find a bench swing and outdoor patio before entering the bookstore's top-level floor designed with families in mind.
Endless board games, toys, stuffed animals, and children's books greet unsuspecting visitors. This is the only Asheville bookstore that's also a toy store on our list.
Then, head downstairs for Sassafras on Sutton's adult area filled with bookish schwag, including t-shirts, totes, and socks.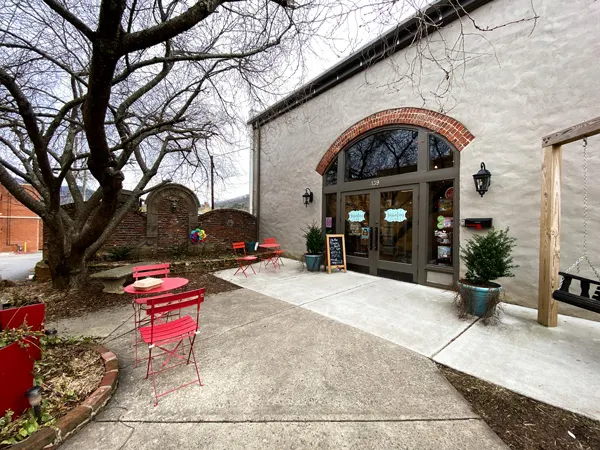 Their new releases section is one of the best. Sassafras on Sutton's book curators clearly know their stuff.
You'll also find a small tea and coffee cafe situated in the middle of endless black book stacks. Outside the second entry/exit toward the back, peruse Sassafras on Sutton's Free Little Library.
We could spend hours here.
After visiting Sassafras on Sutton, discover the best things to do around Black Mountain such as hikes, museums, and coffee shops.
If you are hungry, be sure to check out Black Mountain's delicious restaurants, including Cousins Cuban Cafe, Berliner Kindl German Restaurant, and local favorite, The Trailhead.
8. Joy Of Books (Hendersonville)
Address: 242 N Main St, Hendersonville, NC 28792
Website: https://www.joyofbooks.net/
Phone Number: (828) 417-2875
Parking: Side and main street parking around Hendersonville along with some small pay lots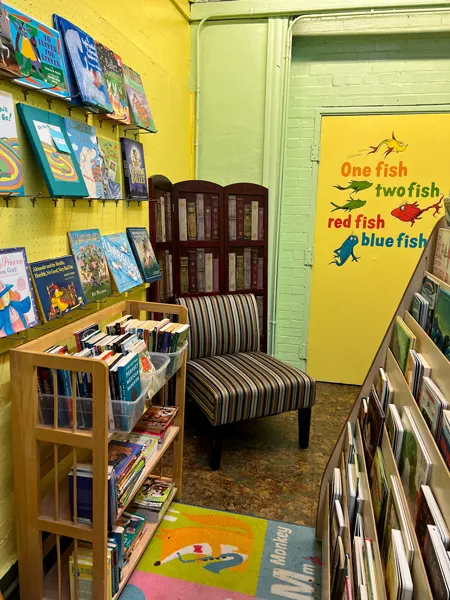 Located in Downtown Hendersonville, Joy Of Books is another terrific small used bookstore near Asheville – about a 40-minute drive.
Grab a coffee from Black Bear, and drop in here for a sweet children's section, regional author finds, NC hiking and waterfall books, and a few used new releases on sale.
It's a bit narrow and tight inside but worth it.
Joy Of Books will buy your gently used books and re-sell them. Also, shop for greeting cards, journals, and small bookish gift schwag.
Like Black Mountain, Hendersonville is a great city near AVL to visit, especially for museum and literary travelers.
We head here after hiking DuPont State Forest where they filmed scenes for The Hunger Games and The Last of the Mohicans. The three-waterfall hike is a must.
Like Asheville, Hendersonville also houses delicious restaurants, breweries, wineries, and coffee shops – along with seasonal apple orchards.
9. Wall Street Books (Waynesville)
Address: 163 Wall St, Waynesville, NC 28786
Website: https://www.wallstreetbooksnc.com/
Phone Number: (828) 456-5000
Parking: Free lots and street parking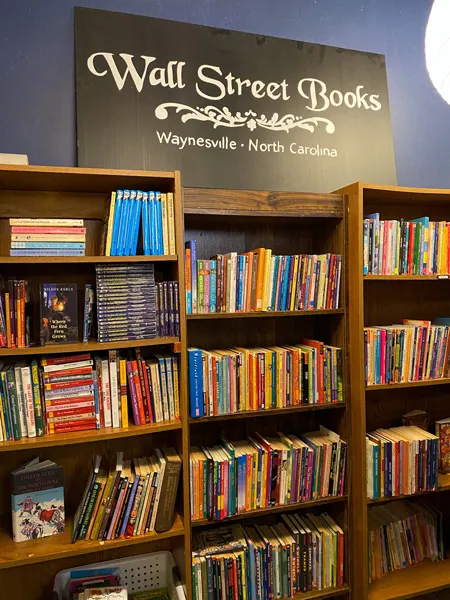 One of the furthest Asheville bookstores on this list, we had to give a quick shoutout to Wall Street Books, especially since our readers frequent the Maggie Valley, Waynesville, and Lake Junaluska areas.
Tucked into the side streets of Downtown Waynesville, Wall Street's shelves are chock full of used books.
Encounter heaping sections by genre along with bestsellers and staff favorites. It's a maze of books!
As one of the larger bookstores near Asheville on this list, you are sure to find your next great read.
Take a quick video tour of Wall Street Books on our sister site's IG account here.
2022 Updates: The Captain's Bookshelf – Permanently Closed (Online Too)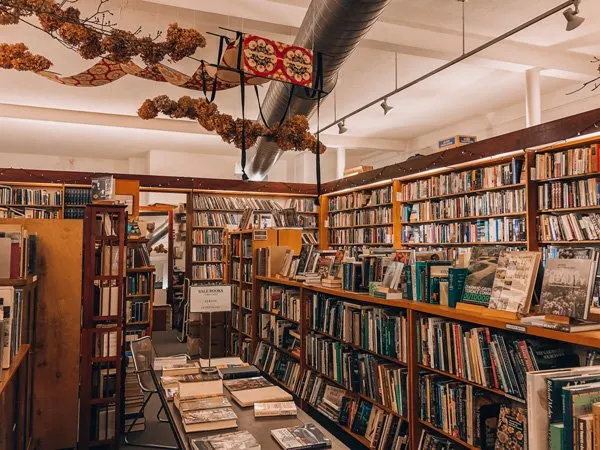 Established in 1976, The Captain's Bookshelf was one of the oldest bookstores in Asheville.
They bought and sold used and rare books, including signed books, first editions, and leather-bound novels. Unfortunately, the downtown brick-and-mortar bookshop on Page Ave closed in 2020.
In 2022, with the death of one of the co-owners, they announced the closing of their online shop too. We first saw the announcement in Mountain Xpress. We will miss them.
Even More Comic Book Stores and Bookstores in Asheville:
Biblio.com (Online Asheville bookstores)
Asheville Comics
Morgan's Comics
Comic Envy
Need help finding a book to read? Check out our reading lists:
Lastly, if you are looking for book recommendations, head over to our sister site, The Uncorked Librarian (TUL). Also managed by Christine, TUL focuses on books and movies to inspire travel. Find reading lists with new books and movies, books/movies by country, and seasonal to-watch and to-read lists. We also host the annual Uncorked Reading Challenge and would love to have you.
More book and movie lists on Uncorked Asheville you might enjoy:
Did you find a new bookstore in Asheville, NC to love? Save this article for later: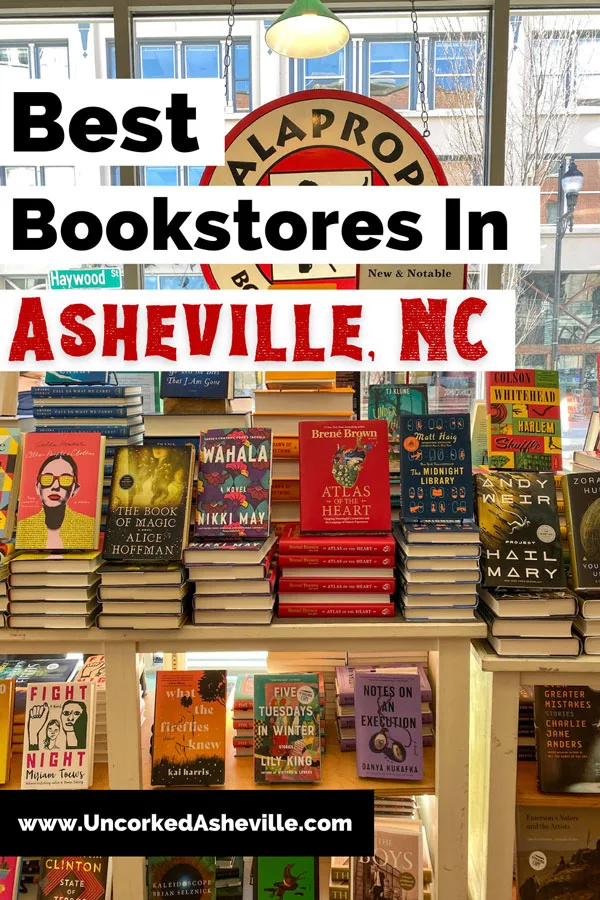 Do you have a favorite Asheville bookstore?
What are your favorite Asheville bookstores? Do you prefer used bookstores or ones that sell only new books? What is your top bookstore in the United States? Around the world? Please let us know in the comments.
Before you go…
We are huge bibliotourists, and we always seek out libraries, bookstores, lit bars, historic sites, and more while traveling. If you love all of these things too, be sure to read our Asheville for book lovers guide. Tour the Thomas Wolfe Memorial, and hike The Hunger Games waterfalls. Summer like the Fitzgeralds (well…), and dip into some local library book sales.
Related Articles: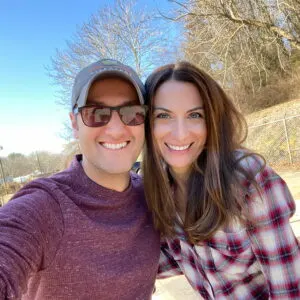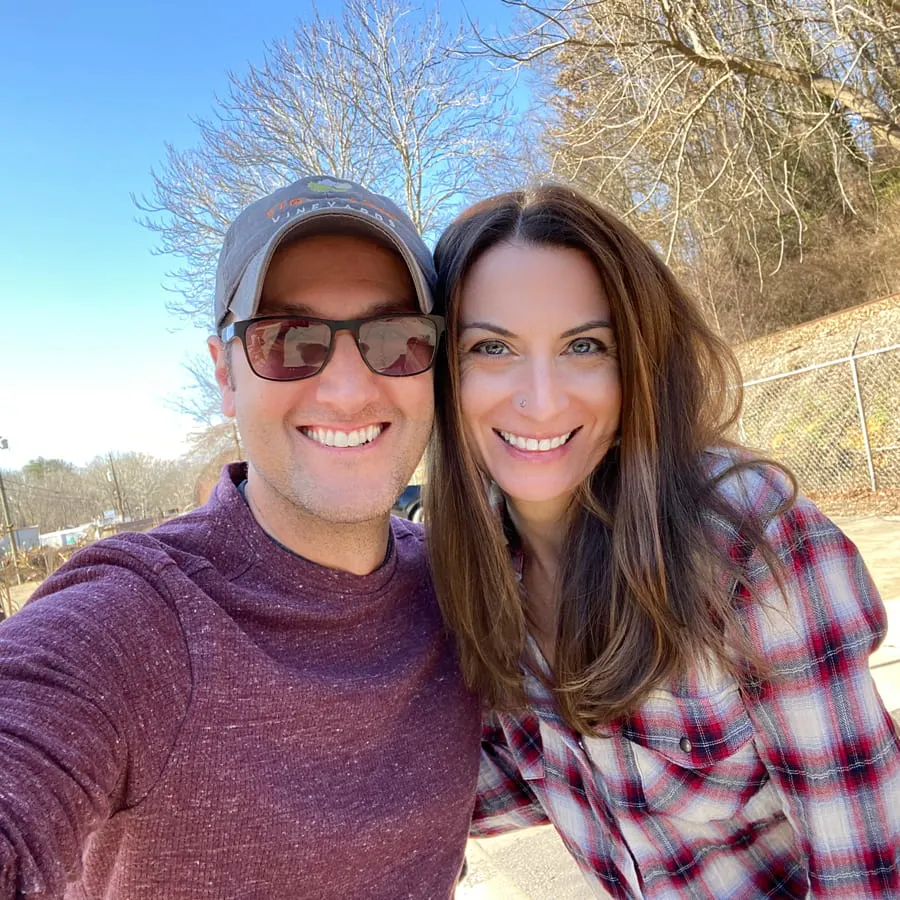 Christine (pronouns: she/her) is the owner and lead writer of Uncorked Asheville. After falling in love with those gorgeous Blue Ridge Mountains, Christine and her husband Tom decided to call Asheville, North Carolina their home. When her pointy Italian nose isn't stuck in a book, Christine is adopting all of the kitties, getting lost in the forest, and drinking an ESB.
Christine has a BA in English and History from Smith College, her MLIS from USF-Tampa, and is a former U.S. Fulbright Scholar - Indonesia. She also owns The Uncorked Librarian LLC with books and movies to inspire travel.