Uncover the best things to do in Maggie Valley, NC, including spooky places, gorgeous hikes in those Smoky Mountains, and beer by the creek.
As Asheville locals, we love exploring Western North Carolina's mountain towns. Each has its own unique personality, restaurants, hiking trails, and shops.
The Maggie Valley attractions are especially unique and worth a day trip from AVL or even an overnight stay.
What is Maggie Valley known for?
Back in its heyday, families flocked to Ghost Town in the Sky, which is no longer open and remains an abandoned site. However, there are always resurfacing rumors of its revival…
With this Wild West theme park no longer attracting visitors, those wondering what to do in Maggie Valley will still find plenty of fun activities for the entire family.
Chase multiple waterfalls – Mingo Falls and Soco Falls, just to name two – and find nearby access to Great Smoky Mountain National Park. Watch the elk from afar.
Plus, hop on one of the gorgeous Blue Ridge Parkway hikes, perfect for sunsets and picnics. Stay at a quirky motel, and enjoy a local brew by a babbling creek.
Shop at endless specialty shops in Downtown Maggie Valley, and hike to a tragic plane crash site. Climb a rickety tower for fantastic views.
Of course, the most famous Maggie Valley things to do include winter sports at the Cataloochee Ski Area.
So, what are the not-to-miss attractions in Maggie Valley?
And, how about the best things to do near Maggie Valley and around Haywood County – like Cherokee, Waynesville, and Lake Junaluska? Let's get started.
Explore more of our top mountain escapes near Asheville, NC.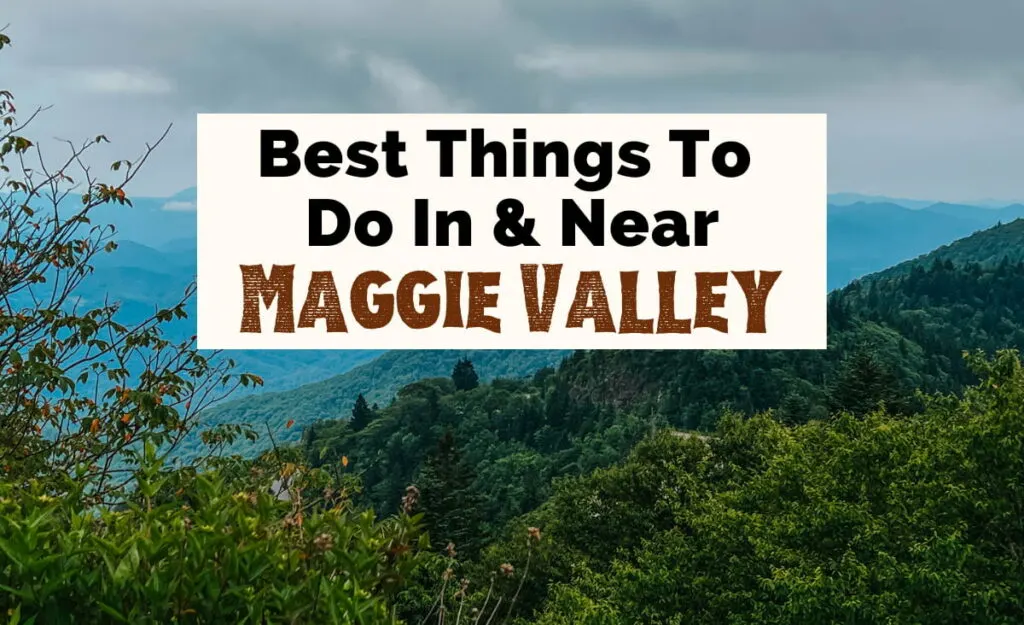 This post may contain affiliate links that earn us a commission at no extra cost to you. If you love these guides, support Uncorked Asheville here.
Scan traveler reviews for where to stay in Maggie Valley.
15 Best Things To Do In Maggie Valley, NC
1. Drive the Scenic Blue Ridge Parkway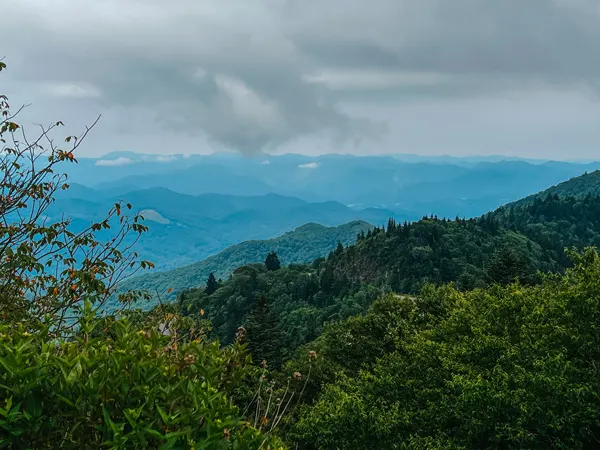 One of the best things to do in Maggie Valley is driving along the Blue Ridge Parkway (BRP), which is accessible from Maggie Valley's Highway 19.
Plus, did you even visit Western North Carolina if you didn't take a scenic drive along the BRP?
Spanning from Virginia's Shenandoah National Park to NC's Great Smoky Mountains National Park, everyone covets "America's favorite scenic drive." It's easy to see why.
A two-lane, typically 45-mph road, the Blue Ridge Parkway is filled with varying length and difficulty hiking trails, waterfalls, and scenic overlooks.
Pass by a bear or spy WNC's famous wildflowers.
Which brings us to one of the top Maggie Valley attractions: Waterrock and Browning Knob.
2. Hike Waterrock Knob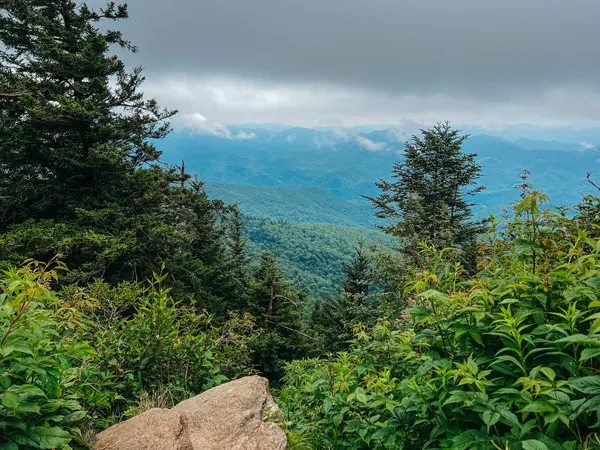 It's no secret that part of WNC living is catching those gorgeous sunsets or enjoying a picnic in the mountains.
If you are wondering what to do in Maggie Valley and can't decide between hiking trails, Waterrock Knob and its visitor center boast gorgeous sunsets and a moderate hike for the entire family.
Find pit toilets, picnic tables, and BRP exhibits in the parking area. However, keep in mind there is no running water – bring that hand sanitizer and those wet wipes.
The hike up to Waterrock Knob is a fairly steep incline and around a mile long, out and back. However, besides the elevation gain, it's not too challenging for low-key hikers.
You'll see quite a few families and older couples on the trail. Just be prepared for steep slopes, stairs, and stones.
At the top, hang out on a cliff overlooking the Smokies, Craggies, Balsams, Blacks, and Blue Ridge mountain ranges. Estimate around 45 minutes total for the round trip out and back.
Then, possibly continue on to the much more difficult hike to Browning Knob with similar views as Waterrock.
Just keep in mind that the fog can really foil those views, and the BRP closes for much of the winter. We always recommend checking with the NPS for BRP gate and road closures.
Waterrock Knob Visitor Center | Milepost 451.2
3. Channel Your Inner Dark Tourist
Abandoned Plane Crash Site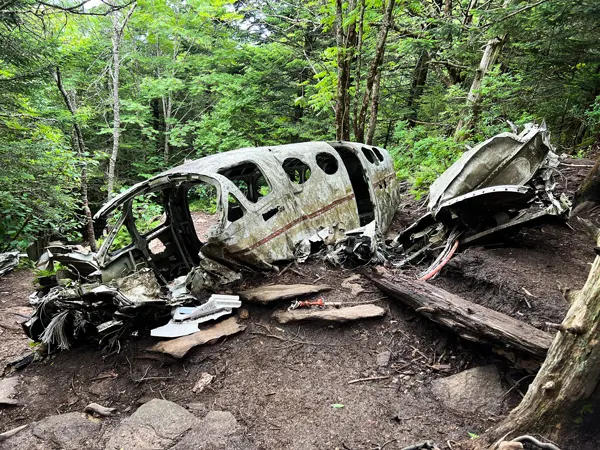 We are fascinated by the history and ghost stories of North Carolina's abandoned places, including Henry River Mill Village – the District 12 filming location in The Hunger Games.
One of the most somber dark tourist things to do in Maggie Valley and Sylva includes visiting the abandoned plane crash site for a Cessna 414. Both the hike and story aren't for the weak of heart, though.
Flying from Illinois, Pilot Ernest Martin (53) and his secretary "Centa" Eggar Jarrett (42) should have landed at Jackson County Airport.
Unfortunately, they didn't file a flight plan, flew too low, and the weather and potential drinking weren't in their favor. Their plane crashed just outside of Waterrock Knob, killing both Martin and Jarrett.
Recovery teams retrieved their remains but left the plane on-site. Today, people hike to the plane crash site, which is marked with yellow blazes on the trees.
Find the Cessna's fuselage along with scattered plane parts.
From Waterrock Knob, the crash site is only about .6 miles+ further into the Smoky Mountains. However, this is an extremely difficult hike – and about 2+ miles total since you have to start at Waterrock Knob.
Parts of the trail have eroded and washed away, and experienced hikers will have to navigate and climb up (and down) roots, rocks, and hills.
Even the slightest moisture makes the path dangerously slippery.
Waterrock Knob Visitor Center | Milepost 451.2
Ghost Town In The Sky (Closed)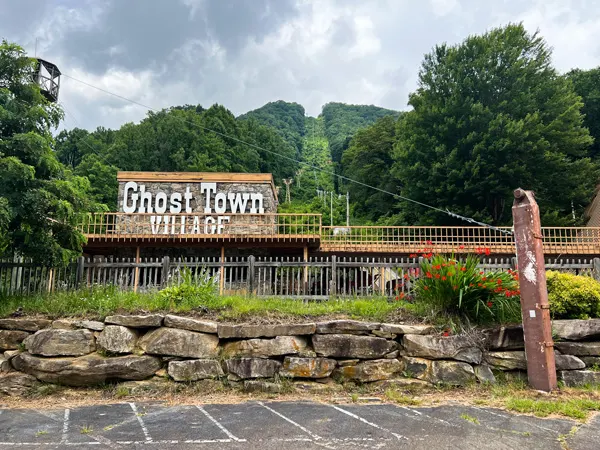 If this hike sounds like a bit too much – as mentioned in our introduction to Maggie Valley – dark tourist travelers will also pass by the former Ghost Town in the Sky (also known as Ghost Town Village) – one of the most famous attractions in Maggie Valley.
Unfortunately, you cannot visit the former Wild West town – once accessible by chair lifts – and may even get arrested for trespassing if you try.
From their parking lot and the road, though, the abandoned ticket office sadly awaits a potential but unlikely re-opening.
Ghost Town Village sits at an elevation of 4,600 feet on Buck Mountain.
If you love ghost stories and tales of monsters, be sure to check out these NC urban legends.
Ghost Town In The Sky | 16 Fie Top Rd, Maggie Valley, NC 28751
4. Chase Waterfalls
Soco Falls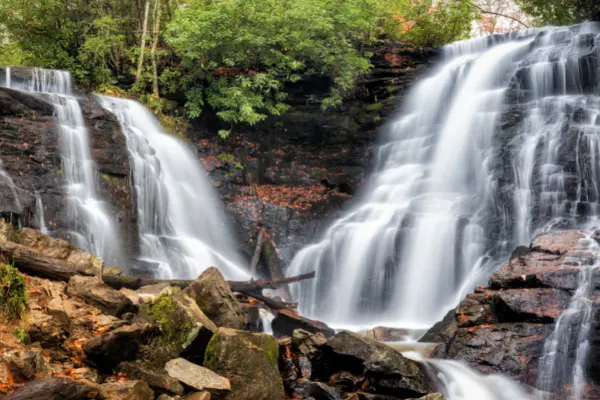 Like much of WNC, the Maggie Valley attractions are largely natural phenomena, including those breathtaking waterfalls. Many are short hikes too.
Soco Falls is a unique double waterfall in the heart of Maggie Valley along the edge of the Qualla Boundary, or Tribe of the Eastern Band of the Cherokee Indians.
A short walk – under .5 miles round trip – from U.S. Highway 19, park in the small roadside lot to head to the 120-foot falls.
We should warn you, though, that both the parking lot and hike are tricky when it is crowded. The roadside lots may fill up, and you don't want to stick out on the busy road.
As you trek down, there is a much easier and safer view of the falls from a viewing platform – but it is not as clear a view or as great as heading down the very steep trail to the base of the falls.
If you walk about .2 miles further down, you'll see the double falls. However, know that the pathway is slippery, muddy, and treacherous. You will have to climb up rocks to get back.
Loose guiding ropes dangle to help you navigate the mountain, and you'll want to be in the appropriate shoes.
Many people feel comfortable going only so far, and when it's busy, people start sliding around you. Exert extreme caution, and practice waterfall safety.
We suggest going after dry weather too – and not when there are leaves, snow, rain, or ice on the ground.
However, with all of that said, Soco Falls is one of the best things to do in Maggie Valley – you won't soon forget it.
Soco Falls | US-19, Maggie Valley, NC 28751
Mingo Falls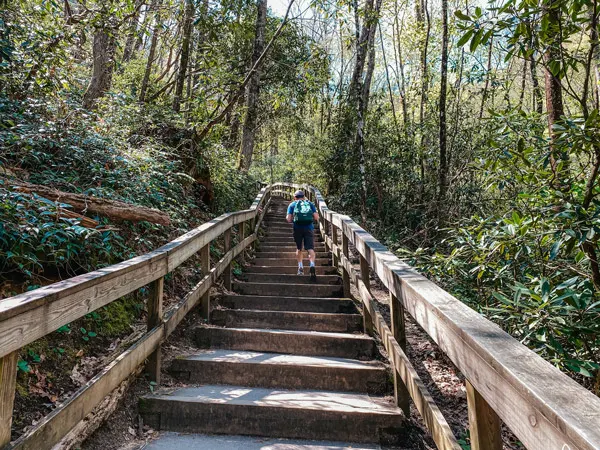 If you are looking for another short waterfall hike and more things to do near Maggie Valley, head to Mingo Falls in Cherokee.
About a 30-minute drive from Soco Falls, Mingo Falls sits at one of the entrances to Great Smoky Mountain National Park.
A half-mile out and back, the hardest part of the Mingo Falls Trail is climbing all 160 steps (yes; we counted!). Once there, a magnificent 120-foot waterfall awaits you.
Mingo Falls Eastern Cherokee Reservation | Cherokee, NC 28719
5. Drink Craft Beer By The Creek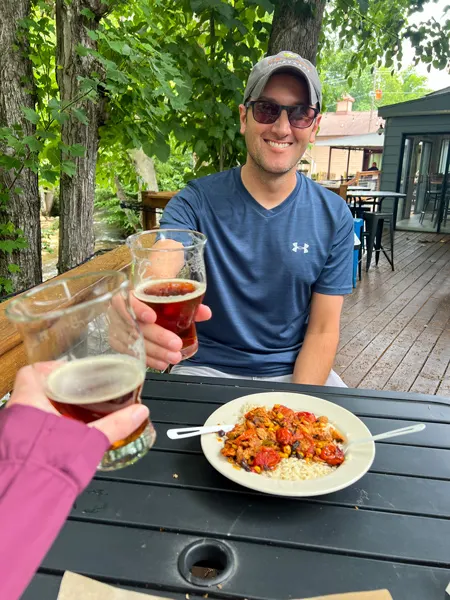 We are pretty consistent here at Uncorked Asheville, and one of our all-time favorite Maggie Valley things to do involves beer.
After hiking along the Blue Ridge Parkway or in Great Smoky Mountain National Park, we cannot resist stopping at BearWaters Brewing Creekside location.
Nothing beats delicious local craft beer by a babbling creek. We always try to grab a table outside along the water.
Choose from a sizable draft list – hello, ESB, ales, IPAs, and lagers – along with pub grub. Tom has Celiacs and enjoys gluten-free options here, including rice and bean bowls.
Of course, a burger, sandwich, or flatbread is great fuel after a long day out, and beer always pairs well with pretzels, guac, and fried pickles.
OK, it might not be the healthiest option but we've earned it! Plus, this is hands-down our favorite restaurant in Maggie Valley.
BearWaters Brewing – Creekside | 4352 Soco Rd, Maggie Valley, NC 28751
6. Shop in Downtown Maggie Valley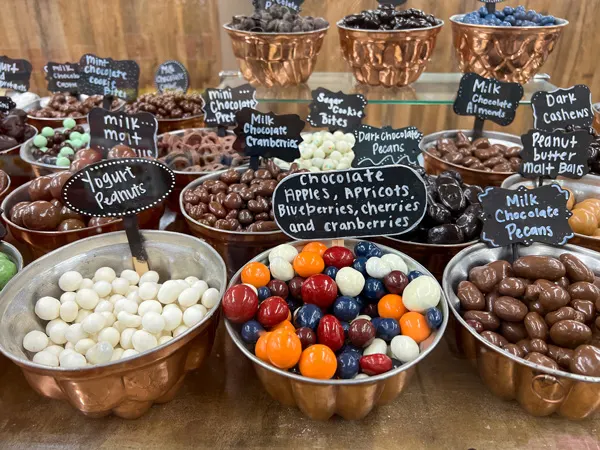 Wondering what to do in Maggie Valley next? Why not shop for gifts, specialty food and wine, and mementos?
Although Downtown Maggie Valley isn't all quite walkable like Downtown Hendersonville or DT Asheville, there are multiple strips of specialty and antique shops along Soco Road – many of which are bunched together.
For health food, vegan and gluten-free treats, essential oils, and supplements, peruse the aisles of Wild Market (3435 Soco Rd).
For candy lovers and a dose of nostalgia, Jelly Bellies (3477 Soco Rd) promises over 365 types of candy, including boozy jellybean flavors and fudge. We even found edible bubbles and candied…crickets.
Pick up wine and wine taste at B & C Winery (2427 Soco Rd). Their vineyards are located in the U.S. as well as Argentina, Canada, and Spain.
Popular in NC and for littles, mine for gems and shop for jewelry at Blue Earth Traders Rock Shop & Gem Mine (3894 Soco Rd).
Just know that some of the shops in Maggie Valley only accept cash.
Visit NC Smokies has a complete list of the Maggie Valley shops. For Maggie Valley attractions, the shops are certainly quirky and fun to dip in and out of on a chill day.
7. Tour The Motorcycle Museum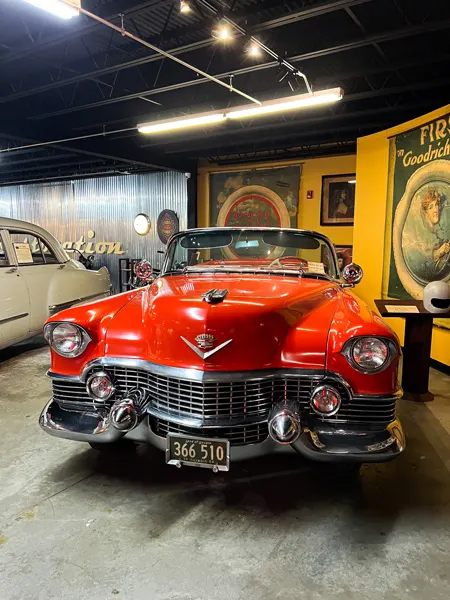 One of the more unique things to do in Maggie Valley includes visiting Wheels Through Time, especially if you enjoy rare motorcycles, antique cars, and even a Harley Davidson-made plane.
This is a 38,000-square-foot building and one of the world's top Vintage American Transportation collections. It's impressive, even if you aren't terribly interested in the subject.
For bikers, though, you'll know that you are home the second the gasoline smell hits your nose. It's strong.
A visual timeline of machinery, witness how the motorcycle and automobile industry have evolved over time. Find helpful staff on the floor – and they love to playfully show off.
You'll hear the occasional engine revving and horns honking.
The museum is typically open Thursday through Monday and is $15+ for an adult ticket; please always double-check their website for the most up-to-date information.
Wheels Through Time will grow busier during peak seasons and around festivals.
If antique transportation systems are your jam, you might also enjoy one of Asheville's most unique museums, Estes-Winn Antique Car Museum.
Wheels Through Time | 62 Vintage Ln, Maggie Valley, NC 28751
8. Ski, Snowtube, and Snowboard
During an Asheville winter, visitors and locals flock to the area's ski resorts. One one the biggest winter attractions in Maggie Valley, Cataloochee Ski Area promises just that.
From skiing to snowtubing and snowboarding, Cataloochee Ski Area is a hot spot for groups, families, and solo skiers.
They offer ski lessons, host family days, and have classes. Rent ski equipment on-site, and be sure to check out their lodging partners.
Cataloochee Ski Area | 1080 Ski Lodge Rd, Maggie Valley, NC 28751
9. Climb The Soco Crafts Tower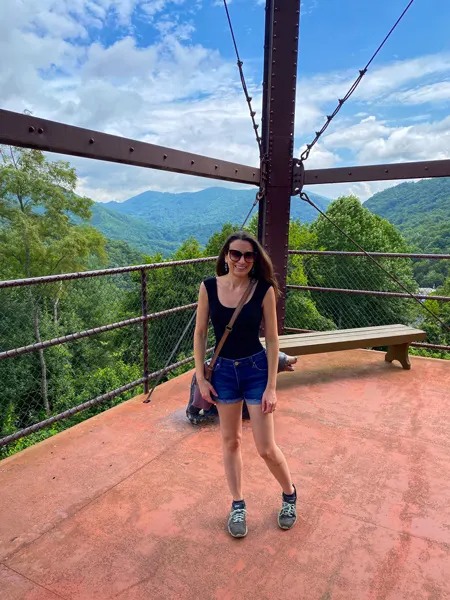 We recently saw reviews that said Soco Crafts & Tower was "awful" and "skip it." For 50 cents, we'd say we had a lovely and surprising time. We'd 100% recommend it.
Sure, this is also one of the cheesiest things to do in Maggie Valley, but it's fast, budget-friendly, and those views are incredible. Budget about 15-20 minutes for this unique Maggie Valley attraction.
Park at and enter Soco Crafts, and pay your entrance fee at the counter.
The store is family-owned, and they also sell crafts, t-shirts, souvenirs, rock candy, and jewelry.
Head to the back for their rickety outdoor tower, which reminds us a lot of Fryingpan Mountain Tower near Mount Pisgah.
Climb the grated stairs, which go about 9-stories high. The top is a little shaky and overlooks all of Maggie Valley.
Spy parts of Ghost Town in the Sky too. Of course, this isn't the best thing to do in Maggie Valley on a foggy/rainy day or if you are scared of heights.
Soco Craft & Tower | 6638 Soco Rd, Maggie Valley, NC 28751
10. Stay Overnight At A Motel
Who knew that the best Maggie Valley attractions included its quirky motel scene – although this one might not be for everyone…
Downtown Maggie Valley is full of that old-fashioned charm, including its budget-friendly stays.
A few of the highest-rated motels in Maggie Valley include:
Johnathan Creek Inn and Villas – Enjoy an indoor swimming pool and outdoor hot tub along with that famous country decor.
A Holiday Motel – Across from the Maggie Valley Festival Grounds, find an outdoor swimming pool and playground.
Five Star Inn – Close to the Wheels Through Time Museum, Five Star Inn features all of the basics for a great price.
The Clarkton Motel – If you enjoy that retro charm and a bonefire, check out this motel.
Route 19 Inn – This is a quirky and bright motel with a garden and BBQ facilities. They also have ski storage space.
Explore more places to stay in Maggie Valley.
If you are day-tripping from Asheville, read more about our top AVL hotel recs too.
11. Dine At A Mom & Pop Restaurant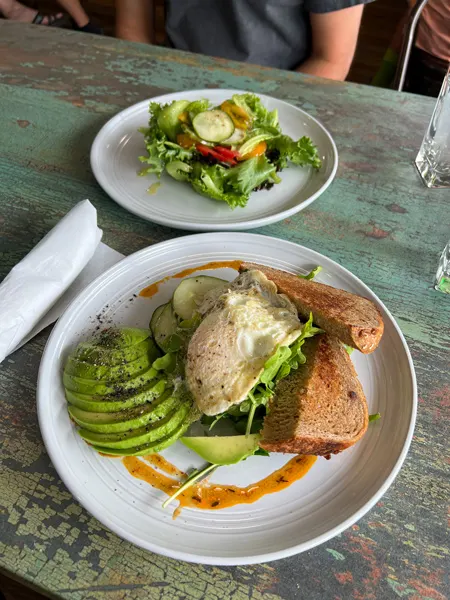 Living in Asheville, we are 100% foodies, especially with the endless award-winning AVL restaurants. However, we also enjoy taste testing our way across Western North Carolina.
And you can bet that one of our favorite things to do in Maggie Valley is eating, especially after a long hike.
A few highly-recommend places to eat in Maggie Valley include Joey's Pancake House, Country Vittles, Brickhouse Burgers and Pizza, and Maggie Valley Sandwich Shop.
You know that we love BearWaters Brewing – mentioned above – and we enjoy fresh salads and sandwiches at The Chef and The Baker – who sometimes have gluten-free bread.
Grab unicorn and Big Foot cookies next door at Sunshine & Sugar Bakeshop and nearby coffee from Organic Beans Coffee Co.
Most of the places to eat in Maggie Valley are pretty casual and many prefer cash.
12. Spy Elk In The Smokies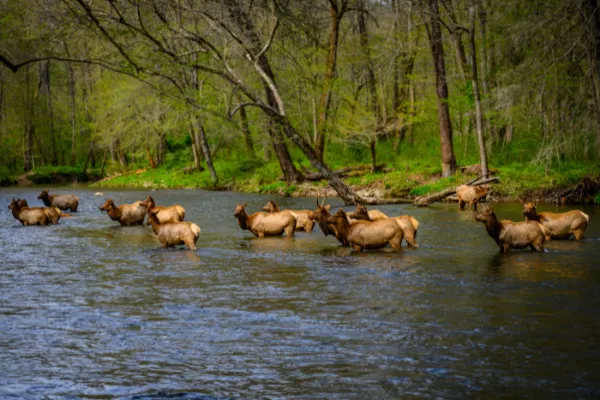 Of course, one of the absolute best things to do in Maggie Valley is to visit the Smokies.
Although we've lived here for years, we still have so much to explore in Great Smoky Mountains National Park, one of America's most-visited national parks.
A UNESCO World Heritage Site, the Smokies are full of biological diversity, largely untouched land, and breathtaking landscapes.
From Maggie Valley, we suggest starting at the Oconaluftee Visitor Center – which is also close to Mingo Falls.
Here, grab information from the rangers, use the facilities, and shop for local gifts and trail snacks.
Behind the visitor center, also find the Oconaluftee River Trail, home to one area to spot elk. Please just remember to keep your distance, it's the law.
Then, head to the Mountain Farm Museum and Mingus Mill – both of which are free. Spy a log farmhouse, barn, and apple house that showcase older Appalachian life.
In the summer, enter the firefly viewing lottery, and throughout the year, explore the Smokies' hiking trails and waterfalls.
Another of the most popular things to do near Maggie Valley, head to Clingmans Dome. This is the highest point in Great Smoky Mountains National Park.
VisitSmokies.org and the National Park Service have a plethora of information to help you plan your trip.
13. Attend A Festival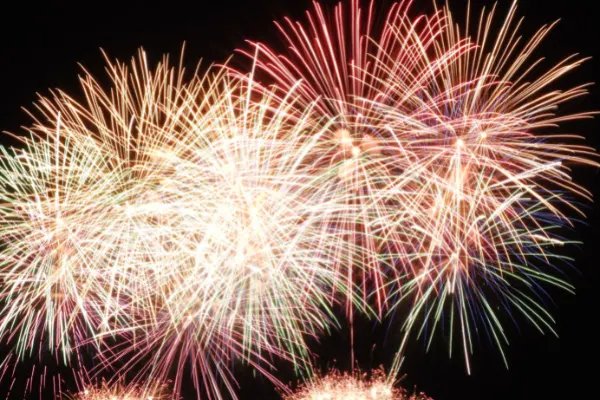 WNC is notorious for its fabulous seasonal festivals, and attending a special event is one of the most fun and local things to do in Maggie Valley.
There are plenty to choose from too!
In April, Maggie Valley hosts a car and truck show, the Annual Southeastern Mini Truckin' Nationals. This past May, they also held their first-ever Hippie-Fest with live entertainment, games, and food trucks.
Of course with the iconic motorcycle museum, it's no surprise that Maggie Valley also has multiple motorcycle rallies, Thunder in the Smokies.
Around the 4th of July, you might just catch fireworks, and in both the summer and fall, shop at an Arts & Crafts Festival. Also in July, don't miss the Hillbilly Jam featuring music, food, and crafts.
Mid-fall, attend the Smoky Mountain Elk Fest and the Smoky Mountains Bluegrass Festival.
Uncover all of the great events and festivals around the Asheville area.
Maggie Valley Festival Grounds | 3374 Soco Rd, Maggie Valley, NC 28751
Never Miss Another Asheville Update
---
Tired of generic Asheville travel itineraries? Experience Asheville like a local with our free Asheville Favorites checklist, including restaurants, breweries, and hiking. Plus, get local updates – including events and hidden gems – straight to your inbox. Sign up here.
14. Walk Lake Junaluska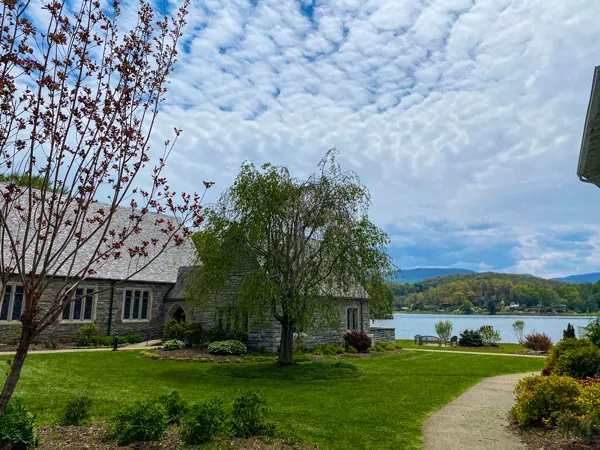 One of our personal favorite attractions in Maggie Valley (well, on the edge) includes Lake Junaluska – under a 15-minute drive from Downtown Maggie Valley.
Lake Junaluska is a relaxing destination and retreat for both travelers and WNC locals. Here, enjoy a lakeside hotel, cottage and apartment rentals, and a campground.
In the warmer weather, spy blooms along the Rose Walk, and find plenty of recreational outdoor activities like boat tours, kayaking, mini-golf, and paddleboarding.
Personally, we enjoy a stroll along the lake's loop, stopping at scenic benches, a butterfly garden, and a man-made, mini waterfall.
There are public restrooms around the outdoor pool area and tennis courts as well as at the Lake Junaluska Conference and Retreat Center.
Inside the center, enjoy a large gift shop, bookshop, and quaint little library. Park in numerous free lots around the lake.
Explore even more of the beautiful lakes around Asheville & WNC.
Lake Junaluska | 91 North Lakeshore Drive in Lake Junaluska, NC 28745.
15. Dip Into Waynesville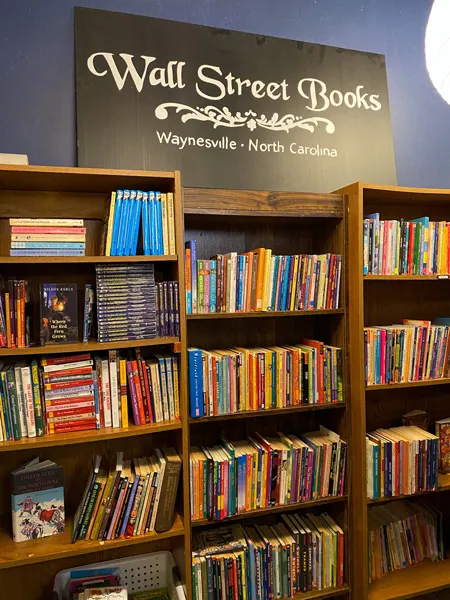 Like its festivals, WNC has some great and unique small towns and cities – each worth a visit. For more things to do near Maggie Valley, head to Waynesville.
Maggie Valley to Waynesville is only a 20-minute drive, and Waynesville promises a historic downtown filled with restaurants, cafes, and shops.
We particularly enjoy Boojum Brewing, which has a cozy taproom serving up local brews and delicious food – a great stop for lunch.
Of course, find a Mast General Store – get lost for hours buying stuff you don't need but want – and for book lovers, Wall Street Books is a must.
Catch a show at the Haywood Arts Regional Theater (HART) too.
Save The Best Maggie Valley Things To Do For Later: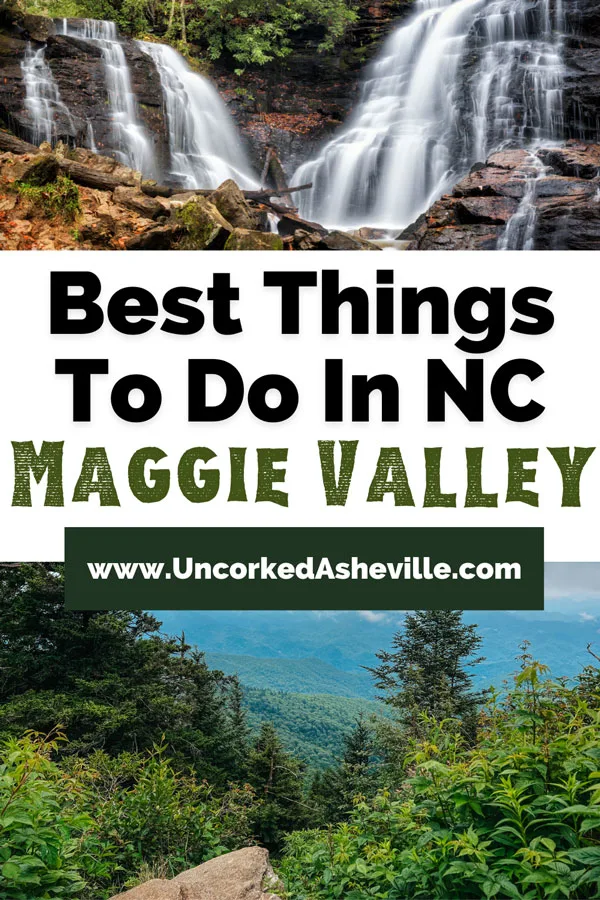 Which Maggie Valley attractions do you enjoy?
If you only have a short time in the area and are trying to narrow down what to do in Maggie Valley, our picks would be hiking around Waterrock Knob, eating lunch at Boojum Brewing, and taking a stroll around Lake Junaluska.
What are your favorite things to do in Maggie Valley? Let us know in the comments.
Don't forget to book your Maggie Valley accommodations.
You May Also Enjoy These AVL Day Trips:
Lake Lure Guide
Weaverville Guide
Black Mountain Guide
Hendersonville Guide
Asheville Guide
Flat Rock Guide
Hot Springs, NC Guide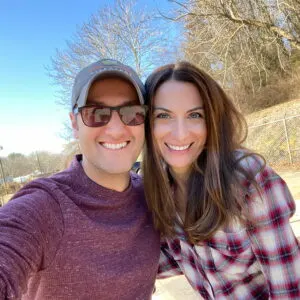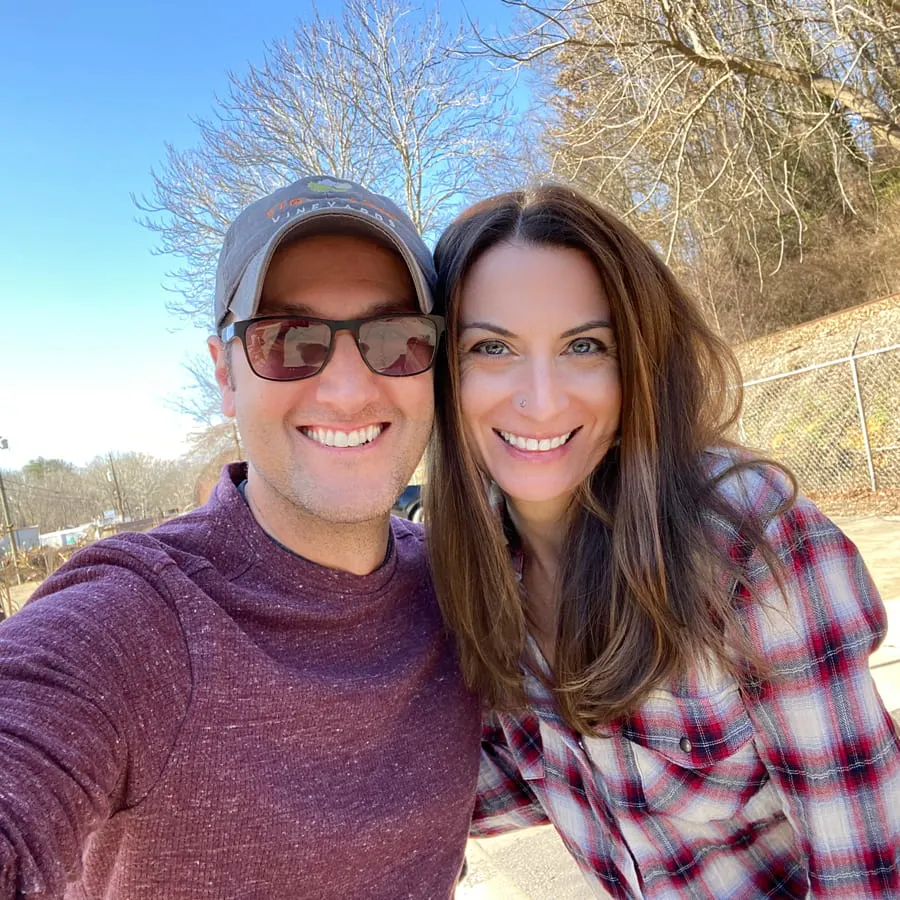 Christine (pronouns: she/her) is the owner and lead writer of Uncorked Asheville. After falling in love with those gorgeous Blue Ridge Mountains, Christine and her husband Tom decided to call Asheville, North Carolina their home. When her pointy Italian nose isn't stuck in a book, Christine is adopting all of the kitties, getting lost in the forest, and drinking an ESB.
Christine has a BA in English and History from Smith College, her MLIS from USF-Tampa, and is a former U.S. Fulbright Scholar - Indonesia. She also owns The Uncorked Librarian LLC with books and movies to inspire travel.