Are you looking for delicious gluten-free restaurants in Asheville, NC? As locals, we are sharing where to find Asheville's gluten-free food, drinks, and desserts.
Is Asheville, NC gluten-free friendly? Yes! Asheville is also home to amazing vegan and vegetarian restaurants where you can find loads of tasty gluten-free options.
With a plethora of restaurants, cafes, cideries, bakeries, and markets, you can grab the best gluten-free food in Asheville.
Some Asheville restaurants have dedicated gluten-free kitchens while others offer gluten-free options and substitutions.
If you've read our other articles, one of the reasons that we relocated to Asheville includes the amazing foodie scene. Asheville is extremely welcoming for those with food allergies and intolerances.
Christine has IBD/Ulcerative Colitis, and Tom — her husband — has Celiac Disease. We are both lactose intolerant. Imagine trying to feed us…
Asheville, also known as 'Foodtopia,' is a diverse haven for *all* the foods. It's incredibly easy to find gluten-free restaurants in Asheville — or restaurants that can modify dishes.
We are not just talking about going bun-less and lettuce wraps, either. You don't have to order that salad.
While there are a few dedicated gluten-free restaurants in Asheville, menus at many more establishments are well-labeled with gluten-free options.
You'll also find many of these same establishments marking vegan and vegetarian dishes. Some even go a step further adding soy, alliums, and nut icons.
Plus, staff won't look at you like you have three heads when you need dietary accommodations.
Chefs don't assume you are being picky or on a diet, side-eyeing you from afar; they get it and take your food needs very seriously.
So, where can you eat delicious gluten-free food in Asheville? What are the best downtown Asheville gluten-free restaurants? Where can you order gluten-free pizza and dessert?
Keep reading to eat your way through the Asheville gluten-free food scene.
Please remember that there are many restaurants in Asheville serving gluten-free options; we are only picking a few. Let's get started!
Don't miss all of the Most Unforgettable Restaurants In Asheville, NC.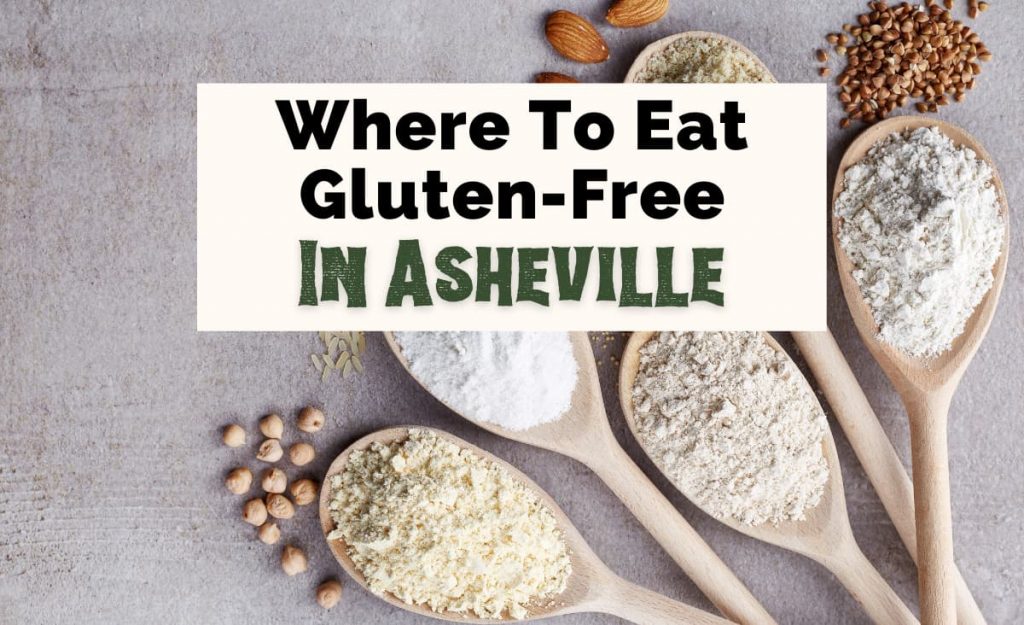 This post may contain affiliate links for products and services I recommend. If you make a purchase through these links, at no additional cost to you, I will earn a small commission. Read the full disclosure here.
Best Gluten-Free Restaurants In Asheville, NC
*Please remember to conduct your own research based on your personal health and dietary needs. We are not professionals, doctors, or dieticians.
Contact restaurants/talk to staff with your questions and concerns. We are sharing our experience eating gluten-free in Asheville. Our needs may be different than yours.
We are also not allergic to gluten or wheat. My husband can tolerate a small amount of gluten and contamination with Celiac Disease.
This may not be the case for you. Some of these restaurants will not work for everyone who is gluten-free.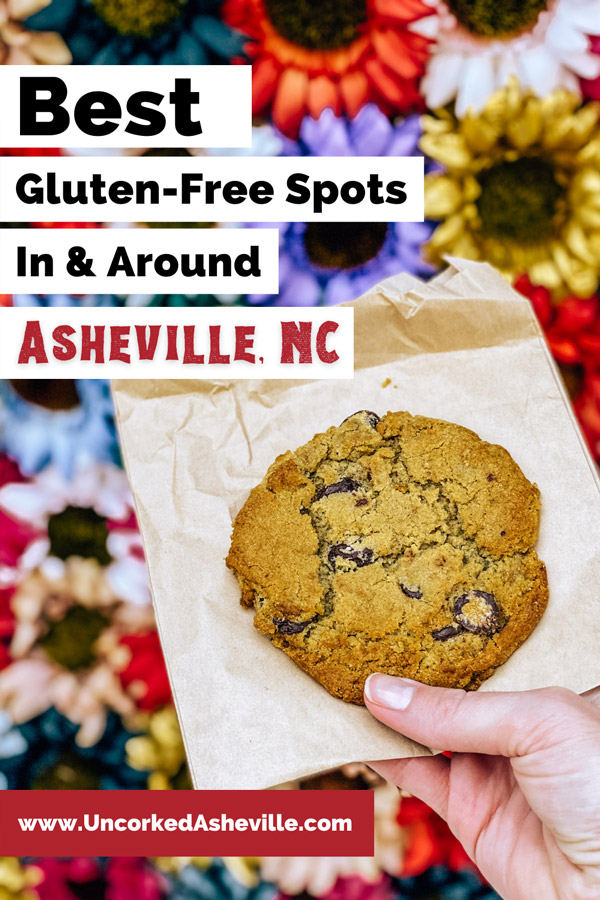 Dedicated Asheville Gluten-Free Kitchens
Posana | 1 Biltmore Ave, Asheville, NC 28801
One of the first fine-dining restaurants that we ever ate at in downtown Asheville, Posana features a dedicated gluten-free kitchen.
Choose from delicious mains like pork chops, chicken, trout, and spare ribs. We love them for celebrations.
BimBeriBon | 697 Haywood Rd, Asheville, NC 28806
Explore a globally-inspired, gluten-free bakery and cafe in West Asheville. BimBeriBon doesn't use refined sugars or gluten. They serve up gluten-free baked goods, lunch, and weekend brunch.
Don't miss even more great dessert restaurants in Asheville.
Dobrá Tea | 78 N. Lexington Ave, Asheville, NC 28801 & 707 Haywood Rd, Asheville, NC 28806
With Downtown and West Asheville locations, Dobrá Tea's sweets, treats, and teas are gluten-free. Think cookies and tea cakes.
Never Miss Another Asheville Update
Are you tired of generic Asheville travel itineraries? Do you want to experience the magic of Asheville like a local?
Grab our free Asheville Favorites checklist today, including restaurants, breweries, and hiking. Plus, get local updates straight to your inbox. Sign up here.
Asheville Restaurants With Gluten-Free Options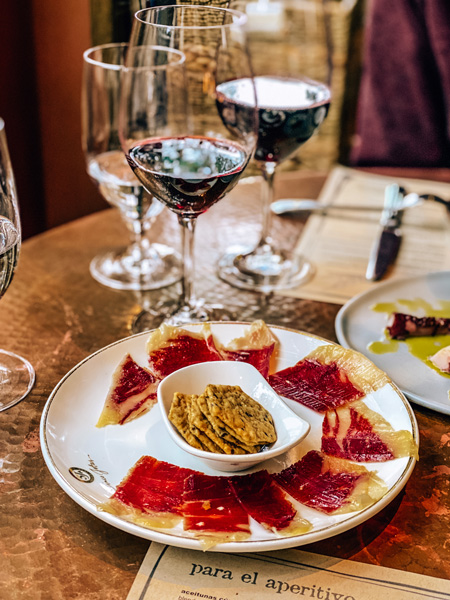 Cúrate | 13 Biltmore Ave, Asheville, NC 28801
Dine like Anthony Bourdain. For gluten-free fine dining in Asheville, enjoy Spanish tapas and wine in a former 1927 bus depot at Cúrate.

Cúrate labels gluten-free items on their menu. The chef, Katie Button, and owner, Felix Meana, previously worked for José Andrés. An award-winning AVL restaurant, don't skip the sherry.
The Madness Asheville | 275 Smokey Park Hwy Ste 251, Asheville, NC 28806
For gluten-free burgers and sushi in Asheville, don't pass up The Madness AVL. Sure, this restaurant is tucked away in a busy strip mall, but it's delicious.

The Madness provides gluten-free buns, and of course, much of their sushi is gluten-free. Did I mention the delicious cocktails?
One of the absolute best vegan and gluten-free restaurants in Asheville, run to Gypsy Queen Cuisine. Their Mediterranean and Lebanese street food is delicious.
It's incredibly hard to choose from their gyros, Mezze, platters, and rice bowls. You might just need those grape leaves and fried Brussels mixed with cauliflower to start. Gypsy Queen is incredibly food intolerance conscious, too.
For downtown Asheville restaurants with gluten-free options, Laughing Seed is a not-to-miss vegan and vegetarian gem.

Laughing Seed Cafe (usually) has a noodle-less lasagna that you can pair with a gorgeous craft cocktail. Laughing Seed is also one of the first-ever restaurants we enjoyed in AVL and frequent.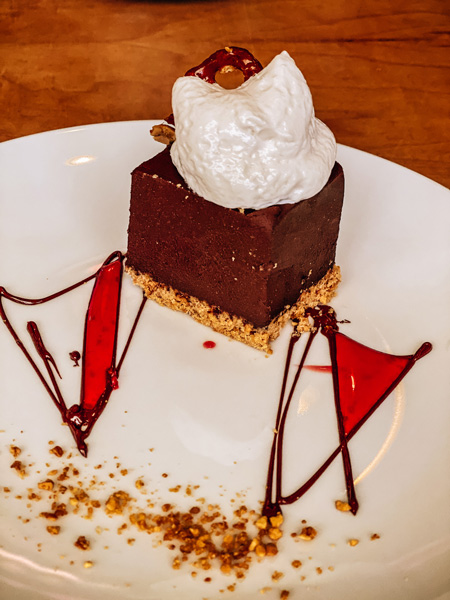 Plant | 165 Merrimon Avenue, Asheville, NC 28801
Our absolute favorite dedicated vegan restaurant in Asheville, Plant serves up entrees, tapas, appetizers, desserts, and delicious cocktails. Plant marks their menu for where you can make gluten-free substitutions.
Reservations are recommended via phone. Read more about Asheville's stellar vegan & vegetarian restaurants.
Rosetta's menu labels gluten, soy, nuts, and alliums. Choose from sharable vegan plates, sandwiches, soups, salads, and entrees. Don't forget to order local mead, ciders, and Buchi Kombucha at the lower-level Buchi Bar.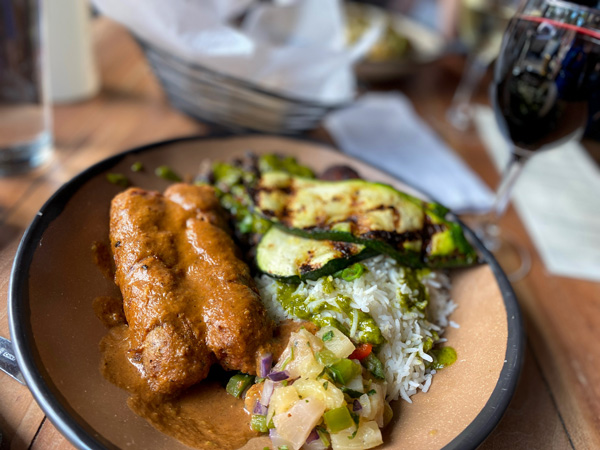 Nine Mile | 233 Montford Ave, Asheville, NC 28804; 751 Haywood Rd, Asheville, NC 28806; & Biltmore Park Town Square 33 Town Square Blvd, Asheville, NC 28803
Nine Mile has one of the most extensively labeled allergy and food intolerance menus.
A Caribbean-inspired, vegetarian-friendly restaurant, explore their spicer chicken, tofu, pasta, and fish dishes. GF items are marked on the menu.
For gluten-free BBQ in Asheville, all of Bear's sauces and rubs are gluten-free; please always double-check in case this changes.
Bear's has a permanent BBQ food truck on Coxe Ave close to Urban Orchard and serves up pulled pork, ribs, and everything BBQ.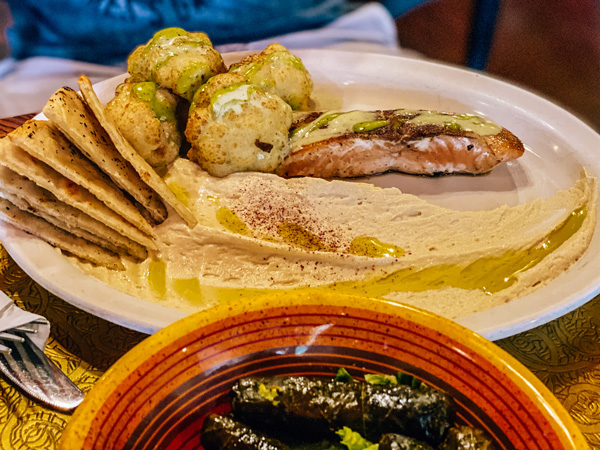 One of our top lunch spots in Asheville, Jerusalem Garden serves up gluten-free pita, entrees, and delicious Mediterranean and Middle Eastern cuisine.
While many of their dishes are naturally gluten-free, just ask staff if you aren't sure.
Early Girl Eatery | 8 Wall St, Asheville, NC 28801; 444 Haywood Rd #101
Asheville, NC 28806; & 1378 Hendersonville Rd Suite A Asheville, NC 28803
For gluten-free sandwiches and burgers in Asheville, head to Early Girl Eatery. They label gluten-free items on their menu and offer gluten-free bread and toast substitutions.
Although not labeled on the menu, we've personally checked with Suwana's to see if their Thai food can be made gluten-free.
The answer is 'yes,' and my husband almost always orders gluten-free Pad Thai. Please just double-check with the kitchen.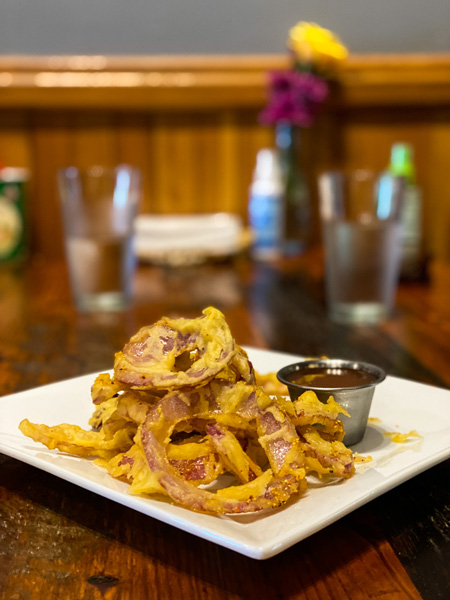 Thai Pearl | 747 Haywood Rd, Asheville, NC 28806
For some of the best gluten-free Thai food in Asheville, don't miss Thai Pearl. Most of their Thai salads, apps, noodle dishes, and rices are gluten-free or can be made gluten-free unless otherwise noted on the menu.

Thai Pearl is located near equally delicious restaurants in West Asheville like Nine Mile and Jargon. Chef May cooked for the Royal Palace in Thailand, and you'll love her and her spectacular Thai cuisine.
Green Sage Cafe | 5 Broadway St, Asheville, NC 28801; 633 Merrimon Ave, Suite A, Asheville, NC 28804; 1800 Hendersonville Rd, Asheville, NC 28803; & 70 Westgate Pkwy, Asheville, NC 28806
Green Sage is an Asheville cafe with gluten-sensitive, veggie, and vegan options. We enjoy their bowls and smoothies for a late breakfast or lunch.
Apollo Flame Bistro | 1025 Brevard Rd, Asheville, NC 28806 & 485 Hendersonville Rd, Asheville, NC 28803
Our absolute favorite spot for grinders, Apollo Flame is perfect after a hike on the Blue Ridge Parkway. You can request gluten-free bread for your sub.
Gluten-Free Pizza In Asheville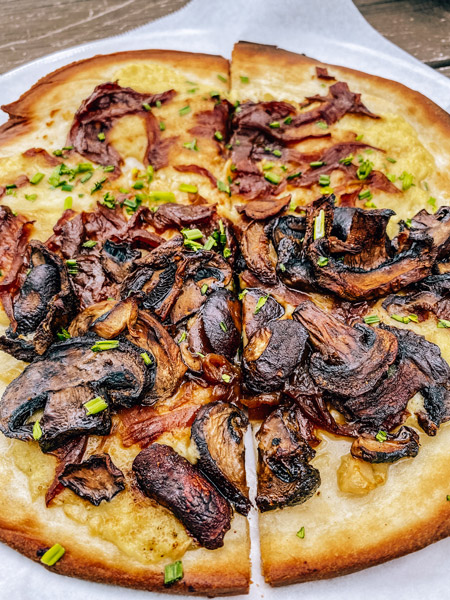 Looking for gluten-free pizza in Asheville? Head to UpCountry and Grata Pizzeria in West Asheville.
Not only does UpCountry serve gluten-free pizza crust, but you can also order delicious Darë Vegan Cheese on your pie. We highly recommend the Mixed Mushroom gf pizza with vegan cheese.
Asheville Brewing Company | 675 Merrimon Ave, Asheville, NC 28804; 77 Coxe Ave, Asheville, NC 28801; & 1850 Hendersonville Road Suite A, Asheville, NC 28803
What's another delicious gluten-free pizza restaurant in Asheville? Asheville Pizza and Brewing serves up vegan cheese as well as gluten-free crust.
Mellow Mushroom | 50 Broadway St, Asheville, NC 28801
You cannot miss passing by Mellow Mushroom's colorful patio in downtown Asheville. Order a stone-baked, gluten-free pizza and brownie.
About 10 minutes from Asheville, head to Weaverville for another great and local gluten-free pizza option. They make their own gf crust.
Read more about Weaverville's delicious restaurants here, including Glass Onion; they also cater to gluten-free diners.
Gluten-Free Desserts In Asheville (And Specialty Items)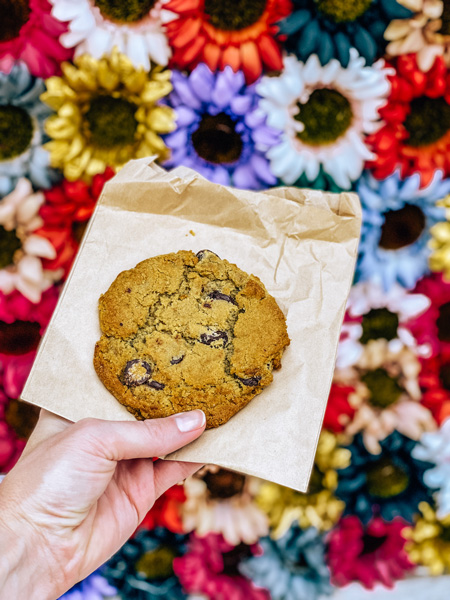 One of the longest-running cafés in Asheville (1994), Old Europe Pastries offers gorgeous and delicious gluten-free desserts. They don't have a huge selection, but it's enough for us.

Find vegan, lactose-intolerant, gluten-free, and/or a combination of the three. Grab a coffee and a traditional Hungarian dessert.
Where can you find vegan and gluten-free desserts in Asheville? French Broad Chocolate Lounge is pretty famous. You can usually spot them with a line out the door on weekends.
Pull up a chair or grab some truffles to go. Don't miss these Asheville coffee shops, too.
Vortex Doughnuts | 32 Banks Ave #106, Asheville, NC 28801
For gluten-free doughnuts in Asheville, head to Vortex. They also have fresh coffee and vegan donuts.
West Village Market & Deli (WVM) is our go-to for gluten-free specialty items in Asheville. Along with organic wine and Darë vegan cheese, shop for gf pasta, desserts, ciders, sauces, and so much more.

Please note that The Sunflower Diner — part of the WVM — announced their closing in July 2021.
Gluten-Free Beer & Cider In Asheville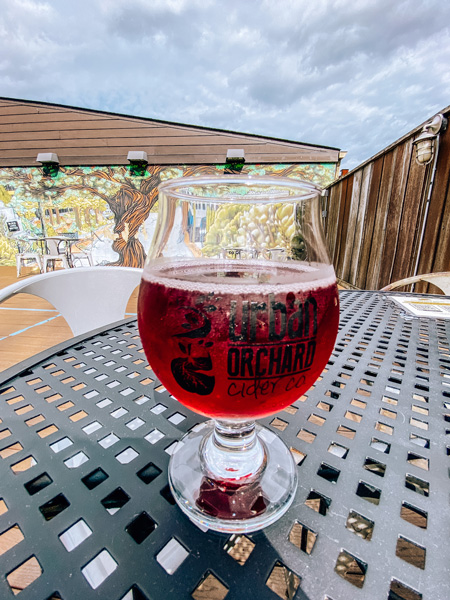 Urban Orchard Cider Company | 24 Buxton Ave, Asheville, NC 28801; 210 Haywood Rd; Asheville, NC 28806
For an Asheville gluten-free drink option, don't miss Urban Orchard Cider Company. With West and Downtown locations, their cider is delicious.
Ginger's Revenge | 829 Riverside Dr, Suite 100, Asheville, NC 28801
Where can you get gluten-free beer in Asheville? All of Ginger's Revenge's ginger beers are naturally gluten-free and are made with 95% organic ingredients. Grab a flight filled with their fruity and spicy ginger beers.
Bold Rock | 39 N. Lexington Ave, Asheville, NC 28801 (2021) & 72 School House Rd, Mills River, NC 28759
Bold Rock has a gorgeous Mills River location near the Asheville Airport — with an on-site food truck and plenty of outdoor seating.
They also moved into the former Collaboratory Brewing spot in Downtown Asheville. Bold Rock has SO many eclectic cider flavors.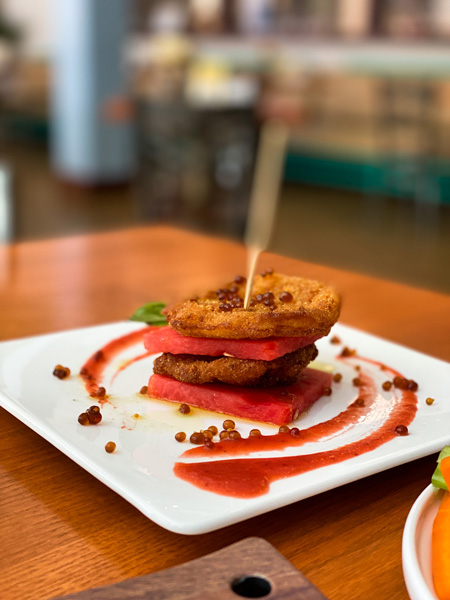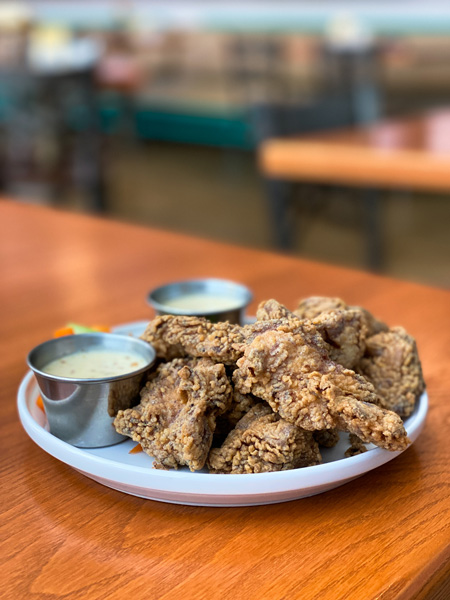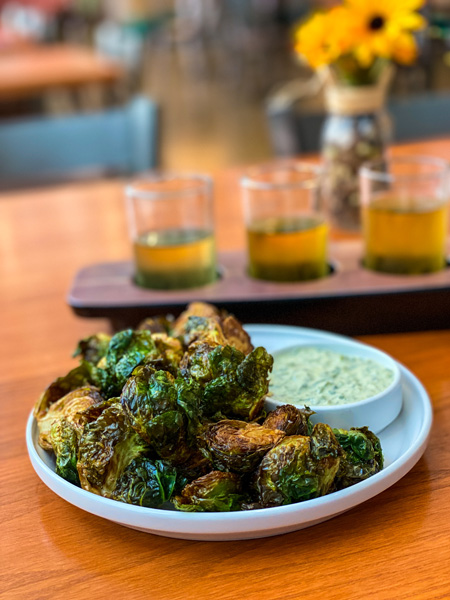 Noble Cider | 49 Rankin Ave, Asheville, NC 28801 & 356 New Leicester Highway, Asheville, NC
For cider and mead options in Asheville, Noble Cider is equally famous. Many of the gluten-filled breweries in Asheville will serve Noble Cider cans.

Noble Cider also has a delicious and extensive gluten-free, vegan, and veggie menu — which we especially love for lunch.

Grab a flight of cider paired with gluten-free popcorn chicken, fried green tomatoes, and Brussel sprouts. They have gluten-free bread for burgers, and of course, salad options.
For restaurants that say gluten-free, Noble Cider delivers.
Oklawaha Brewing Company (Formerly Sanctuary Brewing) | 147 1st Ave E, Hendersonville, NC 28792
Although located in Hendersonville, we had to mention Oklawaha Brewing Company for gluten-reduced beers near Asheville. Not everyone with Celiac Disease can drink gluten-reduced beers, though.
Don't miss all of the Hendersonville breweries here.
Notable Mention: You may also enjoy Point Lookout Vineyards in Hendersonville for meads. They offer both wine and mead tastings.
Are you ready to fill up on delicious gluten-free food in Asheville?
Where do you love to go for gluten-free options in Asheville? Let us know your favorite gluten-free restaurants, cafes, and stores in the comments.
See our Top Places To Stay in Asheville.

Don't miss out on these Asheville properties on Booking.com, too.
Looking For More Food? Here's Where To Go Next:
All Asheville Food & Drink Posts
Top Asheville Restaurants For Foodies
Lunch in Asheville
Takeout & Delivery Options
Asheville Cideries & Meaderies
Explore Asheville's Foodie Scene By Cuisine:
Thai Food Restaurants In Asheville
Favorite Fresh Sushi Restaurants
Restaurants For Spicy Indian Cuisine
Famous AVL BBQ
Taco Joints
Restaurants With Great Vegan & Veggie Choices

Donut Time In AVL
Best Desserts Across Asheville
Don't miss our best things to do in Asheville, too→