Looking for the best winter hikes near Asheville, NC? As AVL locals, we'll share where we love to go hiking in the winter in and around Asheville and Western North Carolina.
Are you headed to Asheville, NC in the winter and looking for things to do? Even though it is colder and a bit muddier, we love hitting the Asheville hiking trails.
Below, we are sharing our favorite winter hikes in Asheville as locals. Explore a few frozen waterfalls, places to mountain bike, and more accessible nature trails.
Uncover the perfect easy winter hikes and walks in Asheville like Beaver Lake, Bent Creek Experimental Forest, Biltmore, and The North Carolina Arboretum.
Then, explore what we consider to be the best winter hikes near Asheville, including trails in the Pisgah National Forest and those around Gerton, Chimney Rock, and Hendersonville.
Of course, 'best' is pretty subjective, and we don't always hike at the busiest or most popular places.
Keep reading, too, for Asheville winter weather information and hiking tips. We want to keep you safe and prepared. Don't get caught on a closed trail, either. Let's get started!
Don't miss our Master Guide To Asheville's Stellar Hiking Trails.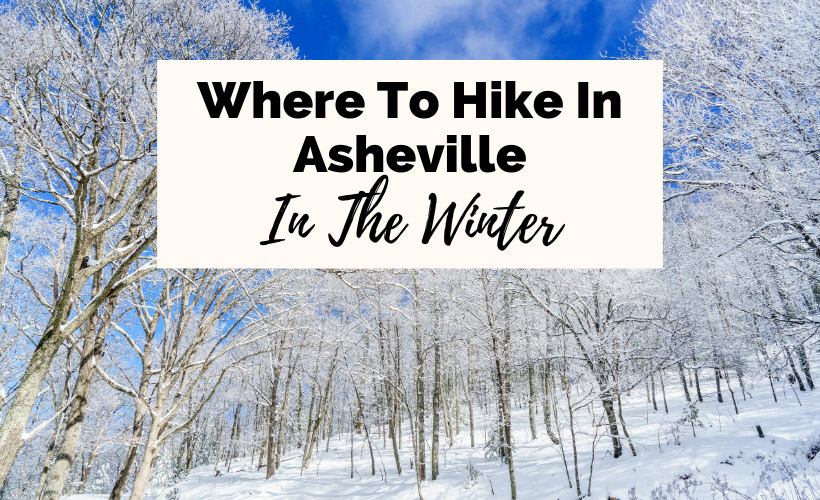 ---
This post may contain affiliate links for products and services I recommend. If you make a purchase through these links, at no additional cost to you, I will earn a small commission. Read the full disclosure here.
---
See our Top Places To Stay in Asheville.

Don't miss out on these Asheville properties on Booking.com, too.
Best Winter Hikes Near Asheville, NC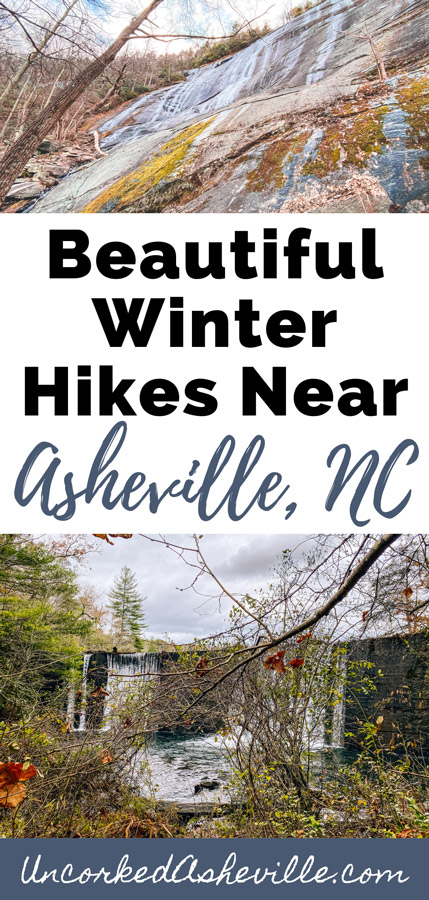 Daniel Ridge Loop & Falls
Address: Daniel Ridge Falls, National Forest Rd, Brevard, NC 28712
Length: Moderate 4-mile loop or easy 1-mile out and back
Grab our Complete Guide To Daniel Ridge Loop Trail & Falls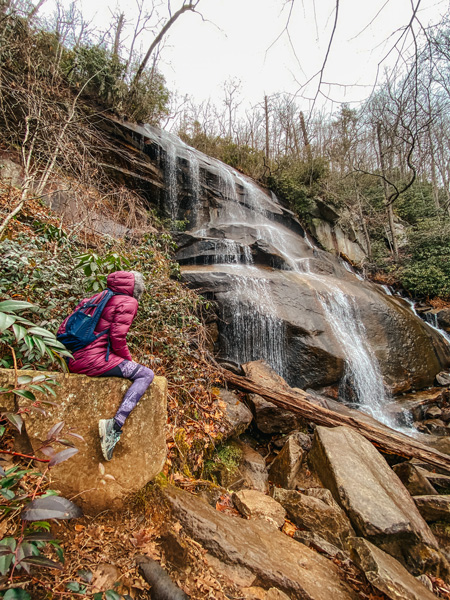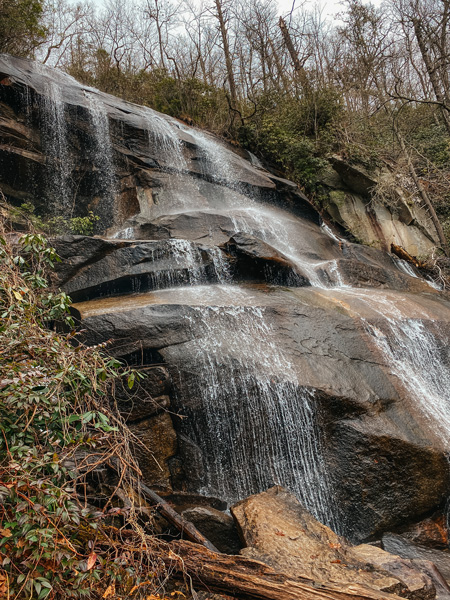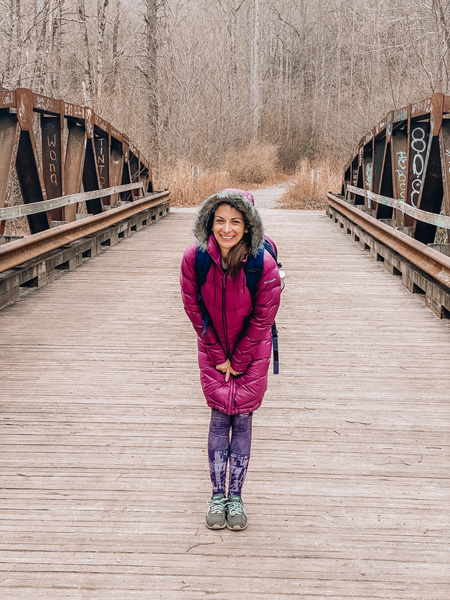 One of our absolute favorite winter hikes near Asheville — that we also got terrifyingly lost on once — is Daniel Ridge Loop in the Pisgah National Forest. Daniel Ridge offers two beautiful trails and is a favorite of locals and mountain bikers.
You can either hike the 4-mile loop, or you can take the shorter and easier one-mile out and back directly to Daniel Ridge Falls — also known as Tom's Spring Branch Falls.
For Asheville winter hikes, Daniel Ridge is perfect because it doesn't get crowded, and you are surrounded by babbling streams and waterfalls.
---
---
Many people also hike Looking Glass Rock in the winter, which is right before the Daniel Ridge Trailhead.
---
Never Miss Another Asheville Update
Are you tired of generic Asheville travel itineraries? Do you want to experience the magic of Asheville like a local?
Grab our free Asheville Favorites checklist today, including restaurants, breweries, and hiking. Plus, get local updates straight to your inbox. Sign up here.
---
Address: 3823 Gerton Hwy, Gerton, NC 28735
Length: 2-mile out and back to Little Bearwallow Falls or 4-mile out and back to Wildcat Rock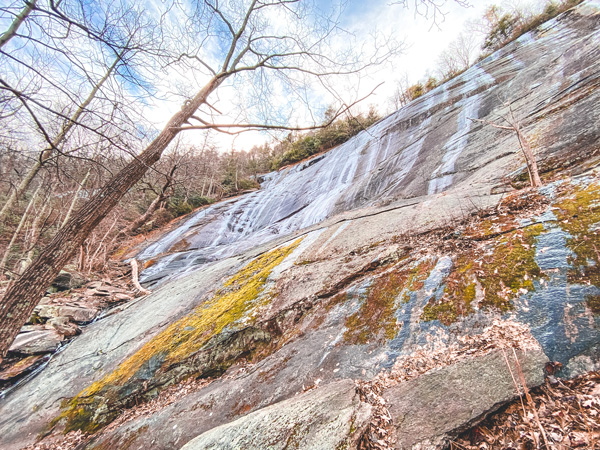 There are a ton of connecting trails around Wildcat Rock and Bearwallow Mountain. For one of the most difficult winter hikes near Asheville, you can trek the 4-mile roundtrip out and back to Wildcat Rock from the Gerton highway at Upper Hickory Nut Gorge Trailhead.
If you want a chiller hike, you can also stop mid-way at Little Bearwallow Falls (about 1-mile in) — where people ice and rock climb.
Conserving Carolina maintains Wildcat Rock, Bearwallow, and Trombatore on our Asheville winter hikes list. We are a huge fan of their well-labeled and maintained trails. They are adding extensions to connect the trails, too. Conserving Carolina's website will tell you all of the ways you can pick up these trails.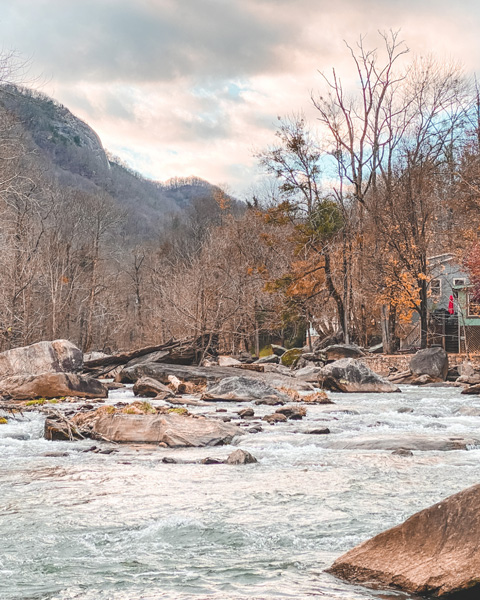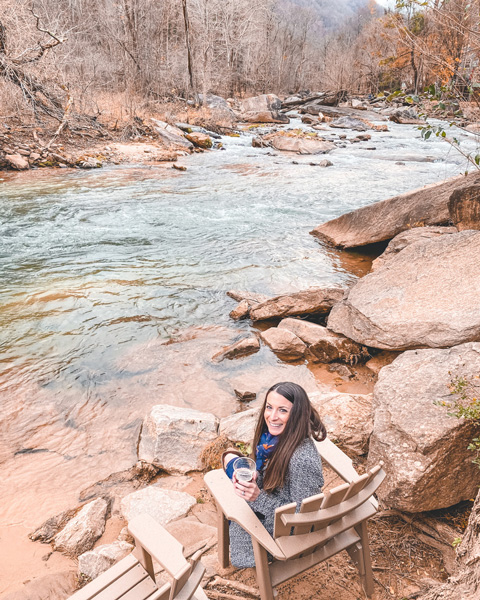 ---
Insider Tip: After hiking Wildcat Rock, head to downtown Chimney Rock for wine and tapas at Burntshirt Vineyard's Tasting Room. Then, walk across the street for craft beer at Hickory Nut Gorge Brewery.
---
Address: 431 Main St, Chimney Rock, NC 28720
Admission fee, numerous trails, and Hickory Nut Falls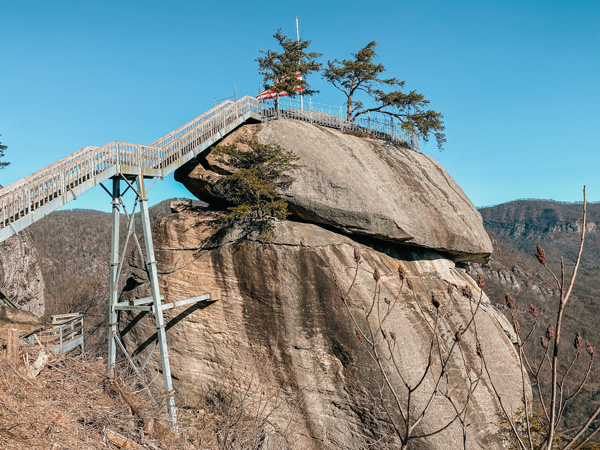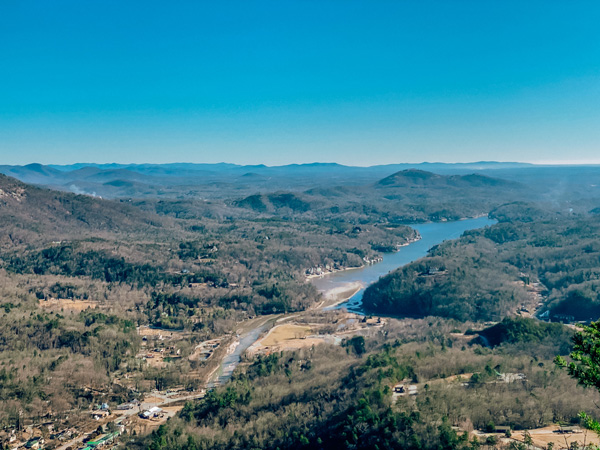 We are honestly too scared to hike Chimney Rock during tourist season(s). This area gets packed and is known for mile-upon-mile back-ups. Please note that you will have to pay to enter and park at Chimney Rock State Park.
However, Chimney Rock is the perfect hike in the winter around Asheville as the crowds disappear, and you'll find reduced admission prices.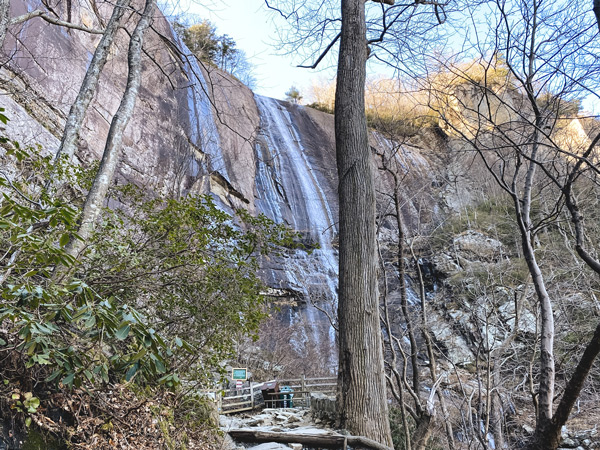 Chimney Rock State Park is an attraction in and of itself. There are hiking trails, a cafe, an elevator to the top of Chimney Rock (stand on a giant rock with stellar views), and gift shops. Some of the upper trails may close due to ice.
---
---
Bearwallow Mountain
Address: 4854 Bearwallow Mountain Rd, Hendersonville, NC 28792
Length: 2-mile out and back with a gravel access road or forest trail options
Visit our guides to Bearwallow Mountain & Trombatore Trail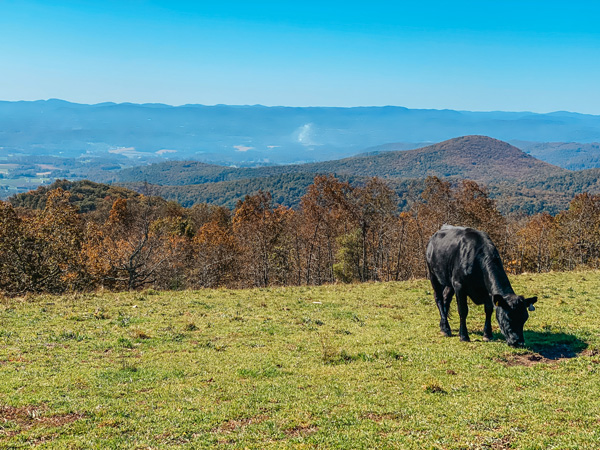 Bearwallow Mountain Trail is one of the most frequented winter hikes near Asheville because of the views and accessibility. Exert extreme caution on the narrow, icy road up there, though.
A 2-mile roundtrip hike, either walk the gravel access road or hike up the forest trail to a beautiful meadow with cows. Bearwallow Mountain is an easy hike for families and is perfect for chilly picnics and sunsets.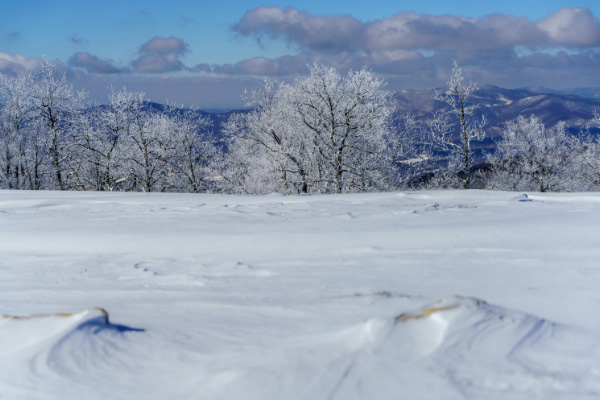 If you are looking for harder winter hikes near Asheville don't miss the Trombatore Trail directly across from the Bearwallow Mountain Trailhead.
---
Didn't find what you were looking for? Check out our favorite Asheville Hiking Trails. Please just keep in mind that a lot of the BRP is closed in the winter.
---
DuPont State Forest
Visitor Center Address: 1300 Staton Road Cedar Mountain, NC 28718
Various trails, difficulties, & lengths
Visit Uncorked Asheville's Guide To DuPont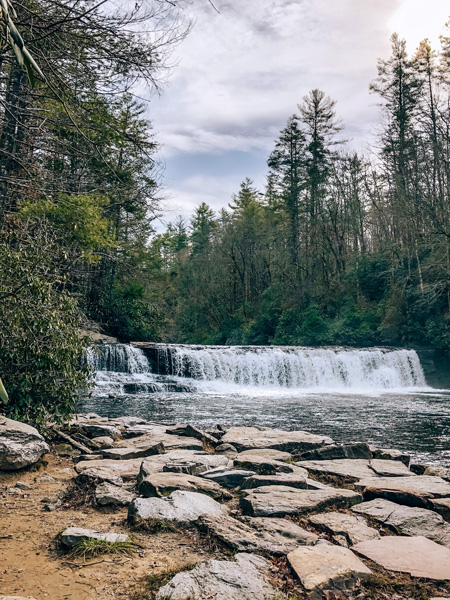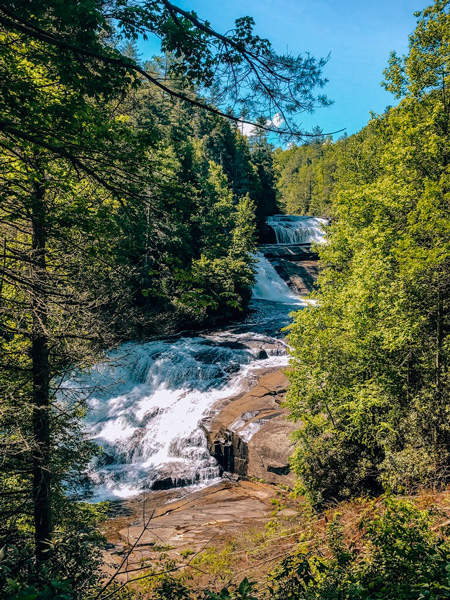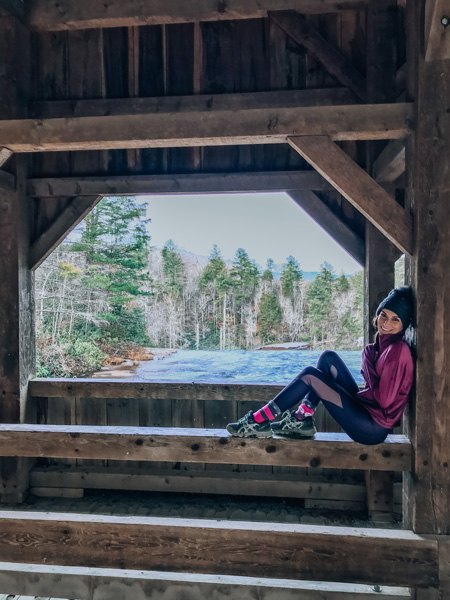 DuPont Forest is by far one of our favorite places for waterfall winter hikes near Asheville. Forty-five minutes from downtown, DuPont is free to enter.
There are endless trails throughout the area. Two of the waterfalls — Bridal Veil Falls at DuPont and Triple Falls — are where parts of The Hunger Games were filmed.
The most popular winter hike at DuPont is to see the three waterfalls — Hooker, Triple, and High Falls — which is about a 3-mile hike. You can add in Bridal Veil Falls, which will tack on an additional 3.7 miles.
---
Insider Tip: After hiking Dupont, we love heading to downtown Hendersonville for lunch, beer, and the Hendersonville wineries. If it's late fall, catch the Hendersonville apple orchards, too.
---
Best Winter Hikes In Asheville, NC
The NC Arboretum
Address: 100 Frederick Law Olmsted Way, Asheville, NC 28806
Numerous trails, gardens, and pay to enter
Grab Our Guide To The North Carolina Arboretum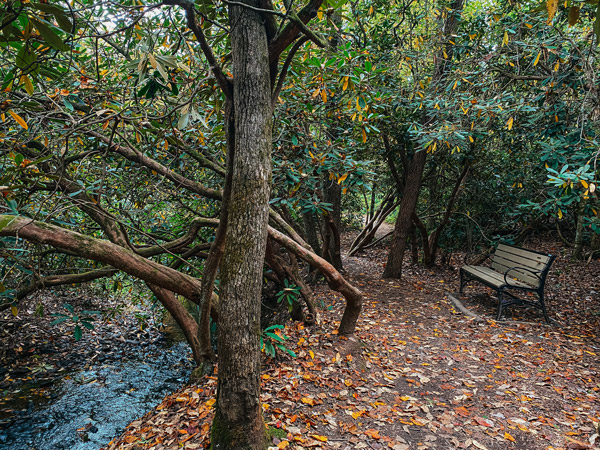 We are annual passholders for The North Carolina Arboretum and Biltmore. Less than 20-minutes from downtown, explore over 13 Asheville hiking trails.
The NC Arboretum trails range in distance and difficulty. Find .3-mile hikes to 1.3-mile hikes. Some trails allow for mountain biking, too. Grab all of the details about fees and parking here→
Hard Times Trail Address: 375 Wesley Branch Rd, Asheville, NC 28806
Numerous trails for mountain biking and hiking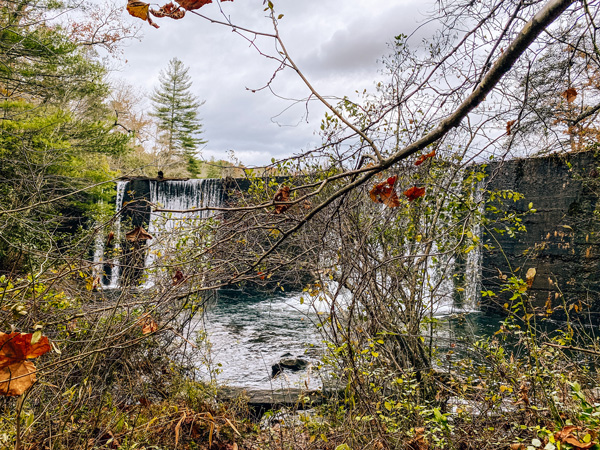 For Asheville winter hikes and mountain biking, we absolutely love the Bent Creek Experimental Forest. Locals flock here on weekends, including us. These well-maintained trails range in length and difficulty, butting up against The North Carolina Arboretum.
You can explore various trailheads along the way ranging in difficulty, and if you trek along the Hard Times Trail, you can see Lake Powhatan. Read more about the Bent Creek Trails here→
Don't forget to order Apollo Flame Bistro grinders on your way home.
Beaver Lake Bird Sanctuary & Perimeter Trail
Address: Merrimon Ave. past the North Branch Asheville library
Length: 2.1-mile loop (sometimes a portion of the loop is closed in winter for maintenance — then, the Perimeter Trail becomes an out and back)
Grab Our Complete Guide To Beaver Lake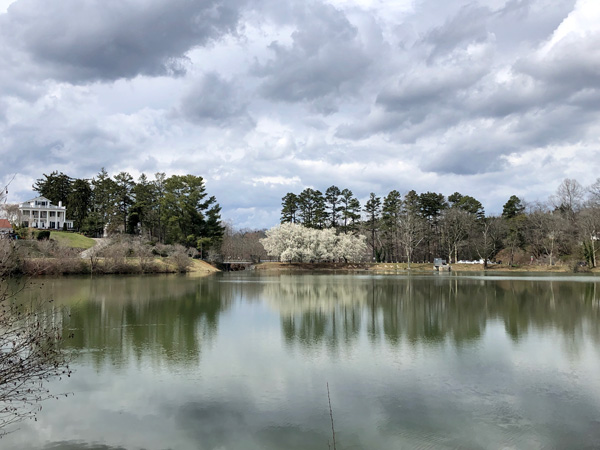 For local Asheville winter hikes 10-minutes from downtown, Beaver Lake Bird Sanctuary and Trail is another easy nature walk option. Walkers and runners will find a gorgeous flat hike in the heart of a well-established North Asheville neighborhood. Please note that dogs and running are not allowed in the actual sanctuary.
The Beaver Lake Perimeter Trail is about 2.1-miles. Sometimes in the winter, a portion of the loop is closed for maintenance and mud — transforming the trail into an out-and-back. Grab more information, including parking and directions here→
---
---
Biltmore's Trails
Biltmore Estate Address: 1 Lodge St, Asheville, NC 28803
Various trails and must pay a full ticket price or be a passholder to enter
Don't Miss Our Guide To Biltmore Estate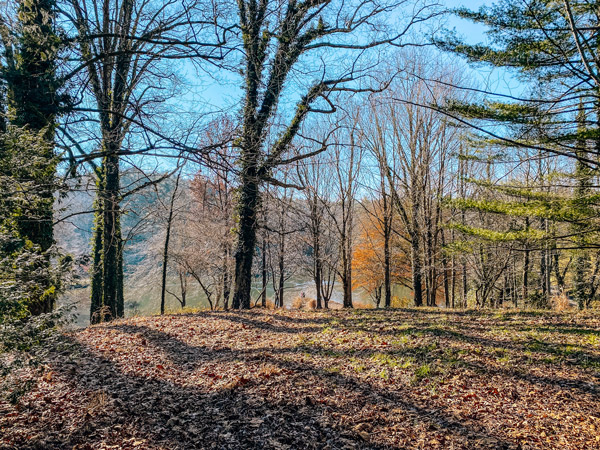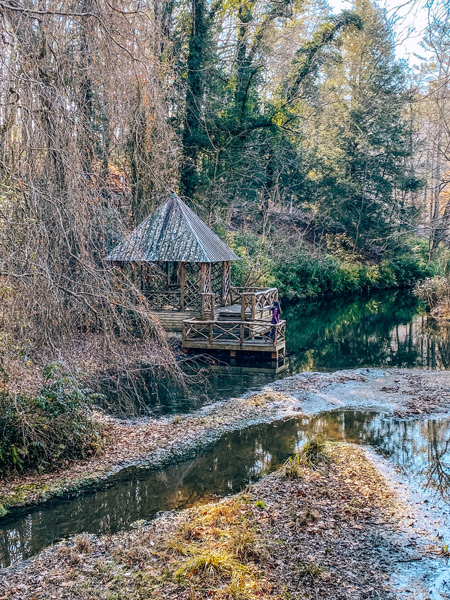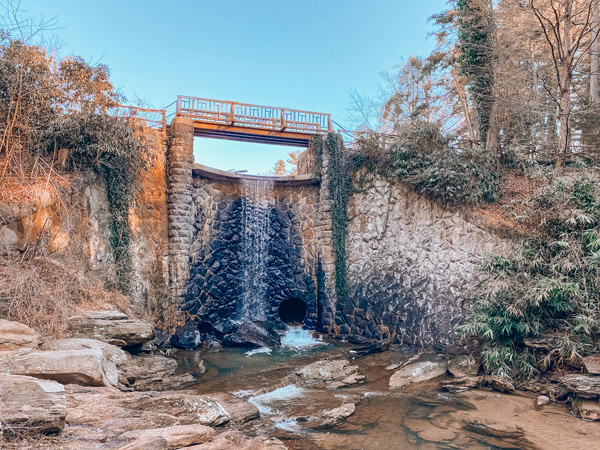 Did you know that Biltmore has over 22-miles of trails? Uncover endless walking, running, and biking trails all around Biltmore Estate. Some of these Asheville trails are as long as 3.5-miles and range from moderate to challenging.
You will need a Biltmore pass or ticket to access the trails. Get the most out of that Biltmore pass here→
---
---
Asheville Winter Hiking Weather:
From December to February in and around Asheville, you can expect daytime highs averaging around 50 to 60-degrees and evening lows around the 30s. We'll see a few evenings drop into the 20s, too.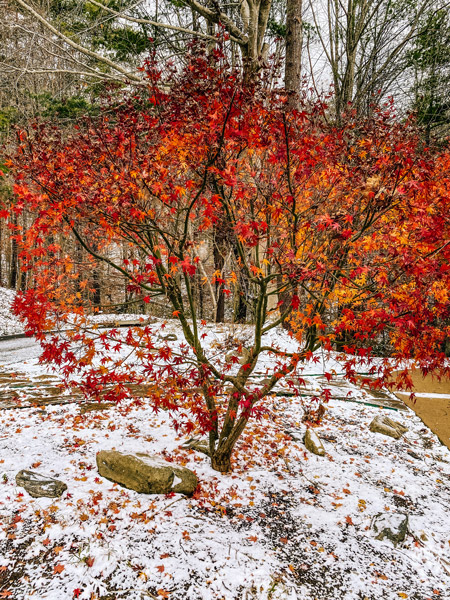 While we don't usually have feet upon feet of snow, we will receive light dustings, frequent ice, and the occasional snow 'storm' with half a foot of snow in the mountains. In 2020, we even had a white Christmas.
For winter hikes near Asheville, expect temperatures in the higher elevations to drop about 10 to 25-degrees cooler. Also, expect early morning fog. Sunset for November and December is around 5 PM and by February, the sun will set around 6:30/7 PM.
---
---
What You Need To Know About Asheville Winter Hiking & What To Pack:
For what to pack and wear for winter hikes around the Asheville mountains, I recommend layers, a winter coat, scarves, gloves, hats, and boots. The winter hiking trails grow muddy and slippery. You'll crunch on ice and find yourself with wet socks.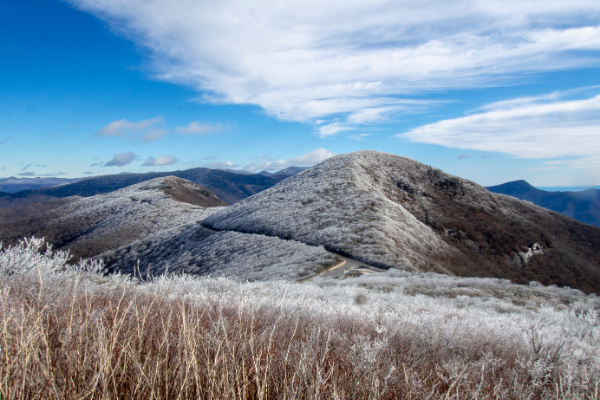 Like always, but as a reminder, you will want to hike with matches, layers, first aid supplies, flashlights/headlamps, food, extra water or cleaning tablets/filters, a whistle, and emergency/extra supplies in case you get injured or lost. You might want hiking poles, crampons, or microspikes.
Bring a map or GPS — it's easier to get lost on snow and leaf-covered trails. Know your trail blazes. We hike with this Garmin paired with the GAIA phone app. People frequently get lost or confused — tourists and locals. People do have to get rescued.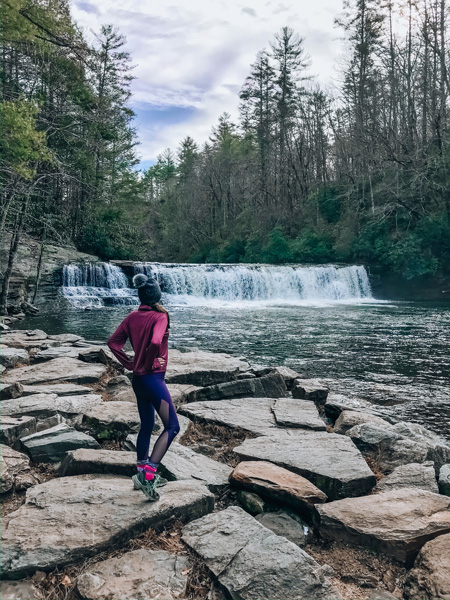 Don't forget, too, that it's colder and grows darker earlier in the winter. We suggest hiking first thing in the morning to avoid getting caught in the dark.
Tell others where you are hiking and when to expect you back. You won't always have cell reception in the mountains.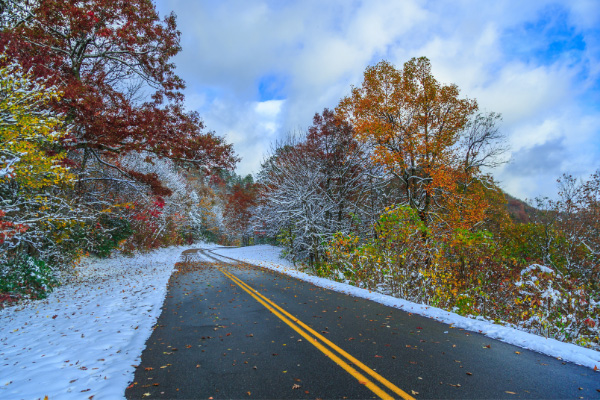 ---
---
What You Need To Know About The Blue Ridge Parkway In The Winter:
Always check with the National Park Service (NPS) before heading out for any Asheville winter hikes along the Blue Ridge Parkway. Many parts of the BRP stay closed for ice. Sometimes, you'll first catch closures on your GPS but always double-check the NPS closures here.
Dense and intense fog rolls in and out of the mountains. One second the road is there and the next, it's gone. The same goes for those gorgeous views.
I recommend driving with your lights on for the safety of everyone — not just in the tunnels.
The winding roads are pretty terrible for motion sickness — take it from me. I usually drive or take ginger Dramamine.
In the winter, many locals will park around the closed BRP gates and enjoy a peaceful and rare walk down the road.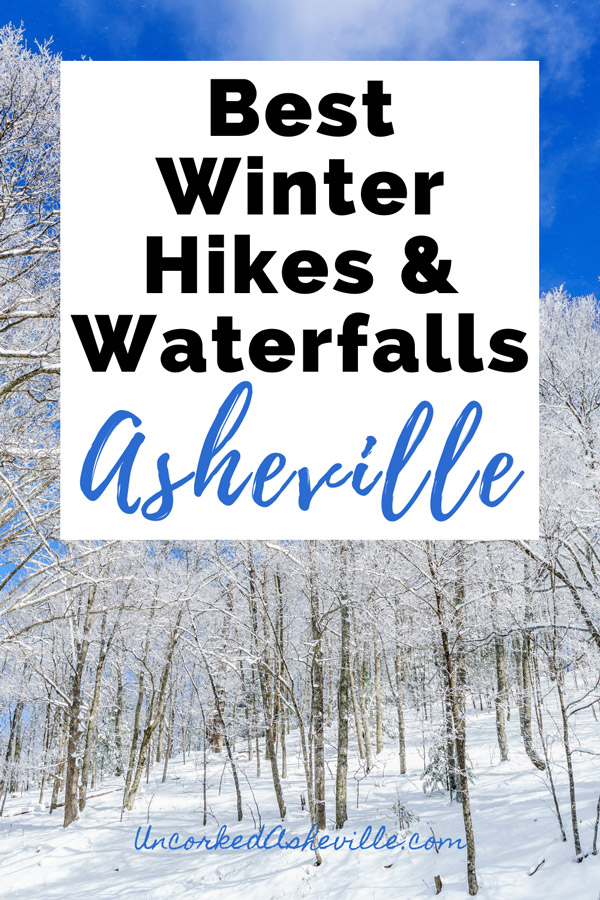 AVL Accommodation Recommendations
See our Top Places To Stay in Asheville.

Don't miss out on these Asheville properties on Booking.com, too.
Which of these winter hikes near Asheville, NC have you tried?
What are your favorite winter hikes near Asheville, so far? What's on your Asheville winter hiking bucket list? Do you have any more winter hiking tips that we should add?

Please let us know in the comments!
You Might Also Enjoy:
50 Must-Do Activities in Asheville
AVL Winter Events & Activities
Best Fall Foliage Hikes For Leaf Chasers
Top Asheville Fall Activities
If The Great Outdoors Are Your Jam, Head This Way:
Hikes If You Love Waterfalls
Best Hikes Around & In Asheville
Parks & Gardens For More Casual Strolls
Picnic Spots In Asheville For When It Warms Up