Don't let bad weather ruin your day. From foot soaks to endless arcade games, these are the best indoor activities in Asheville, NC.
While Asheville is known for its milder weather, the mountains see a lot of rain and fog.
In the winter, ice and snow cause Blue Ridge Parkway and road closures. In the summer, we'll have a few oppressive heat waves in the upper 90s.
If you find yourself seeking shelter from the weather and are wondering what to do in Asheville when it rains, snows, or sweats you out, we got you!
As residents, we are pros at the best indoor things to do in Asheville for couples, solo travelers, families with kids, and friends.
Below, find just a few of our favorite indoor Asheville activities, including playing endless pinball and sitting in a zero-gravity chair surrounded by 30 tons of salt.
Catch up on the latest new movies with pizza and beer, and try your luck at the casino. Shop until you drop. Treat yourself to a massage. Let's get started!
Our Top 5 Asheville Indoor Activities:
Catching a movie at Asheville Pizza and Brewing
Enjoying a foot soak at Wake Foot Sanctuary
Playing vintage arcade and pinball games at the Pinball Museum
Boosting your immune system at the Asheville Salt Cave
Enjoying Asheville's iconic historical landmarks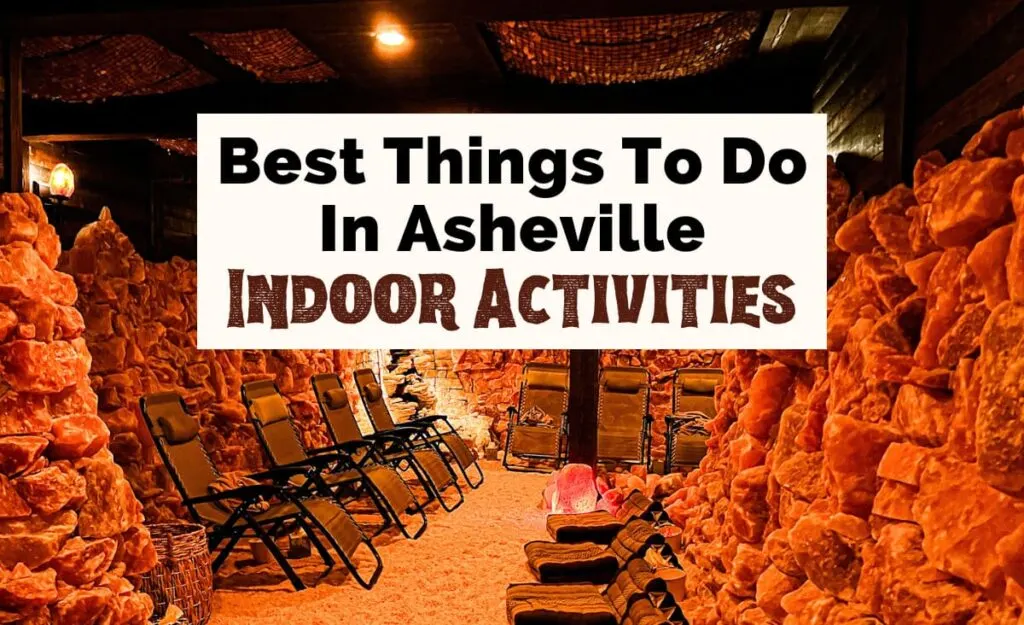 This post may contain affiliate links that earn us a commission at no extra cost to you. If you love these guides, support Uncorked Asheville here.
16 Fun Indoor Activities In Asheville, NC
1. Soak your feet at Wake Foot Sanctuary
Enjoy a 45-minute foot soak with a 20-minute neck, shoulder, and head massage. Eat truffles and sip wine or hot tea.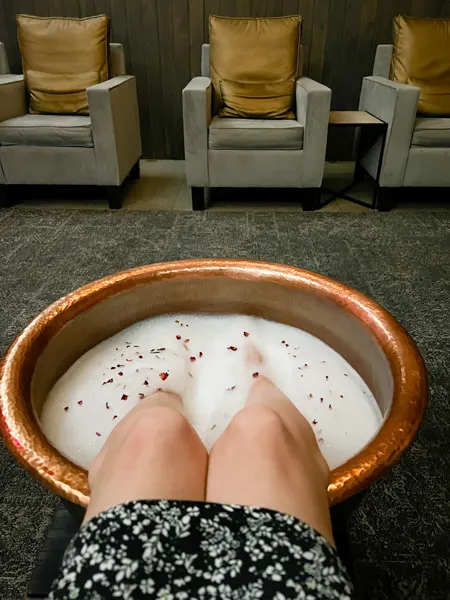 If you've had a long week, want to treat yourself, or are looking for some great bonding time with your partner, family, friends, or even your inner self, Wake Foot Sanctuary is a transcendent experience.
One of our personal favorite Asheville indoor activities, Wake Foot promises a relaxing spa day and massage.
Situated in the Historic Grove Arcade, choose from a large menu of rejuvenating 45-minute foot soaks filled with botanicals and salts.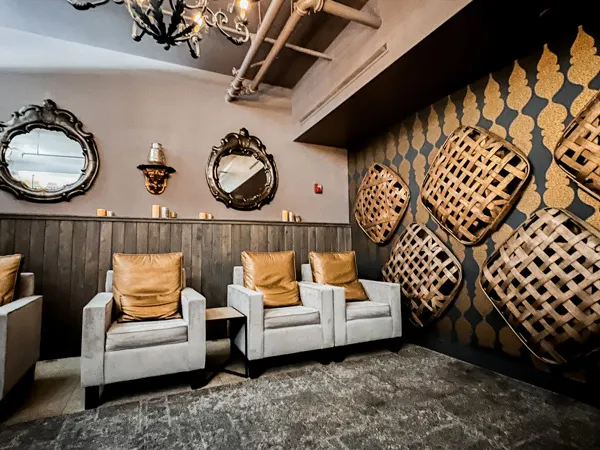 Staff reheat your soak throughout your session. We cannot resist all of the bubbles with flowers like the Salty Beach Rose soak.
But, don't just soak your feet. Opt-in for an additional 20 or 40-minute massage like your neck, shoulders, and head, feet and legs, or hands and arms.
Sit in a cozy armchair with a heated neck pillow with a glass of wine, truffles, or a pot of tea.
We highly suggest making advanced reservations, and Wake Foot Sanctuary also offers larger packages.
Be sure to check out all of our top fun things to do in Asheville, NC.
Wake Foot Sanctuary | 1 Page Ave #115, Asheville, NC 28801
2. Watch a movie with a local brew
Head to Asheville Pizza and Brewing for a new release or discounted vintage movie. Be sure to order pizza, pub grub, and craft beer.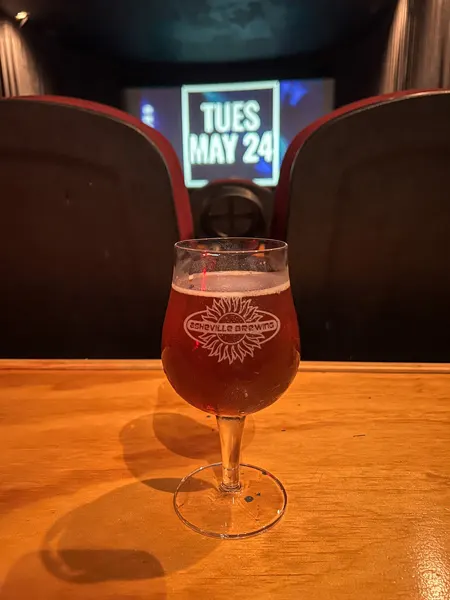 As owners of The Uncorked Librarian – our sister book and movie website – we are 100% movie and TV buffs.
And, as both self-proclaimed weeknight couch potatoes, you can imagine that watching a movie is one of our favorite indoor activities in Asheville.
Asheville Pizza and Brewing – located in the North Asheville neighborhood – is our favorite movie theater and also a great restaurant for kids.
Arrive early to your showtime to order anything from pizza, salads, sandwiches, wings, and wraps paired with a delicious local craft beer.
They play new releases in their main theater, which has a bar that also takes orders. Or, watch discounted shows on their second screen, perfect for families with young children.
A few more of the best Asheville movie theaters include:
Grail Moviehouse – Indie films and international film festivals
Regale Biltmore Grand
The Carolina Cinemark Asheville
Asheville Pizza & Brewing | 675 Merrimon Ave, Asheville, NC 28804
3. Play vintage arcade games
From Frogger to Super Mario Kart, get your wristband and enjoy vintage arcade and pinball games all day.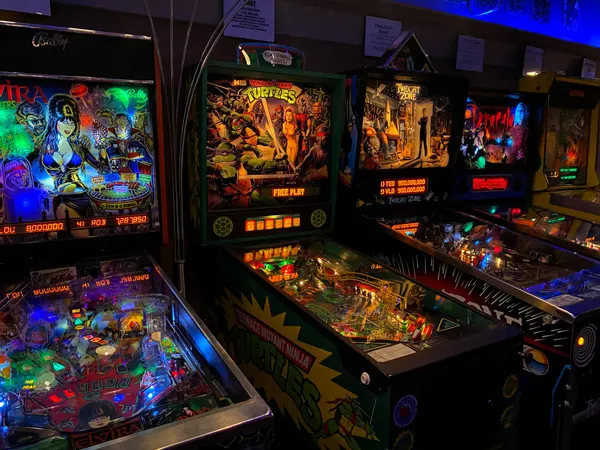 One of the best indoor things to do in Asheville on a rainy day for the entire family, head to the Asheville Pinball Museum.
Just keep in mind that everyone else will have the same idea. This is one of Asheville's top tourist attractions.
And nope, this isn't one of those museums where you can't touch anything. Touch everything! Well…
Situated directly behind the Historic Grove Arcade in Downtown Asheville, purchase a $15+ wristband to play as long as you like.
Reminisce with older games like Donkey Kong, Duck Hunt, Pac-Man, and Frogger, play pinball, and find your favorite gaming consoles.
Dogs are not allowed inside. Everyone who enters the building must pay, and the Asheville Pinball Museum does not take reservations.
Discover more fun things to do in Asheville with children.
Asheville Pinball Museum | 1 Battle Square Ste 1b, Asheville, NC 28801
4. See the latest art exhibits
In a beautifully renovated, airy building, enjoy special exhibits. The Asheville Art Museum specializes in American art from the 20th and 21st Centuries.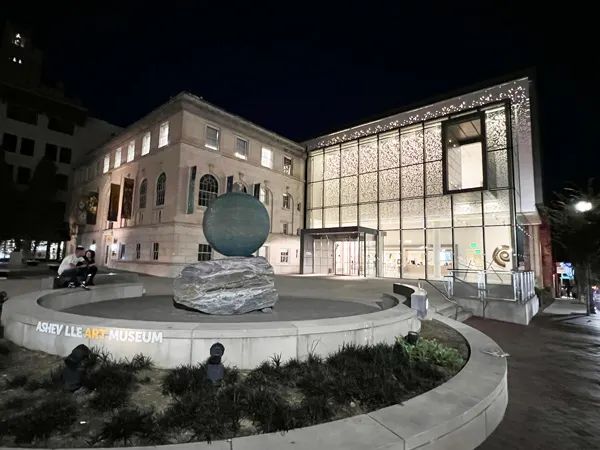 We are history and art lovers, and whether we are hanging out in Asheville or traveling abroad, we always visit a location's top art and culture museums.
For rainy day activities in Asheville, museum hopping is a must. There are so many to choose from, and which one you pick will be dependent on your budget and companions (do we sound like Doctor Who?!).
While we'll mention a few more museums below, to get a taste of North Carolina as well as American art, adults will most enjoy Downtown's Asheville Art Museum.
With rotating and main exhibits, find anything from blown glass displays to pottery and paintings. The collection specializes in Southern art, including handmade objects created by Indigenous artists.
The Asheville Art Museum recommends pre-purchased tickets online, but we've always walked in and bought ours there.
Adult general admission is $15+, and the Asheville Museum of Art boasts a cafe and shop. They also offer Saturday rooftop yoga, and if it rains, yoga is held in the Atrium.
More great Asheville museums & historic sites:
Black Mountain College Museum + Arts Center
Historic Riverside Cemetery (O. Henry is buried here, and it is extra spooky on a rainy day in Asheville)
Moog Museum
Asheville Museum of Science (perfect for young children)
Western North Carolina Air Musem (free; Hendersonville, NC)
Estes-Winn Antique Car Museum (free)
Asheville Art Museum | 2 S Pack Square, Asheville, NC 28801
5. Relax in a salt cave
Sit in a zero-gravity chair surrounded by 30 tons of pink salt. Grab a blanket as water features lull you into a deep state of relaxation.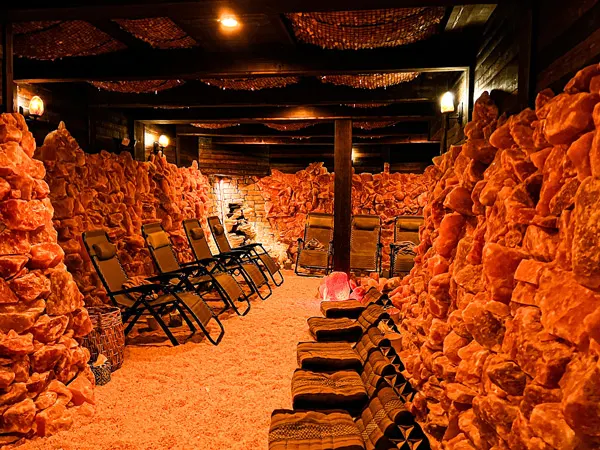 Asheville has always been known as an eccentric town. Where else will you see a nun riding a unicycle next to a purple, eye-lashed bus? (Don't worry, we will be talking about this soon.)
And, the idea of hanging out in a cave in a house surrounded by 30 tons of salt had us a bit skeptical at first. Would we get claustrophobic? Would our lungs burn? WTF was the point?
But the Asheville Salt Cave proved us wrong, truly becoming one of the best indoor activities in Asheville, especially on bad weather days.
While the Asheville Salt Cave offers a variety of services, including sound baths and massages, we most enjoy the community salt cave.
Leave everything but your socks behind, and enter a room covered top to bottom with a variety of pink salt.
Sit in zero-gravity chairs or on floor mats. Grab a blanket and lay back to the sounds of peaceful water features. You might gently cough a bit as the salt works its healing magic.
Asheville Salt Cave | 16 N Liberty St, Asheville, NC 28801
6. Play board games at the cafe
Take a phone detox and select from over 700 games. Enjoy drinks and food with friends and family in the heart of Downtown Asheville.
Our favorite indoor Asheville activities usually involve food and drinks. We also love a good board game like Apples to Apples and Cards Against Humanity.
However, if you are a board game fanatic, you'll want to head to Downtown's Well Played Board Game Cafe.
Select from over 700 games, including your favorite nostalgic classics to brand-new and trendy crowd-pleasers. If you can't decide, their gamemasters will help you make a selection.
This is also a terrific family-friendly indoor Asheville activity, and the best part: enjoy a full food menu filled with breakfast items, desserts, snacks, and sandwiches.
There are gluten-free and vegan items along with a kids' menu. For drinks, select from beer, wine, tea, coffee, and soda.
There is a $7-$10+ gaming fee for adults depending on the day of the week, children under 6 are free, and children aged 6 to 13 are $5+.
Well Played Board Game Cafe | 162 Coxe Ave #101, Asheville, NC 28801
7. Ghost hunt for The Pink Lady
Enjoy seasonal cocktails surrounded by floor-to-ceiling stone fireplaces in a historic 1913 luxury – and haunted – hotel. Treat yourself to a rooftop dining experience. Celebrate the holidays with gingerbread houses.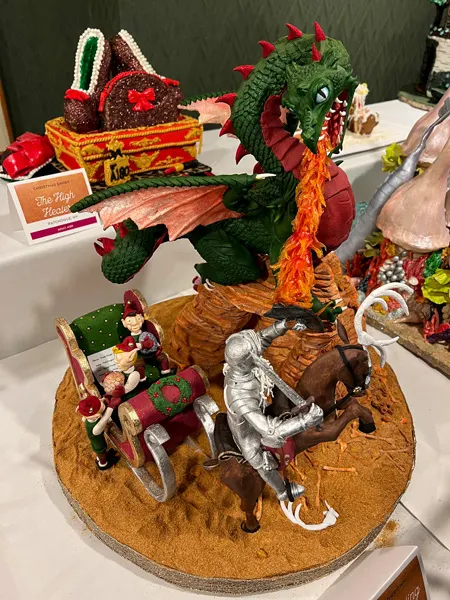 As locals, we joke that The Omni Grove Park Inn is our second home, just like our engagement photographer friends might as well as shack up at Biltmore Estate.
You'd think Asheville's luxury resort wouldn't be on the top of our list, but it's really hard not to enjoy.
We appreciate the cozy ambiance, great food, and annual Gingerbread Competition, perfect for a cold or rainy day in Asheville.
Not to mention that in good weather, a sunset dinner is our go-to when visitors are in town. Grove promises the "wow" factor.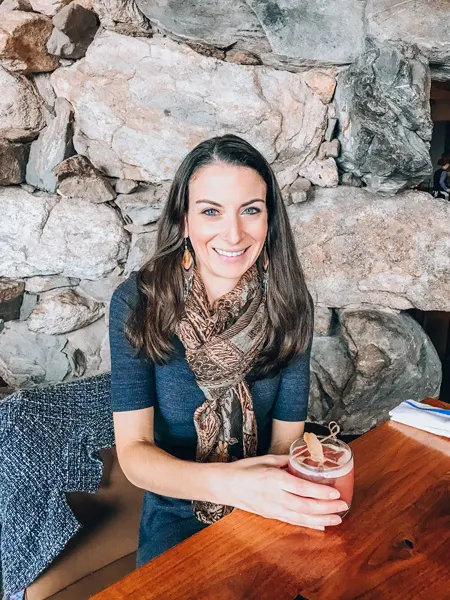 For top Grove Park and Asheville indoor activities, we suggest:
Sitting in front of the floor-to-ceiling fireplaces
Ordering charcuterie and drinks at the Great Hall Bar
Dining at Edison with gorgeous Blue Ridge Mountain views
If you are a guest, heading to Grove's world-class spa
In the winter, viewing the unique Gingerbread houses
Catching a glimpse of the Grove's resident ghost, The Pink Lady
Shopping at their cute gift and apparel stores
If you love ghost stories and the weather clears up, two popular Asheville ghost tours include this night-time Asheville walking ghost tour and Asheville Terrors.
The Omni Grove Park Inn | 290 Macon Ave, Asheville, NC 28804
8. Read some local literature
From Asheville's stellar indie bookshops to reading books set across the South, nothing beats curling up with a good book. We have tons of great local book lists too.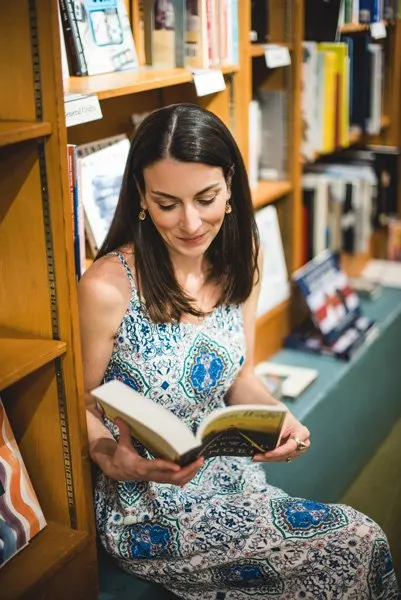 Half of Uncorked Asheville (me, Christine) is an English/History double-major and rogue MLIS-degreed librarian… which means that our favorite indoor activities in Asheville include all things books.
First, if you don't have a book to read, we definitely recommend hitting up a few of Asheville's best indie bookshops:
Malaprop's – Located Downtown, grab coffee at the cafe and shop for local authors, eclectic staff picks, and translated literature.
Battery Park Book Exchange – Situated in the Historic Grove Arcade, sip on literary cocktails while searching for unique used books.
Orbit DVD – While mostly a West Asheville movie and gaming shop – also perfect for a rainy day in Asheville – head to their true crime, witchcraft, and nerdy book selection.
Downtown Books & News – What other used bookstore would you find theater seats and old-school wooden desks in?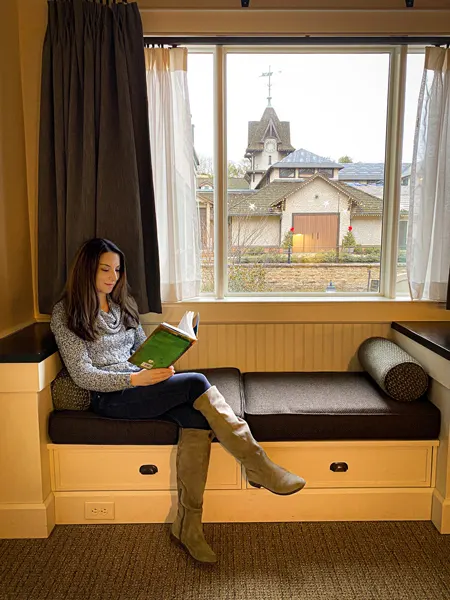 Once you get to a bookstore, though, you might be wondering what to read…
A few of our favorite destination reading lists include:
9. Tour the Thomas Wolfe Memorial
Learn about Asheville's biggest gossip with the coolest, most business-oriented mother. The Thomas Wolfe House is budget-friendly and an iconic Asheville attraction.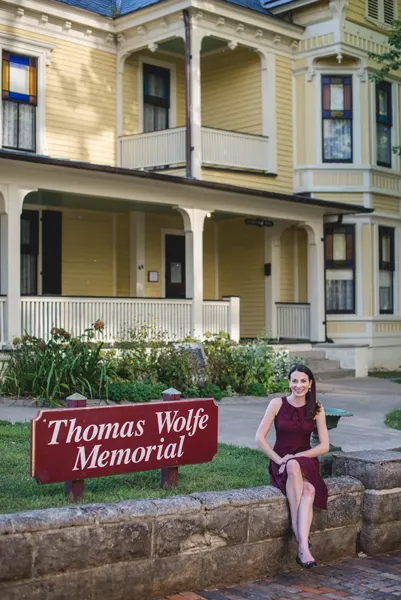 When friends or family are visiting in inclement weather, one of our favorite indoor things to do in Asheville includes touring the Thomas Wolfe Memorial.
While the Wolfe home is no longer standing, you can still visit his mother Julia's boarding house, which is just down the street.
Quite the entrepreneur of her time, Julia squeezed in as many guests as she could to bring in a profit, taking a young Wolfe along for the ride.
Thomas Wolfe became a famed North Carolina author for his historical fiction novel, Look Homeward, Angel.
Although a bit lengthy and dry, this now classic piece of literature chronicles Wolfe's childhood in Asheville.
What is most interesting, though, is how Thomas Wolfe spilled everyone's dirty laundry and barely changed their names.
Take a home tour to learn more. Then, watch a short video as well as walk the small museum showcasing a collection of Wolfe's prized possessions.
We are hardcore bibliotourists, searching for the best bookish places wherever we go. Grab our Asheville for bibliophiles itinerary. Or, take a guided Asheville literary tour.
Thomas Wolfe Memorial | 52 N Market St, Asheville, NC 28801
10. Hop on the purple bus
Grab a well-stocked cooler and rubber chicken. Jump on a purple bus with eyelashes as you meet some of Asheville's favorite characters.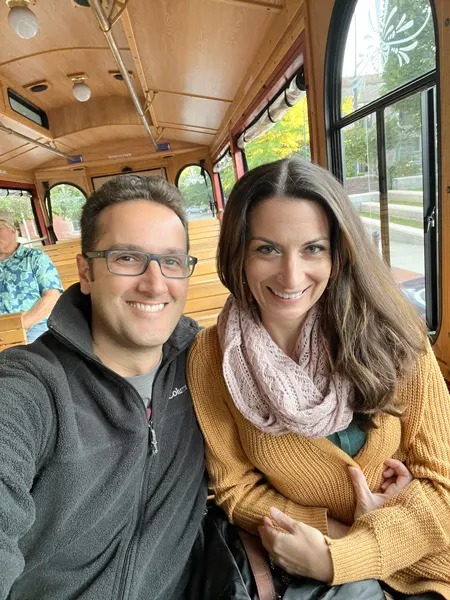 Do indoor Asheville activities count if you are on a trolley or a bus? We think so, especially since we took a LaZoom Comedy Bus Tour on a rainy day.
If you've seen a wobbly ladybug running down the road in Montford, a nun on a bicycle, or Zelda Fitzgerald humping a bush in the rain, the purple bus is nearby. Locals are used to this stuff.
LaZoom offers a variety of fun comedy tours across Asheville for all ages and interests. Think ghost tours, brewery visits, and kid comedy jams.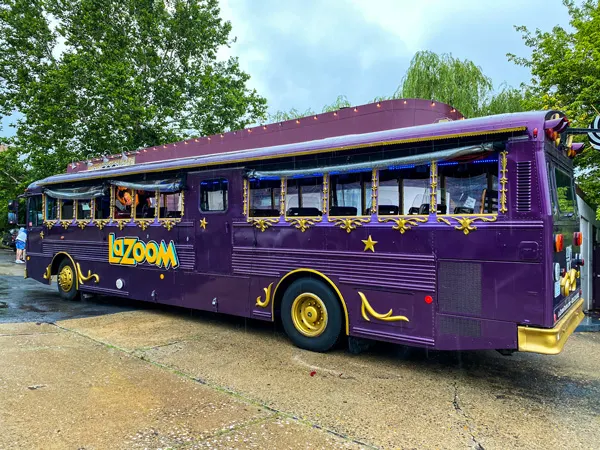 We enjoy their Ghosted Haunted Comedy Tour, and for a rainy day in Asheville, they have clear rubber curtains – which is just fine for us.
Start your evening off at the funky brick-and-mortar bar complete with cat pillows. Pick your libations for the road to be opened on the bus. Then, sit back and relax as LaZoom buses you across Asheville.
However, if the cheese isn't for you, we also highly recommend Gray Line Trolley Tours of Asheville. They have a hop-on-hop-off trolley, ghost tours, and a special Christmas tour.
LaZoom Comedy Bus Tours | 76 Biltmore Ave, Asheville, NC 28801
11. Tour America's largest home
Visit America's largest home, Biltmore Estate, including an indoor bowling alley and pool. Wine taste, and dine in the former horse stables.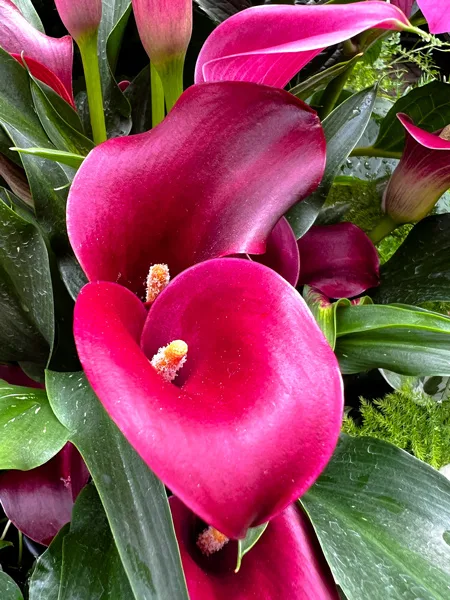 For more indoor attractions in Asheville, Biltmore Estate is probably the most famous. We've been annual passholders for years.
Deemed America's largest home, Biltmore is the former home of George and Edith Vanderbilt, constructed in the late 1800s and spanning 8,000 acres.
The estate houses endless gardens, Biltmore House, a winery, shops, restaurants, and special exhibits. It also has two beautiful hotels we enjoy, The Inn on Biltmore Estate and Village Hotel.
Whether it's a rainy day in Asheville or gorgeous out, there is plenty to do here for the entire family.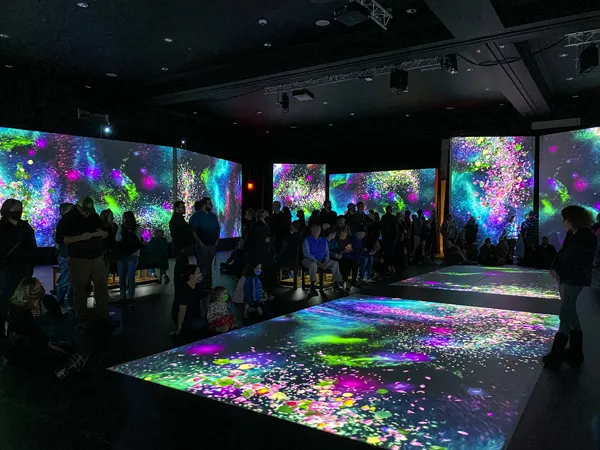 A few of the best Asheville indoor activities at Biltmore include:
Touring the large home, including the library, dining areas, bed chambers, pool, bowling alley, Halloween Room, and gym.
Enjoying a complimentary wine tasting at Biltmore Winery.
Dining at one of Biltmore's delicious restaurants like Cedric's Tavern, Village Social, or Stable Cafe.
Catching an indoor special exhibit – check their schedule.
Spying tropical flowers in Biltmore Conservatory.
During a snowy and chilly Asheville winter, enjoy Candlelight Christmas Evenings with the lit fireplaces and decorations.
If the weather clears up, be sure to head to the gardens; our favorite is the Walled Garden for spring through fall Biltmore Blooms.
If you are enjoying Biltmore Estate with children, they also have a farmyard and playground, which of course are outdoors.
Biltmore Estate | 1 Lodge St, Asheville, NC 28803
Never Miss Another Asheville Update
---
Tired of generic Asheville travel itineraries? Experience Asheville like a local with our free Asheville Favorites checklist, including restaurants, breweries, and hiking. Plus, get local updates – including events and hidden gems – straight to your inbox. Sign up here.
12. Try your luck at the slot machines
Enjoy your favorite table games, video poker, and slots at Harrah's Cherokee Casino Resort. Grab a bite to eat, catch a show, and cheers with drinks at a late-night bar.
If you don't mind taking a nearby road trip, one of the best indoor activities in Asheville – or anywhere – is heading to the casino.
About one hour away, Harrah's Cherokee Casino Resort truly has it all – and this is a great stop if you eventually plan on exploring the Great Smoky Mountains.
Visit the casino for over 3,000 slot machines and 160 table games. Bet on your favorite teams at Caesars Sportsbook.
Then, grab a bite to eat at Guy Fieri's Cherokee Kitchen & Bar, the Noodle Bar, or Wicked Weed BrewPub. There's also a buffet, food court, and coffee.
Casinos are great for shows, and Harrah's invites quite a few oldies but goodies out to play. Think Three Dog Night and Joan Jett as well as more modern bands like 3 Doors Down.
Along with Cherokee, consider visiting other great mountain towns in the Asheville area like Maggie Valley, Old Fort, Marshall, and Waynesville.
Harrah's Cherokee Casino Resort | 777 Casino Dr, Cherokee, NC 28719
13. Shop for gifts
Whether you head to Downtown Asheville's Historic Grove Arcade, Biltmore Village, or the River Arts District, shop for unique clothing, gifts, and more.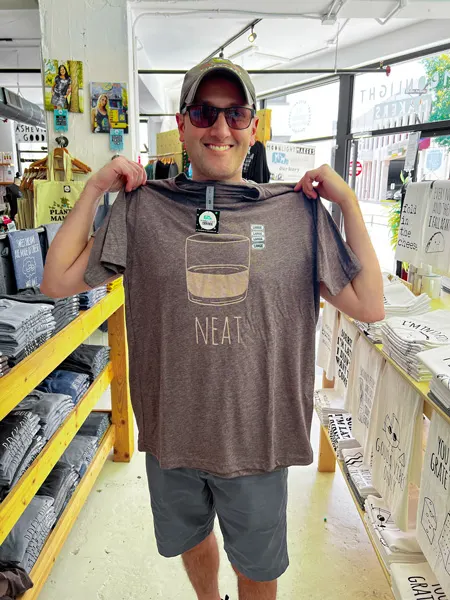 Asheville has a ton of shopping neighborhoods, malls, artists' galleries, and stores.
Find anything from t-shirts saying, "Sorry, I'm late; I didn't want to come," to shark print dresses, star earrings, and vintage candy.
Buy boozy scented candles and retro shades. Or, stock up on bear – or beer – themed souvenirs. Eat local popcorn, and grab the latest bestselling novel.
We don't usually love shopping, but the cool indie shops are the main reason why one of our favorite indoor things to do in Asheville involves buying gifts for our families, decorating our home, and restocking our closets.
We also have a few mainstream malls and stores too.
If you aren't sure what you are in the market for, head to a few great shopping areas like:
Downtown Asheville
West Asheville
Biltmore Village
Biltmore Park Town Square
River Arts District (and the Marquee!)
Asheville Outlets
Asheville Mall
14. Order a flight of beer or wine
With a brewery on pretty much every corner, there certainly is no shortage of good craft beer in Asheville. Or, head to Hendersonville for the gorgeous wineries.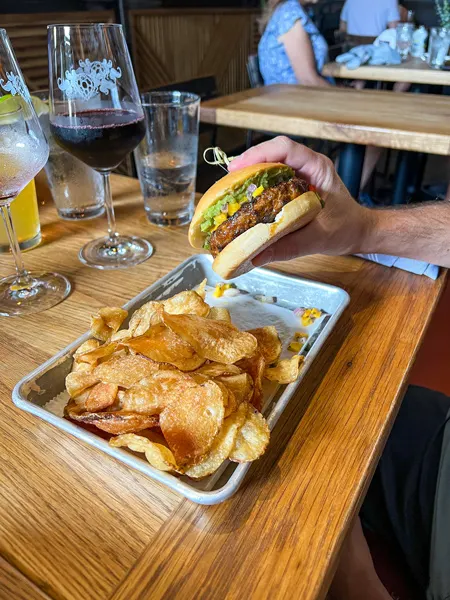 Asheville has a happening craft brewery scene; one of our top indoor Asheville activities includes visiting our favorite breweries.
Our top picks for the best breweries with food or rotating food trucks (check their schedule) include:
Hillman Beer (also a great brewery with Fido)
Wicked Weed BrewPub
Asheville Pizza & Brewing
White Labs
Zillicoah Beer
Ginger's Revenge (GF beer)
7 Clans
Burning Blush (Mills River)
We also enjoy the popular South Slope breweries like Hi-Wire, Catawba, and Green Man. If you cannot decide which brewery to try, we suggest taking a guided brewery tour.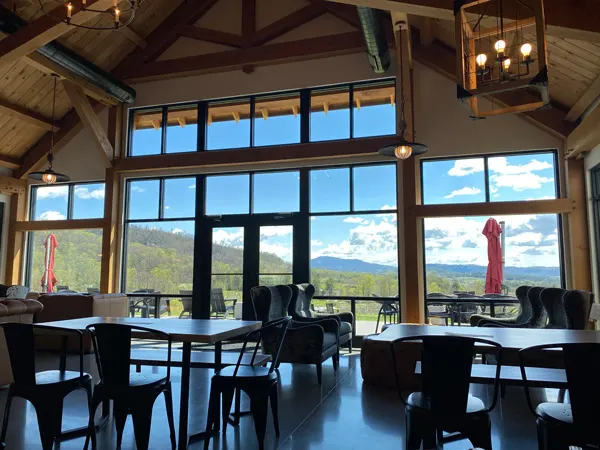 However, if beer isn't your jam, nearby Hendersonville houses a ton of delicious wineries with beautiful vineyards.
For great wineries around Asheville, we highly recommend:
Souther Williams
Marked Tree
St. Paul Mountain Vineyards
Stone Ashe
Just be sure to check all of their individual policies for outside food, children, pets, and wine-tasting reservations.
15. Tour a chocolate factory
One of the best places for chocolate in Asheville, a stop into French Broad Chocolate Lounge or the Factory is a must. They make dairy and vegan bonbons to die for. Take a factory tour at their RAD location.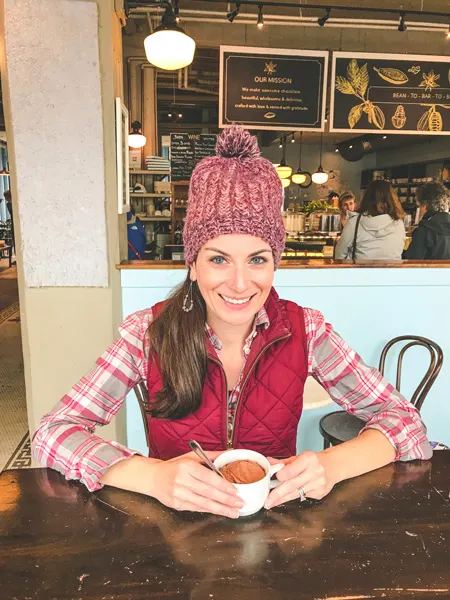 French Broad Chocolate Lounge has two locations: a cafe and shop in Downtown Asheville and the factory and cafe in the River Arts District.
Regardless of which one you visit, know that you will get the best chocolate desserts in Asheville. Think bonbons, chocolate bars, cakes, and hot chocolate, with vegan options.
Of course, they have coffee, affogatos, and ice cream too. We love to bring a box of bonbons home.
And, for popular Asheville indoor activities – and if you are traveling with the family – also consider taking a chocolate factory tour.
Chocolate tours typically run Monday through Saturday at 11 AM, 1 PM, and 3 PM and are about $12 for adults and $8 for kids. Children under 7 are free.
Enjoy an informative guided tour lasting around 45+ minutes to learn about the chocolate-making process. Taste cacao in its many forms.
See where else to get mouthwatering chocolate in Asheville.
French Broad Chocolate | Lounge: 10 S Pack Square, Asheville NC 28801 & Factory: 821 Riverside Dr #199 Asheville NC 28801
16. Explore the River Arts District
See Ian the Painter's Ruth Bader Ginsburg mural after some coffee. Chow down on BBQ like the Obamas. Dip in and out of artist studios.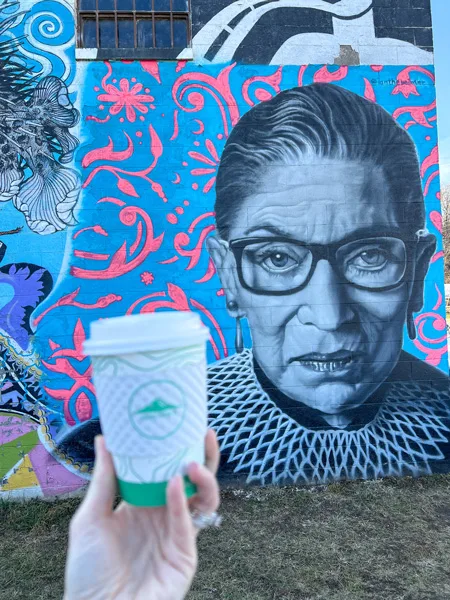 Asheville is full of eclectic neighborhoods filled with street art, restaurants, breweries, and stores. One of our favorite areas includes the arts-oriented River Arts District (RAD).
On a rainy day in Asheville, our top RAD suggestions include:
Watching an indie film or judging film festival shorts at the Grail Moviehouse
Skating at the indoor RAD Skatepark (for teens)
Grabbing dinner at one of RAD's delicious restaurants like RosaBees, Baby Bull, 12 Bones, or Bone & Broth
Hanging out at our favorite wine bar, Bottle Riot
Grabbing coffee at Summit and spying the great murals along the way
Shopping at centers like Foundation Studios, Marquee, and Cotton Mill Studios
We love dipping into the blown glass studios across Asheville for sculptures and home decor and the local woodworking studio, Foundation Woodworks, for one-of-a-kind earrings and a beer flight board for home.
If the River Arts District feels overwhelming, consider taking a tip-based guided tour.
Continue planning your Asheville adventures…
If you are visiting Asheville for a short time period, we have three great itineraries that you might find helpful.
Our 36-hour Asheville itinerary showcases the blockbusters you should hit if you are overnighting in Asheville. Think Wicked Weed, favorite rooftop bars, a Grove sunset, and the Blue Ridge Parkway.


Or, check out our Asheville weekend getaway itinerary, filled with a variety of local and iconic Asheville activities like The Hunger Games waterfalls, a James Beard award-winning restaurant, and Sunday brunch with the bubbly.


We also have a list of romantic things to do, perfect for couples, such as dining at Bouchon and doing a glass-blowing workshop with your partner.
What are your favorite indoor things to do in Asheville?
What do you like to do on a rainy day in Asheville? How about a chilly or sweltering day? Let us know in the comments; we are always updating our guides, and our readers enjoy your suggestions too.
Top Rainy Day & Asheville Indoor Activities FAQs
Can you do Biltmore in the rain?
Biltmore is great on a rainy day in Asheville. Tour Biltmore house and the conservatory. Wine taste in Antler Hill Village, and dine at Cedric's or Stable Cafe.
What is the rainiest month in Asheville?
Rain falls throughout the year in Asheville. March as well as May through August tend to see the most rain, averaging anywhere from 3 to 9 inches. October will see the fewest wet days.
What is the coldest month in Asheville?
January is the coldest month in Asheville with highs averaging around 47 F and lows in the 20s. Asheville's cold season starts toward the end of November and can last until February.
Save your favorite indoor Asheville activities for later: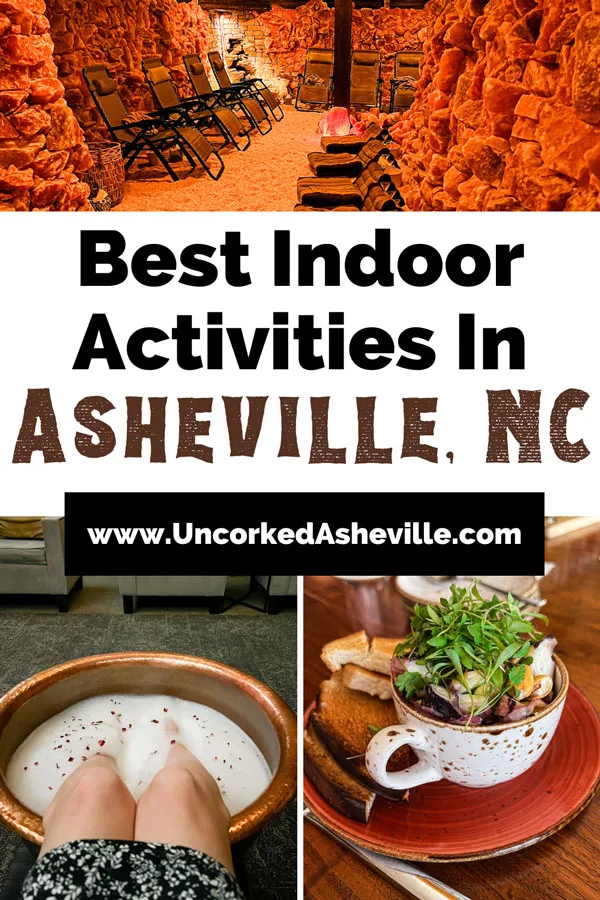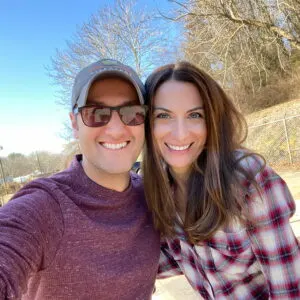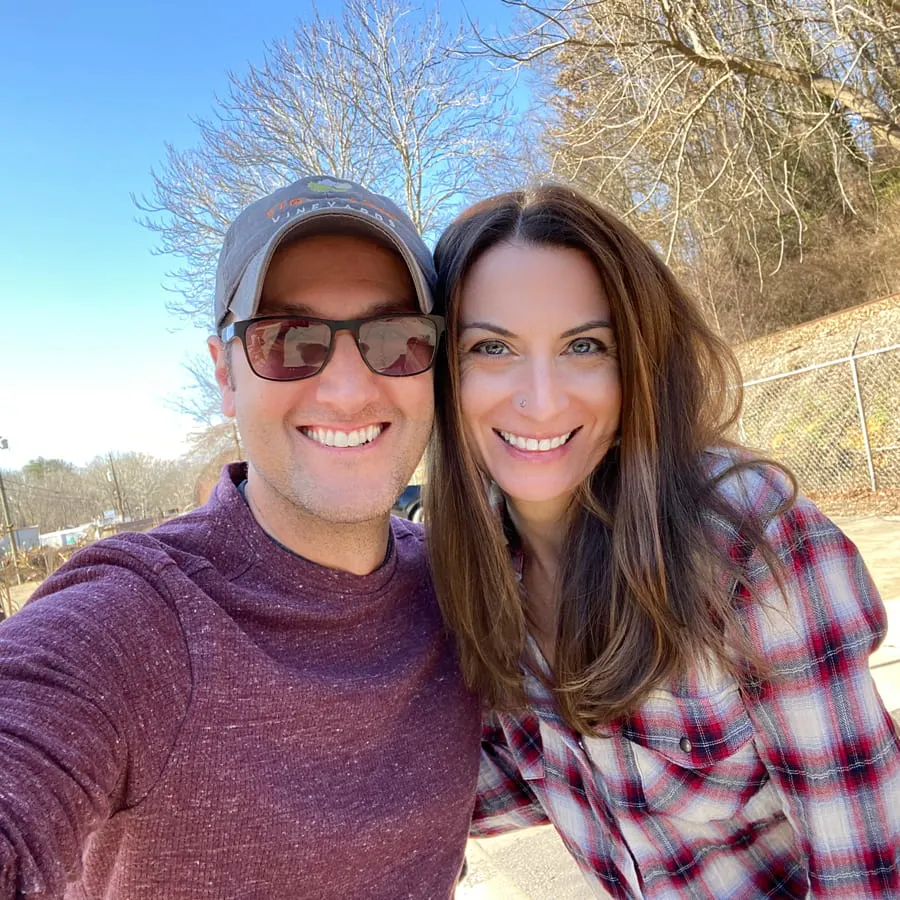 Christine (pronouns: she/her) is the owner and lead writer of Uncorked Asheville. After falling in love with those gorgeous Blue Ridge Mountains, Christine and her husband Tom decided to call Asheville, North Carolina their home. When her pointy Italian nose isn't stuck in a book, Christine is adopting all of the kitties, getting lost in the forest, and drinking an ESB.
Christine has a BA in English and History from Smith College, her MLIS from USF-Tampa, and is a former U.S. Fulbright Scholar - Indonesia. She also owns The Uncorked Librarian LLC with books and movies to inspire travel.