Where can you order delicious Asheville BBQ? As locals, don't miss our favorite BBQ restaurants in Asheville for dine-in and takeout.
This is the South, and of course, nothing beats Southern comfort food. Cornbread, hush puppies, BBQ, baked beans, and deep-fried Oreos. Sign us up!
There is nothing better than pulled pork sandwiches, Mac & Cheese, a rack of ribs, and a side of coleslaw or potato salad. Show us the kielbasa with some craft beer.
A controversial question with contentious answers: Where can you find the best BBQ in Asheville, NC? What are the top Asheville BBQ restaurants for both takeout and dine-in?
As AVL locals, we'll share where to get delicious barbecue in Asheville and a few tips and tricks, too. Unfasten that top pant button. Let's get started!
Don't miss our Complete Guide To Unforgettable Asheville Dining & Restaurants.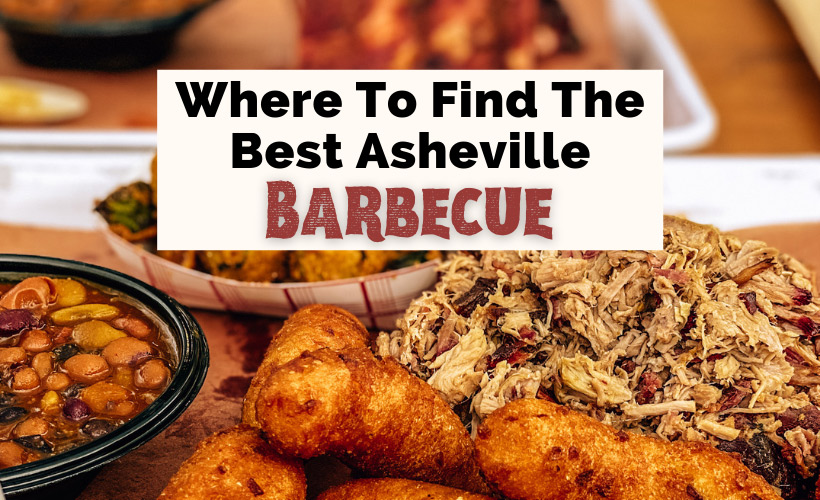 This post may contain affiliate links that earn us a commission at no extra cost to you.
See our Top Places To Stay in Asheville.

Don't miss out on these Asheville properties on Booking.com, too.
6 Best Asheville BBQ Joints
1. Luella's Bar-B-Que
North Asheville: 501 Merrimon Avenue, Asheville, NC 28804; (828) 505-7427
South Asheville: 33 Town Square Blvd., Biltmore Park, Asheville, NC 28803; (828) 676-3855
Website: http://luellasbbq.com/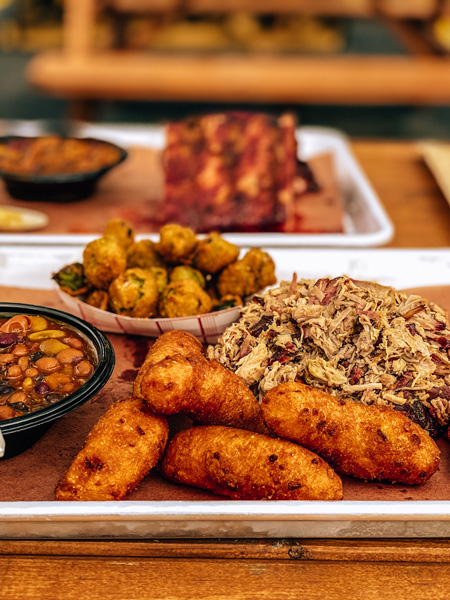 Imagine ordering giant platters of barbecue that will last you for days. We just love Luella's North Asheville BBQ restaurant.
Grandma Lue is Luella's namesake. This BBQ joint is not only committed to serving delicious food but also gives back to the AVL community.
We enjoy sitting outside with plates full of ribs and pulled pork. Their sandwiches come with a heaping 1/4-pound of meat. You can also skip the bread by ordering a platter.
Luella's has tempeh as well as gluten-free options. See where else you can find vegan & veggie options around Asheville here.
P.S. Don't miss The Hop Ice Cream Cafe — North Asheville location — for dessert. Think vegan & regular ice cream, floats, shakes, and treats.
Read more about the mouthwatering restaurants on Merrimon Ave. Lastly, walk off your meal at nearby Beaver Lake.
Never Miss Another Asheville Update
---
Tired of generic Asheville travel itineraries? Are you hoping to experience the magic of Asheville like a local? Grab our free Asheville Favorites checklist, including restaurants, breweries, and hiking. Plus, get local updates – including events and hidden gems – straight to your inbox. Sign up here.
2. Buxton Hall Barbecue
32 Banks Ave, Asheville, NC 28801
(828) 232-7216
Website: http://www.buxtonhall.com/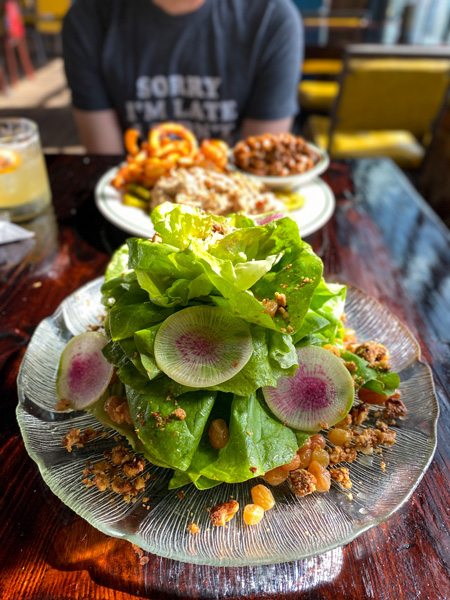 One of the best BBQ restaurants in Asheville, Buxton Hall sits across from Catawba Brewing in South Slope. Hello, perfection.
Buxton Hall is part of the Chai Pani Restaurant Family. Think award-winning Indian street food at Chai Pani.
Buxton Hall specializes in all-wood, whole-hog Asheville BBQ, and they serve up delicious craft cocktails.
Along with delicious barbecue like a pulled pork plate, ribs, or brisket, order collard greens, baked beans, fries, burgers, fried chicken, and BBQ hash.
Buxton Hall Barbecue is full of history too.
Located in the old Standard Paper Sales Company building, back in the 1930s, the building housed a roller skating rink and old boat showroom.
Today, enjoy BBQ in a trendy wide-open space with exposed brick and huge windows overlooking Urban Orchard, one of Asheville's top cideries.
Lastly, head to Vortex Doughnuts afterward for vegan donuts and a cup of coffee before adventuring off around South Slope.
Discover all of Downtown Asheville's restaurants, casual and fine dining.
3. 12 Bones Smokehouse
River: 5 Foundy St. Ste 10, Asheville, NC 28801; (828) 253-4499
South: 2350 Hendersonville Rd, Arden, NC 28704; (828) 687-1395
Website: https://www.12bones.com/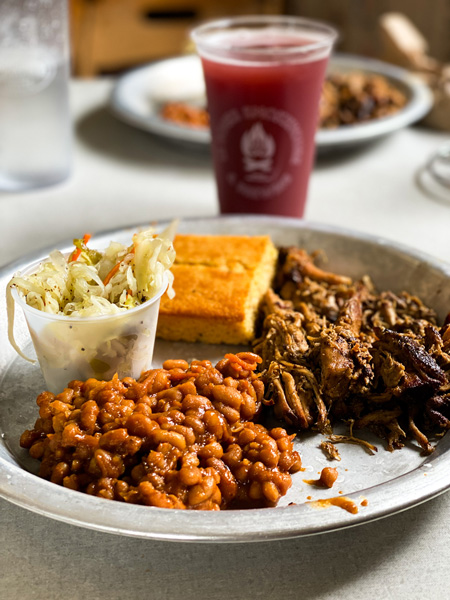 Hoping to dine like a former U.S. President?
It's no secret that on their 2008 trip to Asheville, the Obama family hiked Craven Gap along the Blue Ridge Parkway and ate at 12 Bones Smokehouse – the River Arts District location.
In fact, their picture is on the wall with 12 Bones staff. We read on Today that Barack Obama ordered barbecue ribs with blueberry chipotle BBQ sauce.
12 Bones Smokehouse slow smokes their meat over hardwoods and cooks old family favorites as well as new flavors.
Get in line, choose from a delicious platter or sandwich, and don't forget the draft beer. Stop by the sauce station, too.
Grab a seat on their numerous outdoor patios surrounded by RAD's most vibrant street murals. Or, eat inside and read all of the funny and sweet wall inscriptions.
At the 12 Bones South location (Arden), you'll also find their brewery and taproom — and you know Asheville has a terrific craft brewery scene.
Pay homage to Anthony Bourdain with Gus Cutty's brilliant mural.
For many visitors, 12 Bones Smokehouse is the absolute best BBQ restaurant in Asheville. It's also a great Asheville place to eat for families.
We highly recommend 12 Bones for lunch in Asheville followed by mural spying in RAD and drinks at our favorite Asheville wine bar, Bottle Riot.
4. Bear's Smokehouse BBQ
135 Coxe Ave, Asheville, NC 28801
(828) 505-7088
Website: https://bearsbbq.com/asheville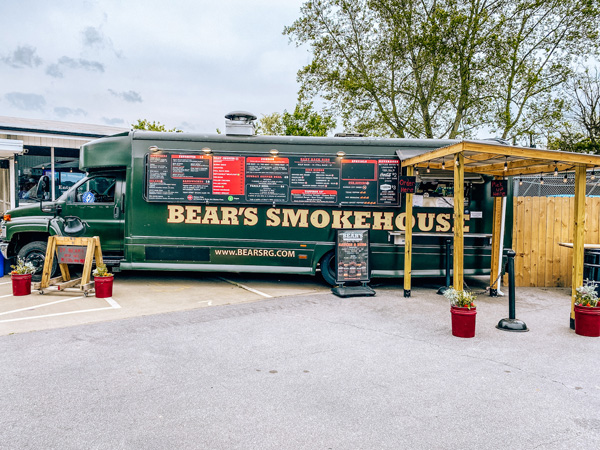 We are CT natives, and we actually have a Bear's Smokehouse near our hometown. Small world; big BBQ?
Bear's Smokehouse has a permanent BBQ food truck on Coxe Ave, which is also home to the motherload of AVL beer. You'll be close to Chemist Distillery, too.
For Asheville BBQ takeout, Bear's Smokehouse does a fabulous job.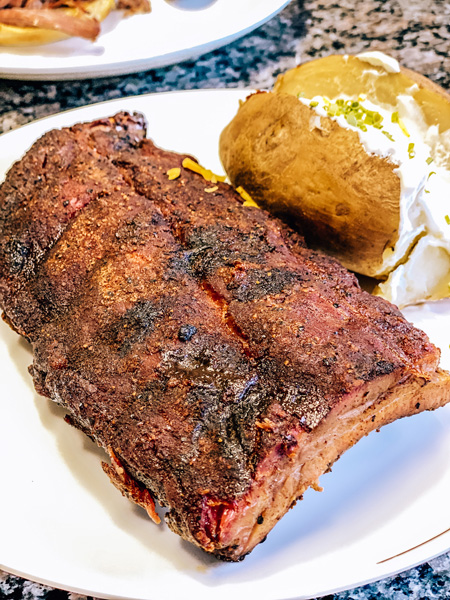 If a regular-sized sandwich is too small for you, you can upgrade to a "Bear Sized" beast. Don't tell our resident AVL black bears, though…
Bear's Smokehouse mixes delicious meats into their black beans. If spicy isn't your jam, just order your meat sans sauce.
Their sauces and rubs are gluten-free (but always double-check).
5. Moe's Original BBQ
4 Sweeten Creek Rd. Asheville, NC 28803 | (828) 505-8282
114 N Main St, Hendersonville, NC 28792 | (828) 595-9200
Website: https://www.moesoriginalbbq.com/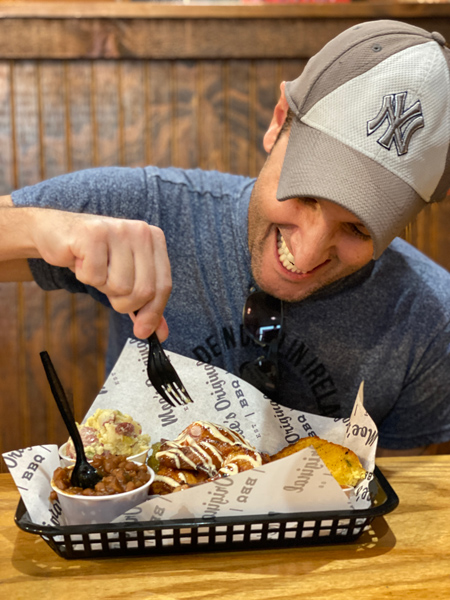 For amazing chain restaurant BBQ in Asheville, Moe's is where it is at. Unique to Moe's Original BBQ, find Alabama-style pulled pork and in-house smoked meats. Order a local brew, too.
Located near Biltmore Village in Asheville — with an outdoor patio — try Moe's pulled pork, ribs, turkey, and chicken.
Of course, they have those infamous Southern sides and sauces, too.
We love Moe's BBQ baked beans and potato salad. They also have allergy-friendly menus ready to go for gluten-free, vegan/veggie, and lactose-free diners.
We enjoy Moe's Original BBQ Hendersonville restaurant, especially since Hendersonville has a plethora of fun things to do.
6. Carolina Ace BBQ
Rotating WNC BBQ Food Truck: Grab Their Schedule On Facebook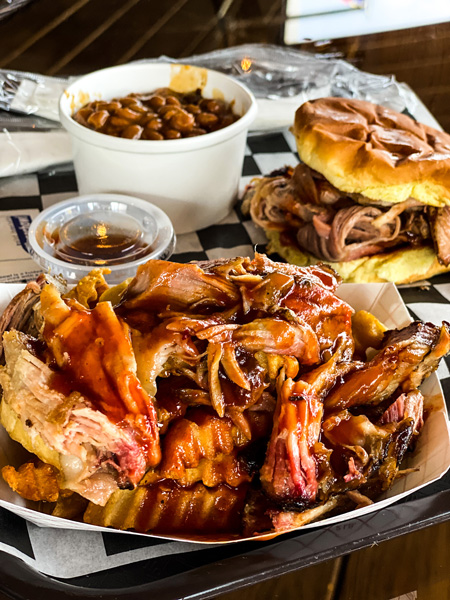 OK, we might be cheating on this one, but you cannot miss the best BBQ food truck near Asheville: Carolina Ace Catering.
We found Carolina Ace Catering at Guidon Brewing in Hendersonville — about a 40-minute drive from downtown Asheville.
Hendersonville is home to stellar breweries with food trucks, tons of outdoor space, our favorite brews, and a few newer gorgeous taprooms.
We weren't even supposed to be eating dinner out. However, we could not resist Carolina Ace Catering's BBQ menu filled with delicious pulled pork fries and sandwiches.
The ribs sucked us in, and they also have meatloaf, chicken, and brisket. We don't like to pick Asheville BBQ joint favorites, but they are up there!
A few more spots for the best BBQ in Asheville include:
Haywood Smokehouse
Little Pigs Bar-B-Q
Black Bear BBQ
Sadly, Big South Kitchen — one of our all-time favorite Asheville BBQ takeout restaurants — closed in December 2021. See where else you can grab takeout in Asheville.
Save The Best BBQ Restaurants In Asheville For Later: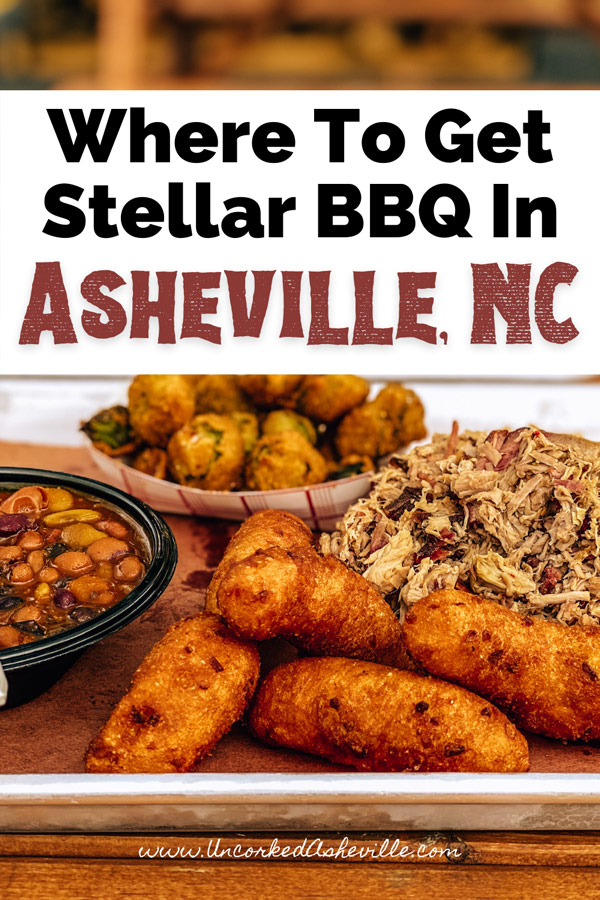 Who serves up the best BBQ in Asheville, NC?
Where do you love to go for BBQ in Asheville? What is the best city, ever, for barbecue? Best state?
Plus, what do you like to order? Do you have a go-to meal?
Christine is all about that pulled pork. Tom almost always orders gluten-free ribs. Let us know your favorites in the comments!
See our Top Places To Stay in Asheville.

Don't miss out on these Asheville properties on Booking.com, too.
Still Hungry? Head This Way:
Asheville Food and Drink Guide
Where To Order Thai Food
Best Sushi
Taco Joints
Burgers Across AVL