Head out on the trails and chase waterfalls with these short and easy hikes near Asheville, NC – perfect for the entire family.
Along with its delicious foodie scene, Asheville's Blue Ridge Mountains are famous. The hiking in and around the city is fantastic, especially with all of those cascading waterfalls.
Yet, the mountains can also be intimidating whether you are an experienced hiker or a more casual vacation trekker.
Some trails have extremely high elevation gains and are much longer while others are quick and simple.
If you are looking for short hikes near Asheville, NC, including out-and-backs where you can tailor the length, we got you.
Plus, it's not always easy to gauge the terrain or what to expect from hiking apps. Nothing beats firsthand experience, which we have plenty of; we are Asheville locals, after all.
Below, find kid-friendly hikes near Asheville that will take you across the city's historic landmarks, past lakes, and onto the Blue Ridge Parkway.
Head into the Pisgah National Forest and chase those waterfalls near Hendersonville at DuPont State Forest.
See where you can picnic with the cows or visit a mountain bald. Head to lesser-known areas like Hot Springs and Marshall.
These easy and family-friendly hikes near Asheville are sure to help you make the most out of Mother Nature and all that the Western North Carolina mountains have to offer.
Be sure to share your favorite easy hikes in Asheville (and nearby) in the comments. We are constantly exploring. Let's get started!
*P.S. We recruited our friend and favorite mom blogger, Tori, to help craft this piece since she loves hiking in Asheville with her husband and two young boys.
Read more about all of Asheville's best hiking trails that locals love.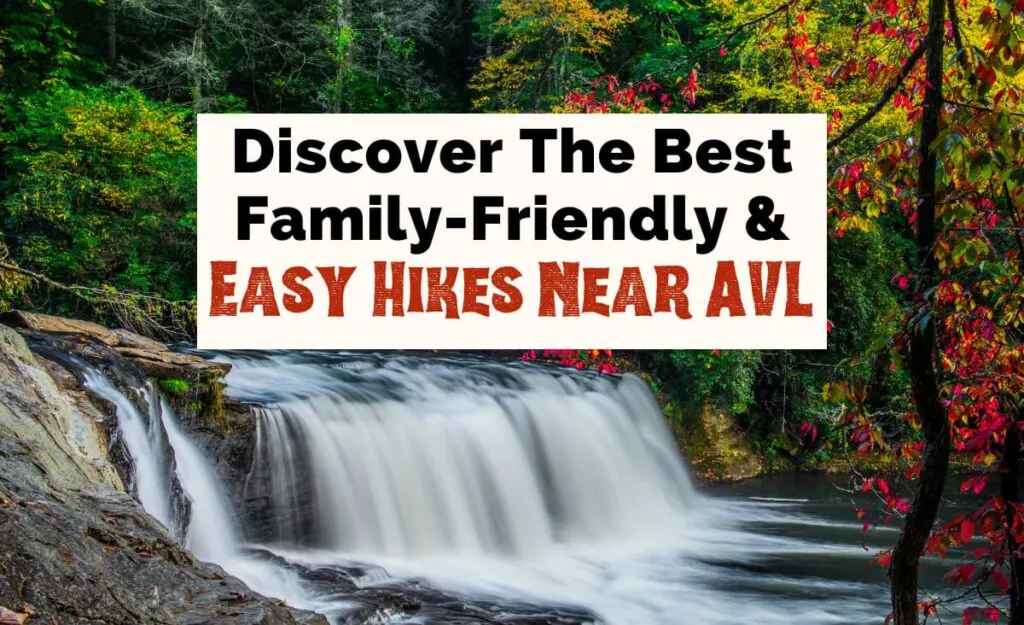 This post may contain affiliate links that earn us a commission at no extra cost to you. If you love these guides, support Uncorked Asheville here.
13 Great Kid-Friendly & Easy Hikes Near Asheville, NC
1. DuPont State Forest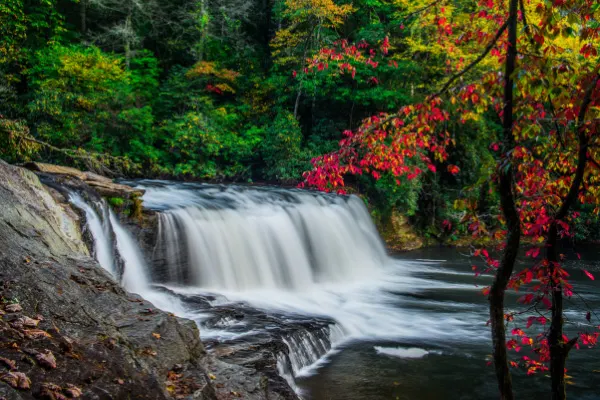 Dupont State Recreational Forest is one of the best places to see waterfalls near AVL and is about a 50-minute drive from the city.
Most notably, though, Triple Falls was a filming location for The Hunger Games and Bridal Veil Falls for The Last of the Mohicans.
For beautiful and easy hikes near Asheville, visitors can plan which falls they wish to see that best work for their group, energy, and skill level.
We suggest parking at the Hooker Falls Access Area, which has restrooms, bear-proof trash receptacles, and water fountains.
From here, you'll head to Hooker Falls, one of the most kid-friendly hikes near Asheville, clocking in at 0.3 miles.
With only a bit of elevation gain, kids will sprint to the waterfall to climb rocks or cool off in the warmer months. Please just remember that there are no active lifeguards on duty.
For families that are up for more and can handle a slightly increased elevation, continue on to Triple Falls and High Falls.
From the same access area, hike about half a mile up the gravel path until you spy Triple Falls. There is a picnic area for the little ones (and big ones like Tom) to take a lunch break.
Another .6 miles up, turn onto High Falls Loop to access the third waterfall, High Falls.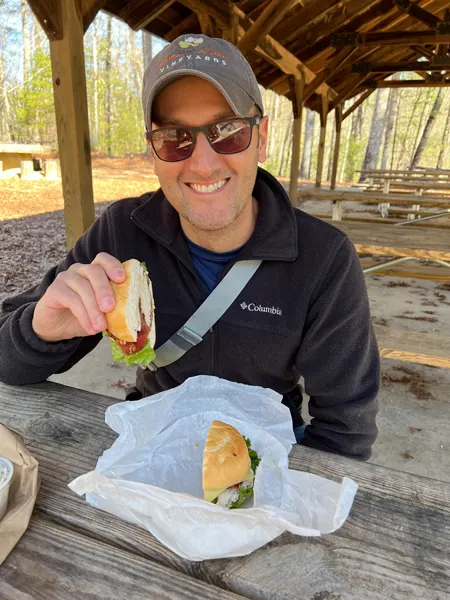 Additional trails, including the Covered Bridge Trail, can be added on for overachievers.
The three-waterfall hike will total about three miles round trip, with moderate terrain.
While these three short hikes near Asheville feature gravel, decent elevation gain, and spectacular views, they're not particularly challenging.
Tori's four-year-old managed the majority of the hike himself, while her two-year-old was in and out of his Osprey toddler carrier.
Visitors may also park at DuPont's Visitor Center – with facilities – for quick access to Triple and High Falls. Here, consider the flat and easy 2.2-mile, out-and-back (each way) trail to Bridal Veil Falls.
The Bridal Veil Falls trail is great for beginner mountain bikers too.
After hiking DuPont State Forest, head to Hendersonville for lunch, wineries, seasonal apple orchards, and kid-friendly museums.
DuPont State Recreational Forest | GPS: Hooker Falls Access Area or DuPont State Recreational Forest Visitor Center, 89 Buck Forest Rd, Cedar Mountain, NC 28718
2. Chimney Rock State Park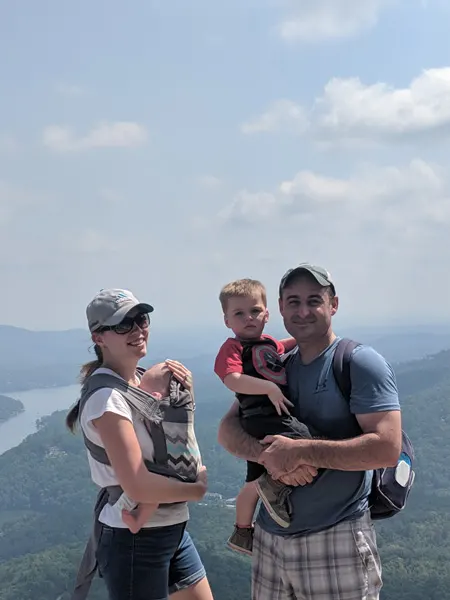 As another The Last of the Mohicans filming site, Chimney Rock State Park is undoubtedly one of the most popular and busiest family-friendly hikes near Asheville.
It's also a fabulous Asheville day-tripping option at around 45 minutes away. Just know that you will have to pay to enter the park.
Chimney Rock, the 535 million-year-old monolith for which the park is named, is accessible either by the Outcroppings Trail or via elevator.
While the trail is steep with 494 steps, it is safe and well-maintained. Plus, there are plenty of breathtaking viewpoints to break up the hike, including The Grotto and Pulpit Rock.
Families can continue on to the Exclamation Point Trail. Across from the stairs, take a series of switchbacks and steps through the cliffside.
For short trails near Asheville, Exclamation Point Trail is mostly uphill and moderate to slightly strenuous. However, it's only about twenty minutes to Exclamation Point, with plenty of points of interest along the way.
Pause at the Opera Box, overlooking Hickory Nut Gap and Lake Lure, and then again at the iconic Devil's Head.
Enjoy a picnic and more views at Exclamation Point; then, relish in the downhill hike back.
For a moderate 1.4-mile, round-trip waterfall hike, also try Hickory Nut Falls.
Afterward, grab food and ice cream in Chimney Rock Village or head over to gorgeous Lake Lure, which is full of even more short hikes near Asheville.
Parts of Dirty Dancing were filmed at Lake Lure, and visitors can play in the park, walk the Flowering Bridge, and boat around the lake.
Chimney Rock State Park | 431 Main St, Chimney Rock, NC 28720
3. Catawba Falls*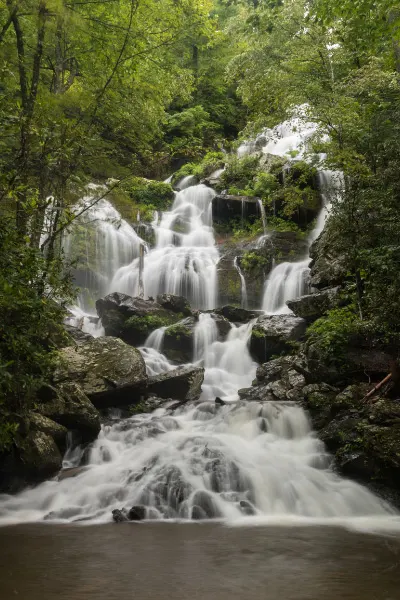 *Catawba Falls is temporarily closed from May 2022 until 2023/2024 for maintenance, including visitor safety and accessibility. We cannot wait for the falls to re-open and will update accordingly.
If you are looking for impressive, but easy hikes near Asheville, head to the Catawba Falls Trailhead for another waterfall trek.
About thirty minutes outside of Asheville and off of I-40, visitors can easily find the Catawba Falls Trailhead parking lot.
From here, it's a moderately easy 1.5-mile hike (3 miles round trip) with a mild but steady incline to the 100-foot waterfall. Leashed dogs are welcome here, as well.
Along the way, kids will enjoy crossing the river via the footbridge, exploring some of the smaller cascades, and spying historic buildings dating back to the 1920s.
These sites are accessible by additional short trails.
The trail ends at the base of Catawba Falls. While you may be tempted to hike up to Upper Catawba Falls, know that it is not recommended.
While short, the hike to the upper falls is extremely dangerous, and we don't suggest it for children.
Afterward, head into Downtown Old Fort for lunch and local brews at Hillman Beer, a pet and kid-friendly brewery. Be sure to check out the old cabins at the Mountain Gateway Museum too!
Read more about all of Asheville's breathtaking waterfalls.
Catawba Falls | Old Fort, NC
4. Bent Creek Experimental Forest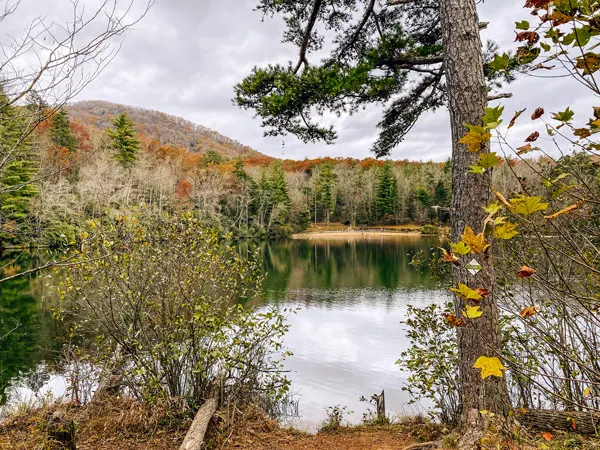 If you are visiting Asheville with kids, Bent Creek Experimental Forest and Lake Powhatan are great stops on any itinerary.
Here, you'll find dozens of short and easy hikes in Asheville. You might even run into some wildlife.
Pick one of the many trails for a quick but leisurely walk or piece together a longer hike, if you're up for it.
The easy .7-mile out-and-back Homestead Trail (Bent Creek Trail 333) hugs Lake Powhatan and is popular among families. Hikers will pass Lake Powhatan, the dam, and footbridges.
Add the Deerfield Loop or Small Creek Trail for another one to two miles of easy, pleasant hiking.
For a much longer but still easy hike, link up to the Hard Times Trail, which also connects to The NC Arboretum.
You'll also see families teaching their younger children how to mountain bike along a few of Bent Creek's trails.
Of course, Bent Creek Experimental Forest is also known for harder trails, too.
Discover more great WNC lakes perfect for easy hikes near Asheville, including Lake Junaluska, Beaver Lake, and Lake Lure.
Bent Creek Experimental Forest | Lots & street parking around the Hard Times Trail at Wesley Branch Road, Asheville, NC 28806
5. Black Balsam Knob Via Art Loeb Trail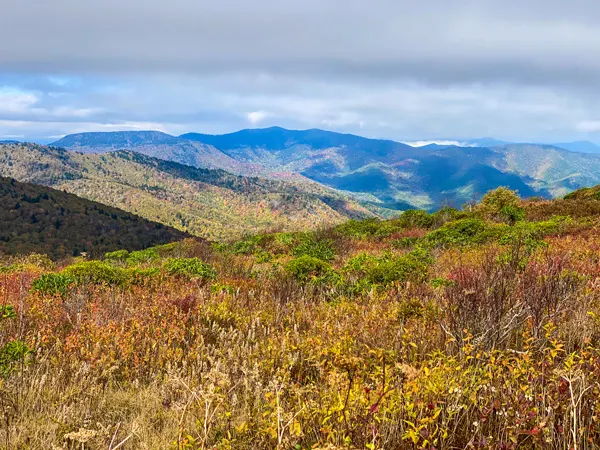 Black Balsam Knob, also known as Black Balsam Bald, is the second-highest mountain in the Black Balsam Mountains.
Don't let the elevation deter you, though.
The easy-to-moderate, 1.5-mile out-and-back to Black Balsam Knob via the Art Loeb Trail is one of the most popular kid-friendly hikes near Asheville with only 347 feet of elevation gain.
Because of the ascent and large rocks, though, please just keep in mind that to some, this will be one of the harder short hikes on this list.
Spy beautiful wildflowers, take in the gorgeous panoramic views of the mountains, and peep the foliage during the fall. It's breathtaking.
Black Balsam via Art Loeb Trail is also one of the most frequented short hikes near Asheville, so plan your 1-hour drive from the city accordingly and consider arriving early.
There are compost toilets (no running water) off of the parking lot. Bring hand sanitizer.
Read more about all of the gorgeous Blue Ridge Parkway hikes in North Carolina, including Pink Beds Loop, another one of the best easy hikes near Asheville.
Also, remember that in the late fall through early winter, parts of the Blue Ridge Parkway close for weather. Check gate closures on the National Park Services website here.
Black Balsam Knob | Art Loeb Trail, Canton, NC
6. Max Patch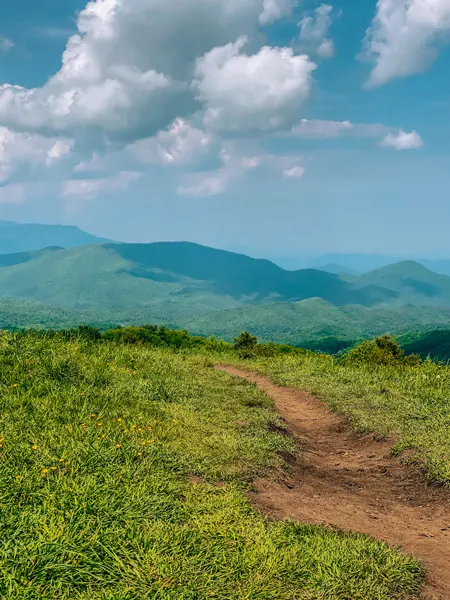 About an hour and a quarter outside Asheville along the Tennessee-North Carolina Border, Max Patch is the farthest of our recommended easy hikes near Asheville.
A 1.5-mile loop, Max Patch intersects with the famed Appalachian Trail and provides some of the most spectacular views of the mountains.
If you're looking for bucket list family-friendly hikes near Asheville, this is it. Don't forget to pack a picnic, too, but remember to take your trash with you.
From the Max Patch parking lot, hike along rolling hills and wildflowers before coming to an intersection for the AT.
Stay to the right to keep on the Max Patch Loop or hike up the AT to head straight to the top of the mountain.
Please just keep in mind that the road to Max Patch's trailhead can be more difficult to navigate and a tad frightening in poor weather.
Never Miss Another Asheville Update
---
Tired of generic Asheville travel itineraries? Experience Asheville like a local with our free Asheville Favorites checklist, including restaurants, breweries, and hiking. Plus, get local updates – including events and hidden gems – straight to your inbox. Sign up here.
7. Biltmore Estate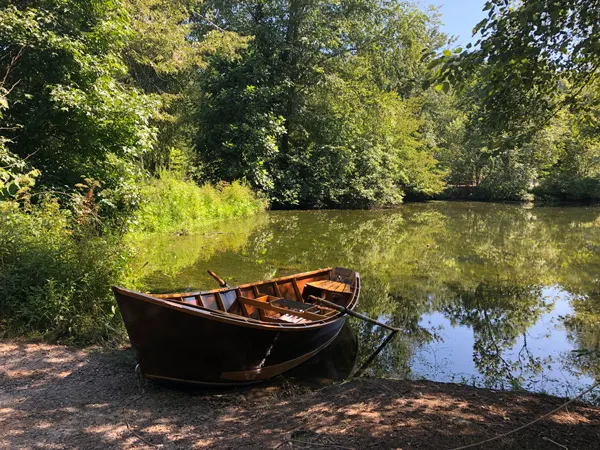 Whether you are planning a weekend trip or are a local, Biltmore Estate is a must as America's largest home and an iconic Asheville attraction.
Not to mention that Biltmore Estate has some of the best family-friendly hikes in Asheville. You will need an annual pass, daytime ticket, or property reservation to enter, though.
While the twenty-two miles of trails range in difficulty, Biltmore visitors will find plenty of easy and moderately short hikes.
Stroll the one-mile mostly paved Azalea Garden or explore the Historic Gardens.
Moderate but mostly flat trails include the three-mile Lagoon Trail, the six-mile Farm Trail, and the Westover Trails.
The Deerpark Trail will treat you to a side view of Biltmore Estate and end in the gardens (Tom and Christine's favorite).
Know that you can also bring your own bikes or rent mountain bikes from the Bike Barn. The Lagoon Trail is also an especially popular biking trail amongst families and their littles.
While enjoying these kid-friendly hikes in Asheville, be sure to read about all of the ways you can enjoy Biltmore with the entire family, including some of the best Biltmore restaurants.
And, be sure to check out our Biltmore Guides to make the most out of that ticket price.
Biltmore Estate | 1 Lodge St, Asheville, NC 28803
8. Bearwallow Mountain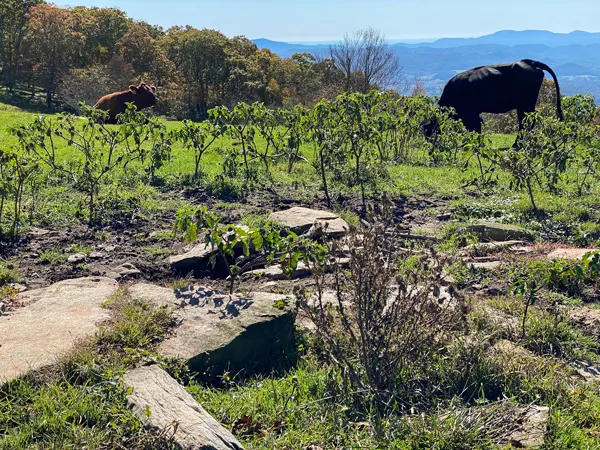 Another one of the most popular short and easy hikes near Asheville – about 2 miles total – either take the wide gravel access road or the more challenging forest trail up to a beautiful meadow filled with cows.
That's Bearwallow Mountain, an extremely popular picnic and sunset spot that is about 35 minutes from Asheville, NC.
Trek one trail and take the other down to create a loop, too. The cows freely roam around you and may throw you some shade. Watch out for those cow pies too.
On a beautiful day, look for the Black Mountains, Mt. Mitchell, Mt. Pisgah, and the Great Smoky Mountains. If it's incredibly clear, you might see as far as South Carolina.
Bearwallow Mountain is also a great fall and winter hike.
Bearwallow Mountain Trail | 4854 Bearwallow Mountain Rd, Hendersonville, NC 28792
9. Moore Cove Falls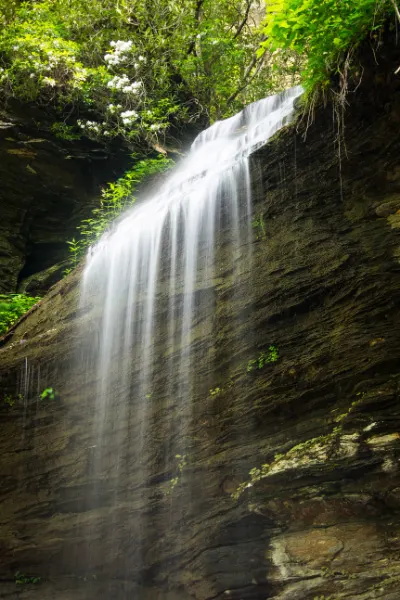 Located in the Pisgah National Forest, Moore Cove Falls is one of the best easy hikes near Asheville for families (and rainbow chasers).
Trek a 1.4-mile out-and-back trail straight to a 50-foot waterfall. Never climb these falls, though – there have been causalities.
The trail may grow a bit muddy based on the season, and you'll cross small wooden bridges with a few narrower spots along the packed dirt path.
Moore Cove Falls is located just past Looking Glass Falls off of the Forest Heritage Scenic Byway about 50 minutes away from Asheville. Sliding Rock is nearby.
Afterward, head to Downtown Brevard for beer, shopping, and food.
Read all of our hiking guides to pick the best ones!
Moore Cove Falls | Moore Cove Falls Trail U.S. 276, Brevard, NC
10. Oconaluftee River Trail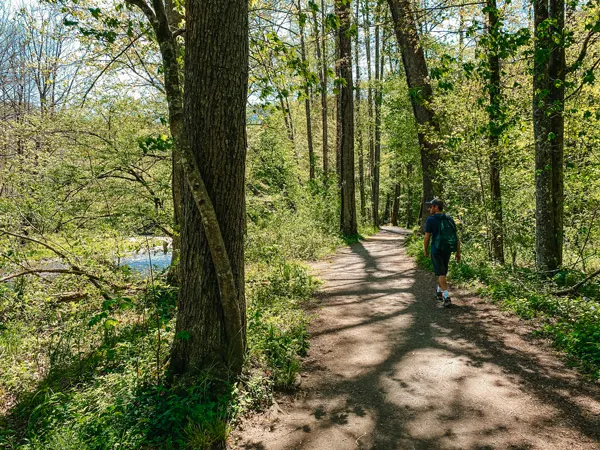 Although a bit of a drive – one hour and ten minutes – if you are craving a quick introduction to the Great Smoky Mountains National Park, head to the Oconaluftee Visitor Center and River Trail.
The Oconaluftee River Trail is one of two trails in the Smoky Mountains where visitors can walk their dogs on a leash and/or ride bikes.
For kid-friendly hikes near Asheville, it's perfect.
Encounter a beautiful 3-mile nature walk along the Oconaluftee River. You don't have to follow the trail all the way to the end since it's an out-and-back.
Encounter elk from afar, and spot wildflowers and birds. View exhibits educating visitors about Cherokee artwork, traditions, and spiritual beliefs.
For educational family-friendly hikes near Asheville, you'll also pass the open-air Mountain Farm Museum.
Freely explore a collection of log buildings dating back to the late 1800s and early 1900s. Don't miss the log farmhouse, barn, and apple house.
You can also view the Davis House, which is constructed from American Chestnut wood, and be sure to walk over to Mingus Mill.
See how families lived and worked in the Appalachian Mountains years ago.
Lastly, enjoy the amenities of the Oconaluftee Visitor Center. Find restrooms, maps, and even a few Park Rangers to answer your questions (we also have a Smoky Mountain "fact sheet" for you).
The local gift shop is perfect if you need more snacks, want to stock up on water, or if you wish to grab local literature and souvenirs. Bear plushes included.
If you don't mind stairs, Mingo Falls is also another one of the gorgeous short hikes near Asheville.
11. Laurel River Trail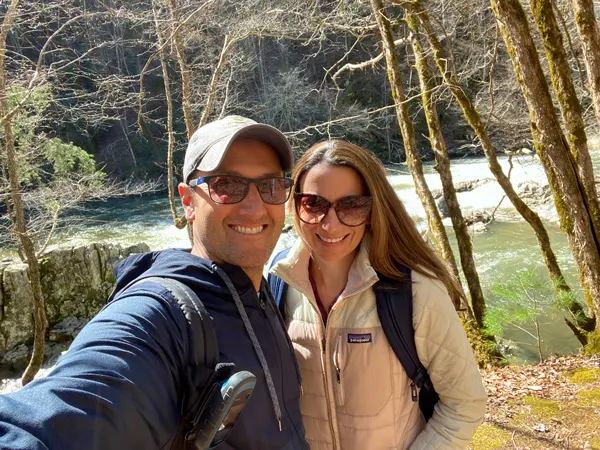 Located about 40 minutes away from Asheville between Hot Springs and Marshall, you'll just love this local trek that follows Big Laurel Creek and enters the Pisgah National Forest.
With just a medium-sized gravel lot along the side of the road and no real trailhead markings, find one of the most serene and easy hikes near Asheville.
The Laurel River Trail is 3.6 miles each way as an out-and-back trail, and much of the pathway is dog and family-friendly. Of course, make this hike as short or as long as you like.
The first mile cuts through private property – so please don't wander off the trail or you'll be trespassing.
This part of the trek is well-marked with "private property" signs too. Don't get enticed by those initial baby waterfalls.
Once you pass the first mile, the private property signs disappear, and you'll enter the Pisgah National Forest.
Here, people swim in the summer (exert extreme caution, especially in areas with strong currents) and bring portable chairs and picnic gear.
Along the river and while you hike, watch as adventurers learn how to whitewater raft and kayak through the rapids.
For kid-friendly hikes near Asheville, just know that depending on the time of year, the trail can be a bit muddy with some downed trees and boulders/rocks to navigate over/around.
The beginning of the trail is gravel but later becomes full of small rocks and tree roots. Always watch littles around the water.
Afterward, explore Marshall, another quaint mountain town near Asheville.
Or, head to Hot Springs, which has food, beer, and Appalachian Trail hikes.
Laurel River Trail | On our GPS, this trail is labeled "Laurel Creek Trail"
12. The North Carolina Arboretum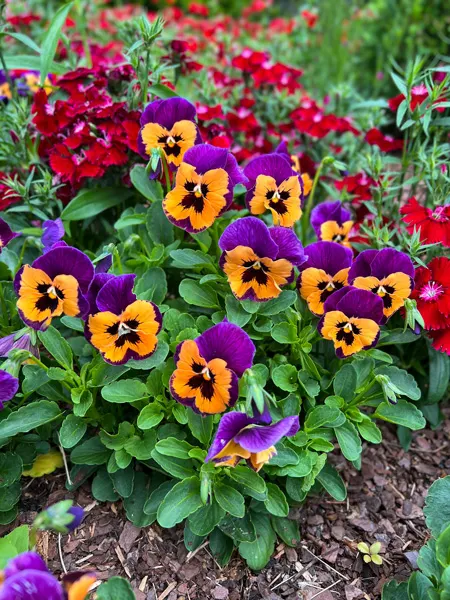 Along with being Biltmore annual passholders, we are also members of The North Carolina Arboretum.
Here, you'll find some of the best easy hikes in Asheville, including nature trails, paths through the gardens, and trails that connect to the Bent Creek Experimental Forest.
Hikes vary in length and difficulty, but we don't think any of them are particularly hard or long. Most loop around the property through gorgeous forest and consist of packed dirt.
The NC Arboretum is another great picnic spot, and you cannot miss the gardens, which light up in the winter for Winter Lights.
What makes The NC Arboretum best for kid-friendly hikes in Asheville, though, are the multiple facilities with restrooms, fountains, and food.
Enjoy the seasonal (spring to fall) on-site bistro for sandwiches and beverages, boozy ones included for adults.
If you are not an Arboretum member, there is a small parking fee per vehicle.
Lastly, if you like The NC Arboretum, also try the free Botanical Gardens at Asheville, which boasts more nature trails, picnic spots, wildflowers, and protected wildlife.
Discover even more beautiful parks and gardens with short hikes near Asheville, NC.
The NC Arboretum | 100 Frederick Law Olmsted Way Asheville, NC 28806.
13. Craggy Gardens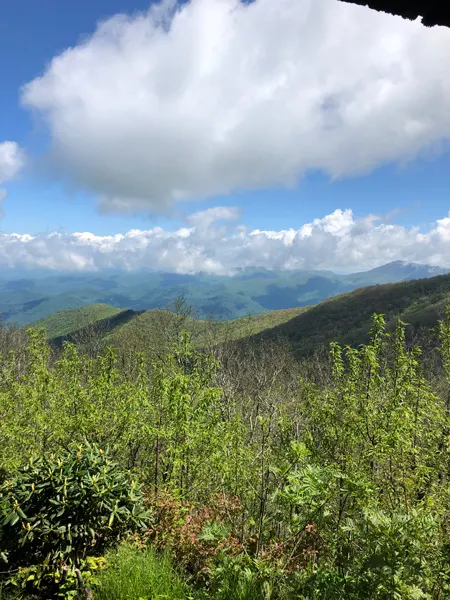 Like Black Balsam, we wanted to include another one of the top moderate to fairly easy hikes near Asheville, Craggy Gardens.
Asheville to Craggy Gardens is under 40 minutes' driving distance.
Craggy Gardens is a popular hiking and picnic area along the Blue Ridge Parkway, which visitors can access from the Craggy Gardens Visitor Center or the Craggy Gardens Picnic Area.
Both parking lots have seasonal facilities, including decent restrooms. However, the picnic area has more parking spaces.
Enjoy a 2-mile out-and-back hike, which you can make as short or as long as you like. In the spring and summer, spy vibrant wildflowers.
Dip over to the gazebo along the trail and be sure to stop at the top for stellar mountain views.
Nearby, we also frequent Craggy Pinnacle, a short but moderate 1.4-mile hiking trail promising 360-degree views of the Asheville Watershed and Blue Ridge Mountains.
Both Craggy Gardens and Craggy Pinnacle are great family-friendly hikes near Asheville with older kids.
Craggy Gardens | Craggy Gardens Visitor Center (MP 364.4) or Craggy Gardens Picnic Area (MP 367.6)
A Note On Another Popular Family-Friendly Hike, Skinny Dip Falls*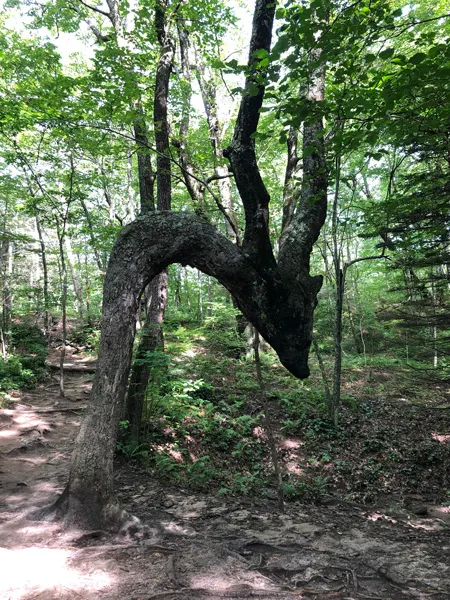 *We'd also normally suggest Skinny Dip Falls as the perfect kid-friendly hike near Asheville, especially since it's a bustling swimming hole for families.
However, with the 2021 flooding, Skinny Dip is unrecognizable and in need of repairs. Certain areas are especially dangerous. Floods have washed away the bridge. We'll keep you updated.
Save These Easy & Kid-Friendly Hikes Near Asheville For Later: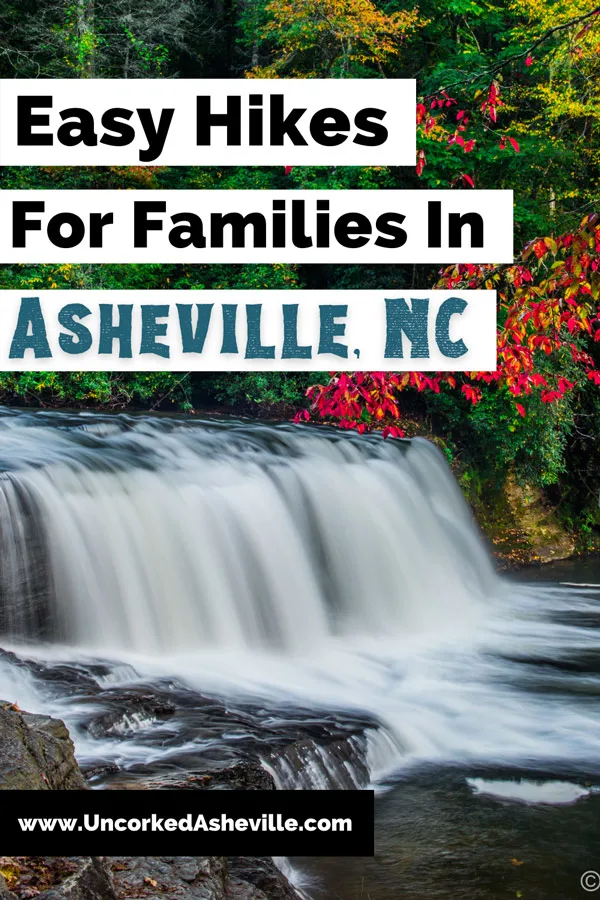 Where To Stay In Asheville
Explore the best places to stay in Asheville. A few of our top suggestions:
Aloft – Downtown Asheville – Centrally located and recently renovated, enjoy a rooftop pool, a gorgeous bar, and trendy rooms.

The Omni Grove Park Inn – Treat yourself to a luxury resort in North Asheville, complete with breathtaking sunsets, terrace bars and dining, and loads of Asheville history.

Hampton Inn And Suites Asheville Biltmore Area – A budget-friendly but renovated hotel on busier Brevard Road that's perfect if you wish to stay between Biltmore Estate, Downtown Asheville, and the Blue Ridge Parkway.

Asheville Cottages – Gorgeous 1 to 3-bedroom cottages with a private deck, housing a grill and hot tub. Find luxurious heated-floor bathrooms with rain showers, a well-stocked kitchen, and the cleanest rooms in town.

Foundry Hotel – An oasis in Downtown Asheville, Foundry Hotel is a nod to AVL's industrial history. Find famous restaurant Benne on Eagle while sleeping ensconced in charm and elegance.

Country Inn & Suites by Radisson, Asheville Westgate, NC – Located off of the highway as you enter AVL, find a sleek and clean hotel at a great price.

Black Walnut B&B Inn – Designed by Biltmore's supervising architect, Richard Sharp-Smith, this 1899 inn is close to Downtown AVL and serves afternoon tea. Two rooms are pet-friendly.
Don't miss out on these Asheville properties on Booking.com, too.
Which short hikes near Asheville, NC do you love?
If we had to pick our top three favorite family-friendly hikes near Asheville, we'd start with Chimney Rock for attractions, The NC Arboretum for gardens and nature trails, and Moore Cove Falls for an easy waterfall hike in the Pisgah National Forest.
For the best easy hikes near Asheville, we'd go with DuPont State Forest for those stunning waterfalls, Laurel River Trail for a flat and local trek along a gorgeous river, and Craggy Gardens for a taste of the Blue Ridge Parkway (and picnics!).
Lastly, for short hikes near Asheville, you cannot go wrong with any of Western North Carolina's lakes, Bearwallow Mountain, and Biltmore Estate if you are also trying to hit up the big attractions.
What easy hikes in Asheville (and nearby) do you frequent and most enjoy? What are your favorite family-friendly trails? Let us know in the comments.
Traveling with the family? Head here next: