Are you wondering if you should visit the Biltmore with kids? Discover 8 family-friendly activities, including free things to do, for young children at the Biltmore Estate in Asheville, North Carolina.
Disclosure: This site may contain affiliate links for products and services I recommend. If you make a purchase through these links, at no additional cost to you, I will earn a small commission. Read my full disclosure for more information.

I always tell people who visit Asheville that the Biltmore Estate is a must, at least once. An iconic building that once housed a brilliantly essential family to Asheville's history, I promise your ticket price is worth the visit.
However, people with families and young kids always wonder if they should even attempt the Biltmore.
Rest assured, the Biltmore Estate is family-friendly. YES, you can successfully visit the Biltmore with kids–and survive, drink wine, and have a good time.
Even better, after you pay for your ticket, there are quite a few Biltmore activities for children that are FREE! Plus, you'll love all of the outdoor space, demonstrations, farm animals, and playground. Don't forget those gardens and hiking and biking trails.
If you know me–Christine, The [boozy and bookish] Uncorked Librarian, you also know that I don't have kids–well, I sorta do. I have four furry babies with tufted paws and poops as big as a kid's. Does that count?!
So how could I possibly write an article about surviving the Biltmore with children?
Uncorked Asheville invited our favorite rogue mom blogger and cultured traveler, Tori-Leigh, to talk about her experience with her two little ones at the Biltmore.
Slightly apprehensive about her first family visit to the Estate with littles in tow, Tori and her family rocked the Biltmore, even staying longer than expected.
Keep reading to uncover Tori's insider Biltmore-with-the-fam tips and discover 8 family-friendly kids' activities that her children loved.
Can You Successfully Visit The Biltmore With Kids?
I was very unsure about visiting the Biltmore Estate with my kids. See, I had a potentially very loud four-month-old and a two-year-old who thinks the world is his playground. It is…usually.
But a historic mansion filled with antiques, glassware, and hundreds of signs reading "DON'T TOUCH?!"
Sounds like something my two-year-old would like to challenge. And shouldn't.
Still, during our relocation move from New York to Dallas, TX, we found frequent stops pertinent. Asheville was always on our list – as was the Biltmore – and we were passing through.
What could be the harm in a visit with our children? Getting kicked out? Wasting $67.50 a ticket? Losing my mind?
Surprisingly, none of that happened. It turns out, visiting the Biltmore with kids wasn't nearly as difficult as I thought. In fact, Biltmore Estate is incredibly kid-friendly. If it's not on your family travel bucket list, it should be.
There are tons for littles of all ages from playgrounds and animals to shopping and themed restaurants. Even the mansion itself can widen the smallest of eyes.
And the winery offers complimentary grape juice so that children can join in the tasting fun. I can't speak to it, though, since we didn't partake. Don't tell Christine!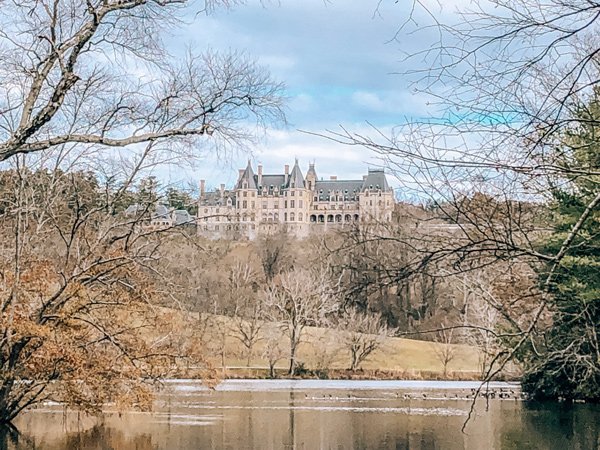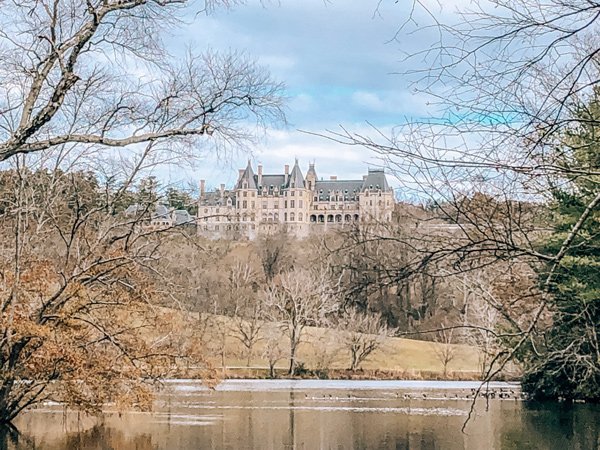 Prices to visit the Biltmore Estate vary during the seasons and range from about $59 to $79 for adults. Children are either free or half-price depending on age and season.
If staying at an Airbnb, your host may have a season pass to get your tickets with a slight discount.
Don't let the cost of the Biltmore discourage you from touring with your kids. Once you realize just how much the Estate has to offer, even for young families, you'll quickly realize the price is more than justified.


Quick Tips About Visiting Biltmore With Small Children
You can bring a stroller into the Biltmore, but elevator access is only available for the first and second floors. The basement and third floor are accessible only by stairs.
I recommend babywearing, if possible, or using a compact, foldable travel stroller, like the GB Pockit. If you're visiting with a full-size stroller, you will be asked to leave it outside before taking the stairs.
The Biltmore Estate is located at One Lodge Street in Asheville, NC 28803.
Parking is free with your ticket, and there are shuttles from many of the non-walkable lots. When visiting the Biltmore, it is best to reserve your house tickets (by date and time) in advance. You will also want to make Estate lunch or dinner reservations ASAP. Please be sure to head to the Biltmore Estate website for more information.

8 Must-See Biltmore Attractions for Families With Young Kids
I am pretty sure that you could spend DAYS at the Biltmore Estate. Even without multiple family members, the grounds are huge. Endless Biltmore activities and things to do await you and your entire family.
When you have younger children and are on a time crunch, though, what should you see? Here are Tori's favorite kid-friendly Biltmore activities and attractions.
8 Things To Do And See At The Biltmore With Kids:
Self-tour the Biltmore Estate main house
Have lunch at the Stable Cafe
Walk the Estate gardens
Hike along the trails
Play at Pisgah Playground
Pet the animals at the Biltmore Farmyard
Watch the Antler Hill Craft demonstrations
Check out Biltmore tour offerings and family excursions
The Biltmore Estate Main House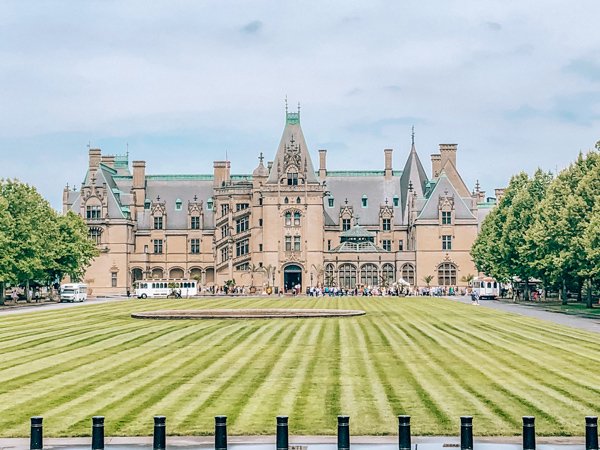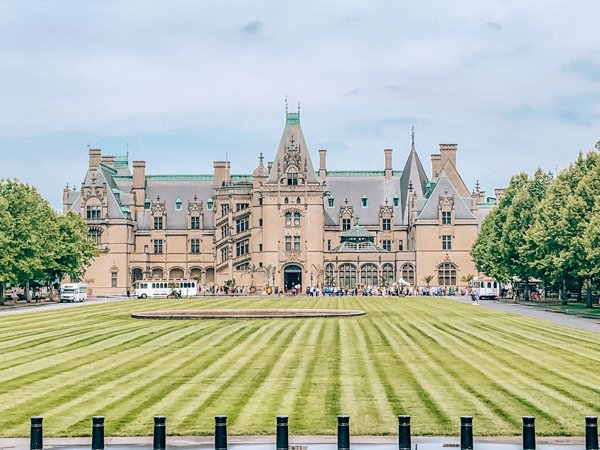 You can't visit the Biltmore Estate and not see the house. George Vanderbilt's own daughter, Cornelia, grew up at the Biltmore Estate.
Despite the grand opulence and antique decor, the home is still very inviting for families and children. Kids will especially love the children's nursery, along with the bowling alley and indoor pool.
Older children will benefit from the children's audio tour, narrated by Cedric, the Vanderbilt Family's Saint Bernard. Listeners will hear about secret passageways and life as a Vanderbilt heiress.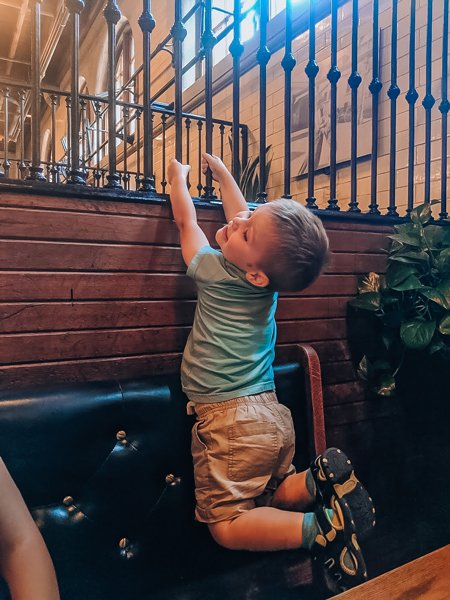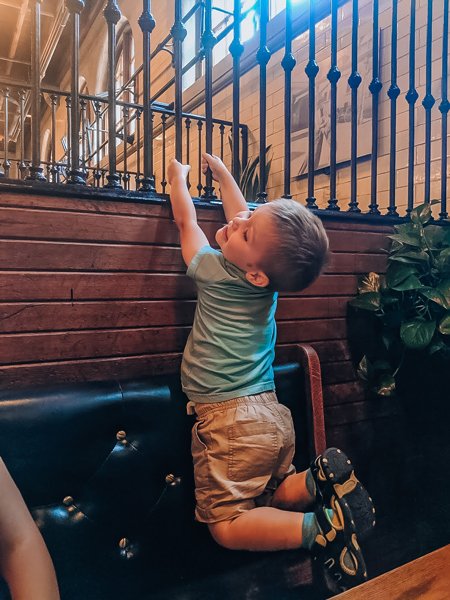 Imagine Vanderbilt inspired craft cocktails and southern fare in a historic, yet child-friendly setting.
The best part? If you're lucky to grab a booth in one of the old stables, the kids are quietly contained literally in their own corral.
While the time spent to tour the entire house is well spent, kids will love releasing that pent-up energy in the Biltmore Gardens. My toddler especially loved running through the Azalea Garden.
Don't miss the conservatory or the view of the Biltmore Waterfall, either.
Along the same lines, your kids might love hiking the Biltmore Estate. Trails wind through the grounds and next to the French Broad River. Experience the Biltmore grounds the way the Vanderbilts did with their own daughter.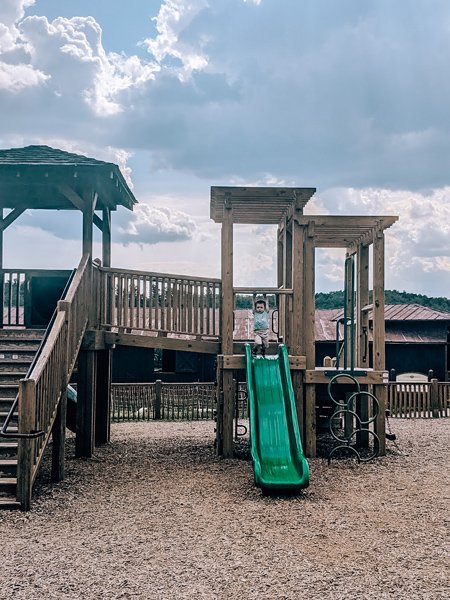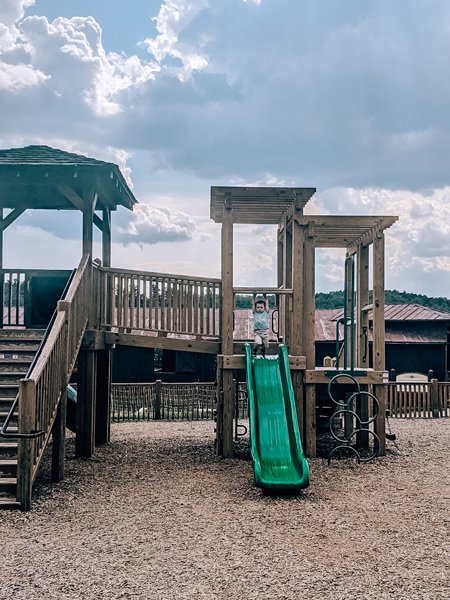 Named after Asheville's Pisgah National Forest, Pisgah Playground sits in Antler Hill Village. The impressive wooden playground also features activities to connect children to the Estate's history through play. We were hard-pressed to pull our toddler away from this playground.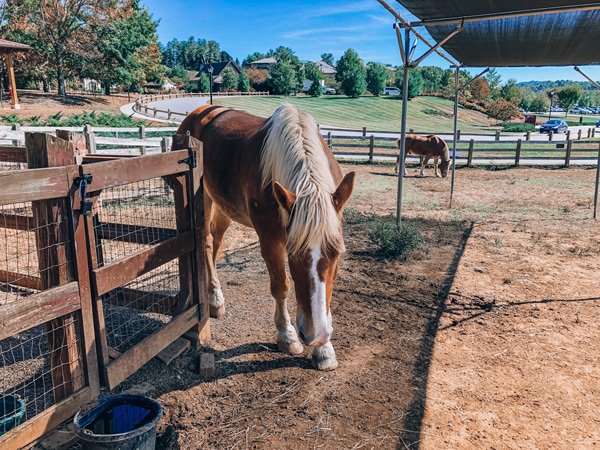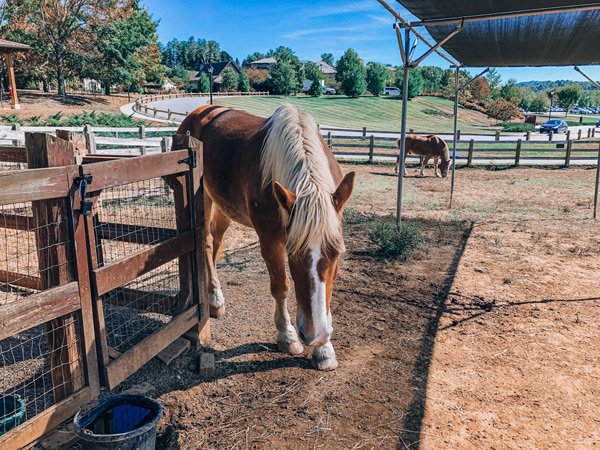 Did you know that the Biltmore Estate has barnyard animals? Visitors may see hens, lambs, cows, horses, and goats with their complimentary visit to the farmyard.
Available staff will discuss how the animals are a crucial part of the estates and provide hands-on activities.

Antler Hill Barn Craft Demonstrations
Antler Hill Barn provides demonstrations from professions such as blacksmiths, farmers, and woodworkers. Transport back in time and see what living on the Estate was like for the workers.
Children are able to take their lessons further by creating themed take-home toys and souvenirs.

Additional Family Excursions
Families can enjoy carriage rides through obscure parts of the Biltmore Estate.
Rent bikes to enjoy the 20+ miles of bike trails or meander the paths on horseback.
Relax as a guide paddles your family down the French Broad River. The options for family tours seem endless.
Don't Be Nervous To Visit The Biltmore Estate With Kids
What was planned as a half-day excursion to the Biltmore turned into one of the best day trips we've had with our kids. We generally enjoy traveling with our kids and don't let their young ages hold us back.
But, we're always thankful when something we expected to be more adult-ish turns out to be perfect for our family of four.
In the best way possible, the Biltmore captured our hearts and left us wanting more. If you're on the fence about visiting the Biltmore with your kids, just go for it. You won't be sorry.
Where You Can Stay Near Or Around The Biltmore With Kids
Asheville, NC Hotels: Where To Stay
Hotels and B&Bs tend to book up fast in Asheville, especially in the fall and spring. Make dinner reservations wherever you can, too. A few hotels to consider that either we, our friends, or others highly recommend include:
Downtown Asheville
The Foundry Hotel
AC Hotel By Marriot Downtown Asheville
Hotel Indigo

Near The Asheville Outlets/Biltmore
Hampton Inn And Suites Asheville Biltmore Area
DoubleTree By Hilton Biltmore/Asheville
Grand Bohemian Hotel Asheville

North Asheville/Montford
The Omni Grove Park Inn
1900 Inn On Montford
Princess Anne Hotel

Other Posts You May Find Helpful:
Top Things To Do At Biltmore To Get Your Money's Worth
Ultimate Guide For Things To Do In Asheville, NC