Are you wondering where you should eat and drink in Asheville? Find the best Asheville food spots.
We'll talk cafes, restaurants, and food trucks. Discover Asheville breweries, wineries, pubs, coffee shops, and bars, too.
Everyone knows Asheville, North Carolina is Foodtopia. It's true.
Asheville is a foodie's dream. Not only can you find every type of cuisine here, but we also have a stellar craft beer scene, eclectic wineries, and hipster distilleries.
As Asheville locals, uncover our secret and not-so-secret spots for the best Asheville food and drinks. We'll tell you where to eat in Asheville and where to get refreshing cocktails, hops, grape juice, takeout, and DONUTS.
Plus, find vegetarian, vegan, and gluten-free restaurants, and all of our favorite spots as AVL locals.
Lastly, we'll take you around Western North Carolina (WNC) for food and drinks near Asheville. Think Weaverville, Hendersonville, and Black Mountain. Let's get started.
Don't miss these Unforgettable Asheville Restaurants.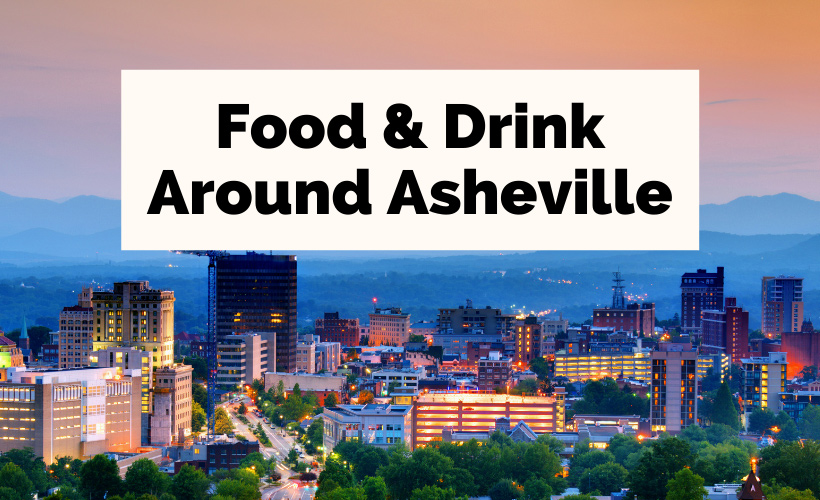 Local Asheville Food Scene: Restaurants
What are some of our favorite Asheville foodie spots and restaurants as locals? Where should you eat? How do you choose? We got you!
Best Food Around Asheville, NC
Don't miss these fabulous restaurants near Asheville, NC, especially for an overnight or day trip.
Black Mountain is under a 30-minute drive from AVL and has an equally popular restaurant scene. Discover where to grab pizza, burgers, coffee, seafood, and so much more at the best restaurants in Black Mountain.
Just north of Asheville, don't miss the equally delicious restaurants in Weaverville, NC. Weaverville has a brewery, permanent food truck, bakeries, gluten-free pizza, and craft cocktails.
Hendersonville is a great Asheville day-tripping option, especially after visiting The Hunger Games waterfalls. With all of that hiking, where should you eat? We got you! Grab sandwiches, sushi, and even BBQ.
Asheville Food Specialities
Where can you get donuts? Coffee? Italian cookies? The best apple cider? Keep reading.
Where To Drink In And Around Asheville
It's no secret that part of the Asheville food appeal is in liquid form. Cough; cough: Beer. But, did you know that Asheville also has stellar bars, distilleries, and wineries?
Stay In The Asheville Loop: Don't Forget To Join Our Mailing List
Never Miss Another Asheville Update
Are you tired of generic Asheville travel itineraries? Do you want to experience the magic of Asheville like a local?
Grab our free Asheville Favorites checklist today, including restaurants, breweries, and hiking. Plus, get local updates straight to your inbox. Sign up here.