Are you wondering where you should eat and drink in Asheville? Find the best Asheville food spots. We'll talk cafes, restaurants, and food trucks. Discover Asheville breweries, wineries, pubs, coffee shops, and bars, too.
Everyone knows Asheville, North Carolina is Foodtopia. It's true!
Asheville is a foodie's dream. Not only can you find every type of cuisine here, but we also have a stellar craft beer scene, eclectic wineries, and hipster distilleries.
As Asheville locals, uncover our secret and not-so-secret spots for the best Asheville food and drinks. We'll tell you where to eat in Asheville and where to get refreshing cocktails, hops, grape juice, takeout, and DONUTS.
Plus, find vegetarian, vegan, and gluten-free restaurants, and all of our favorite spots as AVL locals. Let's get started.
Don't miss these Unforgettable Asheville Restaurants.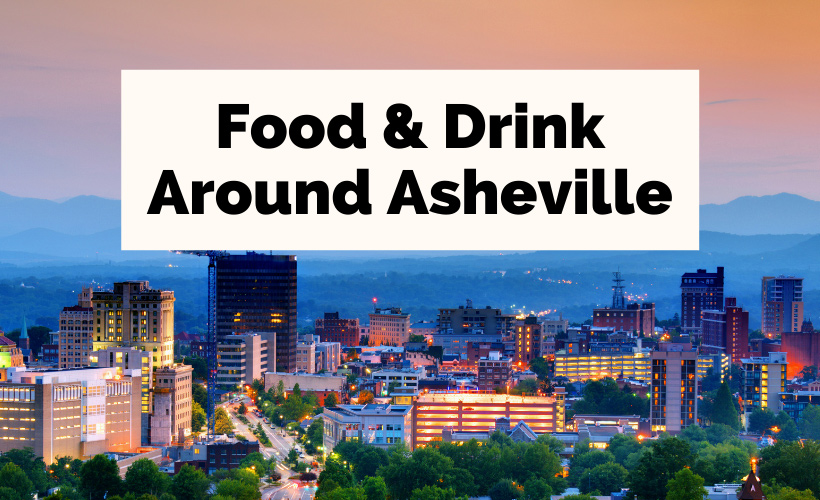 Local Asheville Food Scene: Restaurants
What are some of our favorite Asheville foodie spots and restaurants as locals? Where should you eat? How do you choose? We got you!
---
Asheville Food Specialities
Where can you get donuts? Coffee? Italian cookies? The best apple cider? Keep reading.
Where can you find the best coffee in Asheville? We are sharing both tourist and local Asheville coffee spots.
We just love a warm and gooey donut! Don't miss our top spots for coffee, pastries, and donuts in Asheville, NC.
When the apple orchards open each fall, find the best spots for cider donuts, apple cider slushies, and crunchy apples.
---
Where To Drink In And Around Asheville
It's no secret that part of the Asheville food appeal is in liquid form. Cough; cough: Beer. But, did you know that Asheville also has stellar bars, distilleries, and wineries?
Stay In The Asheville Loop: Don't Forget To Join Our Mailing List