Check out the best coffee shops in Asheville, NC. Discover Asheville coffee shops with stellar local brews and ground coffee.
If you are utterly exhausted after a day of touring Western North Carolina or just getting on the road, where can you get the best coffee in Asheville?
And, which Asheville coffee shops use local coffee roasters? Which coffee spots carry gluten-free and vegan treats? Where are all of the desserts?
'Best' is, of course, subjective. However, we are experts in three things: coffee, booze, and books.
So, where can you buy delicious coffee in Asheville? We are pretty sure everyone already knows about that vintage double-decker red bus, Double D's.
Trade & Lore will transport you to a magical oasis in a bustling city. Malaprop's serves up brews, author talks, and endless local book displays.
For locals and digital nomads, PennyCup Coffee Co. has a gorgeous North Asheville coffee shop.
Grab donuts with your coffee at Vortex (and beer next door at Catawba). Be sure to pick up a bag of coffee beans at Summit Coffee Co.
As AVL locals, we are sharing our favorite coffee shops in Asheville — touristy and off the beaten path. Keep reading for where to find coffee in Asheville. Let's get started!
Looking for an Asheville coffee pairing? Why not grab a donut, too?
This post may contain affiliate links that earn us a commission at no extra cost to you. If you love these guides, support Uncorked Asheville here.
See our Top Places To Stay in Asheville.

Don't miss out on these Asheville properties on Booking.com, too.
15 Best Coffee Shops In Asheville, NC
1. PennyCup Coffee Co.
Locations – West Asheville: 362 Depot Street
Downtown Asheville: 39 S. Market Street
East AVL: 6 Beverly Road
North Asheville: 857 Merrimon Avenue
Website: https://pennycupcoffeeco.com/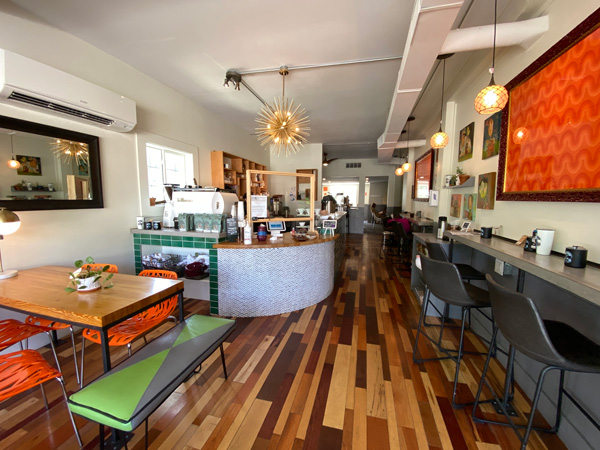 One of the best coffee shops in Asheville to pick up some beans and get some work done, head to PennyCup Coffee.
PennyCup's North Asheville location recently added a larger room perfect for digital nomads.
PennyCup is one of the small-batch roasters in Asheville that focuses on sustainable and green coffee. They have various locations in each of Asheville's unique neighborhoods.
To us, PennyCup is a little more local and less touristy out of all the Asheville coffee shops. Grab a bag of coffee for home.
2. Double D's Coffee & Desserts
Address: 41 Biltmore Ave, Asheville, NC 28801
Website: http://www.doubledscoffee.com/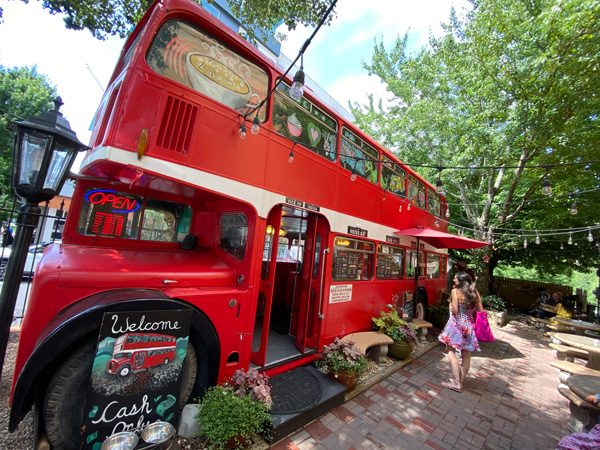 Unlike PennyCup, Double D's is one of the most touristy coffee shops in Downtown Asheville. However, don't let this or the Instagrammers out front scare you away.
Double D's still serves up the most delicious coffee beverages, and it's one of the city's coolest looking food trucks – or buses.
You'll know that you've arrived at Double D's when you spot the vintage double-decker red bus. Sit upstairs – when it's open – or outside on their closed-in patio.
Double D's accepts cash only, and they have Wi-Fi. Along with coffee and tea, order iced drinks, frappes, smoothies, and milkshakes.
Double D's makes their own signature drinks too. Their desserts involve ice cream. Don't miss these other tempting Asheville dessert spots.
Before or after coffee, be sure to grab some grub in Downtown Asheville.
Never Miss Another Asheville Update
---
Tired of generic Asheville travel itineraries? Experience Asheville like a local with our free Asheville Favorites checklist, including restaurants, breweries, and hiking. Plus, get local updates – including events and hidden gems – straight to your inbox. Sign up here.
3. Trade and Lore Coffee
Address: 37 Wall St, Asheville, NC 28801
Website: https://www.tradeandlore.com/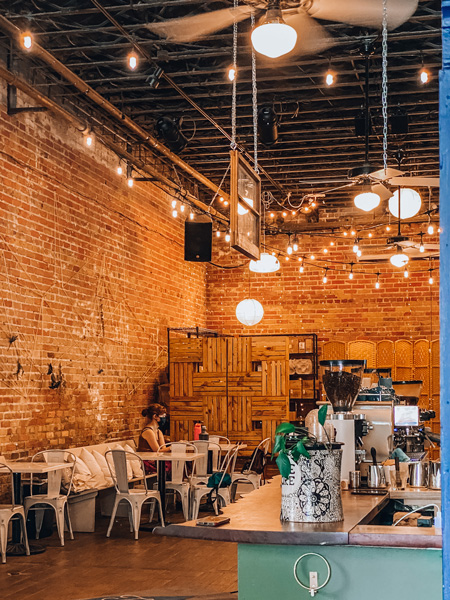 Wait, where the heck are we? Did we just enter a magical fairy world in the middle of downtown Asheville?
Trade and Lore is one of the prettiest and most serene coffee shops in Asheville. The ambiance and decor are everything. It's also the perfect Asheville date spot.
Trade & Lore focuses on specialty coffee and craft beer. They work with other local AVL businesses for their milk, baked goods, beans, and honey.
Trade and Lore is located across the street from one of our favorite vegan and vegetarian restaurants, Laughing Seed Cafe.
See where else you can grab lunch in downtown Asheville, too.
Save These Asheville Coffee Shops For Later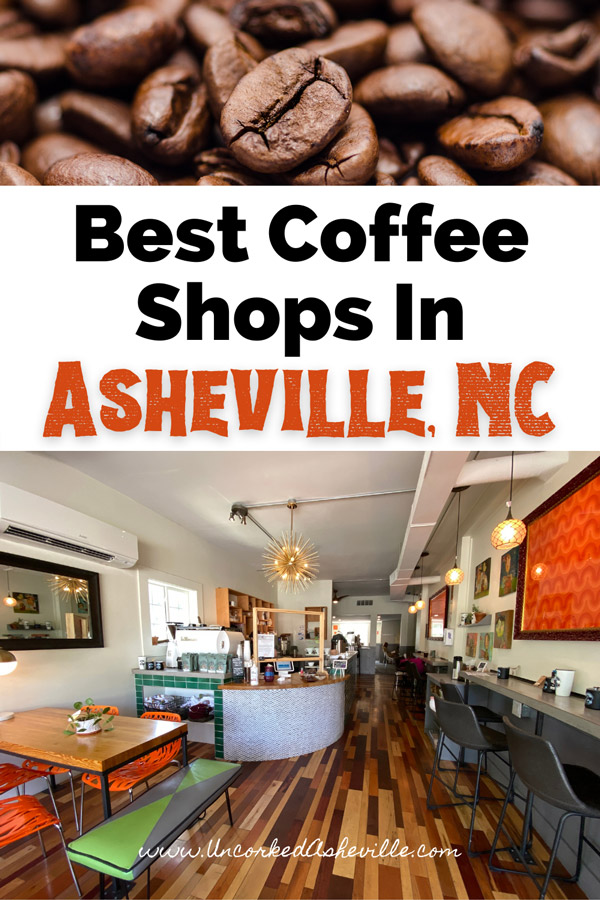 4. Rowan Coffee
Address: 66 Broadway St, Asheville, NC 28801
Website: https://www.rowancoffee.com/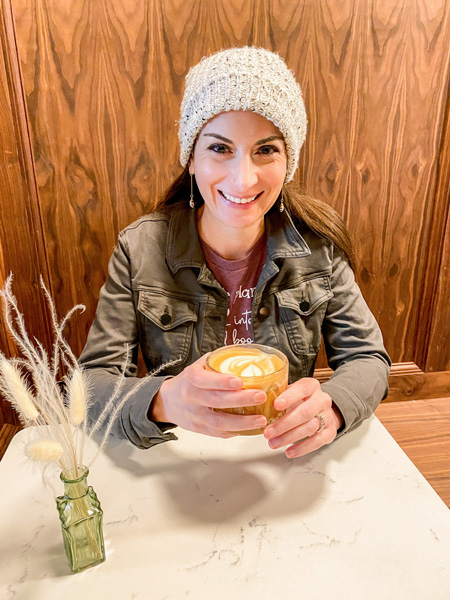 Rowan is one of the newest coffee shops in Asheville, and it might just be one of our absolute favorites.
Rowan Coffee had been selling their coffee via pop-up stands for about a year. However, they now have a stellar brick-and-mortar coffee shop in the heart of downtown.
The menu is simple, and the historic building is beautiful. Rowan serves the best latte we've had in Asheville.
They will have alternative milk options and deliciously flavored add-ins. At Halloween, they float candles from the ceiling.
5. Summit Coffee Co.
Locations- River Arts District: 4 Foundy Street, Suite 20
Downtown Asheville: 1 Page Avenue, Suite 148
Website: https://summitcoffee.com/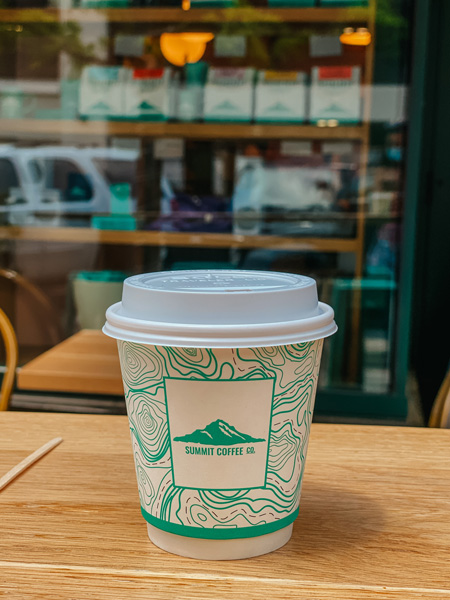 Summit Coffee is a specialty coffee franchise across North Carolina. Their Asheville coffee shop locations are convenient and delicious.
Summit Coffee in Downtown Asheville is tiny and tucked into Page Avenue at the historic Grove Arcade. Their outside seating is perfect for people watching.
The Asheville Pinball Museum is nearby along with Cultivated Cocktails Distillery. Turn the corner, and you have Battery Park Book Exchange. Did someone say literary cocktails?
If you love hipster street art, though, head over to Summit's River Arts District (RAD) location. Enjoy artists' studios, shops, and the newly renovated riverwalk.
Famous 12 Bones BBQ is over here, too. If you are headed to RAD, don't miss our complete AVL art district guide.
6. Old Europe Pastries
Address: 13 Broadway St, Asheville, NC 28801
Website: https://www.oldeuropepastries.com/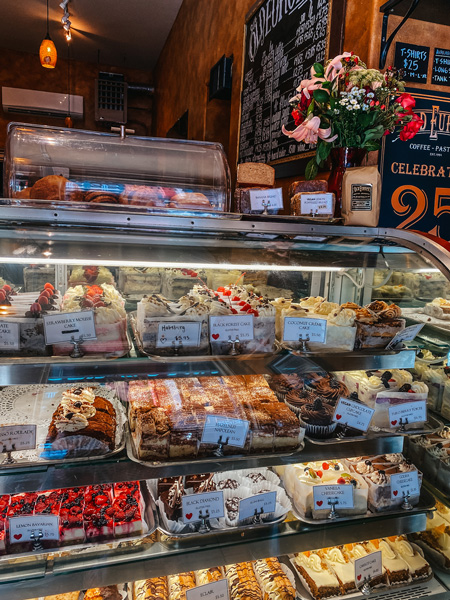 Old Europe is one of the longest-running cafés and coffee shops in Asheville (since 1994). Along with coffee, dip in here for some of the best pastries in all of Asheville.
You can order dessert and goodies online or via a food delivery service.
If you are vegan, lactose-intolerant, gluten-free, or a combination, they will have something for you. With a Celiac and lactose-intolerant hubby, Old Europe is a gem.
Old Europe also serves traditional Hungarian desserts, and we suggest them as a pastry/coffee grab-and-go breakfast spot.
7. Malaprop's Bookstore/Cafe
Address: 55 Haywood St, Asheville, NC 28801
Website: https://www.malaprops.com/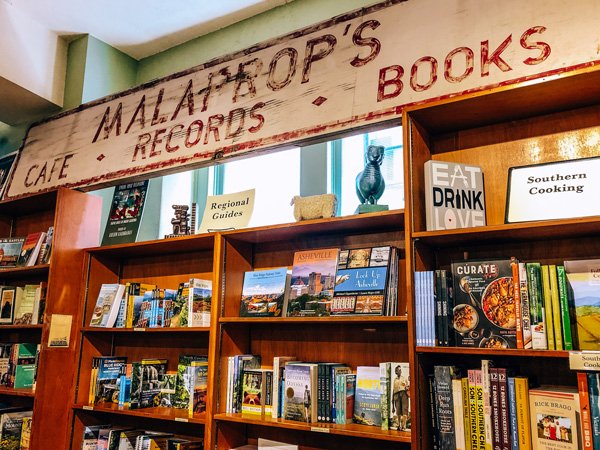 One of our favorite bookstores in Asheville, don't skip Malaprop's – an AVL icon.
Malaprop's Bookstore/Cafe is infamous for its bookish gifts, fabulous book recommendations, indie titles, and support for local authors.
They host endless author events and send out kick-butt newsletters. Grab some coffee in their cafe, and peruse their endless stacks.
Don't miss their local Asheville and North Carolina reading sections too. We bet you cannot leave empty-handed.
If you love bibliotourism, don't miss our literary guide to Asheville.
8. Vortex Doughnuts
Address: 32 Banks Ave #106, Asheville, NC 28801
Website: https://vortexdoughnuts.com/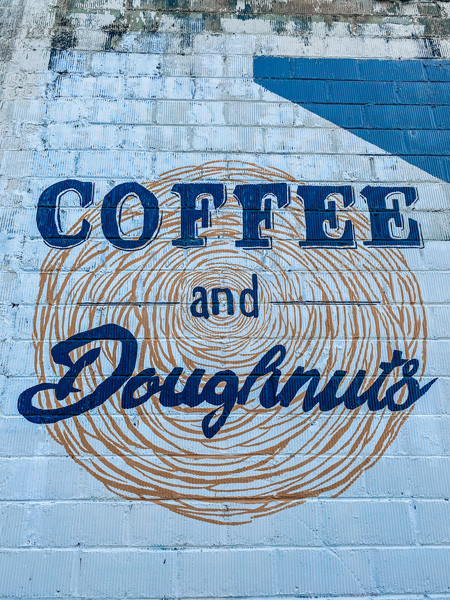 For delicious Asheville donut shops with coffee, Vortex Doughnuts is a sweet option.
Located in Asheville's South Slope area – home to Buxton Hall BBQ & Catawba Brewing – Vortex even has vegan and gluten-free donut options.
Plus, find famous Dobra Tea and a series of signature coffee drinks.
Grab a coffee to-go or hang out in their airy warehouse space.
Discover even more terrific dairy and lactose-free spots across AVL.
9. Battery Park Book Exchange
Address: 1 Page Ave #101, Asheville, NC 28801
Website: http://batteryparkbookexchange.com/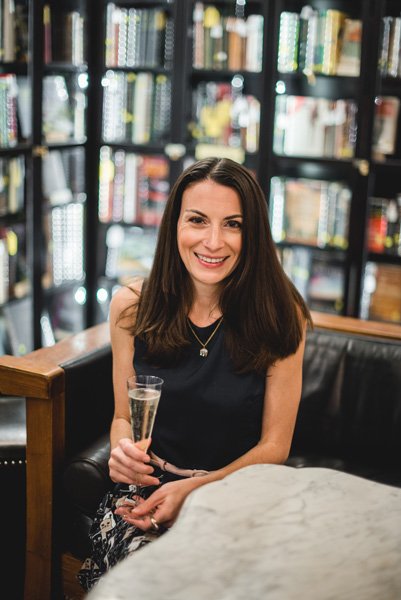 OK. OK. We are busted here if you know The Uncorked Librarian.
We love Battery Park Book Exchange's wine selection and literary cocktails. You can even order delicious charcuterie and snacks perfect for weekend brunch.
Heck, this entire gorgeous establishment factored into us moving to AVL. Battery Park Book Exchange is one of the best coffee shops in Asheville if you love books.
Explore endless rooms of used books in this champagne bookstore. Meet up with friends, attend a poetry reading, and sit ensconced within the stacks.
Like Summit Coffee, Battery Park Book Exchange is located in Grove Arcade. Shop for clothes, jewelry, and art while you are on this side of town.
Don't miss more of Asheville's chill wine bars. Or, head to nearby rooftop bars like The Montford.
10. French Broad Chocolate Lounge
Address: 10 South Pack Square, Asheville NC 28801
Website: https://www.frenchbroadchocolates.com/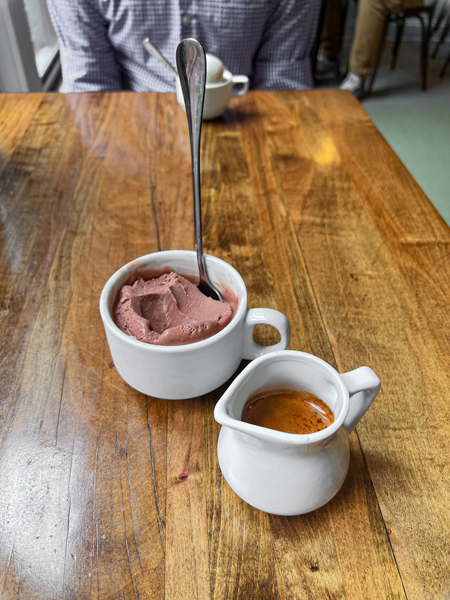 One of the most popular dessert, hot chocolate, and coffee shops in Asheville, French Broad Chocolate Lounge is a favorite amongst travelers and locals.
Grab a box of truffles and some coffee. French Broad Chocolate has vegan and gluten-free treats too, including a vegan affogato.
Located in Pack Square, you might find a line out the door, but it moves fairly quickly. Plus, it is worth the wait.
The Asheville Art Museum is right next door. Take a stroll around Pack Square.
11. Izzy's Coffee
Locations – Izzy's Den Downtown: 74 N Lexington Ave, Asheville, NC 28801
West Asheville Coffee House: 976 Haywood Rd, Asheville, NC 28806
Website: http://izzyscoffee.com/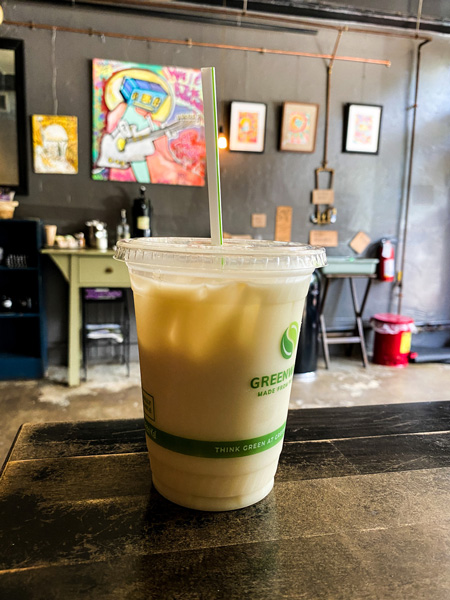 Are you looking for a cozy, art-filled coffee shop in downtown Asheville? Izzy's is perfectly quaint and cozy with lactose-free and soy-free milk options.
Along with some of the best coffee in Asheville, they actually make our favorite opossum shirt.
If you visit Izzy's downtown location, Dobra Tea sits next door. Across the street, peruse the shelves of Downtown Books and News — Malaprop's sister bookstore.
12. Bean Werks Coffee & Tea
Address: 753 Haywood Rd, Asheville, NC 28806
Website: https://beanwerks.com/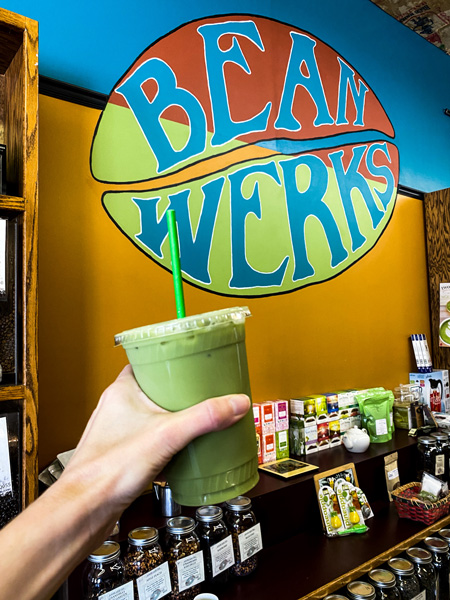 For coffee in West Asheville, you'll certainly be taken care of. Close to Thai Pearl, Nine Mile, and Jargon, don't miss Bean Werks for your coffee fix. They've been in Asheville since 1996.
Bean Werks boasts of the highest quality and artisanally roasted small-batch coffee and tea. They also focus on environmentally friendly practices.
Bean Werks is surrounded by delicious West Asheville restaurants for breakfast, brunch, and lunch too!
13. High Five Coffee
Locations – Downtown Asheville: 13 Rankin Avenue
Montford: 190 Broadway Street
Woodfin/Riverside: 2000 Riverside Drive
Website: https://highfivecoffee.com/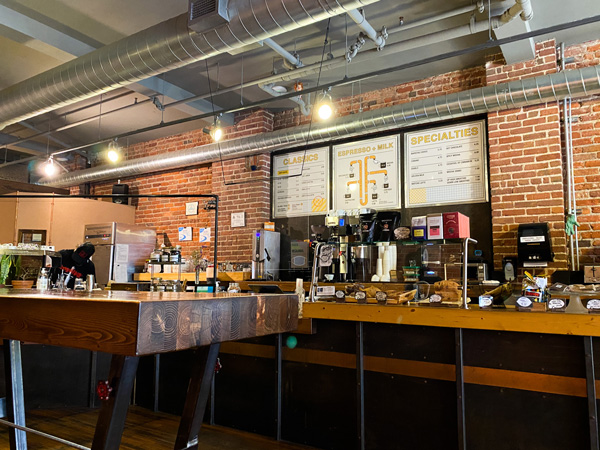 High Five Coffee has multiple locations across the city and is a family-owned Asheville coffee shop.
They serve up coffee classics plus a few of their own specialties with beans roasted from Counter Culture Coffee in Durham.
High Five's flagship coffee shop sits in the Montford and Five Points neighborhoods on Broadway Street.
Relax on the patio or maybe stroll nearby Riverside Cemetery to pay tribute to Thomas Wolfe.
If you are downtown, don't miss their Rankin Ave. location, which is close to Pack's Tavern. Or, head toward the French Broad River with your pups to grab a coffee-to-go.
14. Well-Bred Bakery & Cafe
Locations – Biltmore Village: 6 Boston Way, Asheville, NC 28803
Grove Arcade Downtown AVL: 1 Page Avenue, Ste. 112G, Asheville, NC 28801
Weaverville: 26 North Main Street, Weaverville, NC 28787
Food Truck: 232 Reems Creek Rd, Weaverville NC, 28787
Website: https://www.wellbredbakery.com/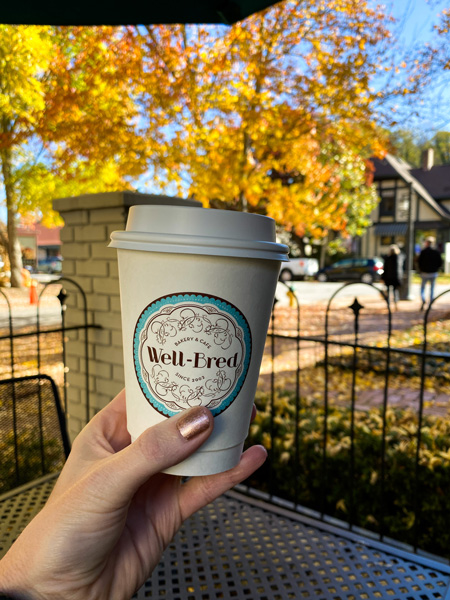 Honestly, Asheville has so many great coffee shops, we want to name them all.
For Asheville coffee shops in Biltmore Village and around downtown Asheville and Weaverville, Well-Bred Bakery & Cafe is extremely popular.
We love their chai latte with oat milk. They also serve breakfast and lunch, including a variety of pastries and sandwiches.
Their Boston Way location is a great stop before or after visiting Biltmore Estate.
And, across the street, don't miss another popular Biltmore Village restaurant for breakfast, brunch, lunch, and dinner, Corner Kitchen.
If you head to Well-Bred Bakery's Weaverville location, find delicious Weaverville restaurants like Stoney Knob Cafe and Glass Onion.
Afterward, explore Weaverville: head to the lake for a walk or visit WagBar for local brews with the dogs.
15. Asheville Chocolate
Address: 25 Broadway Street, Asheville, NC 28801
Website: https://www.avlchocolate.com/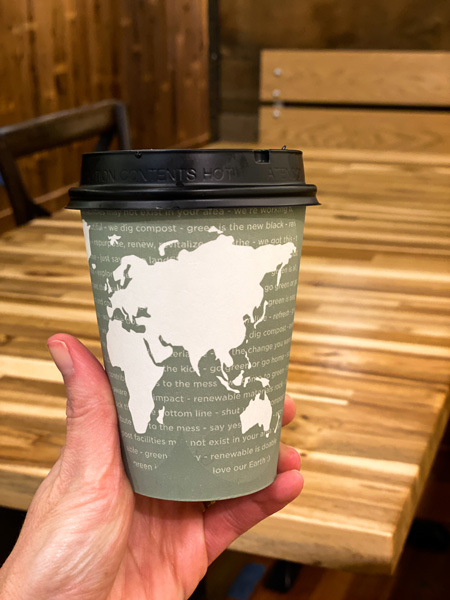 "Get chocolate sauced" at Asheville Chocolate. And, get ready for a little blasphemy. We might prefer these guys just a tad more than the infamous French Broad Chocolates.
The inside seating is fabulous. Sit tucked away at a wooden table among Benjamin Walls photography.
Asheville Chocolate features gourmet truffles, gelato, hot and cold drinks, and desserts. Think affogatos or hot chocolates. Choose from mochas with homemade ganache or tea.
Asheville Chocolate boasts of seasonal and ever-changing flavors along with decadent vegan options. If you don't see vegan items on the menu, just ask too.
Discover even more of Asheville's best chocolate shops as well as where you can get the best ice cream in town.
What are your favorite Asheville coffee shops?
Which coffee shops in Asheville do you love? Who makes the best Asheville coffee? Let us know in the comments!
Also, if you are looking for coffee shops near Asheville, Hendersonville has a stellar coffee scene, including places like Black Bear Coffee Co., ShareWell Coffee, and Appalachian Coffee Company.
Many people travel to and around Hendersonville for DuPont's waterfalls and the delicious wineries – think Stone Ashe, Point Lookout, and Souther Williams.
See our Top Places To Stay in Asheville.

Don't miss out on these Asheville properties on Booking.com, too.
Still thirsty? Is it later in the day? Head this way:
Wineries In & Around Asheville
Asheville's Distillery Scene
AVL's Best Breweries
Craft Cideries (And Meaderies) In AVL
Best AVL Wine Bars
Rooftop Bars
AVL Bars To Visit
More essential AVL posts: