Enjoy the best day trips from Asheville, NC. Find top Asheville day trips for hikers, waterfall chasers, and foodies – that are realistic and fun in a day.
We are pretty sure that you won't get bored while visiting Asheville, NC.
With so much to do, including brewery hopping, hiking, and shopping, Asheville has a little bit of everything for everyone.
However, while we love living in Asheville, we also appreciate all that Western North Carolina (WNC) has to offer.
With gorgeous mountain ranges, shimmering lakes, endless wineries, waterfall hikes, and the Blue Ridge Parkway, you might be craving a few road trips from Asheville.
Explore the Pisgah National Forest, and spy elk and fireflies in Great Smoky Mountains National Park. Black Mountain houses a top-notch distillery.
Climb the highest peak east of the Mississippi River at Mount Mitchell. Weaverville provides a quiet and close escape from Asheville's congestion.
Our personal favorite Asheville day trips include a picnic at the Hendersonville wineries and trekking The Hunger Games waterfalls at DuPont State Forest.
Lake Lure's Flowering Bridge is a must in the spring, and Bryson City's downtown is sure to charm you.
Dollywood in Pigeon Forge, TN is pretty darn close. And, get scared to death on the Mile High Swinging Bridge at Grandfather Mountain.
The day trips near Asheville are truly endless. So, how do you choose?
As AVL locals, we are sharing the best day trips from Asheville – that immerse you in the mountains and are both manageable and realistic in a day.
"Best" is – of course – subjective; please let us know your absolute favorite Asheville day trip in the comments. Let's get started!
Fill up your Asheville itinerary here.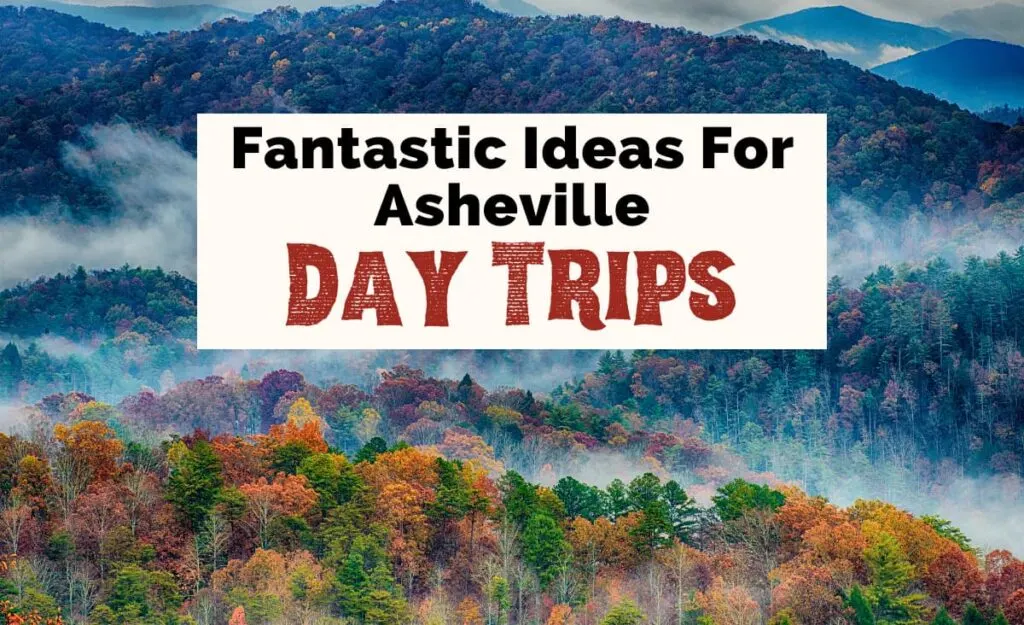 This post may contain affiliate links that earn us a commission at no extra cost to you. If you love these guides, support Uncorked Asheville here.
20 Best Day Trips From Asheville, NC
1. Blue Ridge Parkway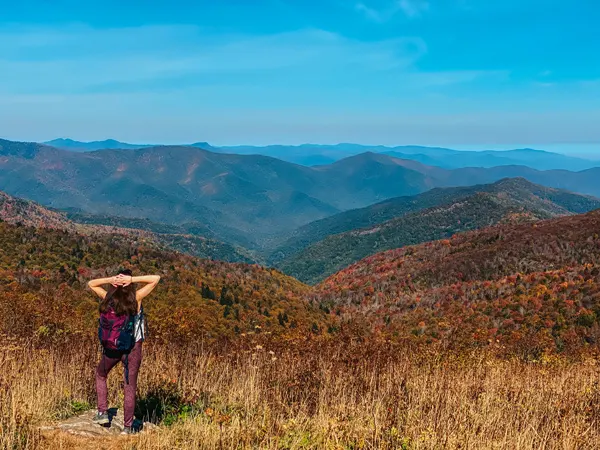 If you are looking for one of the most popular road trips from Asheville, the Blue Ridge Parkway (BRP) is extraordinary.
Take a scenic drive along this 469-mile, non-stop recreational road managed by the National Park Service (NPS).
The parkway runs from Virginia's Shenandoah National Park to Great Smoky Mountains National Park in North Carolina.
The best time to cruise the BRP is the spring to catch the blooms and autumn for the fall foliage.
Just keep in mind that the Blue Ridge Parkway grows extremely busy during peak fall foliage. Arrive at your destination early.
Our favorite Blue Ridge Parkway hikes and waterfalls include: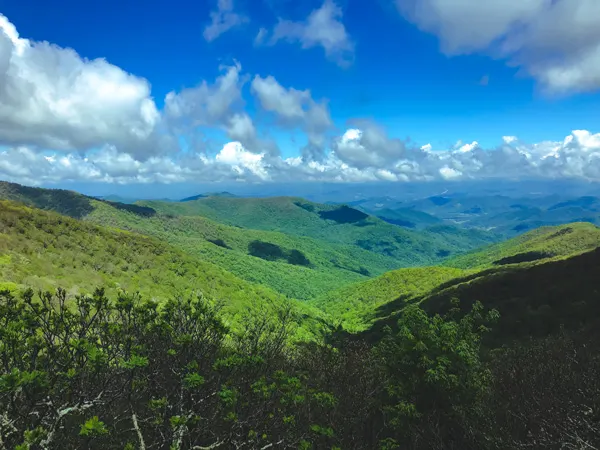 Black Balsam via Art Loeb or Sam Knob Trails – One of our personal favorite day trips from Asheville, Black Balsam is breathtaking. Around MP 420, pack a picnic and catch one of the best 2-mile hikes in the spring and fall.


Graveyard Fields – One of the most popular fall hikes around MP 418.8, discover gorgeous fall foliage and two cascading waterfalls; there are basic restrooms here.


Skinny Dip Falls – At MP 417 and Looking Glass Rock Overlook, cross the BRP for a tropical oasis and swimming hole; blow a kiss to the dragon tree.


Fryingpan Mountain Lookout Tower – Around MP 409.6, walk an easy trail to a terrifyingly high fire tower that you can climb for the best mountain views. You won't soon forget this experience.


Mount Pisgah – Around MP 407-408, hike to the top of Mount Pisgah for 360-degree views; there is a picnic area across the street.


Craggy Gardens & Craggy Pinnacle – Around MP 364-367, picnic, hike to the pinnacle summit for 360-degree views, and find gorgeous blooms. There is a visitor center with restrooms between the two. Craggy Gardens features fantastic picnic areas with charcoal grills.


Little Butt Hike

–

Around MP 358.9, find your own little piece of heaven on a moderately hard 5-mile out and back. Watch out for aptly named Point Misery; you'll know when you hike it.


Mount Mitchell – At MP 355, climb the highest peak east of the Mississippi River with an elevation clocking in at 6684 feet. Spy your favorite mountains from afar.


Crabtree Falls – Around MP 339.5 and close to Little Switzerland, hike to the 70-foot falls
Find even more of the best BRP hikes, overlooks, and waterfalls.
Before hopping on the BRP toward Mount Pisgah, consider a visit to The NC Arboretum to spy vibrant gardens.
A Few Important Things To Know About The BRP: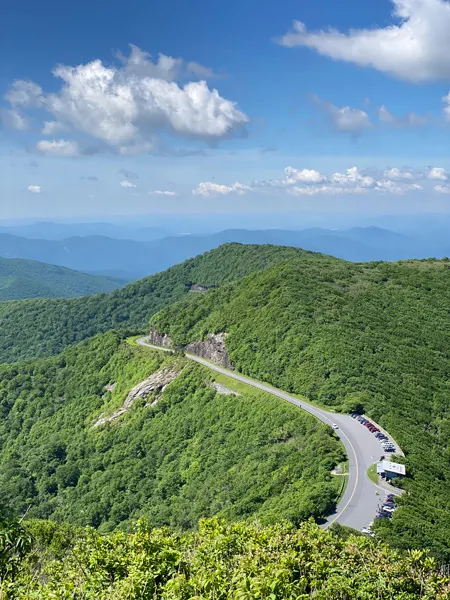 Always head out on your Asheville day trip prepared, especially in the angsty mountains.
GPS and cellular service are iffy along the parkway. You can also navigate the road via milepost makers.
Dense fog rolls in and out, covering up beautiful views and your line of sight. Temperatures may also be 10 to 15 degrees cooler here. Bring layers.
Before you head out across the Blue Ridge Parkway, please check for road and gate closures on the NPS.
Most of the BRP will close in the winter for weather, and sometimes parts are closed for maintenance.
Also, keep your eyes peeled for wildlife crossing the parkway, such as black bears, and exert caution around bicyclists.
Read more about all of the Asheville hiking trails that locals frequent.
2. Great Smoky Mountains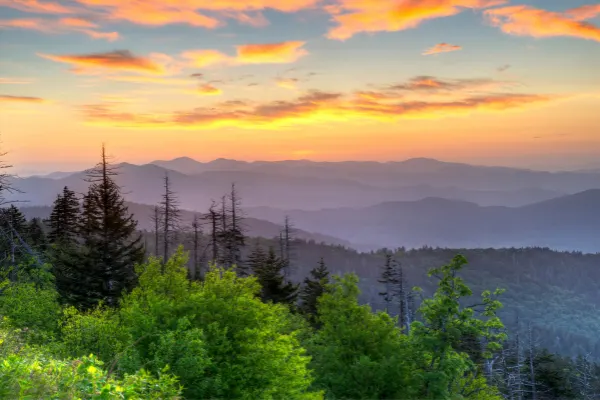 One of the most famous day trips from Asheville, visiting the Smokies is a must for any itinerary.
Even as locals, we are just starting to scratch the surface of Great Smoky Mountains National Park. The Smokies are one of the most visited national parks in America.
In 1983, Great Smoky Mountains National Park became a designated UNESCO World Heritage Site for its biological evolution and diversity, untouched areas, and sheer beauty.
The Smokies also house the largest block of virgin red spruce left on earth.
If you approach the park from Cherokee, stop at stunning Mingo Falls right before the Oconaluftee Visitor Center.
At the Oconaluftee Visitor Center, stock up on supplies and information from the rangers, use the restrooms, and cross your fingers that the elk are active.
Behind the visitor center, stroll the easy Oconaluftee River Trail. Many people come here to watch the elk in the field. Just remember to keep the legal distance.
Tour the free Mountain Farm Museum and Mingus Mill. Stop by the log farmhouse, barn, and apple house to see how families lived and worked in the Appalachian Mountains years ago.
If it's early summer, enter the firefly viewing lottery. Of course, there are endless hiking trails and waterfalls in the Smokies.
Fish, camp, and explore the surrounding areas. Cherokee, Bryson City, Maggie Valley, and Cataloochee are also fantastic Asheville day trips.
Clingmans Dome, the highest point in Great Smoky Mountains National Park, is extremely popular.
We are by no means Smoky Mountains experts – yet – but recommend VisitSmokies.org or National Park Service to help plan your trip.
The entrance to the park in Cherokee is 57 miles or about 1.5 hours away.
3. DuPont State Forest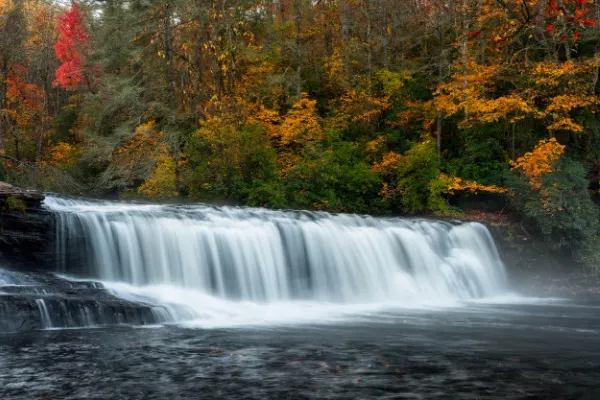 Western North Carolina is famous for its waterfalls.
One of the best day trips from Asheville for waterfall hikes, DuPont State Forest is an unforgettable experience.
DuPont State Recreational Forest – also known as DuPont Forest or DuPont State Forest – encompasses 10,473 acres of forest land, hiking trails, and waterfalls.
DuPont is famous for filming locations for both The Hunger Games (Triple Falls) and The Last of the Mohicans (Bridal Veil Falls).
Within 7 miles of moderately easy and well-cleared trails, you can hike Hooker Falls, Triple Falls, High Falls, and Bridal Veil Falls.
Most popular is the 3-mile, 3-waterfall hike consisting of Hooker, Triple, and High Falls.
Bridal Veil Falls tacks on another 4 miles round trip, or hike Dupont's Bridal Veil Falls on its own.
After DuPont, we recommend heading to Hendersonville for apple orchards, wine, beer, and food.
DuPont is also a fabulous Asheville day trip if you are traveling with the entire family. DuPont State Forest is about a 45-minute drive from Asheville.
Visit The Friends of DuPont Forest's informational website.
4. Hendersonville, NC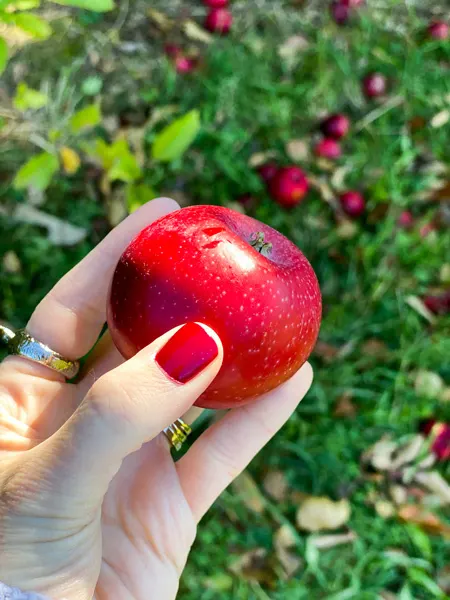 Hendersonville is another popular Asheville day trip option, perfect after hiking DuPont or even Bearwallow and Trombatore trails.
Located 40 to 50 minutes from AVL, Hendersonville is full of things to do.
Explore museums, grab a bite to eat, and brewery hop. We personally crave Umi Sushi, Pita Express, and Haus Heidelberg.
Or, if you are a literary traveler, have lunch and afternoon tea at The Book & Bee.
D9 is a gorgeous brewery, and drink gluten-reduced beers at Oklawaha.
Indulge at Kilwin's for chocolate, and for delicious Hendersonville coffee shops head to Black Bear or Appalachian Coffee.
Play vintage arcade games at the pinball museum, and shop for your pet at Wag.
Known as "Apple Alley," in the fall, the Hendersonville apple orchards are where it is at.
Sky Top Orchard (located in Flat Rock) and Stepp's Hillcrest are our two favorites for cider donuts, apple picking, and corn mazes. Get lost in bamboo forests, and pet the farm animals.
If you enjoy wine tasting, be sure to tour the Hendersonville wineries. Stone Ashe, Sawyer Springs, St. Paul, Souther Williams, and Point Lookout showcase beautiful vineyard views.
If you are looking for Asheville overnights, Hendersonville has cute B&Bs like the 1898 Waverly Inn. Check out all of the great Hendersonville stays here.
Lastly, visit the Hendersonville Visitor Information Center at 201 South Main Street or peruse their website.
5. Black Mountain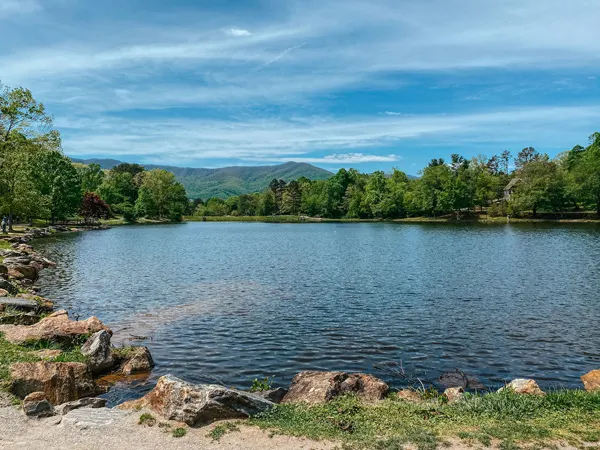 Another beautiful Blue Ridge Mountain town, Black Mountain is one of the closest and easiest day trips from Asheville. Asheville to Black Mountain is only about a 25-minute drive.
The best things to do in Black Mountain include walking Lake Tomahawk and grabbing a bite to eat at one of the stellar Black Mountain restaurants.
Hike nearby Catawba Falls, and for local spirits, beers, and meads, Black Mountain has it all. We frequent Oak and Grist Distilling Company for craft cocktails.
For something different, head to Black Mountain Cider and Mead. Black Mountain Brewing and their Alehouse across the street are perfect for grub and beer.
Say hi to Roberta Flack while you are there.
Like Hendersonville, you may also consider staying in Black Mountain and day trip near Asheville from here.
Black Mountain also has a Visitor Center and website.
6. Grandfather Mountain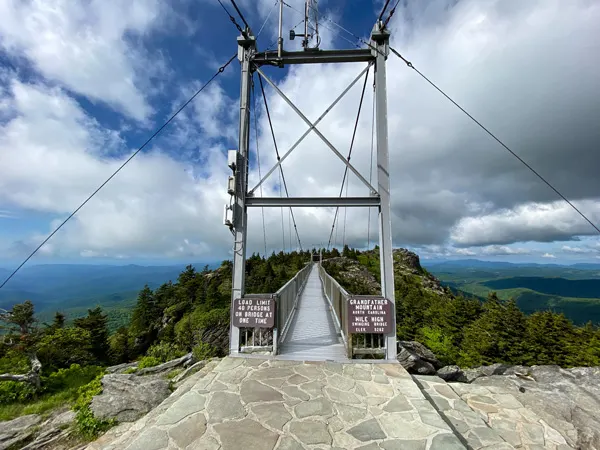 About 1.5 hours away, Grandfather Mountain is another one of the "must" and best day trips near Asheville. In fact, that mile-high bridge is a favorite tourist attraction.
Like Great Smoky Mountains National Park, Grandfather Mountain is filled with biodiversity. The mountain peaks at 5,946 feet above WNC.
The Grandfather Mountain Stewardship Foundation maintains part of this beautiful attraction. You will have to purchase advanced tickets online to enter.
At the gates, pop their gifted CD/USB in your car – which tours you along the mountain. Stop at scenic overlooks and picnic areas, catching a glimpse of Split Rock.
Most popular and if you dare, walk across the Mile High Swinging Bridge at the top, connecting Grandfather's two peaks.
The bridge doesn't really swing, but your stomach might.
See bears, elk, otters, cougars, and eagles at Grandfather Mountain's Nature Habitats. They have a Nature Museum too.
See where Forrest Gump ran along "Forrest Gump Curve," and find backcountry hiking trails from the Blue Ridge Parkway.
Grandfather Mountain also boasts of one of the hardest trails in the southeast, Grandfather Trail. Of course, this is for experienced hikers only.
7. Lake Junaluska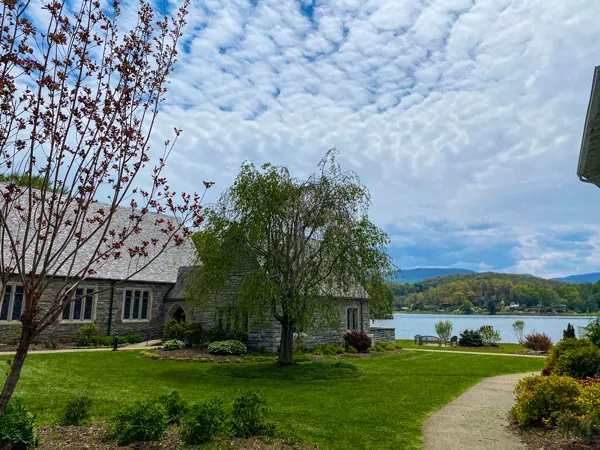 It's no secret that the lakes around WNC make for some of the best day trips from Asheville – and Lake Junaluska won't disappoint.
A man-made lake, Lake Junaluska is surrounded by mountains, cottages, and churches.
Stroll along the Rose Walk, which lights up with blooms in the spring. Enjoy outdoor recreational activities like paddle boarding, canoeing, kayaking, and guided pontoon boat tours.
Find tennis courts, a pool, mini-golf, and shuffleboard with public restrooms around the pool and recreation area.
Lake Junaluska is also home to Lake Junaluska Conference and Retreat Center. Head inside for the gift shop, a bookstore, and a sweet little library.
Park in the numerous free lots around the lake.
While out this way, consider dipping into even more WNC mountain towns.
Maggie Valley and Waynesville promise delicious restaurants, shops, and breweries.
We enjoy Boojum Brewing in Waynesville and BearWaters Brewing in Maggie Valley; each serves up its own craft beer and food.
For short road trips from Asheville, Lake Junaluska is perfect, clocking in at a 35-minute drive.
Never Miss Another Asheville Update
---
Tired of generic Asheville travel itineraries? Experience Asheville like a local with our free Asheville Favorites checklist, including restaurants, breweries, and hiking. Plus, get local updates – including events and hidden gems – straight to your inbox. Sign up here.
8. Linville, NC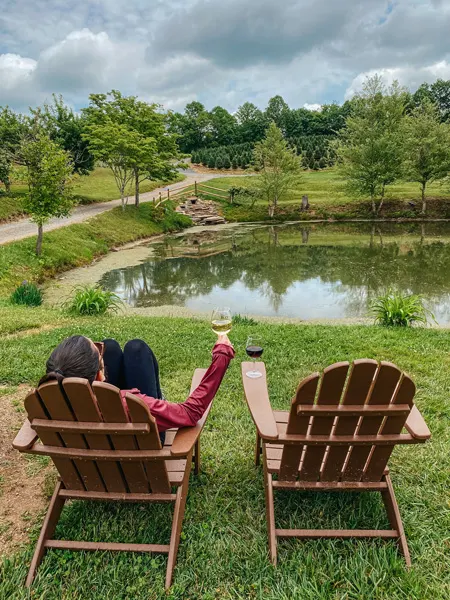 Linville is the perfect day trip from Asheville if you enjoy waterfalls, hiking, and wine. Asheville to Linville is a little over one hour.
Incredibly close to – around 20 minutes from – Grandfather Mountain, Linville is most well-known for being a summer mountain resort and host of the Grandfather Mountain Highland Games.
Absolutely gorgeous, head to Linville Falls Winery for a wine flight and…your Christmas tree. This vineyard and Christmas tree farm has a stone patio, pond, and red barn.
We highly recommend hiking around Linville Falls where you can catch numerous vistas of the most popular falls in the Blue Ridge Mountains.
There are various trails ranging in length and difficulty.
On our Asheville day trips bucket list, we can't wait to visit Linville Caverns. Explore the inside of Humpback Mountain.
If you love wine, head over to our master list of wineries near Asheville.
9. Chimney Rock State Park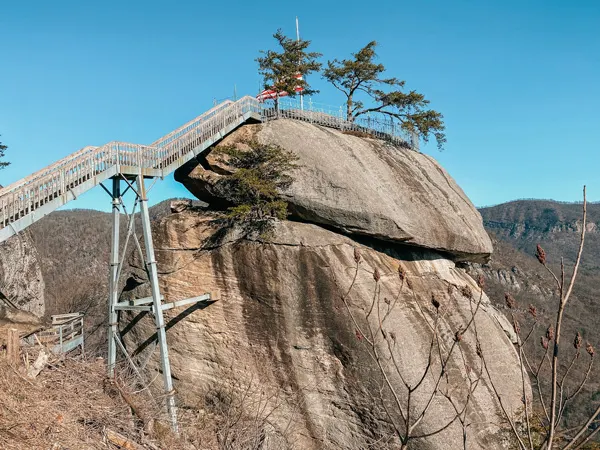 We always recommend Chimney Rock State Park for winter hikes as this is one of the busiest destinations and day trips from Asheville.
Chimney Rock is a 535-million-year-old monolith that sits 2,200 feet above sea level. Hike or take an elevator to the rocks.
The view at the top is incredible, spanning 75-miles or more on a clear day, and the park is filled with hiking.
Hickory Nut Falls is an easier waterfall hike. Just know that you will have to pay to enter the park.
Be sure to stop in Chimney Rock Village on your way out. Visit Hickory Nut Gorge Brewery and Burntshirt Vineyards Tasting Room and Bistro for beer and wine.
Grab a sandwich or burger – with gf buns – at Old Rock Cafe, and for ice cream and shakes, drop into the Village Scoop – with vegan and dairy-free options.
Enjoy your sweet treats by the Rocky Broad Riverwalk.
Wildcat Rock Trail and Little Bearwallow Falls hikes – more great day trips from Asheville – are just a short drive from Chimney Rock.
Asheville to Chimney Rock is about a 45 to 50-minute drive.
10. Lake Lure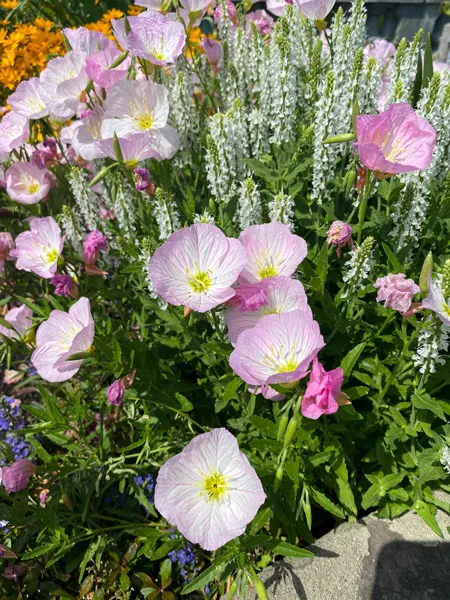 If you only have a weekend to spend in Asheville, consider combining a few Asheville day trips like Lake Lure and Chimney Rock – they are right next to each other.
Since we recommend getting to Chimney Rock earlier in the day, head there first followed by lunch in Chimney Rock Village or around Lake Lure.
After lunch and because there are so many things to do in Lake Lure, you can always drop into the Lake Lure Welcome Center for restrooms and more information, especially if you are feeling overwhelmed.
Then, especially in the spring and summer, visit Lake Lure's Flowering Bridge. Enter a magical world filled with Secret Garden vibes.
Cared for by amiable volunteers, access to the bridge is free but you may leave a generous donation. Enjoy stunning blooms, watch chipmunks scurry by, and dip in and out of curated mini-gardens.
If you have time – and it is summer – lay out at Lake Lure beach or rent a boat. Or – year-round – walk around the lake on paved trails at Morse Park.
Don't forget to get your Dirty Dancing on, spying filming scenes from the movie including where Baby carried that watermelon.
This area is filled with cabins, cottages, and inn getaways too.
Lake Lure is about 50 minutes to 1 hour from Asheville. The mileage is short, but those winding roads with slower speed limits can take a while.
This is one of the best day trips from Asheville for outdoors lovers and those on a budget.
11. Pisgah National Forest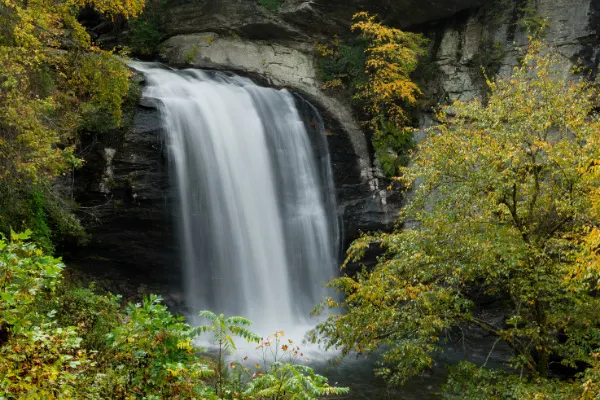 Like the Blue Ridge Parkway, one of the best road trips from Asheville is the Pisgah National Forest's hikes and waterfalls.
Pisgah National Forest covers more than half a million acres of forest, mountains, trails, and waterfalls across WNC.
The land is divided into three sections: Pisgah, Appalachian, and Grandfather Ranger Districts.
Many of the Pisgah National Forest trails and hikes we mentioned above as they fall on parts of the Blue Ridge Parkway. But, there are plenty more.
Pisgah National Forest day trips we love include:
Douglas Falls – Douglas Falls is one of the WNC waterfalls that you can walk under. The road up there is pretty rough, but the falls are worth it. This is also a less frequented Asheville day trip.


Daniel Ridge Falls – Take the easy hike straight to the falls or navigate the harder and longer loop. Daniel Ridge Loop and Bent Creek Experimental Forest are popular mountain biking trails in the Pisgah National Forest.


Looking Glass Falls – One of the "drive-up" roadside waterfalls, Looking Glass Falls freezes in the winter.


Moore Cove Falls – An easy 1.4-mile out and back, encounter a 50-foot waterfall.


Pink Beds Loop & Picnic Area – For summer blooms and a lengthy but easy nature walk, Pink Beds provides a largely shaded trail and picnic area.


Laurel River Trail – Situated between Hot Springs and Marshall, hike as far as you like along this 3.6-mile out-and-back (each way) trail along Big Laurel Creek. Picnic, hang out on the rocks, and spy a ghost town.
12. Appalachian Trail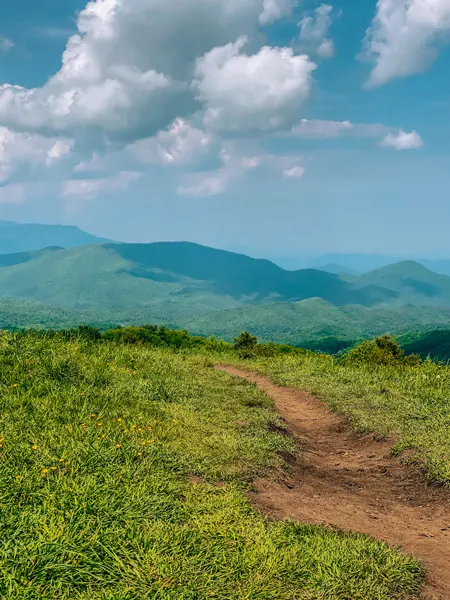 We don't know about you, but we always imagine ourselves as Bill Bryson whenever we hop on the Appalachian Trail. OK; OK…maybe just Katz…
Parts of the Appalachian Trail are also located in the Pisgah National Forest. For two worthwhile hikes and a great Asheville day trips along the AT, we suggest Max Patch and Lover's Leap.
Max Patch is one of the prettiest hikes in all of WNC (with the worst drive). A stunning mountain bald with 360-degree views, pack a picnic and hike an easy trail to the summit via the AT.
Lover's Leap is not for those scared of heights. With harsh switchbacks and a steep incline as well as descent, climb as high as the birds. Be careful, though, it can be dangerous.
At Lover's Leap, overlook all of Hot Springs, NC, and yes, you can visit actual hot springs in this WNC town.
In fact, Hot Springs itself makes for a great day trip from Asheville; grab lunch, shop for art, and hang out at the brewery.
Asheville to Max Patch is about 1 hour and 15 minutes, and Asheville to Hot Springs is about 50 minutes away.
See where to overnight in Hot Springs too.
13. Bryson City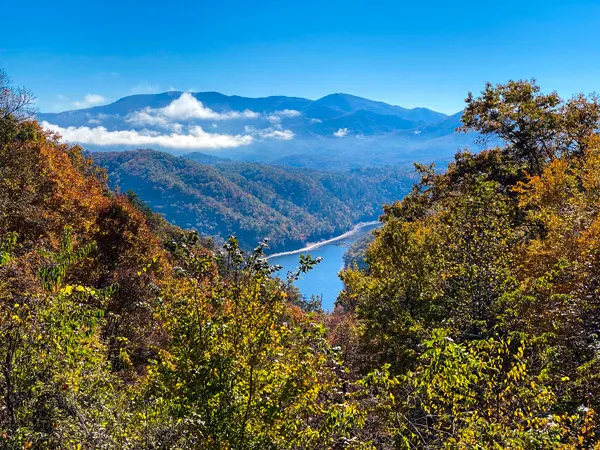 For Smoky Mountain day trips from Asheville – which also borders the Nantahala National Forest – Bryson City is a relaxing and often overlooked choice.
This is a charming Western North Carolina mountain town filled with cafes, restaurants, shopping, and even breweries.
We've devoured Pho as big as our faces at the Iron Wok, and both Nantahala Brewing and Mountain Layers promise local brews.
Plus, check out the Great Smoky Mountains Railroad, which is especially popular around Christmastime.
Bryson City is also home to Fontana Lake, which acts as a reservoir for Fontana Dam. Built during World War 2, visitors may walk or ride over the 480-foot dam.
The dam was also featured in the movie, A Walk In The Woods.
Or, view the dam from afar, driving along the "Road to Nowhere."
A broken promise to residents from the government, this is a bittersweet scenic drive that ends at a bridge with hiking trails. Just plug Lakeview Drive in Bryson City into your GPS.
Local Renea Winchester wrote a North Carolina novel set in Bryson City called Outbound Train.
It's a moving story about growing up in Appalachia and the vicious cycle of poverty for the working class in Bryson City.
Asheville to Bryson City is about a 1-hour and 10-minute drive.
If abandoned projects like the Road to Nowhere interest you, read more about NC's ghost towns and places.
14. Brevard, NC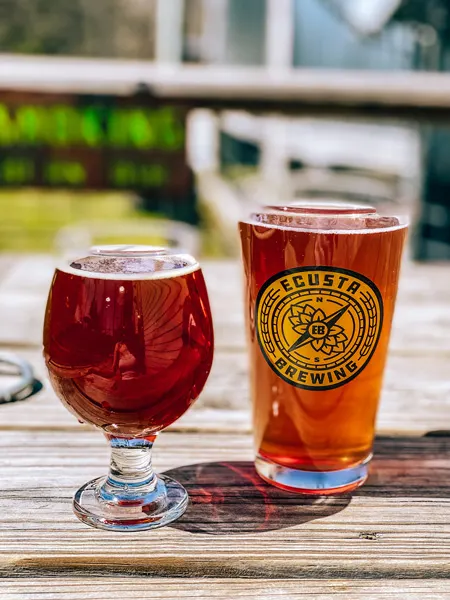 Brevard is part of the "land of waterfalls" and Pisgah National Forest.
For Asheville road trips, head into and around Brevard to access Moore Cove Falls, Looking Glass Falls, Sliding Rock, DuPont State Forest, and Daniel Ridge – just to name a few.
Brevard also makes for one of the best beer day trips from Asheville.
With a walkable downtown and its surrounding areas, don't miss the Brevard breweries like Ecusta and Oskar Blues.
On your drive back to Asheville, be sure to stop at the Mills River Breweries. Sierra Nevada and Bold Rock are two huge boozy destinations out this way.
Asheville to Brevard is about 45 minutes.
15. Tryon Foothills Wineries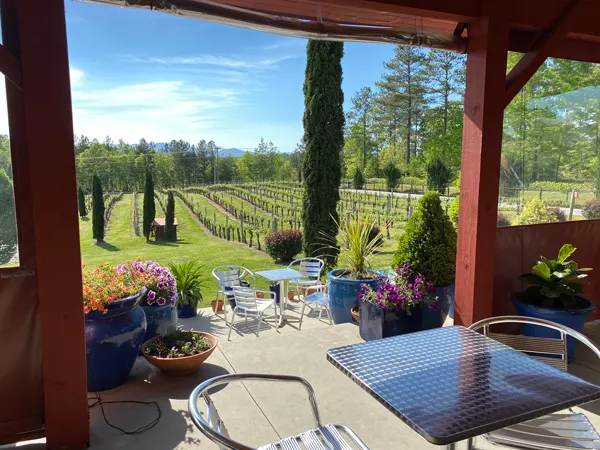 Spend an afternoon exploring the beautiful Tryon Foothills wineries, including Parker-Binns and Overmountain Vineyards. Or, drive to Mountain Brook Vineyards and Russian Chapel Hills Winery.
Tryon Foothills Wine Country is a little over one hour away from Asheville. These vineyards are large and gorgeous, located in the rolling countryside.
Tryon, NC has a small downtown, and there are hikes, waterfalls, and an international equestrian center.
16. Weaverville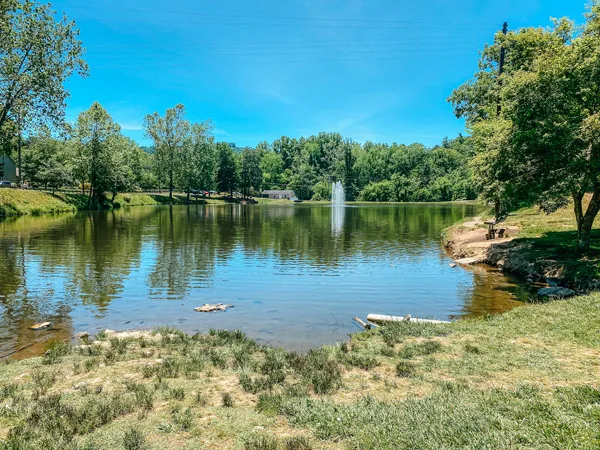 For closer Asheville day trips, Weaverville is literally the next town over – and under a 15-minute drive.
Weaverville is the perfect spot to catch a break from Asheville's congestion and has delicious local restaurants.
Grab a gluten-free pizza at Blue Mountain Pizza, sushi at Soba, or sandwiches at Twisted Laurel.
Full of breweries, dip into Leveller Brewing Co. for hoppy craft beer or Eluvium for brews paired with your favorite pub grub.
WagBar is a fabulous dog park serving up drinks with rotating food trucks, and take a stroll around Lake Louise, which boasts a playground.
Read more about Asheville's beautiful parks and gardens.
If you are looking to stay immediately outside of Asheville, check out these Weaverville cabins, hotels, B&Bs, cottages, and inns. They are slightly cheaper than AVL.
17. Burke County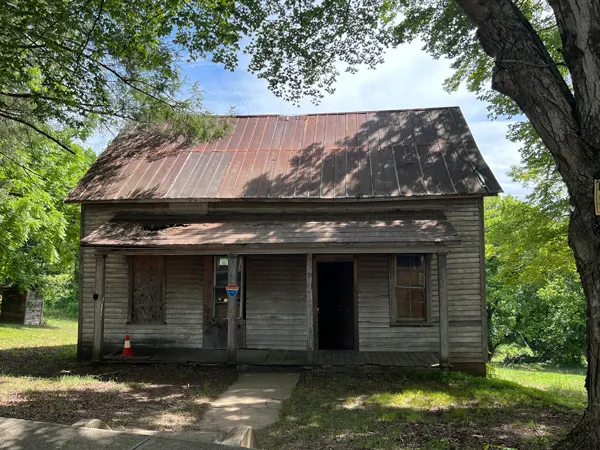 We debated how to word this section as Burke County is full of the best road trips from Asheville – that you might want to combine.
Start by getting your literary and dark tourism on at Henry River Mill Village – one of NC's intriguing abandoned places.
A former cotton mill community, the last residents and workers abandoned the village around the 1970s.
Today, find many dilapidated wooden homes still standing as you pay homage to North Carolina's textile industry.
Most notably, though, this insular village became the filming location for The Hunger Games' District 12.
Pay an entrance fee to walk through the Everdeen's home, spy Peeta's bakery, and witness Katniss' hunting grounds.
Budget less than an hour at Henry River Mill Village, and then head to Morganton – an area filled with breweries, restaurants, shops, and a historic downtown area.
Grab noodles and coconut water at Asian Fusion Kitchen, and spend an afternoon hiking, biking, or hanging out at nearby Lake James State Park (technically in both Burke & McDowell counties).
In the summer, head to Lake James' beach – for a small fee. You could even pack a picnic.
And, if you are craving a boozy afternoon, enjoy a seltzer slushie and craft brew at Fonta Flora Brewery – their Whippoorwill Farm location in Nebo is beautiful.
Or, sip an oaky wine with breathtaking mountain views at Silver Fork Winery. Play some wine Trivia Pursuit.
All of these great Asheville day trips are about one hour+ from the city – an easy drive down I-40E.
Burke County's Visitor Center | 110 E Meeting St., Morganton, NC 28655
18. Marshall, NC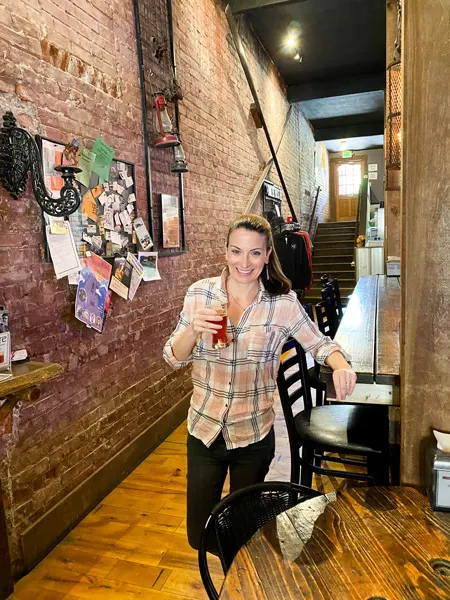 One of the closest day trips near Asheville – about 30 minutes away – Marshall, North Carolina is a small mountain town with a population of under 800 people.
Don't let its tiny size deter you, though. There are plenty of great things to do in Marshall, including fishing, river rafting, shopping, and eating at a kitschy restaurant.
Park along Main Street near the Madison County Courthouse and grab coffee at Zuma before hitting up the bookstores like The French Broad Exchange and Main Street Comic & Games.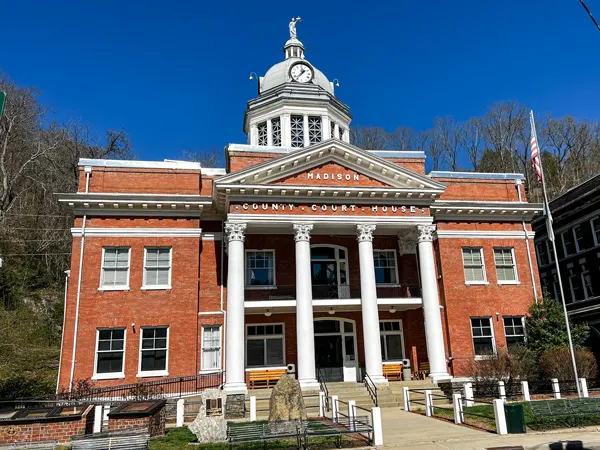 Full of terrific cafes and restaurants, consider ordering pizza at Mad Co. Brew House paired with an eclectic brew or vegan cake at Ivy and the Poet.
Cross the bridge to Blannahassett Island for artists' studios – best during a craft market or festival – and a playground.
As mentioned above, hike the Laurel River Trail or head to nearby Hot Springs.
For larger events, attend Marshall's famous June Mermaid Parade & Festival or their 4th of July fireworks.
19. Dollywood & Pigeon Forge, TN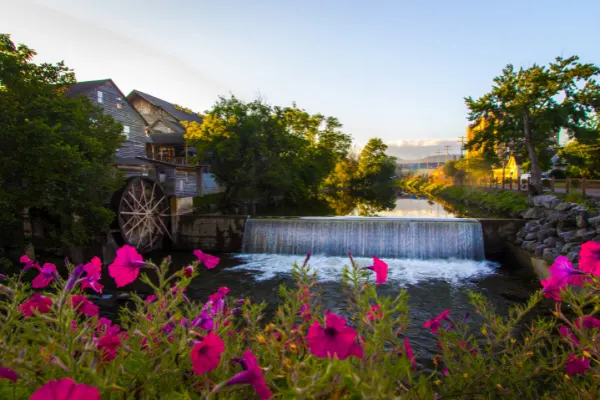 Justin, a former Dollywood Insider, gifted us our first tickets ever to Dollywood in Pigeon Forge, TN.
This is one of the most fun day trips from Asheville for families, especially if you love theme parks. Dolly is, of course, a legend.
A little over 1.5 hours from Asheville, find rides, roller coasters, southern cuisine, live shows, and everything Dolly. There is even a museum with Dolly's vibrant outfits.
Walk into a replica of Dolly's Tennessee mountain home or attend non-denominational services at Robert F. Thomas Chapel.
Pigeon Forge also has waterparks, Parrot Mountain and Gardens, the Titanic Museum, breweries, wineries, and zip-lining.
If you'd rather overnight in Pigeon Forge, don't miss these hotels, inns, cabins, and cottages.
20. Knoxville, TN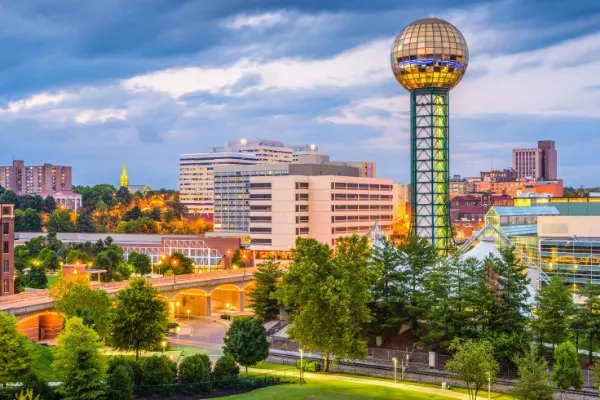 One of our favorite longer day trips from Asheville, Knoxville, TN has it all. A little under two hours away and similar to Asheville, Knoxville has a historic and walkable downtown.
Spend all day dropping into distilleries, breweries, bookstores, and restaurants. Around Christmas, ice-skate in the historic square.
Our good friend, Clayton, runs a Knoxville travel blog, KnoxRoadTripper. He shares all that there is to love about the city — and he's full of unique tidbits and history.
We personally enjoy overnighting in Knoxville, TN, especially around the holidays.
Where To Stay In Asheville
Explore the best places to stay in Asheville. A few of our top suggestions:
Aloft – Downtown Asheville – Centrally located and recently renovated, enjoy a rooftop pool, a gorgeous bar, and trendy rooms.

The Omni Grove Park Inn – Treat yourself to a luxury resort in North Asheville, complete with breathtaking sunsets, terrace bars and dining, and loads of Asheville history.

Hampton Inn And Suites Asheville Biltmore Area – A budget-friendly but renovated hotel on busier Brevard Road that's perfect if you wish to stay between Biltmore Estate, Downtown Asheville, and the Blue Ridge Parkway.

Asheville Cottages – Gorgeous 1 to 3-bedroom cottages with a private deck, housing a grill and hot tub. Find luxurious heated-floor bathrooms with rain showers, a well-stocked kitchen, and the cleanest rooms in town.

Foundry Hotel – An oasis in Downtown Asheville, Foundry Hotel is a nod to AVL's industrial history. Find famous restaurant Benne on Eagle while sleeping ensconced in charm and elegance.

Country Inn & Suites by Radisson, Asheville Westgate, NC – Located off of the highway as you enter AVL, find a sleek and clean hotel at a great price.

Black Walnut B&B Inn – Designed by Biltmore's supervising architect, Richard Sharp-Smith, this 1899 inn is close to Downtown AVL and serves afternoon tea. Two rooms are pet-friendly.
Don't miss out on these Asheville properties on Booking.com, too.
Save These Asheville Day Trips For Later: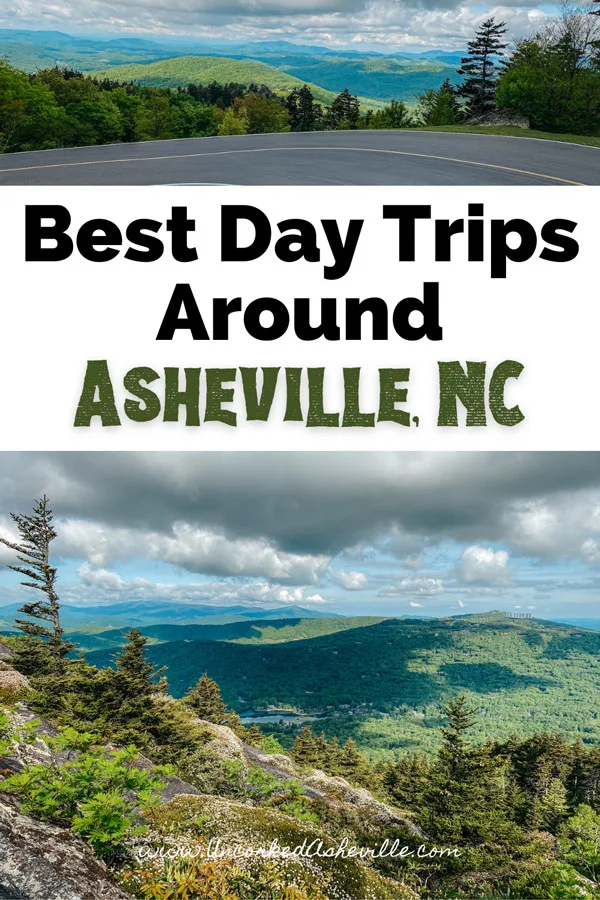 More Day Trips Near Asheville
Boone
Nantahala National Forest
Blowing Rock
Greenville, SC
Columbia, SC
Little Switzerland
Gatlinburg, TN
Old Fort, NC
What are your favorite road trips from Asheville?
While visiting Western North Carolina, what are your favorite day trips from Asheville?
Which parks do you love, and what is your favorite WNC city or town to visit? Let us know in the comments.
All Nearby Travel Guides
Black Mountain
Hendersonville
Hot Springs
Marshall
Old Fort
Weaverville
More Guides
Plus:
Waterfalls
Hiking & Biking
Itineraries
AVL Events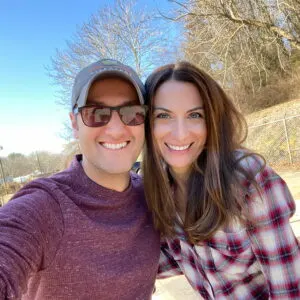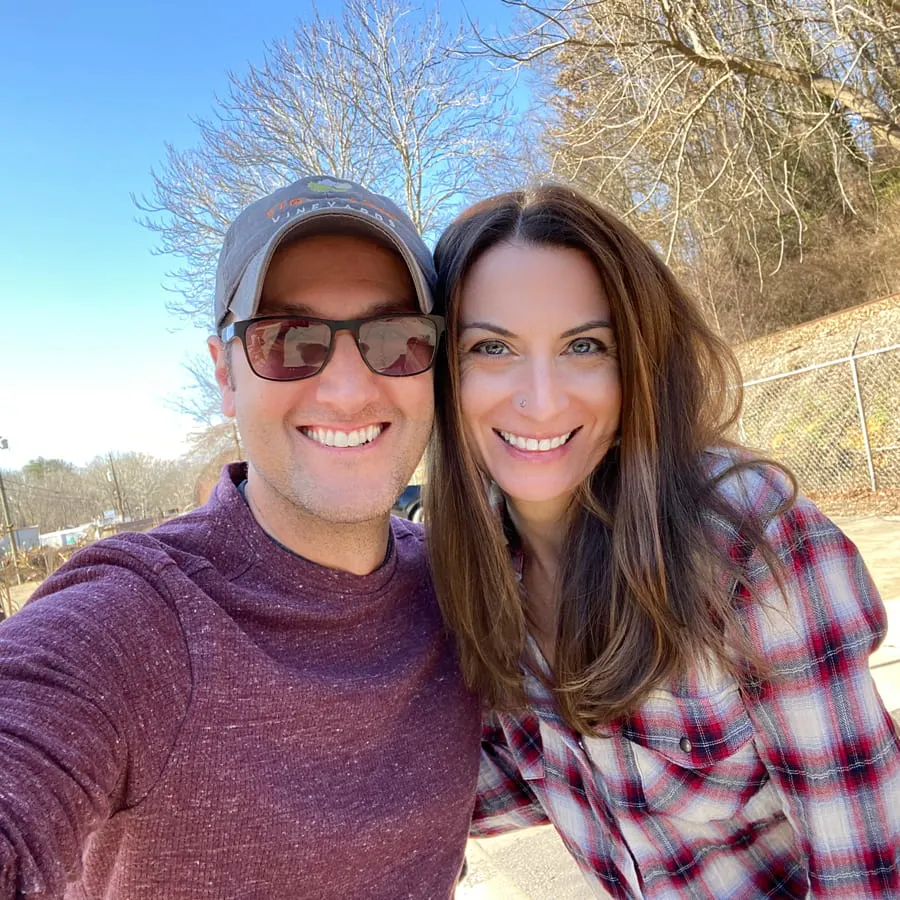 Christine (pronouns: she/her) is the owner and lead writer of Uncorked Asheville. After falling in love with those gorgeous Blue Ridge Mountains, Christine and her husband Tom decided to call Asheville, North Carolina their home. When her pointy Italian nose isn't stuck in a book, Christine is adopting all of the kitties, getting lost in the forest, and drinking an ESB.
Christine has a BA in English and History from Smith College, her MLIS from USF-Tampa, and is a former U.S. Fulbright Scholar - Indonesia. She also owns The Uncorked Librarian LLC with books and movies to inspire travel.