Uncover the most romantic restaurants in Asheville, NC. These restaurants are perfect for date night and intimate conversations.
Are you looking for cozy and sweet date night restaurants in Asheville? Maybe it is Valentine's Day or an anniversary and you wish to celebrate over food and drinks with your partner or loved ones.
As AVL locals, we dine out often. Many times, we crave those more private places. You know; the places with tables tucked into deep corners, warm glowing lights, and rooms full of historic charm.
Plus, we covet breathtaking Blue Ridge Mountain sunsets, seasonal craft cocktails, and quaint outdoor patios.
Asheville's romantic restaurants don't always have to be wallet-emptying or fine dining establishments either — although we do have a separate piece for those.
It's also not a secret that Asheville has hundreds of restaurants to choose from — the city is named "Foodtopia" — boasting a variety of cuisines, ambiance, and locations.
So, if you are looking for the best romantic restaurants in Asheville, how do you choose?
Below, uncover intimate restaurants in Asheville, including ones with gluten-free, vegan, and vegetarian options. Some will be popular with AVL visitors and others with locals.
While these are what we and our readers consider to be Asheville's most romantic restaurants, please remember that 'best' is subjective. We always love hearing your favorites in the comments.
We also suggest making advanced reservations – where you can – for all of these romantic dining places in Asheville.
After dinner, be sure to read more about all of the romantic things you can do in Asheville.
This post may contain affiliate links that earn us a commission at no extra cost to you. If you love these guides, support Uncorked Asheville here.
See our Top Places To Stay in Asheville.

Don't miss out on these Asheville properties on Booking.com, too.
10 Most Romantic Restaurants In Asheville, NC
1. Limones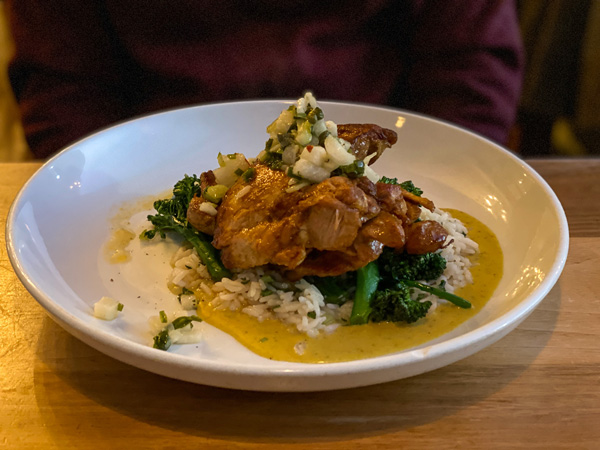 Limones is by far one of the most romantic restaurants in Asheville and our top pick for ambiance. If you are lucky, maybe they'll seat you in one of the two window seats.
Candle chandeliers glow throughout this historic building filled with long mirrors and quirky art.
With two smaller rooms and a bar, you can enjoy intimate conversations paired with Mexican and French-influenced Californian cuisine.
Chef Hugo Ramirez is a Mexico City native, and he moved to Asheville from San Francisco. His food is simple yet divine.
We suggest ordering tapas with their famous margaritas to start. Choose from fresh ceviche or lobster nachos.
Then, move on to fusion-cuisine entrées including BBQ fish, scallops with salsa, ramen short ribs, and enchiladas with vegan cheese.
Save room for a Mexican-inspired dessert such as churros or a Tres Leches cake. Limones has a great cocktail list, Spanish dessert wines, and Mexican coffee.
Limones is also our neighbors' favorite date night restaurant in Downtown Asheville, and you will want to make advanced reservations.
Limones | 15 Eagle St, Asheville, NC 28801
2. The Bull And Beggar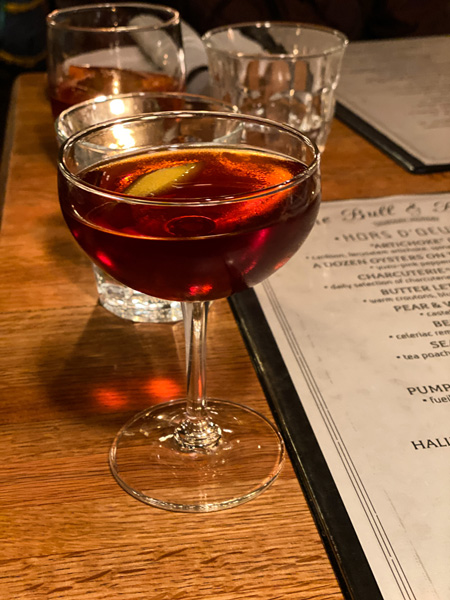 For one of the best romantic restaurants in Asheville — for that extremely special occasion or Anniversary — The Bull And Beggar is a must.
This high-end, River Arts District restaurant is for meat-lovers. If you are vegan or veggie, this might not be the best restaurant for you.
However, if you adore chandelier lighting, brick walls, and a bar filled with books, you'll pretty much stare in awe throughout your entire gourmet dining experience. And an experience it is.
Think one of the best AVL charcuterie boards, beef tartare, and oysters to start. Entrées include ribeye, duck, pork belly, and pasta.
Before or after your new American fine dining experience, head to Bottle Riot next door — one of our all-time favorite wine bars in Asheville.
You'll also find one of Wedge's two locations, which is a hopping AVL brewery. Lastly, did you know that The Bull And Beggar has a burger joint, Baby Bull?
The Bull And Beggar | 37 Paynes Way #007, Asheville, NC 28801
3. Bouchon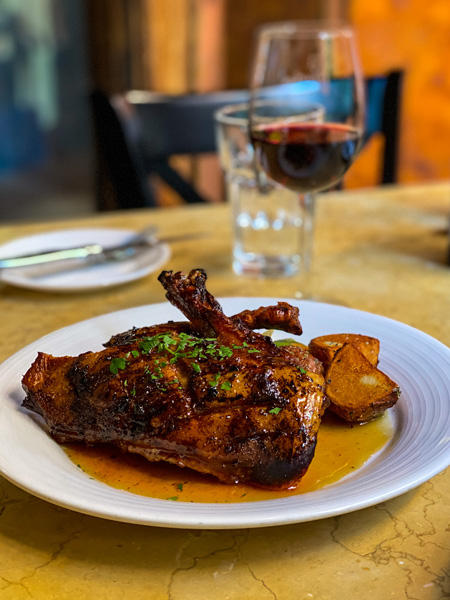 If you've been with Uncorked Asheville for a while, you know that Tom has Celiac Disease and Christine UC — we are also lactose intolerant. Our restaurant lists sometimes reflect this.
You might be thinking, how the heck do these two eat French cuisine? Thank gosh for Bouchon, and let us tell you, Bouchon is one of our favorite date night restaurants in Asheville because it's so cozy.
Bouchon is also one of Asheville's finest dining restaurants according to our readers, who seek them out every time they are in town. You'll see why from the moment you step inside.
Encounter a dimly lit French restaurant filled with small tables, a patio, and even a hidden outdoor table all on its own — which we managed to snag. It's gorgeous inside.
Choose from French comfort food, a decadent French wine selection, and cocktails poured with a heavy hand.
True to French cuisine, many of the dishes have lactose and some gluten, but we can usually find one or two stellar dishes to eat. Just go prepared and ask questions if you have food intolerances.
Bouchon makes famous French fries. They also serve up delicious duck, beef, and seafood entrées. Boeuf Bourguignon? Yes, please!
Go to Bouchon for the fine dining experience, ambiance, and service. Crave Dessert Bar sits across the street for after-dinner cocktails, hookah, and fancy desserts.
Bouchon | 62 N Lexington Ave, Asheville, NC 28801
4. Andaaz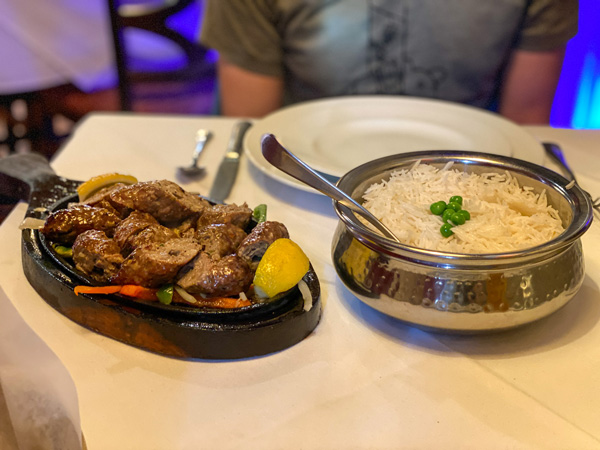 One of Asheville's newest Indian restaurants, head to Biltmore Village for Andaaz Indian Fine Dining Restaurant.
Andaaz is also another readers' favorite here at Uncorked Asheville, and you'll love the sparkling and vibrant interior. Andaaz offers a la carte dinner (we aren't lunch buffet diners) and has a large bar.
If you crave spicy Indian food with plentiful portions, Andaaz will speak to your taste buds and stomach.
Andaaz also has a creative cocktail list — Indian spice included — and is gluten-free and vegan-friendly.
Please keep in mind that Biltmore Village will be congested around rush hour and on the weekends. Andaaz has a small parking lot, and there is nearby parking throughout Biltmore Village.
If you are looking for more gluten-free restaurants, Posana has a dedicated gluten-free kitchen. They are also one of the most intimate restaurants in Asheville. They land on a lot of our restaurant lists too.
Andaaz Asheville | 28 Hendersonville Rd, Asheville, NC 28803 | (828) 552-3200
5. Ukiah Japanese Smokehouse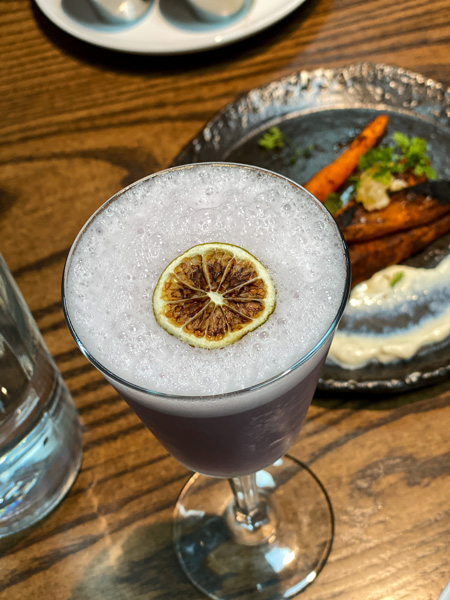 New to Asheville in 2021, Ukiah Japanese Restaurant will please your taste buds. This is one of the best date night restaurants in Asheville for Japanese cuisine.
Located on Biltmore Ave just past Wicked Weed, encounter Japanese street food and tapas with an American BBQ twist. This is a memorable fine dining experience.
In fact, our friends described it as a near-religious experience — and they are right!
Ukiah specializes in meat skewers, shrimp cocktail, ramen, and raw sushi-grade fish. Most of Ukiah's dishes are meant for sharing, but you can order an entrée too.
They will also accommodate dietary restrictions. Their cocktails are stunning and delicious creations — unique to the cuisine.
Inside, the bar is beautifully yet simply decorated with booth seating. Outside, find a romantic patio with a huge stone fireplace.
Make reservations, and bring an extra sweater or jacket in the fall and winter, especially if you wish to enjoy a pretty outdoor patio. We suggest parking at the Biltmore Ave. garage.
Read more about Asheville's top sushi restaurants.
Ukiah Japanese Restaurant | 121 Biltmore Ave, Asheville, NC 28801
6. Strada Italiano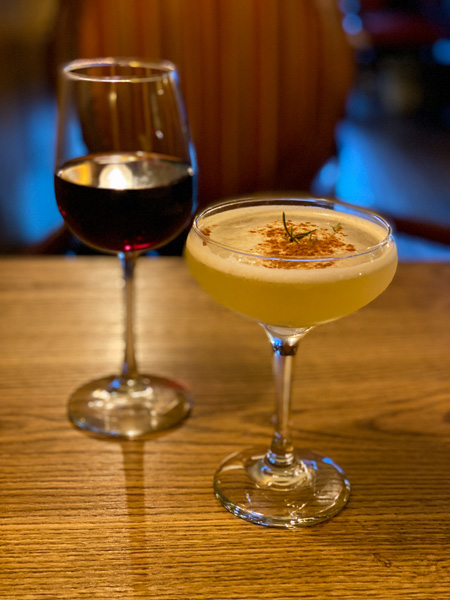 Strada Italiano and The Social Lounge are sister restaurants.
If you are looking for romantic Sunday brunch or a late-night AVL bar, The Social Lounge is perfect. It's also one of our favorite Downtown AVL rooftop bars.
While The Social Lounge has intimate booths and a gorgeous bar, you also won't want to miss Strada. With two levels in a historic setting, you'll feel like you are at our Sicilian family's home.
In fact, this Victorian building is from the 1880s — don't miss the ceiling — and Strada's interior is filled with rich, deep woods.
For intimate restaurants in Asheville, Strada Italiano is it — although it's also a family and kid-friendly restaurant too. We often see large families gathering here.
Family-owned, Strada screams delicious Italian. The best part: unlike a few other Italian restaurants, they offer vegetarian and gluten-free options.
Choose from traditional Italian meals of antipasti, pizza, and zuppe. There's eggplant and chicken parm, salmon, and chicken marsala.
Strada's prices also land in the middle of fining dining versus more casual.
Strada Italiano | 27 Broadway St, Asheville, NC 28801
7. Plant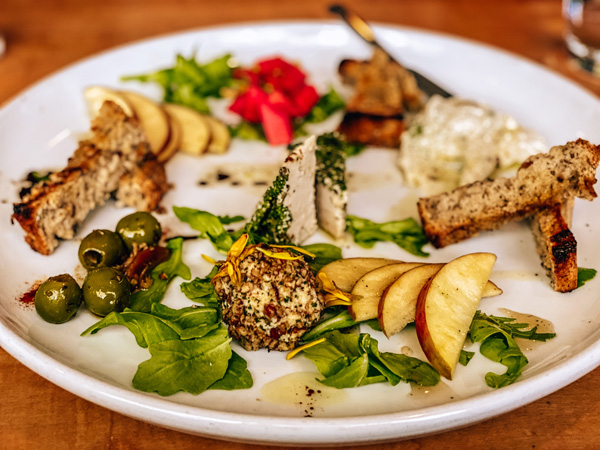 Full disclosure that we debated if Plant is one of the most romantic restaurants in Asheville.
Yes; we go here often and for special occasions, but is it perfect for date night? We say yes, especially if you are vegan.
Plant is also one of our overall top Asheville restaurants, and spoiler alert: we aren't vegan. Zagat named Plant as one of the best vegan restaurants in the country.
Plant showcases a dedicated vegan menu with a few gluten-free items. They run on the more expensive side, but you may dress casually.
We are obsessed with Plant's vegan cheese plate, roasted beets, spicy entrées, and desserts. They also specialize in multiculturally-influenced dishes, and you can mix and match tapas and entrées.
It's best to make reservations for Plant although walk-ins can occasionally grab a spot at the bar. It can be hard to catch them on the phone.
Know that Plant is one of the most delicious North Asheville restaurants, a favorite AVL neighborhood for locals.
Catch a movie at Asheville Pizza and Brewing afterward or stroll Beaver Lake. Discover all that you can do in North AVL while dining at Plant.
Plant | 165 Merrimon Avenue, Asheville, NC 28801
8. Leo's House Of Thirst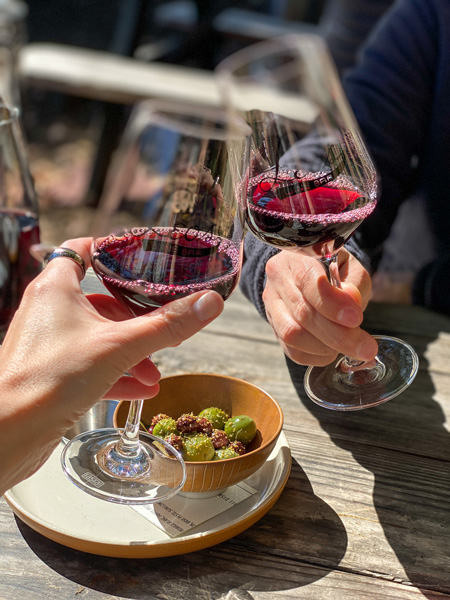 For West Asheville restaurants, Leo's House Of Thirst is both a wine bar and more casual romantic Asheville dining option.
Of course, you can go for just wine, tapas, or even Sunday 'brunch.' They do not take reservations.
Leo's has a beautiful outdoor wine garden as well as a cozier indoor space. Outside, find heaters, picnic tables, and hanging lights.
Sit under the trees while enjoying sandwiches, soups, and pasta. Choose from raw dishes like red snapper or order lighter fare such as cheese, olives, and charcuterie.
Of course, there is dessert. You might catch the smoker in use, too.
Leo's parking lot is located immediately behind the building. The Odditorium is nearby if you are looking for quirky bars with fun cocktails.
Nearby, know that Jargon is also one of the best date night restaurants in Asheville. Be sure to explore all of West Asheville.

Leo's House Of Thirst | 1055 Haywood Rd, Asheville, NC 28806
9. Biltmore Estate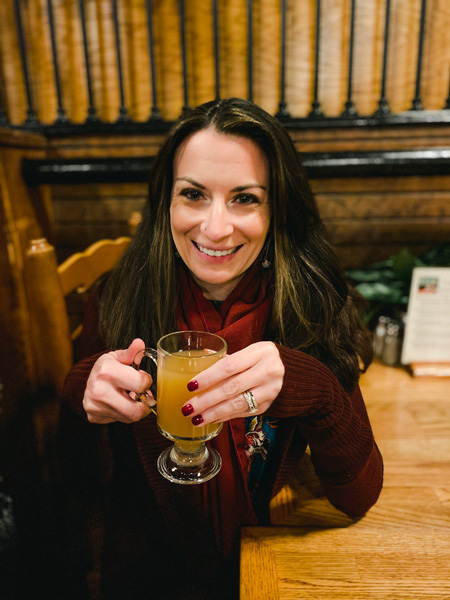 We debated between the Omni Grove Park Inn versus Biltmore Estate for Asheville's most romantic restaurants.
Since Grove Park's Edison and Sunset Terrace sit on many of our lists, we've decided to showcase Biltmore.
You will need tickets, an annual pass, or an overnight stay at Biltmore's on-site properties to dine at their restaurants. We personally frequent Stable Cafe and Cedric's Tavern.
While Stable Cafe is not the most romantic dining place in Asheville in the daytime, at night, you'll love cuddling up in the dimly lit horse stables.
We enjoyed a 3-course Candlelight Christmas Evenings dinner here, which is much different than their sandwich-heavy lunch menu – which is a great AVL lunch option.
While Stable Cafe is next to majestic Biltmore House, Cedric's Tavern sits ensconced in Biltmore's scenic Antler Hill Village.
An homage to the Vanderbilt's beloved Saint Bernard, enjoy seasonal cocktails with classy American entrées. We suggest making reservations far out in advance for both.
Get the most out of that Biltmore Estate ticket price with our comprehensive guide of Biltmore things to do.
While romantic, also know that Biltmore is one of the city's creepiest haunted houses too.
Biltmore Estate | 1 Lodge St, Asheville, NC 28803
10. The Market Place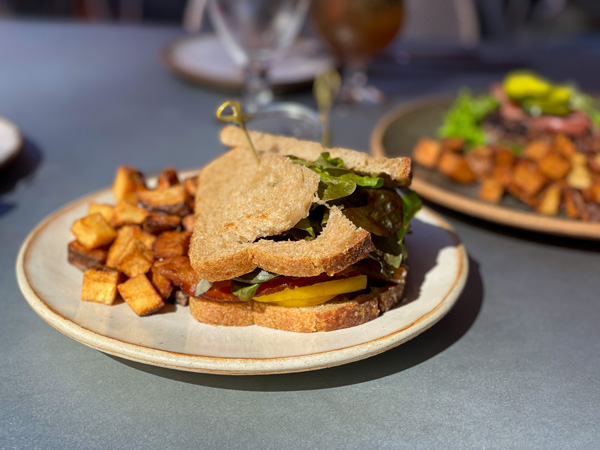 The Market Place is a busy but romantic Asheville restaurant situated in the heart of downtown. We highly suggest making reservations if you don't want a one to two-hour wait, especially on weekends.
Dining on The Market Place's outside patio feels a bit like enjoying a meal out at a European cafe. It's quaint and perfect for people-watching.
Inside, encounter a classy and sleek dining room, perfect for special occasions. They specialize in farm-to-table and handcrafted American cuisine. Enjoy fresh and local ingredients.
While The Market Place doesn't have a large selection of gluten-free and lactose-free options, they can modify a few dishes.
For dinner, choose from ravioli and unique cuts of meat. Order lamb, grouper, yellowfin tuna, and whatever other delicacy is in season.
Don't miss an equally romantic and whimsical Asheville coffee shop nearby, Trade and Lore.
The Market Place | 20 Wall St, Asheville, NC 28801
See our Top Places To Stay in Asheville.

Don't miss out on these Asheville properties on Booking.com, too.
Save Asheville's Romantic Restaurants For Later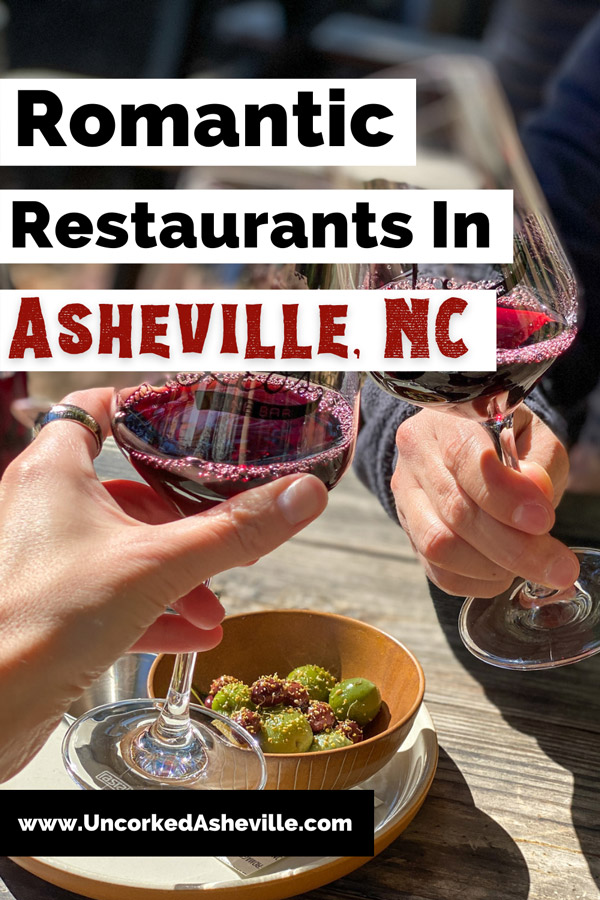 What are your favorite date night restaurants in Asheville, NC?
What are the best romantic restaurants in Asheville that you love, frequent, and recommend?
We had a huge list of intimate Asheville restaurants and tried our best to narrow it down. This list is by no means exhaustive, but we also didn't want it to be overwhelming.
Please let us know your favorites in the comments.
If you are looking for romantic places in Asheville, you may also enjoy:
Asheville Fine Dining Guide
Asheville Date Ideas
Best Rooftop Bars & Restaurants
Unforgettable Asheville Restaurants
Picnic Spots Around Asheville
Best Asheville Charcuterie