With so many breweries in Asheville, NC, how do you choose which ones to visit? As Asheville locals, we'll share the best Asheville breweries for location, flavor, and ambiance.
The Asheville breweries have a little bit of something for everyone. Do you want to sit by the French Broad River with a Saison on a gorgeous day? What about specialty gluten-free ginger beer in a variety of flavors?
If you crave those experimental oddball brews, we have just the Asheville brewery for you. Not to mention the breweries ensconced in street art, hidden in basements, and ones known across the world.
With so many breweries in Asheville, how do you choose? We'll share our favorite AVL breweries as locals and then break down the best breweries in Asheville by neighborhood. Please remember that 'best' is always subjective.
We drink a lot of beer, and when we aren't hiking, we are most likely sipping on a craft brew. We won't mention every single brewery in Asheville either, but we'll give you quite a few to choose from.
Think Wicked Weed, Twin Leaf, Catawba, Green Man, Burial, Zillicoah, Hillman Beer, and so much more. Let's get started!
If you need to fill your belly first, don't miss our Guide To Asheville's Famous Restaurants.
---
This post may contain affiliate links for products and services I recommend. If you make a purchase through these links, at no additional cost to you, I will earn a small commission. Read the full disclosure here.
---
See our Top Places To Stay in Asheville.

Don't miss out on these Asheville properties on Booking.com, too.
Our Favorite Breweries In Asheville As Locals
Some of the best breweries in Asheville are the well-known ones along with a few that are less frequented by tourists. Honestly, it's pretty hard to pick our favorites since we truly enjoy them all.
However, if I had to share the Asheville breweries we pick first to visit on a weekday, it would be these:
Zillicoah Beer Company
Address: 870 Riverside Drive; Woodfin, NC 28804
Phone Number: 828-424-7929
Website: https://www.zillicoahbeer.com/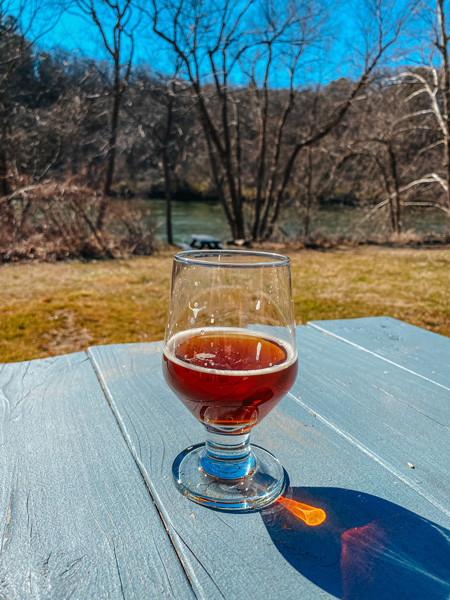 Zillicoah is our go-to Asheville brewery as locals. Technically, Zillicoah is in Woodfin, which is basically the intersection of North and West Asheville. They also have a delicious Mexican food truck that lives on-site.
Zillicoah Beer Company sits along the French Broad River. You can find both covered and uncovered picnic tables alongside the brewery and river. It's scenic AF.
Out of all of the breweries in Asheville, this one is the most relaxing. Because Zillicoah is farther away from downtown (about 10-15-minutes), it stays quieter on the weekdays with a busy local weekend vibe.
Lately, they've been brewing more seasonals and sours. I love it when they offer a smokey concoction. You can also grab lighter beers, ciders, and wine.
This AVL brewery is dog-friendly, especially with endless acres of land to romp around on.
---
---
Asheville Brewing Company
North Asheville: 675 Merrimon Avenue; Asheville, NC 28804; 828-254-1281
Downtown: 77 Coxe Avenue; Asheville, NC 28801; 828-255-4077
South Asheville: 1850 Hendersonville Road Suite A; Asheville, NC 28803; 828-277-5775
Website: https://www.ashevillebrewing.com/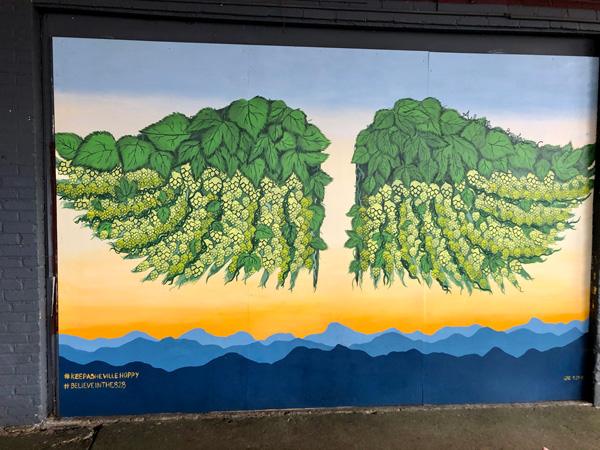 One of our favorite breweries in Asheville for pizza, don't miss Asheville Brewing Company. There are multiple locations including Coxe Ave. in downtown Asheville, Merrimon Ave. in North Asheville, and Hendersonville Road in South Asheville.
The Merrimon Ave. location also has a movie theater and a small arcade. The Hop Ice Cream Cafe is nearby…
We love Asheville Pizza and Brewing for their pizza and beer. They also offer a gluten-free crust and vegan cheese. Plus, you can grab the best bar food like burgers and tater tots.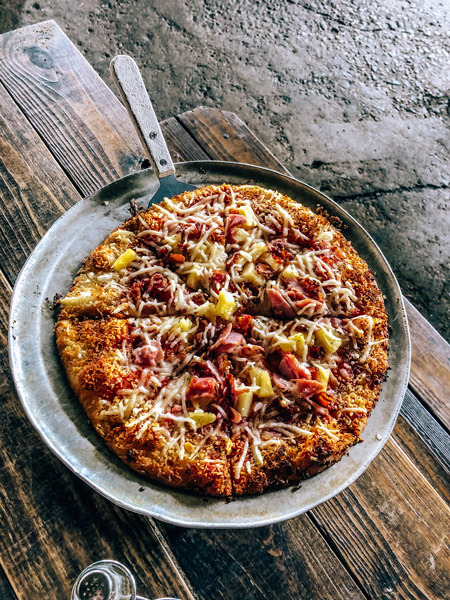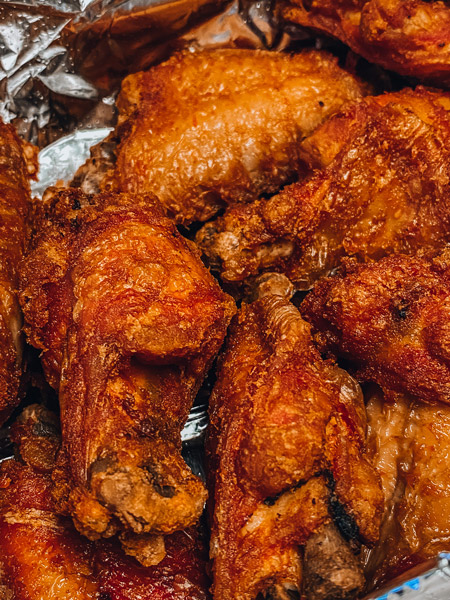 For Asheville beers, I love their darker brews with chocolate and coconut. Asheville Brewing usually has a local cider on tap. The Coxe Ave. location has a wings mural with hops, perfect for picture-taking.
---
Do you have a wine drinker in the family? Don't miss the Best Asheville Wineries.
---
Twin Leaf Brewery
Address: 144 Coxe Avenue Asheville, NC 28801
Phone Number: 828-774-5000
Website: http://www.twinleafbrewery.com/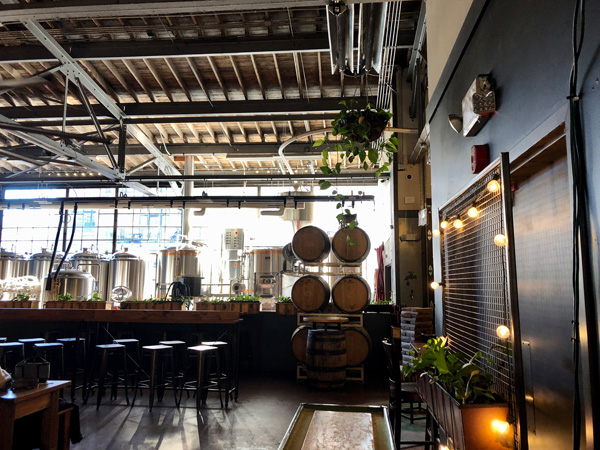 For downtown Asheville breweries, we enjoy Twin Leaf Brewery. Although busy, I feel like many tourists skip over this AVL brewery opting for Wicked Weed and its nearby Funkatorium.
Personally, I love Twin Leaf beer and feel like I am sitting in a greenhouse.
I'm not going to lie, I'm a little more biased on my beer because I don't usually drink IPAs. Gasp; I know. You will see that reflected in my beer recs. I will get trolled. It is what it is.
Twin Leaf, to me, is IPA-heavier — which is fantastic for you IPA-lovers. I usually order a Pilsner or Stout. I love their attitude, ambiance, and vibes.
If you are beer-hopping across Asheville, the Funkatorium, Catawba, Green Man, Asheville Brewing – Coxe Ave, and Hi-Wire South Slope are all nearby.
Save The Best Breweries In Asheville For Later
Catawba Brewing Co.
South Slope: 32 Banks Ave; Asheville, NC 28801; 828-552-3934
Biltmore Village: 63 Brook St.; Asheville, NC 28803; 828-424-7290
Website: https://catawbabrewing.com/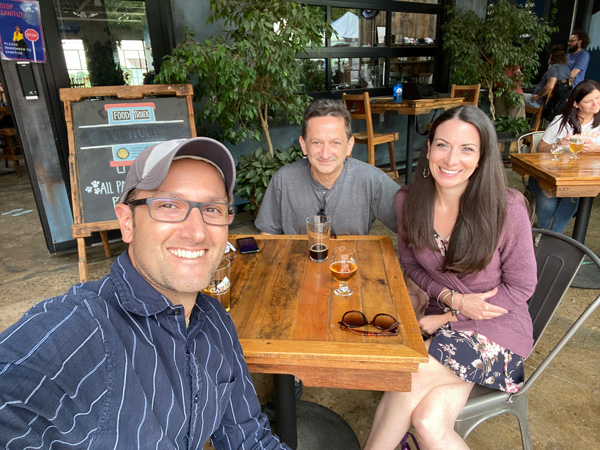 One of the most popular breweries in Asheville, Catawba Brewing Co. won't disappoint. I love the chic warehouse feel with hanging chandeliers at their South Slope location. Find food trucks, too.
Catawba Brewing also has a taproom at Asheville's Historic Biltmore Village. Head to Biltmore Village for lunch at The Cantina. Then, beer hop to Catawba, Hillman Beer, and French Broad River Brewing.
What's not to love about Catawba? They make delicious white ales and play with flavors like orange, pumpkin, coffee, coconut, peach, and lime.
Of course, find Stouts, IPAs, Porters, Browns, Ambers, Sours, Saisons, and even Cream Ales. I pretty much always need to order a beer flight here because I can just never pick one beer.
---
Looking for some grub to soak up all of the beer? Head to our Asheville Restaurants Guide.
---
Hi-Wire Brewing
Big Top: 2A Huntsman Pl; Asheville, NC; 828-738-2451
South Slope: 197 Hilliard Ave; Asheville, NC; 828-738-2452
Website: https://hiwirebrewing.com/home/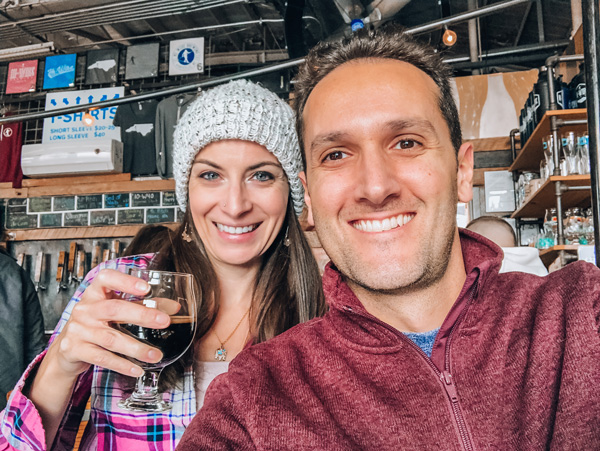 I might also be a little biased toward the Asheville breweries around South Slope…which I am realizing as I write this.
Hi-Wire has breweries across North Carolina, including in Durham and Wilmington. They also have a Knoxville location — a great day trip from Asheville.
In Asheville, find Hi-Wire Brewing at South Slope and Big Top/Biltmore Village. The Biltmore Village location is a little wild with traffic and congestion, though.
We love Hi-Wire's South Slope taproom for its rainbow murals and ideal location for a day of beer-hopping. Hi-Wire is great for Lagers and Sour beers.
They usually have a Brown Ale and IPA or two, too. Don't miss some of the Pack library archive pictures in the restrooms at South Slope that feature interesting Asheville history.
All Sevens Brewing (777)
Address: 777 Haywood Rd, Asheville, NC 28806
Phone Number: (828) 225-9782
Website: http://allsevensavl.com/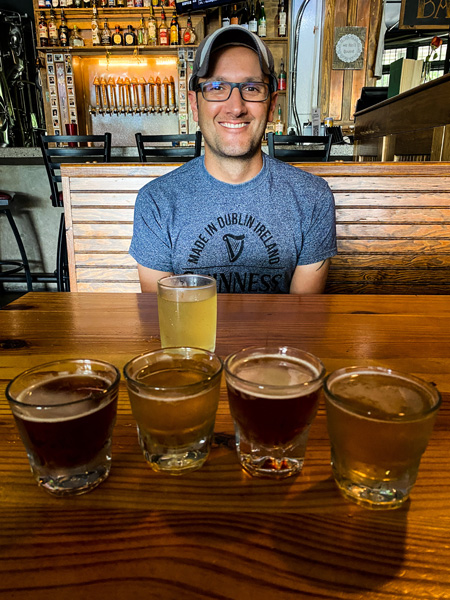 One of our personal favorite breweries in West Asheville, All Sevens Brewing has all of the beers that we crave: Amber, Hefe, Kolsch, Nut Brown, ESB, Helles, and Blonde.
All Sevens Brewing is a part of the Westville Pub — think food — and they are one of the smaller breweries in Asheville. Their beers come straight from the brite tanks.
This area is perfect if you want to say 'hello' to Gus Cutty's RuPaul and Dolly Parton mural, grab vegan cheese from the West Village Market, or enjoy a quirky dinner at Jargon.
Most Well-Known & Popular Breweries In Asheville, NC
We've shared our favorite Asheville breweries as locals, but we also always get asked what are the most popular and best breweries in Asheville that tourists (and sometimes locals) love.
Below are what many consider to be downtown Asheville brewery musts, although remember that all of the Asheville breweries on this list are great for different reasons.
Green Man Brewery
Address: 27 Buxton Ave.; Asheville, NC 28801
Phone Number: 828-252-5502
Website: http://www.greenmanbrewery.com/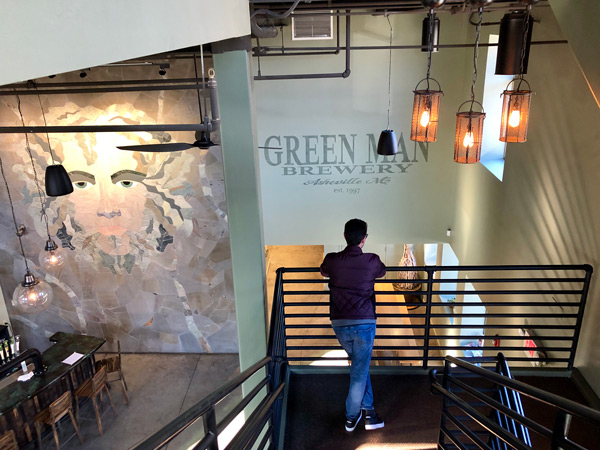 Green Man is one of North Carolina's and Asheville's original breweries, popping up in 1997. Their massive main location is three stories high with multiple bars, rooftop seating, a zen garden, and views of their brewing process.
Dirty Jack's is located right next door, which is an equally fun bar.
I prefer Green Man's Lagers, but you can also grab IPAs, Ambers, ESBs, Porters, and Sours while stocking up on their endless schwag. Green Man has a modern and sleek taproom along with the iconic Green Man logo that guards all brews.
In many cultures, the Green Man is a symbol of rebirth, and it's fair to say that Asheville has grown into quite the destination.
---
Do you love a good distilled bevie? Be sure to check out these Asheville Distilleries.
---
Wicked Weed Brewing
Downtown Brewpub: 91 Biltmore Ave. Asheville, NC 28801; 828-575-9599
Funkatorium: 147 Coxe Ave., Asheville, NC 28801; 828-552-3203
Wicked Weed West: 145 Jacob Holm Way, Candler, NC 28715; 828-365-7166
Website: https://www.wickedweedbrewing.com/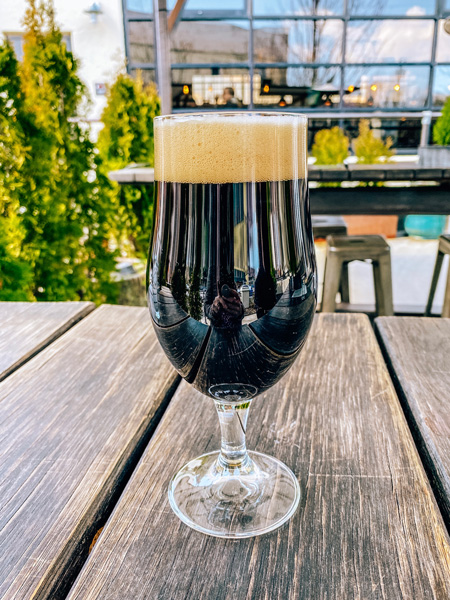 I'm pretty sure that Wicked Weed is one of the most popular and sought out breweries in Asheville, NC. We love them, but as locals, we also stay away during peak seasons.
Wicked Weed gets packed — and rightfully so.
With cozy indoor seating — we usually squeeze in at the bar — and an outdoor, dog-friendly patio with firepits that overlook bustling Asheville, Wicked Weed Brewing is an Asheville hot spot.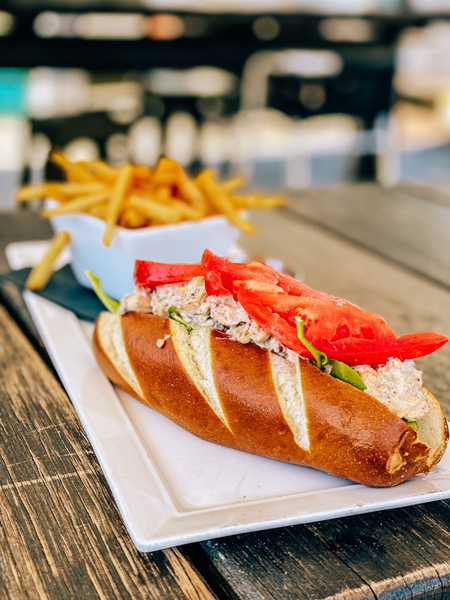 You can grab a full menu of food, including sandwiches, burgers, and heavier entrees like salmon and steak. Of course, you can snack on a pretzel or hummus while trying one of their foamy beers.
The drink selection at Wicked Weed is impressive with cocktails, red and white wine, ciders, and Asheville beer, beer, beer.
I'm always a fan of their fall seasonal brews, and like Catawba Brewing, they love to play with flavors, including lavender, cherries, chocolate, and chai. They'll also have the hops.
Closer to Twin Leaf and Chemist Distillery in the South Slope, if you love sour beers, you'll want to head to the Funkatorium – owned by Wicked Weed. This is the East Coast's first sour beer dedicated taproom.
The Funkatorium has an outdoor Biergarten to enjoy Rosé and sours on tap. Find a bunch of flavors to zap your taste buds with including elderflower, raspberries, grapefruit, tropical fruit, vanilla, and cherries.
You can also taste a few of these sours at Wicked Weed.
Burial Beer Company
Address: 40 Collier Ave.; Asheville, NC 28801
Phone Number: 828-475-2739
Website: https://burialbeer.com/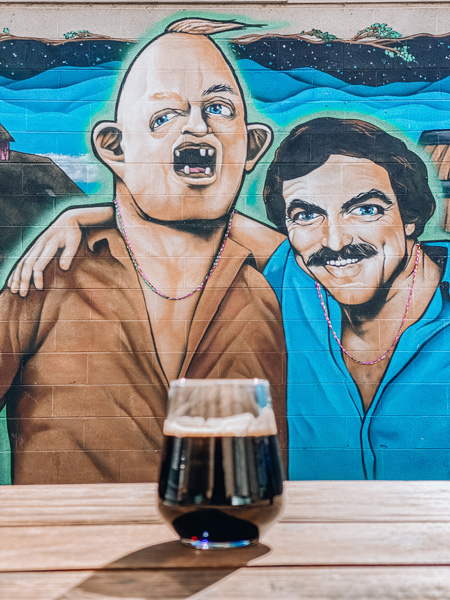 Like Hi-Wire, Burial Beer Company has breweries across North Carolina, including South Slope in Asheville and Raleigh.
They also run the Forestry Camp Bar and Restaurant, which highlights locally-sourced Appalachian cuisine.
True to their namesake, Burial beers have pretty spooky and ominous names like 'A Guillotine of Contemplation' and 'The Shattered Remains of Nothingness.'
Here, you can grab food and an Imperial Stout, Barrel-Aged Sour, or India Pale Ale.
Bhramari Brewing Company
Address: 101 S. Lexington Ave.; Asheville, NC 28801
Phone Number: 828.214.7981
Website: https://www.bhramaribrewing.com/home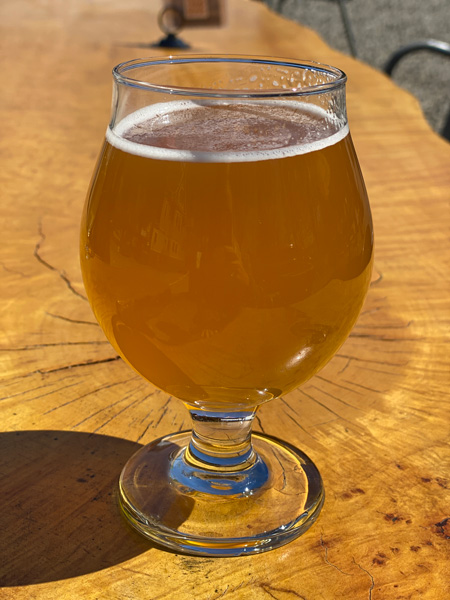 Before we moved to AVL, Bhramari was one of the first breweries in Asheville, NC that we ever visited. Why? Because we heard that they made the wildest beer concoctions.
And YES, they most definitely lived up to this reputation.
With beehive-like Edison lights and what I can only describe as tree-discs stuck to the walls, Bhramari feels a little smaller than all of the breweries in Asheville but packs a whole lot of heart.
You can dine on weekly food specials as well as burgers, pizza, peanuts, and/or nachos while sipping on one of their experimental beers.
They usually play with a few Goses, add some magic to India Pale Ales, fruit up some Berliner Weisses, and add something rich to their Stouts.
The beers change often, and you'll want to try as many as possible. If traditional beers are your jam, though, I'm not sure you will appreciate this beer selection.
Highland Brewing
Address: 12 Old Charlotte Highway, Suite 200; Asheville, North Carolina 28803; 828-299-3370
S&W Market Location: 56 Patton Ave, Asheville, NC 28801
Website: https://highlandbrewing.com/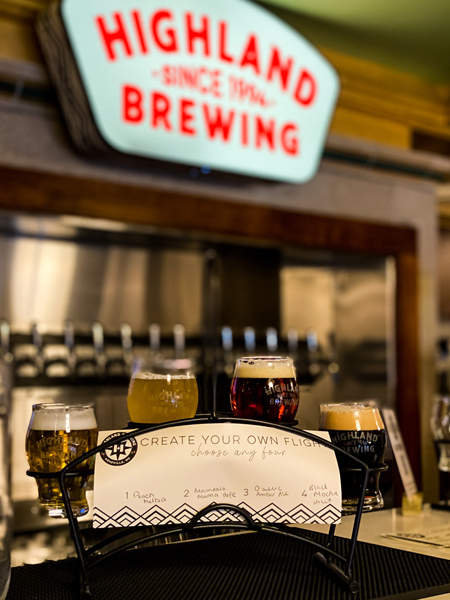 Highland Brewing started a little before Green Man in 1994. Highland offers year-round brews as well as small-batch rotating flavors.
Find a little bit of everything with White, Wheat, Pilsner, IPA, Red Ale, and Stout beers. We highly suggest a flight.
New for 2021, Highland Brewing also has upper and lower level bars at the new S&W Market. Along with your beer, you can munch on tacos, fried chicken sandwiches, and hot dogs.
A Notable Asheville Brewery Mention:
Biltmore Brewing Co. — Biltmore Estate House Brews — Although not a brewery, Biltmore makes their own in-house brews that you can order at Cedric's Tavern. They are delicious, and Cedric's — named after the beloved Biltmore pooch — is perfect for lunch or dinner.
Don't Forget To Save Your Favorite Breweries In Asheville For Later
More Downtown Asheville Breweries
Are you looking for more breweries in the heart of downtown?
Many of the best breweries in Asheville, NC mentioned above are around or close to South Slope, including Bhramari, Burial, Green Man, Wicked Weed, and the Funkatorium.
Below are a few more of our personal favorite downtown Asheville breweries near restaurants like Tupelo, Red Ginger, and Farm Burger.
One World Brewing
Downtown AVL Address: 10 Patton Ave #002; Asheville, NC 28801; 828-785-5580
West Address: 520 Haywood Road; Asheville, NC 28806; 828-575-9992
Website: https://oneworldbrewing.com/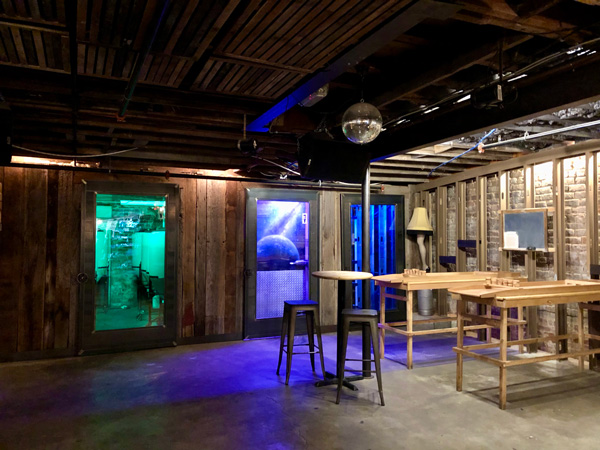 One World Brewing is one of the downtown Asheville breweries that is a little quieter. They also have a location over on Haywood Road.
We enjoy the downtown taproom, which sits underground near Farm Burger and is decorated with A Christmas Story leg lamp and other funky colored lights. Of course, there are alien vibes, too.
For beers, they have a little bit of everything. If you are looking to escape the bad weather on a rainy day or hide from the crowds, One World is a chill and fun place to be.
Urban Orchard Cider Company
South Slope Address: 24 Buxton Ave; Asheville, NC 28801; 828-505-7243
West Asheville Location: 210 Haywood Rd; Asheville, NC 28806; 828-774-5151
Website: https://www.urbanorchardcider.com/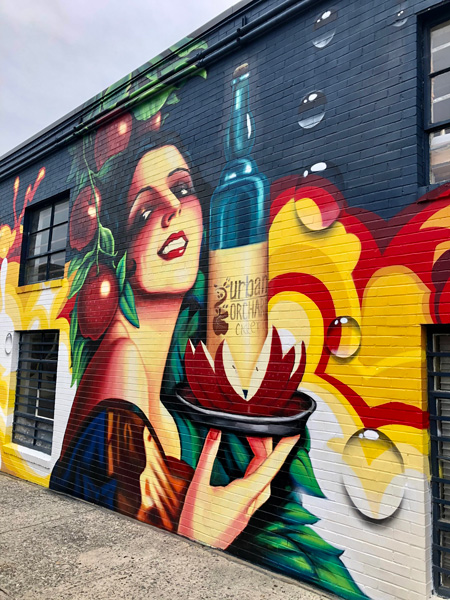 Tom has Celiac Disease, which means that he is either ordering cider, mead, or wine at many of these downtown Asheville breweries. Sometimes, the breweries will have a reduced-gluten beer on tap, too.
However, Urban Orchard Cider Company is for him. In the winter, I am always stoked to see Gluhwein on the menu.
Although technically a cidery, I'm including Urban Orchard on this list. It's still an Asheville must.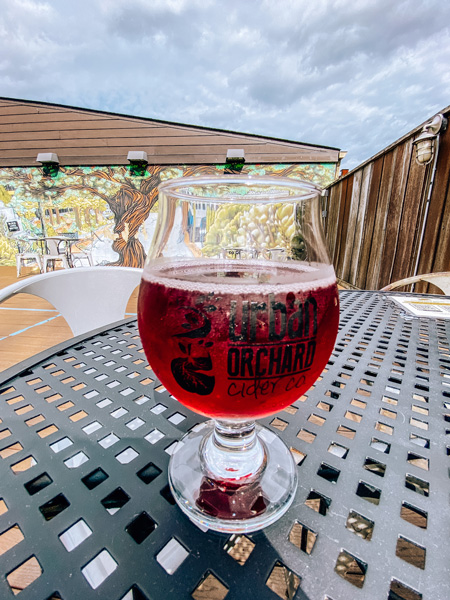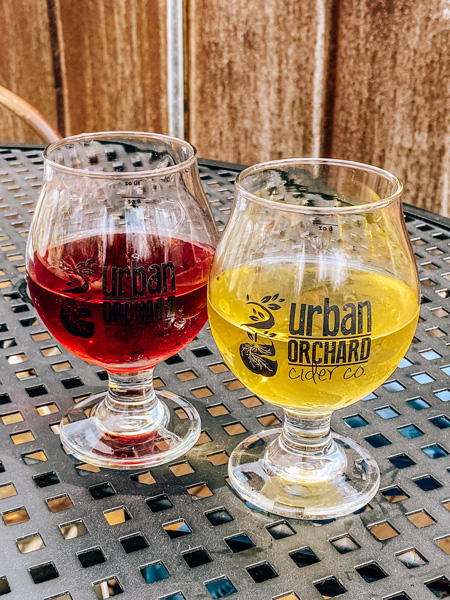 Urban Orchard South Slope is a gorgeous building near Catawba Brewing. You cannot miss its vibrant street art out front.
Head inside to an open and modern taproom. Here, you can try a variety of apple ciders with hops, ginger, fruits, or spices.
Cider isn't for everyone, but give it a try at least once. You never know!
Breweries In Asheville Around Historic Biltmore Village
Hillman Beer
Address: 25 Sweeten Creek Rd, Asheville, NC 28803
Phone Number: 828-505-1312
Website: https://www.hillmanbeer.com/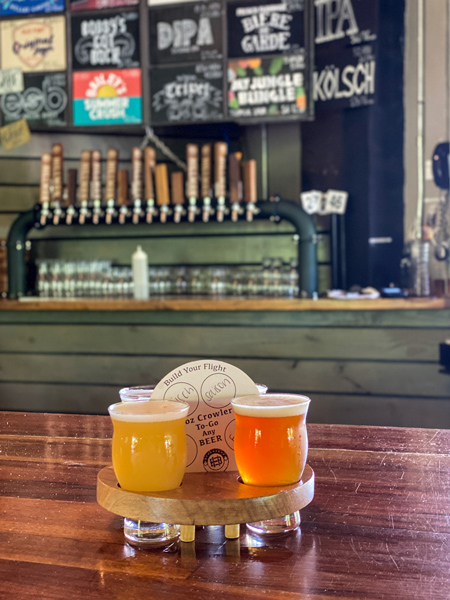 If you are touring around Biltmore or dining in Historic Biltmore Village, be sure to head over to Hillman Beer. They produce some of my favorite beer styles including an ESB, Hefeweizen, Brown Ale, and Saison.
With an airy taproom, we also love to sit outside on the back patio. Park yourself at a picnic table with a running creek. This brewery is also dog-friendly.
Historic Biltmore Village houses a secondary Asheville brewery location for Catawba Brewing, and you can find Thirsty Monk.
French Broad River Brewery
Address: 101 Fairview Rd D, Asheville, NC 28803
Phone Number: 828-277-0222
Website: https://www.frenchbroadbrewery.com/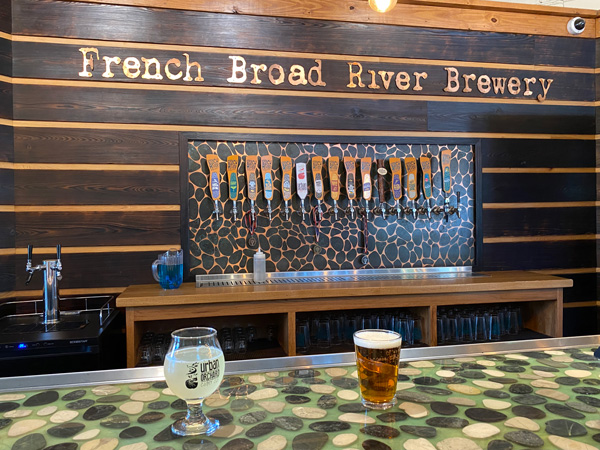 I love grabbing French Broad River Brewery's Kölsch at our local Ingles grocery store. Located on the outskirts of Historic Biltmore Village — but still walkable — don't miss their taproom.
You can sit inside or outside. Just keep in mind that on a warm day, their taproom doesn't have AC. It gets a little steamy in here. French Broad River Brewery serves up IPAs, an ESB, my beloved Kölsch, Stouts, and Porters.
French Broad River Brewery is also in the same area as Edna Ryne Distilling Company. Hillman Beer is just a short walk across the street.
Thirsty Monk
Biltmore Park Address: 2 Town Square Blvd #170; Asheville, NC, 28803; 828-687-3873
Top Of The Monk: 92 Patton Ave, Asheville, NC 28801; 828-254-5470
Website: https://thirsty-monk-brewery.square.site/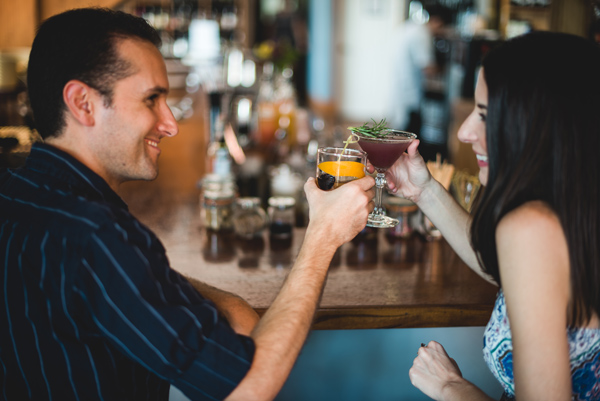 Thirsty Monk is one of our personal favorite breweries in Asheville, and we are waiting to see what becomes of the former downtown location. The Citizen-Times has an article here.
For now, if you are looking for a rooftop bar with cocktails, head upstairs to Top of the Monk. Or, drive over to their Biltmore Village location for grub and beer.
Thirsty Monk offers a little bit of every beer style. We will miss their Belgium beers in the basement of their Patton Ave. location.
Best Breweries In North Asheville, Woodfin, & River Arts District (RAD)
Ginger's Revenge
Address: 829 Riverside Dr. Suite 100, Asheville, NC 28801
Phone: 828-505-2462
Website: http://www.gingersrevenge.com/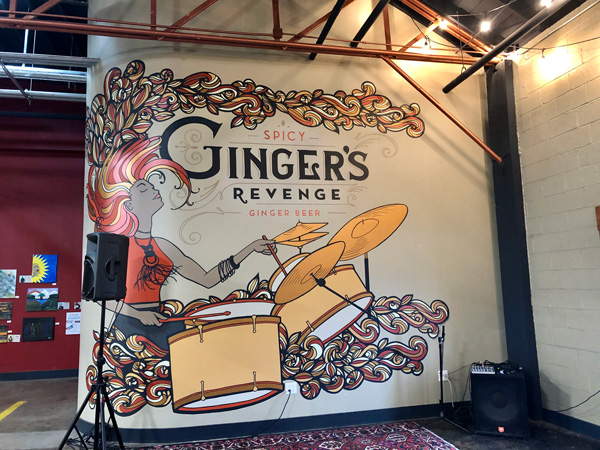 Along the lines of Asheville cideries and gluten-free beer, Ginger's Revenge is another hot spot. Although ginger beer takes a little getting used to, you have to try it. It's good for your stomach, right?
I love Ginger's Revenge's warehouse vibes. You can hear the ginger beer brewing. Their 'ginger' mural is the backdrop for live music. They also have board games and are a kid-friendly Asheville brewery.
Encounter ginger beer flavored with fruits and spices. I love when their fall pumpkin releases and anything with lavender is for me. If they still have the Arnold Palmer ginger beer on tap, get it!
All of Ginger's Revenge's ginger beers are naturally gluten-free and are made with 95% organic ingredients. And YES, they contain alcohol.
Don't forget that if you head north, Zillicoach is nearby. If you head south, you'll hit the River Arts District (RAD), passing the famous AVL silo, Wedge Brewing (both locations), and pleb urban winery.
Wedge At Foundation
Wedge At Foundation Address: 5 Foundy Street; Asheville, NC 28801; 828-253-7152
Wedge Brewery Studio Location: 129 Roberts St, Asheville, NC 28801; 828-505-2792
Website: https://www.wedgebrewing.com/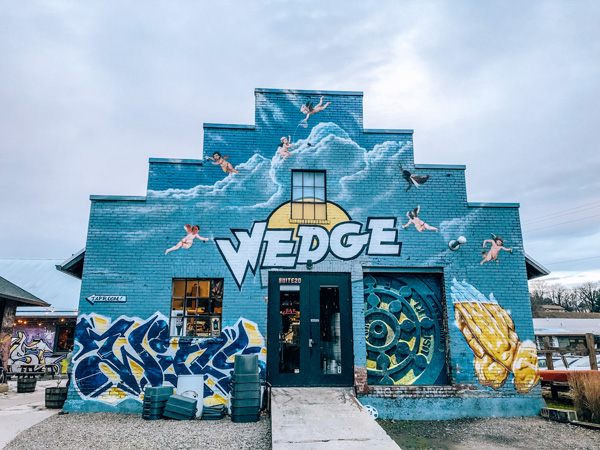 For the best breweries in Asheville, Wedge Brewing is another one that we always recommend to travelers. There are two locations: Foundation — deeper into the River Arts District with pleb urban winery — and Studios — closer to the Asheville silo.
We love the Foundation location because you are in the heart of RAD. Sip beer on their outside patio surrounded by urban street art, a skate park, shops, cafes, pleb urban winery, and artist studios.
Inside is pretty cozy, too, and we usually pull up a stool and vacation plan here.
Visitors can drink IPAs, Pilsners, Stouts, Lagers, Golden Ales, Cream Ales, and even Sours. For ambiance and location, Wedge Brewing has it all.
Riverside Rhapsody Brewery
Address: 995 Riverside Drive; Woodfin, NC 28804
Phone Number: 828-575-2370
Website: https://www.riversiderhapsody.com/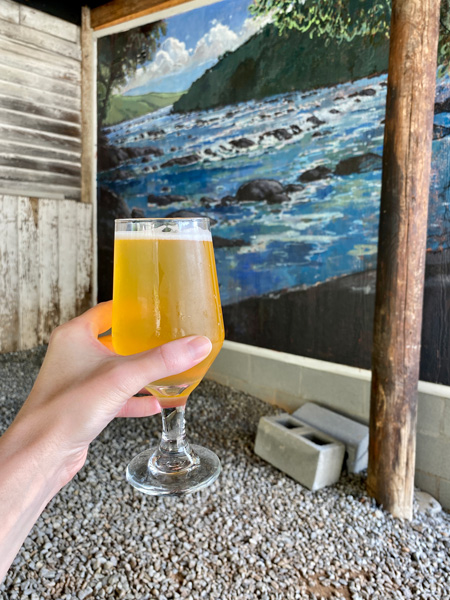 Riverside Rhapsody is one of the most hidden breweries in Asheville/Woodfin. Just across the street from the French Broad River, find a little wooden structure filled with Saisons and lighter beers.
You can sit at a covered picnic table or grab a bar stool and sit in the sun at a wine barrel. Their selection is a little smaller than the downtown Asheville breweries, but you'll enjoy the quiet at this more local joint.
Mentioned above, Zillicoah Brewing and one Asheville Pizza and Brewing location are out this way as well.
Not-To-Miss West Asheville Breweries
Don't miss the breweries in West Asheville – a hipster Asheville neighborhood filled with gorgeous murals, great food, and a more laid-back, hipster scene.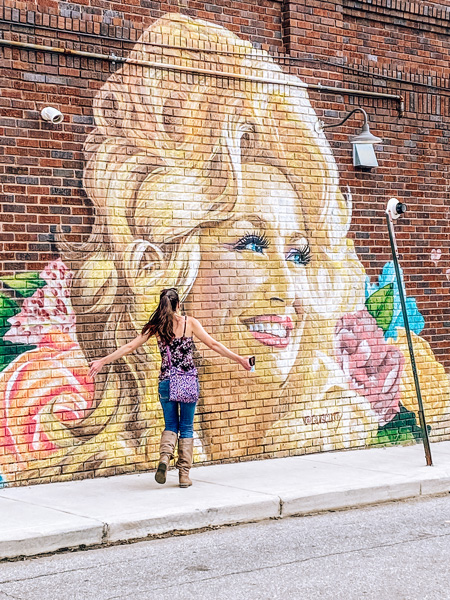 West Asheville is home to the famous Dolly mural, Hole Doughnuts, and Urban Orchard Cider Co. West.
Archetype Brewing
West Asheville: 265 Haywood Rd, Asheville, NC 28806; 828-505-4177
Downtown Asheville: 174 Broadway St, Asheville, NC 28801; 828-505-8305
Website: https://archetypebrewing.com/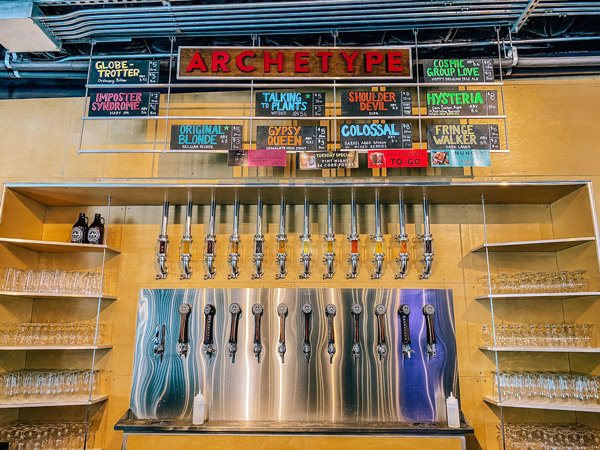 One of the best breweries in West Asheville, don't skip Archetype Brewing. This brewery is guarded by a Joan of Arc mural created by Ian the Painter. Honestly, we get some GOT vibes from it, too.
Archetype has a gorgeous new rooftop seating area that overlooks downtown. You can also sit on two different patios and enjoy a quieter ambiance than Central AVL.
The beers are named after their actual archetype, and this Asheville beer company believes in clean and mindful bevies. I love their lighter beers. Find quirky Saisons with sour hints and Belgians.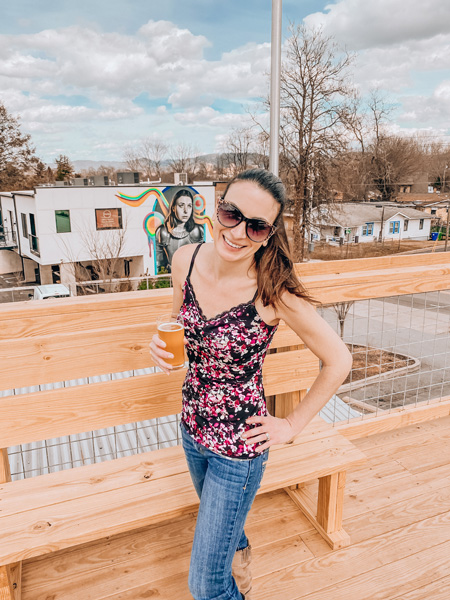 UpCountry Brewing
Address: 1042 Haywood Rd, Asheville, NC 28806
Phone Number: 828-575-2400
Website: https://www.upcountrybrewing.com/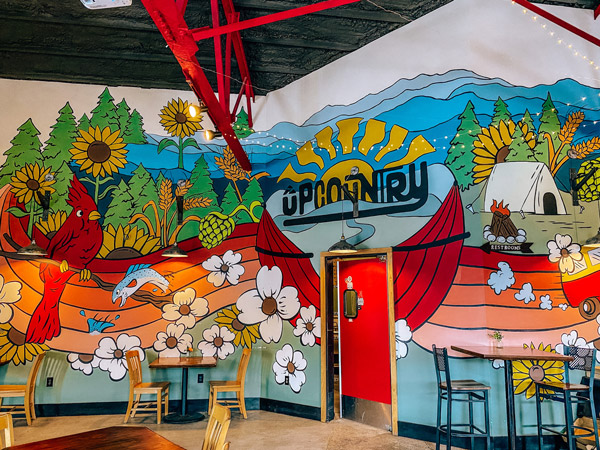 With locations in West Asheville and Brevard, UpCountry is a delicious brewery in Asheville for pizza and beer.
Although located on busy Haywood Road, you feel like you are sitting in your best friend's backyard with a brew and delicious bites.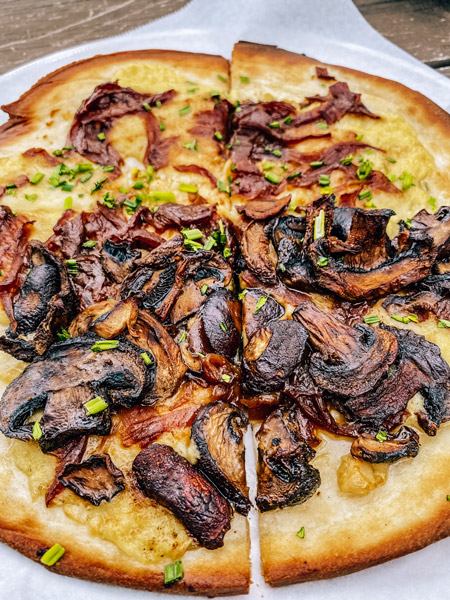 UpCountry Brewing epitomizes West Asheville with its stellar murals, a super chill vibe, and delicious food.
Order the Gratta Pizzeria pizza — you can smell it before you even walk in. And yes, they have gluten-free crust and vegan cheese from Darë.
Larger & Nationally-Known Breweries In Asheville
I saved the biggest breweries in Asheville, NC for last because they are a little more tourist-geared but also fun to tour and taste test.
Technically, Sierra Nevada is in Fletcher/Mills River, but it's literally next to the airport so it counts…
Sierra Nevada Brewing Co.
Address: 100 Sierra Nevada Way; Fletcher, NC 28732
Phone Number: 828-681-5300
Website: https://sierranevada.com/visit/north-carolina/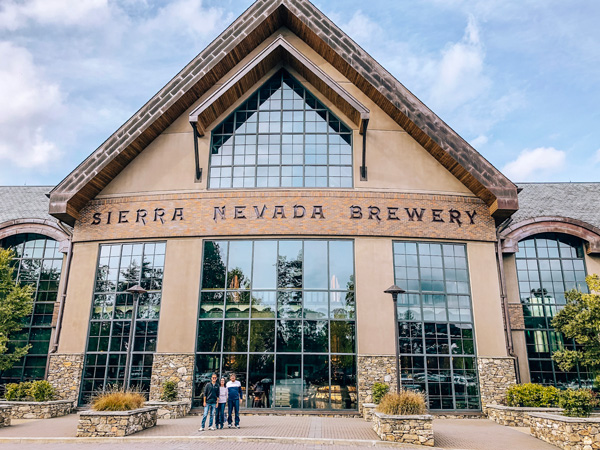 As mentioned above, Sierra Nevada is conveniently located next to the Asheville airport. We tend to stop here before boarding a flight or right when we get back.
If family is flying into town and hungry for lunch, we head over here, too.
We have yet to take a tour, but we love their taproom menu and dropping in for some beer. Order duck fries and try one of Sierra Nevada's famous brews.
To me, Sierra Nevada's beer is hoppy. Sierra Nevada Brewing has a shop and rather impressive grounds.
---
Sierra Nevada is located in Mills River, NC. While you are out that way, don't miss these Incredible Mills River Breweries.
---
New Belgium Brewing Asheville
Address: 21 Craven St.; Asheville, North Carolina
Phone Number: 828-333-6900
Website: https://www.newbelgium.com/brewery/asheville/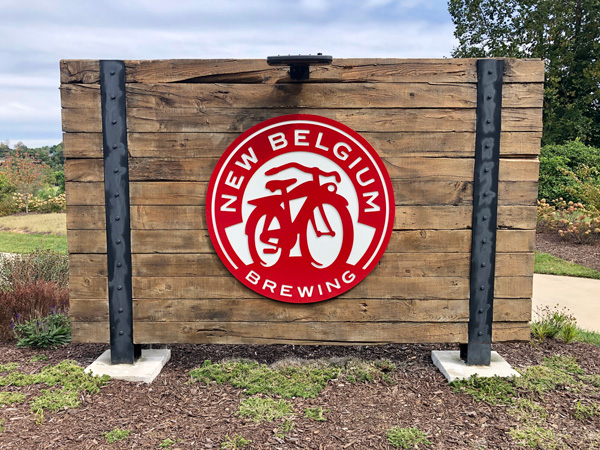 What I consider as one of the most touristy of breweries in Asheville, New Belgium is an icon for Fat Tire. Should you head here? Sure! …And make reservations on Open Table.
Situated next to the French Broad River, enjoy a meal from their rotating food trucks, sit outside along the river, and sip one of their famous brews.
Like Sierra Nevada, we haven't taken an official tour, but you'll find a little bit of everything, including a shop and tons of photo ops.
Beer-Hopping In Asheville? Where Can You Stay?
What are your favorite breweries in Asheville, NC?
What are your favorite Asheville breweries? What are your favorite local Asheville beer flavors? We'd love to hear about your AVL experiences. Tell us all in the comments.
For More NC Breweries:
Best Breweries Near Brevard, NC
Delicious Breweries In Mills River
Where To Drink In Black Mountain
Soak Up That Beer With Some Grub:
Asheville Food & Bevie Guide
Where To Eat In Asheville
See Where Else To Drink In AVL:
Best Wineries In & Around Asheville, NC
Asheville Distilleries For All Of Your Spirits
Delicious Local AVL Coffee Shops