Wondering where to stay in Asheville, NC? Explore the best Asheville hotels, Bed & Breakfasts, resorts, and historic inns – from locals.
If you are headed to Western North Carolina and are looking for the best places to stay in Asheville, NC, we got your back, especially as residents.
Whether you are craving those luxury resorts, historic Bed & Breakfasts, quaint inns, or Downtown Asheville hotels, you'll find something for everyone in every price range.
Find boutique hotels, cottages, romantic getaways, and suites. Many of these places to stay in Asheville are kid and pet-friendly too.
We'll talk about the best amenities – pools, parking, spas, and breakfast – along with things to do nearby each Asheville accommodation.
So, keep reading to explore the best places to stay in Asheville that we, our friends and family, and our readers most love.
Keep in mind that "best" is subjective, and we'd love to hear your favorite Asheville, NC hotels in the comments. Let's get started!
*Please remember that B&Bs and hotels in Asheville tend to book up quickly, especially in the fall, spring, and around holidays. Make dinner reservations wherever you can, as well.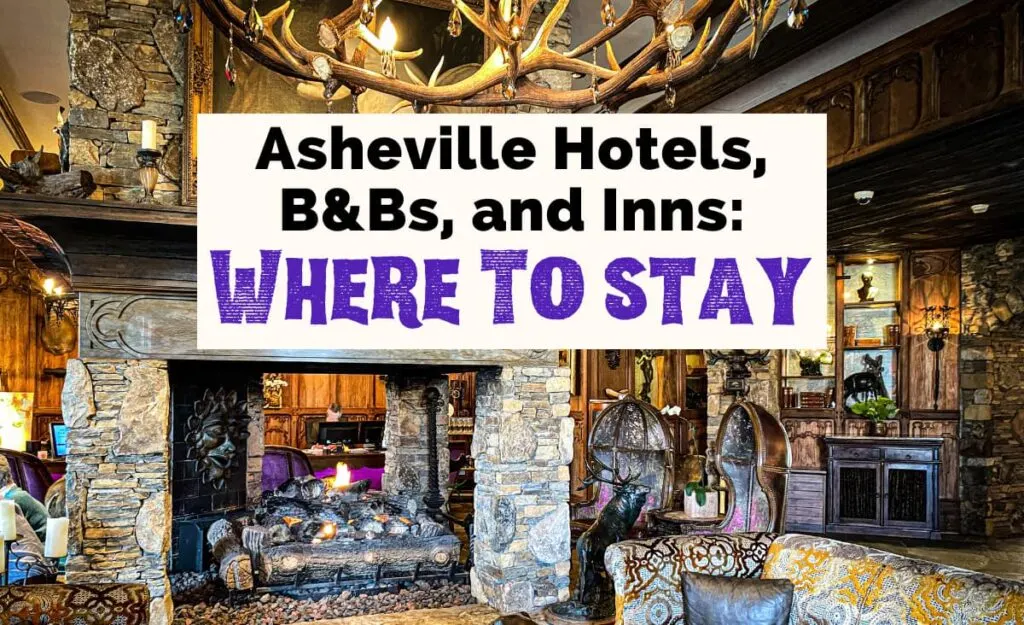 This post may contain affiliate links that earn us a commission at no extra cost to you. If you love these guides, support Uncorked Asheville here.
Best Places To Stay In Downtown Asheville
Downtown Asheville is the perfect place for your home base if you are only spending a short weekend in the city. Sleep in the heart of it all, and find endless things to do.
A few pros of the Downtown Asheville hotels:
Staying in the city center, which is lively on weekends
Walking distance to the best Downtown restaurants and eateries
Instant access to terrific boutiques and local shops
Sleek, luxury hotels with amenities like brunch and pools
Short drive to other popular Asheville neighborhoods and attractions
Access to great museums, including the Asheville Art Museum and Asheville Museum of Science
Cons of staying in Downtown Asheville:
Pricer hotels
On weeknights, Downtown is quieter (things close earlier)
Panhandlers
More congested on the weekends
Might have to pay for self-parking or valet
Aloft Asheville Downtown
If you are looking for places to stay in Downtown Asheville, the Aloft Asheville Downtown is newly renovated (2020). Fall in love with the outdoor pool and easy access to shops and restaurants.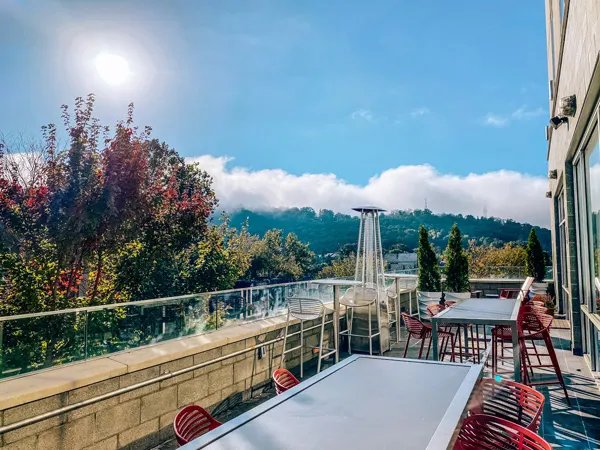 A Marriott property, we've worked with Aloft to showcase local businesses and have taken multiple tours of their gorgeous renovations.
You'll love Aloft's vibrant murals, updated rooms, and sprawling public areas. Aloft hosts live music, has a sleek bar with selfie mirrors, and features a patio space overlooking bustling Downtown Asheville.
Did we mention the rooftop pool with breathtaking mountain views? For the best hotels in Asheville, Aloft is trendy, modern, and clean.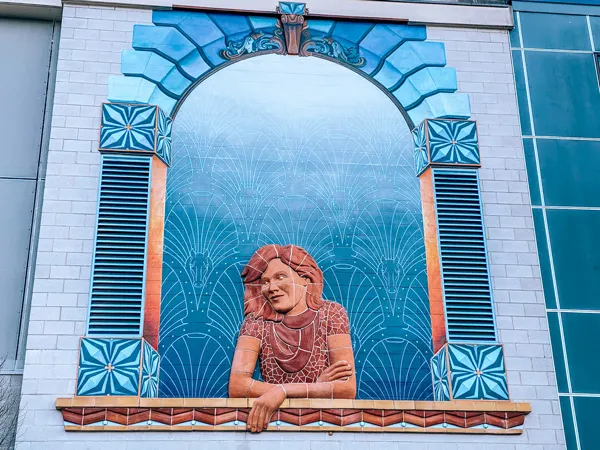 We recommend staying at Aloft for a celebratory trip with friends.
You'll find Chestnut, The Blackbird Restaurant, Double D's – one of Asheville's coolest coffee shops – and Barley's Taproom nearby.
Look for the Daydreamer mural and Marked Tree Vineyard Tasting Room – one of Asheville's delicious wine bars – on Biltmore Ave.
Stay At Aloft: Book your stay here | Address: 51 Biltmore Ave, Asheville, NC 28801
The Foundry Hotel Asheville
Another gorgeous place to stay in Asheville, be sure to check out The Foundry Hotel. This is a prime location and 4-star property perfect for a romantic weekend getaway for couples.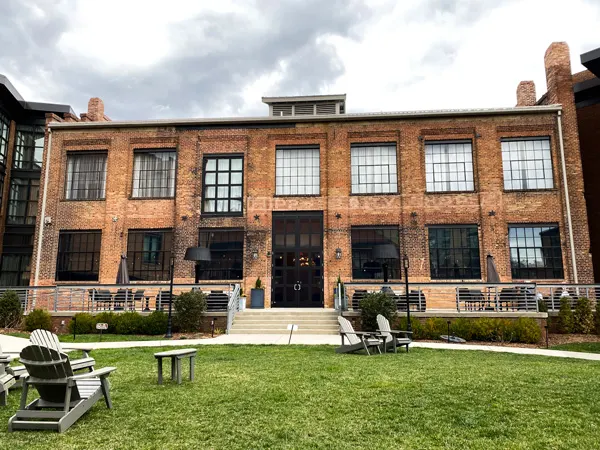 Stroll up to the historic brick facade and sprawling green grass dotted with firepits and comfy chairs. The Foundry is a nod to Asheville's industrial history.
Glowing candle sconces will make you question if you entered quaint Charleston, SC instead – and you'll forget that right outside, Asheville's bustling downtown awaits you.
In this corner of Asheville, also celebrate the history and people of "The Block," Asheville's oldest Black neighborhood and business district.
You can't miss Triangle Park's fabulous murals – a tribute to the people who lived and worked here.
The Foundry Hotel might also sound familiar for Benne on Eagle, its famous Appalachia-style eatery, which is just one of Asheville's unforgettable restaurants.
Benne on Eagle's former Chef, Ashleigh Shanti, competed on Top Chef.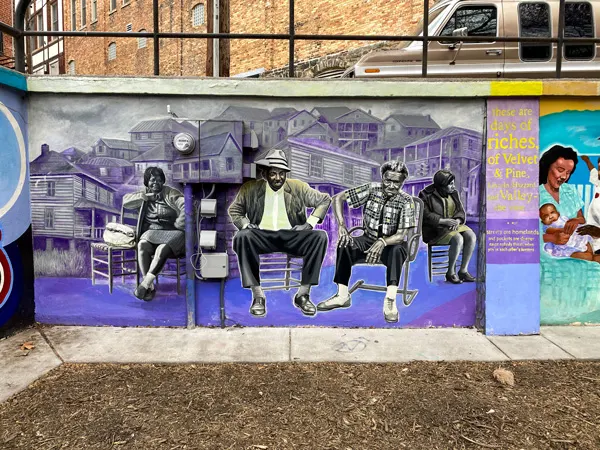 Inside, head to The Foundry's jaw-dropping bar and lounge, which features craft libations in the trendiest space. In fact, many have wedding and engagement pictures taken here.
For those wondering where to stay in Asheville with elegance and character, The Foundry is it.
Close to Aloft Hotel, walk to one of Asheville's delicious breweries like Dssolvr and One World.
For Asheville brewpubs and taverns, Wicked Weed and Pack's Tavern are around the corner along with Pack Square – home to festivals, a park, and music.
Order some of Asheville's best desserts from Old Europe, Asheville Chocolate, or French Broad Chocolate Lounge.
For nearby AVL fine dining, enjoy Limones, Posana – with a dedicated gluten-free kitchen – and Cúrate.
Stay At The Foundry: Book your stay here | Address: 51 S Market St, Asheville, NC 28801
DoubleTree by Hilton Asheville/Downtown
One of the best places to stay in Asheville for location and drinks with beautiful views, you cannot miss the DoubleTree by Hilton (Downtown). Easily spotted from the highway, they are famous for The Montford Rooftop Bar.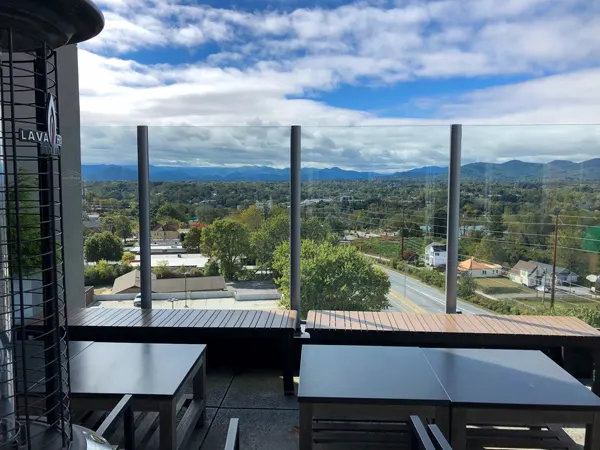 Double Tree is one of the Asheville hotels you see from I-240 on your way into Downtown Asheville.
As locals, we love heading over to DoubleTree for drinks and grub at one of the best rooftop bars in Asheville, The Montford Rooftop Bar.
Here, spy gorgeous views of Asheville, especially its Historic Montford neighborhood.
You'll have access to the indoor pool, WiFi, and 24-hour fitness center. They also have pet-friendly rooms. Just keep in mind that you'll have to pay for self-parking.
This property is conveniently located near the Historic Grove Arcade, which is full of great shopping and places to eat like Well-Bred Bakery, Asheville Proper, and Huli Sue's BBQ.
Be sure to check out the Battery Park Book Exchange, one of Asheville's most famous bookstores, filled with used books and a champagne bar. Grab a literary cocktail.
Stay At The DoubleTree: Book your vacation now | Address: 199 Haywood St, Asheville, NC 28801
More Popular Downtown Asheville Hotels
For more great places to stay in Asheville, also check out these equally great Downtown hotels.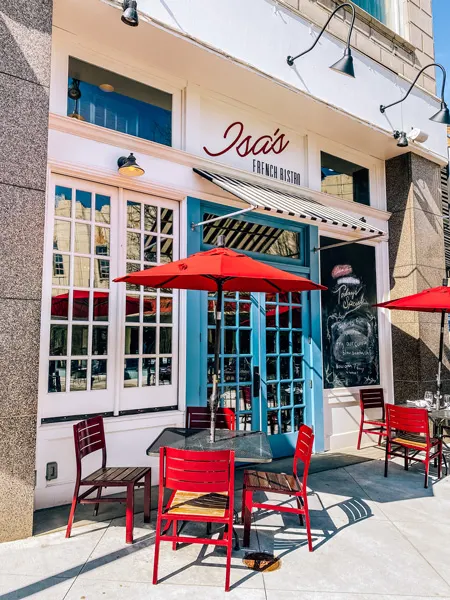 Where To Stay In Asheville Outside Of Downtown
Before moving to AVL, we stayed in numerous hotels and Bed & Breakfasts when visiting. If you prefer staying near Asheville that's still a short drive from Downtown, we recommend checking out some of Asheville's most coveted neighborhoods.
Our top recommended neighborhoods and places to stay in Asheville include South Asheville, Biltmore Village, West Asheville, Montford, and North Asheville.
The pros of staying outside of the city center:
Less congestion
Cheaper accommodations
More family-friendly options
Easy access to outdoor activities like the Blue Ridge Parkway and hiking trails
The cons of staying outside of the city center:
Some areas are not walkable
Requires transportation like a car
Will have to drive for meals or order takeout
More secluded
Asheville Cottages
If you are looking for non-hotel options perfect with family or an intimate friend group, Asheville Cottages is by far one of the absolute best places to stay in Asheville, NC. Think hot tubs, grills, and luxury cottages.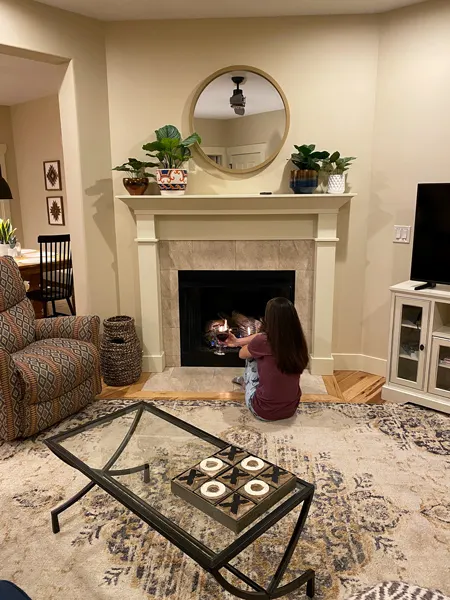 Managed by the Manche family, they gifted us two nights at The Bradford Cottage to have the full experience. We are pretty sure you'll never want to stay anywhere else.
Located in South Asheville, pull up to a private drive and loop filled with one to three-bedroom luxury cottages.
There are centrally-located communal fire pits, and all cottages sit far back from the North Carolina Highway. You won't hear a thing except for your bubbling hot tub.
With a cleanliness score of 100, find all of the amenities you could ever need:
Gas fireplaces
Enclosed and private decks with a grill and hot tub
Heated bathroom floors
Multiple showerheads in the master bathroom
Full kitchens, which are well-stocked with a snack basket, dishes, and cleaning supplies – local coffee included
Beer mugs frosting in the freezer
Sleep number mattresses
Gorgeous garden tubs
Outdoor rocking chairs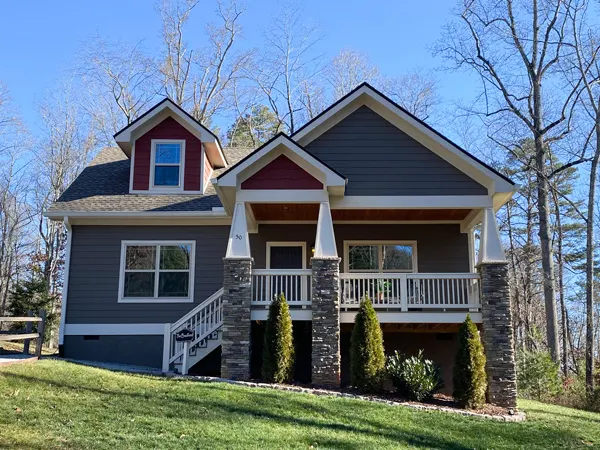 This is truly the best place to stay in Asheville if you are craving a private, luxury experience.
Don't just take our word for it, though; multiple Uncorked Asheville readers have stayed here and loved it too.
Asheville Cottages is conveniently located off of Brevard Road/North Carolina Highway 191 close to the Asheville Outlets, The NC Arboretum, our favorite sub restaurant, Apollo Flame, and a delicious taco joint, Papas And Beer.
Enjoy easy access to top Blue Ridge Parkway hikes like Black Balsam and Mount Pisgah. Or, hop on local mountain biking trails in the Bent Creek Experimental Forest.
Stay at Asheville Cottages: Book your cottage oasis | Address: 29 Asheville Cottage Lane Asheville, NC 28806
Hampton Inn And Suites Asheville Biltmore Area
Wondering where to stay in Asheville with a central location? If you are hoping to see historic Biltmore Estate, travel along the Blue Ridge Parkway, and head Downtown, we loved staying at this trendy, 3-star Hampton Inn. The price is great.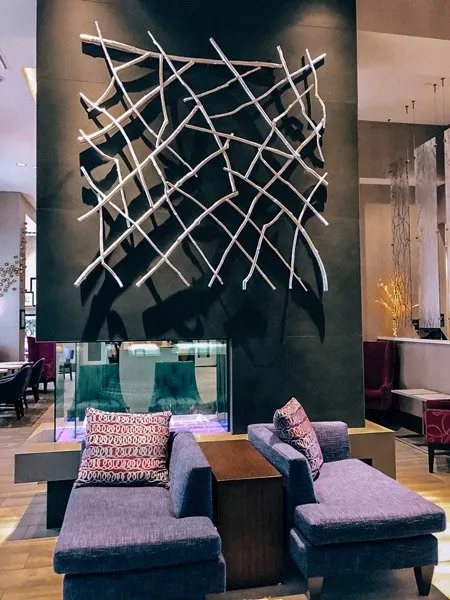 Although the Hampton Inn And Suites (Biltmore Area) sits on busy Brevard Road – NC-191 – across from the Asheville Outlets, it was one of our favorite places to stay in Asheville before moving here.
Also located in South Asheville near the Asheville Cottages, Hampton Inn features a small outdoor patio with a fire pit, bar, free Wi-Fi, free parking, and an indoor pool.
Grab a quick and free breakfast. There's an airport shuttle to the Asheville Regional Airport, pet-friendly rooms, and a fitness center.
Clean, updated, and in the middle of everything, you can easily access Asheville's best neighborhoods, Biltmore Estate, and the Blue Ridge Parkway (BRP).
There are plenty of to-go food options within driving distance too. Read more about our favorite Asheville lunch options, or pack a picnic and head out.
Stay At The Hampton Inn Biltmore Area: Book your stay now | Address: 835 Brevard Rd, Asheville, NC 28806
Grand Bohemian Hotel Asheville
An Autograph Collection Hotel, Grand Bohemian is one of the best places to stay in Asheville if one of your biggest Asheville attractions and musts includes Biltmore Estate. Located in historic Biltmore Village, this area is full of shopping, restaurants, and breweries.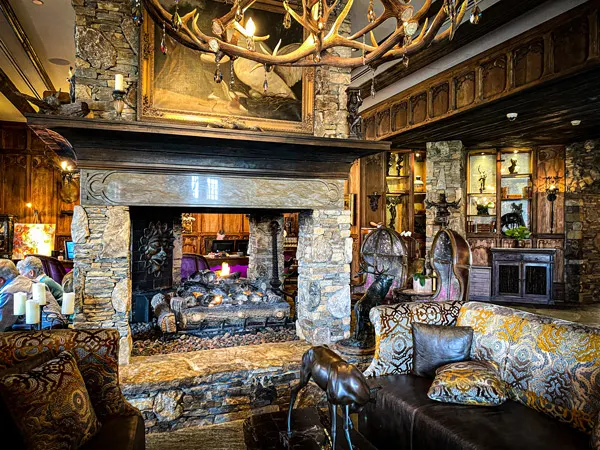 The Grand Bohemian literally sits across the street from Biltmore Estate's gates. It is also about three miles from the heart of Downtown Asheville.
Be forewarned that this area grows congested with traffic, though. It's the one real con along with the noise of the area.
However, similar to The Foundry, Grand Bohemian is one of the coolest and best hotels in Asheville for ambiance, character, and luxury.
Encounter a rustic 19th-century hunting lodge filled with classy 21st-century amenities.
As a 4-star luxury Asheville hotel, enjoy the spa, gym, and business center. Grand Bohemian is pet-friendly and has free Wi-Fi.
If taxidermy isn't for you or you are living a vegan lifestyle, though, this might not be the best place to stay in Asheville.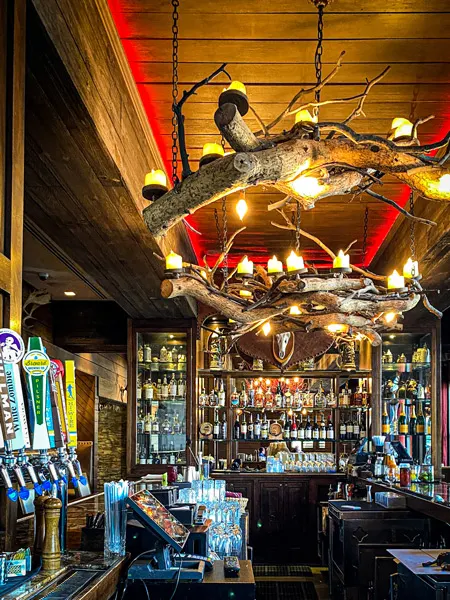 Otherwise, enter a grand lobby filled with a blazing four-sided fireplace, comfy and stylish seating, and the friendliest staff. Showcased in locked containers on the walls, peer in at old hunting rifles.
Glimmering crystals hang from antler chandeliers and spy purple lights and flowery chairs, which lessen the "hunting" feel.
Famous for its Red Stag Grill – where European meets the Carolinas' cuisine – sit at the bar or grab a table for cocktails and some of the most decadent charcuterie in town.
While in Biltmore Village, grab a meal at the famous Corner Kitchen and coffee from Well-Bred Bakery, two awesome Biltmore area restaurants.
Stay At The Grand Bohemian: Book your stay now | Address: 11 Boston Way, Asheville, NC 28803
More Places To Stay Around Asheville
Asheville Resorts & Biltmore Accommodations
Are you craving an overnight in a historic hotel with views of the Blue Ridge Mountains, easy access to the Pisgah National Forest, and luxurious amenities?
Two of the best places to stay in Asheville for history lovers and luxury travelers include Biltmore Estate & The Omni Grove Park Inn. Exploring them is also just one of our top rainy day activities.
The pros of staying on one of these historic properties:
Multiple places to dine on-site
Plenty of on-site attractions
Gorgeous historic buildings
Spas on both properties
Shuttles
Great for the holidays and family reunions
The cons of staying in top Asheville resorts:
Much pricier, especially in tourist season
Typically requires advanced planning and reservations
Feels a bit more "touristy"
The Omni Grove Park Inn – Asheville
Are you wondering where to stay in Asheville that's utterly iconic? Located on Sunset Mountain in North Asheville, The Omni Grove Park Inn is a stunning Asheville resort. Enjoy the world-class spa and cocktails on Sunset Terrace. Grab a bite to eat at their numerous property restaurants.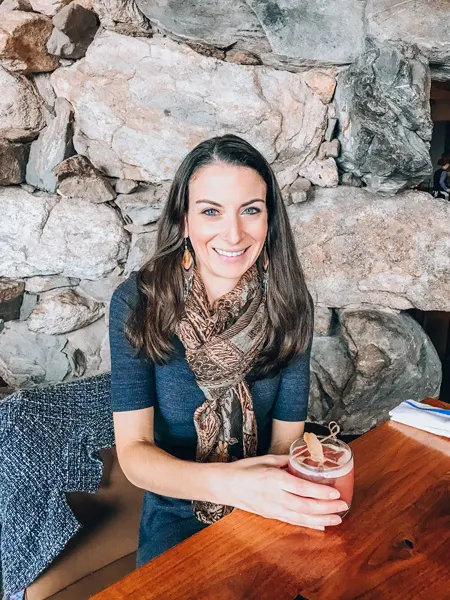 Did you know that F. Scott Fitzgerald summered at the Grove Park Inn while Zelda stayed at Highland Hospital?
Afflicted with numerous illnesses, Grove's doctors recommended that he relocate to Asheville. He was famous for selling quinine to prevent malaria.
In 1913, he opened The Grove Park Inn to the public, just a few decades after the completion of Biltmore Estate.
Today, The Grove Park Inn resembles an adult Disney World resort, boastful of that luxury mountain lifestyle.
It's also one of the most romantic places to stay in Asheville, perfect for a couples' getaway. OK; maybe it's haunted too… There are rumors of the Pink Lady floating around.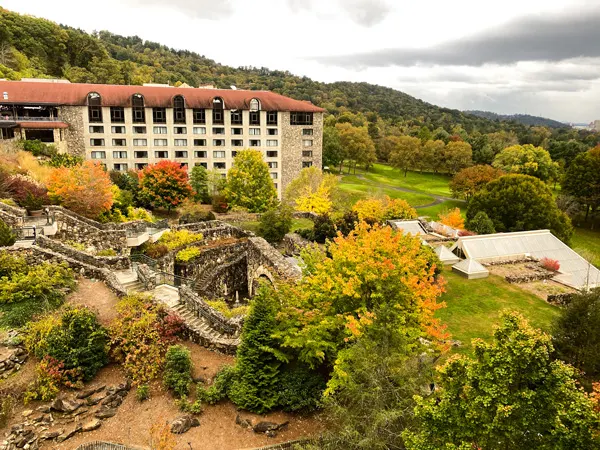 Situated in North AVL, we frequent this breathtaking and historic Asheville resort for drinks at The Great Hall Bar. We also take all of our guests here. It has a huge "wow" factor.
The Grove Park Inn features some of the most intimate restaurants in Asheville. We highly recommend lunch or dinner and delicious seasonal cocktails at Edison.
Plus, The Grove Park Inn is famous for its sunsets, which you can see from the aptly-named Sunset Terrace. Sunset Terrace is another delicious fine dining option.
For even more perks, The Grove Park Inn hosts an annual holiday gingerbread competition and houses a luxury spa – one of Condé Nast Traveler's top resort spas in North America.
Golf and enjoy their indoor or outdoor pools.
Read more about visiting Asheville at Christmas. Along with the gingerbread competition, Biltmore's Candlelight Christmas Evenings are high on our AVL winter traditions.
Stay At The Omni Grove Park Inn: Book Your Well-Deserved Vacation At The Omni Grove Park Inn | Address: 290 Macon Ave, Asheville, NC 28804
Village Hotel On Biltmore Estate
One of Biltmore Estate's best accommodations, the Village Hotel is more budget and kid-friendly than The Inn. This gorgeous Antler Hill Village hotel boasts an outdoor pool and an on-site restaurant and cafe.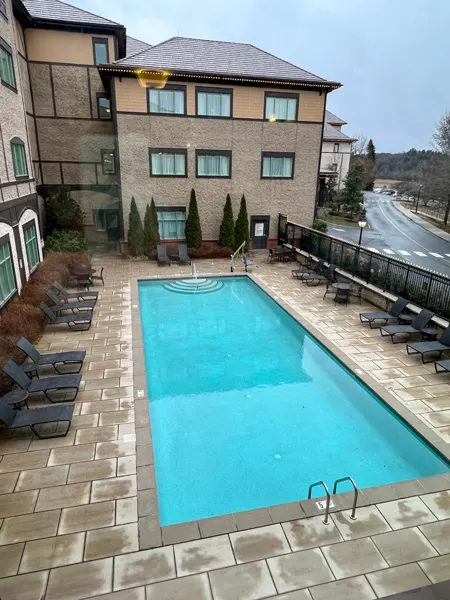 Wondering where to stay in Asheville? Biltmore Estate is America's largest home and the former residence of George and Edith Vanderbilt. The estate is massive.
We have been Biltmore annual passholders for years, and we love taking advantage of their "passholder appreciation" seasons for discounts on food, lodging, and events.
We cannot recommend Biltmore enough for its wine, history, dining, great tours, and gentle hiking and biking trails (over 22 miles!). Yes; that Biltmore ticket price is worth it.
One of the best places to stay in Asheville, The Village Hotel is centrally located on the property – in Antler Hill Village – with moderate prices and spa access.
The amenities are plentiful, and The Village Hotel has an outdoor pool as well as its own restaurant, Village Social. Village Social serves breakfast, lunch, and dinner – with a kids' menu.
Think Southern and traditional American favorites. Egg platters for breakfast, sandwiches, soups, and salads for lunch, and pot roast, steak, and salmon for dinner.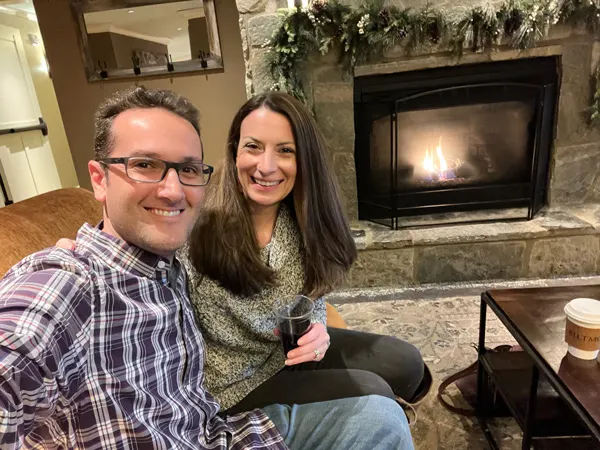 Another great Biltmore dining option, The Kitchen Cafe boasts gourmet lattes and sandwiches, perfect if you are famished upon check-in.
If you are visiting or staying at The Village Hotel, we also recommend lunch or dinner at Cedric's Tavern. Their seasonal cocktails are divine.
Stable Cafe is a delicious kid-friendly AVL restaurant too located in the Vanderbilts' former horse stables.
And, keep in mind that Biltmore is largely family-friendly, especially with the large playground, Bike Barn – perfect for low-key mountain biking, live demonstrations, and the farmyard.
For family-friendly Asheville hotels, this is a great spot.
Stay At The Village Hotel: Book your stay now | Address: 207 Dairy Rd, Asheville, NC 28803
The Inn On Biltmore Estate
If you are looking for places to stay in Asheville that will have you feeling like a Vanderbilt, The Inn On Biltmore Estate is it. This is a luxury 4-star hotel and costs more than their Village Hotel.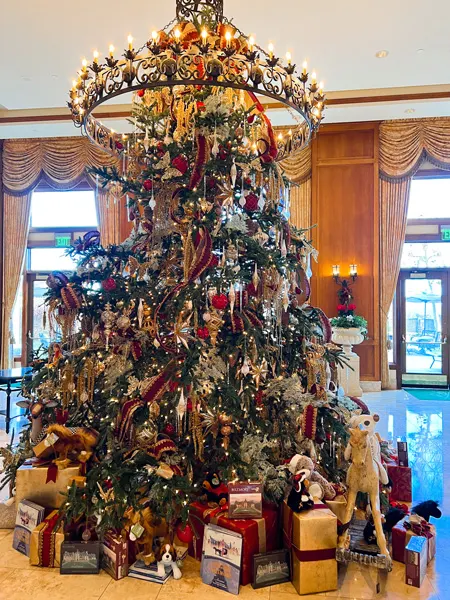 This Asheville resort is perfect if you are looking for world-class dining and spa treatments.
AAA, Forbes Travel Guide, Travel + Leisure, and Condé Nast also love up on this Asheville accommodation.
The Inn has the most conveniences out of the estate properties, including views of the beautiful Blue Ridge Mountains. Each suite is named after one of George Vanderbilt's friends or relatives.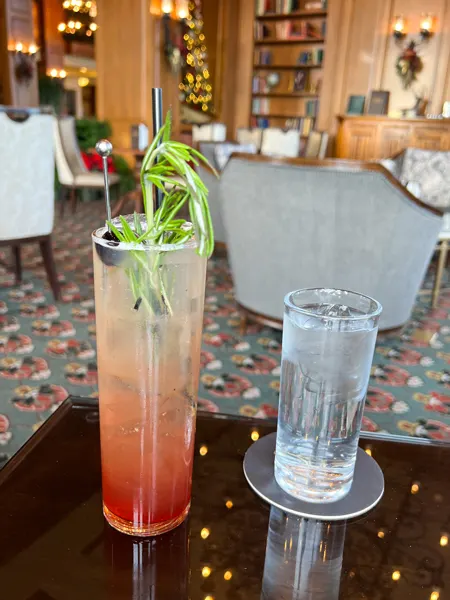 While here, don't miss the Library Lounge, which serves classy seasonal cocktails and tapas. It's one of the sleekest bars in Asheville.
Just keep your eye on their dress codes, especially in the evening. Flip flops and denim won't fly here after dark.
Peruse all of our Biltmore Estate guides before going.
Stay At The Inn: Reserve your room | Address: 1 Antler Hill Rd, Asheville, NC 28803
Asheville's Bed & Breakfasts and Inns
Nothing beats the charm of a historic home. Some of the best places to stay in Asheville are its Bed & Breakfasts and Inns. The Historic Montford District as well as North Asheville (and Chesnut Street) area are great options.
The pros of staying at a Bed & Breakfast in Asheville:
Endless historic charm
Intimate common areas to chat with other guests
Close proximity to the Downtown Asheville area (walking distance, for some)
Breakfast made by sweet innkeepers and knowledgeable staff
Unique rooms and decor
The cons of staying at a Bed & Breakfast/Inn:
Some require more than a one night stay to book
Historic buildings can lack a few modern amenities
Less privacy
More limited breakfast options, especially with food allergies and intolerances
Limited to no room service
Older heating and cooling units
Blind Tiger Asheville
A gorgeous boutique hotel, Blind Tiger is where to stay in Asheville when you want to truly feel like a local. Situated in the Chestnut Street area of North Asheville, find yourself close to restaurants, gorgeous residential homes, and Little Free Libraries.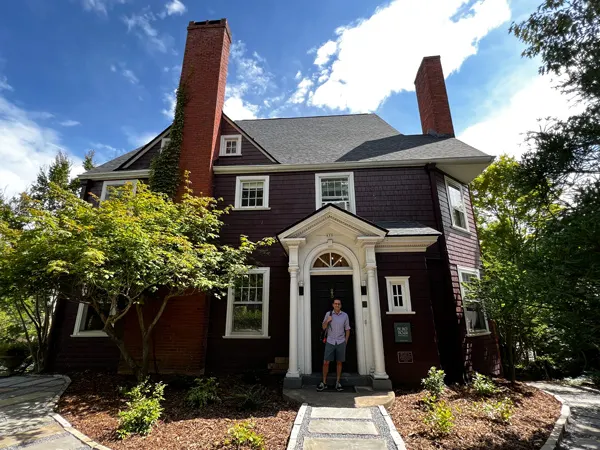 This elevated Bed and Breakfast gifted us an overnight stay so that we could share our firsthand experiences. It was perfect timing with our massive home fireplace renovation.
The location and gorgeous 1889 building are Blind Tiger's top perks.
Park in their free gravel lot and head inside to sprawling common spaces with stunning architecture and rooms filled with fireplaces.
Blind Tiger has Open Pantry Access, including filtered water, tea, and coffee available throughout the day.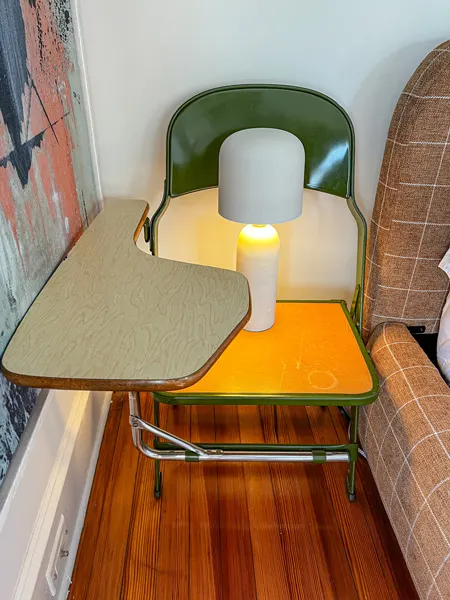 You'll love all of the little touches, including lion statues, books piled high as end tables, and repurposed traditional school desks.
Find historic charm paired with modern amenities, including free grab-and-go breakfast, robes, wine openers, wi-fi, and spacious showers.
We made dinner reservations and walked to one of our favorite North Asheville restaurants, Bone & Broth.
Nearby, also enjoy Chop Shop, Pulp & Sprout (vegan cafe), Liberty House Cafe, Taco Temple, Ultimate Ice Cream, OWL Bakery, and Jettie Rae's.
Walk the neighborhood, and grab a book at one of the many LFLs. Pass locals walking their dogs and gardening.
Stay at the Blind Tiger: Reserve your room | Address: 173 E Chestnut St, Asheville, NC 28801
1900 Inn On Montford
Located in the Historic Montford neighborhood, the 1900 Inn On Montford is a charming Asheville Bed & Breakfast. They feature a 3-course breakfast and live music on Saturdays.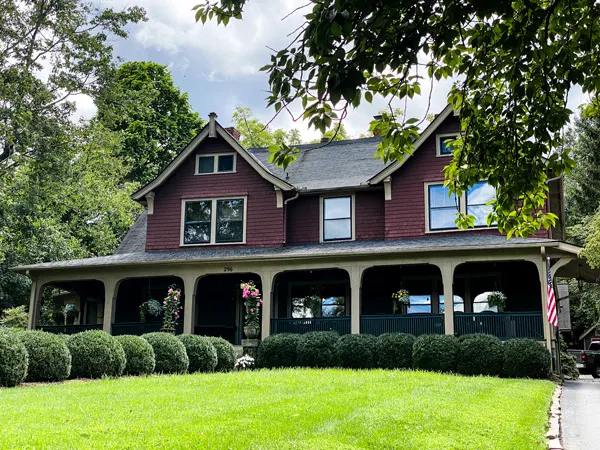 The Inn is about one mile from Downtown Asheville and boasts a small fridge, fireplace, and TV in each room. Parking is free, and the 1900 Inn on Montford is pet-friendly.
It is one of the best places to stay in Asheville with fun things to do for history and literary lovers.
Nearby, don't miss Riverside Cemetery – Thomas Wolfe and O. Henry are buried here.
You'll find some of the city's best restaurants like Nine Mile and Tall John's nearby along with attractions like Beaver Lake and the Botanical Gardens at Asheville.
Catch Shakespeare in the Park from May through October.
Stay At the 1900 Inn On Monford: Book your stay here | Address: 296 Montford Ave, Asheville, NC 28801
A few more Asheville Bed & Breakfasts In Montford include: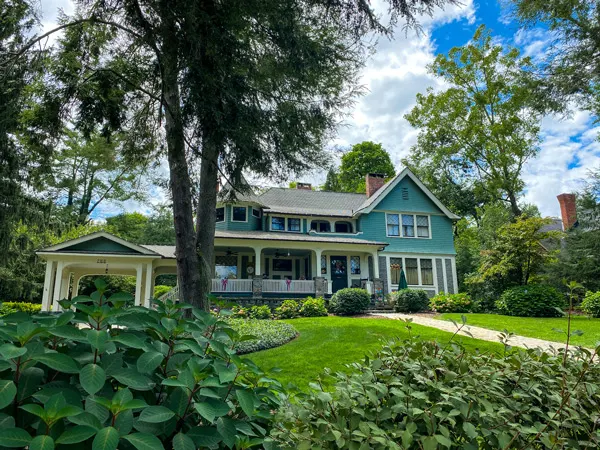 The 1899 Wright Inn & Carriage House – One mile from downtown with free parking, this Queen Anne Victorian Mansion has all of the old charms with modern amenities and a shared garden.


The Lion and the Rose Bed and Breakfast – One of Asheville's longest operating inns, this 1898 pink lady Queen Anne/Georgian-style inn is also one of the first stops on Asheville's historic trolley tours.


Black Walnut B&B Inn – Designed and built by Richard Sharp-Smith – Biltmore's supervising architect – in 1899, two of the eight rooms are pet-friendly. Close to downtown, they offer afternoon tea.
1898 Waverly Inn (Hendersonville)
If you are looking for places to stay near Asheville, the 1898 Waverly Inn resides in Hendersonville, NC – which is about 40 minutes away from AVL.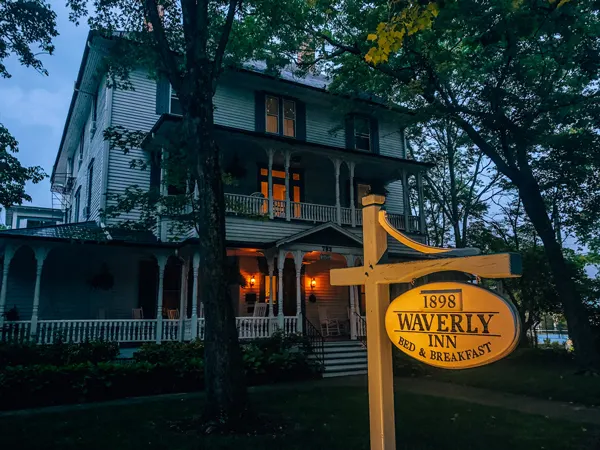 We wanted to drop the Waverly Inn on this list because we loved staying here while we were house-hunting in Asheville.
A charming Bed and Breakfast, the rooms and bathrooms might be a little small, but it's so sweet. We loved the friendly and knowledgeable hosts.
The Waverly Inn offers an early evening happy hour with local bevies, free parking, and of course, breakfast. They accommodated our lactose and gluten food intolerances.
From the Inn, walk into Downtown Hendersonville.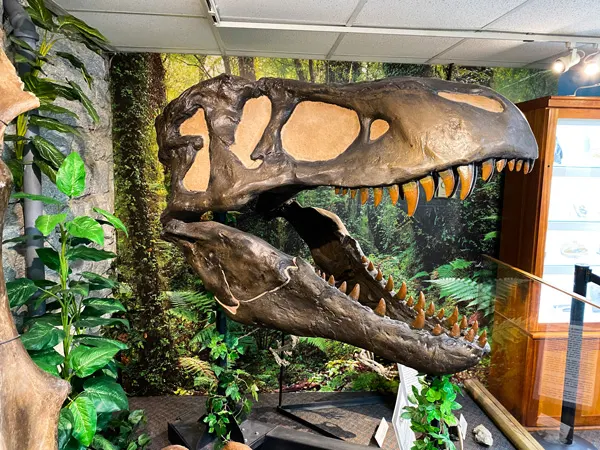 See all that Hendersonville has to offer here. Don't miss Umi Sushi, one of the best restaurants in Hendersonville.
For Hendersonville breweries, head to D9 for sours and Oklawaha for delicious gluten-reduced brews.
DuPont Forest's gorgeous waterfalls are close by. You might recognize some of those AVL waterfalls from The Last Of The Mohicans and The Hunger Games movies.
Plus, Hendersonville is most famous for its fall apple orchards and incredible wineries, including Stone Ashe and Point Lookout Vineyards.
Read more about all of the wineries near Asheville.
Book The 1898 Waverly Inn: Reserve your room | Address: 783 N Main St, Hendersonville, NC 28792
Black Mountain Inn (Black Mountain)
One more Bed & Breakfast option for where to stay near Asheville – that's only 25 minutes away – we adore Black Mountain. Head to the Black Mountain Inn, a 19th-century house.
Along with charming rooms, enjoy the garden or sauna. Some rooms even have claw-foot tubs. There is free parking.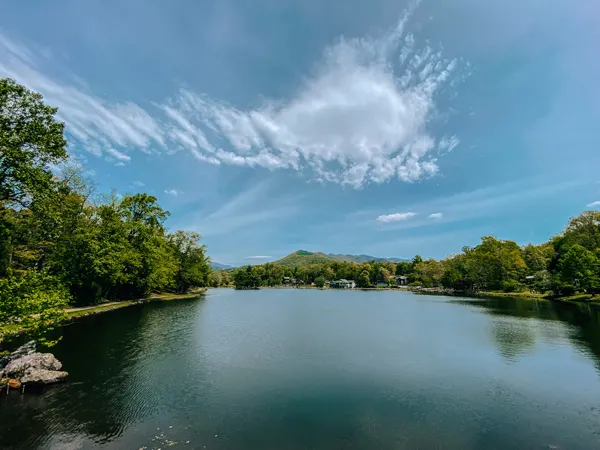 Black Mountain is a sweet WNC mountain town filled with delicious restaurants and some of the best things to do, including hiking and shopping.
Since we are boozy travelers, we also appreciate Black Mountain's numerous breweries. Oak & Grist is their fantastic distillery and makes some of the best craft cocktails around.
Be sure to take a stroll around Lake Tomahawk – one the best lakes near AVL – caffeinate at The Dripolater, and catch a live performance at White Horse.
Black Mountain has so much to offer; you will certainly never grow restless.
Uncover even more great day trips from Asheville.
Book Your Stay At The Black Mountain Inn: Overnight in Black Mountain | Address: 1186 Old US Hwy 70, Black Mountain, NC 28711
Save The Best Places To Stay In Asheville For Later: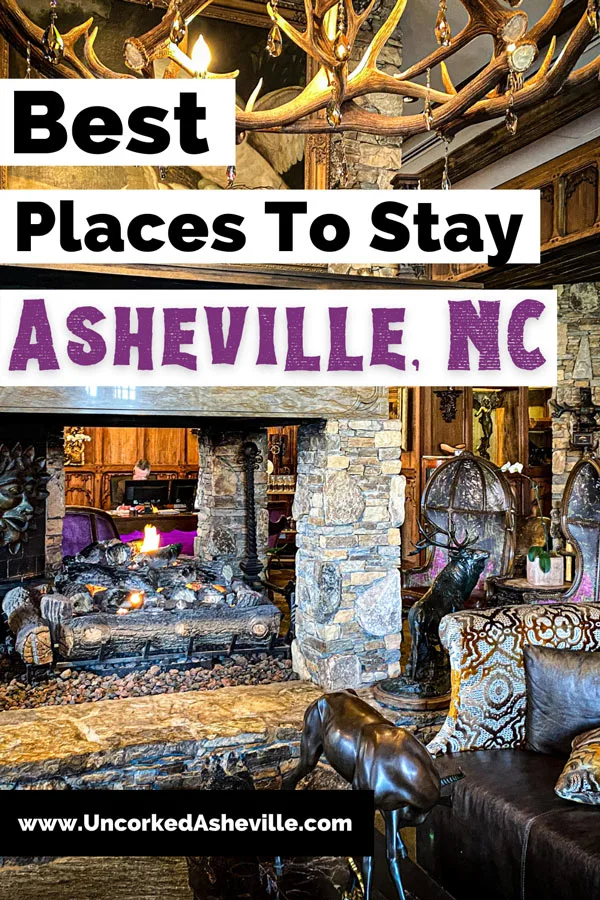 What are the best hotels in Asheville that you've stayed at?
Where do you love to stay when visiting Asheville – inside the city or outside in a smaller Western North Carolina town? What are your favorite Asheville hotels, inns, cottages, and Bed and Breakfasts? Which ones are on your bucket list? Let us know in the comments.
Where should you head next?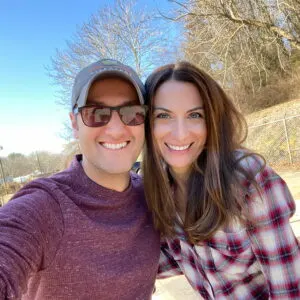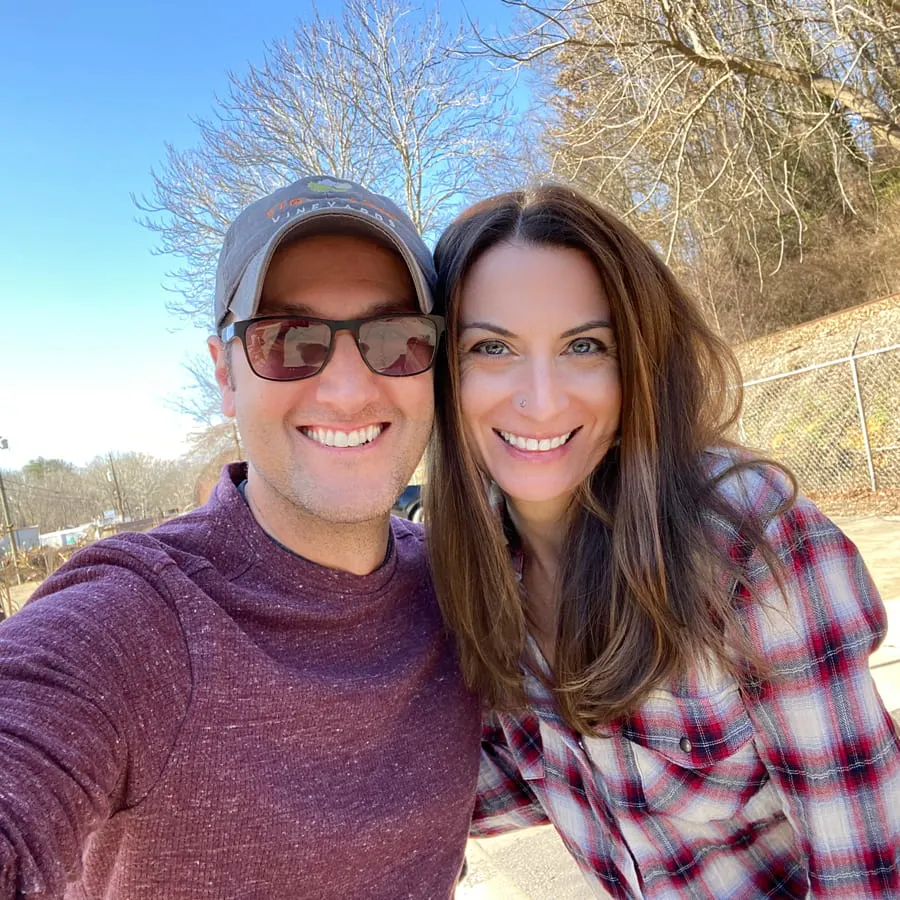 Christine (pronouns: she/her) is the owner and lead writer of Uncorked Asheville. After falling in love with those gorgeous Blue Ridge Mountains, Christine and her husband Tom decided to call Asheville, North Carolina their home. When her pointy Italian nose isn't stuck in a book, Christine is adopting all of the kitties, getting lost in the forest, and drinking an ESB.
Christine has a BA in English and History from Smith College, her MLIS from USF-Tampa, and is a former U.S. Fulbright Scholar - Indonesia. She also owns The Uncorked Librarian LLC with books and movies to inspire travel.