Wondering where to stay in Asheville, NC? Below, find downtown Asheville hotels, Bed & breakfasts, resorts, and so much more.
If you are headed to Asheville and looking for places to stay in the city, we got you!
Whether you are craving those mountain luxury resorts, historic Bed & breakfasts, quaint inns, or downtown Asheville hotels, you'll find something for everyone in every price range.
Many of these places to stay in Asheville are pet-friendly. We'll talk amenities along with things to do nearby each AVL accommodation. Find boutique hotels and suites, too.
Below, explore some of the top recommended places to stay in Asheville that we, our friends and family, and/or other travelers most love. Where should you stay in Asheville? Let's get started!
**Please remember that B&Bs and hotels in Asheville tend to book up quickly, especially in the fall, spring, and around holidays. Make dinner reservations wherever you can, as well.
This post may contain affiliate links for products and services we recommend. If you make a purchase through these links, at no additional cost to you, we will earn a small commission. Read the full disclosure here.
Places To Stay In Downtown Asheville
If you are looking to stay in downtown Asheville, the Aloft Asheville Downtown is newly renovated as of 2020.
A Marriot hotel, we've worked with Aloft — such as showcasing Cultivated Cocktails mixing kits on their new Ledge. We've also taken multiple tours of their renovation process.
You'll love the vibrant local murals, updated rooms, and sprawling public areas. Aloft hosts live music, has a sleek bar with selfie mirrors, and a patio space that overlooks bustling downtown AVL.
Did we mention there is a rooftop pool overlooking the mountains? This downtown Asheville hotel is gorgeous, modern, and clean.
You'll find Chestnut and Double D's across the street. Look for the Daydreamer mural and Marked Tree Vineyard Tasting Room — one of Asheville's delicious wine bars — on Biltmore Ave. Book an Aloft stay here.
Never Miss Another Asheville Update
Are you tired of generic Asheville travel itineraries? Do you want to experience the magic of Asheville like a local?
Grab our free Asheville Favorites checklist today, including restaurants, breweries, and hiking. Plus, get local updates straight to your inbox. Sign up here.
Another gorgeous place to stay in Asheville, don't miss The Foundry Hotel. Our friends frequent this hotel for work.
You might also know them for Benne on Eagle, with their famous Appalachia-style menu and eatery inspired by "The Block."
The Foundry also makes craft libations in their lounge and the property exudes elegance and character.
Plus, The Foundry also gives a nod to Asheville's industrial history and is located close to all that downtown Asheville has to offer.
Close to Aloft, you can quickly walk to one of Asheville's delicious breweries like Bharmari Brewing or Wicked Weed.
Don't miss the French Broad Chocolate Lounge, Limones Restaurant, White Duck Taco Shop, and Cúrate. Book your stay with The Foundry here.
We love heading over to DoubleTree in downtown Asheville for drinks and grub at one of the best rooftop bars in Asheville, The Montford Rooftop Bar.
Here you'll have gorgeous views of Asheville, especially its Historic Montford neighborhood.
With free breakfast and Wi-Fi, you'll have access to the pool and 24-hour fitness center. This hotel is conveniently located near the historic Grove Arcade.
Don't miss the Battery Park Book Exchange, a champagne bar in a used bookstore. Book your stay now.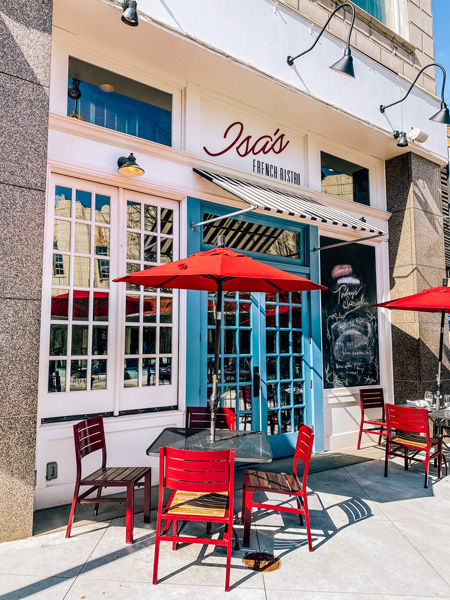 More Popular Downtown Asheville Hotels
---
---
Where To Stay In Asheville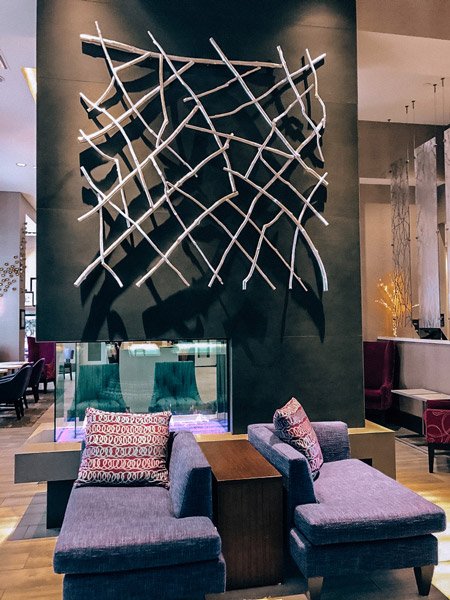 Although this hotel is on busy Brevard Road – NC-191 – across from the Asheville Outlets, it's one of our favorites before moving to Asheville.
They have a small outdoor patio with a fire pit and a bar, free Wi-Fi, free parking, and a pool.
Clean, updated, and in the middle of everything, you can easily access downtown AVL, Biltmore, and the Blue Ridge Parkway (BRP). The North Carolina Arboretum and Bent Creek Experimental Forest are right here, too.
You can hop the BRP for Mount Pisgah, Skinny Dip Falls, Fryingpan Tower, Graveyard Fields, and Black Balsam.
Plus, grab a quick breakfast or lunch to-go with tons of food options at your hotel's door. We are obsessed with grinders at the nearby Apollo Flame Bistro. Don't miss burritos at Papas & Beer. Book your stay now.
An Autograph Collection Hotel, the Grand Bohemian is perfect if you want to stay in Biltmore Village. Biltmore Village is full of shopping, restaurants, and satellite breweries.
Biltmore Estate is also right there, and the property is about three miles from the heart of downtown Asheville.
Famous for its Red Stag Grill — European meets the Carolinas' cuisine — this gorgeous luxury hotel has a spa, gym, and business center. They are pet-friendly and have free Wi-Fi. Book your stay now.
More Places To Stay Around Asheville
---
---
Resorts & Biltmore Accommodations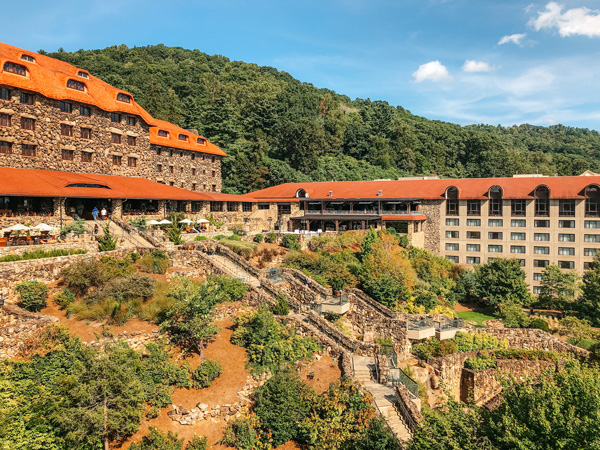 Did you know that F. Scott Fitzgerald stayed at the Grove Park Inn while Zelda sought help at Highland Hospital?
The Grove Park Inn opened in 1913. Afflicted with numerous illnesses, Grove's doctors recommended moving to Asheville where he completed the Inn a few decades after Biltmore. Grove was famous for selling quinine to prevent malaria.
Today, the Grove Park Inn is more like the adult Disney World of that luxury mountain lifestyle.
Located in North Asheville, we frequent this breathtaking and historic Asheville resort for drinks, dinners, and to meet up with friends and guests.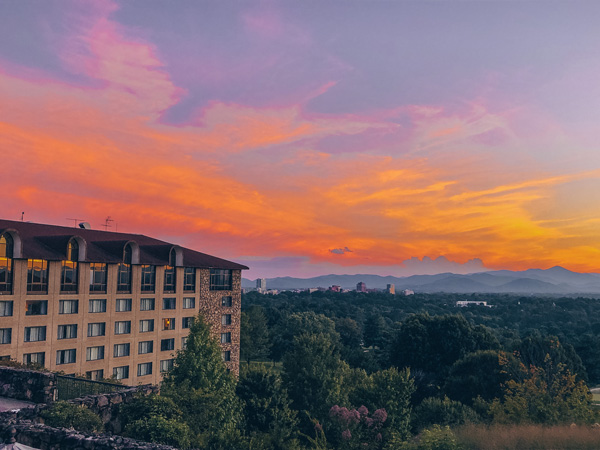 You might know of the Grove Park Inn for its infamous sunsets that you can see from aptly named Sunset Terrace.
We highly recommend a fancy dinner here or lighter fare and delicious seasonal cocktails at the Edison (our favorite).
Grove Park Inn also hosts a yearly gingerbread competition and houses a luxury spa. You can golf and enjoy their indoor or outdoor pools.
The Omni Grove Park Inn is especially perfect for romantic getaways or if you are craving a mountain retreat. Book Your Well-Deserved Vacation At The Omni Grove Park Inn.
Many visitors love to stay on the Biltmore Estate — American's largest home and former home of George and Edith Vanderbilt.
We have been Biltmore annual passholders for years. We cannot recommend Biltmore enough for wine, history, dining, and gentle hiking trails. Yes, that Biltmore ticket price is worth it!
The Village Hotel is centrally located on the property with moderate prices and spa access. The amenities are plentiful, and The Village Hotel has a pool. This is the Biltmore hotel that you see next to the winery in Antler Hill Village.
If you are visiting or staying here, we absolutely love lunch or dinner at Cedric's Tavern. Their seasonal cocktails are divine. Book your stay now.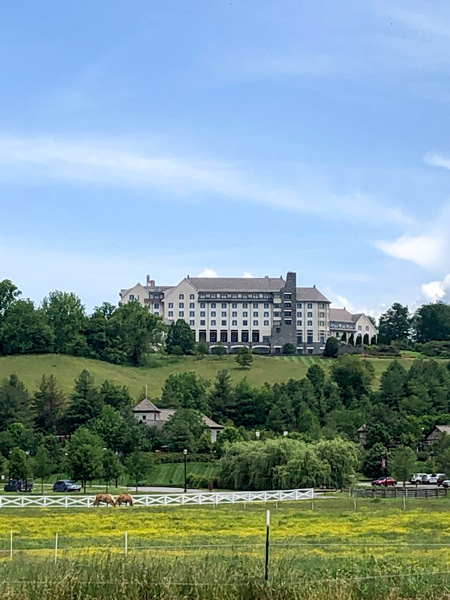 The Inn On Biltmore Estate is a luxury 4-star hotel and costs more than The Village Hotel. This Asheville resort is perfect if you are looking for world-class dining and spa treatments.
AAA, Forbes Travel Guide, Travel + Leisure, and Condé Nast also love-up on this Asheville accommodation.
The Inn also has the most conveniences including those coveted mountain views. A fun fact is that each suite is named after one of George Vanderbilt's friends or relatives. Book The Inn here.
---
---
Asheville's Bed & Breakfasts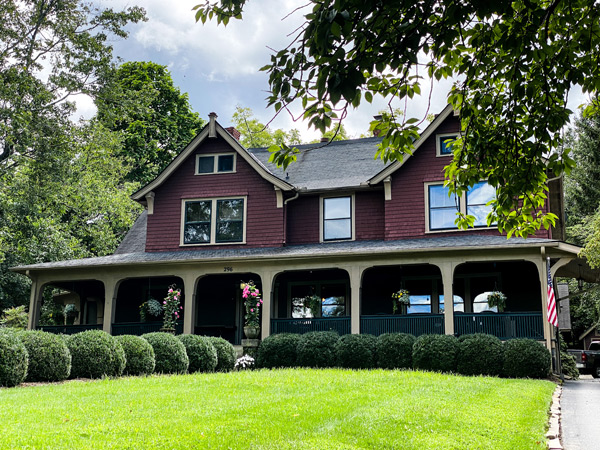 Located in the Historic Montford neighborhood, this charming Asheville Bed & Breakfast offers a 3-course breakfast and live music on Saturdays.
The Inn is about one mile from downtown and has a small fridge, fireplace, and TV in each room.
Many of our photographer friends shoot wedding pictures here, too. Parking is free, and the 1900 Inn on Montford is pet-friendly.
Nearby, don't miss Riverside Cemetery — Thomas Wolfe and O. Henry are buried here.
You'll also find delicious Asheville restaurants, like Chiesa and Nine Mile. Beaver Lake & the Botanical Gardens at Asheville are also nearby. Book your stay here.
A few more Asheville Bed & Breakfasts In Montford include:
The 1899 Wright Inn & Carriage House – One mile from downtown with free parking, this Queen Anne Victorian Mansion has all of the old charms with modern amenities and a shared garden.


The Lion and the Rose Bed and Breakfast – One of Asheville's longest operating inns, this 1898 pink lady Queen Anne/Georgian-style inn is also one of the first stops on Asheville's historic trolley tours.


Black Walnut B&B Inn – Designed and built by Richard Sharp-Smith — Biltmore's supervising architect — in 1899, two of the eight rooms are pet-friendly. Close to downtown, they offer afternoon tea.
---
---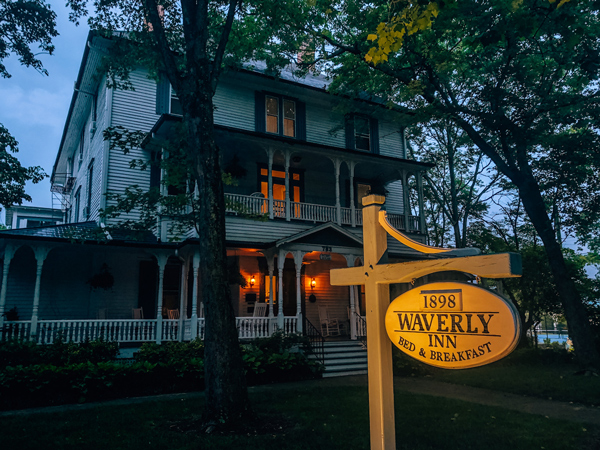 Please note that the 1898 Waverly Inn is not in Asheville, but Hendersonville, NC — which is about 40-minutes away from AVL.
We wanted to drop this one on the list because we loved staying here while we were Asheville house hunting.
A gorgeous Bed and Breakfast, the rooms and bathrooms might be a little small, but it's so sweet. We loved the friendly and knowledgeable hosts.
The Waverly Inn offers an early evening happy hour with local bevies, free parking, and of course, breakfast. They also accommodated our lactose and gluten food intolerances.
From the Inn, you can walk into downtown Hendersonville. See all that Hendersonville has to offer here, and don't miss Umi Sushi, one of the best restaurants in Hendersonville.
For Hendersonville breweries, head to D9 for sours and Triskelion for delicious Ambers.
DuPont Forest's gorgeous waterfalls are close by. Don't miss the beautiful wineries, too.
Hendersonville boasts of Stone Ashe and Point Lookout Vineyards.
Where have you stayed in Asheville?
What are your favorite Asheville hotels and Bed and breakfasts? Where do you love to stay when visiting Asheville? Please let us know in the comments.
Where should you head next?
Ultimate Guide To Asheville Things To Do
How To Spend 36-Hours In Asheville
Asheville Broken Down By Neighborhoods
Best Restaurants In Asheville — For Everyone
Plan Your Trip To Biltmore With Our Local Guide
Day Trips From Asheville