Explore the best Asheville pubs and taverns for local brews, a chill ambiance, and delicious food.
Known as "Foodtopia" Asheville is infamous for its foodie restaurants and endless breweries. However, the city also boasts of endless places to drink, including its rooftop, sports, and dive bars.
The Asheville brewpubs and distilleries are pretty spectacular too.
Not to mention that there are a plethora of delicious Irish, German, and American pubs in Asheville.
Think warm and inviting restaurants with billiards, local beers, casual and appealing bars, and a bit of local and authentic character.
Visitors can enjoy famous brewpubs in Asheville like Wicked Weed and Juicy Lucy's along with lesser-known spots like Rye Knot and the Westville Pub.
For taverns in Asheville, you cannot go wrong with Cedric's, Red Stag Grill, or Pack's Tavern. And, have you been to local neighborhood joints like Bone & Broth, The Whale, or Village Pub?
Keep reading for the best pubs in Asheville for pizza, burgers, handhelds, and drinks. Of course, "best" is subjective, and we'd love to hear your favorites in the comments.
Also, know that we've decided to stretch the meaning of "pub" and "tavern" just a little here, mixing in sports bars and everyday bars that are most similar to a pub-like experience.
Plus, we've included something for everyone in every price range – from casual to sleek. Let's get started!
Afterward, read more about the best bars across Asheville.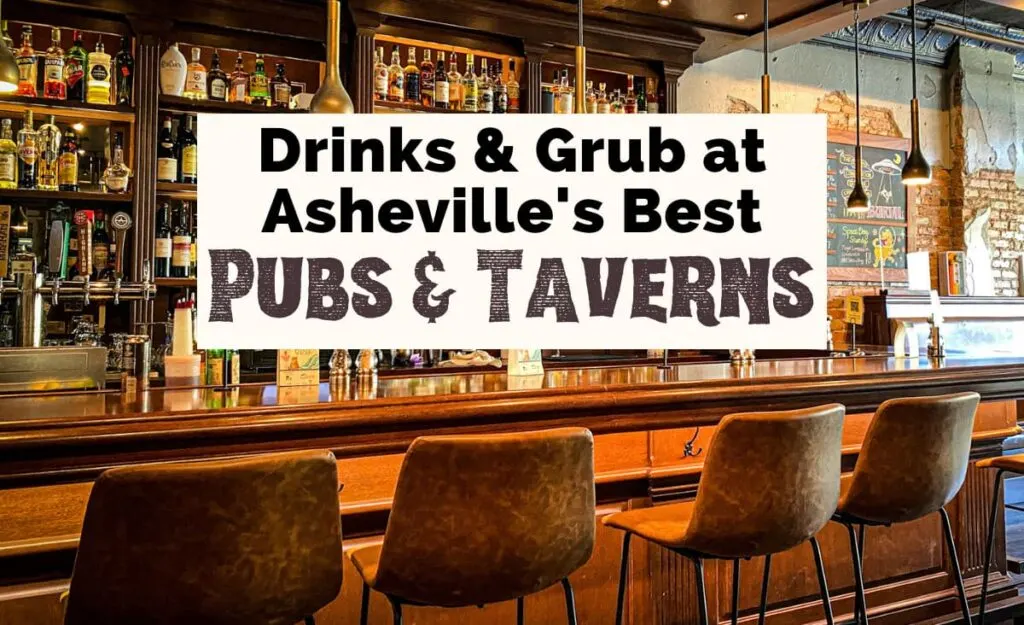 This post may contain affiliate links that earn us a commission at no extra cost to you. If you love these guides, support Uncorked Asheville here.
13 Fantastic Asheville Pubs & Taverns
1. Wicked Weed Brewpub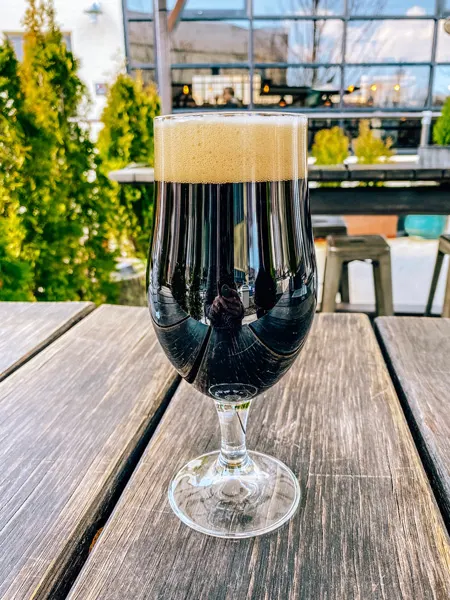 One of the most famous brewpubs in Asheville, Wicked Weed is a must – especially if you want to get a head start on Asheville brewery hopping.
Although a tourist hot spot, Wicked Weed is equally enjoyed by locals and makes for a great casual Downtown Asheville restaurant.
Wicked Weed Brewpub features lighter fare, snacks, sandwiches, and large and fancy dinner entrées.
You cannot go wrong with hummus and veggies, burgers, salads, and wings. After 5 PM, find pricier and heftier additions including seafood and meat dishes.
For beer, Wicked Weed specializes in barrel-aged sours, West Coast-style hoppy beers, and Belgians. If this is your first visit, order a flight to try a few.
Wicked Weed is also a pet-friendly brewery in Downtown AVL – but dogs must stay outside on the patio.
They also own the Funkatorium in South Slope, home to their sour beers, a gorgeously huge taproom, and plentiful outdoor seating. It's quite funky.
Wicked Weed BrewPub | 91 Biltmore Ave, Asheville, NC 28801
2. Barley's Taproom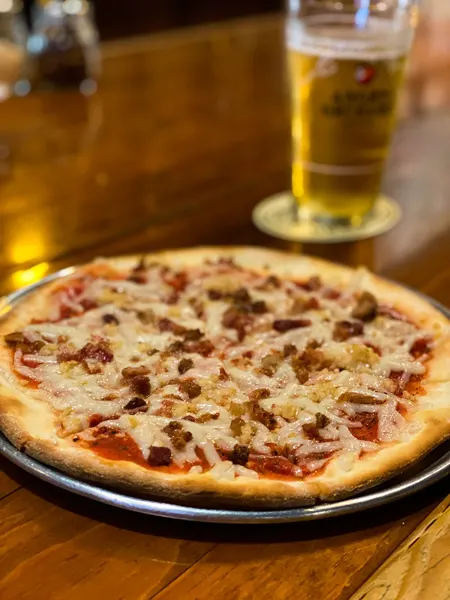 If you are looking for pubs in Downtown Asheville, Barley's Taproom is a solid spot for watching the game, shooting pool upstairs, and grabbing a pizza with a beer.
This no-frills, casual restaurant is a nice change of pace from its fancier Downtown neighbors and is also a great option for cheap eats with local treats.
Order a New York-style pizza – and know that they have a gluten-free pizza option. Select from traditional pub grub including nachos, hummus, and garlic knots. Find calzones and pasta too.
Barley's is located inside a renovated 1920s appliance store and has been a part of Asheville since 1994.
Barley's Taproom | 42 Biltmore Ave, Asheville, NC 28801
3. Foggy Mountain Brew Pub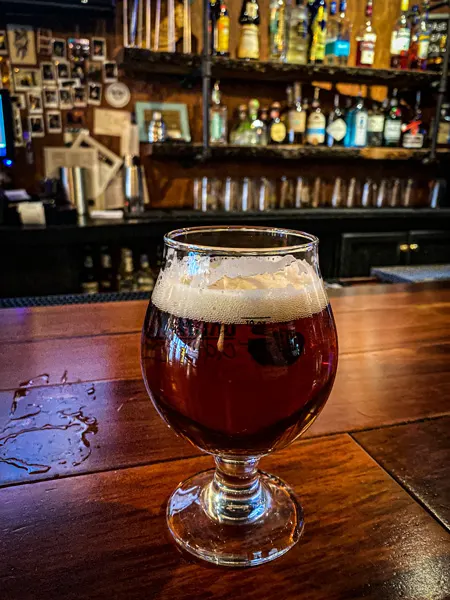 Although they do not brew their own beer, Foggy Mountain is one of the more hidden yet in the center of it all Downtown Asheville brewpubs located near the S&W Market.
A smaller bar with a dog-friendly patio, find all of your traditional pub grub along with local Western North Carolina craft beer.
Foggy Mountain specializes in burgers, mac and cheese, wings, gyros, and paninis. Along with beer, find cocktails and a small wine list.
Like Barley's Taproom, Foggy Mountain Brew Pub is a no-frills, budget-friendly restaurant with a fantastic ambiance and chill vibes.
Foggy Mountain Brew Pub | 12 Church St, Asheville, NC 28801
4. Cedric's Tavern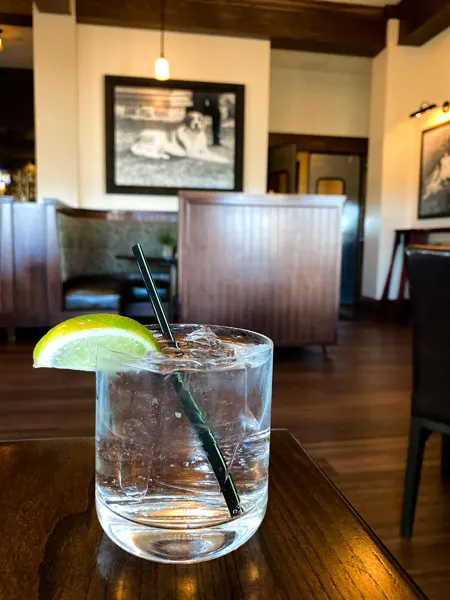 As Biltmore annual passholders, we enjoy Cedric's Tavern – although you will need a ticket, annual pass, or reserved property accommodations to dine here.
Like Wicked Weed, even though Biltmore Estate is a tourist attraction as America's largest home, we still enjoy the property as locals. Think hikes, gardens, restaurants, and wine.
Cedric's Tavern is a tribute to the Vanderbilts' beloved Saint Bernard and one of the most well-known taverns in Asheville for visitors.
Black and white photos of Cedric with the Vanderbilt family line the walls, and his giant dog collar sits near the welcome stand.
Cedric's Tavern serves up delicious craft cocktails and entrées including fish and chips, hearty soups and stews, sandwiches, and fresh salads. Be sure to try the Lusty Monk mustard and their pickles.
The menu is moderately-priced, and Cedric's Tavern labels gluten-free and vegan items – although selections are a tad limited. They also have gluten-free buns and bread.
Make reservations for a table or try your luck at the bar – although we highly suggest booking in advance.
Discover even more great Biltmore restaurants to dine at.
Cedric's Tavern | Biltmore Estate | 1 Lodge St, Asheville, NC 28803
5. The Malvern (Changed Direction/Ownership 2023)*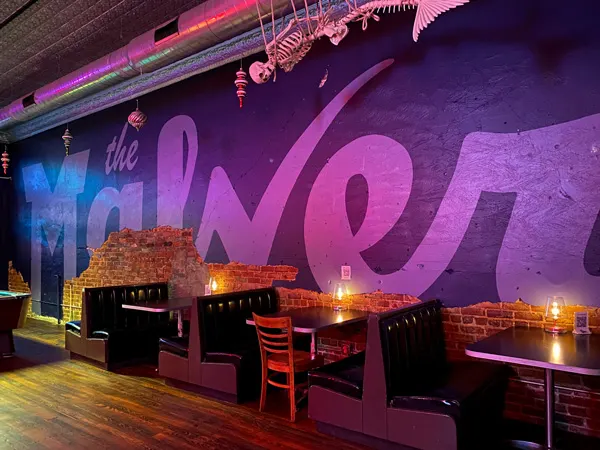 *In spring 2023, The Malvern is now "Little Louie's" and currently no longer has a burger option. They are transitioning the menu to serve hoagies, pierogies, and Phillies.
We typically take a restaurant off of our list within the year once they settle and so that our readers are also updated. Stay tuned. We are honestly a little devastated.*
For a local neighborhood bar with that pub and tavern-y feel, head to West Asheville.
You'll know that you've arrived at The Malvern when you see Gus Cutty's (and friends) The Dude Abides mural across the street at Sky Lanes Bowling.
The Malvern serves up one of the best burgers in town and is personally one of our favorite Asheville pubs for a drink, handheld, and tater tots. Find gluten-free buns too.
Sit at the bar, grab a booth or table, or head outside to the patio. They also have a billiards table.
The Malvern's menu features nachos, hushpuppies, salads, and mac and cheese.
Read more about all of West Asheville's hipster restaurants.
The Malvern | 1478 Patton Ave, Asheville, NC 28806
6. Red Stag Grill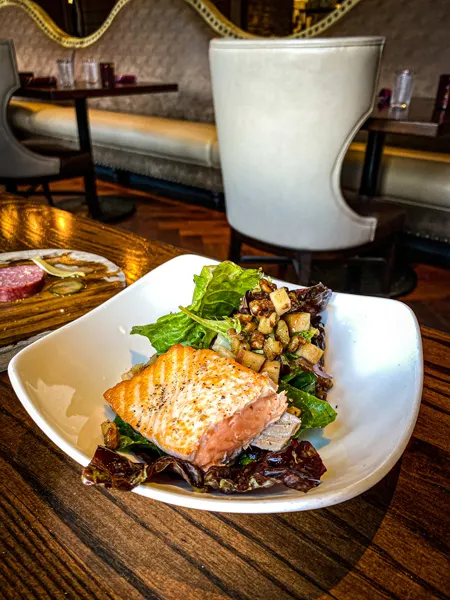 Located in Biltmore Village's Grand Bohemian Hotel, Red Stag Grill is a memorable and – dare we say – romantic establishment.
OK, maybe taxidermy isn't your jam, but if you keep your eyes down, find a glitzy boutique Biltmore Village restaurant and bar perfect for date night or lunch.
Red Stag Grill is one of the ritziest taverns in Asheville on this list – and yes, we think that gorgeous bar and antler seating deserves a spot on this list.
Along with classy entrées, choose from soups, salads, and sandwiches. Personally, we suggest a cocktail paired with one of the best charcuterie boards in town.
Pull up a seat at the bar if you don't want to sit at a table or go all fancy.
Red Stag Grill also serves breakfast and weekend brunch. If you are going in-season, we suggest reservations.
For lunch on a Monday in the off-season, though, you can most likely just walk in and enjoy a table.
Discover even more fun places to eat near Biltmore Estate.
Red Stag Grill | Grand Bohemian Hotel Asheville | 11 Boston Way, Asheville, NC 28803
7. Bone & Broth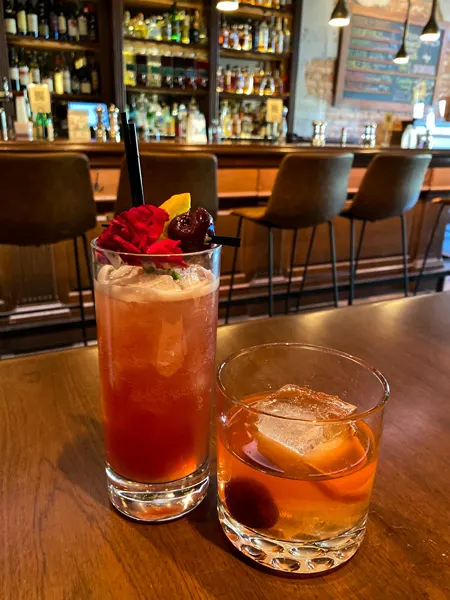 North Asheville's restaurants are some of the best in town, and Bone & Broth is most certainly one of them.
Diners can enjoy Bone & Broth in one of two ways: grab a seat or booth with the locals at the bar. For a fine dining experience, though, enjoy a table on the other side of the bar area.
Serving up some of the best cocktails in the city, along with local brews, we adore Bone & Broth's historic charm and hints of exposed brick.
Our readers also always ask for steak places – and along with Asheville Proper – these guys are it.
If you are going for more casual and light, though, order a burger featuring The Chop Shop's finest meats. Choose from truffle fries, a side salad, or fried okra.
Start with Southern favorites like fried clams with pickles, mussels, and deviled eggs. For larger meals, select from lamb chops, risotto, duck, salmon, and shrimp with grits.
For more local neighborhood pubs in Asheville – with a classy edge – Bone & Broth is our pick. Afterward, spend time getting to know North Asheville.
Bone & Broth | 94 Charlotte St, Asheville, NC 28801
Never Miss Another Asheville Update
---
Tired of generic Asheville travel itineraries? Experience Asheville like a local with our free Asheville Favorites checklist, including restaurants, breweries, and hiking. Plus, get local updates – including events and hidden gems – straight to your inbox. Sign up here.
8. Pack's Tavern
Adjacent to Pack Square, head downtown for music, food, and drinks at Pack's Tavern. You'll recognize them by their gorgeous brick building and antique car out front.
This family-owned restaurant has indoor and covered outdoor seating overlooking parts of the city.
You cannot go wrong here if you are looking for simple burgers and sandwiches coupled with cocktails, wine, and beer.
For taverns in Asheville, Pack's has one of the best atmospheres – something we truly missed while living in Florida.
Pack's Tavern serves up lunch and dinner in AVL. Explore even more great Asheville lunch spots.
Pack's Tavern | 20 S Spruce St, Asheville, NC 28801
9. The Bier Garden
Having lived in Asheville for quite some time, we aren't sure how we missed The Bier Garden for so long.
For Asheville pubs and sports bars, this restaurant may be ballz to the wallz on game weekend. Along with the sea of flat-screen TVs, enjoy drinks while satiating the munchies.
The Bier Garden's menu is filled with traditional pub sandwiches, burgers, fish tacos, fish and chips, and brats. People go for the great service and enjoyable beer list.
It's a great stop if you don't have a reservation downtown and are looking for casual grub.
Just know that The Bier Garden is not exactly an authentic German restaurant as you'd assume from the name.
The Bier Garden | 46 Haywood St, Asheville, NC 28801
10. Westville Pub & All Seven's Brewing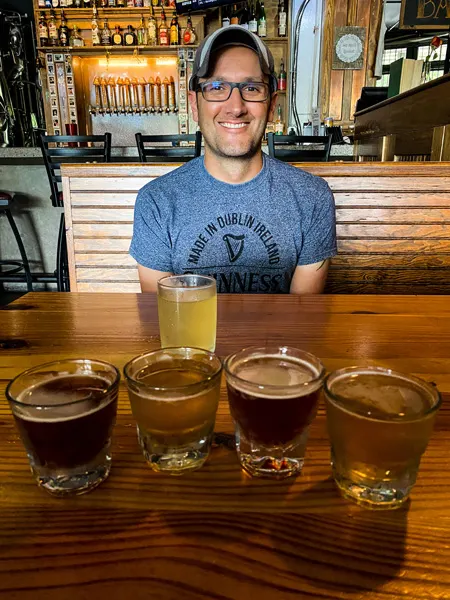 Brewpubs in Asheville don't get any more local than Westville Pub, which is connected to All Seven's Brewing.
All Sevens personally has some of our favorite beer in town for those Ambers, Lagers, and ESBs.
For pub grub, choose from sliders, burgers, sandwiches, wraps, and tacos. Go for those Southern apps like fried pickles and fried okra too.
On your way in or out, stop to say hello to Gus Cutty's RuPaul and Dolly Parton murals.
Westville Pub | 777 Haywood Rd, Asheville, NC 28806
11. The Whale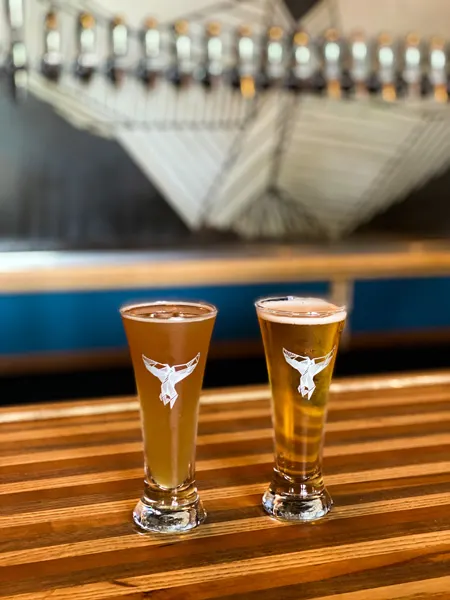 With an extensive rotating beer selection paired with food and cocktails from its Haywood Common Neighborhood, The Whale won't disappoint West Asheville visitors.
Start by grabbing a meal at Haywood Common, which has sandwiches, bowls, and salads. Or, go the more traditional pub route with boiled peanuts.
Their cocktails are equally delicious, and they are perfect for gluten-free, vegan, and lactose-free diners.
Then, head over to The Whale for all the beer you could ever want. If it's a gorgeous day, grab a picnic table – covered or uncovered – as the area is shared by both establishments.
For pubs in Asheville, technically The Whale is a "beer collective," but we are pretty sure you won't mind this suggestion. There's great craft beer. There are peanuts. There's a plethora of community seating.
A tip for parking around The Whale: We usually park at the church next door, which is a pay lot via the Park Mobile app.
Reception is a little rough here – so make sure you have the app ready to go.
The Whale | 507 Haywood Rd #10, Asheville, NC 28806
12. Rye Knot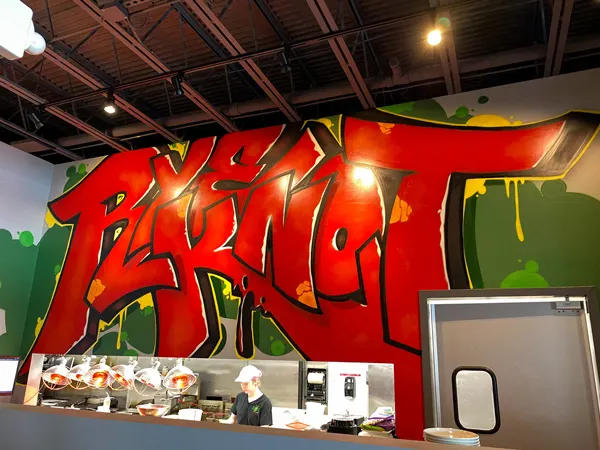 We are pretty sure that Rye Knot is one of the North Asheville brewpubs that only locals tend to know about – and they are also part AVL distillery.
Opened in 2020, find Rye Knot hiding over on Merrimon Ave. behind Cecilia's Kitchen and across from Ingles.
Rye Knot brews their own beer and makes whiskey, vodka, gin, and bourbon.
Sit inside or out, and try their fried green tomatoes, wings, deviled eggs, and Brussels sprouts.
Rye Knot's menu also features soups, salads, and flatbreads along with American classic sandwiches, burgers, Reubens, and BLTs.
For a larger dinner, select from meatloaf, seafood dishes, chicken, risotto, pork chops, and steaks.
Rye Knot offers a traditional kids' menu, and you'll find plenty of parking in the lots out front.
Explore more family-friendly restaurants, including nearby Asheville Pizza and Brewing.
Rye Knot | 868 Merrimon Ave, Asheville, NC 28804
13. Juicy Lucy's Burger Bar & Grill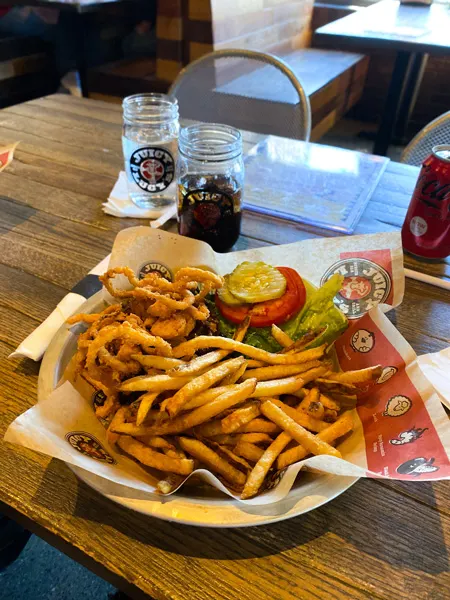 Similar to Foggy Mountain Brew Pub, Juicy Lucy's has a local craft beer selection, but they don't brew their own beer.
An Uncorked Asheville Readers' favorite for delicious burgers, Juicy Lucy's menu showcases local beer, shakes, and – of course – "Juicy Lucys."
In case you are unfamiliar with the term, a Jucy Lucy is a burger stuffed with melted cheese. Notably, Juicy Lucy's offers vegan and veggie options along with a gluten-free bun.
If you are craving more than just a burger, try one of their famous milkshakes, a pulled pork platter, one of ten different kinds of wings, and baby back ribs.
These guys are one of the most convenient brewpubs in Asheville if you are visiting Biltmore Estate or want a quick and budget-friendly bite on the go.
Plus, Juicy Lucy's is open 7 days a week — which is sometimes harder to come by in Asheville. Find plenty of parking in their lot around this congested area.
Juicy Lucy's Burger Bar & Grill | 620 Hendersonville Rd, Asheville, NC 28803
More taverns & pubs in Asheville:
Dirty Jack's
Jack of the Wood
Claddaugh Restaurant & Pub
Hannah Flannagan's In Hendersonville
Village Pub
Save Your Favorite Pubs In Asheville, NC For Later: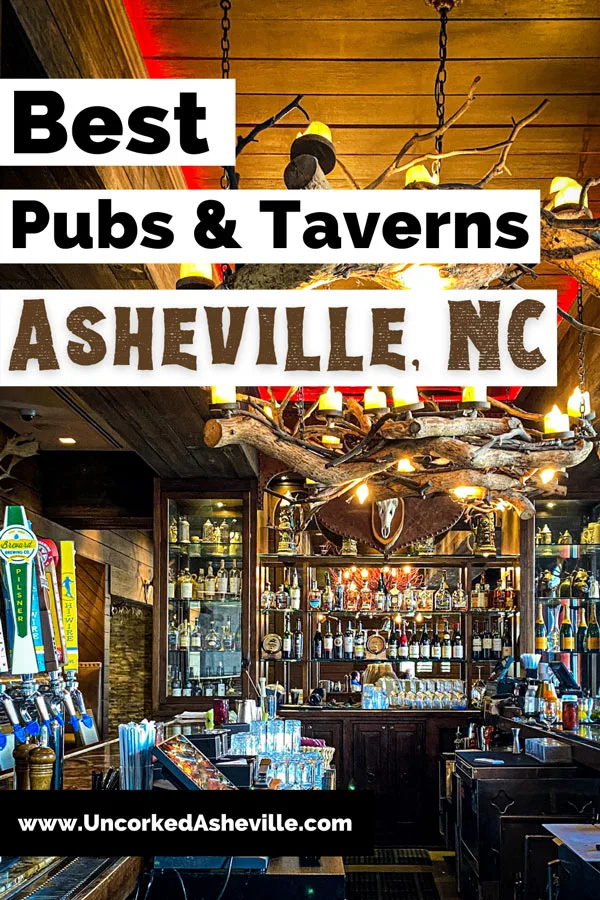 See our Top Places To Stay in Asheville.

Don't miss out on these Asheville properties on Booking.com, too.
What are your favorite Asheville brewpubs, taverns, and pubs?
Where do you love to drink and get pub grub in AVL? Let us know in the comments!
You May Also Enjoy:
Asheville Food & Drink Guide
Best Rooftop Bars
Wine Bars
Must Visit AVL Restaurants