For small towns to visit outside of Asheville, uncover the best things to do in Weaverville, North Carolina – from AVL locals.
What is there to do in Weaverville? Is it worth a visit? Is it a good place to live?
Located immediately north of Asheville, you cannot miss Weaverville, NC. Asheville to Weaverville is about 15 minutes' driving distance.
Weaverville is a small town in Buncombe County – with a population of around 4,000 in 2020 – and many people who don't wish to live in Asheville choose to reside in Weaverville.
If you enjoy casual walks, picnics by the lake, are traveling with your dogs, or want to beat the Asheville crowds, Weaverville is definitely worth a visit.
Weaverville's best attractions include its walkable downtown filled with shops and restaurants as well as Lake Louise Park.
Of course, we enjoy the dog park bar, quirky Stoney Knob Cafe, and even a Bob Ross-themed spritz bar. Find a TARDIS in one of Weaverville's unassuming breweries.
For things to do near Weaverville, along with visiting Asheville, find easy Blue Ridge Parkway access and more nearby parks and lakes.
So, if you only have a short time in the area, what are the best Weaverville, NC things to do? What does Downtown Weaverville have to offer?
Where should you park, and what should you eat? What are the coolest Weaverville events?
Keep reading, and be sure to let us know what you enjoy about Weaverville, North Carolina in the comments. Let's get started!
Explore even more fabulous towns and cities around Asheville.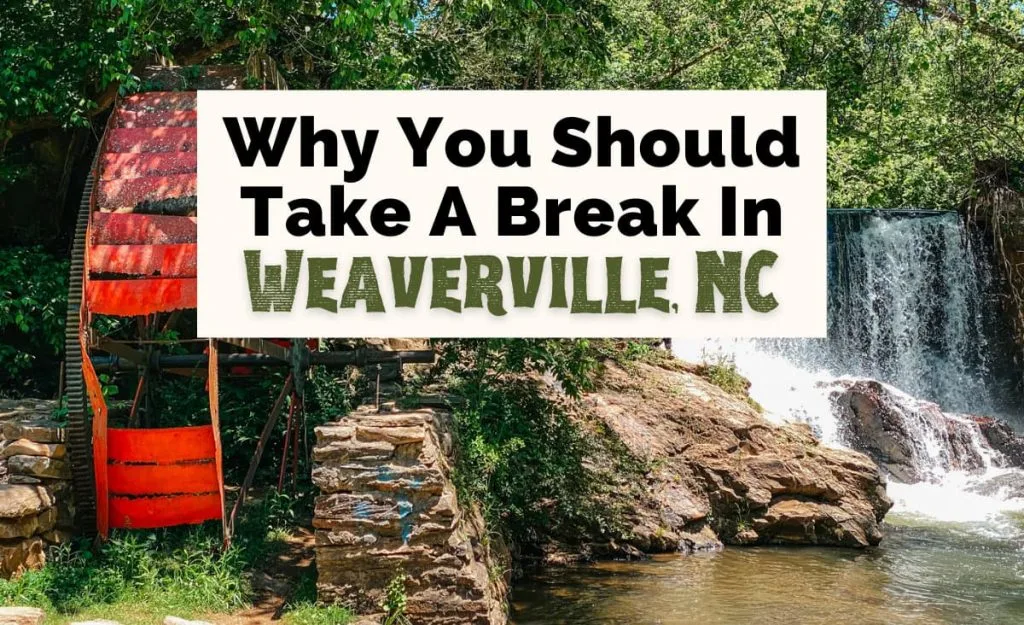 This post may contain affiliate links that earn us a commission at no extra cost to you. If you love these guides, support Uncorked Asheville here.
Don't miss these hotels, cabins, cottages, and inns around Weaverville, NC.
See our Asheville overnight recs, too.
10 Best Things To Do In Weaverville, NC
1. Stroll Beautiful Lake Louise Park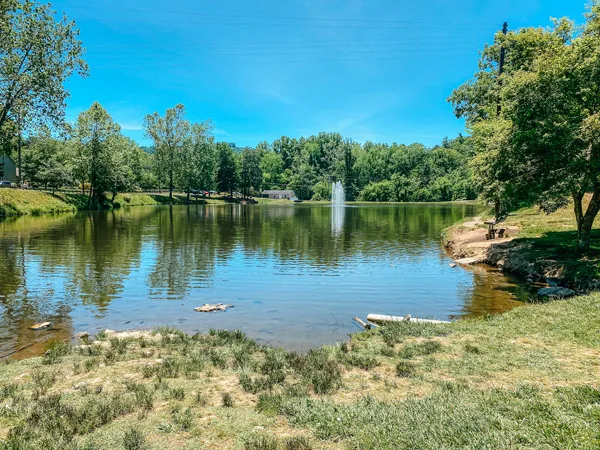 For park and garden lovers, one of the best things to do in Weaverville is head to Lake Louise.
Located immediately before entering Downtown Weaverville from Asheville, this inviting and shimmering lake is sure to seduce visitors and residents.
Lake Louise Park encompasses about 15.5 acres of land and houses a more than five-acre, man-made lake.
One of the many great picnicking spots in WNC, pack or pick up lunch and grab a picnic table or bench along the water.
Then, walk Lake Louise's easy .61-mile perimeter loop trail, spying turtles, carp, ducks, and geese. Lake Louise's fountain adds extra ambiance to this already serene park.
Plus, enjoy a children's playground, and work out on the outdoor fitness equipment.
Lake Louise Park allows catch-and-release fishing as long as you possess a valid North Carolina fishing license.
Lastly, Weaverville Community Center, which sits immediately above the lake, is home to the Dry Ridge Historical Museum.
Drop into this small gallery to learn more about Weaverville, Reems Creek, and Flat Creek's history through preserved artifacts and educational exhibits.
Find multiple free and paved parking lots around Lake Louise with facilities.
And, if you enjoy Weaverville's Lake Louise, head over to North Asheville's nearby Beaver Lake, which boasts a 2.1-mile walking perimeter trail and bird sanctuary.
Or, take a road trip to some of the best lakes around WNC – Lake Junaluska, Lake James, and Lake Lure are three of our favorites.
Lake Louise Park | Lake Louise Dr, Weaverville, NC 28787
2. Visit The Dam & Falls Along Reems Creek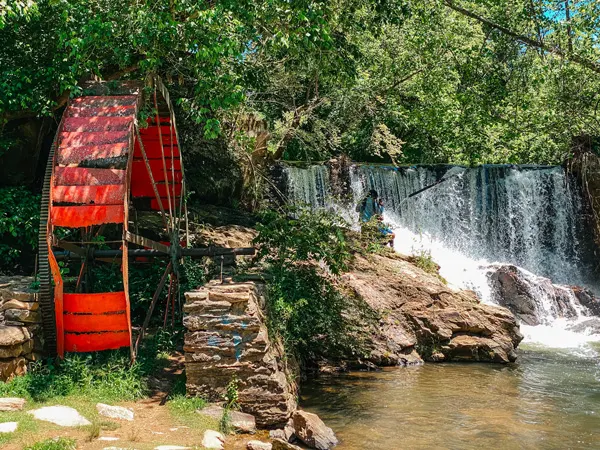 While you are strolling around Lake Louise, one of the coolest things to do in Weaverville is check out the dam-created waterfall at Reems Creek.
This is a historic dam that once powered a water mill.
Cross the street from Lake Louise Park (West Lakeshore Drive) to access the less than .25-mile path to the falls.
You'll spot the red water wheel fairly quickly as well as hear the falls along the loop.
The dam's falls are only about 15 feet tall. This is the perfect spot for pictures – just exert caution around the rocks and water, especially with littles.
Of course, Western North Carolina is famous for much more impressive falls near Asheville, including Moore Cove Falls, Looking Glass Falls, Triple Falls at DuPont, and Sliding Rock – just to name a few.
However, these falls are easy and scenic to see without the long hike or crowds.
3. Walk Main Street Nature Park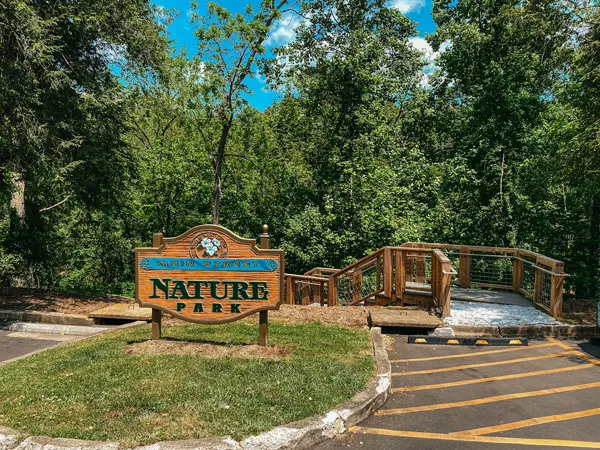 For more outdoor and free Weaverville things to do, head to Main Street Nature Park located in the heart of Downtown Weaverville.
Park in their free public parking lot on Main Street, which is marked by the neat Weaverville clock. Or, find entrances and lots on Pine Street and behind the Weaverville Town Hall.
Weaverville's Main Street Nature Park – a public park – provides 10 acres of winding nature trails filled with flowers. The park shelters a variety of WNC birds and critters.
The dirt pathways are perfect for couples, families, and solo visitors looking for a casual walk. Leashed dogs are allowed on the walking trail.
In the summer, attend their music series performed on the meadow stage.
Main Street Nature Park Lot | Around 25 N Main St, Weaverville, NC 28787
4. Grab A Bite To Eat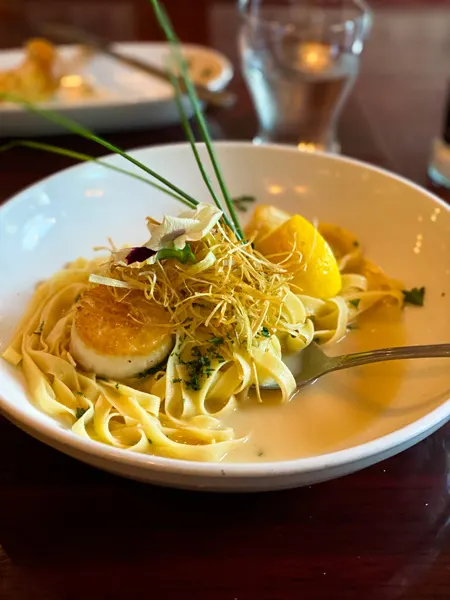 For foodie things to do in Weaverville, NC eat at one of the local Weaverville restaurants. Just a few delicious places to try include:
Grab our complete guide to Weaverville's delicious restaurants. Don't miss our vegan AVL dining guide too!
5. Shop At Weaverville's Specialty Stores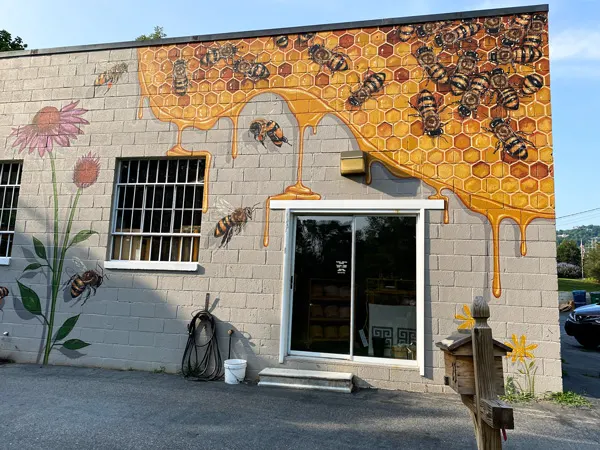 Just like in Asheville, one of the best things to do in Weaverville is shop!
Downtown Weaverville's North Main Street and the surrounding areas are lined with local shops. Explore galleries, flowers, and pottery.
A few specialty shops in Weaverville include: Echoview Fiber Mill (76 Jupiter Rd), Maggie B's Wine and Specialty Store (10 S Main St), Reems Creek Pottery (181 Reems Creek Rd #6), Mangum Pottery (16 N Main St), Miya Gallery (20 N Main St), and Crucible Glassworks (60 Clarks Chapel Rd).
Drop by Honey and the Hive (23 Merrimon Ave) for local honey and beekeeping supplies. You cannot miss them with their fun bee mural on the side of the building. They even host a series of beekeeping classes.
6. Explore Weaverville's Craft Breweries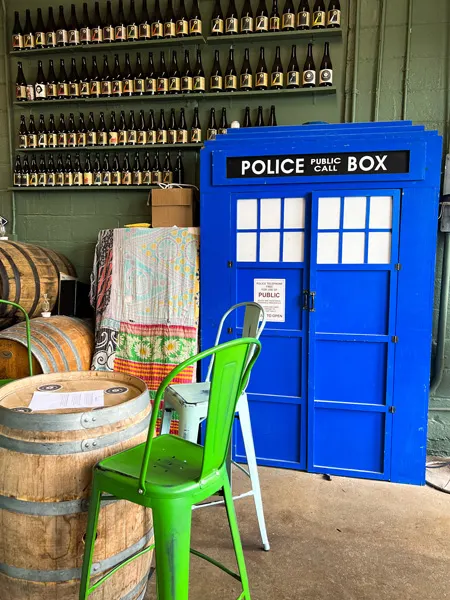 Since we are Uncorked Asheville, it's no surprise that drinking local beer is one of the best things to do in Weaverville, North Carolina.
In fact, we have an entire Weaverville Brewery Guide. Where should you start?
Only open on Friday and Saturday afternoons and family-run, ZEBULON Artisan Ales (8 Merchants Alley) focuses on Belgian and French farmhouse-style brews.
This tiny brewery houses a TARDIS and has (minimal) indoor and outdoor seating.
Right across the way and opened in 2017, Eluvium Brewing Company (11 Florida Ave) is also a must.
Eluvium Brewing posts when they last cleaned their beer taps, which we appreciate. Plus, Eluvium is a great dog-friendly brewery near Asheville.
Enjoy a bevie inside the taproom or outside on the covered and uncovered patio. Find Lagers, Sours, Wheat, IPAs, and Brown Ales.
Eluvium opened its own kitchen upon the closing of Baa'd Sheep Burritos. Along with Sunday brunch, choose from sandwiches, wraps, and your traditional pub grub.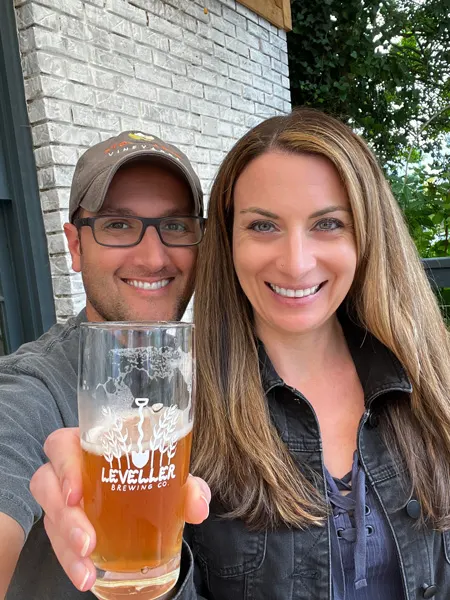 And, new in 2022/2023, Leveller Brewing Co. opened on Main Street. (25 N Main St), showcasing all of the hops in a rustic space.
To access these Downtown Weaverville breweries, we prefer to park at the free public lot on Main Street at the Main Street Nature Park.
Uncover even more delicious breweries in and around Asheville.
Never Miss Another Asheville Update
---
Tired of generic Asheville travel itineraries? Experience Asheville like a local with our free Asheville Favorites checklist, including restaurants, breweries, and hiking. Plus, get local updates – including events and hidden gems – straight to your inbox. Sign up here.
7. Grab A Drink With The Dogs Or Bob Ross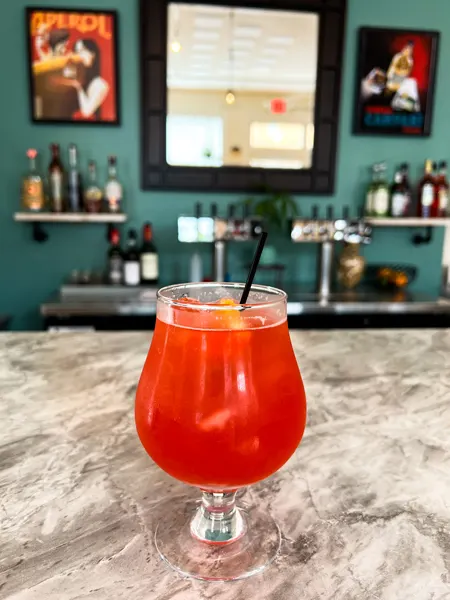 Weaverville has two fun-themed bars that we enjoy: WagBar for the pooches and Hoppy Trees for Bob Ross fanatics.
Full disclosure that we do not own dogs (meow, meow), but we sure do love hanging out with them.
One of our favorite things to do in Weaverville involves grabbing a local WNC craft beer at Wagbar (320 Merrimon Ave) and watching all of the dogs play.
Wagbar is a 21+, 25,000-square foot, off-leash dog park with a bar. You do not need a dog to enter. Pups can run through sprinklers, play, and pee on fire hydrants.
The bar resides in a modern, up-cycled shipping container and serves non-alcoholic beverages too.
Find a series of occasional rotating food trucks – Bear's Smokehouse for BBQ and The Smokin' Onion filled with gf treats, just to name a few.
Dogs must have a membership with veterinary documentation. Be sure to read Wagbar's doggie membership rules before heading there for the first time.
If dogs aren't your jam, though, head to Hoppy Trees (7 Florida Ave). This is a Bob Ross-themed bar serving local beer, cocktails, and those delicious spritzes.
Watch Bob Ross paint on TV as you shop the walls for local art or catch up with friends.
This is a family-friendly, Downtown Weaverville bar, and dogs are allowed outside only. You might catch a paint night or local talk too.
For non-alcoholic drinks in Weaverville, head to Well-Bred Bakery & Cafe (26 N. Main Street) for some of the best coffee around AVL.
Or, drink tea and Kava cocktails at Vintage Kava (141 Reems Creek Rd) – just be sure to Google "kava" before you go. It won't be everyone's jam.
8. Attend A Special Event
Like Asheville, Weaverville has quite a few special events and festivals.
In June, attend Weaverville's Music on Main. This is a one-night, family-friendly event with music, food, beer, and children's activities.
Set up in front of Downtown Weaverville's Town Hall, peruse local food trucks and vendors. Bring your own chairs and expect to use portable toilets.
For fun things to do in Weaverville in September, attend Art in Autumn along Main Street. Admission and parking are free.
This one-day arts and crafts festival features hand-crafted jewelry, paintings, photography, handbags, woodworking pieces/furniture, sculptures, pottery, and more from over 100 local artists. Shop to live music too!
You know that we just love an Asheville Christmas. In December, watch Downtown Weaverville light up during their Candlelight Stroll.
Along with horse-drawn carriage rides, listen to music, eat, drink, and spy light displays in local business windows.
For the kids, participate in a scavenger hunt and holiday-themed crafts along with a visit from Santa.
For more regular Weaverville events, shop at the Weaverville Tailgate Market, which typically runs Wednesdays from 3-6 PM at the local community center (60 Lakeshore Drive).
Shop for fresh veggies and fruits from local farms. Grab plants and herbs for your home.
Enjoy artisan and local meats, cheeses, eggs, and body care products. Select from handcrafted art and jewelry too.
These are just a few of the fantastic seasonal Weaverville things to do, and peruse our Asheville (and nearby cities) event calendar for more.
9. Drive The Gorgeous Blue Ridge Parkway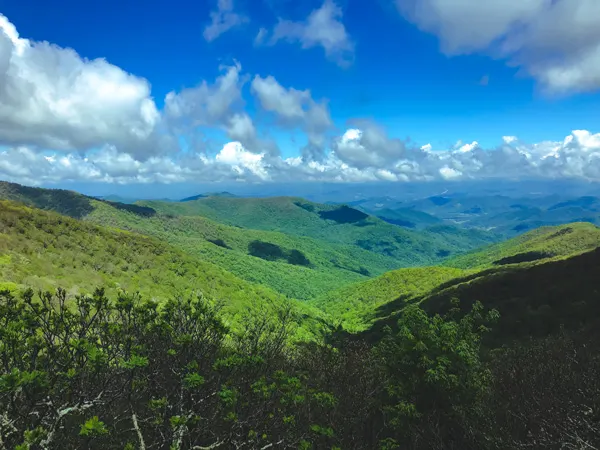 Driving the Blue Ridge Parkway is one of the "must" things to do near Weaverville, NC.
Deemed "America's favorite drive," this is a 2-lane, typically 45-mph, scenic parkway filled with waterfalls, some of the best hiking trails near Asheville, and scenic overlooks.
Managed by the National Park Service (NPS), this free and breathtaking attraction runs from Virginia's Shenandoah National Park to the Great Smoky Mountains National Park in North Carolina.
Weaverville to the Blue Ridge Parkway is just under 20 miles and around a 25-minute drive.
The Blue Ridge Parkway hikes are plentiful, and the closest hikes near Weaverville include Craven Gap – where the Obamas once hiked – Craggy Gardens, Craggy Pinnacle, Big and Little Butt, and Mount Mitchell.
Craggy Gardens is perfect for moderately easy hiking and plentiful picnicking areas while Craggy Pinnacle is a more moderate but short hike to a 360-degree summit.
Little Butt is a long and harder hike with a small overlook best for more experienced hikers, and you might recognize Mount Mitchell for being the highest point east of the Mississippi River at 6,684 feet.
10. Day Trip Around WNC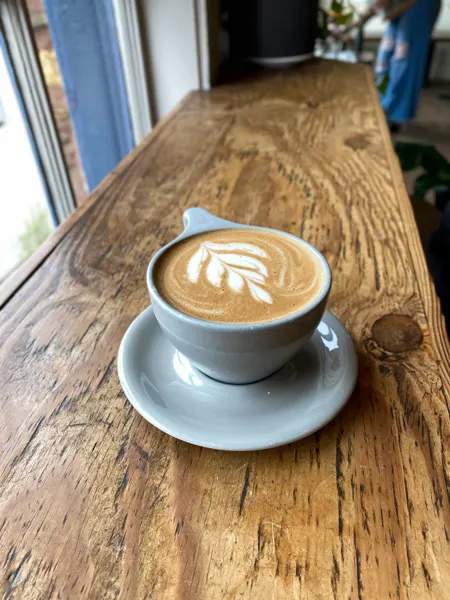 If Weaverville is your main destination or home base, we always suggest spending time exploring the best cities and small mountain towns around AVL.
In fact, day-tripping around WNC is one of the best things to do near Weaverville to get a full feel of all that NC has to offer. It's a huge state!
This includes visiting places like Black Mountain, Brevard, Tryon Foothills, Maggie Valley, Hendersonville, Waynesville, Lake Lure/Chimney Rock, Lake Junaluska, Bryson City, and of course, our home, Asheville.
Asheville is a huge foodie and beer city and home to rooftop and wine bars, vibrant murals, a fantastic downtown area, and neighborhoods with character.
About 20 minutes to the north, explore Marshall, NC, which is filled with kitschy restaurants, quirky shops, bookstores, and great hiking like the Laurel River Trail.
Black Mountain – about 30 minutes from Weaverville – promises Lake Tomahawk, delicious local restaurants, a stellar distillery, and shops. Oak & Grist is a must for boozy travelers.
Hendersonville – about 50+ minutes from Weaverville – is one of our favorite WNC cities.
Here, enjoy countless new breweries, seasonal apple orchards, tasty restaurants, and pristine wineries with beautiful mountain views.
Immediately next door, dip into the village of Flat Rock. Stroll the local park, watch a play, or tour the Carl Sandburg Home.
If you enjoy dark tourism, explore some of NC's spooky abandoned places or Asheville's haunted houses, including Grove Park Inn or Bryson City's Road To Nowhere.
Top-Rated Places To Stay Near Weaverville, North Carolina
Dry Ridge Inn Bed & Breakfast (26 Brown St) – This is an 1849 Bed & Breakfast in Weaverville featuring 8 guest rooms, each with a gas fireplace and private bathroom.
Fairfield Inn & Suites by Marriott Asheville/Weaverville (25 Fairfield Approach Drive) – 2-Star Hotel – Enjoy an indoor pool, free parking, continental breakfast, a fitness center, and requested rooms with a kitchenette, fridge, and microwave. Plus, Asheville is only 7 miles away. Pets are not allowed.
The Omni Grove Park Inn (290 Macon Ave, Asheville, NC 28804) – 4-Star Hotel – The Grove Park Inn is one of the most famous luxury resorts located in the fabulous North Asheville neighborhood. Along with a world-renowned spa, enjoy multiple rooftop restaurants and stunning views of Mount Pisgah and Downtown Asheville. Find an on-site golf course and access to North AVL's best restaurants.
The Lion & Rose Bed & Breakfast (276 Montford Ave, Asheville, NC 28801) – A Bed and Breakfast close to Weaverville, you'll just love Asheville's Historic Montford neighborhood. Known for its quaint homes and Shakespeare in the Park, The Lion & Rose is an 1898 Queen Anne/Georgian style inn. They have dog-friendly days and five guest rooms.
Don't miss these hotels, cabins, cottages, and inns around Weaverville, NC. See our Asheville overnight recs too.
Save These Weaverville, NC Things To Do For Later: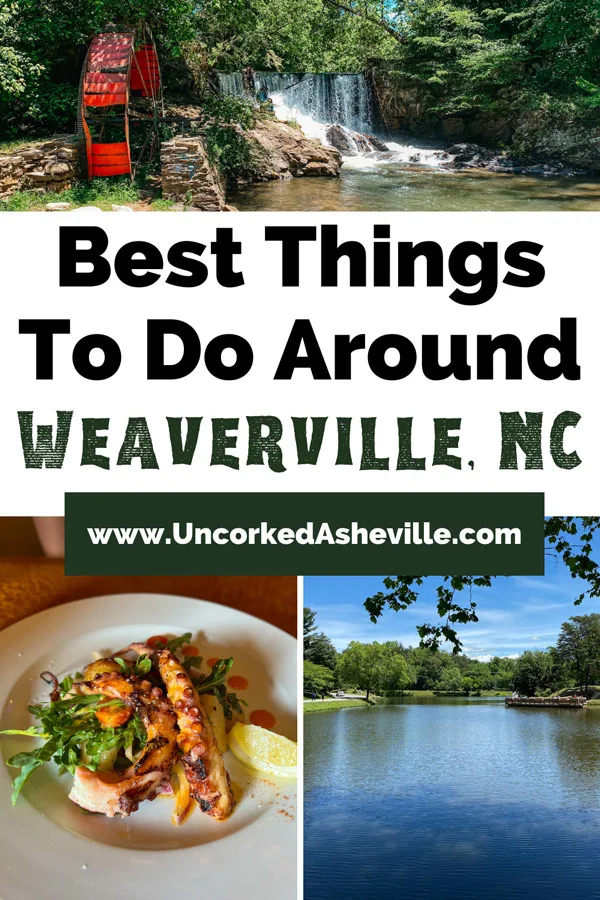 Have you been to Weaverville, NC?
Weaverville is a great destination, especially if Asheville is crowded or overwhelming.
What are some of your favorite things to do in Weaverville, NC? Where do you love to eat, drink, and play? Let us know in the comments.
More Things To Do Near Weaverville
Waterfall Guides
Hiking Guides
Nearby Attractions
Asheville Botanical Gardens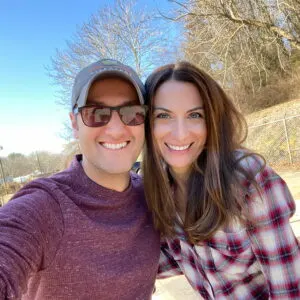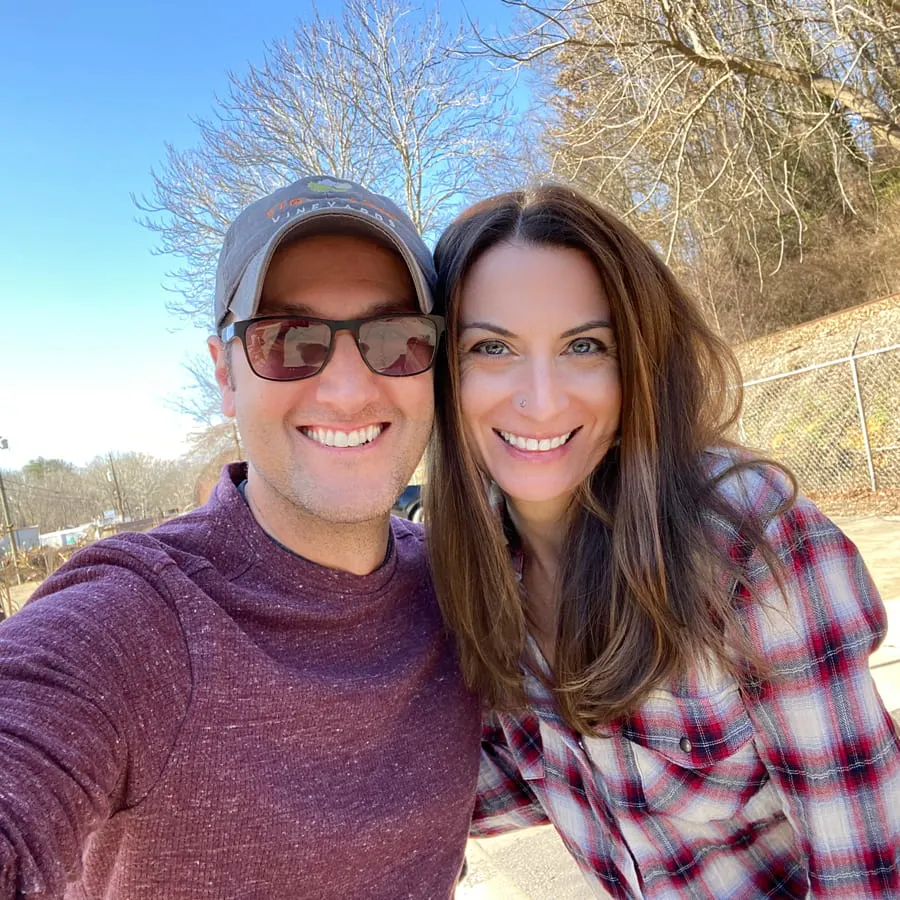 Christine (pronouns: she/her) is the owner and lead writer of Uncorked Asheville. After falling in love with those gorgeous Blue Ridge Mountains, Christine and her husband Tom decided to call Asheville, North Carolina their home. When her pointy Italian nose isn't stuck in a book, Christine is adopting all of the kitties, getting lost in the forest, and drinking an ESB.
Christine has a BA in English and History from Smith College, her MLIS from USF-Tampa, and is a former U.S. Fulbright Scholar - Indonesia. She also owns The Uncorked Librarian LLC with books and movies to inspire travel.