For small towns to visit outside of Asheville, uncover the best things to do in Weaverville, North Carolina. This sweet mountain town is minutes from AVL.
Located immediately to the north of Asheville, don't miss Weaverville, NC.
Weaverville is a town in Buncombe County, and many people who don't wish to live in Asheville choose to reside in Weaverville.
Why travel to Weaverville? There are plenty of things to do in Weaverville, especially if you enjoy casual walks, are traveling with your dogs, or want to beat the Asheville crowds.
Weaverville's best attractions include its walkable downtown filled with shops and restaurants as well as Lake Louise Park.
A quick drive from downtown AVL, visitors will encounter more walkable areas, bars, and history.
So, what are the best things to do in Weaverville, North Carolina? Why should you consider Weaverville as a fun Asheville day-tripping option?
As AVL locals, we are sharing the top Weaverville things to do. Let's get started!
Explore even more great day trips from Asheville.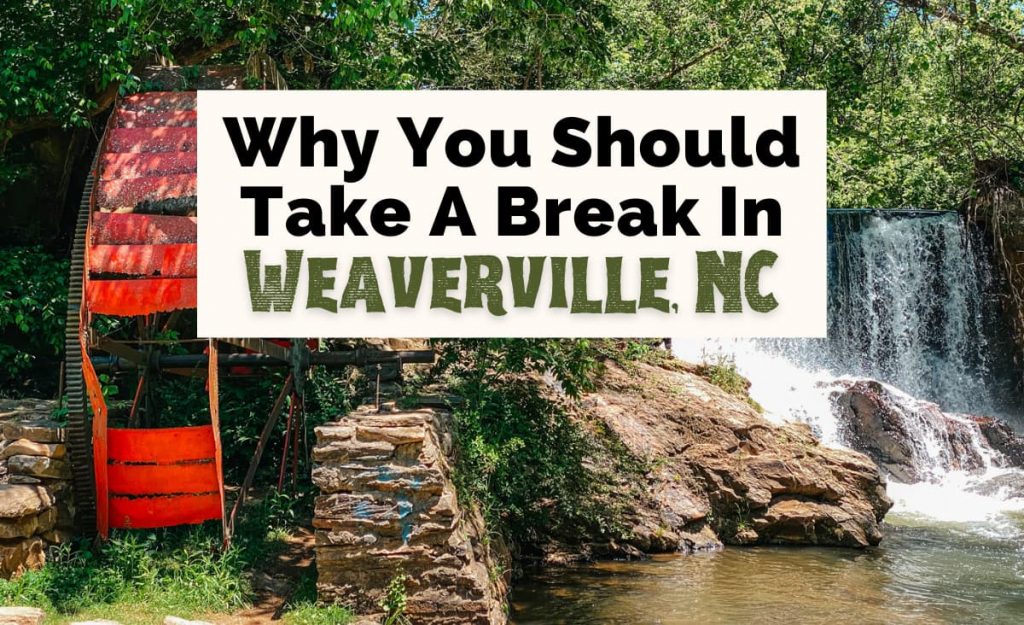 This post may contain affiliate links that earn us a commission at no extra cost to you.
Don't miss these hotels, cabins, cottages, and inns around Weaverville, NC.
See our Asheville overnight recs, too.
7 Relaxing Things To Do In Weaverville, NC
1. Stroll Beautiful Lake Louise Park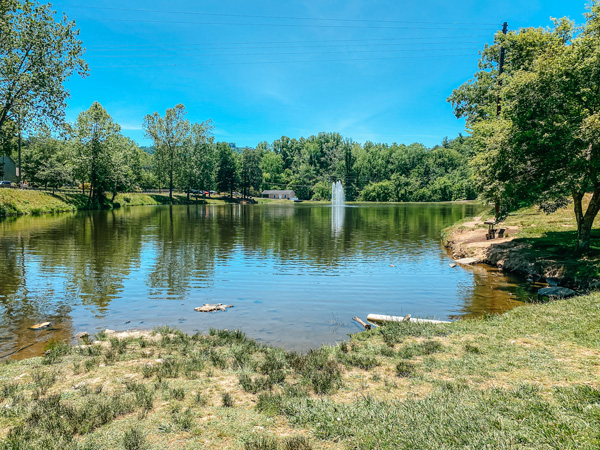 For park and garden lovers, one of the best things to do in Weaverville is head to Lake Louise.
Located right before you enter Weaverville's main downtown area from Asheville, you cannot miss this shimmering lake.
Lake Louise Park encompasses about 15.5 acres of land and houses a more than five-acre, man-made lake.
Pack a picnic and grab a picnic table or bench along the water. You can walk Lake Louise's easy .61-mile perimeter loop trail, spying turtles, carp, ducks, and geese.
Lake Louise's fountain adds extra ambiance too.
Plus, enjoy the playground, and work out with their fitness equipment. Lake Louise Park allows catch and release fishing as long as you have a valid North Carolina fishing license.
There are multiple paved parking lots around the lake with facilities.
Grab all of the rules and information about Lake Louise Park from the Town Of Weaverville's Parks and Recreation website.
If you like Weaverville's Lake Louise, don't miss North Asheville's nearby Beaver Lake.
Or, take a road trip to some of the best lakes around WNC – think Lake Junaluska and Lake Lure.
2. Visit The Dam & Its Falls Along Reems Creek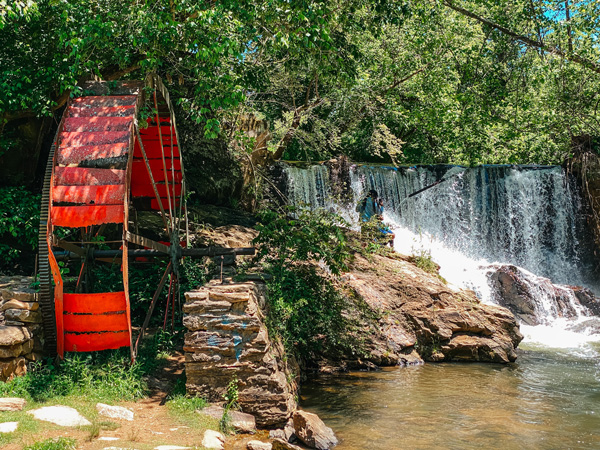 While you are strolling around Lake Louise, one of the coolest things to do in Weaverville is check out the dam-created waterfall at Reems Creek.
This is a historic dam that once powered a water mill.
You will have to cross the street from Lake Louise Park (West Lakeshore Drive) to access a less than .25-mile 'trail' to the falls.
You'll spot the red water wheel fairly quickly as well as hear the falls on your loop.
The dam's falls are only about 15-feet tall. This is the perfect spot for pictures.
Read more about the best waterfalls around Asheville – of course, these are much more impressive and larger.
Never Miss Another Asheville Update
---
Tired of generic Asheville travel itineraries? Are you hoping to experience the magic of Asheville like a local? Grab our free Asheville Favorites checklist, including restaurants, breweries, and hiking. Plus, get local updates – including events and hidden gems – straight to your inbox. Sign up here.
3. Walk Main Street Nature Park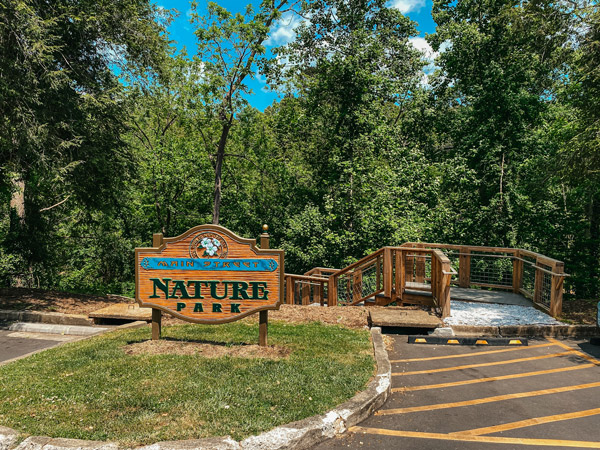 Weaverville's best attractions are those free and easy-to-access outdoor spaces.
When you are ready to head into downtown Weaverville, you can park in their free public parking lot as you enter downtown. Don't miss the Weaverville clock in front of the lot.
Attached to the back of this parking lot, stroll Weaverville's Main Street Nature Park, which also sits behind Town Hall. Leashed dogs are allowed on the walking trail.
This public park has 10 acres of winding nature walks with flowers and shelters a variety of birds and critters.
If you like Weaverville, you may also love Black Mountain.
4. Grab A Bite To Eat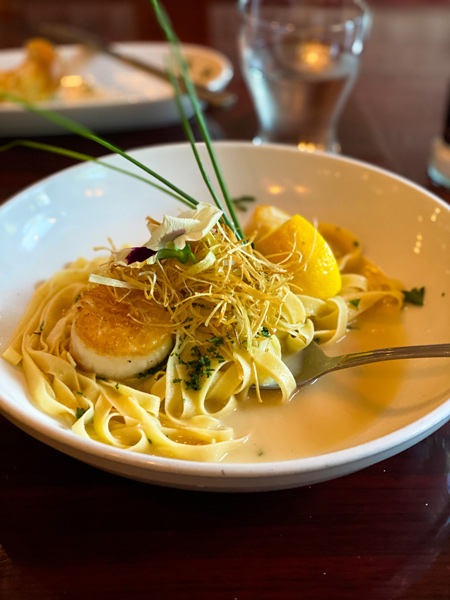 For foodie things to do in Weaverville, eat at one of the local Weaverville restaurants. Just a few delicious places to try include:
Blue Mountain Pizza & Brew Pub – For thin-crust pizza with local vibes, don't miss Blue Mountain Pizza. My husband especially appreciates this Weaverville pizza joint since they have vegan cheese and offer gluten-free crust. Order pizza or sandwiches. Uncover more restaurants with vegan options.


Twisted Laurel – For casual Mediterranean food, Weaverville's Twisted Laurel is their flagship location. You can also find them in downtown Asheville. Inside, gorgeous wooden beams and huge open doors surprise the unsuspecting visitor. The bar is spectacular, and you are guaranteed to find a large draft list filled with mostly local brews. Twisted Laurel has a gluten-free bread option for their sandwich and burger menu items. Don't miss Sunday brunch.


Glass Onion – For global Italian and more upscale dining, don't miss Glass Onion. We highly suggest making advanced reservations, especially for dinner. Glass Onion is great for gluten-free diners and food intolerances.
Grab our complete guide to Weaverville's delicious restaurants.
Save This Post For Later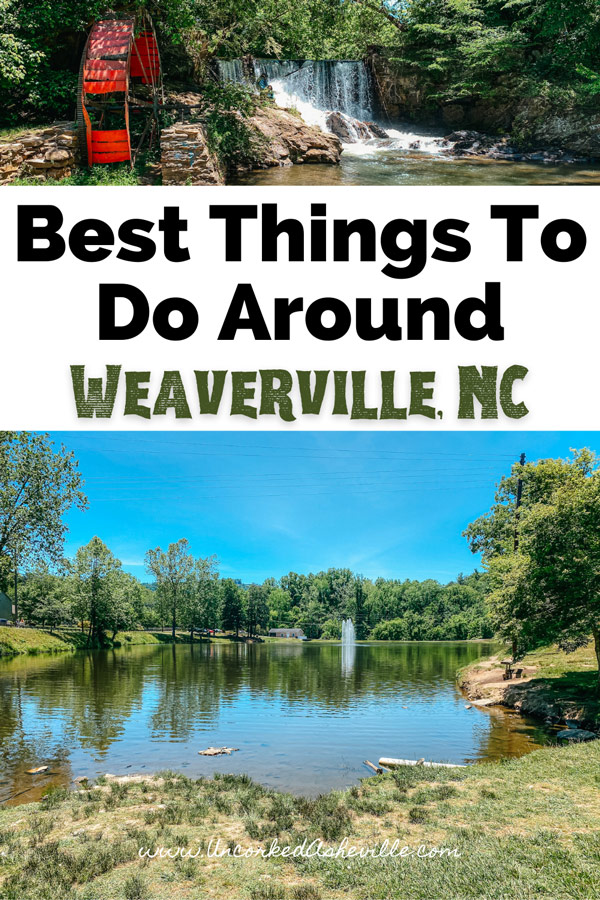 5. Shop At Weaverville's Artisan Stores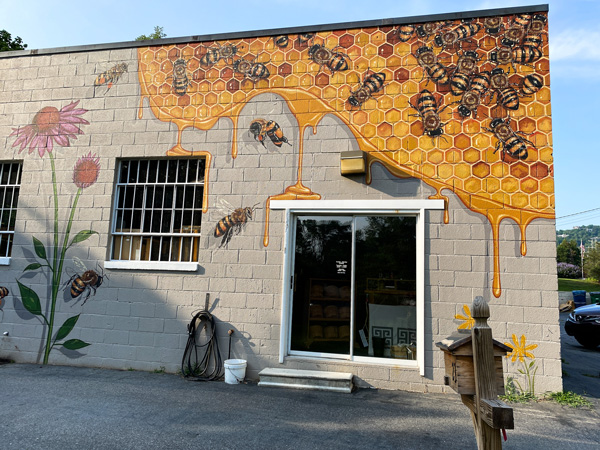 Weaverville's North Main Street and the surrounding areas are lined with shops. Explore galleries, flowers, and pottery.
We are not avid shoppers, but a few Weaverville stores include Echoview Fiber Mill, Vintage Kava herbal tea lounge, and Crucible Glassworks.
You might also want to drop by Honey and the Hive for local honey and beekeeping supplies. You cannot miss them with their fun bee mural on the side of the building. They even host a series of beekeeping classes.
Lastly, find vintage cars at Rare Exotic Vehicles, a woman-owned boutique dealership. They sell specialty and collector cars.
6. Try A Delicious Craft Beer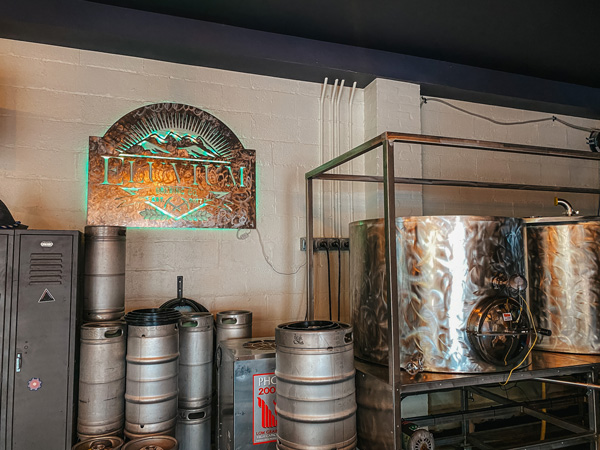 If you are looking for local craft beer, Weaverville has your back. Don't miss Eluvium Brewing Company, which opened in 2017.
I actually love that Eluvium Brewing posts when they last cleaned their beer taps. You can enjoy a bevie inside the taproom or outside on the covered or uncovered patio.
Find lagers, sours, wheat, IPA, and brown ale.
Only open on Friday and Saturday afternoon, ZEBULON Artisan Ales focuses on Belgian and French farmhouse-style brews.
7. Grab A Drink With The Pooches At Wagbar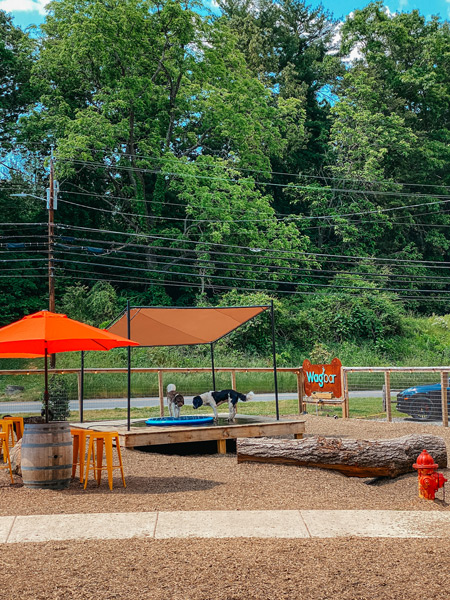 We do not own dogs, but we sure love hanging out with them. One of our favorite things to do in Weaverville involves grabbing a local WNC craft beer at Wagbar and watching all of the pooches socialize.
Wagbar is a 21+, 25,000 square foot, off-leash dog park with a bar. You do not need a dog to enter. The bar is actually in a modern, up-cycled shipping container.
You can watch the doggos run through sprinklers, play, and pee on fire hydrants. They also serve up non-alcoholic beverages and have a series of occasional rotating food trucks.
Dogs must have a membership with veterinary documentation. Be sure to read Wagbar's doggie membership rules before heading there for the first time.
If you are dog-less like Tom and I, you may just walk right in and grab a drink. Wagbar is located at 320 Merrimon Ave, Weaverville, NC 28787.
Don't miss these hotels, cabins, cottages, and inns around Weaverville, NC. See our Asheville overnight recs, too.
Have you been to Weaverville, NC?
Weaverville is a great destination, especially if downtown Asheville is busy or overwhelming. What are some of your favorite things to do in Weaverville, NC? Please let us know in the comments.
What Else Can You Enjoy In & Around Weaverville?
Best Restaurants In Weaverville, NC
More WNC Towns & Cities To Visit:
Black Mountain Guide
Hendersonville Guide
Asheville Guide
Lake Lure Guide