5 Best Spots For Gluten-Reduced & Gluten-Free Beer In Asheville
Uncover where to get gluten-reduced and gluten-free beer in Asheville, NC – and nearby – from a half-Celiac household.
Did you know that one of the reasons we moved to Asheville includes the plethora of gluten-free options across Western North Carolina (WNC)?
As a Celiac household, we were sold on WNC after spending a morning hiking DuPont's Hunger Games waterfalls followed by a little rehydration at Oklawaha Brewing, one of the best spots with gluten-reduced beer near Asheville.
Not to mention meeting up with friends at Posana for celebratory fine dining with its dedicated gluten-free kitchen and ordering gluten-free pizza from Asheville Brewing.
Below, explore the best Asheville gluten-free beer spots, including Ginger's Revenge, which boasts delicious rotating food trucks too.
Then, uncover the best breweries serving gluten-reduced beer in Asheville, NC. These beers will have less than 20 ppm of gluten.
Of course, these are also all fantastic breweries for everyone, and you'd never know from the taste that the beer has less gluten. Let's get started!
You might also enjoy our complete guide to gluten-free Asheville.
This post may contain affiliate links that earn us a commission at no extra cost to you. If you love these guides, support Uncorked Asheville here.
5 Spots For Gluten-Reduced & Gluten-Free Beer In Asheville
Gluten-Free vs Gluten-Reduced Beer
Just a quick note before we get started: gluten-free beer is defined as having absolutely no gluten in the recipe.
Gluten-reduced beer contains gluten in the recipe which is reduced during the beer-making process, typically by adding enzymes during the fermentation process.
Under the current industry standard, gluten-reduced beer contains less than 20 ppm of gluten.
Not all Celiacs or people with gluten intolerances and sensitivities can safely drink gluten-reduced beer. Our household can.
Your dietary needs, intolerances, and allergies may be different than ours. These are just our personal experiences.
You should always check with your doctor or a medical professional; we are not health professionals, but we certainly consult them.
Please also always double-check with each establishment as brews and procedures are subject to change.
Currently, there are more places to find gluten-reduced beer in Asheville versus complete gluten-free beer.
1. Ginger's Revenge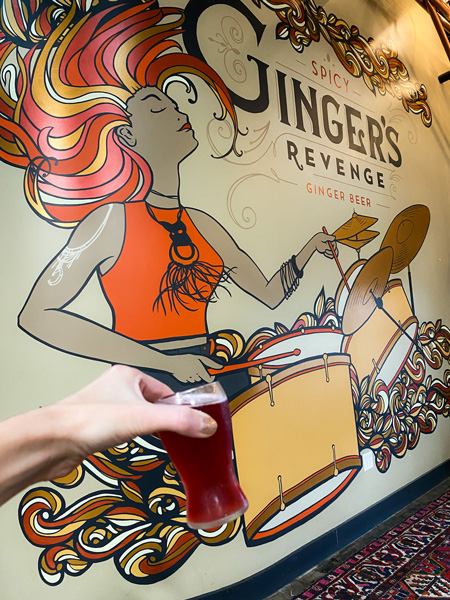 For the best gluten-free beer in Asheville, head to Ginger's Revenge.
They have two locations: one on the corner of North Asheville and the River Arts District and a new South Slope taproom.
While Ginger's Revenge also serves glutinous beers from other local breweries, all of their ginger beers are made with 95% organic ingredients and are naturally gluten-free.
Ginger's Revenge has spicy, dry, and fruity ginger beers, and if it is your first time here, we highly recommend ordering a flight. Of course, grab a glass or half pour too.
Find seasonal, original, and rotating flavors like vanilla and fig, lavender, cranberry, lemon, tea, and passionfruit.
A beautiful and large "ginger" playing the drums mural greets visitors at the Riverside location where you can find rotating food trucks, live music, and brewery tours.
Most notably, catch delicious rotating Asheville food trucks here, including Buggy Pops, which has a few vegan treats.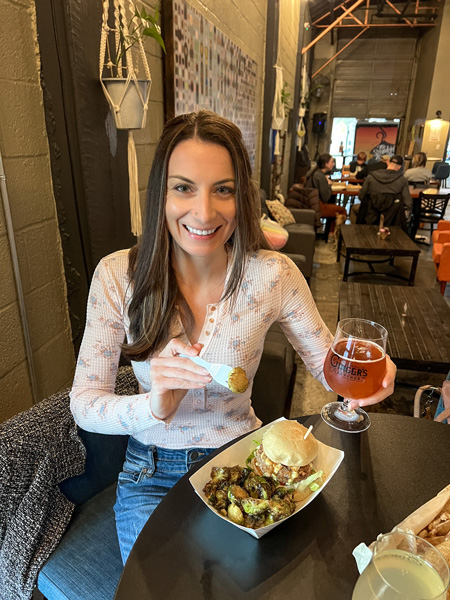 Along with their ginger beer, Ginger's Revenge's Downtown South Slope bar has non-alcoholic beverages, snacks, and ginger beer cocktails.
The Asheville gluten-free beer scene doesn't get any more fun and spicier than this.
Afterward, head into the River Arts District (RAD), which is most famous for its delicious restaurants, artist studios, and vibrant street art.
Plus, for our gluten-free drinkers, find one of the best wineries in Asheville, pleb, as well as our preferred wine bar, Bottle Riot.
For North AVL/RAD parking, use Ginger's Revenge's shared lot out front. There is also a pay lot across the street.
If you are parking Downtown, find pay lots all around the area. Be sure to enjoy Downtown restaurants like Buxton Hall, Bear's Smokehouse, and Asheville Brewing.
Ginger's Revenge | 829 Riverside Dr, Suite 100, Asheville, NC 28801 & 32 Banks Ave, Asheville, NC 28801
2. Cellarist Beer Project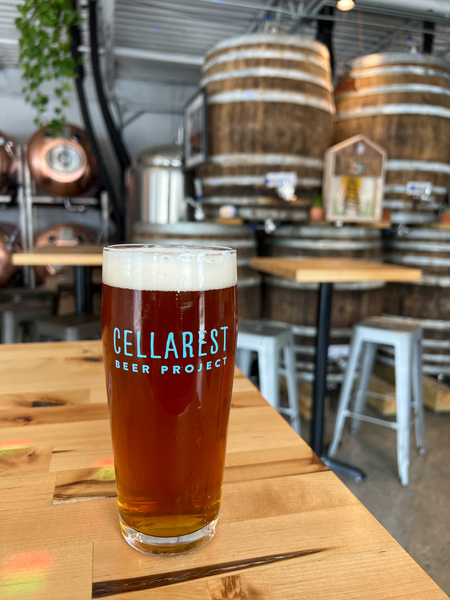 Asheville is pretty famous for its hopping beer scene, and for newcomers, the selection can be overwhelming.
If you are gluten-free – whether by choice or health needs – know that most of the AVL breweries carry non-beer options including wine, cider, and soda, especially the larger establishments.
And, for gluten-reduced beer in Asheville, the city has quite a few terrific breweries. (Of course, if you drink glutinous beer, you'll also love these spots and not notice any difference in taste.)
Most notably, we love Cellarist Beer Project, which sits in the city's West Asheville neighborhood. Cellarist is a pet and child-friendly brewery with indoor and outdoor seating.
Established in 2020, Cellarist specialties in Farmhouse Ales and Lagers. They feature some of our favorite beers like Doppelbock, Saisons, Helles, and Stouts.
Along with gluten-reduced beer, enjoy a plethora of kombucha, cider, and wine.
Grab a glass along with cans, howlers, or bottles for the road. Order food from W.A.L.K. next door or one of the (occasional) rotating food trucks.
While in this part of the city, grab a meal at one of West Asheville's stellar restaurants, including Neng Jr.'s, Thai Pearl, Sunny Point Cafe, Gypsy Queen Cuisine, or Nine Mile. All have gf options.
West Asheville is also home to two great bookshops, Bagatelle Books and Orbitz DVD (with video games), and popular coffeehouses like Odd's Cafe and Izzy's. Say hi to Dolly and RuPaul too.
We typically find free street parking on Haywood Road.
Cellarist Beer Project | 395 Haywood Rd, Asheville, NC 28806
3. 7 Clans Brewing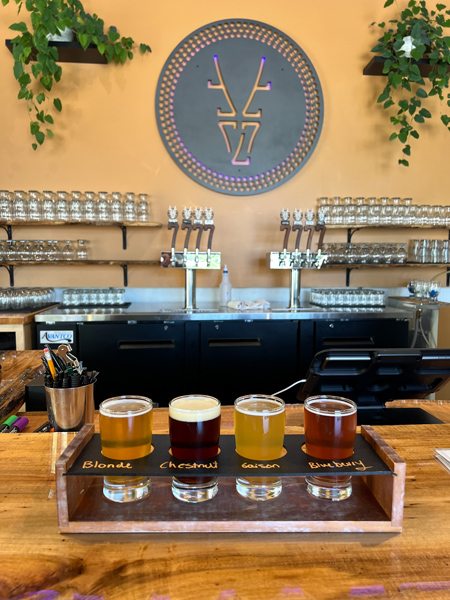 There is never a shortage of emerging and new places to try in Asheville. Every year, our list fills right up and we set out to try them.
New in 2022, 7 Clans Brewing opened in the Biltmore Village neighborhood, close to Hilman Beer. Like Cellarist, 7 Clans serves up some of the best gluten-reduced beer in Asheville.
Just be sure to ask what beers are gluten-reduced.
Women-majority and Indigenous-owned, sip on Blonde Ale, IPAs, Saisons, Sours, and Chestnut Browns. Their name derives from the 7 Clans of the Cherokee.
At 7 Clans Brewing, find both indoor and outdoor seating along with rotating food trucks. They also have their own parking lot.
This spot is great after touring Biltmore Estate too.
For more great breweries and places to eat around Biltmore, head to Hillman Beer. Although they don't yet have gluten-reduced beer, you'll find hard cider and hard seltzer.
Not to mention that Biltmore Village is full of great restaurants with gluten-free options like Andaaz, Apollo Flame, and Corner Kitchen.
7 Clans Brewing | 66 Sweeten Creek Rd, Asheville, NC 28803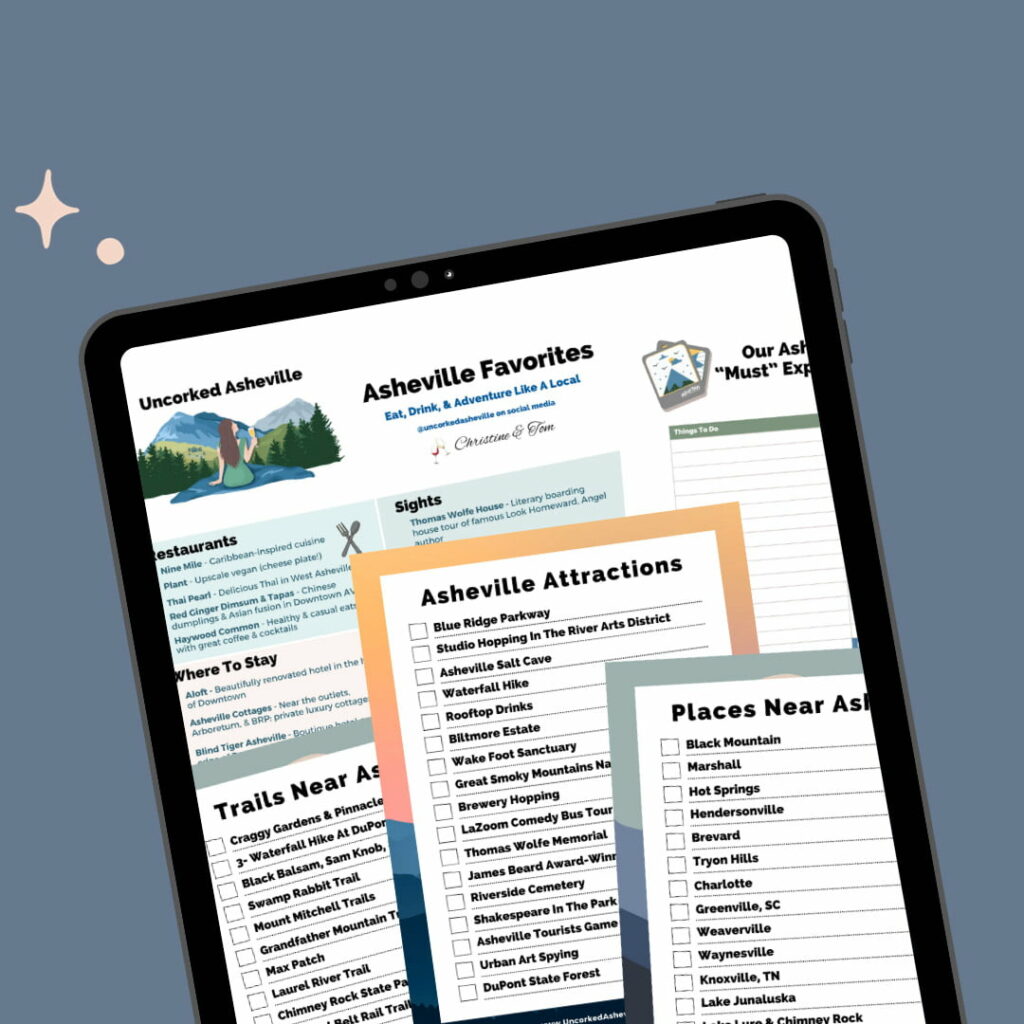 Never Miss Another Asheville Update
Experience Asheville like a local with our free attractions, dining, hiking, and day tripping guides. Get events, updates, and more straight to your inbox from Christine.
4. White Labs Brewing Co. Kitchen & Tap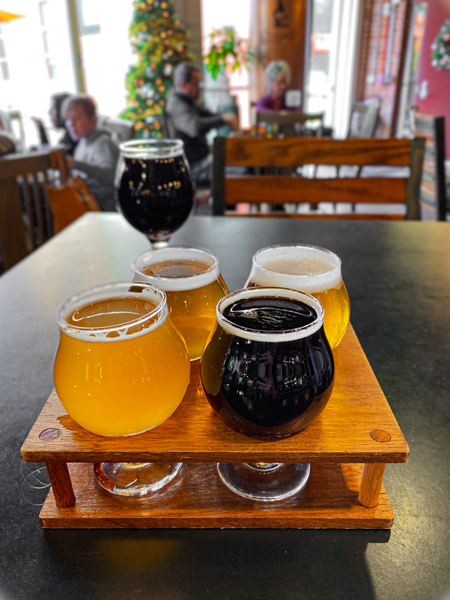 Like its beer scene, Asheville has a plethora of pizza joints. Even better, there are quite a few restaurants that dish out delicious gluten-free pizza.
White Labs is one of them, and they also have a variety of gluten-reduced beer in Asheville. Just know that not all of their beers are gluten-reduced. You might need to ask.
We enjoy White Labs Brewing's Stouts, Lagers, and Ambers. For more drinks, White Labs Brewing also features cocktails and mocktails.
If you are hungry, order a regular or gluten-free wood-fired pizza with your favorite toppings, or choose from burgers and handhelds – with gluten-free buns.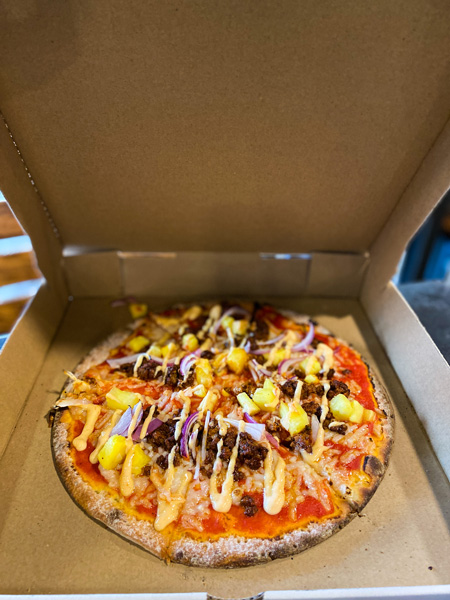 White Labs stays more local as their taproom sits just outside of Downtown Asheville close to the city's North Asheville neighborhood.
White Labs is a family-friendly Asheville restaurant with multiple-level indoor and outdoor seating. They have a parking lot along the side of the building.
While in this area, be sure to check out North AVL's other delicious restaurants like Taco Temple, Rye Knot, Jettie Rae's, and Bone & Broth.
White Labs Brewing Co. Kitchen & Tap | 172 S Charlotte St, Asheville, NC 28801
5. Oklawaha Brewing Company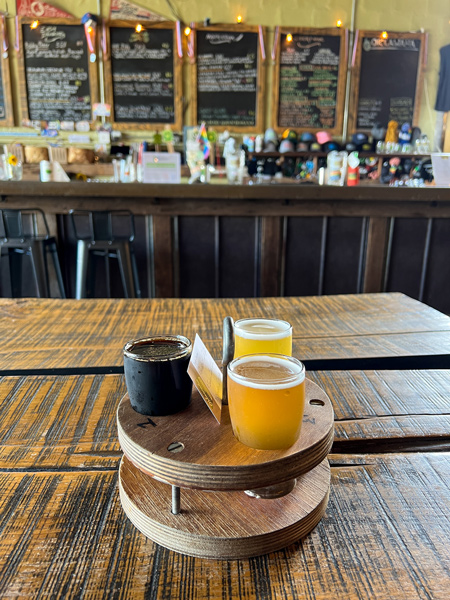 Western North Carolina has the best mountain cities and towns, and Hendersonville is certainly a worthy day trip from Asheville; it's about 40 minutes away.
Along with hiking the gorgeous waterfalls at DuPont State Forest, Downtown Hendersonville is full of things to do.
Find coffee shops, casual and incredible restaurants, museums, and shopping. Plus, for gluten-reduced beer near Asheville, Oklawaha Brewing is a must.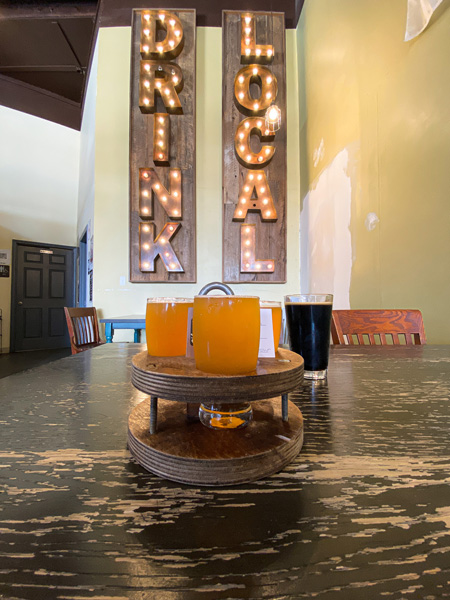 In fact, Oklawaha is one of our all-time favorite breweries in Hendersonville and all of WNC.
Peruse their tap list, which features Stouts, seasonals, Ambers, IPAs, and Helles. Sit inside with the bright "Drink local" sign or outside on the small makeshift patio.
Both a kid and dog-friendly brewery, attend an event including game nights and live music.
Of course, Hendersonville is also famous for those fall apple orchards and beautiful vineyards.
Oklawaha Brewing Company (Formerly Sanctuary Brewing) | 147 1st Ave E, Hendersonville, NC 28792
Save These Gluten-Reduced & Gluten-Free Breweries in Asheville For Later:
Who makes the best gluten-reduced beer in Asheville, NC?
If you are looking for gluten-free beer in Asheville, Ginger's Revenge is your go-to spot. For the best Asheville gluten-reduced beer, you honestly cannot go wrong with Cellarist or 7 Clans.
Where do you like to get gluten-reduced or gluten-free beer in Asheville? Let us know in the comments.
Before you go…
In addition to these breweries, Asheville and its nearby mountain cities and towns have a variety of terrific cideries, including Bold Rock, Noble, Appalachian Ridge Artisan Cider, and Botanist and Barrel.
For AVL distilleries with gluten-free options, we love Oak and Grist, Cultivated Cocktails, and Rye Knot.
Lastly, be sure to check out our complete guide to gluten-free Asheville as locals and a Celiac household. Here, find gluten-free markets, restaurants, donuts, desserts, and more.
Related Articles: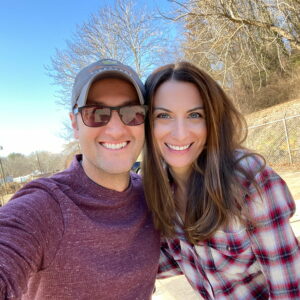 Christine (pronouns: she/her) is the owner and lead writer of Uncorked Asheville. After falling in love with those gorgeous Blue Ridge Mountains, Christine and her husband Tom decided to call Asheville, North Carolina home. When her pointy Italian nose isn't stuck in a book, Christine is adopting all of the kitties, getting lost in the forest, and drinking an ESB. She has a BA in English and History from Smith College, her MLIS from USF-Tampa, and is a former U.S. Fulbright Scholar - Indonesia. Christine also owns The Uncorked Librarian LLC with books and movies to inspire travel.