Uncover the best restaurants near Biltmore Estate in Asheville, NC – from locals and Biltmore annual passholders.
Biltmore Estate is America's largest home and Asheville's hottest attraction.
Even as locals, we enjoy the estate for its holiday decorations, restaurants, vibrant blooms, and hiking trails.
We 100% think Biltmore is worth a visit as part of any Asheville itinerary, at least once, and we personally return again and again as annual passholders.
Whether you are attending a Biltmore special event, touring the home, or staying overnight on the property, you might find yourself looking for places to eat near Biltmore Estate.
Of course, Biltmore has delicious on-site restaurants like Cedric's, Stable Cafe, and Village Social.
And for Biltmore area restaurants, you can head outside the gates to Biltmore Village – less than one minute away by car.
Historic Biltmore Village is filled with restaurants, cafes, coffee shops, and bars like Corner Kitchen, Well-Bred Bakery, Foothills at Hi-Wire, and Andaaz.
However, this section of Asheville grows pretty busy, and you might want to eat off-of-the-beaten path and explore more of what AVL has to offer.
For even more restaurants in the Biltmore area – about 10 to 15 minutes by car from the estate gates – visit local neighborhoods like West and North Asheville or Downtown, which are home to pubs, breweries with food, and spots for pizza, burgers, and sandwiches.
There are so many terrific and award-winning Asheville restaurants near Biltmore, how do you choose?
From locals, keep reading for the best restaurants near Biltmore Estate perfect for a variety of budgets and diners, including pet and family-friendly places.
We'll talk vegan, veggie, gluten-free, casual, romantic, and fancy. Let's get started!
Grab all of our Biltmore Estate guides, including restaurants on the estate, things to do, and fun facts!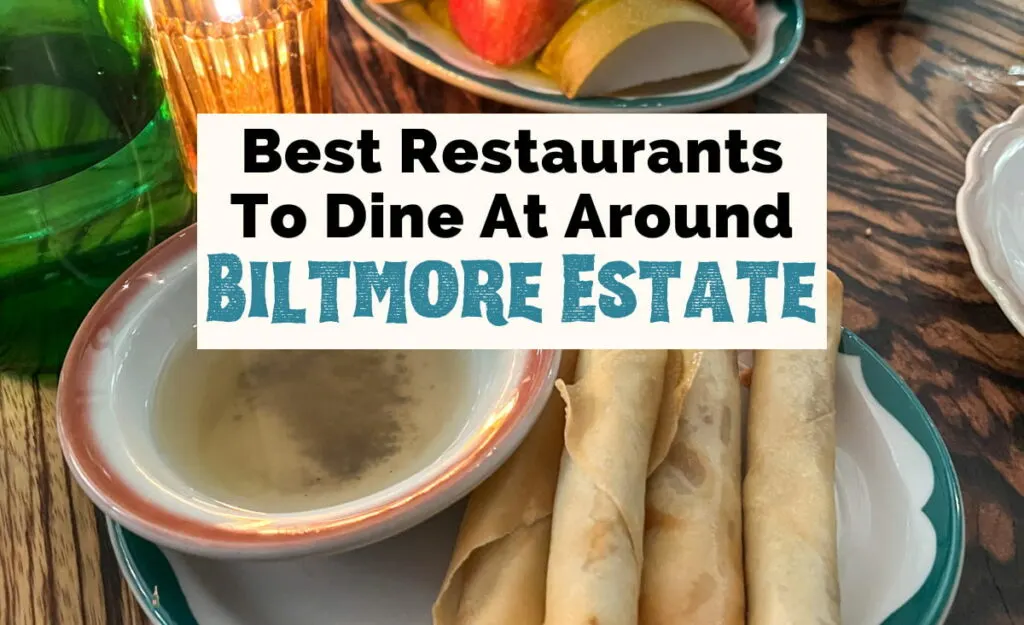 This post may contain affiliate links that earn us a commission at no extra cost to you. If you love these guides, support Uncorked Asheville here.
13 Delicious Restaurants Near Biltmore
Haywood Common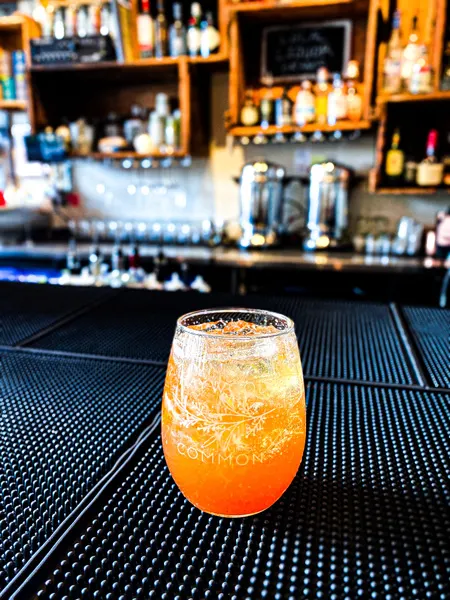 One of the best restaurants near Biltmore Estate – and in all of Asheville, Haywood Common is a must for casual and budget-friendly eats.
About 8 to 10 minutes driving distance from Biltmore in West Asheville, Haywood Common promises weekend brunch as well as lunch and dinner 7 days a week (but always double-check this).
On a gorgeous day, sit outside at the covered and uncovered picnic tables with the family or your pooch.
This outdoor area is shared with The Whale, a fantastic AVL bar with a massive local and international beer selection.
Haywood Common also has limited indoor seating, which grows busier on cold days and weekends.
For food, Haywood Common specializes in simple and healthy sandwiches, poke bowls, and salads. Grab boiled peanuts to pair with that beer.
Select from appetizers like fries, Brussels, and chicken wings. Of course, find delicious burgers and mushroom, tofu, and chicken sandwiches.
Weekend brunch includes waffles, eggs, sandwiches, salads, and yogurt with granola. Did we mention the delicious coffee and handcrafted cocktails too?
Haywood Common is also one of the top places to eat near Biltmore Estate for gluten-free diners; we are a part-Celiac household.
Haywood Common has GF bread as well as a dedicated GF fryer. They have always taken our food intolerances seriously, as we are also lactose intolerant.
For parking near Haywood Common, we use the Park Mobile app and park at the church next door or around the surrounding streets.
Haywood Common | 507 Haywood Rd, Asheville, NC 2880
Hillman Beer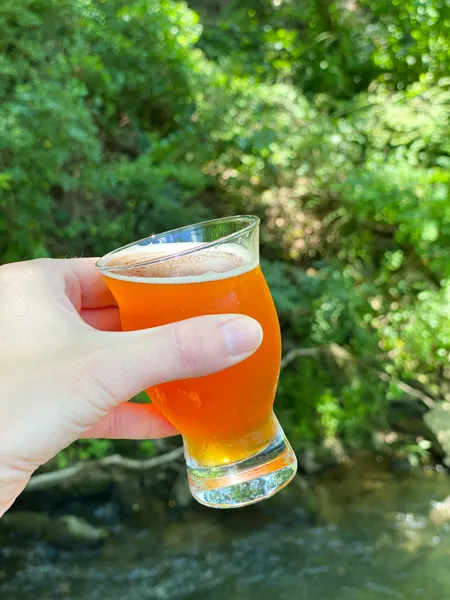 For Biltmore area restaurants on the outskirts of Biltmore Village, Hillman Beer gives visitors the best of both worlds: beer and food.
Asheville is famous for its brewery scene, and Hillman is one of our favorites for brews, ambiance, and friendliness.
Find a sizeable indoor taproom as well as outdoor seating with a full kitchen serving pretzels, burgers, salads, sandwiches, wraps, and rice bowls.
For beer drinkers, select from ESBs, Kölschs, Ambers, IPAs, Brown Ales, and Dunkel.
Not to mention that Hillman Beer is one of the most dog-friendly breweries, especially with that gorgeous space out back by the water.
They just ask that dogs stay leashed, off tables, and well-behaved.
Hillman Beer's Asheville location has its own parking lots and is 2+ minutes away by car from Biltmore Estate.
Nearby, don't miss the newer 7 Clans Brewing, which is Asheville's Indigenous and woman-majority-owned brewery serving up gluten-reduced beer.
Hillman Beer | 25 Sweeten Creek Rd, Asheville, NC 28803
Apollo Flame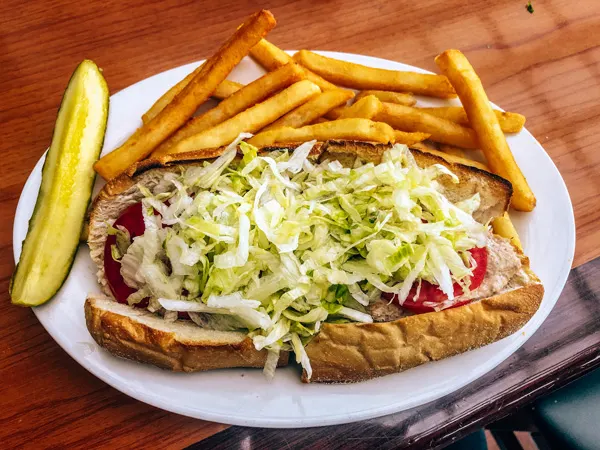 Our readers always thank us for this suggestion or lightly grumble (it's not for everyone), but we just love Apollo Flame, especially for lunch in Asheville.
Apollo Flame is one of the most casual restaurants near Biltmore with Greek diner vibes. They also have two locations.
The first is located outside Biltmore Estate's entrance on Hendersonville Road, 3 minutes by car.
The second Apollo Flame sits on equally busy Brevard Road, about 12 to 15 minutes driving distance.
We'd suggest the Brevard location if you are only spending 36 hours in Asheville and want to head to The NC Arboretum or the Blue Ridge Parkway for a picnic and hike.
Apollo Flame is budget and family-friendly, dishing out the best subs around along with pizza, gyros, and pasta.
We love getting their tuna and Italian subs, and Apollo Flame offers gluten-free bread, pasta, and pizza. Kids will find pasta, chicken tenders, and pizza.
For cozy, no-frills restaurants in the Biltmore area, Apollo Flame has great service and food. It's our local go-to.
Apollo Flame | Closest to Biltmore Estate: 485 Hendersonville Rd. Asheville, NC 28803 & Closest To Arboretum/BRP Access: 1025 Brevard Rd., Asheville, NC 28806
Corner Kitchen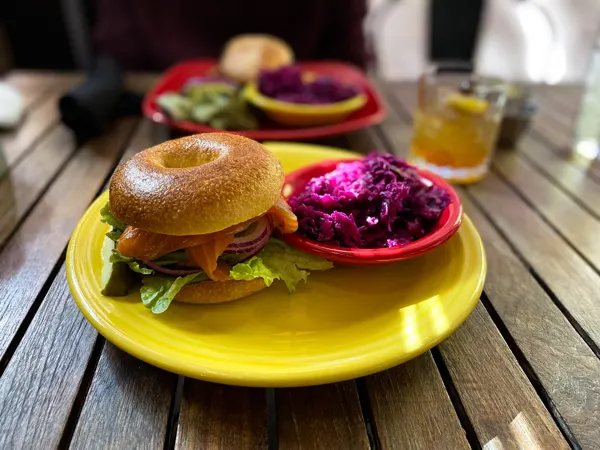 If you love the history of Biltmore Estate, Corner Kitchen and Historic Biltmore Village will sing to you.
Frederic Law Olmstead designed the area that is today Biltmore Village, and Corner Kitchen was once a historic home on George Washington Vanderbilt's estate.
Notably, Corner Kitchen is one of the closest and most popular restaurants near Biltmore Estate – it is a 2-minute drive.
This jumping kid as well as pet-friendly Biltmore Village restaurant serves brunch, lunch, and dinner 7 days a week.
Corner Kitchen's brunch and lunch menu includes Southern bowls, eggs, lox, sandwiches, soups, and salads.
We enjoy their cocktails, including brunch mimosas, and they use many local spirits.
If you are looking for dinner near Biltmore, think charcuterie, grilled octopus, scallops, ribs, and bruschetta to start.
Then, move on to large meat and seafood entrees like risotto, steak, and duck.
Kids can select from eggs, waffles, grilled cheese, and mini-sandwiches for brunch and lunch as well as grilled chicken, salad, and sandwiches for dinner.
Corner Kitchen has a heated outdoor patio and quaint indoor seating. We suggest making advanced reservations.
For area parking, look along the side streets. Biltmore Village traffic and parking can be tight and congested, especially during peak travel and work hours.
After a meal, head across the street to one Well-Bred Bakery location.
For more Biltmore area restaurants, Well-Bred is a top AVL coffee shop serving all-day breakfast like egg sandwiches as well as classic lunch sandwiches such as BLTs, chicken salad, and grilled cheese.
Corner Kitchen | 3 Boston Way, Asheville, NC 28803
12 Bones Smokehouse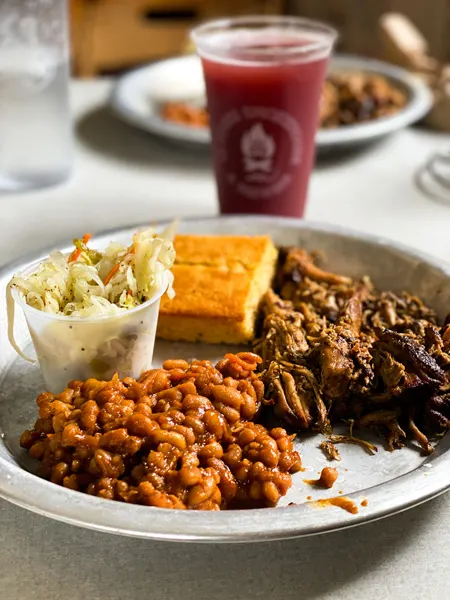 One of the best places to eat near Biltmore Estate for BBQ lovers, dine like a former U.S. President at 12 Bones Smokehouse.
The Obama family visited Asheville in 2008, hiking Craven Gap and enjoying BBQ ribs at 12 Bones Smokehouse (River location).
12 Bones Smokehouse is best known for slow-smoking its meats over hardwoods and using old family recipes as well as new concoctions.
Hop in line, and choose from a delicious BBQ platter or sandwich. Think pulled pork and chicken, smoked turkey, and ribs.
Don't forget to stop by the BBQ sauce station. Meats and sauces are gluten-free.
12 Bones has two locations, both with indoor and outdoor seating. "River" is in Asheville's vibrant River Arts District, which is a 6-minute drive from Biltmore Estate.
"South" – a 15+-minute drive – is where you'll find Gus Cutty's gorgeous tribute and mural to Anthony Bourdain. 12 Bones South also houses its brewery.
We suggest the River location as one of the closer restaurants in the Biltmore area.
Nearby, you'll also find other great RAD restaurants like RosaBees, Bottle Riot (wine bar), The Chop Shop Food Truck or Guajiro (terrific food trucks), and Bull & Beggar (fine dining).
12 Bones | River: 5 Foundy St. Ste 10, Asheville, NC 28801 & South: 2350 Hendersonville Rd, Arden, NC 28704
Taco Temple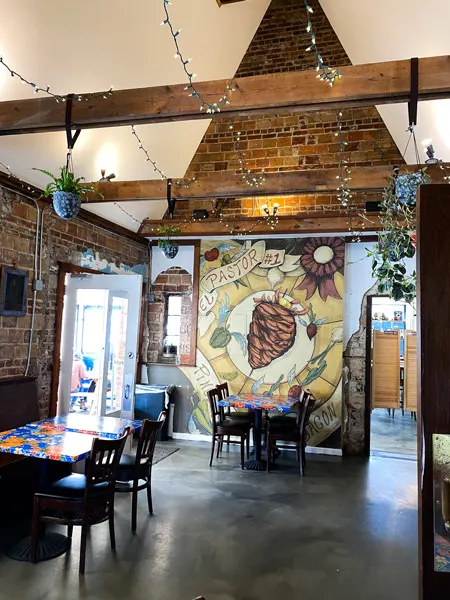 Tacos are always a good idea, especially in AVL, which has a plethora of taco shops including White Duck, The Cantina, Taco Billy, and Papas & Beer.
One of our favorite and "must" restaurants near Biltmore for authentic Mexican, though, includes Taco Temple in North Asheville.
Taco Temple is only a 10-minute drive from Biltmore Estate along Charlotte Street, which is close to B&Bs, cafes, ice cream shops, and endless restaurant choices.
This former 1930s gas station is literally a temple to tacos – just check out that inside decor. They have outside seating too.
A local hot spot, Taco Temple features breakfast, lunch, and dinner tamales, tortas, and tacos – vegan tacos included – filled with chicken, cauliflower, chorizo, cod, and more.
We recommend ordering 2 tacos per person. Taco Temple also has a children's menu with rice and beans and quesadillas.
Sip on margaritas and cocktails with some guacamole. Those chips…
Taco Temple has tight and limited parking around its building. You could also park along the surrounding streets.
For more North Asheville restaurants near Biltmore Estate, head to Bone & Broth (meats), Jettie Rae's (seafood), and White Labs (beer and pub grub).
Taco Temple | 132 Charlotte St, Asheville, NC 28801
Juicy Lucy's Burger Bar & Grill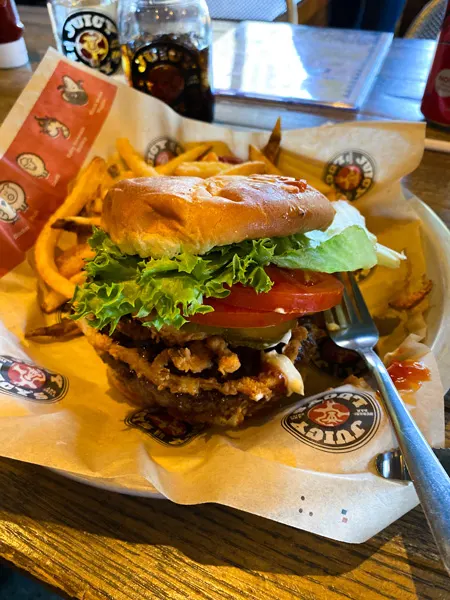 Nothing beats a burger and fries when you are craving them, and for fun Biltmore area restaurants, Juicy Lucy's promises just that along with milkshakes and beer.
In case you are unfamiliar, a "Juicy Lucy" is a burger stuffed with melted cheese at its center.
Four+ minutes from Biltmore Estate and open 7 days a week, Juicy Lucy's Burger Bar & Grill has a large menu full of classic and seasonal burgers.
Or, build your own, and find comfort food in the form of appetizers, sandwiches, BBQ platters, wings, salads, ribs, gyros, and meat and seafood dishes including steak.
Their kids' menu boasts grilled cheese, chicken tenders, hot dogs, hamburgers, and mac and cheese.
Juicy Lucy's also has a few vegetarian and vegan options along with a gluten-free bun. Their adult shakes can be made with alcohol. A "Drunk Elvis" and "Son of a Peach," anyone?
There is plenty of parking in their designated lot around this busy area.
For quick and convenient places to eat near Biltmore Estate for the entire family, Juicy Lucy's is a great option.
Juicy Lucy's Burger Bar & Grill | 620 Hendersonville Rd, Asheville, NC 28803
Sunny Point Cafe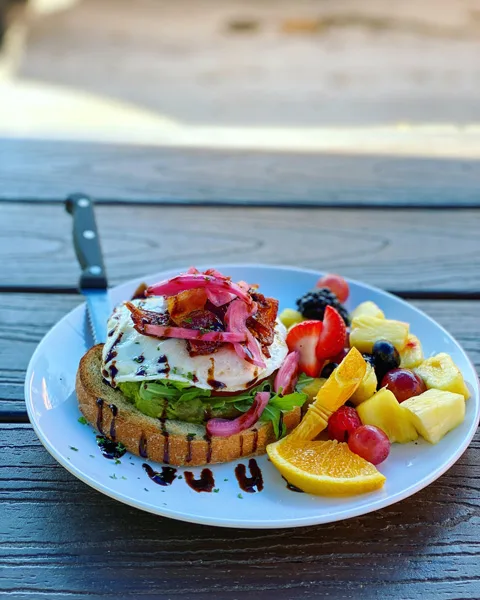 What's a local favorite for breakfast, brunch, lunch, and dinner? We'd have to say Sunny Point Cafe.
One of the best Asheville restaurants near Biltmore – a little over 10 minutes away – eat outside on the patio or inside on a cooler day.
You might have to wait for a seat, though, if it's a busy time, and they do not take reservations.
For breakfast and brunch, Sunny Point's menu features Southern favorites like biscuits and gravy, breakfast burritos, fried green tomatoes, chicken and waffles, and shrimp and grits.
Of course, find avocado toast, French toast, and hotcakes.
For lunch, enjoy a variety of sandwiches and burgers with gluten-free bread options. Dinner also includes larger entrees like meatloaf and salmon.
Children can select from egg platters, hotcakes, French toast, grilled cheese, quesadillas, and burgers. For dinner, Sunny Point usually has kids' pasta and chicken.
This is a dog-friendly restaurant. We suggest looking for street parking on or around State Street as Sunny Point has a very small lot.
For more West Asheville restaurants near Biltmore Estate, we also love Thai Pearl (Thai cuisine), Green Tea Sushi (sushi), and Gypsy Queen Cuisine (Mediterranean & loads of GF and vegan options).
Sunny Point Cafe | 626 Haywood Rd, Asheville, NC 28806
Red Stag Grill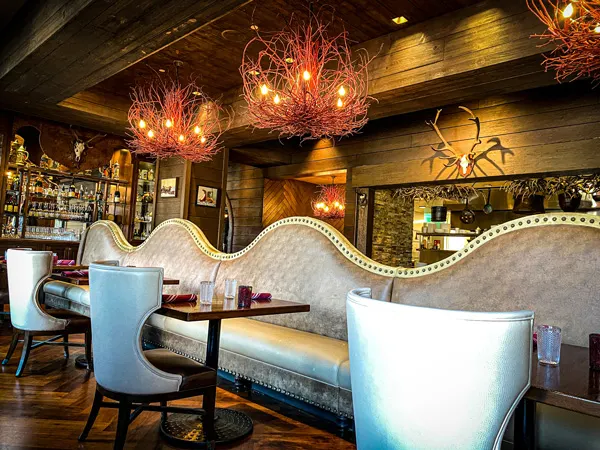 Imagine walking into a ritzy hotel with a blazing fireplace and a cozy and sleek tavern with a gorgeous bar and restaurant seating.
That's just the experience you'll have at Red Stag Grill, one of the coolest restaurants in the Biltmore area that is also situated within a great lodging option.
Located in the Grand Bohemian Hotel in Biltmore Village – just a minute away from Biltmore Estate – Red Stag Grill is romantic, memorable, and classy.
However, if taxidermy isn't your thing, maybe keep your eyes down as this restaurant most resembles a chic hunting lodge.
We like dropping in here for charcuterie and cocktails. The European and Southern-flavor-inspired menu promises breakfast, weekend brunch, lunch, and dinner.
For breakfast, select from eggs, pancakes, and breakfast burritos along with fruit, oatmeal, and smoothies. Lunch promises soups and sandwiches.
Red Stag Grill's dinner menu specializes in moderately priced dishes ($30+ range) including entrees like roasted duck, jumbo scallops, and short ribs.
More casual and drop-in visitors might want to grab a seat at the antler-themed bar.
Make advanced reservations, if you can. We have walked in on off-season without difficulty.
More Biltmore area restaurants near Red Stag also include Corner Kitchen – mentioned above – and Moe's (BBQ).
Red Stag Grill | Grand Bohemian Hotel Asheville | 11 Boston Way, Asheville, NC 28803
Neng Jr.'s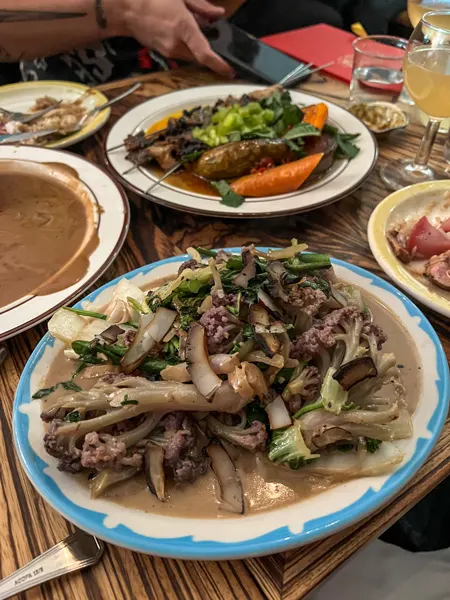 New to Asheville in 2022, Neng Jr.'s is already the talk of the town and one of the most special West Asheville restaurants near Biltmore.
For Filipinx cuisine with a Southern twist, enter through the back alley into a tiny restaurant with about 6 tables and bar seating (and yes, you want to make reservations).
Their menu, which staff will explain to you item by item, has sharables and larger entrees. If you go with friends, we recommend sharing it all.
Neng Jr.'s menu changes seasonally, and we've had their veggies doused in a peanut butter and coconut sauce, fruits paired with a spicy dip, smoky BBQ mushrooms, and duck simmering in a rich gravy.
Our favorite: the salty oysters with a quail egg. Our friends devoured ice cream covered in olive oil and cheese.
To drink, sip on spicy cocktails and wine from their unique and highly curated list. There are also plenty of gluten-free, vegan, and veggie options.
For moderately priced places to eat near Biltmore Estate, find small plates starting around $15+ to large entrees around $50+.
Discover even more great Asian restaurants across Asheville.
Neng Jr.'s | 701 Haywood Rd Ste 102, Asheville, NC 28806 (Entrance in the back alley)
Never Miss Another Asheville Update
---
Tired of generic Asheville travel itineraries? Experience Asheville like a local with our free Asheville Favorites checklist, including restaurants, breweries, and hiking. Plus, get local updates – including events and hidden gems – straight to your inbox. Sign up here.
Asheville Pizza & Brewing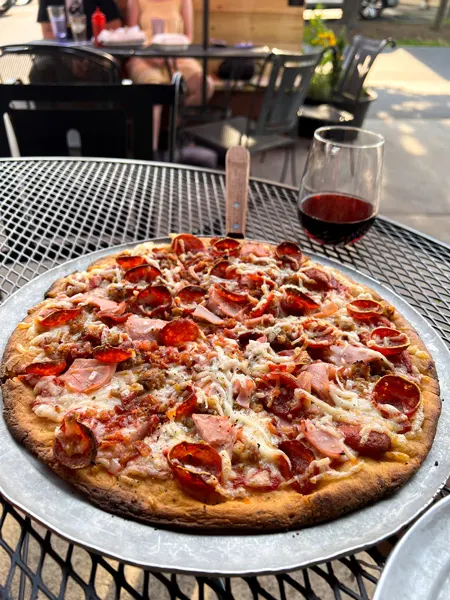 We've talked about tacos and burgers, which means that we cannot forget the best pizza in AVL: Asheville Pizza & Brewing.
One of the top family-friendly restaurants near Biltmore Estate in Asheville, Asheville Brewing has multiple locations (and twists on its brand name).
Asheville Brewing on Coxe Ave. in Downtown is 6 minutes away from Biltmore Estate, and Asheville Pizza and Brewing on Merrimon Ave. in North AVL is 14 minutes away (this location has a movie theater).
They also manage Asheville Pizza South on Hendersonville Road, which is about 10 minutes away from the estate.
For us, they are our number one choice for gluten-free pizza with vegan cheese options.
Asheville Pizza specializes in delicious pies, many of which are named after movies. They also have comfort food like wings, quesadillas, fish and chips, tater tots, and burgers.
Find salads and sandwiches too. We most enjoy their meat lovers', Hawaiian, BBQ chicken, or build-your-own pizzas.
Watching a new release or vintage movie with pub grub is one of our favorite things to do in Asheville on a cold or rainy day.
Asheville Pizza is also a great takeout option.
For more Downtown Asheville restaurants in the Biltmore area, try Ukiah (Japanese BBQ), Wicked Weed (brewery/pub), Bouchon (French), Buxton (BBQ), Chai Pani (Indian), and Red Ginger (Chinese Dim Sum).
Asheville Brewing Company | 675 Merrimon Ave, Asheville, NC 28804; 77 Coxe Ave, Asheville, NC 28801; & 1850 Hendersonville Road Suite A, Asheville, NC 28803
Andaaz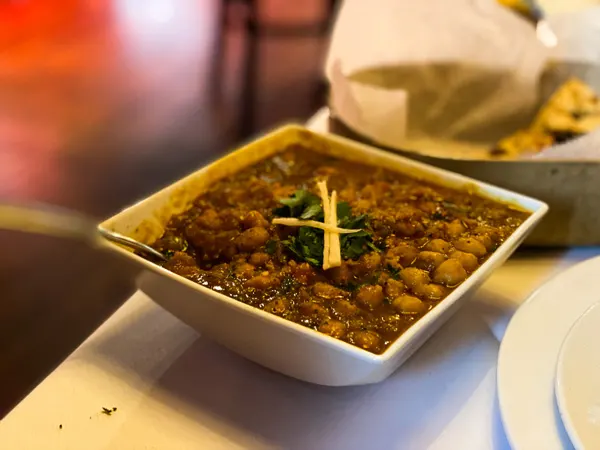 Nothing beats delicious Indian food, and Asheville has multiple places to try.
One of the best Biltmore area restaurants includes Andaaz, which is colorful inside and also one of our readers' top picks.
For lunch and dinner, Andaaz offers an Indian food buffet. At dinner, choose items a la carte.
Start with curried butternut squash or corn soup. For delicious appetizers, try chicken lettuce wraps, crispy fried cauliflower, and spinach chaat.
Then, enjoy traditional Indian entrees like biryanis, tandoori, and curries paired with naan. We like to order chicken curry, chana masala, lamb, and gobi aloo mutter.
Andaaz serves cocktails and is gluten-free and vegan-friendly. They also label their menus for nuts. Make advanced reservations if you can, or grab takeout or delivery.
Andaaz has its own small parking lot and is 1 minute by car from Biltmore's gates.
Andaaz Asheville | 28 Hendersonville Rd, Asheville, NC 28803 | (828) 552-3200
Village Social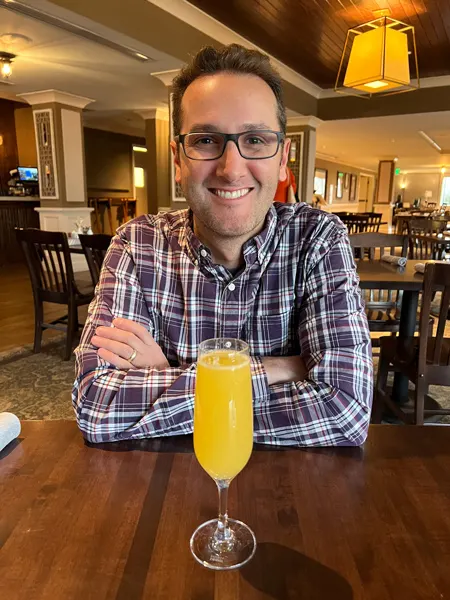 We wanted to name at least one of the restaurants near Biltmore House (on the actual estate), and Village Social is perfect if you are looking for breakfast, lunch, or dinner.
We recommend making advanced reservations when you can – Village Social is on OpenTable – and guests staying at Biltmore's Village Hotel or just visiting the estate may dine here.
You will have to have a daytime ticket, be an annual passholder, or be staying overnight on the estate to dine here.
For breakfast, Village Social's menu has egg platters, pancakes, waffles, lox, oatmeal, and scrambled eggs.
They also feature a homemade biscuit and have gluten-free bread. Pair your meal with a mimosa.
For lunch, find deviled eggs, roasted beets, and trout dip along with soup, salad, and sandwiches. Or, enjoy larger entrees like shrimp and grits and chicken and waffles.
The dinner menu features Southern appetizers and mains like ribeye, salmon, meatloaf, and pot roast.
Their kids' menu includes breakfast items like eggs, waffles, and pancakes. At lunch and dinner, there are corn dogs, mac and cheese, grilled cheese, and chicken fingers.
Village Social sits on the second floor of Biltmore's gorgeous Village Hotel – we've stayed here – and visitors can access the dining room from the hotel (2nd floor) or Antler Hill Village.
If you are looking for more restaurants on Biltmore Estate, we love Stable Cafe for lunch and Cedric's Tavern for lunch or dinner.
Uncover all that you can do at Biltmore Estate, including tours, family-friendly activities, Christmas events, and more!
Village Social | Antler Hill Village/Village Hotel on Biltmore Estate | 1 Lodge St., Asheville, NC 28803
Biltmore Estate Accommodations
Village Hotel – This property is centrally located with moderate prices and spa access. We stayed here and loved it. This is the hotel you see next to Biltmore Winery and Antler Hill Village. The Village Hotel has a pool and houses Village Social, a delicious breakfast, lunch, and dinner restaurant perfect for the entire family. Plus, enjoy The Kitchen Cafe for lighter fare and specialty lattes.
The Inn On Biltmore Estate – The Inn On Biltmore Estate is a gorgeous luxury hotel. The Inn has the most conveniences including those requested mountain views. Each suite is named after one of George Vanderbilt's friends or relatives. Next to the lobby, enjoy the Library Lounge with a huge wine selection, cocktails, desserts, and sharable bites.
Save The Best Biltmore Area Restaurants For Later: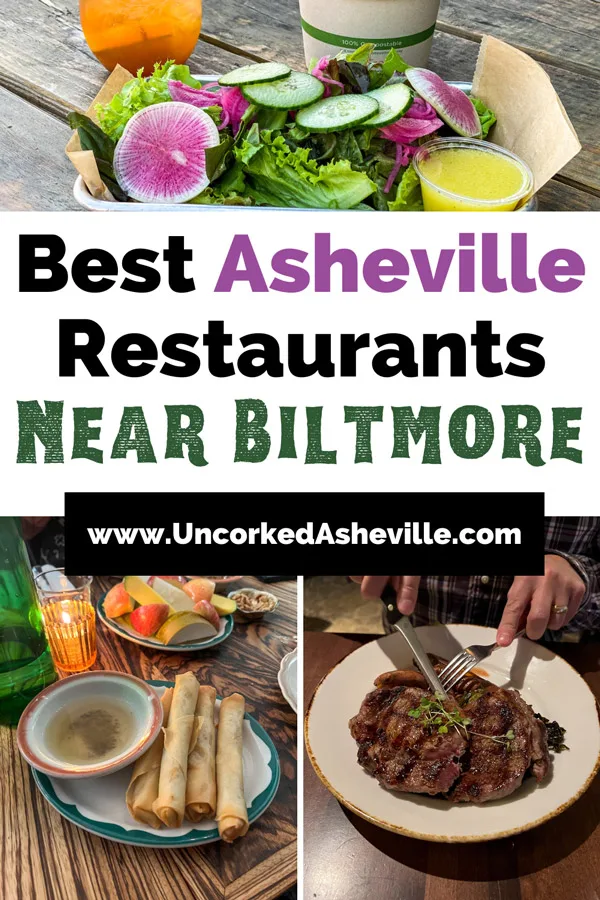 Where To Stay In Asheville
Explore the best places to stay in Asheville. A few of our top suggestions:
Aloft – Downtown Asheville – Centrally located and recently renovated, enjoy a rooftop pool, a gorgeous bar, and trendy rooms.

The Omni Grove Park Inn – Treat yourself to a luxury resort in North Asheville, complete with breathtaking sunsets, terrace bars and dining, and loads of Asheville history.

Hampton Inn And Suites Asheville Biltmore Area – A budget-friendly but renovated hotel on busier Brevard Road that's perfect if you wish to stay between Biltmore Estate, Downtown Asheville, and the Blue Ridge Parkway.

Asheville Cottages – Gorgeous 1 to 3-bedroom cottages with a private deck, housing a grill and hot tub. Find luxurious heated-floor bathrooms with rain showers, a well-stocked kitchen, and the cleanest rooms in town.

Foundry Hotel – An oasis in Downtown Asheville, Foundry Hotel is a nod to AVL's industrial history. Find famous restaurant Benne on Eagle while sleeping ensconced in charm and elegance.

Country Inn & Suites by Radisson, Asheville Westgate, NC – Located off of the highway as you enter AVL, find a sleek and clean hotel at a great price.

Black Walnut B&B Inn – Designed by Biltmore's supervising architect, Richard Sharp-Smith, this 1899 inn is close to Downtown AVL and serves afternoon tea. Two rooms are pet-friendly.
Don't miss out on these Asheville properties on Booking.com, too.
What are your favorite places to eat near Biltmore Estate?
If we had to pick three top three restaurants near Biltmore Estate, we'd go with Sunny Point Cafe for breakfast, Haywood Common for lunch, and Taco Temple for dinner.
All three are more local joints and will introduce you to Asheville's top neighborhoods, especially West and North Asheville.
Of course, we love and frequent the River Arts District and also recommend Baby Bull, 12 Bones, and RosaBees. And, if you love Biltmore's Winery, pleb is here – a great AVL winery.
For Biltmore Village restaurants, we'd pick Hillman Beer and Corner Kitchen.
What Biltmore area restaurants do you enjoy and recommend? Let us know in the comments.
You May Also Enjoy:
Haunted Asheville (Biltmore included)
Best Museums & Historic Sites
All Food Guides
All Drink Guides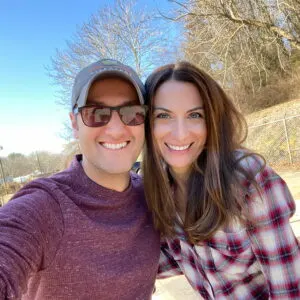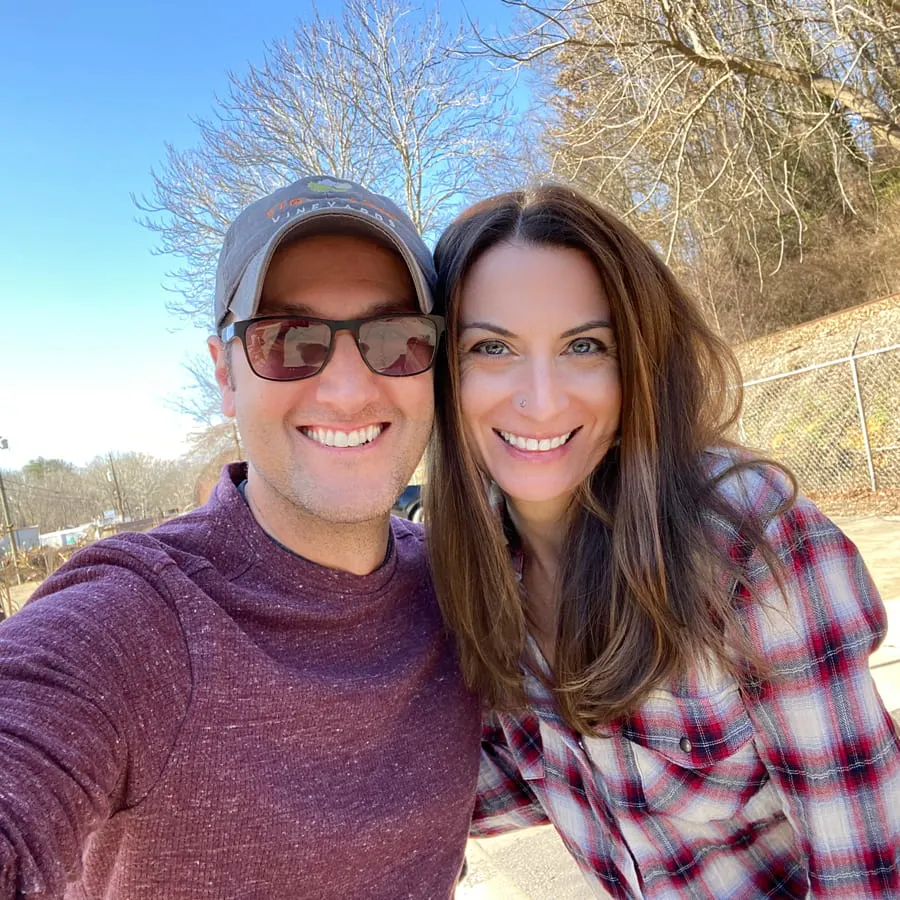 Christine (pronouns: she/her) is the owner and lead writer of Uncorked Asheville. After falling in love with those gorgeous Blue Ridge Mountains, Christine and her husband Tom decided to call Asheville, North Carolina their home. When her pointy Italian nose isn't stuck in a book, Christine is adopting all of the kitties, getting lost in the forest, and drinking an ESB.
Christine has a BA in English and History from Smith College, her MLIS from USF-Tampa, and is a former U.S. Fulbright Scholar - Indonesia. She also owns The Uncorked Librarian LLC with books and movies to inspire travel.