Uncover the most fun and best restaurants at Biltmore Village in Asheville, NC for a variety of budgets and cuisines – from locals.
Are you visiting Biltmore Estate and wondering where to eat nearby? Or, are you just exploring Asheville's top neighborhoods and adore this area's charm?
As Asheville locals and Biltmore annual passholders, we find ourselves in Biltmore Village quite frequently, and yes, it can be a tad congested and overwhelming, especially to the untrained eye.
However, the battle for parking and being stuck at traffic lights is worth it for those delicious Biltmore Village restaurants – we promise. Well, most of the time.
Where else can you snack on charcuterie in a sleek hunting lodge or eat sushi in a kitschy AF red booth?
Plus, eat your way through the flavors of India, and brunch in a historic home from the Vanderbilt era. See which breweries serve food and are pet-friendly.
So, what are the best restaurants in Biltmore Village in Asheville, NC for breakfast, brunch, lunch, dinner, drinks, coffee, and more? What places are family-friendly?
Keep reading for the down-low on Biltmore Village dining from two very hungry – and thirsty – travel writers. Well, one travel writer and her pilot hubby.
We'll also share a few great restaurants near Biltmore Village, including our favorites on Biltmore Estate, along with where to get pizza, subs, and more. Let's get started!
While in this area, grab all of our guides to exploring Biltmore Estate.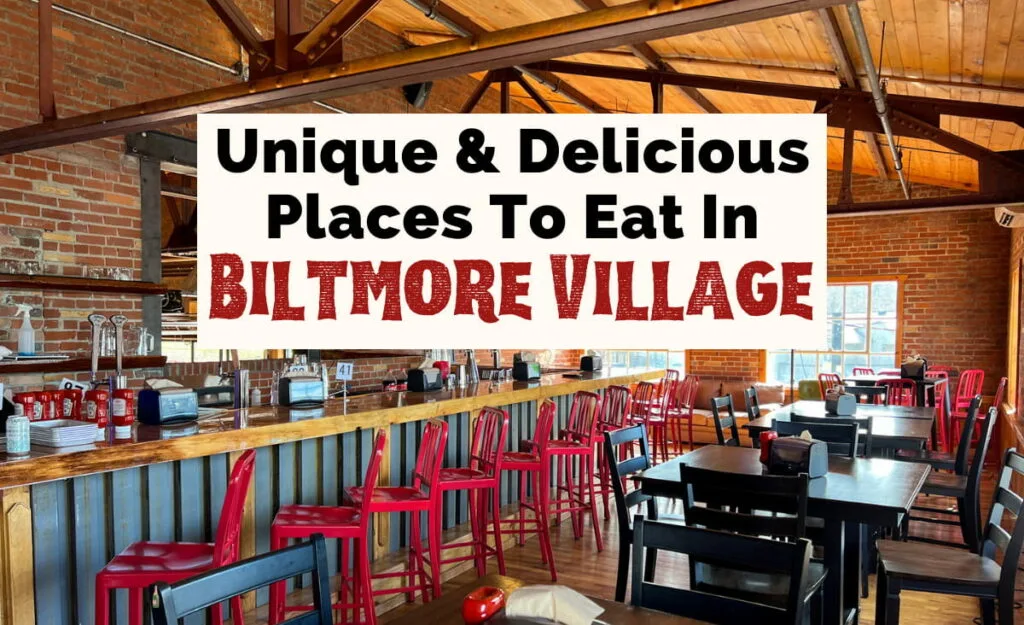 This post may contain affiliate links that earn us a commission at no extra cost to you. If you love these guides, support Uncorked Asheville here.
10 Unique Restaurants At Biltmore Village
Red Stag Grill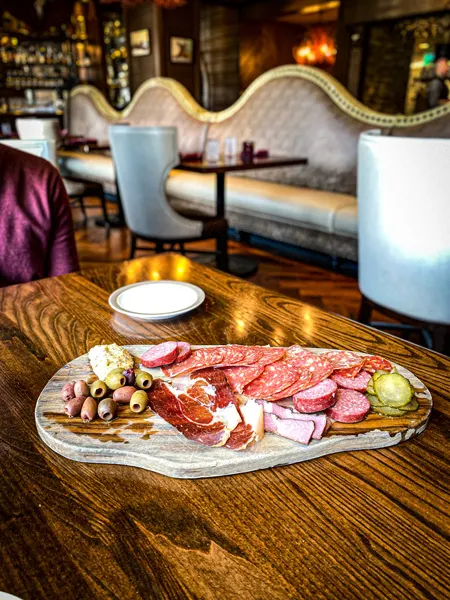 If we are starting with the most unique and quirky restaurants in Biltmore Village, there is no denying the "wow" factor of the Grand Bohemian's Red Stag Grill.
The restaurant is hunting lodge themed – but one with a glamorous flair.
First, head into this gorgeous luxury hotel, which sits across the street from Biltmore Estate's entrance/exit gates.
Modeled off of a 19th-century hunting lodge with blazing fireplaces, decadent chandeliers, and – well – a bit of taxidermy, stroll past the fireplace toward the designer tavern with a well-stocked bar and, dare we say, romantic restaurant.
Red Stag Grill serves breakfast, Saturday and Sunday brunch, lunch, and a fine dining dinner – inspired by European and Southern flavors.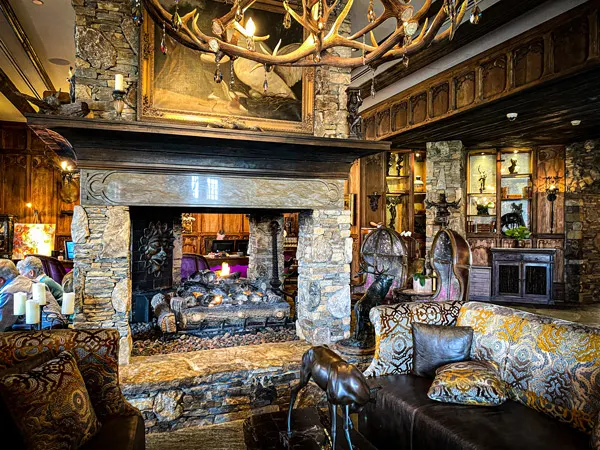 On the breakfast menu, find pancakes, eggs, oatmeal, breakfast burritos, and smoothies. Weekend brunch promises items like omelets, lox, burgers, salads, and biscuits and gravy.
Lunch features appetizers such as pretzels and calamari as well as soups and sandwiches – although we love a charcuterie board paired with handcrafted cocktails.
The dinner menu is a tad fancier with more expensive entrees such as bison sirloin, elk loins, ribeye, salmon, duck, and short ribs.
For Biltmore Village restaurants, while not always necessary, we suggest making advanced reservations here when you can.
Off-season, we have easily walked in for lunch with no wait.
Uncover even more great restaurants that are under 10 minutes from Biltmore Estate.
Red Stag Grill | Grand Bohemian Hotel Asheville | 11 Boston Way, Asheville, NC 28803
The Cantina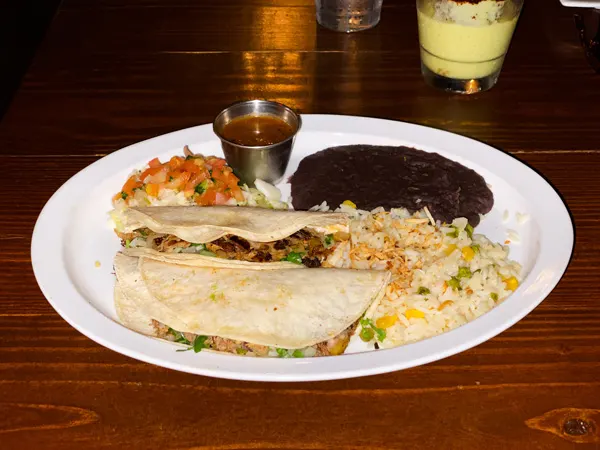 If you are looking for Mexican restaurants in Biltmore Village, The Cantina is a must. In fact, we were just saying how we've been craving their stuffed avocado paired with a margarita.
This is your go-to stop for burritos, quesadillas, enchiladas, and tacos in Asheville. Plus, the space is gorgeous with its memorable bar and colorful decor.
The Cantina is a great and casual Biltmore Village restaurant for lunch or dinner and takes call-ahead seating up to 30 minutes ahead (but always double-check this).
With a menu labeled for gluten-free as well as vegan and vegetarian diners, find anything from dip with chips and heaping plates of nachos to soups, fish tacos, sizzling fajitas, and massive Mexican salads.
Their kids' menu features cheese fries, chicken fingers, nachos, corn dogs, quesadillas, and burritos.
For dog-friendly restaurants at Biltmore Village, pooches are allowed on the outside patio, which is usually open all year.
We recommend parking in the lots or side streets around the heart of Historic Biltmore Village.
Discover more gluten-free places to eat in Asheville (we are a part-Celiac household).
The Cantina At Historic Biltmore Village | 10 Biltmore Plaza, Asheville, NC 28803
Village Pub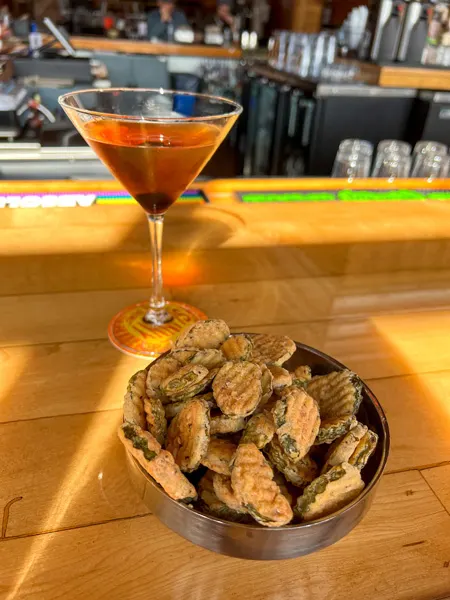 New to Asheville in 2022, Village Pub is one of the best Biltmore Village restaurants for boozy folks, especially with Eda Rhyne – a terrific AVL distillery – and French Broad River Brewing across the street.
Village Pub is gorgeous inside, and let's face it: this is one the largest pubs in AVL with two floors, two bars, gender-neutral restrooms, and indoor and outdoor seating.
It's no surprise that this is also a great meet-up space for groups and to watch a game. Many of our readers also enjoy Village Pub (and they are why we went ASAP).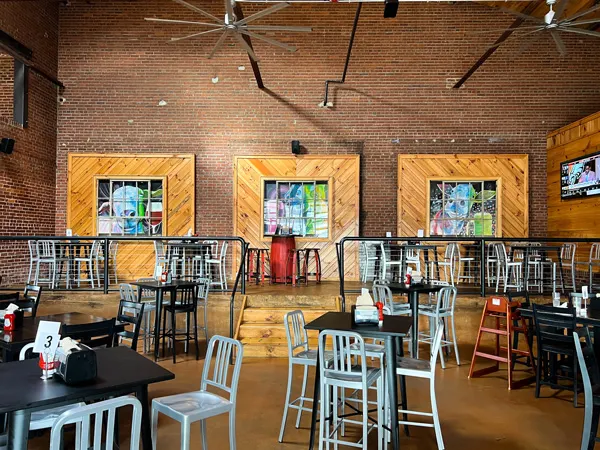 Village Pub's menu is an homage to pub grub with burgers, nachos, fries, wings, hot dogs, and pizza – and as always, we appreciate the gluten-free-friendly and vegan items.
Also, devour items like mozzarella sticks, fried pickles, fish and chips, loaded cheese fries, Philly cheesesteaks, a chicken smash, and meatball parm.
To quench your thirst, Village Pub has an extensive draft list highlighting local Asheville brews along with cocktails, wine, and hemp-infused beverages.
Park in their lot out front. For Biltmore Village dining, we appreciate this slightly less congested location.
Uncover even more great bars across Asheville.
Village Pub | 100 Fairview Rd, Asheville, NC 28803
Andaaz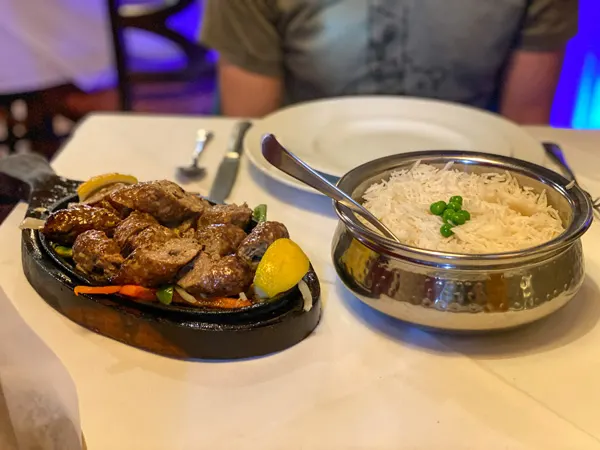 Is there a great Indian restaurant in Biltmore Village? You bet!
In fact, Andaaz is also an Uncorked Asheville readers' favorite for the best Indian food in all of AVL.
This colorful restaurant features a buffet, bar, and booth as well as regular table seating. Their menu is marked for gluten-free, nut-free, and vegan diners.
For lunch and dinner, head to the Indian food buffet. Dinner also boasts a large a la carte menu – which is what we prefer.
Start with spicy appetizers and soups like masala crab cakes, samosas, okra salad, and spiced corn soup.
Then, devour your favorite classic Indian meals including curries, biryanis, and tandoori with naan. We are always fans of aloo gobi, gobi aloo mutter, chicken curry, lamb, dal, and chana masala.
To drink, select from cocktails and Indian treats.
We both have sensitive stomachs – Celics and UC – and it is possible to find less spicy dishes. Just talk to your server.
If you can, we suggest making advanced reservations.
For takeout and delivery restaurants at Biltmore Village, Andaaz is a great option.
The restaurant has a small parking lot.
See where else you can grab delicious Asian cuisine in Asheville.
Andaaz Asheville | 28 Hendersonville Rd, Asheville, NC 28803 | (828) 552-3200
Corner Kitchen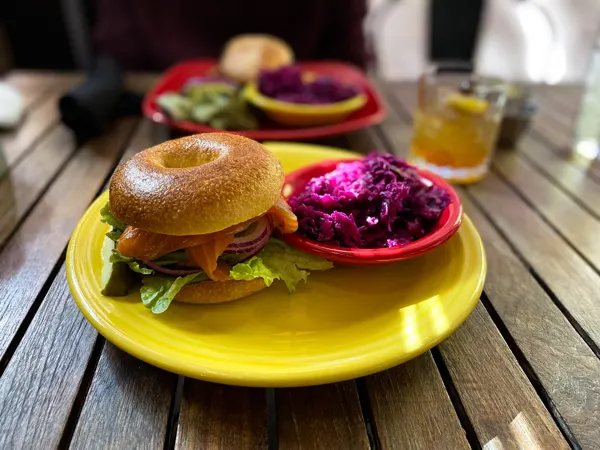 One of the most popular and best restaurants in Biltmore Village, you've probably heard the name "Corner Kitchen" over and over again.
It's a staple just a few minutes away from Biltmore Estate, and yes, you should dine here for breakfast, brunch, lunch, or dinner.
Typically open 7 days a week, stop in for a Southern breakfast or lunch featuring lox, soups, salads, and sandwiches.
The brunch cocktails are delicious, and we appreciate that many feature the area's local spirits. Grab a mimosa before heading to a Biltmore exhibit.
For dinner in Biltmore Village, select from fancier meat and seafood entrees like risotto, grilled octopus, ribs, scallops, steak, and duck.
Corner Kitchen also has a children's menu with waffles, grilled cheese, and mini-sandwiches for breakfast and lunch as well as salads and grilled chicken for dinner.
Along with cozy indoor seating, find a heated outdoor patio and know that Corner Kitchen is pet-friendly.
This is one of the Historic Biltmore Village restaurants we definitely suggest making advanced reservations for – although we have been quickly seated during the off-season and non-peak dining times.
For area parking, try the side streets and lots.
P.S. If you enjoy Biltmore history, know that Frederic Law Olmstead designed this area – commissioned by George Washington Vanderbilt – and in the 1930s, Corner Charles Jennings resided in what is today Corner Kitchen
Explore more of Asheville's unforgettable restaurant scene; it is Foodtopia after all!
Corner Kitchen | 3 Boston Way, Asheville, NC 28803
Well-Bred Bakery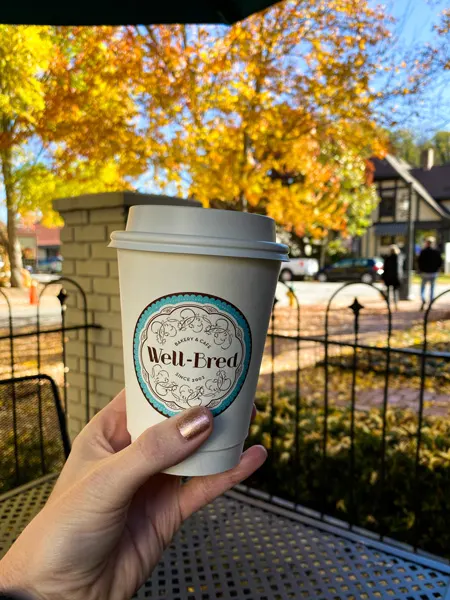 Corner Kitchen isn't the only jumping restaurant in Biltmore Village, and for both breakfast and coffee in Asheville, Well-Bred Bakery is a classic choice.
In fact, they've been voted one of the best WNC bakeries for years.
Just keep an eye on that GPS as Well-Bred Bakery has multiple locations, including a spot in one of our favorite towns, Weaverville.
This is a quick and budget-friendly cafe, great before touring Biltmore Estate or after spending a morning walking the gardens.
For Biltmore Village dining, enjoy indoor and outdoor seating with a small menu serving items like quiche, breakfast sandwiches, pastries, and cookies along with lunch sandwiches.
Well-Bred Bakery has some gluten-free choices, but this might not be the best option if you are looking for lactose-free and vegan food.
Well-Bred Bakery | Biltmore Village: 6 Boston Way, Asheville, NC 28803 | Grove Arcade Downtown AVL: 1 Page Avenue, Ste. 112G, Asheville, NC 28801 | Weaverville: 26 North Main Street, Weaverville, NC 28787 & Food Truck: 232 Reems Creek Rd, Weaverville NC, 28787
Hillman Beer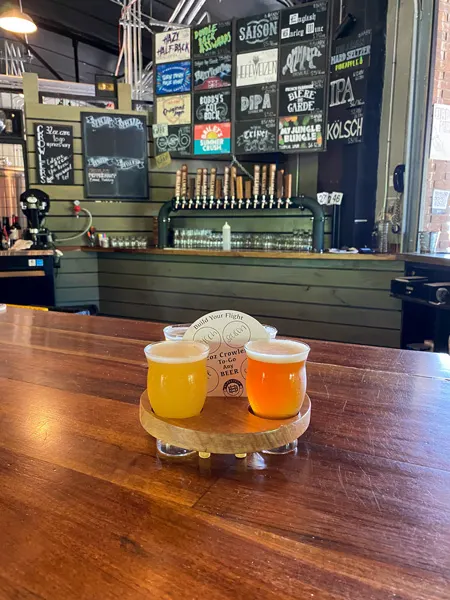 Let's talk about Asheville's famous brewery scene, which is just as big of a draw to the city as Biltmore Estate and all of the award-winning restaurants.
One of our favorite breweries and restaurants at Biltmore Village – right on the outskirts and minutes away from Biltmore Estate – Hillman is a must for the atmosphere, casual eats, and terrific brews.
This indoor taproom, with plentiful outdoor seating, is extremely family and dog-friendly. Be sure to head out back for picnic tables along the water too.
For beer, find Ambers, Brown Ales, Dunkels, and our favorites: ESBs and Kölschs. Non-beer drinkers can select from hard seltzer and local ciders.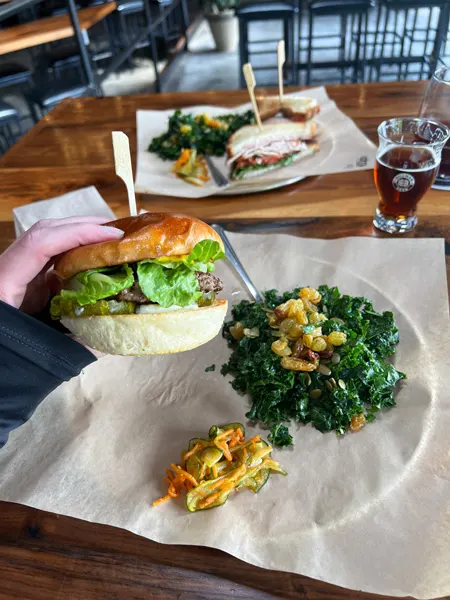 Hillman Beer also specializes in that delicious pub food like burgers, massive pretzels, salads, wraps, sandwiches, and rice bowls.
Think Reubans, falafel wraps, kale salads, Cubans, BBQ burgers, and fried chicken sandwiches. They even have gluten-free options, including GF bread, and are great about dairy and lactose-intolerances.
For more Biltmore Village food and dining nearby, try 7 Clans Brewing – Asheville's first Indigenous and woman-majority-owned brewery – with gluten-reduced beer and rotating food trucks.
And, if you are mountain biking and exploring Old Fort, don't miss their gorgeous taproom along the creek,
Hillman Beer | Asheville: 25 Sweeten Creek Rd, Asheville, NC 28803 & Old Fort: 78 Catawba Ave, Old Fort, NC 28762
Asaka Japanese Cuisine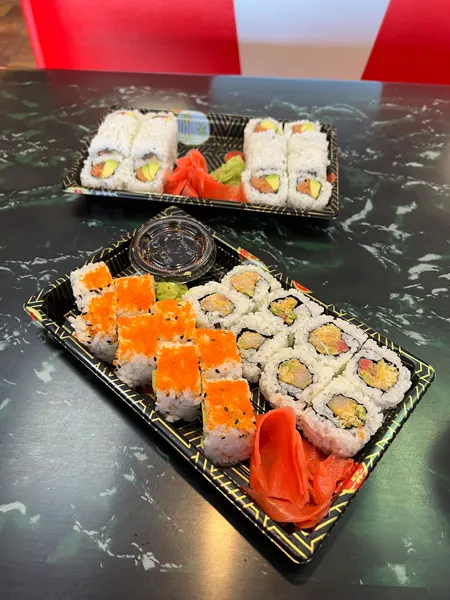 OK. OK. You might come for us with this one. But we are doing it!
Asaka is one of your best options for takeout restaurants in Biltmore Village, especially if you are craving delicious sushi.
You will pass this restaurant on your way in and/or out of Historic Biltmore Village on busy Biltmore Ave., and it has plentiful and largely good Google reviews.
What's the hold-up?
Well, Asaka is a bit kitschy and dated. Personally, we adore the retro red booths, but the interior could use a little love, which is why we say maybe consider them for takeout.
The service is excellent, and so is the sushi. If you dine in, the food is served in takeaway containers.
Along with your traditional sushi rolls – we love that yellowtail & scallion and smoked salmon with avocado – find quick and on-the-go entrees like vegetables with rice, teriyaki steak, and shrimp with broccoli.
Asaka also promises to be one of the no-frills, budget-friendly Biltmore Village restaurants, and they have a massive parking lot.
Even better, you can use the drive-thru.
It's an experience… and won't be for everyone. You'll spy diners in pjs, families, area contractors, and Uncorked Asheville.
Find even more great places for takeout in Asheville.
Asaka Japanese Cuisine | 801 Biltmore Ave, Asheville, NC 28803
Never Miss Another Asheville Update
---
Tired of generic Asheville travel itineraries? Experience Asheville like a local with our free Asheville Favorites checklist, including restaurants, breweries, and hiking. Plus, get local updates – including events and hidden gems – straight to your inbox. Sign up here.
More Of The Best Restaurants Near Biltmore Village
Juicy Lucy's Burger Bar & Grill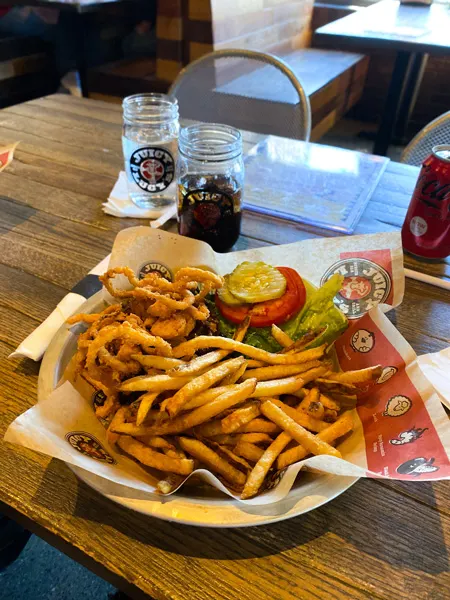 Asheville has some fantastic kid-friendly restaurants, and Juicy Lucy's is perfect for milkshakes as well as one of the largest burger selections in town.
And, for restaurants near Biltmore Village that are open 7 days a week – and just minutes away from the historic center – you'll find a large parking lot, fast service, and budget-friendly eats.
Juicy Lucy burgers are traditionally beef patties stuffed with cheese – which you'll find here in endless varieties.
Think veggie, beef, and short rib/brisket burgers with bacon, blue cheese, caramelized red onions, avocado, fried green tomatoes, gouda, mushrooms, and more.
Juicy Lucy's even has a build-your-own burger option, which we prefer, including vegan, vegetarian, and gluten-free options.
If you aren't in the mood for a burger, select from wings, sandwiches, BBQ dishes, salads, steak, gyros, sandwiches, and wings.
Juicy Lucy's kids' menu is filled with items like hot dogs, grilled cheese, burgers, chicken tenders, and mac and cheese.
Enjoy regular as well as boozy milkshakes too!
For similar restaurants at Biltmore Village, we also love and frequent Apollo Flame for subs and pizza – GF options included. This Greek diner is perfect for lunch in AVL.
Juicy Lucy's Burger Bar & Grill | 620 Hendersonville Rd, Asheville, NC 28803
Cedric's Tavern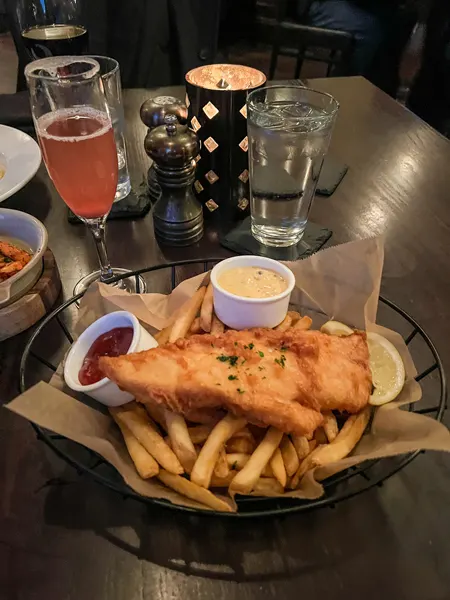 Of course, we could not forget to mention at least one of the best restaurants on Biltmore Estate, Cedric's Tavern.
You will need a Biltmore daytime ticket, an annual pass, or a reservation overnight on their properties to enter the grounds and dine here.
All of Biltmore Estate's restaurants sit on the property next to Historic Biltmore Village and are great after a Biltmore tour, hiking the grounds, or wine tasting at the winery.
Cedric's Tavern is an homage to the Vanderbilt family's beloved Saint Bernard.
Find tavern food along with Cedric's collar and black-and-white photos of the giant pooch.
Serving lunch and dinner – and try to make advanced reservations – select from English pub grub like fish and chips, salads with Scotch eggs, and burgers.
You might find Shepherd's Pie, vegan vegetable soup, pork roast, and bangers and mash with seasonal vegetables too.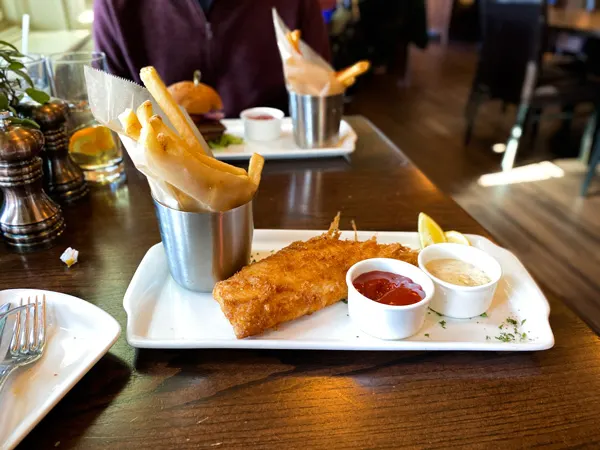 Cedric's has vegan, gluten-free, and vegetarian options and is moderately priced.
We think they make the best seasonal cocktails around, and you'll definitely want to order a side of pickles. Try the famous Lusty Monk mustard too.
You'll park at or shuttle over to Antler Hill Village to dine at Cedric's Tavern.
A few more of the best restaurants near Biltmore Village on the actual estate include Village Social – serving all three meals a day – and Stable Cafe, which is great for lunch and young families.
The estate also houses a creamery, BBQ food truck, and fine dining restaurants.
Read more about visiting Biltmore Estate with kids, and see why we love Candlelight Christmas Evenings there.
Cedric's Tavern | Biltmore Estate | 1 Lodge St, Asheville, NC 28803
More Biltmore Village Dining Options:
First Watch
Fig
Foothills at Hi-Wire
Ichiban
Apollo Flame
Biltmore Estate Accommodations
Village Hotel – This property is centrally located with moderate prices and spa access. We stayed here and loved it. This is the hotel you see next to Biltmore Winery and Antler Hill Village. The Village Hotel has a pool and houses Village Social, a delicious breakfast, lunch, and dinner restaurant perfect for the entire family. Plus, enjoy The Kitchen Cafe for lighter fare and specialty lattes.
The Inn On Biltmore Estate – The Inn On Biltmore Estate is a gorgeous luxury hotel. The Inn has the most conveniences including those requested mountain views. Each suite is named after one of George Vanderbilt's friends or relatives. Next to the lobby, enjoy the Library Lounge with a huge wine selection, cocktails, desserts, and sharable bites.
Save The Best Biltmore Village Restaurants For Later: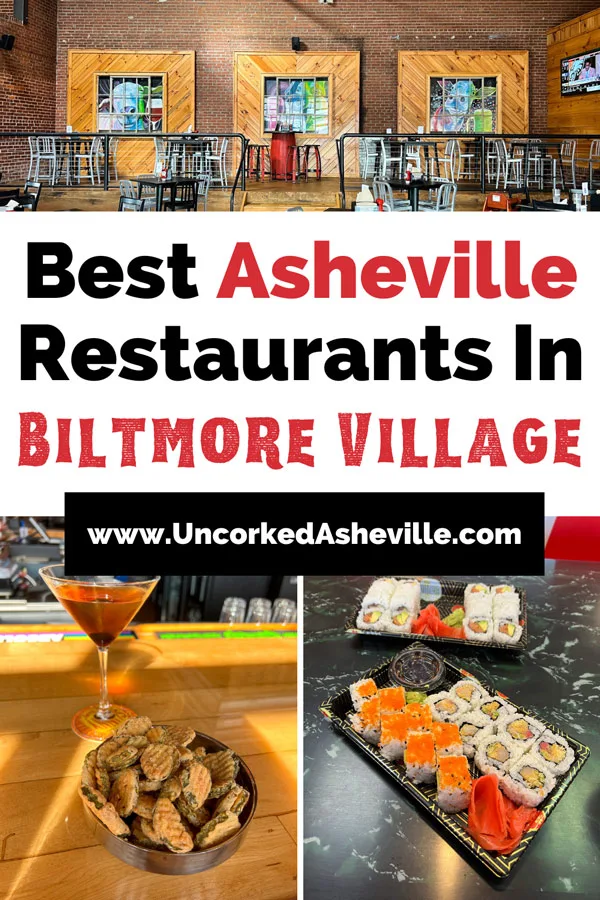 Where To Stay Around Biltmore Village
Grand Bohemian Hotel Asheville – Located just a minute from Biltmore Estate's gates, this is a beautiful luxury hotel modeled off of a 19th-century hunting lodge. Home to the Red Stag Grill – a sleek and unique restaurant – fall in love with the blazing fireplaces, chandeliers, and endless modern amenities.
The Residences at Biltmore Asheville – Less than half a mile from Biltmore, enjoy these luxury condos complete with a full-sized kitchen, gas fireplaces, and an outdoor seating area. Find an on-site restaurant, Azalea Bar & Kitchen.
Courtyard Asheville Biltmore Village – Our friends have stayed at this newer 3-star, budget-friendly Biltmore Village hotel with free parking and bike rentals. It's in a great location, has an on-site restaurant, The Bistro, and boasts a pool.
Read more about where to stay in Asheville.
What are your favorite restaurants in Biltmore Village?
If we had to pick our top three favorite breweries, cafes, pubs, and restaurants at Biltmore Village, we'd go with Corner Kitchen for brunch, Hillman Beer for snacks, beer, and lunch, and The Cantina for lunch or dinner.
Our readers love Andaaz, and for new taverns, Village Pub might quickly become one of our hangout spots.
For the best restaurants near Biltmore Village, you already know from our other articles that Apollo Flame is great for subs and pizza.
Juicy Lucy's is an easy stop for budget-friendly and quick burgers. However, you cannot go wrong with any of the above restaurants.
What Biltmore Village restaurants do you love and recommend? Which ones are on your bucket list? Let us know in the comments.
More Neighborhood Restaurant Guides:
North Asheville Restaurants
West AVL Restaurants
Downtown Restaurants
RAD Restaurants
Best AVL Neighborhoods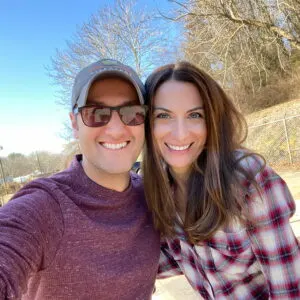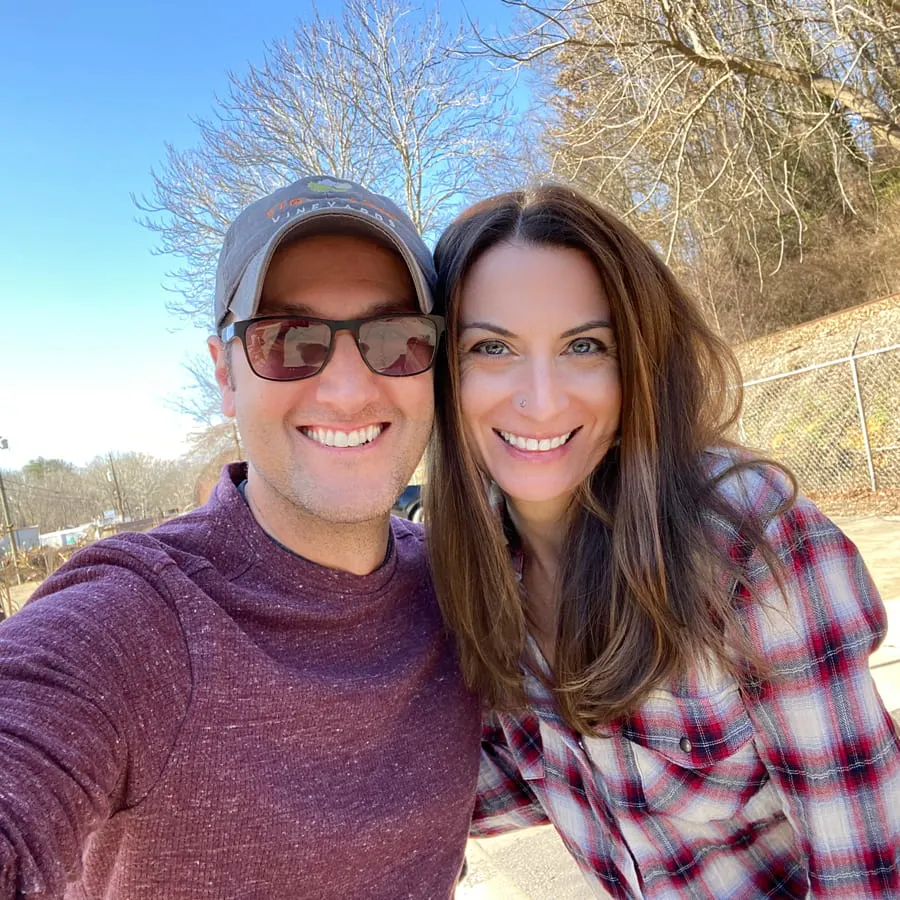 Christine (pronouns: she/her) is the owner and lead writer of Uncorked Asheville. After falling in love with those gorgeous Blue Ridge Mountains, Christine and her husband Tom decided to call Asheville, North Carolina their home. When her pointy Italian nose isn't stuck in a book, Christine is adopting all of the kitties, getting lost in the forest, and drinking an ESB.
Christine has a BA in English and History from Smith College, her MLIS from USF-Tampa, and is a former U.S. Fulbright Scholar - Indonesia. She also owns The Uncorked Librarian LLC with books and movies to inspire travel.