The Black Mountain restaurants are delicious and unique. Uncover the best restaurants in Black Mountain for mouthwatering burgers, pizza, seafood, meats, and desserts.
One of our favorite towns for an Asheville day trip or even a fun overnight, we just love beautiful Black Mountain, NC. Just under a 30-minute drive from AVL, you'll find yourself tucked into gorgeous misty mountains.
Black Mountain is home to Lake Tomahawk, and the Cherokee used to live here. Famously known for Black Mountain College — a progressive, experimental, and interdisciplinary institution — the area grew a hot arts and crafts scene.
Today, this Western North Carolina town is the perfect Bed & Breakfast getaway, especially since the restaurants in Black Mountain are stellar.
Coffee shops, cupcakes, local breweries, and street upon street of Black Mountain restaurants and cafes welcome visitors. Of course, there are fabulous shops, bookstores, and nearby waterfall hiking, too.
So, if you are looking for the best restaurants in Black Mountain, NC where should you go? Below, we are sharing Black Mountain restaurants that we love, others have recommended, and a few on our bucket list.
Maybe one day, we'll eat at them all — but remember, there are just two of us, and 'best' is subjective. Are you ready to eat your way through Black Mountain? Let's get started!
Explore all that you can do for fun in Black Mountain.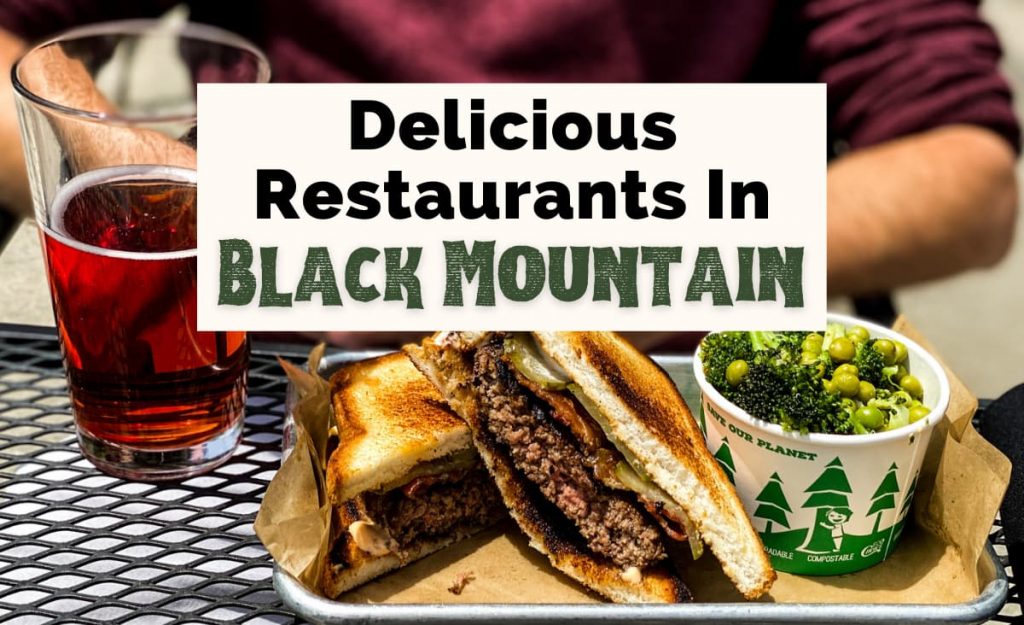 This post may contain affiliate links for products and services I recommend. If you make a purchase through these links, at no additional cost to you, I will earn a small commission. Read the full disclosure here.
Don't miss these Black Mountain cabins, B&Bs, cottages, hotels, and stays.
See where to stay in Asheville, NC, too.
Not-To-Miss Black Mountain Restaurants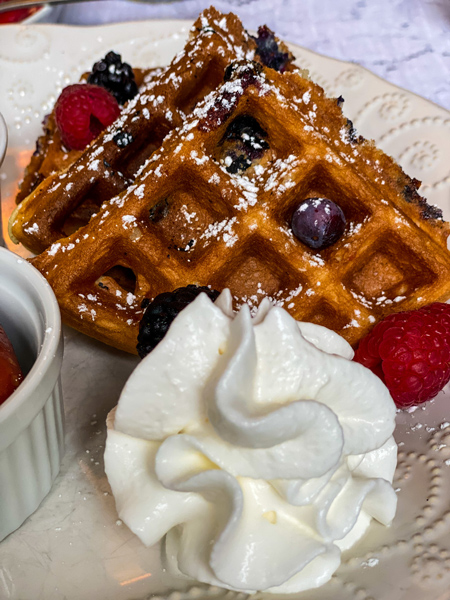 With a line occasionally wrapping around the block, for breakfast in Black Mountain, head to Open Oven. Open Oven marks vegan menu items, and think omelets, avocado toast, eggs, and waffles.
For Black Mountain restaurants serving the best German food, Berliner Kindl has all of the yummy meats. They also have a delicious German wine list.
With a cozy grandmother's kitchen ambiance, you'll love what they are serving up for both lunch and dinner. Sandwiches included. You can also buy deli items for the road. Reservations are highly recommended for dinner.
My husband decided to celebrate his 40th Birthday at Berliner Kindl German Restaurant. That says a lot!
Never Miss Another Asheville Update
Are you tired of generic Asheville travel itineraries? Do you want to experience the magic of Asheville like a local?
Grab our free Asheville Favorites checklist today, including restaurants, breweries, and hiking. Plus, get local updates straight to your inbox. Sign up here.
One of the go-to Black Mountain restaurants, Trailhead is perfect for lunch or dinner. Find sandwiches, salads, tacos, and dinner entrees named after Western North Carolina's gorgeous hikes and waterfalls. They also have gluten-free bread.
For seafood and Southern Cuisine, Que Sera is a popular Black Mountain restaurant for dinner. Reservations are required.
Choose from their delicious seafood and veggie small plates before ordering your entree. They also have an oyster bar.
If fish isn't your jam, find chicken and burger options, too. Que Sera is Black Mountain's best 'fine dining' restaurant, but you don't have to get all decked out — which is true to all of Black Mountain. Black Mountain is a super casual town.
Cousins Cuban Cafe | 108 Broadway Ave, Black Mountain, NC 28711
Suggested as one of Black Mountain's best restaurants from our readers, Cousins Cuban Cafe serves up authentic Cuban cuisine and coffee. These cousins grew up in Miami, Florida, and are now bringing their family recipes to WNC.
Cousins Cuban Cafe serves both breakfast and lunch in Black Mountain. They have gluten-free options, tapas, bowls, salads, and sandwiches.
One of the first restaurants in Black Mountain that we ever dined at, Black Mountain Kitchen & Ale House had us at 'craft beer.' Their brewery, Black Mountain Brewing, with the gorgeous Roberta Flack mural, sits across the street.
Known for their Southern treats like fried chicken, wings, and burgers, grab a beer, snacks, and a hand-held. They have both indoor and outdoor seating.
Sake Sushi | 6 E Market St, Black Mountain, NC 28711
For sushi restaurants in Black Mountain, everyone highly recommends Sake Sushi. Located in Cheshire Village, find delicious sushi rolls, noodle entrees, and bento boxes.
If you are looking for Black Mountain restaurants serving up artisanal pizza, head over to Fresh Pizza. Fresh Pizza specializes in wood-fired pizza, and one of our Bed & Breakfast hosts highly recommends them.
Fresh Pizza sources its ingredients from local farms. They also have a West Asheville location.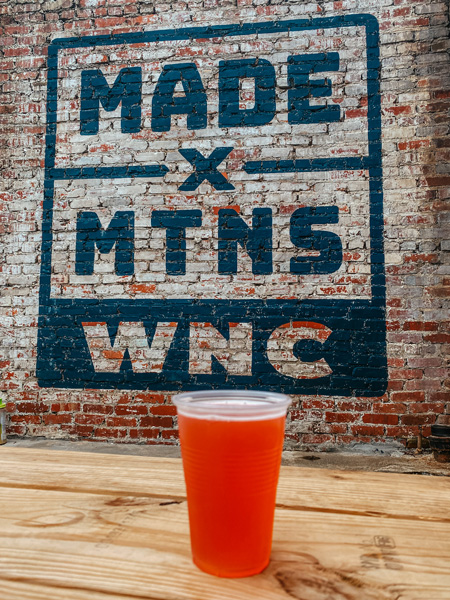 Pizza Machine Black Mountain | Behind Natural Food Store, 108 Black Mountain Ave, Black Mountain, NC 28711
One of the funnest options for pizza in Black Mountain, grab a pizza to-go from the Pizza Machine. Then, head over to Black Mountain's Gear & Beer as part of the WNC Outdoor Collective.
This hidden open-air oasis is filled with local brews and picnic tables to enjoy your grub. You can even play cornhole.
The Bush Farmhouse | 151 S Ridgeway Ave, Black Mountain, NC 28711
One of the newest Black Mountain restaurants on our bucket list (opened June 2021), The Bush Farmhouse specializes in South African cuisine.
We had to add this Black Mountain restaurant to our list since so far, the reviews have been fabulous — and the pictures mouthwatering. Reservations are required.
Best Restaurants In Black Mountain For Coffee & Dessert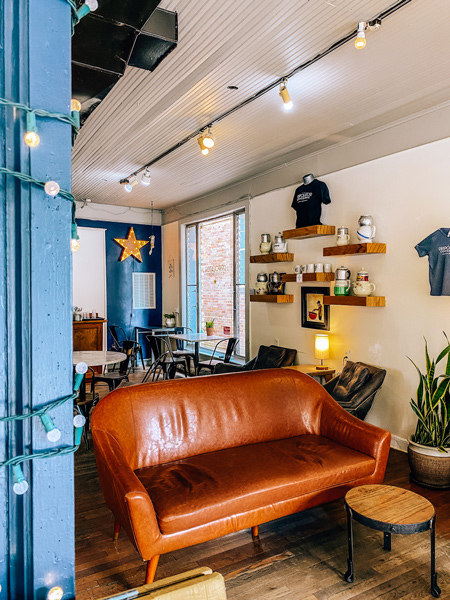 With gluten-free and vegan treat options, you have to grab a coffee at one of the best coffee shops in Black Mountain, The Dripolator Coffeehouse. Sometimes, the line is out the door.
The Dripolator serves up pastries, smoothies, and frappes along with your normal coffee brews. For those of us who are lactose-intolerant, they have an oat milk option.
The Dripolator's Facebook page cracks us up, too. They don't take any garbage from trolls that claim they have 'the [allegedly] worst coffee in the U.S.,' and we are all here for their sass.
Hey Hey Cupcake | 102 W State St, Black Mountain, NC 28711
Run by two sisters, grab a box of cupcakes. Or, put in your customized cake order here.
Their cupcake flavors include everyday regulars like Old School Birthday and Chocolate. They also switch out specialty flavors seasonally. Best of all, Hey Hey Cupcake also has a few vegan and gluten-free cupcake options.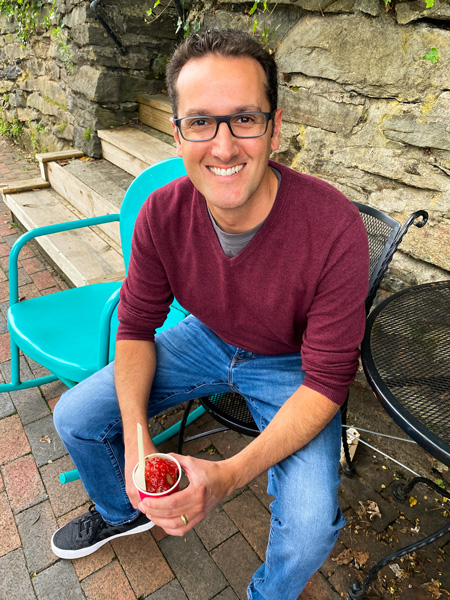 For Black Mountain restaurants with the best ice cream, don't miss The Hop. We have Hop Cafes all over Asheville.
We love The Hop for their vegan and gluten-free ice cream and topping options. Of course, they also have all of the creamy options, too. While The Hop in Black Mountain is a bit tiny, they still offer big ice cream flavors.
Grab a cup of ice cream, load up on toppings, and if it's a gorgeous Black Mountain evening, sit and people watch on one of the benches.
For dessert restaurants in Black Mountain, don't miss Kilwins. We first tried Kilwins chocolate in Hendersonville, NC.
While not the most lactose-intolerant friendly establishment, visitors can grab homemade fudge, a plethora of chocolate treats including truffles, and ice cream. They also serve up sugar-free options.
Where Can You Stay In Black Mountain?
Don't miss all of these Black Mountain cabins, B&Bs, cottages, hotels, and stays.
See where to stay in Asheville, NC, too.
Save Your Favorite Black Mountain Restaurants For Later
What are your favorite restaurants in Black Mountain, NC?
Where do you love to eat in Black Mountain? Who makes the best pizza? The best burger? The best beer? Let us know in the comments!
Where Can You Head Next In & Around Black Mountain?
Top Things To Do In Black Mountain
Black Mountain Boozy Guide
Best Things To Do In Neighboring Asheville, NC
Favorite Day Trips From Asheville
Our Guide To Asheville Dining