Wondering where to eat in the River Arts District? Explore the best River Arts District restaurants in Asheville, NC for tacos, BBQ, charcuterie, and more.
One of the most vibrant neighborhoods in Asheville, the River Arts District (RAD) is filled with breweries, wine bars, coffee shops, and urban art.
And let's face it, the River Arts District Asheville restaurants are pretty famous. Dine like a former President at one of Asheville's most illustrious BBQ restaurants, 12 Bones Smokehouse.
Or, choose from baller bottles, wine glasses the size of your face, and charcuterie at the swankiest wine bar in town, Bottle Riot.
Luxuriate in one of Asheville's most romantic fine dining restaurants, The Bull And Beggar. And, don't miss its sister, no-frills burger joint, Baby Bull.
If you are craving Hawaiian poke and Filipino lumpia, RosaBee's awaits you, and we are sure we probably don't even need to whisper the name "White Duck Taco."
So, with the plethora of Asheville River Arts District restaurants, how do you choose? Honestly, you should try them all.
However, as locals, we are sharing the best River Arts District restaurants that we love and recommend.
Please keep in mind that 'best' is subjective, and we'd love to hear your favorites in the comments. Let's get started!
Don't miss our complete guide to RAD's shops, breweries, and art galleries.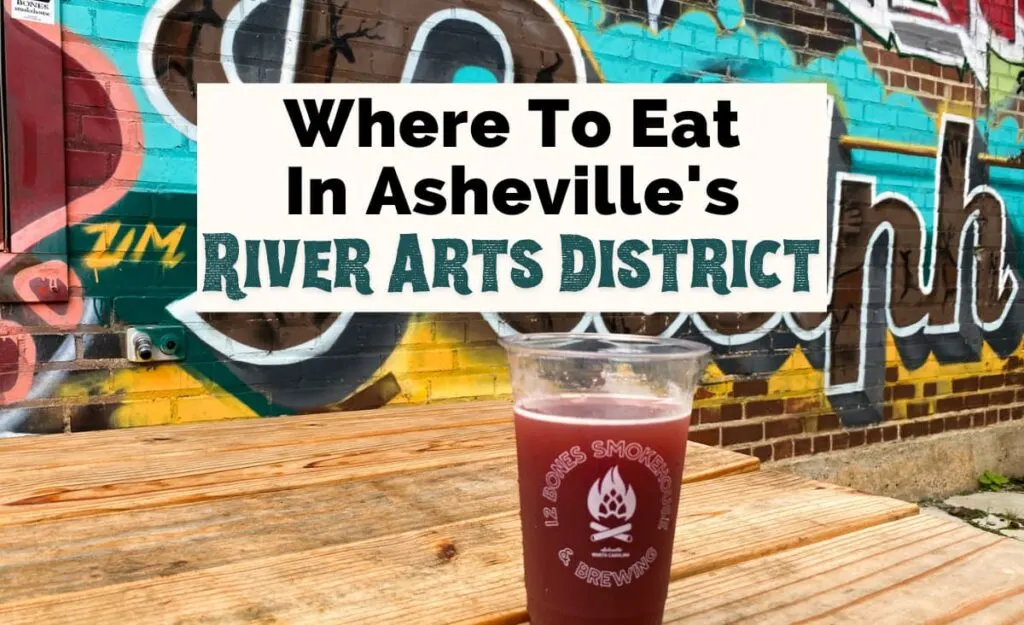 This post may contain affiliate links that earn us a commission at no extra cost to you. If you love these guides, support Uncorked Asheville here.
7 Best River Arts District Restaurants In Asheville
1. 12 Bones Smokehouse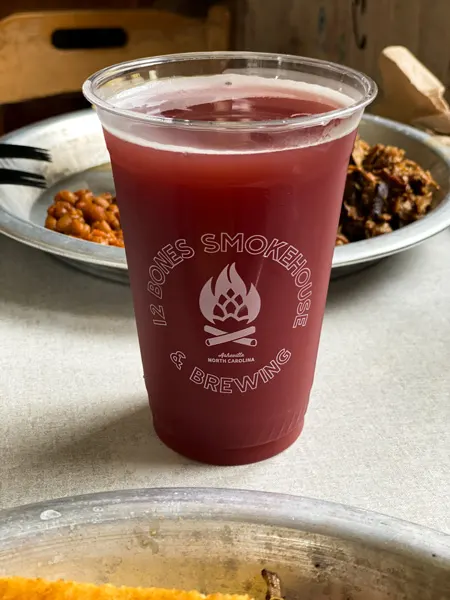 One of Asheville's most famous BBQ joints, dine like the Obama's at 12 Bones Smokehouse.
On their 2008 Asheville trip, Michelle and Barack Obama hiked Craven Gap and ate at 12 Bones Smokehouse – River location.
Rumor has it, Barack Obama ordered the ribs. You'll even see their picture on the wall.
12 Bones Smokehouse is known for its slow and long-smoked meats, using oak and cherry hardwoods. Everything they make is from scratch, and 12 Bones cooks old family favorites as well as new flavors.
Order ribs, pulled pork or chicken, and smoked turkey. Select either a sandwich or platter.
True to Southern BBQ, pair your meats with delicious sides like corned bread, okra, mac and cheese, and beans. Don't forget to head to the BBQ sauce station.
Sit inside with walls covered in guests' signatures or outside on a picnic table ensconced in Asheville's urban art scene.
12 Bones is a casual but delicious Asheville lunch option, and they do not take reservations. Wedge at Foundation, one of our favorite Asheville breweries, sits next door.
Also, know that the 12 Bones South/Arden location houses their stellar brewery and a gorgeous Anthony Bourdain mural painted by Gus Cutty. 12 Bones brews their own beer for both locations.
12 Bones Smokehouse River | 5 Foundy St Ste 10, Asheville, NC 28801
2. Baby Bull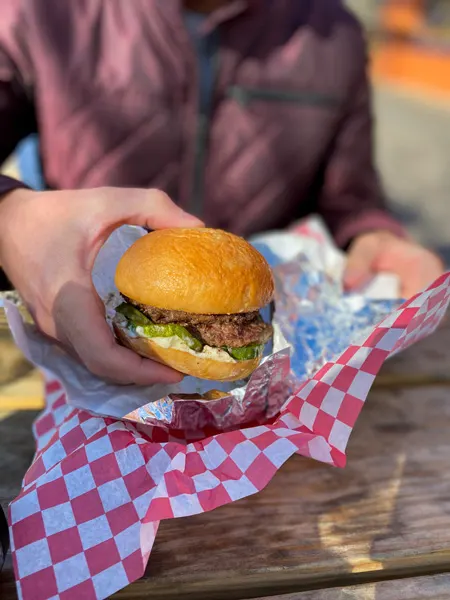 Curated by The Bull and Beggar (more to come), Baby Bull is their juxtaposing handheld joint located down the street. Just look for the Asheville silo.
Enjoy a no-frills establishment serving up one of the best burgers in all of Asheville. You may find lines out of the door depending on your timing and the season.
This is also one of the most budget-friendly River Arts District restaurants and is perfect for families looking for a quick and easy meal. Baby Bull has a kid's burger and indoor and outdoor seating.
While you cannot make substitutions to Baby Bull's small menu, they offer gluten-free bread. You may also leave off items like cheese.
While Baby Bull's special sandwiches rotate daily and seasonally, you might catch a lobster roll, fried fish, pork cutlet, or pressed pork sandwich along with your beef burger.
Sides include pork rinds, fries, and hushpuppies. A local favorite, Baby Bull hosts "Burger Monday," featuring a burger, fries, and beer or soda for $9.99.
Baby Bull | 1 Roberts St, Asheville, NC 28801
3. White Duck Taco Shop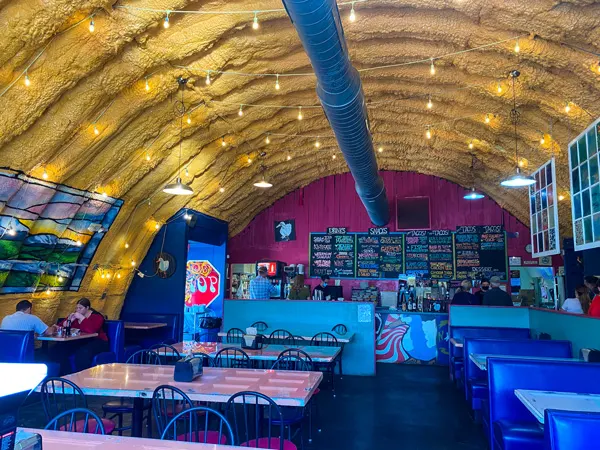 With multiple locations across Asheville, White Duck Taco Shop is by far one of Asheville's most popular and best taco joints.
Sometimes the line sprawls out the door before opening — but you can also catch slower times, if you are lucky. So, what's the big deal?
We'd say the well-deserved hype is due to White Duck Taco's unique and plentiful taco creations as well as its chill location. The RAD restaurant sits inside a vibrantly funky shipping container.
White Duck Taco also has plenty of outdoor picnic table seating. Devour tacos next to the French Broad River with your dog, family, and friends. If it's summer, you might catch people floating by.
They are also a great River Arts District restaurant option if you are traveling with young kids; they feature kids' quesadillas, chicken, and chips with queso and salsa.
These are not your average tacos either.
Think Chicken Tikka Masala, Crispy Chicken BLT, Bangkok Shrimp, Crispy Pork Belly, and Gyro-themed soft tacos along with a local brew.
White Duck Taco labels gluten-free items. They also have a large parking lot close to the RAD Riverwalk. If crowds overwhelm you, though, White Duck Taco might not be for you.
White Duck Taco Shop | RAD 388 Riverside Drive | Downtown 12 Biltmore Avenue | Arden 16 Miami Circle
4. RosaBees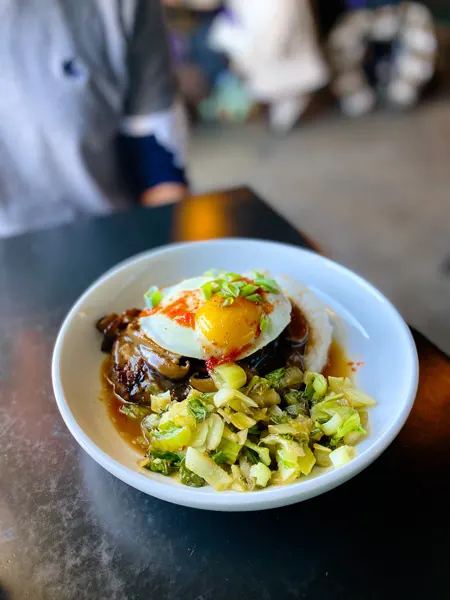 For unique Asheville restaurants, don't miss RosaBees.
Serving up Hawaiian dishes, this Polynesian River Arts District restaurant boasts of poke bowls, a variety of unique fish dishes, and beef and chicken entrees paired with spicy and tropical flavors.
We've also enjoyed Indonesian dishes, and you'll find Filipino-inspired appetizers.
RosaBees features equally delicious cocktails and desserts, and they label items containing gluten.
This is a small and sweet RAD restaurant hiding amongst the studios and shops. We recommend making dinner reservations and know that they also serve a stellar Sunday brunch.
RosaBees | 27 Foundy Street, Suite #20, Asheville, NC 28801
Never Miss Another Asheville Update
---
Tired of generic Asheville travel itineraries? Experience Asheville like a local with our free Asheville Favorites checklist, including restaurants, breweries, and hiking. Plus, get local updates – including events and hidden gems – straight to your inbox. Sign up here.
5. The Bull And Beggar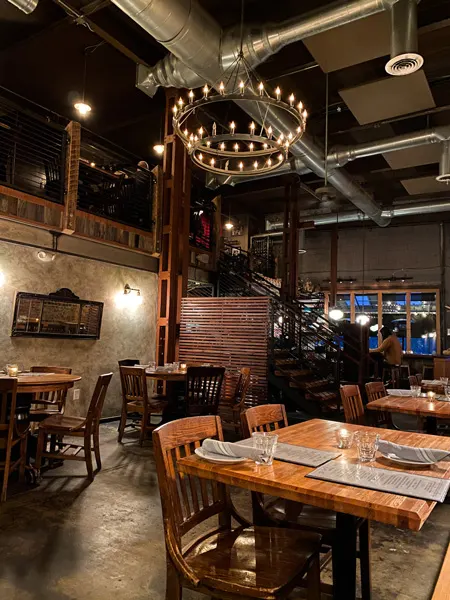 If you are looking for a romantic dining experience in Asheville, The Bull And Beggar is a must. Tucked in between Bottle Riot and Wedge at Wedge Studios, this River Arts District restaurant is for meat lovers.
The Bull And Beggar makes one of the classiest charcuterie boards in the city. With a simple but extravagant one-page dinner menu, sit in a dimly lit and cozy two-floor space with a small book bar.
Think brick and stone walls and chandelier lighting paired with a heavenly and gourmet dining experience. They also have some outdoor seating.
Select from beef tartare, oysters, ribeye, duck, pork belly, and pasta. The Bull And Beggar is also one of Asheville's best fine dining restaurants.
We highly suggest making advanced dinner reservations.
The Bull And Beggar | 37 Paynes Way #007, Asheville, NC 28801
6. Bottle Riot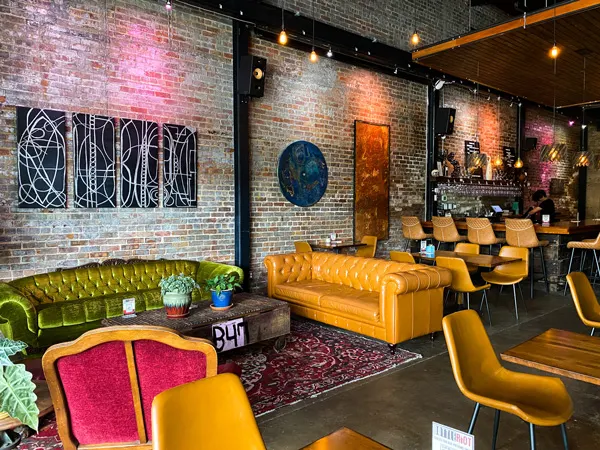 One of our favorite River Arts District restaurants and Asheville wine bars, Bottle Riot is where you go for drinks and small plates.
Please keep in mind that they don't serve full entrees, but you'll love their spreads, snacks, cheeses, and meats.
Like The Bull and Beggar, Bottle Riot has mouthwatering charcuterie. Order for the entire table or pick a meat or cheese board — gluten-free crackers available upon request.
New to 2022, along with glasses of deliciously curated wine and lavish "baller" bottles, Bottle Riot showcases spirits and a simple cocktail menu.
Find classics like a Negroni and Old Fashioned. They also feature Gin, Vodka, Irish Whiskey, Scotch, Brandy, and Tequila.
If you are looking for River Arts District wineries, don't miss nearby pleb urban winery.
Bottle Riot: 37 Paynes Way #009, Asheville, NC 28801
7. All Souls Pizza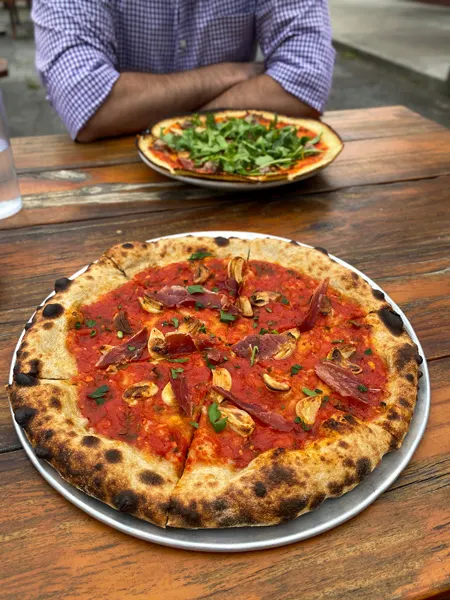 Craving some of the best pizza in Asheville?
All Souls Pizza sits on the edge of RAD – across from The Gray Eagle music hall – and features artisanal pizza.
Enjoy mouthwatering seasonal plates like monkfish, clams, fried okra, and cauliflower along with heaping salads, sandwiches, soups, and olives.
They also offer a gluten-free polenta crust – but our Celiac husband doesn't really care for it. We'd also personally appreciate a vegan/lactose-free cheese option.
However, All Soul's regular pizza is delicious, and they have a beer and wine list.
All Souls Pizza is another one of the best Asheville River Arts District restaurants with outdoor dining. Pull up at a picnic table.
All Souls Pizza | 75 Clingman Ave, Asheville, NC 28801
Asheville's River Arts District Coffee Shops
Read more about the best coffee shops in Asheville.
River Arts District Breweries
All 4 of these RAD breweries are also pet-friendly. Read more about all of Asheville's famous breweries.
Save The Best Restaurants In The River Arts District For Later: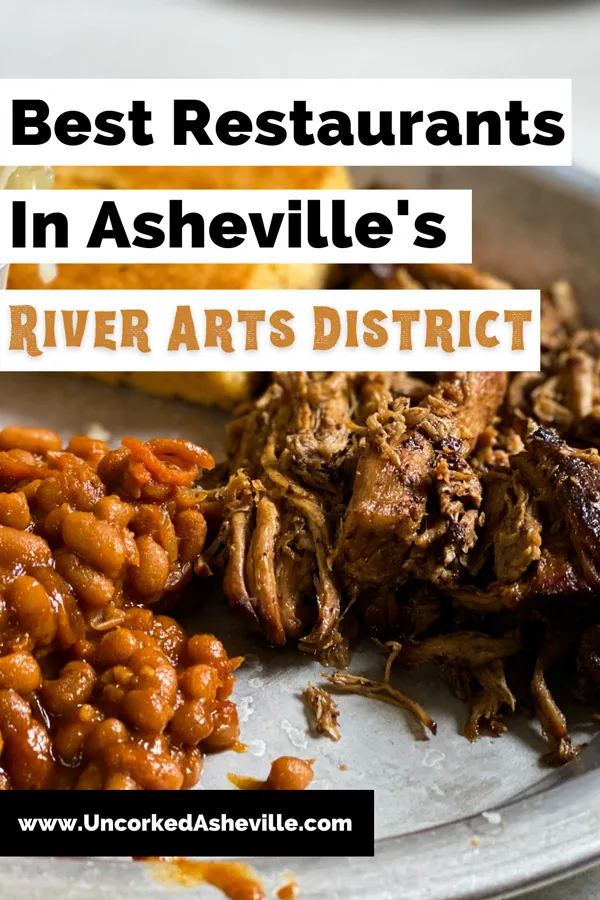 What are your favorite River Arts District restaurants in Asheville?
Where do you love to eat in Asheville's River Arts District? What is your favorite River Arts District brewery?
How about your favorite River Arts District coffee shop? Let us know in the comments.
P.S. The River Arts District restaurants are also close to Biltmore. We suggest dining here after a day touring the home, strolling the gardens, and wine tasting at Biltmore Winery.
See our Top Places To Stay in Asheville.

Don't miss out on these Asheville properties on Booking.com, too.
For Foodies:
Asheville's Top Restaurants
West Asheville Restaurants
Places To Eat In Downtown Asheville
Great North Asheville Restaurants
Biltmore Village Dining
Discover More Of Asheville's Best Neighborhoods
Asheville's Hippest Neighborhoods
Ultimate Guide To RAD
Best Things To Do In West Asheville
Guide To Historic Montford

Moving To & Living In Asheville Guide