Enjoy the best dog-friendly breweries in Asheville, NC – including a few in surrounding towns – from AVL locals.
It's no secret that while Transylvania County is the "land of waterfalls," Asheville is pretty much the land of beer. It's also lovingly called "Foodtopia."
In fact, Asheville is always in the news for its plethora of breweries – new and old – and they are all pretty hopping as well as unique.
Are the Asheville breweries dog-friendly, too? You bet!
Some allow dogs in both the taproom and outside while others have pet-friendly patios and outdoor spaces.
Most ask that Fido is always supervised, remains leashed, and is well-behaved.
So, what are the best dog-friendly Asheville breweries serving up memorable brews? Where can you drink beer in a caboose or by the French Broad River?
And, who serves gluten-reduced beer, has the tastiest on-site food trucks, and promises the most space for your pooch to relax?
What about the dog-friendly breweries near Asheville, perfect after a day of hiking and waterfall chasing in the Blue Ridge Mountains?
Keep reading to uncover the Asheville breweries that allow dogs and are most worth a visit. We are only mentioning a few although there are many more.
And, don't forget to share your favorite dog-friendly brewery in Asheville in the comments. Let's get started!
*As much as we update and stay on top of our articles, please always double-check each brewery's rules on their website as policies are subject to change.
You might also enjoy our master Asheville brewery guide.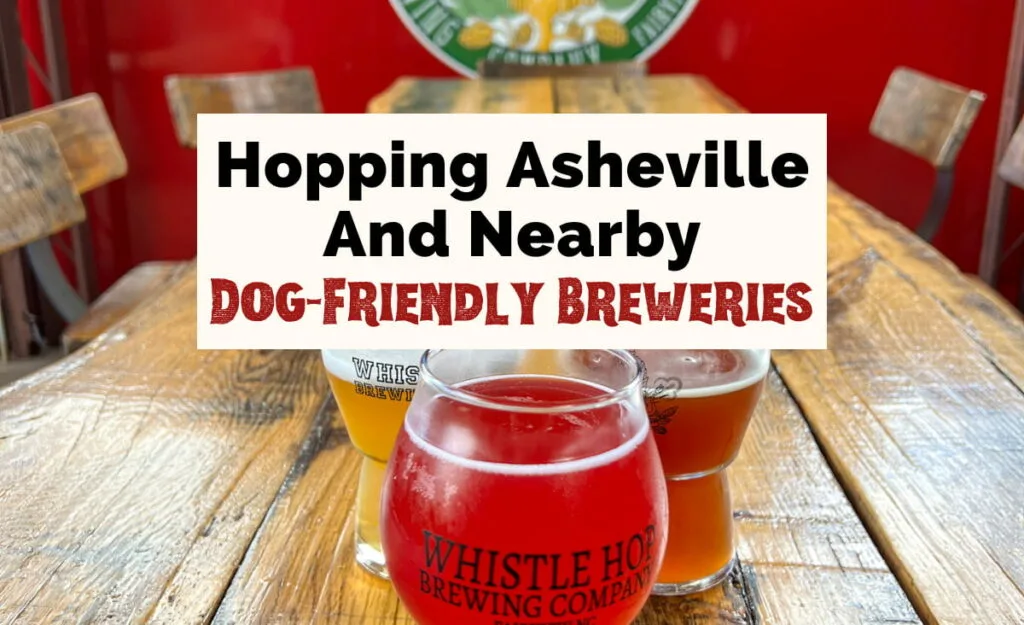 This post may contain affiliate links that earn us a commission at no extra cost to you. If you love these guides, support Uncorked Asheville here.
10 Terrific Dog-Friendly Breweries In Asheville, NC (& Nearby)
Zillicoah Beer Company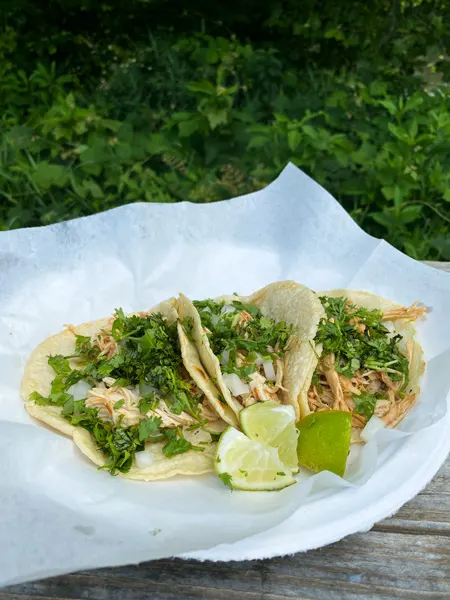 It's no secret that as AVL locals, one of our top go-to breweries includes Zillicoah, especially if you enjoy sitting outside along the French Broad River on a gorgeous day.
And, for a dog-friendly brewery in Asheville, you cannot go wrong, especially with all of that wide-open outdoor space. You can even bring your own chairs.
Just keep in mind that dogs must remain on leash at all times and stay outside the taproom; Zillicoah asks that visitors bring only well-behaved pooches too.
Zillicoah Beer Company is about 10 minutes from Downtown and sits on the corner of the River Arts District, North Asheville, and Woodfin.
They are one of the best for their terrific ambiance and permanent Mexican food truck, Taqueria Munoz.
Their taproom features outdoor covered and uncovered tables as well as an indoor bar and picnic table seating.
For beer, enjoy Helles, Pilsners, Stouts, smoky brews, and Geists. Zillicoah Beer Company also serves local ciders and wine.
Taqueria Munoz, one of the city's delicious food trucks, is also one of our top spots for budget-friendly tacos in AVL – with gluten-free options.
Think authentic and large-portioned tacos, burritos, sopas, and empanadas.
Just keep in mind that Zillicoah Beer Company is a 21+ Asheville brewery except on Sundays, which is family day. Be mindful of pets and kids around the quickly moving river, too.
Zillicoah has its own parking lots, and they check IDs as you pull into the entrance.
Zillicoah Beer Company | 870 Riverside Drive; Woodfin, NC 28804
Whistle Hop Brewing Company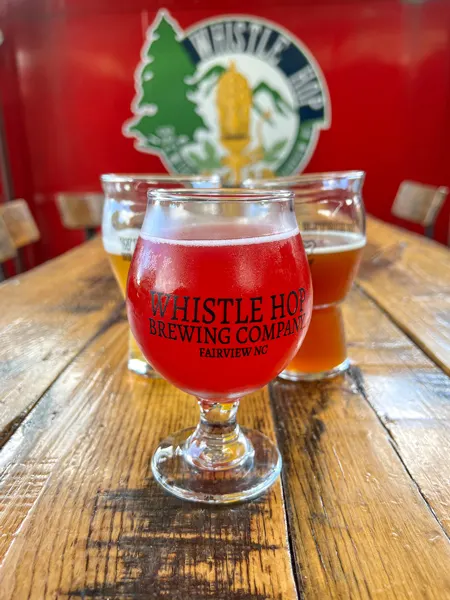 One of the best dog-friendly breweries near Asheville, Whistle Hop Brewing Company is a must. Where else can you drink craft beer in a train-themed taproom?
Located just beyond the southeastern tip of Asheville – in a popular suburb – Whistle Hop promises mountain views, sprawling spaces, and a massive outdoor playground for both kids and pets.
A family-friendly Asheville brewery, find a slide, fire pits, charcoal grills, and outdoor games, including mini-golf, bocce, mini-bowling, soccer, and a disc golf Connect 4.
There is plenty of space for everyone, and along with Whistle Hop's outside seating, hang out on the covered deck or inside the caboose
Whistle Hop Brewing Company features a variety of beers, including Kolschs, Pilsners, IPAs, Wheats, Belgians, Goses, Dunkels, Stouts, and Sours. They brew up some fun seasonals too.
For gluten-free beer, enjoy a hard seltzer along with gf guest taps from Ginger's Revenge and Urban Orchard.
Order from local and rotating food trucks such as Appalachian Chick, Tin Can Pizzeria, Smasheville, and Cecilia's Kitchen.
Whistle Hop grows busier on the weekends, and they have their own parking lots. For pet-friendly breweries in Asheville, these guys are the most memorable.
Plus, if you are day-tripping around Asheville, Whistle Hop makes for a great stop after a Gerton hike like Wildcat Rock or a visit to nearby Chimney Rock and Lake Lure.
Whistle Hop Brewing Company | 1288 Charlotte Hwy, Fairview, NC 28730
Hillman Beer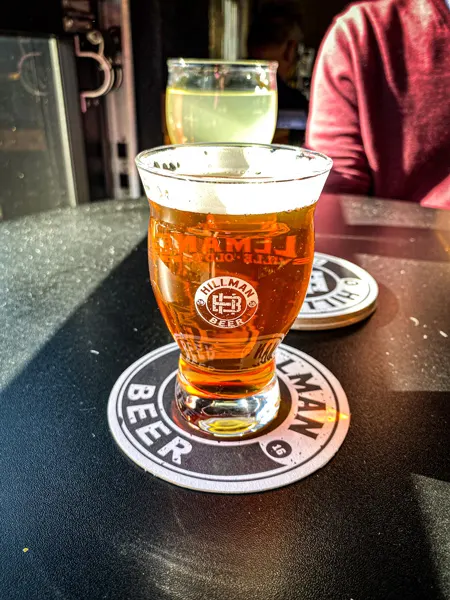 If you are visiting Biltmore Estate for the day, we always suggest heading to Biltmore Village for food, shopping, coffee, and fun.
The area houses the best restaurants near Biltmore for all price ranges and food preferences.
Plus, Biltmore Village is home to one of the best dog-friendly breweries in Asheville, Hillman Beer. Hillman just requests that dogs stay off of the tables, remain leashed, and are well-behaved.
Hillman Beer is especially great for dogs because it has two outdoor spaces: one out front with covered and uncovered bar and picnic tables and another out back by the creek.
Hillman also has a large taproom with a full kitchen, making it a great stop for lunch in AVL. For food, select from burgers, pretzels, salads, rice bowls, sandwiches, and wraps.
With an extensive beer list, choose from Kolschs, one of our favorite ESBs (Green Man makes another), IPAs, Ambers, Dunkels, and Brown Ales.
Hillman Beer also has a newer location out in Old Fort, a fun mountain town to visit near Asheville.
Their Asheville location has its own parking lot.
Nearby and new to AVL in 2022, try 7 Clans Brewing – this is Asheville's first Indigenous and woman-majority-owned brewery. It's terrific!
Hillman Beer | 25 Sweeten Creek Rd, Asheville, NC 28803
Cellarist Beer Project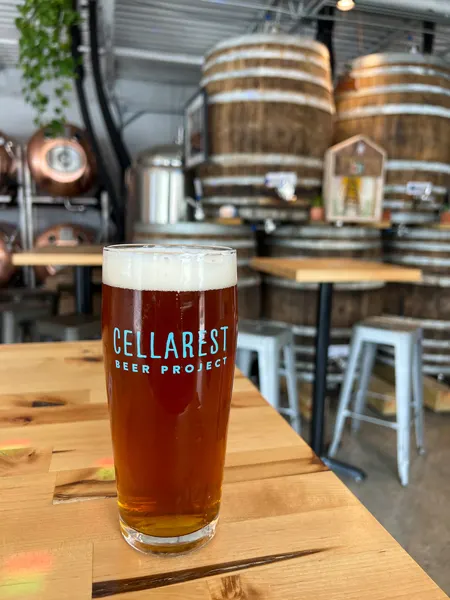 West Asheville is one of our favorite neighborhoods in the city for its street art, delicious restaurants, and local bars.
Plus, you won't find a shortage of dog-friendly Asheville breweries and coffee shops here.
As a Celiac household, we frequent Cellarist, which is one of the city's top gluten-reduced breweries.
(Everyone has different health and dietary needs/requirements, though, so please check with your doctor first if gluten is an issue for you.)
Cellarist Beer Project sits on the slightly less congested part of Haywood Road and provides both indoor and outdoor – covered and uncovered – seating.
They just ask that dogs stay leashed, supervised, and well-behaved.
Opened in 2020, enjoy Cellarist's Lagers and Farmhouse Ales. We especially enjoy their Saisons, Doppelbocks, and Helles.
For non-beer drinks, Cellarist offers cider, kombucha, and wine. Enjoy the occasional food truck or food from next door's W.A.L.K.
While here, head to Odd's Cade, a pet-friendly and popular AVL coffee shop.
We typically park on or along Haywood Road.
Cellarist Beer Project | 395 Haywood Rd, Asheville, NC 28806
Sideways Farm & Brewery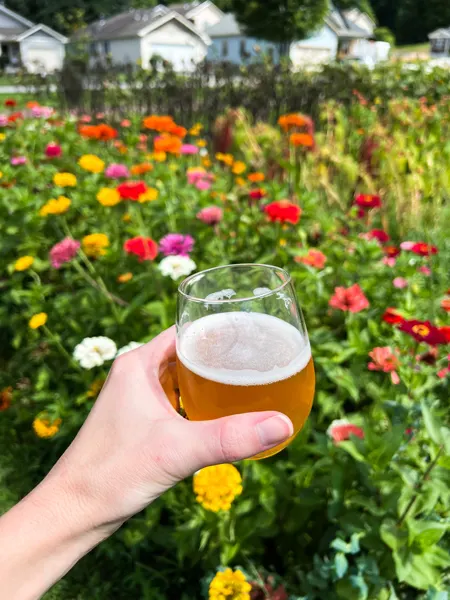 We cannot forget the happening breweries around Hendersonville, which is another one of our favorite Western North Carolina towns to visit.
Hendersonville is about 40+ minutes away from Asheville and is a great stop after hiking The Hunger Games waterfalls at DuPont Forest.
Located in Etowah between DuPont and Hendersonville, Sideways Farm & Brewery is one of the best dog-friendly breweries near Asheville, especially for outdoor space.
Because this is a working farm with barnyard animals and cats, though, they ask that Fido is well-behaved, especially with other animals like goats, ducks, and chickens. Dogs must stay leashed.
Sideways Farm & Brewery's rustic taproom is just a small part of this farm too. In the spring and summer, pick your own flowers, including massive sunflowers.
Family-owned as well as kid-friendly, just keep in mind that Sideways is typically open only Fridays to Sundays – so plan ahead.
Enjoy small-batch beer like Lagers, Pilsners, and IPAs along with wine and hard Kombucha.
For food, Sideways has rotating food trucks like Haus Heidelburg (also one of the best restaurants in Hendersonville), BroDogs, Travelin' Dough, and Feta Flav.
You might just catch a pop-up market with artisan crafts, food, and more.
Much of Sideways Farm & Brewery's seating is outdoors and covered, which may grow a tad warm in the summer.
Park in their lot out front. Be on the lookout for other great Asheville hikes in this area.
Sideways Farm & Brewery | 62 Eade Rd, Etowah, NC 28729
Wicked Weed Brewing (Brewpub)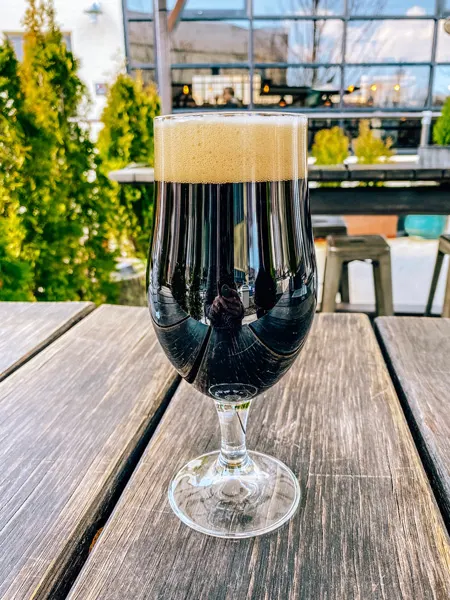 For dog-friendly breweries in Asheville, Downtown is where it is at, including Twin Leaf, Bhramari, Asheville Brewing, and Catawba.
Please just note that some of these breweries allow pets outside only – and Asheville winters can be chilly.
For a pet-friendly Asheville brewery (outdoors only) that is also a delicious pub head to Wicked Weed.
Whether you live in Asheville or are visiting for a weekend, drinking beer at Wicked Weed is one of the "must" things to do.
For drinks, along with cocktails, cider, and wine, find pretty much any beer profile imaginable. We highly recommend ordering a flight.
Plus, we always anticipate their stellar seasonal brews, and we enjoy Wicked Weed's beers with cherries, lavender, chai, and chocolate flavors.
Of course, find all the hops, if that's your jam.
Wicked Weed's full menu features burgers, sandwiches, and fancier dinner entrees like steak and seafood dishes. Or, snack on hummus and veggies.
If you are grabbing just beer, be sure to catch food at famous Downtown AVL restaurants like Limones, La Bodega, and Bouchon.
We also love Bear's Smokehouse for BBQ, Red Ginger for Asian cuisine, Chai Pani for famous Indian street food, and Asheville Pizza and Brewing for pizza.
Asheville Brewing is also a fantastic kid-friendly restaurant as well as a dog-friendly brewery in Asheville.
Wicked Weed Brewpub has fire pits and heaters, and we usually park in the Biltmore Garage.
Wicked Weed Brewing Downtown Brewpub | 91 Biltmore Ave. Asheville, NC 28801
Eluvium Brewing Company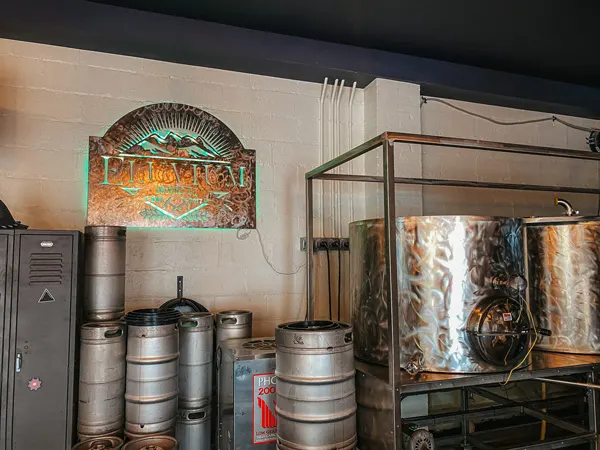 Weaverville is a fantastic little mountain town just minutes from Asheville that often gets overlooked.
However, there is so much to do in Weaverville, including a beautiful lake, nature park, and terrific restaurants like Glass Onion and Stoney Knob Cafe.
Not to mention a dog park with a bar, WagBar (320 Merrimon Ave.), which is perfect for pet owners and a great way to taste the local brews.
(Please just read all of their dog requirements before you go. WagBar requires paperwork/has restrictions, and you'll need to be prepared.)
For dog-friendly breweries near Asheville, Weaverville's Eluvium is also a terrific choice. Imagine pub grub and craft beer from a microbrewery.
Eluvium Brewing Company specializes in Wheat Ales, Lagers, IPAs, Brown Ales, and Sours. For non-beer drinkers, select from local ginger beer, seltzer, and cider options.
Eluvium's food menu features snacks and handhelds like pretzels, chili, nachos, hot dogs, wraps, and sandwiches.
Sit inside or out, and just keep in mind that this is a smaller brewery.
We also appreciate that Eluvium Brewing Company posts when their taps have been cleaned.

Eluvium Brewing Company | 11 Florida Ave, Weaverville, NC 28787
Never Miss Another Asheville Update
---
Tired of generic Asheville travel itineraries? Experience Asheville like a local with our free Asheville Favorites checklist, including restaurants, breweries, and hiking. Plus, get local updates – including events and hidden gems – straight to your inbox. Sign up here.
Wedge Brewing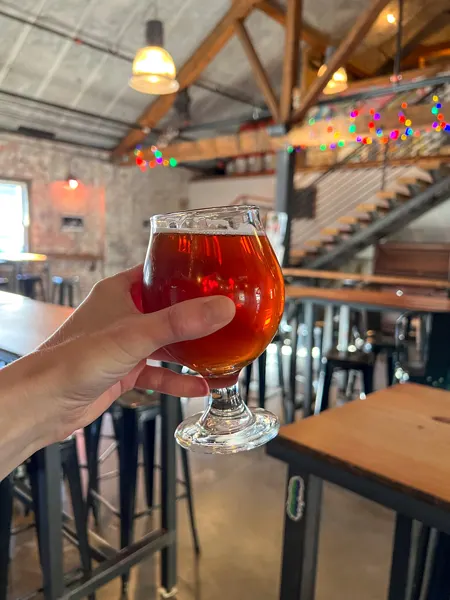 Asheville's River Arts District is another neighborhood where we spend much of our time.
The area is famous for its artist studios, colorful murals, newly renovated RAD Riverwalk – think biking and skating – and off-the-beaten-path restaurants like RosaBees and Baby Bull (best burgers around!).
Plus, find two locations for Wedge, both of which are fantastic dog-friendly Asheville breweries to visit after walking Fido around the Riverwalk.
If you head to the Foundy Street location, enjoy a cozy taproom and picnic table seating alongside the train tracks.
Here, play cornhole or enjoy burgers and hot dogs from the Chop Shop's food truck.
Wedge Studios promises indoor and outdoor seating along with food trucks.
Plus, if you love wine bars, Bottle Riot is in the same area and boasts wine glasses the size of your face. Plus, let's talk about that charcuterie…
Of course, we are here for the beer, though, and Wedge Brewing showcases Lagers, IPAs, Pale Ales, Hefeweizens, Porters, Pilsners, and Stouts.
Both RAD locations have parking lots out front and know that Wedge opened a newer Downtown location in the historic Grove Arcade.
If you are looking for a dog-friendly brewery in Asheville that has plenty to do nearby, including walkable spaces, Wedge (Foundation or Studios) is it.
Nearby, we also highly recommend Hi-Wire's RAD Beer Garden with Foothills food truck.
Wedge Brewing | Foundation: 5 Foundy Street; Asheville, NC 28801; Studios: 129 Roberts St, Asheville, NC 28801; Downtown: 1 Page Avenue, Suite 152 Asheville, NC 28801
Bold Rock Cidery (Mills River)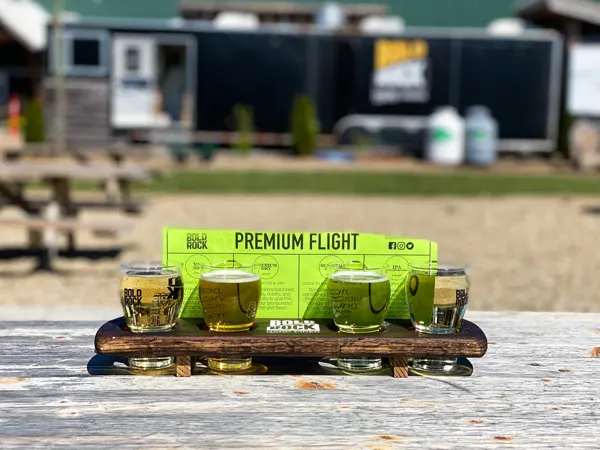 We just love the Mills River breweries, and if you are around the AVL airport, there are plenty of pet-friendly breweries near Asheville in this area, including Mills River Brewing Co. and Sierra Nevada (outside).
Plus, you have one of the most famous WNC cideries, Bold Rock.
Bold Rock also has a newer Downtown AVL location, but the Mills River's space is perfect for the entire family, pooches included.
Mills River has plentiful outdoor seating and a massive indoor warehouse-like taproom.
For cider, they showcase fun flavors like coffee, watermelon, margarita, and sangria along with your standard hard cider.
They also serve hard seltzer and canned cocktails.
Hang out in Bold Rock's cider garden. Order a sandwich or burger from their food truck, Bold Bites Mobile Kitchen, which also has GF bread, making this a great gluten-free dining option.
Especially around the weekend, Bold Rock hosts live music, events, and trivia nights. Bold Rock Mills River has its own parking lot.
Bold Rock Cidery | Mills River: 72 School House Rd, Mills River, NC 28759 & Downtown: 39 N Lexington Ave, Asheville, NC 28801
UpCountry Brewing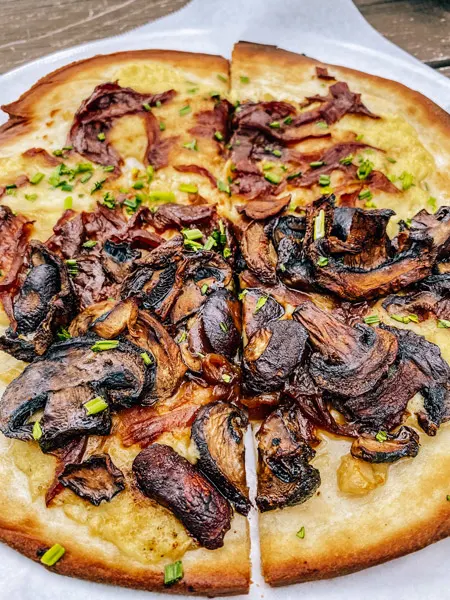 UpCountry Brewing is another fantastic dog-friendly brewery in Asheville and Brevard.
And like Mills River, the Brevard breweries are near the airport as well as beautiful waterfall hikes like Daniel Ridge, Moore Cove Falls, Sliding Rock, and Looking Glass Falls.
Their Brevard location is also a distillery with cocktails and hosts fun events.
UpCountry's West Asheville location is terrific for those backyard vibes with pizza – gluten-free pizza included – along with vegan cheese options.
Beer styles include Stouts, Goses, Lagers, Brown Ales, and Stouts along with IPAs, Sours, and Pale Ales.
For more dog-friendly breweries near Asheville in Brevard, try Burning Blush and Oskar Blues.
Oskar Blues even sits off the Brevard Bike Path. There's a dog park off of the trail.
UpCountry Brewing | West Asheville: 1042 Haywood Rd, Asheville, NC 28806 & Brevard: 212 King St Suite B, Brevard, NC 28712
Save These Dog-Friendly Asheville Breweries For Later: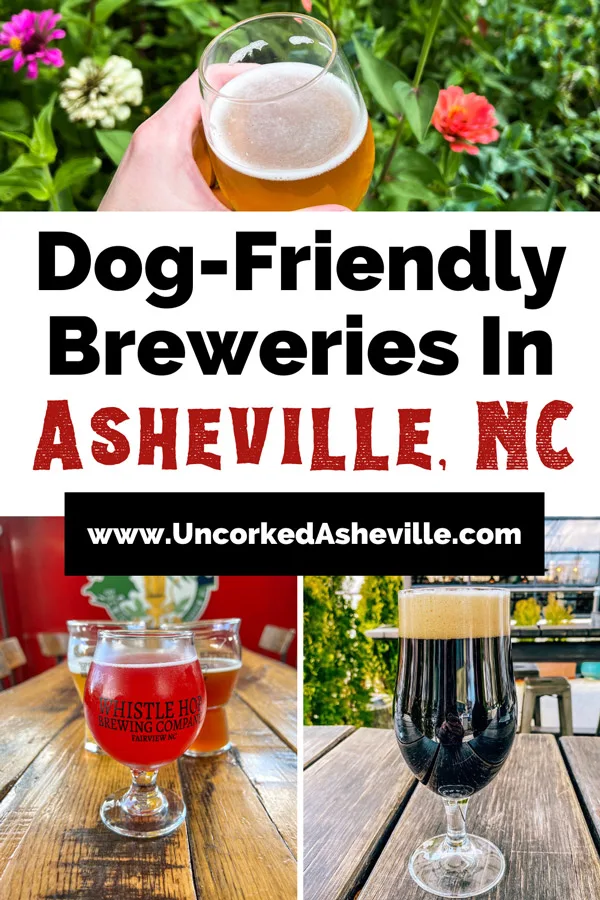 What is your favorite dog-friendly brewery in Asheville?
There is certainly no shortage of Asheville breweries that allow dogs, which isn't a surprise since the city has so many.
Not to mention that the best dog-friendly breweries near Asheville sit so close to some of the top hiking trails around the Pisgah National Forest, DuPont, and Blue Ridge Parkway.
If we had to pick the top three dog-friendly breweries in Asheville with our personal favorite beer, we'd go with Zillicoah Beer Company, Hillman Beer, and Wedge.
However, it's tough to choose. You honestly cannot go wrong.
What pet-friendly breweries in Asheville do you love and recommend? Let us know in the comments.
Looking For More Great Drinks? Head This Way: