Discover the best places for gluten-free pizza in Asheville, NC – from locals and a Celiac household.
If you or a member of your party or family have Celiac disease or are avoiding gluten for any reason, it can be hard to find good gluten-free pizza.
As a Celiac household, we've had our fair share of cardboard, crumbly, and burnt to a crisp crust. No one wants their pizza cravings squashed by inedible or tasteless pizza.
And don't get us wrong, we appreciate establishments that offer gluten-free options, but sometimes, they fall short.
Thankfully, this is Foodtopia, and finding gluten-free pizza restaurants in Asheville isn't that hard.
Below, discover our top Asheville gluten-free pizza joints – as locals, a GI doctor's worst nightmare (we are both lactose-intolerant and also an IBD household), and pizza lovers.
See who makes the best crust, has gluten-reduced beer, plays hot new movies, and offers both vegan and gluten-free options.
Lastly, we'll talk gluten-free pizza delivery in Asheville – as well as takeout/pick-up. Don't forget to tell us your favorite gluten-free pizza restaurant in the comments.
And, please keep in mind that sometimes these restaurants change up their gluten-free recipe or crust. Let's get started!
You may also find our gluten-free guide to Asheville helpful.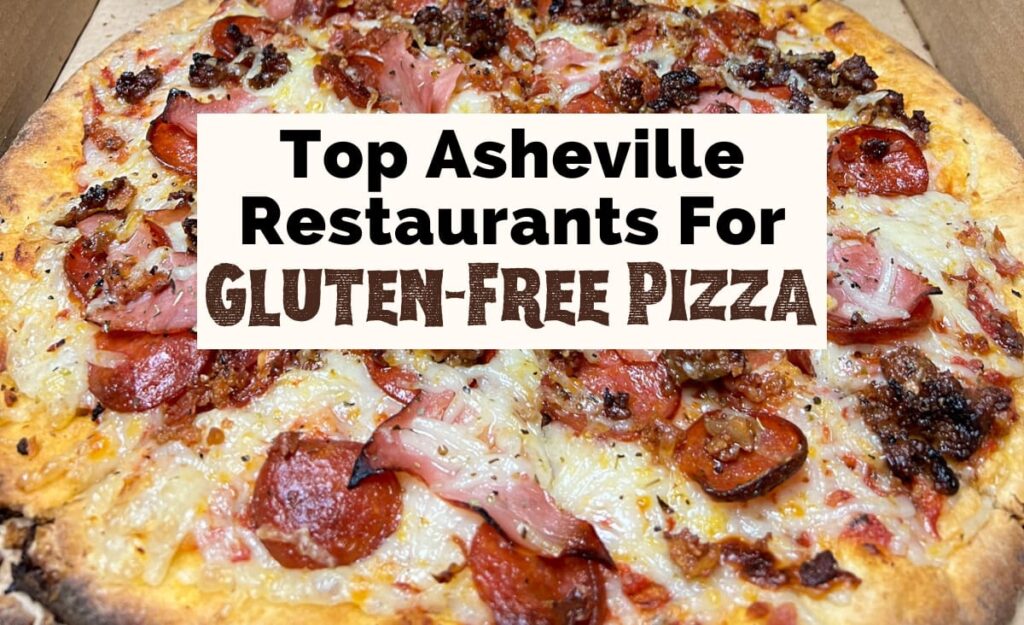 This post may contain affiliate links that earn us a commission at no extra cost to you. If you love these guides, support Uncorked Asheville here.
6 Delicious Spots For Gluten-Free Pizza In Asheville
*Please remember that these are our personal experiences, and we are not health professionals, doctors, or dieticians.
It is always important to conduct your own research/due diligence based on individual dietary and health needs.
These pizza places do not necessarily have dedicated gluten-free kitchens or certified gluten-free safe procedures. Always ask about dedicated GF fryers for items like tater tots and fries.
You will need to consider cross-contact, wheat allergies, and more.
However, these are the places our Celiac household can eat at.
1. Asheville Pizza & Brewing Company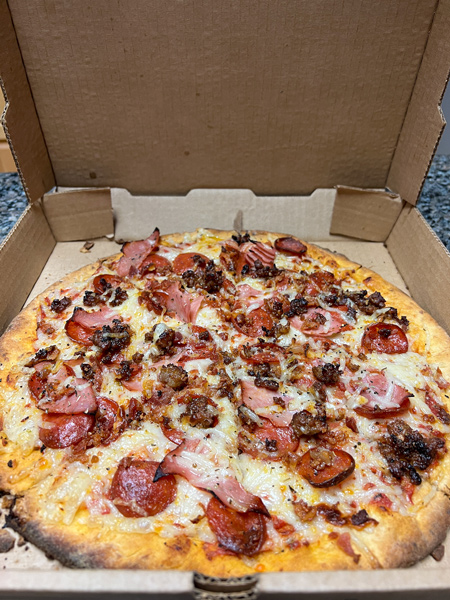 Not only one of the best restaurants for families, Asheville Pizza & Brewing – also known as Asheville Brewing – serves up our number one choice for gluten-free pizza in Asheville.
They make, by far, the best gluten-free pizza crust and also have vegan and vegetarian pizza options, including vegan cheese. It's the best of all worlds.
Devour mouthwatering pizzas named after favorite movies, and find a large pub-grub menu promising all of your favorite comfort foods.
We recommend the meaty pizza, their version of a Hawaiian, BBQ chicken, or building your own.
Asheville Brewing is great for tater tots, game day wings, salads, burgers, sandwiches, quesadillas, fries, brats, and fish and chips (not all of these are GF).
They have locations throughout Asheville with indoor and outdoor seating, but we especially love Coxe Ave. for Downtown AVL dining and their North Asheville Merrimon location.
Even better, Asheville Pizza & Brewing's North Asheville restaurant features a movie theater with discounted older movies as well as new releases.
There are even tables in front of the theater seats and a bar in the back of the theater; this is how Christine survived the Top Gun sequel…
Catching a movie with pizza is one of our favorite things to do in Asheville as locals, especially on a chilly or rainy day.
Plus, Asheville Brewing is our first choice for pizza takeout, and their South location offers gluten-free pizza delivery in Asheville (around that area).
Asheville Brewing Company | 675 Merrimon Ave, Asheville, NC 28804; 77 Coxe Ave, Asheville, NC 28801; & 1850 Hendersonville Road Suite A, Asheville, NC 28803
2. White Labs Brewing Co. Kitchen & Tap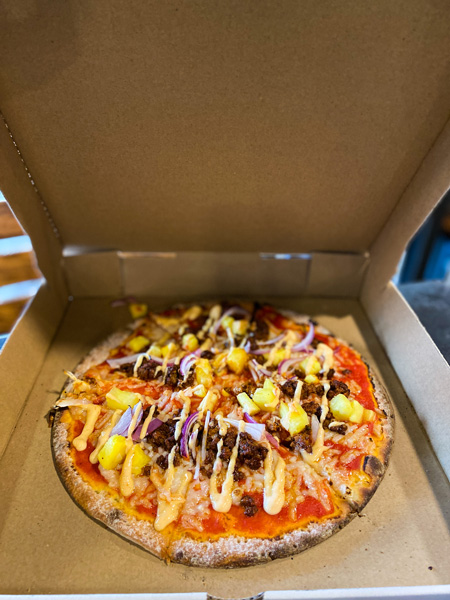 An Asheville gluten-free pizza restaurant that stays off of the radar, White Labs Brewing Co. has a delicious gluten-free crust along with a few gluten-reduced beers on tap.
Choose from White Labs' classic wood-fired pizzas including a mushroom, sausage, pepperoni, or Margherita pizza. Or, build your own.
Along with gluten-free pizza crust, find vegan mozzarella.
White Labs Kitchen and Tap's menu also features burgers and sandwiches – with gluten-free buns – and shareable plates like fries, wings, and salads.
For GF diners who can drink gluten-reduced beers, be sure to ask which draft brews are safe for you. Our first time here, this was such a nice surprise.
We enjoy White Labs Brewing's Lagers, Stouts, and Ambers. Plus, try local guest brews to taste-test your way through all of the best breweries in Asheville.
White Labs Kitchen & Tap also has cocktails, mocktails, and desserts.
They sit on the outskirts of Downtown and North Asheville – with their own parking lot – and boast multiple floor levels as well as indoor and outdoor seating.
White Labs Brewing Co. Kitchen & Tap | 172 S Charlotte St, Asheville, NC 28801
3. 828 Family Pizzeria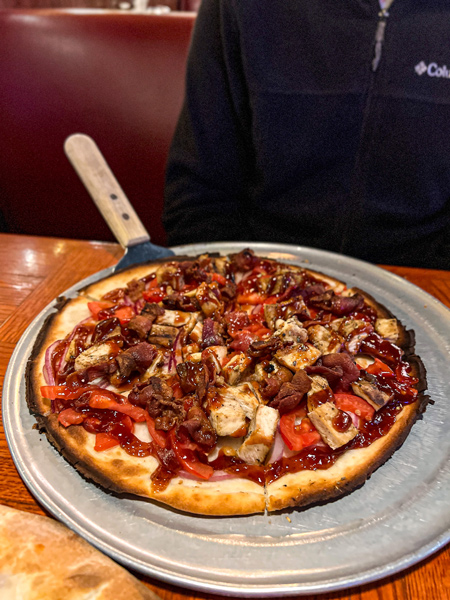 828 is one of our overall favorite pizza places, especially since one of us can eat that glutinous crust.
However, if you are looking for some of the best gluten-free pizza in Asheville, 828 also won't disappoint. They've also been in business since 1933.
With a tavern and pub-like feel in North Asheville's Fresh Market plaza, 828 Pizzeria is one of the coziest local pizza joints.
They specialize in delicious New York-style pizza with specialty pies like Greek, kale, chicken ranch, and BBQ.
Or, build your own pizza with hearty toppings like chunks of artichokes, kalamata olives, spinach, and mushrooms. For gluten-free diners, choose from cauliflower or dairy-free GF crust.
Along with pizza, 828 Family Pizzeria serves classic Italian subs, calzones, salads, and pasta dishes.
Sit at a table, booth, or bar surrounded by dim yellow lights.
While in North Asheville, be sure to take a stroll around Beaver Lake or the Botanical Gardens at Asheville.
828 Family Pizzeria | 946 Merrimon Ave, Asheville, NC 28804
4. Manicomio Pizza & Food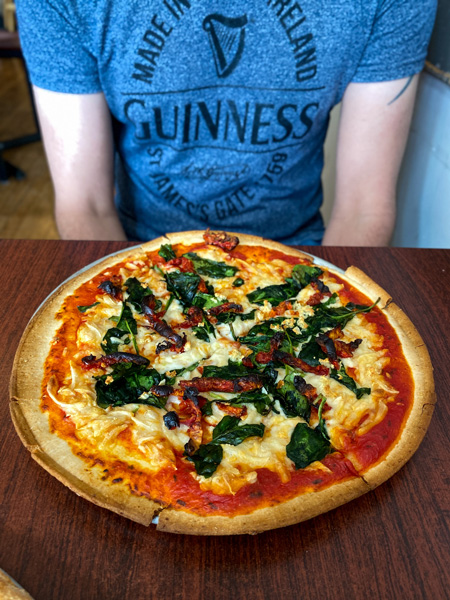 Nothing beats lunch in Downtown Asheville on a weekday.
And, it's pretty hard to choose where to eat around the Biltmore Ave. area, which is filled with burger, sushi, Thai, and Indian food restaurants – perfect for GF diners.
However, if you are craving Italian, look up for that pizza slice icon.
Manicomio makes vegan and gluten-free pizza in Asheville, and we find them incredibly budget-friendly, especially since you can grab a slice on the run.
Slices tend to be for glutinous diners, though, which is fine when you are craving that entire gluten-free pie. Just know that the gluten-free crust is a tad thin here.
Build your own pizza with endless toppings like onions, olives, garlic, bacon, cherry tomatoes, and peppers. Or, select a house specialty pizza including a Supreme, White, or Veggie.
Manicomio also makes delicious vegan pizza, and we prefer the AsheVegan. They source local vegan cheese.
Enjoy a glass of red or white wine with your pie and sit inside or out.
Manicomio stays open 7 days a week, and for gluten-free pizza delivery in Asheville, you'll find them on GrubHub and Takeout Central.

Manicomio Pizza & Food | 27 Biltmore Ave Asheville, NC 28801
Never Miss Another Asheville Update
---
Tired of generic Asheville travel itineraries? Experience Asheville like a local with our free Asheville Favorites checklist, including restaurants, breweries, and hiking. Plus, get local updates – including events and hidden gems – straight to your inbox. Sign up here.
5. Grata Pizzeria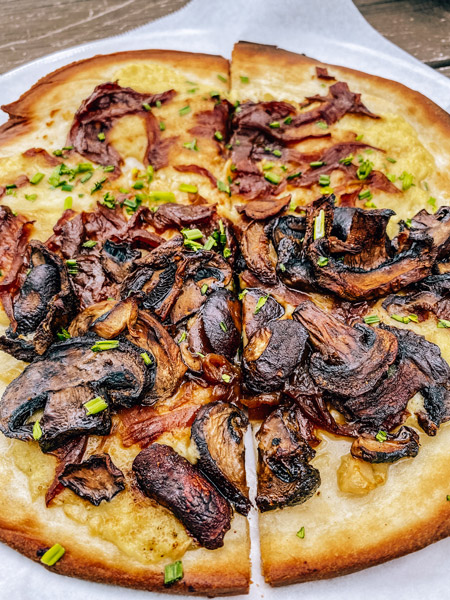 One of the lesser-known and best gluten-free pizza restaurants in Asheville, head to UpCountry Brewing and Grata Pizzeria.
Grata specializes in California-inspired pizza, meatballs, salads, and fries. They use local ingredients and feature specialty pies like a white, veggie, Soppressata, mushroom, and meatball.
Or, build your own gluten-free pizza. For vegans, top your pie with Darë Vegan Cheese, which is the best vegan cheese in town.
Grata sits inside UpCountry Brewing, a colorful West Asheville brewery with indoor and outdoor seating.
UpCountry is a pet (outside) and kid-friendly space, and they also have a taproom in Brevard.
For gluten-free pizza delivery in Asheville, find Grata Pizzeria on UberEats, Takeout Central, and DoorDash.
Nearby Grata, The Odditorium is a quirky LGBT bar, and Leo's House of Thirst is one of our favorite tapas and wine bars in the city – with gluten-free crackers.
For more of the best West Asheville restaurants, try Thai Pearl, Green Tea Sushi, Gypsy Queen Cuisine, and Nine Mile – all of which are perfect for gluten-free diners.
Grata Pizzeria | 1042 Haywood Road, Asheville, NC 28806
6. Barley's Taproom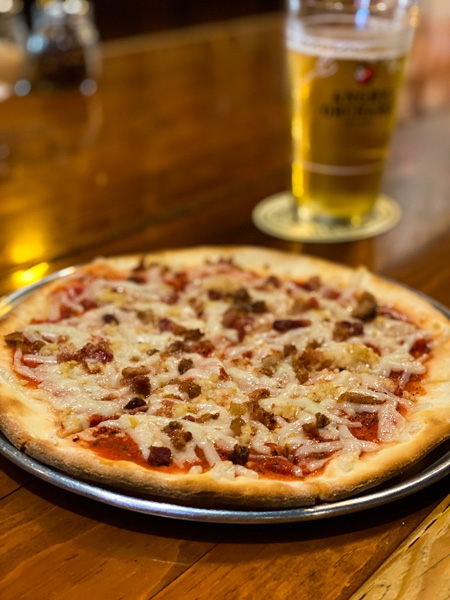 For Asheville gluten-free pizza in a pub setting, head to Downtown's Barley's Taproom.
This no-frills, former 1920s appliance store-converted taproom is perfect for a drink, a game of pool, or watching a game on TV. Plus, they've been around AVL since 1994.
For pizza diners, find gluten-free crust or a New York-style pie. Their specialty pizzas include meat, veggie, Greek, and a build-your-own with a plethora of toppings.
Enjoy more bar comfort food including chips and salsa, nachos, and hummus. Barley's also serves calzones (not GF), soups, chili, salads, and pasta (not GF).
Barley's is located near romantic and fancier restaurants like Posana, Chestnut, Limones, Benne on Eagle, and Cúrate.
For gluten-free pizza delivery in Asheville, find them on Takeout Central.
Barley's Taproom | 42 Biltmore Ave, Asheville, NC 28801
More Places Where You'll Find Gluten-Free Pizza In Asheville:
Mellow Mushroom
Del Vecchios
Apollo Flame
Laughing Seed Cafe
Blue Mountain Pizza (Weaverville)
Save The Best Asheville Gluten-Free Pizza Joints For Later: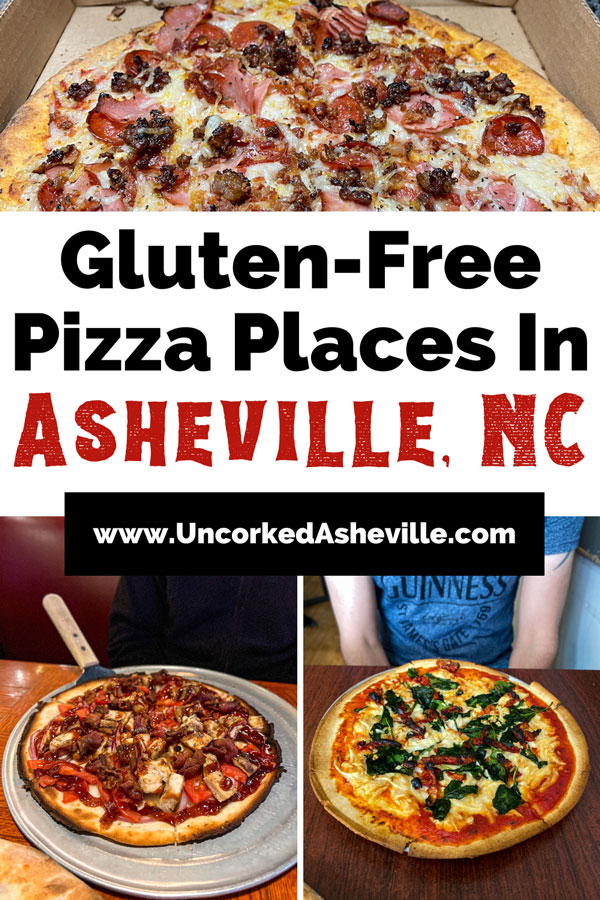 What are your favorite gluten-free pizza restaurants in Asheville?
If we had to pick the best spots for gluten-free pizza in Asheville, we'd start with Asheville Pizza & Brewing.
They have a delicious GF crust, a variety of classic and fun toppings, and loads of snacks and treats for non-GF diners.
Plus, they are perfect for friends and families, and nothing beats that movie theater with food and drinks.
After Asheville Brewing, we'd recommend 828, White Labs, and Grata.
What are your favorite Asheville gluten-free pizza restaurants?
Let us know in the comments, and if you are an Asheville foodie like us, read more about the top restaurants across the city.
Where To Stay In Asheville
Explore the best places to stay in Asheville. A few of our top suggestions:
Aloft – Downtown Asheville – Centrally located and recently renovated, enjoy a rooftop pool, gorgeous bar, and trendy rooms.

The Omni Grove Park Inn – Treat yourself to a luxury resort in North Asheville, complete with breathtaking sunsets, terrace bars and dining, and loads of Asheville history.

Hampton Inn And Suites Asheville Biltmore Area – A budget-friendly but renovated hotel on busier Brevard Road that's perfect if you wish to stay between Biltmore Estate, Downtown Asheville, and the Blue Ridge Parkway.

Asheville Cottages – Gorgeous 1 to 3-bedroom cottages with a private deck, housing a grill and hot tub. Find luxurious heated-floor bathrooms with rain showers, a well-stocked kitchen, and the cleanest rooms in town.

Foundry Hotel – An oasis in Downtown Asheville, Foundry Hotel is a nod to AVL's industrial history. Find famous restaurant Benne on Eagle while sleeping ensconced in charm and elegance.

Country Inn & Suites by Radisson, Asheville Westgate, NC – Located off of the highway as you enter AVL, find a sleek and clean hotel at a great price.

Black Walnut B&B Inn – Designed by Biltmore's supervising architect, Richard Sharp-Smith, this 1899 inn is close to Downtown AVL and serves afternoon tea. Two rooms are pet-friendly.
Don't miss out on these Asheville properties on Booking.com, too.
Foodies May Also Like:
Top AVL BBQ Spots
Asian Food Restaurants
Taco Spots Across AVL
Not-To-Miss Food Trucks