Known as Foodtopia, enjoy the best food trucks in Asheville for burgers, BBQ, and more – vegan and gluten-free options included – from locals.
Asheville is full of hopping breweries, award-winning restaurants, rooftop bars, and cafes. Did you also know that the Asheville food truck scene is pretty happening too?
Nothing beats casual eats on the go, especially after a day of mountain biking, roller skating, and hiking around those breathtaking Blue Ridge Mountains.
With so many Asheville, NC food trucks, though, how do you choose? It's tough.
As locals, we are sharing our top Asheville food trucks in and around the city for family and budget-friendly eats along with meals by cuisine: BBQ, pizza, burgers, Mediterranean, Mexican, and more.
Eat Cuban comfort food in RAD, snack on Lebanese street food at a festival, and cool off with vegan ice cream pops at a market with your pooch.
See what Asheville food trucks frequent the breweries too. Imagine pairing a food truck burrito with a smoky Helles by the French Broad River.
And, as a Celiac, UC, and lactose-intolerant household, you can also bet that we know the best food trucks in Asheville serving vegan, vegetarian, and gluten-free meals.
So, keep reading to find your next favorite food truck in Asheville, NC – for breakfast, brunch, lunch, dinner, dessert, and coffee.
We'll even head across Western North Carolina in search of the best food trucks near Asheville. Don't forget to tell us your favorites in the comments. Let's get started!
You may also love these unforgettable Asheville, NC restaurants.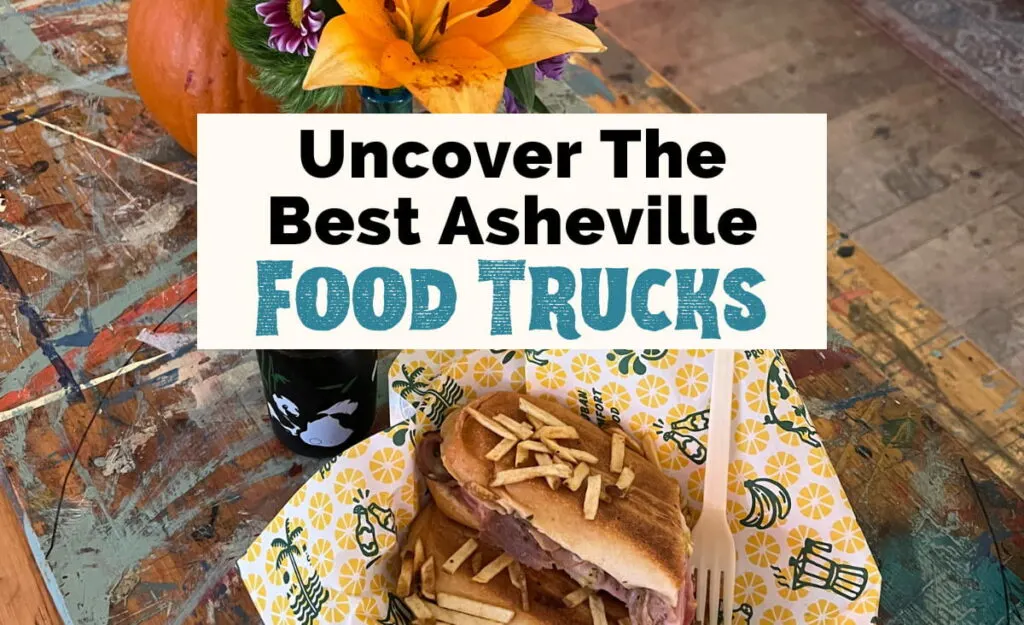 This post may contain affiliate links that earn us a commission at no extra cost to you. If you love these guides, support Uncorked Asheville here.
12 Best Food Trucks In Asheville
Taqueria Muñoz*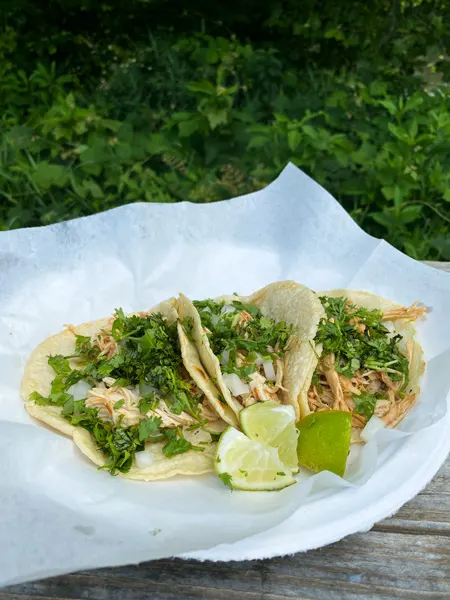 *In the summer of 2023, Zillicoah and Taqueria Munoz broke up. Taqueria Munoz has a brick-and-mortar location, but we are waiting to see where they decide to relocate their food truck to update this article.
It's no surprise that one of the best Asheville food trucks sits at a local brewery.
Situated near the corner of Woodfin, North Asheville, and the River Arts District, Taqueria Muñoz is a permanent food truck at Zillicoah Beer Company. They open and close with Zillicoah.
Taqueria Muñoz serves up some of the most delicious tacos in town along with burritos, sopes, tortas, tamales, and quesadillas.
Meat selections include chicken, chorizo, roasted pork, steak, or lamb – or go veggie. Diners can find gluten-free and lactose-free options too.
Budget and dog-friendly, sit along the French Broad River with a burrito and beer. This spot is incredibly scenic and peaceful.
Zillicoah Beer Company is also one of our favorite breweries in Asheville. They make a stellar Helles and Czech Pilsner and have IPAs and Stouts. Sit inside or out.
Just keep in mind that Zillicoah is a 21+ brewery except on Sundays, which is all-ages Family Day.
They typically card as you drive into the parking lot.
The Smokin' Onion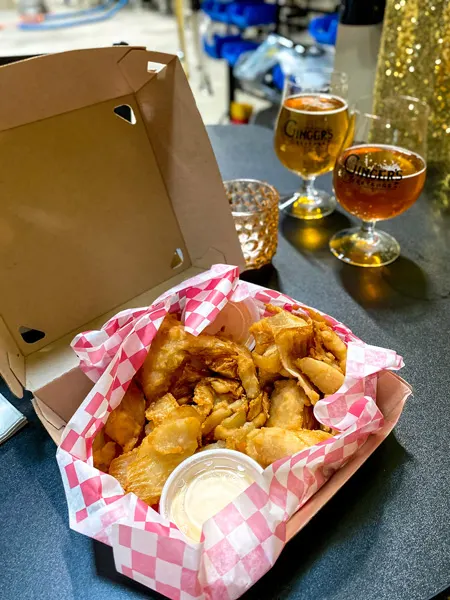 For both gluten-free and vegan food trucks in Asheville, The Smokin' Onion is a mouthwatering option.
We tend to catch them at Ginger's Revenge, home to gluten-free ginger beer. They also typically go to New Belgium, Cellarist, and Highland Brewing.
The Smokin' Onion is our go-to Asheville food truck for comfort food.
Devour gluten-free and vegan starters like fried pickles, fried Brussels sprouts, fries, onion rings, and Buffalo cauliflower bites.
Select from vegan takes on crab cakes, burgers, gyros, and nachos. Of course, there are salads and desserts too.
What could be better than fried pickles and beer?
For more vegan options in Asheville, The Trashy Vegan – once solely a food truck – now has a brick-and-mortar restaurant in West Asheville, serving up vegan and gf burgers, sandwiches, and fries.
They also opened a gf and vegan donut shop in Black Mountain, Dough House.
Find even more great lactose-free options in Asheville.
The Smokin' Onion | Rotating Schedule
Guajiro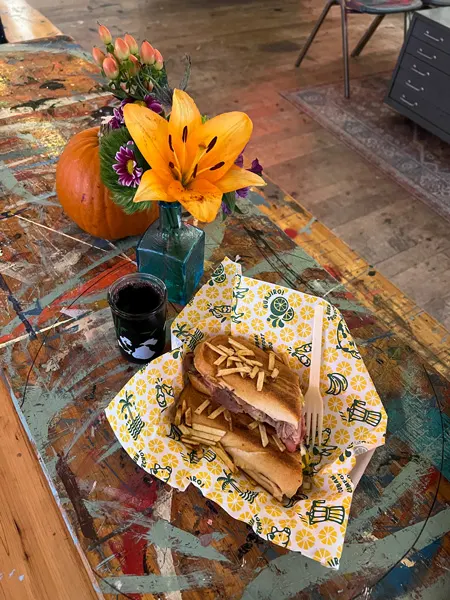 A new 2022 food truck in Asheville, Guajiro features Cuban comfort food for breakfast, brunch, and lunch through 4 PM (closed Wednesdays) – but always double-check hours on their website.
Permanently situated in Asheville's vibrant River Arts District at Cotton Mill Studios, Guajiro makes the perfect stop if you are skating or biking the RAD Riverwalk.
It took us three meals to eat their giant Cuban sandwich, and we devoured their roasted pork with rice & beans.
For breakfast in Asheville, Guajiro serves eggs with rice & beans, egg and omelet sandwiches with ham and cheese, and scrambled eggs with Cuban toast.
At lunchtime, select from yucca fries, soups, fried or sweet plantains, a mix of Cuban sandwiches, and sizable meat platters with sides.
Guajiro also has vegan and vegetarian options, and don't forget dessert with your Cuban coffee.
We dipped into local artist, Andy Herod's, art bar – Great Wild Nowhere – to eat with drinks from his bar. Second Gear is nearby too, which is a great stop for outdoor gear.
Guajiro | 122 Riverside Dr, Asheville, NC 28801
Buggy Pops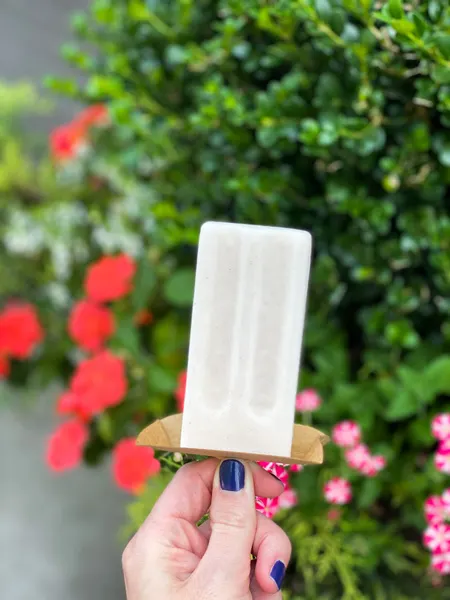 Are you looking for Asheville food trucks known for their desserts? And OK, we might be bending the definition of "food truck" here, but we are counting Buggy Pops.
Bike, truck, tomato…
Along with Sunshine Sammies – a brick-and-mortar shop and a food truck – we love Buggy Pops for ice cream in Asheville.
Buggy Pops offers both vegan and dairy options.
BIPOC and woman-owned, catch Buggy Pops at pop-ups, Pack Square festivals and events like the VeganFest and Downtown After 5, and breweries such as Ginger's Revenge
Or, find Buggy Pops at farmer's markets, including RAD's Uncommon Market and the North and West Asheville Tailgate Markets.
Refreshing flavors include coconut matcha, strawberry mint, piña colada, blueberry lemonade, and key lime pie.
Buggy Pops | Find them across WNC
Garage BBQ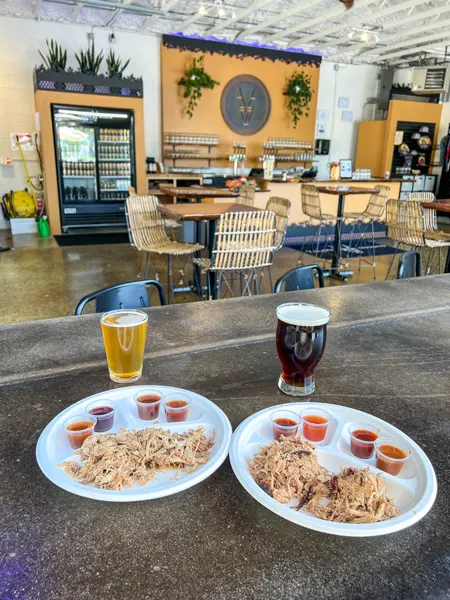 North Carolina and Asheville are pretty famous for all of that delicious BBQ, and we could name endless BBQ food trucks in Asheville (and nearby) – Carolina Ace BBQ and Bear's are fantastic.
New in 2022, Garage BBQ dove head first into the Asheville food truck scene, and they are quickly picking up speed.
Find them across Western North Carolina at places like 7 Clans Brewing, Packa's Place, Two Tree's Distillery, Blue Ghost Brewing, Wedge, Turgua Brewing Company, and Burning Blush.
When Garage BBQ first opened – and thanks to our readers – Garage BBQ's owner, Jonathan, invited us out to introduce himself as well as let us sample his homemade sauces.
His sauces are delicious, and Jonathan is incredibly passionate about food and enjoying these gorgeous Blue Ridge Mountains as much as us.
Garage BBQ features pulled chicken and pork with staple and seasonal homemade sauces, cole slaw, and chips.
Their BBQ is gluten-free too – minus the bread for sliders.
Garage BBQ Food Truck | Rotating Food Truck
Gypsy Queen Cuisine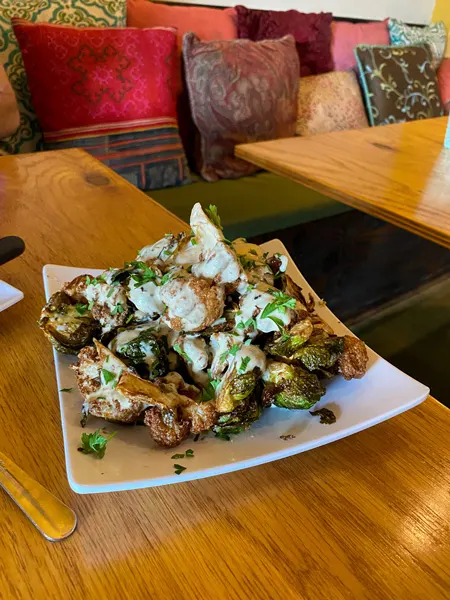 If you subscribe to our newsletter, you know that we love West Asheville restaurant, Gypsy Queen Cuisine (GQC), which is great for vegan, vegetarian, and gluten-free diners.
GQC serves unforgettable Lebanese and Mediterranean street food, and along with their brick-and-mortar restaurant, they have one of the best food trucks in Asheville.
We usually catch them at Asheville's VeganFest in Pack Square, and they typically attend AVL's Downtown After 5.
Think hummus with pita, falafel, lamb, and Shawarma wraps, and crispy Brussels sprouts and fried cauliflower.
If you don't catch their food truck around Asheville, drop into their colorful restaurant, which also has a small Mediterranean specialty market.
Afterward, head further into West Asheville for some of the best bars, coffee shops, and murals.
Gypsy Queen Cuisine | Check Their FB Page To See Where They'll Be | Restaurant: 807 Patton Ave, Asheville, NC 28806
Foothills At Hi-Wire Beer Garden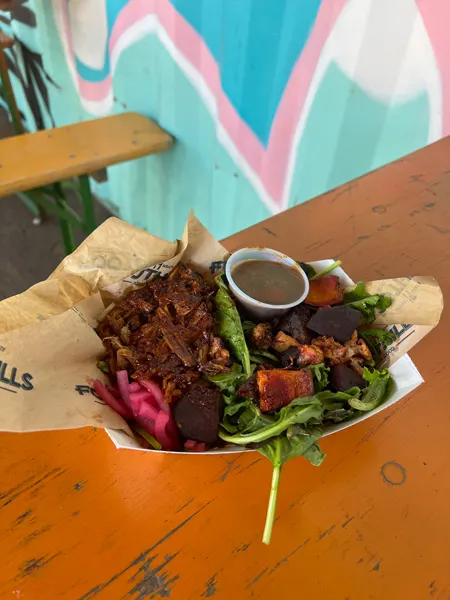 After a morning of playing in the city's beautiful parks – especially Carrier and French Broad River Parks – we love heading to Hi-Wire's RAD Beer Garden.
Here, along with Hi-Wire's massive tap list, enjoy one of Foothills' Asheville food trucks – you can also find them at Biltmore Village (and in Black Mountain).
Foothills is best known for its delicious smoked meats, BBQ, and classic eats. Come here for burgers, sandwiches heaping with pasture-raised meats, and hot dogs.
You'll also find a few vegetarian selections, and their specials are pretty spectacular.
Hi-Wire's RAD Beer Garden is slightly newer to the River Arts District, too. Sit inside their massive warehouse taproom or outside in refurbished shipping containers decorated with vibrant murals.
For breweries with food trucks in Asheville, Hi-Wire's Beer Garden is pet and family-friendly. Find on-site parking. Hi-Wire also serves non-alcoholic drinks.
Foothills Food Truck RAD | Hi-Wire RAD Beer Garden | 284 Lyman St, Asheville, NC 28801
Tin Can Pizzeria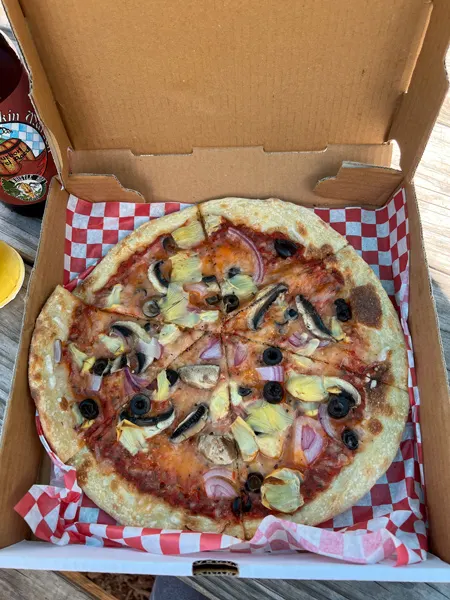 Which Asheville food truck serves up pizza? Tin Can Pizzeria!
This is a traveling artisan pizza shop that's been in business for over 10 years. Each pizza can be made to order, and they sometimes have a gluten-free crust.
For pizza flavors, select from classic meat and veggie pies along with tropical pizza, BBQ chicken, and a white pizza. Add toppings and a side of garlic knots.
Find Tin Can Pizzeria around Asheville at Whistle Hop Brewing, Highland Brewing, and Asheville festivals and events, including Downtown After 5.
We highly recommend catching Tin Can Pizzeria at Whistle Hop Brewing for a unique Asheville brewery experience.
Drink beer in a former train car, and enjoy their massive outdoor playground for families and adults. Slide, kick a soccer ball, and play disc golf.
Whistle Hop is a dog and kid-friendly brewery in Asheville. Find even more kid-friendly places to eat too.
Tin Can Pizzeria | FB Schedule
Chop Shop Food Truck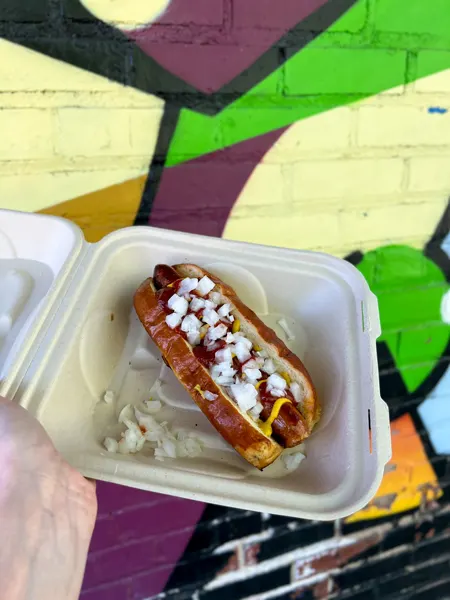 We just love the RAD restaurants, and Chop Shop Food Truck at Wedge's Foundation (Foundy Street) location is a must.
Chop Shop is the best food truck in Asheville for those local meats and getting to know the River Arts District better. In fact, local artist Gus Cutty recently painted their food truck.
Typically open 7 days a week – watch for weather and holidays too – The Chop Shop Food Truck doles out fantastic burgers, hot dogs, salads, sandwiches, and fries.
Sit outside surrounded by hipster murals and play a game of cornhole; heck, who are we kidding?! We are from CT – it's a bean bag toss…
Grab a craft beer inside Wedge, which has Ambers, Lagers, Pilsners, Kolsch, and IPAs. Afterward, exploring RAD is one of the best things to do in the city.
Shop for art at the Marquee, and catch an indie film at Grail Moviehouse.
Know that The Chop Shop is a local North Asheville butchery, and besides dropping in to shop, you'll find their meats at local pubs including Bone & Broth.
Chop Shop Food Truck | Wedge Brewery at Foundation Studios | 5 Foundy St Ste 10, Asheville, NC 28801
Never Miss Another Asheville Update
---
Tired of generic Asheville travel itineraries? Experience Asheville like a local with our free Asheville Favorites checklist, including restaurants, breweries, and hiking. Plus, get local updates – including events and hidden gems – straight to your inbox. Sign up here.
Cecilia's Kitchen Food Truck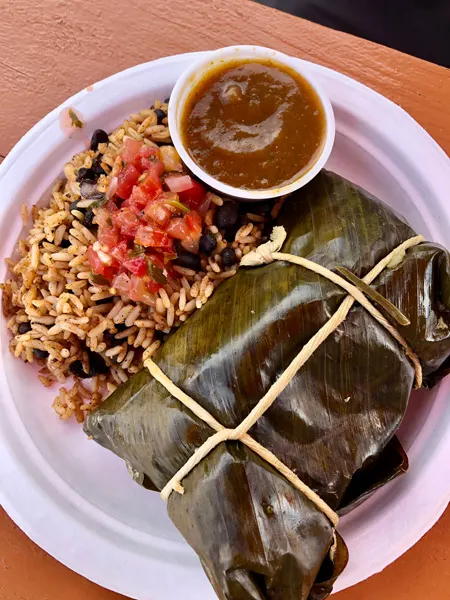 Not only a staple North AVL restaurant, Cecilia's Kitchen also has one of the best food trucks in Asheville.
Serving up gluten-free sweet and savory crepes, Cuban sandwiches, tamales, empanadas, soups, and salads, Cecilia's Food Truck rotates among the breweries and markets.
Find them at New Belgium and the North Asheville Tailgate Market, for example.
Or, enjoy Cecilia's Kitchen Restaurant on Merrimon Ave., right near one of the city's best distilleries, Rye Knot.
Grab food on the run for a picnic at Beaver Lake.
Cecilia's Kitchen | Food Trucks | Restaurant: 870 Merrimon Ave, Asheville, NC 28804
Double D's Coffee & Desserts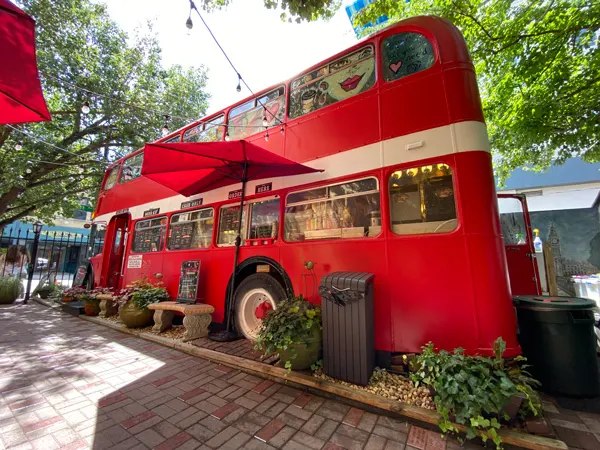 For Asheville food trucks, we debated if Double D's is technically one of them, but we are including it, especially for that delicious coffee. Put those thumbs down…
Plus, Double D's is a staple in the heart of Downtown Asheville, and travelers and Instagrammers love seeing that double-decker red bus. Who can blame them?
Although a tourist hot spot, there is no denying a sweet treat or specialty coffee as you people watch from their patio.
Double D's only accepts cash, and they have Wi-Fi. Along with tea and coffee, find iced drinks, frappes, smoothies, ice cream, and milkshakes.
Afterward – or before – head to Downtown's amazing restaurants like Limones, Bouchon, Itto, Chai Pani, Manicomio, Baba Nahm, and La Bodega.
Double D's Coffee & Desserts | 41 Biltmore Ave, Asheville, NC 28801
Haus Heidelberg's Food Truck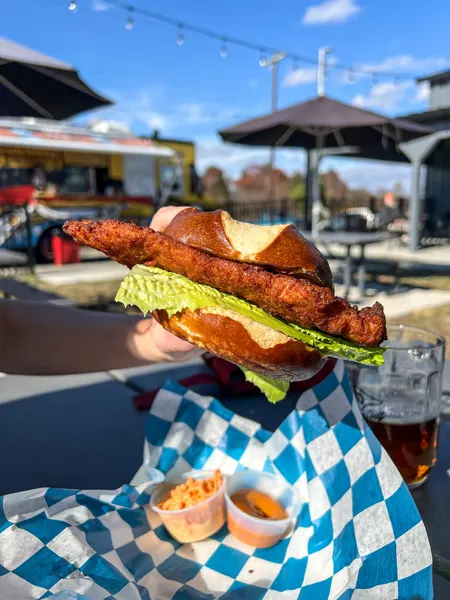 We had to sneak in one of the best food trucks near Asheville, too, although we catch Haus Heidelberg more in Hendersonville, NC – which makes for a great AVL day-tripping option.
Like Asheville, Hendersonville is full of terrific craft breweries like Oklawaha and Guidon, coffee shops including Black Bear, and must-visit restaurants like Haus Heidelberg and Umi Sushi.
Not to mention the gorgeous vineyards – Stone Ashe and Souther Williams – and seasonal apple orchards including Jeter Mountain Farm and Sky Top.
If you haven't eaten at Haus Heidelberg's German Restaurant, you should, but it's equally fun to catch their food truck at one of the breweries or wineries.
We recently found them in Mills River at Burning Blush, and they frequent one of our favorite wineries, Saint Paul.
Haus Heidelberg Food Truck also heads to Guidon Brewing and Southern Appalachian Brewery.
Think German meats – schnitzel and sausages with kraut and salad. And nothing beats schnitzel hanging off a pretzel bun.
Haus Heidelberg German Restaurant | Food Truck | Restaurant: 630 Greenville Hwy, Hendersonville, NC 28792
More Terrific Asheville, NC Food Trucks:
Smashville Food Truck
The Wicked Vegans
El Kimchi
Carolina Ace BBQ
Appalachian Chic
Deli LlaMMMa Food Truck
Mother Ocean RAD Food Truck
Save The Best Asheville Food Trucks For Later: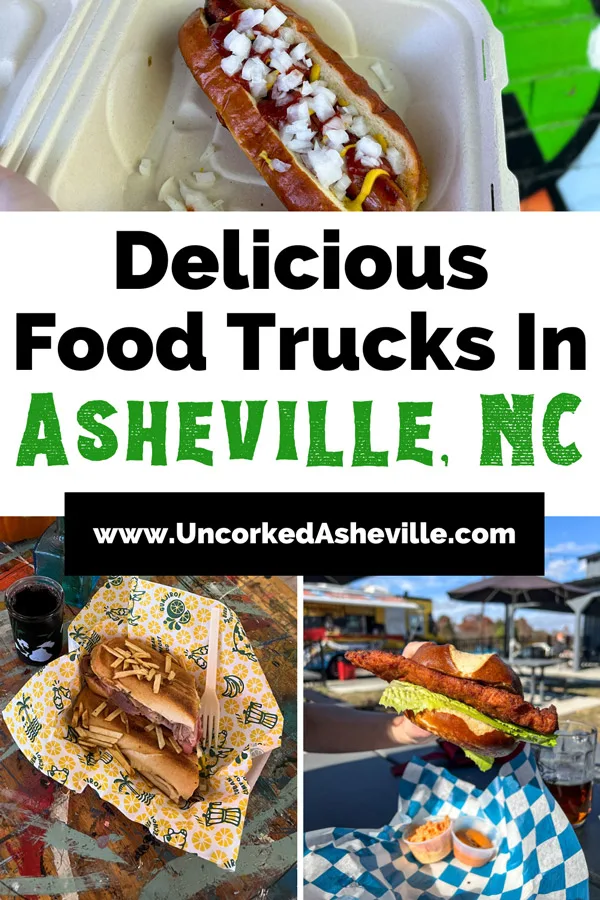 Where To Stay In Asheville
Explore the best places to stay in Asheville. A few of our top suggestions:
Aloft – Downtown Asheville – Centrally located and recently renovated, enjoy a rooftop pool, a gorgeous bar, and trendy rooms.

The Omni Grove Park Inn – Treat yourself to a luxury resort in North Asheville, complete with breathtaking sunsets, terrace bars and dining, and loads of Asheville history.

Hampton Inn And Suites Asheville Biltmore Area – A budget-friendly but renovated hotel on busier Brevard Road that's perfect if you wish to stay between Biltmore Estate, Downtown Asheville, and the Blue Ridge Parkway.

Asheville Cottages – Gorgeous 1 to 3-bedroom cottages with a private deck, housing a grill and hot tub. Find luxurious heated-floor bathrooms with rain showers, a well-stocked kitchen, and the cleanest rooms in town.

Foundry Hotel – An oasis in Downtown Asheville, Foundry Hotel is a nod to AVL's industrial history. Find famous restaurant Benne on Eagle while sleeping ensconced in charm and elegance.

Country Inn & Suites by Radisson, Asheville Westgate, NC – Located off of the highway as you enter AVL, find a sleek and clean hotel at a great price.

Black Walnut B&B Inn – Designed by Biltmore's supervising architect, Richard Sharp-Smith, this 1899 inn is close to Downtown AVL and serves afternoon tea. Two rooms are pet-friendly.
Don't miss out on these Asheville properties on Booking.com, too.
What is your favorite food truck in Asheville, NC?
It's hard to pick just one Asheville food truck to love.
As locals, if we had to choose, we can never resist tacos from Taqueria Muñoz at Zillicoah – it's one of our favorite hangout spots.
Of course, for vegan and gluten-free food trucks in Asheville, we'd have to say The Smokin' Onion and Gypsy Queen Cuisine.
New to Asheville, Guajiro and Garage BBQ are great additions.
For the best food trucks near Asheville, especially around the Western North Carolina hiking trails and waterfalls, we love Haus Heidelberg, Carolina Ace BBQ, and Appalachian Chic.
What is your favorite Asheville food truck? There are so many, we had to stop from naming them all. Let us know in the comments!
And, if you enjoy food on the run, check out the best AVL spots for takeout.
More Foodie Finds:
Best Asian Cuisine
Indian Food
Sushi Spots
Thai Favs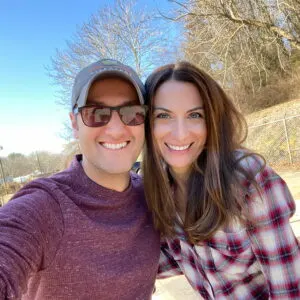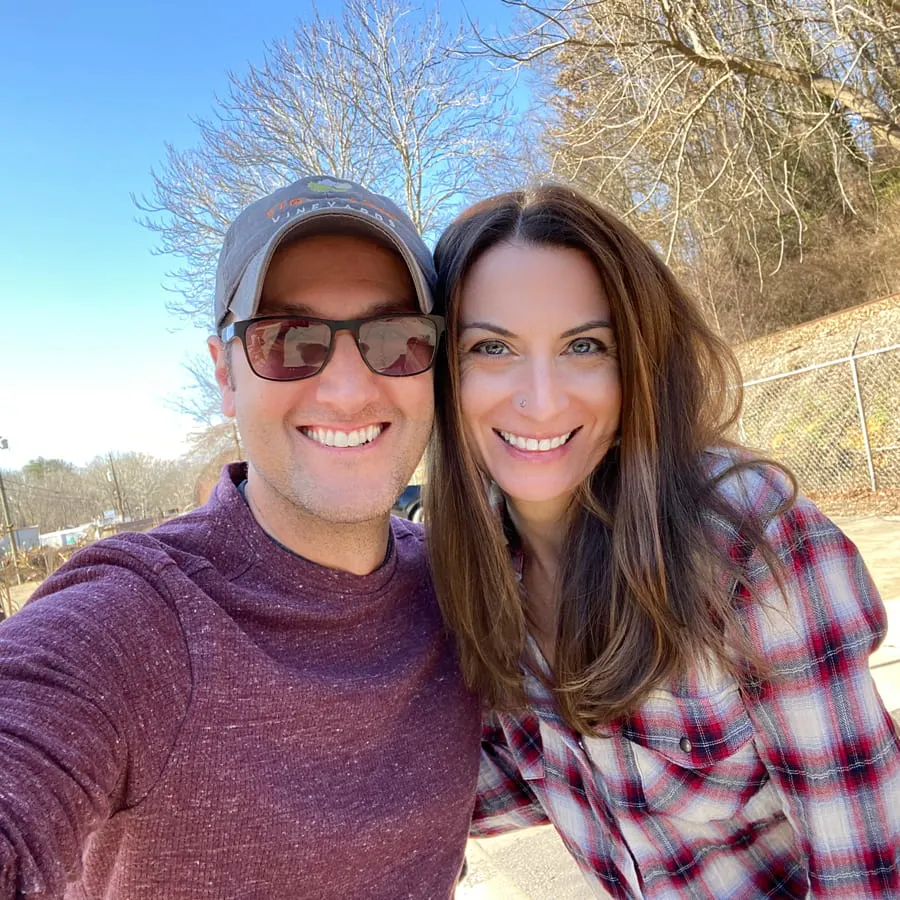 Christine (pronouns: she/her) is the owner and lead writer of Uncorked Asheville. After falling in love with those gorgeous Blue Ridge Mountains, Christine and her husband Tom decided to call Asheville, North Carolina their home. When her pointy Italian nose isn't stuck in a book, Christine is adopting all of the kitties, getting lost in the forest, and drinking an ESB.
Christine has a BA in English and History from Smith College, her MLIS from USF-Tampa, and is a former U.S. Fulbright Scholar - Indonesia. She also owns The Uncorked Librarian LLC with books and movies to inspire travel.