11 Delicious Lactose-Free & Dairy-Free Restaurants In Asheville (& More!)
As a lactose-intolerant household, discover the best lactose-free and dairy-free restaurants in Asheville, including dessert shops and cafes.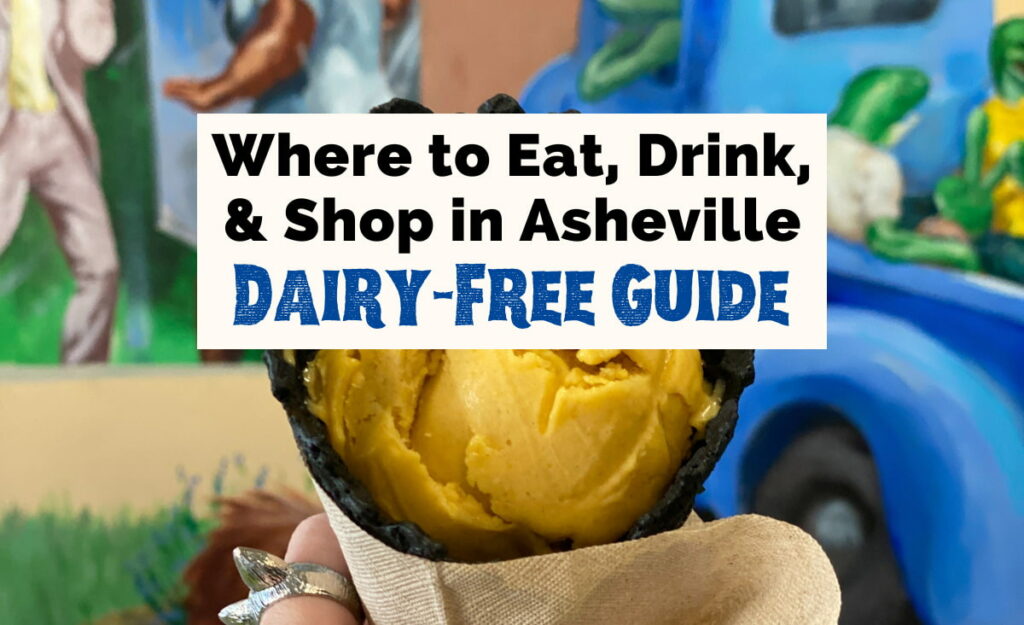 This post may contain affiliate links that earn us a commission at no extra cost to you. If you love these guides, support Uncorked Asheville here.
Although we are serious Asheville foodies, we have to be careful about what we eat as a half-Celiac and half-Ulcerative Colitis household. Being lactose-free in Asheville is also a must since we are both lactose-intolerant. We can, however, eat some modified dairy – but we largely avoid it.
Luckily for us, it's not hard going dairy-free in Asheville, and there are plenty of restaurants, cafes, and coffee shops serving up a variety of treats. We even have delicious vegan ice cream in Asheville as well as places that label menus for nuts, gluten-sensitivities, soy, honey, and more.
Below, we are sharing the best dairy-free and lactose-free restaurants in Asheville – ones we personally eat at and feel safe doing so. Of course, this list includes some of our favorite vegan restaurants as well as places where you wouldn't always expect to easily find milk alternatives – including Italian food restaurants.
Just remember that our dietary needs might be different than yours. Let's get started, and be sure to let us know your favorite dairy-free Asheville restaurants, cafes, and dessert bars in the comments.
11 Best Lactose-Free & Dairy-Free Restaurants In Asheville (& More!)
For the purpose of this article, dairy-free means that a food or drink does not contain any component of mammal milk, including sheep, cow, and goat's milk. Lactose-free may or may not be a dairy product but is free from lactose.
Most of the below restaurants are not dedicated dairy-free restaurants in Asheville unless they are solely vegan. Please remember to conduct research based on your personal dietary and health needs/requirements. We are not doctors, professionals, or dieticians.
We also suggest contacting restaurants/talking to waitstaff about your concerns and questions before ordering. We are merely sharing our experience eating lactose-free in Asheville. We are not allergic to dairy or milk. This may not be the case for you, and some of these dairy-free Asheville restaurants may not work for you or your friends and family.
1. Plant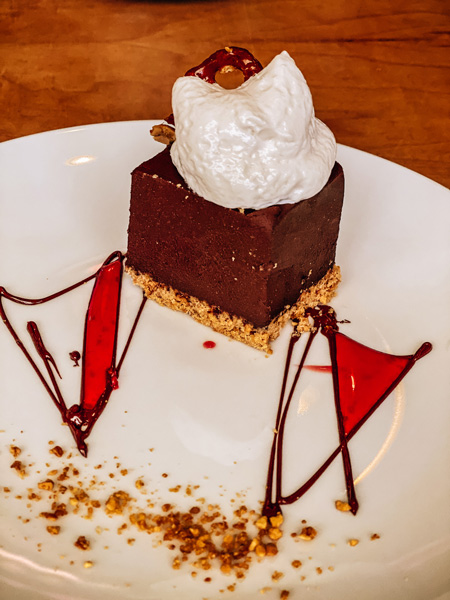 Before moving to Asheville, one of the first restaurants we ever ate was Plant, which is by far the best vegan restaurant around. Located in North Asheville – a residential neighborhood filled with specialty grocery stores perfect for dairy-free households – Plant is home to that famous vegan cheese plate.
One of AVL's pricer restaurants with casual vibes – no need to get too dressed up – find inside and seasonal outside seating along with an appetizer, small plate, and entree menu.
Plant's menu changes seasonally, and most dishes are gluten-free and organic. Of course, they have a delicious wine, beer, and cocktail list.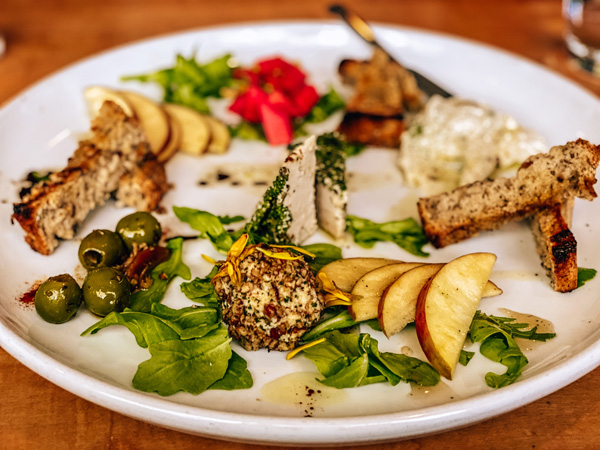 We tend to order their delicious grilled beets, ramen Brussels, rotating curry dishes, nachos with queso, and veggie lasagna. If on the menu, the ravioli is also a hit.
Of course, if you are eating dairy-free in Asheville, the coveted cheese plate is filled with nut-based "cheeses," seasonal fruits, olives, peppers, and bread. And, for lactose-free desserts, find a variety of decadent cakes, ice creams, and creme brulee.
Plant has its own tight parking lot, and reservations are highly recommended via phone. Discover more delicious restaurants around North Asheville.
Plant | 165 Merrimon Ave, Asheville, NC 28801
2. Nine Mile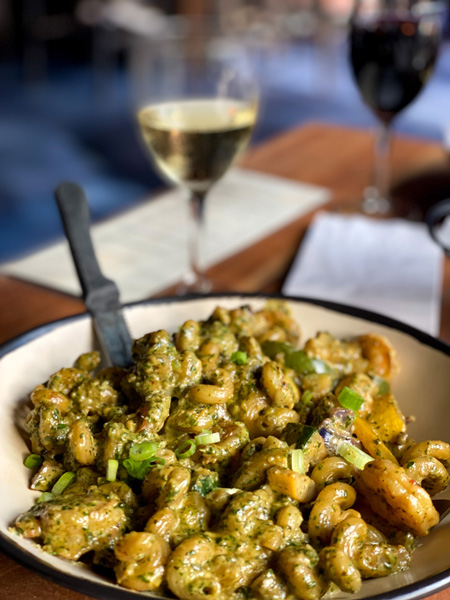 Another one of the best dairy-free restaurants in Asheville, Nine Mile caters to a variety of food allergies and intolerances. They label their mouthwatering Caribbean-inspired menu for dairy-free, gluten-free, vegan, and vegetarian diners, also noting dishes with honey, nuts, and (spice) heat.
With locations across Asheville – although we frequent their Historic Montford restaurant – find anything from creamy and oftentimes dairy-free pasta and curry shrimp to spicy chicken, sausages, and seafood and tofu dishes.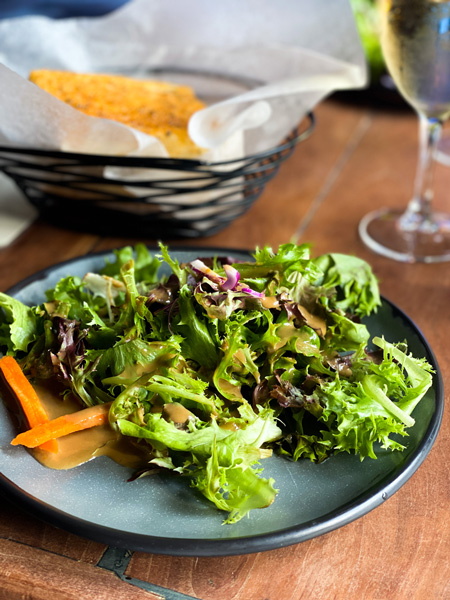 Of course, Nine Mile also has soups and salads, and their children's menu features rice and beans, salads, and pasta.
For popular Asheville restaurants, Nine Mile does not take reservations, which means you should get there early or during non-peak dinnertime hours, especially if you don't want to wait.
Nine Mile Montford is our go-to date night restaurant, especially if we are catching a springtime showing of Shakespeare in the Park.
Nine Mile | Montford: 233 Montford Ave, Asheville, NC 28804; West Asheville: 751 Haywood Rd, Asheville, NC 28806; & Biltmore Park Town Square: 33 Town Square Blvd, Asheville, NC 28803
3. Laughing Seed Cafe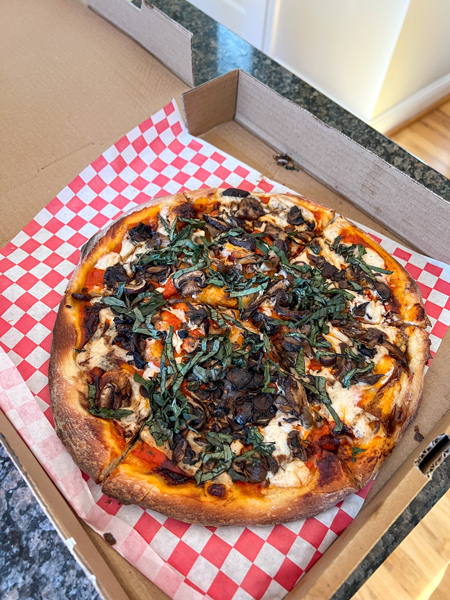 For Downtown Asheville restaurants catering to dairy-free diners, head to Laughing Seed Cafe. This is one of the best vegetarian spots in town – with loads of vegan options.
Similar to Nine Mile, Laughing Seed labels its menu for vegetarian, vegan, nut-free, and gluten-free diners, which is perfect if you're eating lactose-free in Asheville.
This casual cafe and seasonal menu specializes in sandwiches, grilled cheese, healthy bowls, veggie lasagna, pizza, soups, Brussels, and more.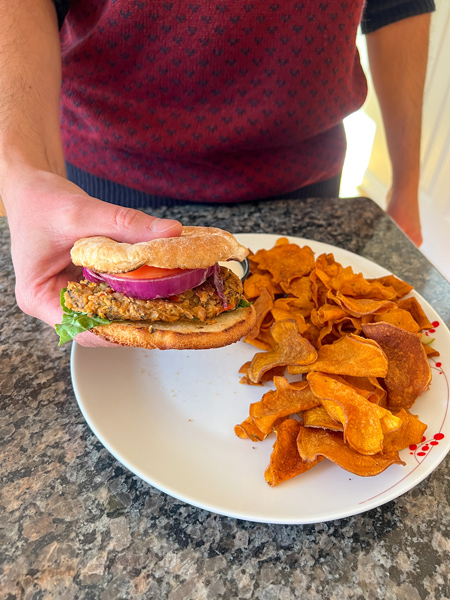 They serve up a delicious veggie burger, which we order with gluten-free bread, and a tasty "Reuben." Not to mention the refreshing dairy-free smoothies if you are on the run. Find handcrafted cocktails and desserts too.
We've spent Valentine's Day at Laughing Seed (heart-shaped burger!), and they offer holiday catering and takeout options. For parking, try the Wall Street Garage or metered street parking.
Discover more great places for veggie and meat burgers in Asheville.
Laughing Seed Cafe | 40 Wall St, Asheville, NC 28801
4. Asheville Pizza & Brewing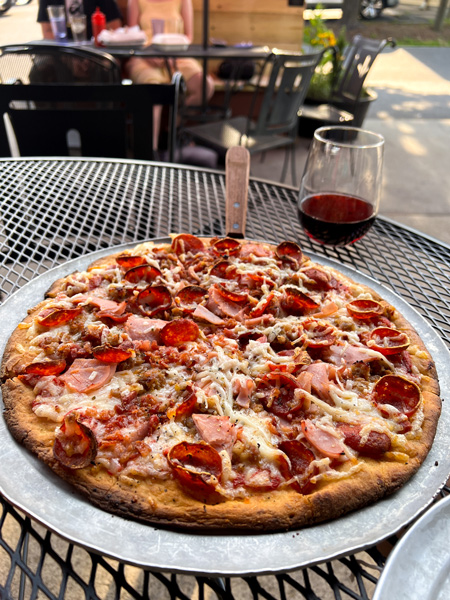 Finding lactose-free restaurants in Asheville with *good* pizza is always a challenge. We don't love plastic-y cheese that tastes like cardboard.
Luckily, there's no shortage of Asheville pizza joints, and we highly recommend Asheville Pizza & Brewing for both vegan and gluten-free pizza in AVL. Find vegan cheese options along with lactose-free dishes including wings, salads, fish and chips, burgers, sandwiches, and more. Of course, you'll have to watch out for hidden dairy.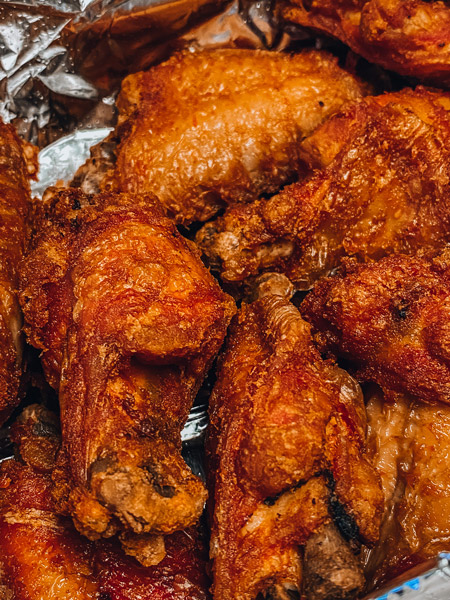 Asheville Brewing is also one of the city's top breweries, serving up some of the best Stouts, Lagers, and IPAs. A family-friendly spot to eat, catch a movie while chowing down on your pizza. Dogs are welcome in their outdoor spaces.
See where else to watch a movie in Asheville.
Asheville Pizza & Brewing | North AVL: 675 Merrimon Avenue; Downtown South Slope: 77 Coxe Avenue; South AVL: 1850 Hendersonville Road Suite A
5. All Day Darling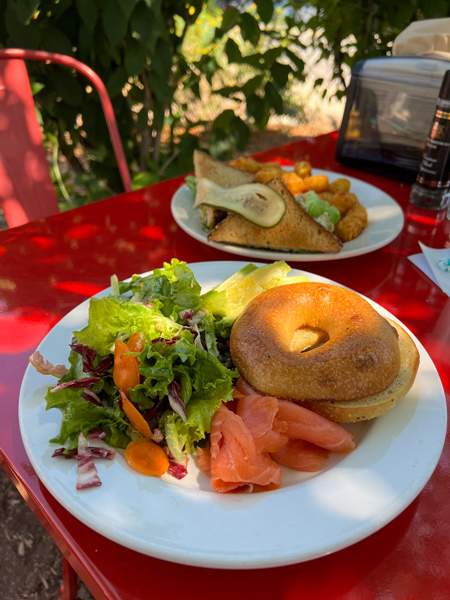 All Day Darling is a popular local Montford restaurant, and we recommend them for lunch in Asheville. However, this is also a popular breakfast spot.
You wouldn't necessarily think that All Day Darling is one of the best dairy-free restaurants in Asheville either, but they have a large selection of items that can be modified for DF and GF food intolerances.
For breakfast, find eggs, lox, and bowls. We've had to leave off some items like cream cheese or butter, which is OK with us. All Day Darling's lunch and dinner menu features sandwiches, burgers, bowls, and salads. They also have a kids' menu with rice and beans, PB&J, and burgers.
They've always been extra attentive to our food intolerances, and they have milk alternatives for coffee. Find parking along the side roads or right our front.
All Day Darling | 102 Montford Ave, Asheville, NC 28801
6. Chai Pani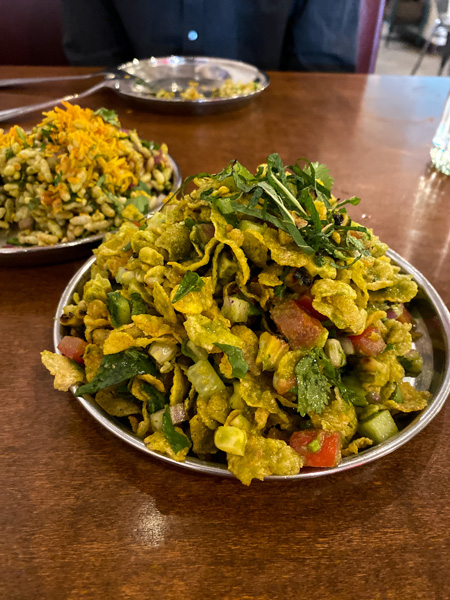 While we tend to find that a lot of Asian cuisine in AVL is largely lactose-free – like Thai and sushi – there are quite a few Indian restaurants that are dairy-heavy, including Andaaz and Mehfil.
For delicious Indian food that's more dairy-free in Asheville, head to James Beard award-winning Chai Pani. Located in Downtown Asheville, this is one of those restaurants that lives up to the hype, which also means that you should visit during non-peak hours and seasons; they do not take reservations.
Specializing in Indian street snacks – perfect for sharing – we cannot resist Chai Pani's pakoras, okra fries, corn bhel, bhel puri, and rice and daal plate.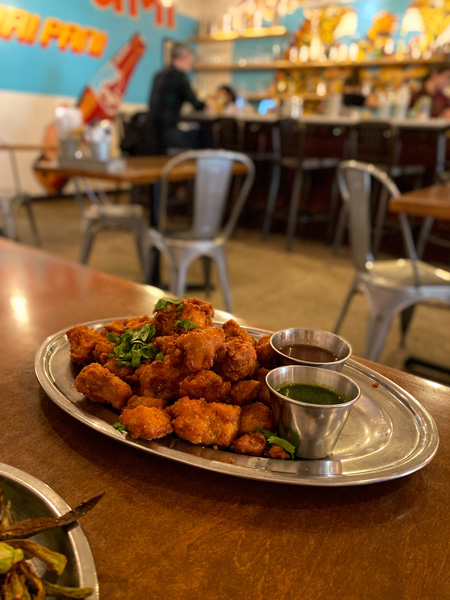 Chai Pani's menu also features Indian wraps and sandwiches, potato dumplings, masala fish, and chicken tikka. Kids may choose from rice and chicken or dal, cheese paratha, and uttapam dishes.
Sip on spicy cocktails, and know that it's easy to find gluten-free and vegan options at Chai Pani. For parking, try the Wall Street Garage or metered spots along the street.
Chai Pani | 22 Battery Park Avenue, Asheville, NC 28801
7. Gypsy Queen Cuisine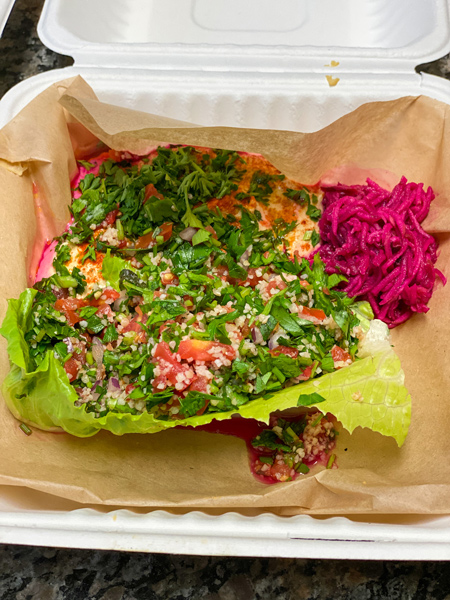 West Asheville is one of our favorite places to eat lactose-free in Asheville- and it's not hard to see why with Gypsy Queen Cuisine (GQC).
GCQ serves up the best Mediterranean and Lebanese street food, and their menu caters to vegan, vegetarian, and gluten-free diners. We love GQC's Brussels sprouts mixed with cauliflower, falafels, Mediterranean bowls, giant gyros, and grape leaves.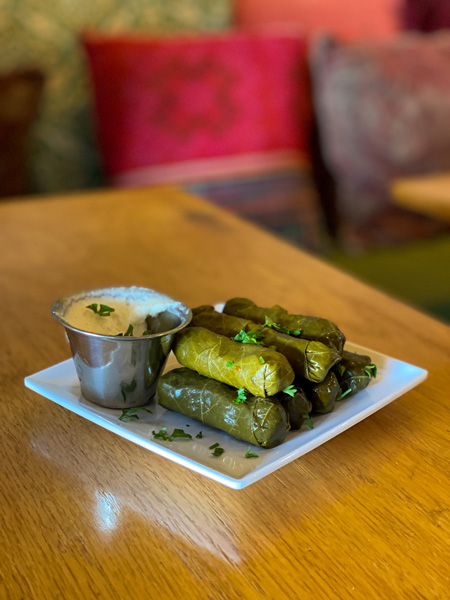 Everything is fresh, and nothing feels too spicy for our sensitive stomachs. Even better, Gypsy Queen Cuisine has a small on-site specialty store selling olives, Mediterranean spices, tahini, and more. You might catch their food truck at one of Asheville's popular festivals like the VeganFest.
Discover more great West Asheville restaurants with dairy-free options, including Pupuseria Patty's, Thai Pearl, and Itto.
Gypsy Queen Cuisine | 807 Patton Ave, Asheville, NC 28806
8. Mamacita's Taco Temple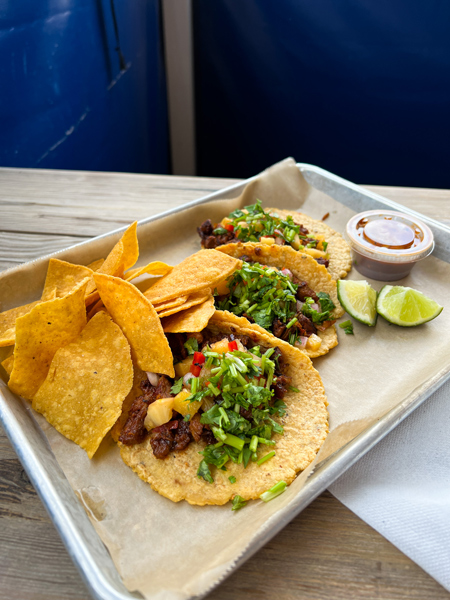 We just love tacos, but sometimes finding Mexican that isn't drowning in cheese can be rough. However, for more lactose-free restaurants in Asheville, head to North AVL's Taco Temple. This is one of our favorite local taco joints.
Imagine a church of tacos – inside a former 1930s gas station. That's Asheville! Taco Temple has a small but worthy menu filled with tamales, tortas, and tacos – with vegan and gluten-free options.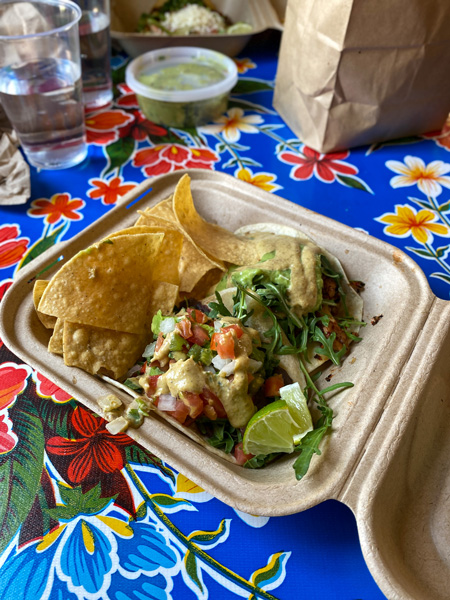 Where else can you get a vegan crema for your tacos? They also serve up delicious cocktails and guacamole with chips. Along with a kids' menu featuring sweet potatoes and rice and beans, find salads and Mexican veggies.
Park in their tight lot around the restaurant or find easier and free residential street parking. Nearby, for more dairy-free Asheville options, don't miss Bone & Broth, which is a great Asheville pub, or Jettie Rae's for seafood.
Taco Temple | 132 Charlotte St., Asheville, North Carolina 28801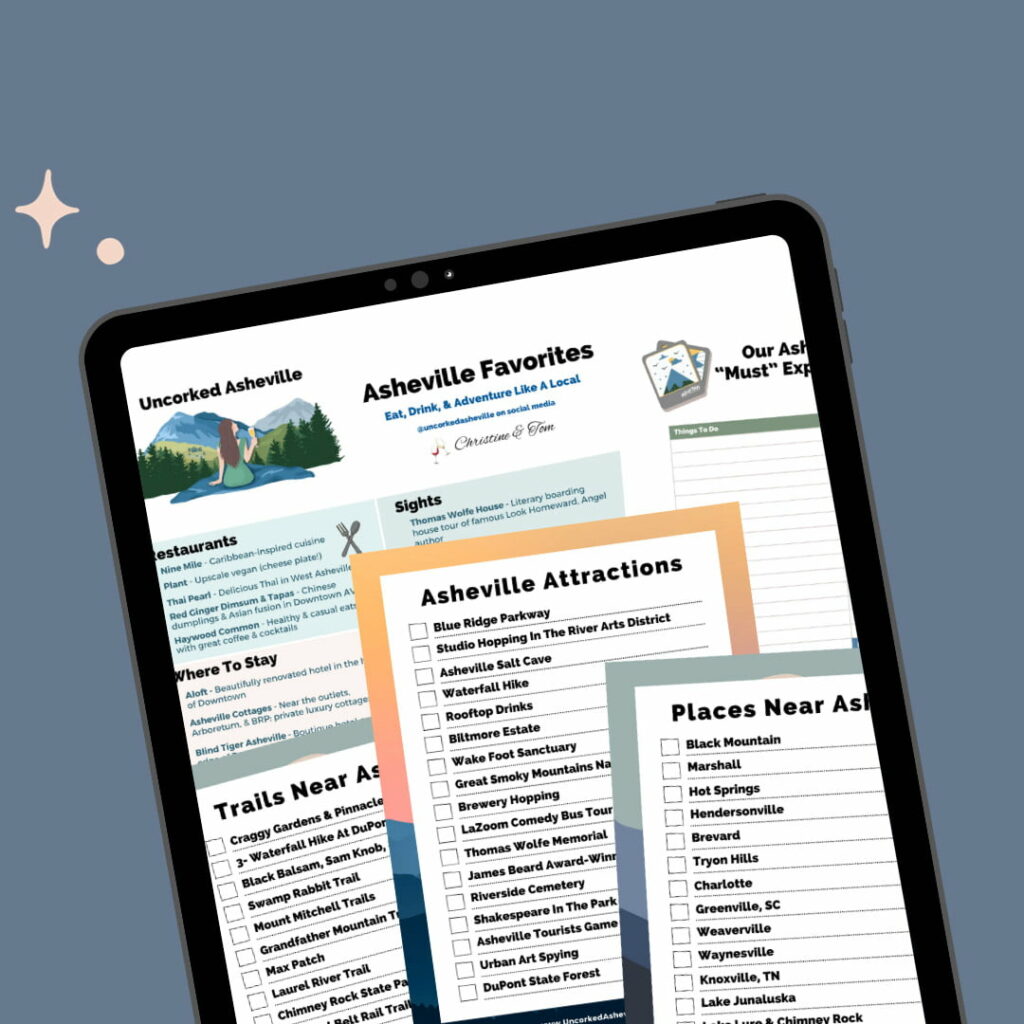 Never Miss Another Asheville Update
Experience Asheville like a local with our free attractions, dining, hiking, and day tripping guides. Get events, updates, and more straight to your inbox from Christine.
9. Haywood Common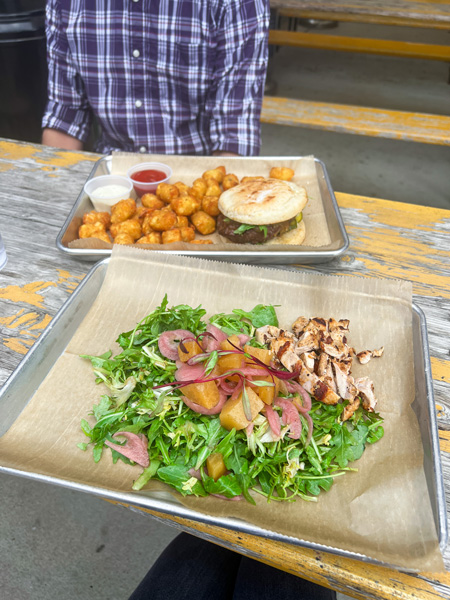 Asheville has a happening bar scene, and Haywood Common is perfect if you are looking for food connected to a great bar.
Situated in West Asheville, Haywood Common shares a patio with The Whale, which showcases a massive variety of draft and canned beers from around North Carolina as well as the world.
Haywood Common itself has our favorite cocktails, and they are one of our top dairy-free restaurants in Asheville. We probably eat here the most – especially with gluten-free tater tots (separate fryer) and gluten-free bread.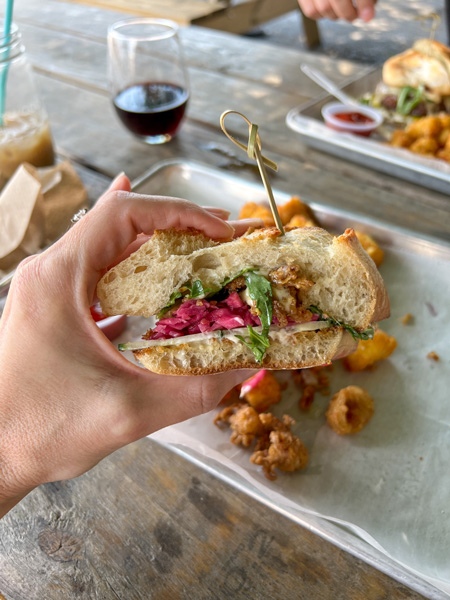 Haywood Common boasts weekend brunch as well as a casual lunch and dinner menu with burgers, sandwiches, poke bowls, and salads with eclectic dressings. They also serve up our favorite iced coffee, and the patio is pet and family-friendly.
Nearby, head to Leo's House of Thirst, one of our top wine bars. Leo's is another one of those unsuspecting spots for lactose-free Asheville treats – with requested modifications.
Discover even more great weekend brunch spots around Asheville, including our favorite rooftop restaurant, Social Lounge, which has vegan options.
Haywood Common | 507 Haywood Rd, Asheville, NC 28806
10. French Broad Chocolate Lounge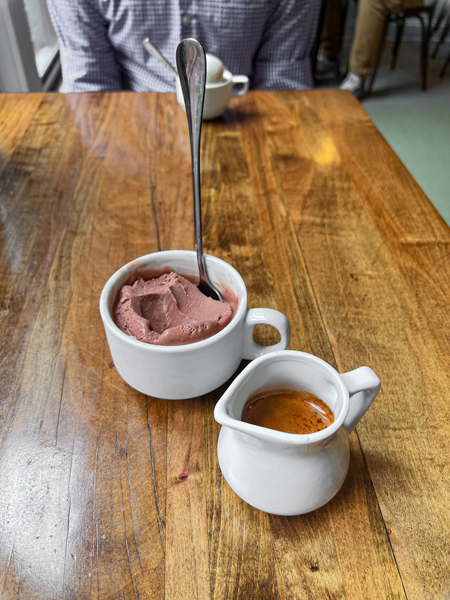 One of Asheville's famous attractions – besides Biltmore Estate – everyone has heard of French Broad Chocolate Lounge, one of the top spots for chocolate in AVL.
The best part: French Broad Chocolate is one of the best lactose-free restaurants in Asheville for vegan truffles and hot chocolate. Situated in Downtown's Pack Square, this delicious dessert cafe has everything from cake and chocolate to ice cream and truffles – for dairy diners too.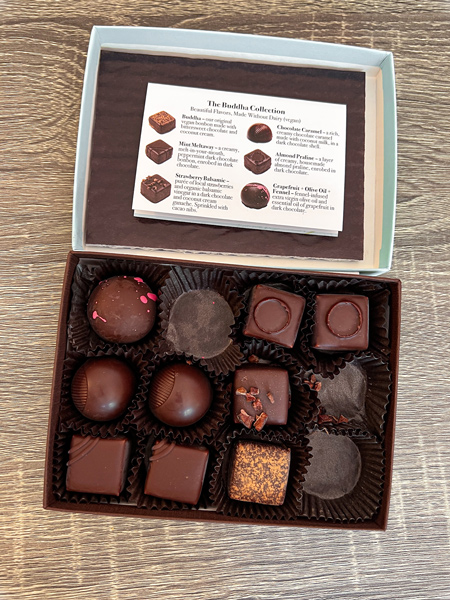 They even have vegan truffle boxes to go and vegan affogatos. Eating dairy-free in Asheville was never easier. French Broad Chocolate is also a great coffee stop with plentiful but sometimes busy seating, especially on the weekends.
Next door, be sure to check out one of Asheville's top museums, the Asheville Art Museum. And, know that French Broad Chocolate also has a River Arts District location with a chocolate factory that you can tour along with a small cafe. It's one of the best things to do in AVL with kids.
Read more about the best RAD restaurants, including RosaBees, which also has dairy-free options.
French Broad Chocolate | Lounge: 10 South Pack Square, Asheville NC 28801 & Factory: 821 Riverside Dr #199, Asheville, NC 28801
11. The Hop Ice Cream Cafe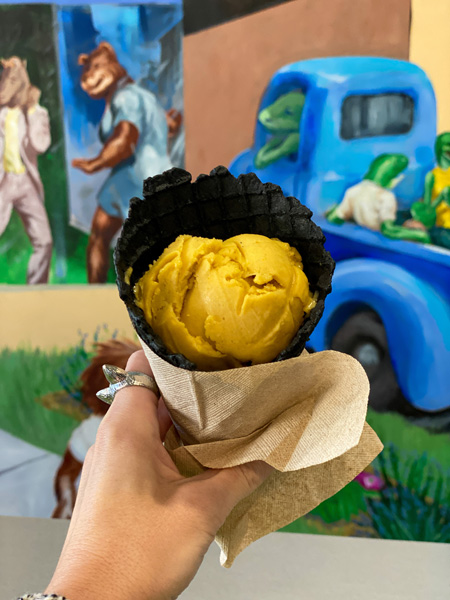 For the absolute best vegan ice cream in Asheville, The Hop Ice Cream Cafe is our top pick. They have such a large variety of flavors, including seasonal pumpkin, chocolate everything, and birthday cake, along with vegan hot fudge.
Then, imagine endless vegan affogatos, shakes, sundaes, and cones. Along with vegan desserts, The Hop also features dairy ice cream, milkshakes, and seasonal hot apple cider floats.
Their ice cream is homemade, and for dairy-free Asheville holidays, order their vegan and gluten-free ice cream rolls. Take a pint of vegan ice cream home too.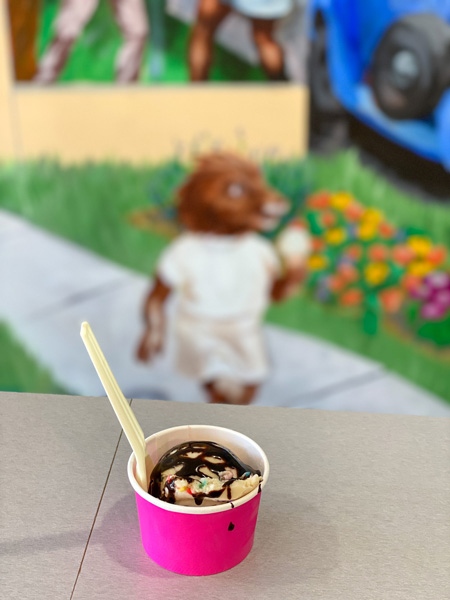 The Hop has multiple locations across the AVL – including West, North, and Downtown Asheville – as well as a small shop in Black Mountain. Their North Asheville location shares space with Pop Bubble Tea, a newer 2022 cafe specializing in bubble tea with dairy-free options.
The Hop Ice Cream | North Asheville: 640 Merrimon Ave, Asheville, NC 28804; Downtown S&W Market: 56 Patton Ave, Asheville, NC 28801; West Asheville: 721 Haywood Rd, Asheville, NC 28806; The Creamery: 167 Haywood Road, Asheville, NC 28806
More Places To Eat Dairy-Free In Asheville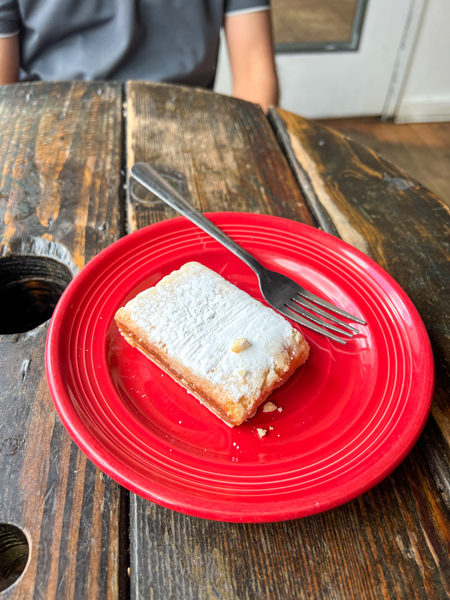 Of course, there are many types of cuisines that are more naturally lactose-free: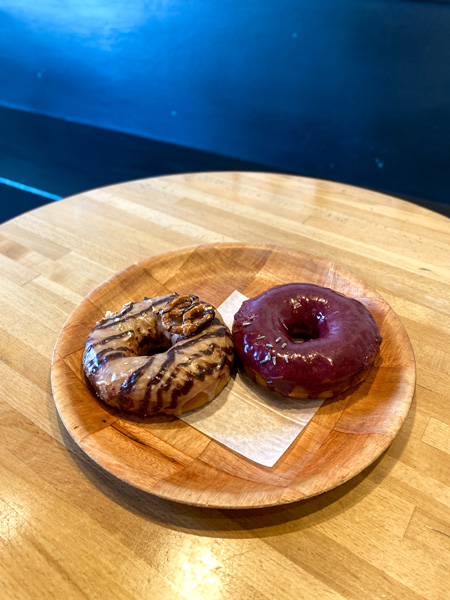 What are your favorite dairy-free and lactose-free restaurants in Asheville?
If we had to pick our top three spots for eating dairy-free in Asheville, we'd go with Plant for that stellar "cheese" plate and vegan desserts, Asheville Pizza & Brewing for pizza and beer, and Haywood Common for fresh eats paired with craft cocktails and beer.
For lactose-free dessert in Asheville, The Hop is a must for ice cream, and French Broad Chocolate Lounge has the best vegan truffles and affogatos around. Lastly, if you are looking for dairy-free Asheville specialty stores, try Earth Fare, Trader Joe's, Whole Foods, and the West Village Market and Deli.
We'd love to know your favorite dairy-free restaurants in Asheville in the comments.
You Might Also Enjoy: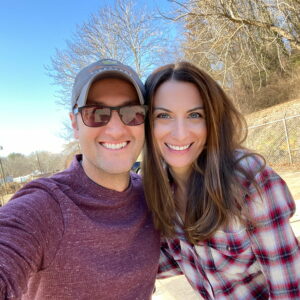 Christine (pronouns: she/her) is the owner and lead writer of Uncorked Asheville. After falling in love with those gorgeous Blue Ridge Mountains, Christine and her husband Tom decided to call Asheville, North Carolina home. When her pointy Italian nose isn't stuck in a book, Christine is adopting all of the kitties, getting lost in the forest, and drinking an ESB. She has a BA in English and History from Smith College, her MLIS from USF-Tampa, and is a former U.S. Fulbright Scholar - Indonesia. Christine also owns The Uncorked Librarian LLC with books and movies to inspire travel.