Lace up your boots and head to the rink or trails with 7 of the best places for roller skating in Asheville, NC. Rollerbladers welcome too!
We both grew up on wheels: roller skates, ice skates, rollerblades, and mountain bikes.
And while nothing beats those gorgeous Blue Ridge Mountains for hiking and biking, did you also know that there are quite a few great places to roller skate in Asheville – both indoors and out?
In fact, the Asheville roller skating scene is pretty hot, both for beginners and jammers, and there's even a Blue Ridge Roller Derby League.
Best of all, there's a public roller skating rink in Asheville and a pretty cool "Mellowdrome" at Carrier Park.
Along with the newly renovated River Arts District (RAD) Riverwalk, also find an indoor and outdoor skatepark – perfect for skateboarders, young and old.
For rollerblading in Asheville, besides the public parks, we enjoy day-tripping to those nearby mountain towns and cities.
Forest City has a beautiful Rails-to-Trails pathway into Rutherfordton, and Waynesville features a fun indoor roller skating rink with disco ball lights, trendy music, and skate rentals.
So, what are our favorite spots for roller skating in Asheville, NC – as AVL locals and recreational skaters?
What can you expect? Where can you park? What should you bring? Let's get started!
*Please skate safely and responsibly. Know your limits, and always wear protective gear.
We are not professional skaters giving professional skating advice. These are just our experiences and opinions.
Explore all of Asheville's great hiking, biking, and skating trails.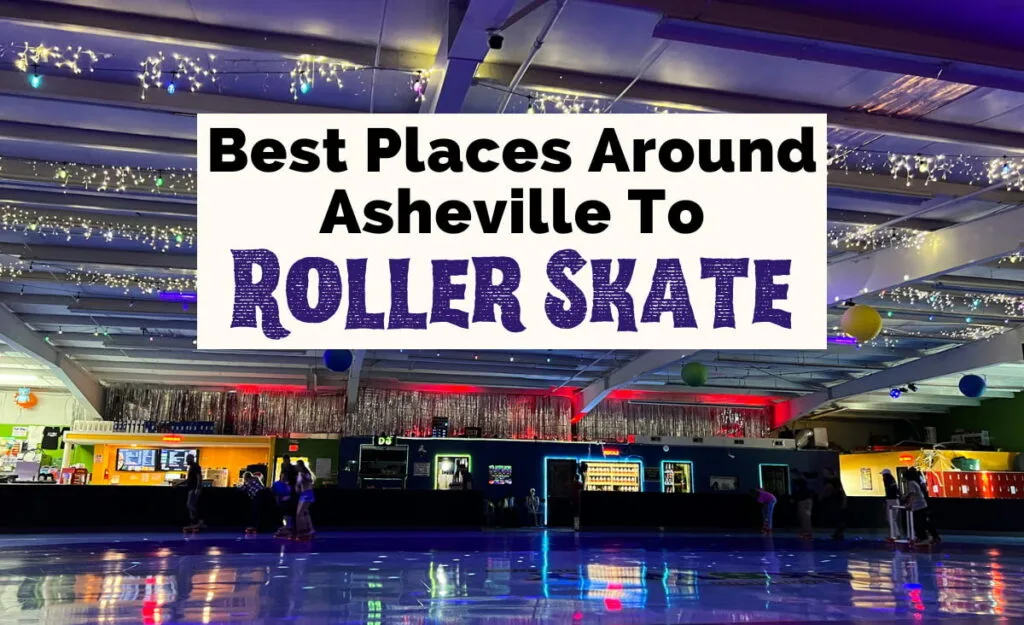 This post may contain affiliate links that earn us a commission at no extra cost to you. If you love these guides, support Uncorked Asheville here.
7 Best Places For Roller Skating In Asheville
1. Carrier Park's Skating Rink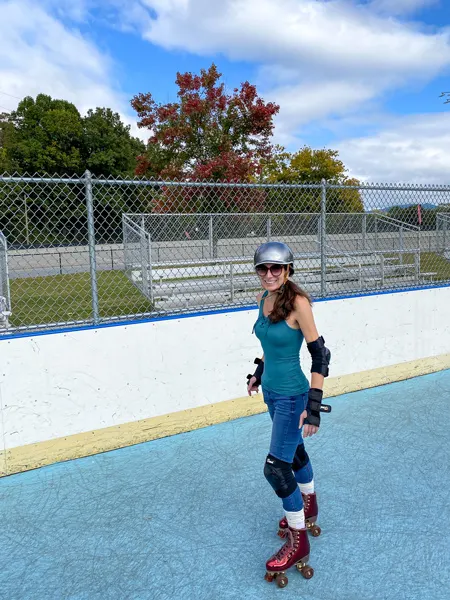 Living in Asheville, we really hit the jackpot with our gorgeous public parks and gardens. Carrier Park is no exception and is, by far, our favorite.
For locals, spending an afternoon here is one of the best things to do in the city.
This public park pretty much has everything: volleyball and basketball courts, paved and dirt trails connecting into a greenway, picnic pavilions, a playground, and even lawn bowling.
Most notably, though, Carrier Park has the best roller skating rink in Asheville. People come here to practice and play hockey, attend themed skating events, jam out, and learn how to skate.
Carrier Park's skating rink is also the perfect spot to practice your skating or to workout. Occasionally, you might hit a rock or leaf, but the rink is smooth and a bit "soft" underneath.
Plus, the rink is flat and designated just for skaters.
Find bleachers outside the rink as well as boxed rink seating. We absolutely love the convenience of Carrier Park's roller skating rink.
Carrier Park Rink | 220 Amboy Rd, Asheville, NC 28806
2. The Mellowdrome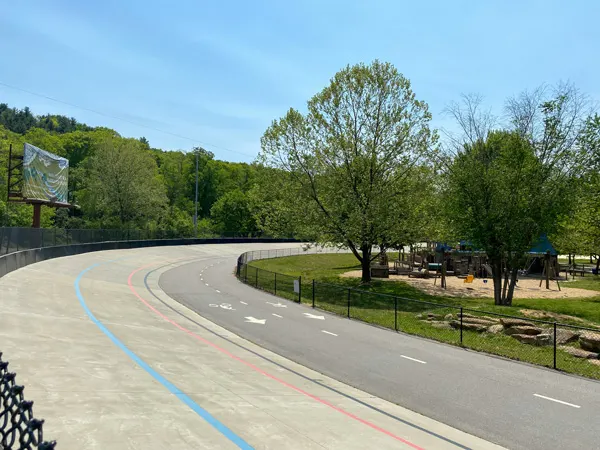 Of course, after warming up on Carrier Park's skating rink, consider heading to the "Mellowdrome" – Asheville's unique velodrome.
This track used to be an early NASCAR circuit and has 4 paved lanes. There's a small historic homage out front.
Bikers, runners, walkers, and skaters will each find designated lanes, and the biking lane has gentle banking, meant for "fixed-gear" track bikes as well as bikes with gears.
The Mellowdrome is 498 meters long, which is about 0.3 miles per loop.
Mostly smooth, there are a few more bumps, twigs, and people to take you out, especially if you are a bit wobbly. However, if we can do it, you probably can too.
The Mellowdrome is one of our favorite places for rollerblading in Asheville, especially to get in a hearty workout. It's pretty flat, predictable, and easy to navigate.
Easily pass and go around others. Many lace up on the ground near one of the Mellowdrome's numerous entrances or on the skating rink bleachers.
For both Carrier Park's skating rink and Mellowdrome, we recommend parking in the lot closest to the bridge that takes you to the playground, rink, velodrome, and basketball and volleyball courts.
You cannot wear your skates up the ramp or stairs over to the velodrome, and before you go up, find skate and bike tools, in case you need them.
There are also restrooms (sometimes they are locked) and water fountains before heading over the bridge. Inside find a Porta Potty.
Carrier Park Velodrome/Mellowdrome | 220 Amboy Rd, Asheville, NC 28806
3. RAD Skatepark & Foundation Skatepark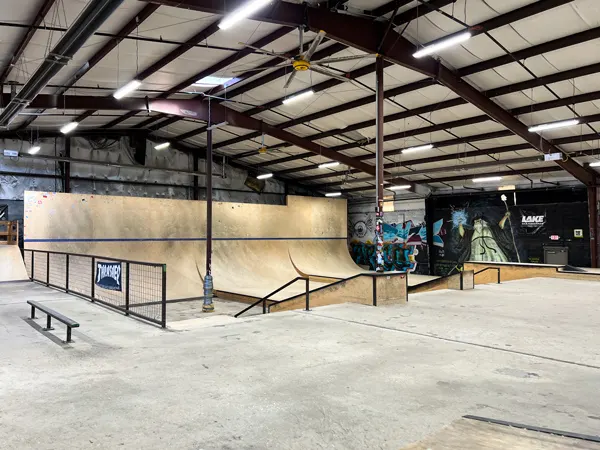 Full disclosure that park skating isn't quite our thing, but if it is yours, head to RAD Skatepark in Asheville's vibrant River Arts District.
This is where the Asheville roller skating, rollerblading, and skateboarding scene lies. We love watching people – in utter awe – and you'll find skaters of all ages and experience levels.
If it's a beautiful day, start outside at Foundation Skatepark, which is free to the public. This outdoor and concrete area features ramps, rideable sculptures, and rails.
Then, head inside RAD Skatepark (the building right next door), which is an indoor skatepark owned and operated by skaters.
The indoor skatepark charges an admission fee by session or annual membership, and you can book a party or event.
All levels are welcome, and they have a hangout space. Take lessons, and hop on a ramp. In the summer, attend their Skatecamp.
The RAD SkatePark also boasts beginner and advanced vertical bowls and a street course.
RAD Skatepark & Foundation Asheville| 37 Foundy St, Asheville, NC 28801
4. RAD Riverwalk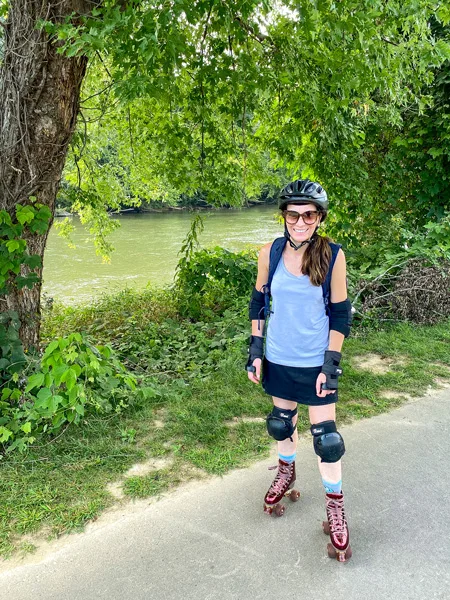 Newly renovated, we are pretty obsessed with the RAD Riverwalk, a picturesque 10-foot wide, 2-mile greenway with separated bike lanes and a paved trail.
The city did a fantastic job making this an accessible, safe, and pretty area for biking, skateboarding, rollerblading, walking, boating, and roller skating in Asheville.
Even better, the River Arts District Riverwalk follows the French Broad River and has swinging benches, boat ramps, and picnic tables.
The trails are wheel, pet, and family-friendly – although some activities are easier than others.
For places to roller skate in Asheville, we recommend the RAD Riverwalk for more intermediate to advanced skaters.
Get to know the terrain if you aren't super comfortable on skates.
Approach the RAD Riverwalk more like "street" skating where the ground is uneven. There are more rocks, twigs, and crowds as well as hills and harder-to-cross, planked bridges.
Have your outdoor skate wheels on, and yup, our butts have eaten the pavement here. More advanced skaters cruise right by us, though.
Along RAD's Riverwalk, pass artists' studios and galleries. In the summer, watch people float down the river.
Afterward, bring shoes to dip into RAD restaurants and bars like Hi-Wire Beer Garden with Foothills Food Truck, pleb urban winery, Wedge Brewing at Foundation with the Chop Shop Food Truck, Baby Bull for the best burgers in town, White Duck Taco for eclectic tacos, 12 Bones for memorable BBQ, and more.
Find multiple free parking lots along the greenway, especially under and around the traffic bridges. There's also free street parking.
Just be sure to pay attention to all posted signs. There are public restrooms off of the trail.
RAD Riverwalk | Lyman Street & Riverside Drive
5. French Broad River Park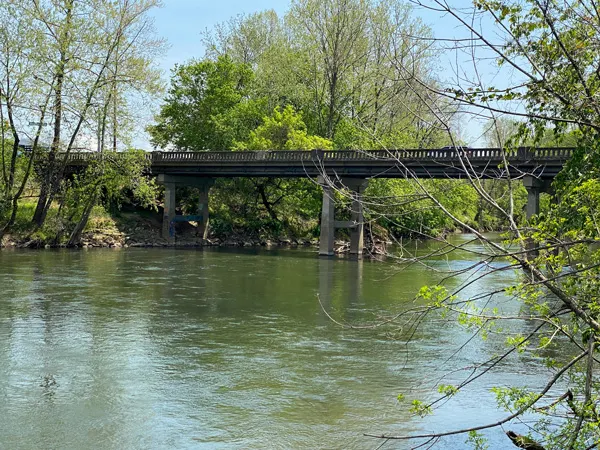 Another one of the local places to roller skate in Asheville, French Broad River Park (West Asheville) is close to the RAD Riverwalk and connects to Carrier Park via the French Broad River Greenway Trail.
Just know that the paved trail is fairly short and underwhelming.
Skilled skaters can also pick up the paved Greenway around Carrier and French Broad to add mileage (for skaters, it's best to access at Carrier Park).
Expect rocks, bumps, a few hills, and sometimes puddles, big and small.
French Broad River Park also has a dog park and plenty of picnic areas along with restrooms and water fountains.
There are multiple parking lots at the entrance along with a large map and restrooms.
French Broad River Park | 508 Riverview Dr, Asheville, NC 28806
6. Smoky Mountain Sk8way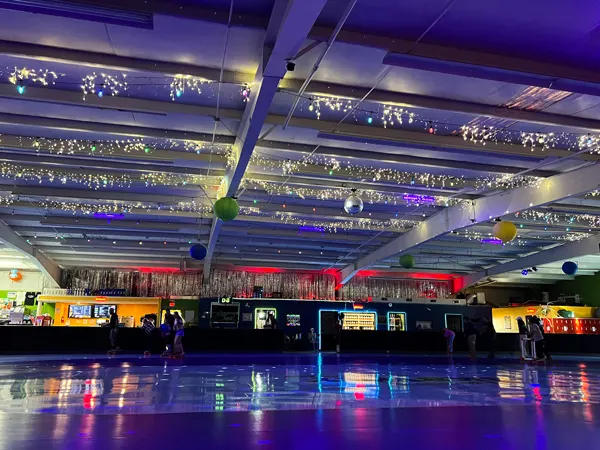 For one of the best indoor roller skating rinks near Asheville, head to Smoky Mountain Sk8way in Waynesville – a chill and fun WNC mountain town. You won't regret it!
For Asheville roller skating and rollerblading, find a fun rink with colorful lights, trendy music, and a smooth skating surface.
Rent skates or bring your own. Also, be sure to have quarters to lock up your valuables.
Smoky Mountain Sk8way offers public skate hours, skating lessons, themed/seasonal events, and an adult skate night. They are also a terrific family-friendly activity.
Along with the roller skating rink, Smoky Mountain Sk8way hosts Birthday parties and features inflatables, an obstacle course, an 18-hole mini-golf course, and a 40-game arcade area along with pool tables.
Of course, there's a cafe serving up kid-friendly bites like nachos, pizzas, burgers, fries, and hot dogs. No outside food or drink is allowed.
Park in their lot out front, and there are restrooms and water fountains on-site.
Waynesville is about a 45-minute drive from Asheville, an easy and perfect day trip option.
Grab food and drinks in Waynesville, tour or hike nearby Maggie Valley, and walk stunning Lake Junaluska, one of the prettiest lakes around AVL, especially in the spring and fall.
Smoky Mountain Sk8way | 9025 Great Smoky Mountains Expy, Waynesville, NC 28786
Never Miss Another Asheville Update
---
Tired of generic Asheville travel itineraries? Experience Asheville like a local with our free Asheville Favorites checklist, including restaurants, breweries, and hiking. Plus, get local updates – including events and hidden gems – straight to your inbox. Sign up here.
7. Thermal Belt Rail Trail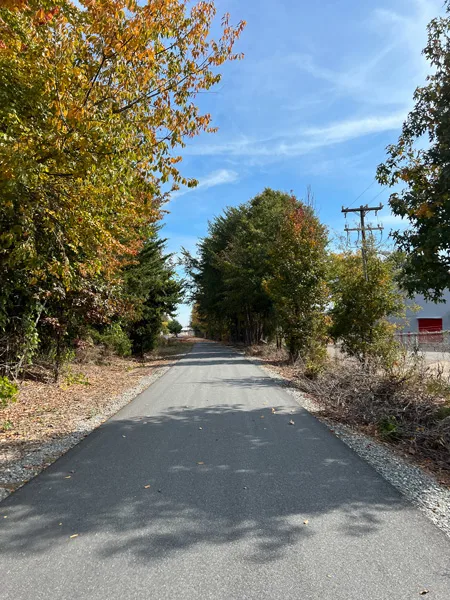 If you don't mind the one-hour and ten-minute drive, the Thermal Belt Rail Trail is another great Asheville roller skating spot that is also perfect for cyclists and low-key mountain biking.
We've seen plenty of e-bikes here, and of course, you can walk parts of the trail as well. The Thermal Belt Rail Trail is both dog and family-friendly.
And let's be real, this Rails-To-Trails is spectacular and lesser known. Enjoy 13.5 miles of paved Rails-to-Trails, passing by cemeteries, churches, industry, and residential areas.
Skate and bike through NC towns, including Rutherfordton, Spindale, and Forest City, with spots to park and lock your bikes in town to rest and grab a bite to eat.
If it's your first time on the trail, we highly recommend walking or biking the parts you wish to skate to get comfortable, unless you are a skilled skater.
The paved trail is largely flat, and we enjoy parking around Spindale and hitting the trail portion to Forest City.
Find parking lots around the trail on the Thermal Belt's well-labeled map & guide. Just don't forget to clock your mileage as you go – you have to account for the out and back too.
Find restrooms, outdoor workout areas, and skate and bike tools along the way, including an air pump for bikers.
Parts of the trail will cross busy streets, and you might have to get around some bumps, leaves, rocks, and twigs. Stop at all posted stop signs.
We personally suggest going with a partner or in a group, too. Parts of the trail become quite isolated while others are heavily trafficked and in more populated areas.
We've seen solo cyclists and walkers, but know your own comfort level.
If you are headed back to Asheville afterward, drop into Black Mountain along the way, which is home to delicious restaurants and our favorite distillery, Oak & Grist.
Whether you are looking for cycling or rollerblading in Asheville, Thermal Belt Rail Trail is a must.
Thermal Belt Rail Trail | Rutherford to Forest City, NC
More Roller Skating Rinks Near Asheville
Riverside Roller Rink | 44 Rink Rd, Burnsville, NC 28714
Recreational Roller Skating & Rollerblading Gear We Use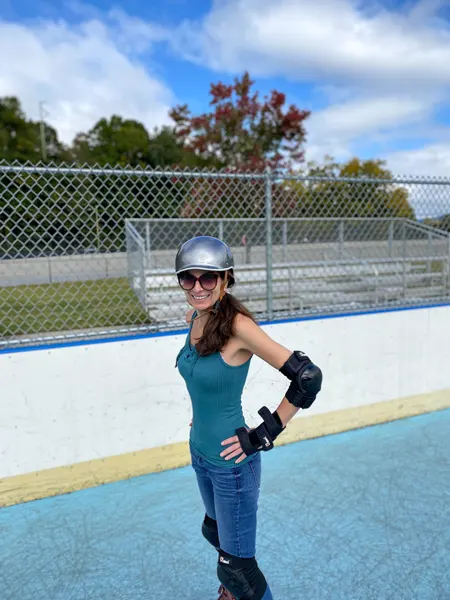 It's hard to find roller skates in Asheville. Dick's sells one or two pairs of rollerblades, and there is a Zumiez for skates and skateboards at the Asheville Mall.
If we are in Charlotte, we want to check out Derby City Skates, which looks fantastic for in-person (and online) skates and gear.
However, we had our best luck on Amazon (sorry), and while we are not professional skaters, these are the skating products we use and like.
(We did loads of research before making more expensive purchases like the Moxi Lolly skates).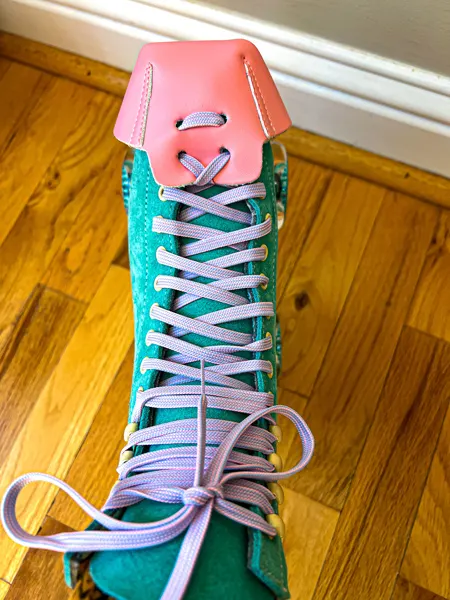 Christine owns and loves her Moxi Lollys. These quad skates have virtually no break-in period and fit like a glove.
Use their sizing guide, and know that Christine went one size down from her shoe size.
The Moxi Lolly is a great starter option for roller skates, and they come with wheels perfect for both beginner to intermediate street and rink skating. The toe stop is adjustable.
People love to dance and jam out in them, and they have solid heel support. Christine protects hers with these toe guards and swapped out the laces for purple ones.
Beginners looking to spend a little less with this highly reputable brand also enjoy the Moxi Beach Bunny and Rainbow Rider.
For a bike and skating helmet, Christine uses the Thousand Helmet. These are her elbow, knee, and wrist pads/guards. All get the job done.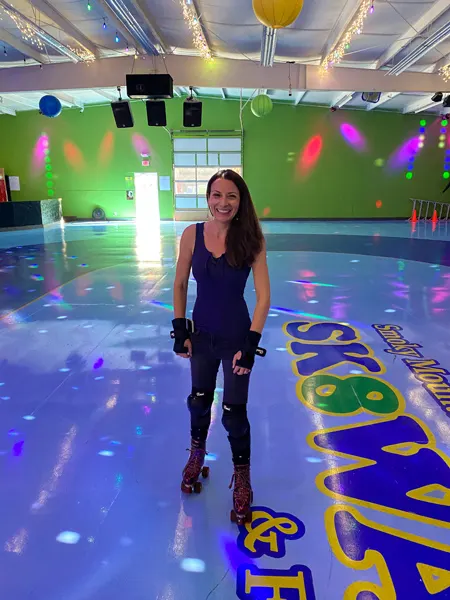 If you are like Christine, you might not want to spend $370+ on basic skates right out of the gate, especially if roller skating is new to you (or you are relearning it).
Christine can rollerblade, no problem, but roller skating… gosh help us all.
Impala skates are a very affordable skating option with loads of heel support, cute-colored skates, and a cushy boot.
They are extremely stiff and heavy, which you might prefer (or not so much). You will need to break them in, and they run true to size. The toe stop is not adjustable.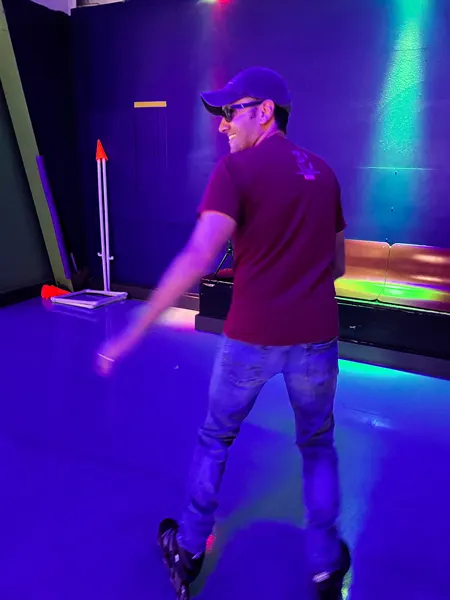 For a basic and budget-friendly pair of rollerblades, Christine and Tom both use the K2 Kinectic Inline Skates.
We make no promises that these are the best for rollerblading in Asheville, but they work for us.
Save This Asheville Roller Skating Post For Later: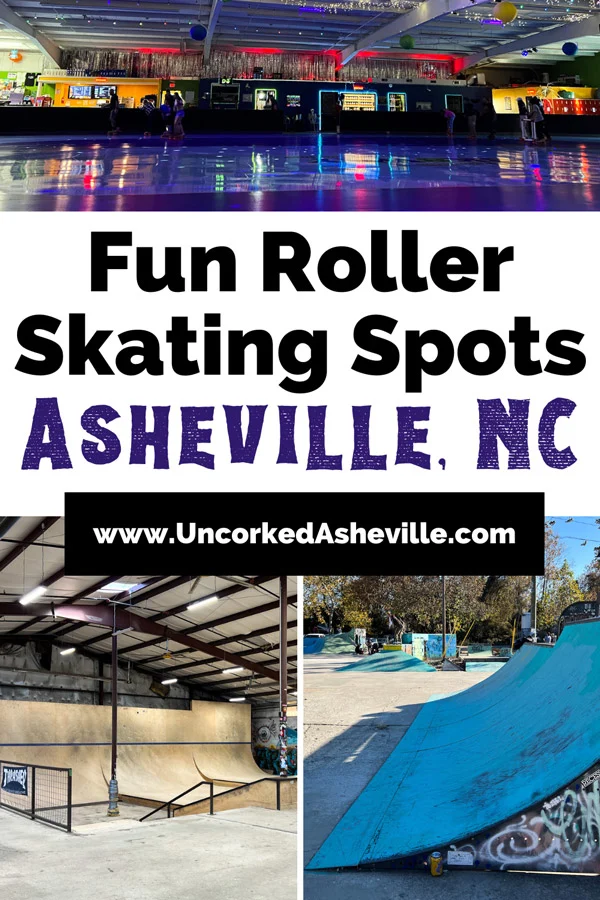 See our Top Places To Stay in Asheville.

Don't miss out on these Asheville properties on Booking.com, too.
What are your favorite places to roller skate in Asheville, NC?
Nothing beats hiking, biking, waterfall chasing, and roller skating in Asheville.
If we had to pick the best places to roller skate in Asheville (and nearby), we'd go with Carrier Park for its rink and Mellowdrome and Smoky Mountain Sk8way for fun indoor skating.
For more advanced skaters, RAD's Riverwalk and the Thermal Belt Trail would be less intimidating.
What are your favorite spots for rollerblading in Asheville – and nearby? Let us know in the comments! We are always looking to check out new places.
You May Also Enjoy:
Best Hikes Near Asheville
Short Hikes Around AVL
Waterfall Hikes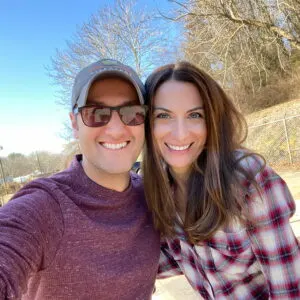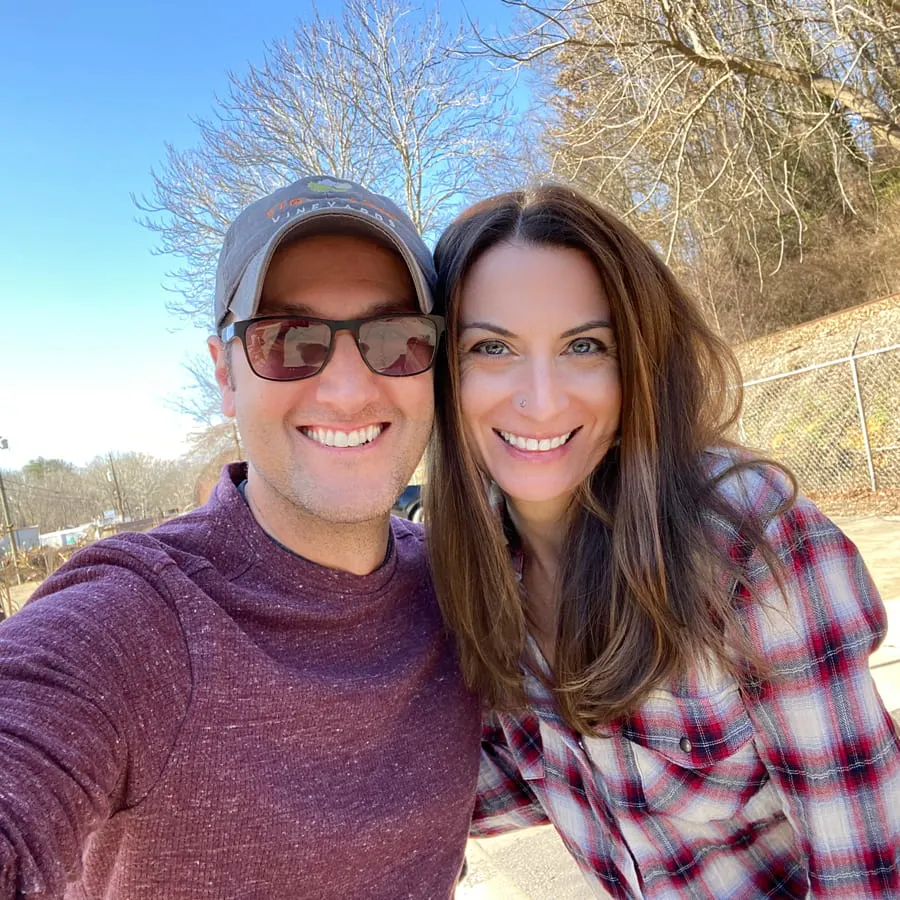 Christine (pronouns: she/her) is the owner and lead writer of Uncorked Asheville. After falling in love with those gorgeous Blue Ridge Mountains, Christine and her husband Tom decided to call Asheville, North Carolina their home. When her pointy Italian nose isn't stuck in a book, Christine is adopting all of the kitties, getting lost in the forest, and drinking an ESB.
Christine has a BA in English and History from Smith College, her MLIS from USF-Tampa, and is a former U.S. Fulbright Scholar - Indonesia. She also owns The Uncorked Librarian LLC with books and movies to inspire travel.