Uncover the best things to do in Black Mountain, North Carolina. This gorgeous mountain town is filled with breweries, restaurants, shopping, and hikes.
Located about 15 miles east of Asheville, if you are looking for a smaller town feel, head to Black Mountain, NC. With less than a 30-minute drive from AVL, you'll find yourself enveloped in gorgeous mountains around a glittering lake.
The walkable downtown area is filled with sugary treats, brews, and restaurants. The Cherokee used to live here, and Black Mountain is best known for its southern Appalachian arts and crafts scene.
In fact, you can visit the Black Mountain College Museum & Art Center in downtown Asheville to learn more — which is free to the public. We like to dip in to see what is new as well as leave a donation.
Black Mountain is also Grammy-award-winning Roberta Flack's birth home; don't miss a beautiful homage to her on the side of Black Mountain Brewing.
So, what are the best things to do in Black Mountain, North Carolina? Why should you consider Black Mountain as a fun Asheville day-tripping option?
As Asheville locals, we are sharing our top Black Mountain things to do, plus one or two items on our bucket list. Let's get started!
Find even more Fun Asheville Day Trips.
This post may contain affiliate links for products and services I recommend. If you make a purchase through these links, at no additional cost to you, I will earn a small commission. Read the full disclosure here.
Don't miss these cottages, cabins, inns, and hotels in Black Mountain, NC.
10 Heart & Tummy-Filling Things To Do In Black Mountain, NC
1. Walk Lake Tomahawk
Walking Lake Tomahawk is one of the most soul-fulfilling things to do in Black Mountain on this list. Pictures of Lake Tomahawk Park are what originally drew us into this beautiful mountain town.
In the right season, encounter baby ducks and geese along with vibrant trees.
Visitors and locals relax, play, and walk this gorgeous 16.3-acre park with a lake at its center. Around the park, find facilities, tennis courts, a children's playground, and a walking trail with bridges.
There is also a pavilion with picnic tables, and you can even find horseshoe pits. Non-motorized boats are allowed on the lake. Fishermen will need a valid North Carolina fishing license.
The lake's perimeter trail is about .55 miles and is flat and wide — perfect for runners and strollers. The park is open from dawn to dusk.
Lake Tomahawk Park is located at 401 Laurel Circle Drive in Black Mountain, NC 28711. There are multiple parking lots along the lake.
Never Miss Another Asheville Update
Are you tired of generic Asheville travel itineraries? Do you want to experience the magic of Asheville like a local?
Grab our free Asheville Favorites checklist today, including restaurants, breweries, and hiking. Plus, get local updates straight to your inbox. Sign up here.
2. Hike Black Mountain's Trails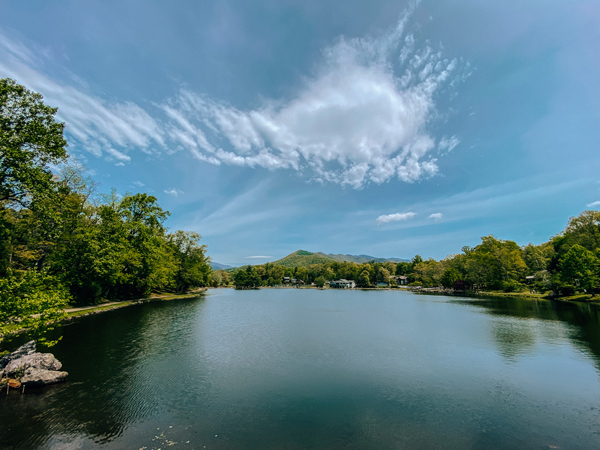 From Lake Tomahawk, you can see Black Mountain's The Seven Sisters. This mountain range spans about 3.5 miles and leads to Graybeard Mountain's summit — which is technically not one of the "Sisters."
Around this area, hikers will find a series of trails. Graybeard Trail (written Greybeard on the park's informational board) is a difficult 9-mile, full-day hike. Since this trek is recommended for experienced hikers, we are eyeing it but have yet to brave it.
Instead, we love nearby Catawba Falls — about 20 minutes away in Old Fort. Catawba Falls is an easy and popular waterfall hike. Hike about 3 miles round trip to a 100-foot waterfall.
3. Grab A Bite To Eat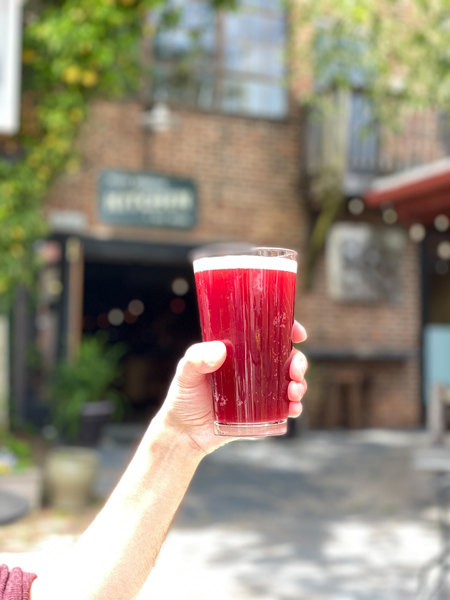 Black Mountain reminds us of Hendersonville, NC with its quaint but busy historic downtown filled with shops and restaurants. If you are looking for foodie things to do in Black Mountain, the libations and restaurant scene won't disappoint.
As a beer lover, I highly recommend Black Mountain Kitchen and Ale House. They have delicious burgers, gluten-free and vegan options, fried pickles, and of course, beer.
Black Mountain Brewing is across the street — home to the Roberta Flack mural. Next door to them, order all of the German meats at Berliner Kindl German Restaurant. We celebrated Tom's 40th Birthday here.
Open Oven Cafe for brunch has lines around the block, Veranda Cafe sits next to the Ale House, and My Father's Pizza is your go-to for grinders and pizza. Que Sera is popular for its seafood.
4. Shop At The Boutiques & Local Stores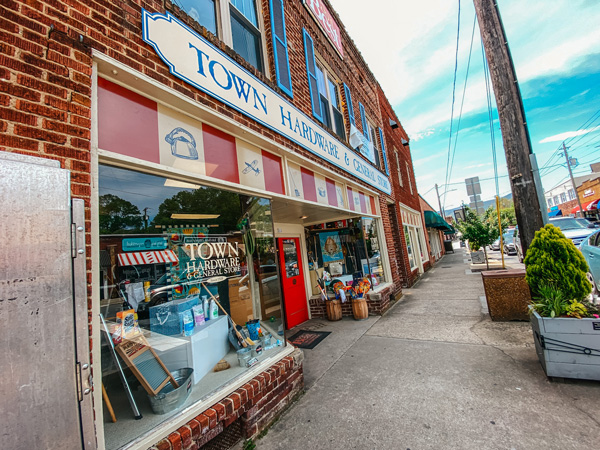 Do I really need moose-doing-yoga pajama pants and screen-printed t-shirts with bears? Obviously, I do. Peruse Black Mountain's walkable downtown area, casually dipping in and out of shops.
We personally love C. W. Moose Trading Company for mountain-themed t-shirts and souvenirs.
Don't forget to buy some Kitty Piddle soda at Town Hardware & General Store. Find pretty much anything here, and head upstairs for the local literature. I spied Ron Rash and Jan Karon novels.
5. Tour Black Mountain's Hopping Breweries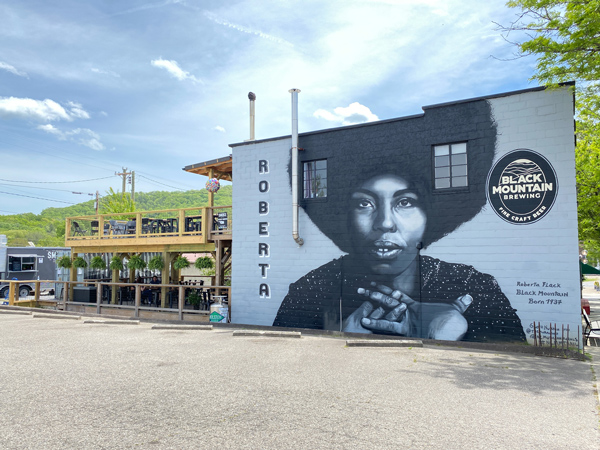 For boozy things to do in Black Mountain, we got you! I always used to think that Asheville was WNC's only major beer scene until we starting exploring the neighboring cities and towns.
Black Mountain has delicious breweries with plentiful seating. Find craft beer, wine, mead, and cider options.
While you are walking around downtown Black Mountain, be sure to head to Lookout Brewing Company and Black Mountain Brewing. Both have indoor and outdoor covered and uncovered seating.
You'll know Black Mountain Brewing by its gorgeous Roberta Flack mural. This street art is a part of Nurkin's series of portraits depicting 23 North Carolinian musicians. Nurkin is the owner of The Mural Shop.
Flack was born in Black Mountain in 1937, and she is considered one of the greatest musicians of all time. Think "Killing Me Softly with His Song."
You could also order a takeout pizza from the Pizza Machine, and then head over to Black Mountain's Gear & Beer as part of the WNC Outdoor Collective.
This hidden open-air oasis is filled with local brews and picnic tables to enjoy your grub. You can even play cornhole.
A short drive outside of downtown Black Mountain, you'll also find Pisgah Brewing.
6. Order Coffee Or Dessert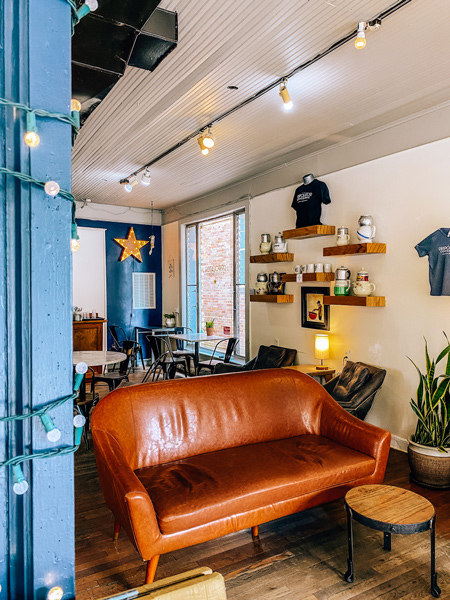 Just like Hendersonville, you'll find a Kilwins in Black Mountain. Indulge with delicious treats like truffles, fudge, coconut clusters, and ice cream.
Kilwins is an old-fashioned confectionery shop with sugar-free options. Lactose-free choices are slightly harder to come by, though.
AND, just like Asheville, visit The Hop Ice Cream Cafe. We especially love The Hop for its lactose-free and vegan ice cream options and toppings. They also serve shakes.
For cupcakes with gluten-free and vegan options, check out Hey, Hey Cupcake.
If you need a pick-me-up, head over to The Dripolator Coffeehouse. They serve the best coffee in town along with pastries.
7. Taste Test Local Ciders & Meads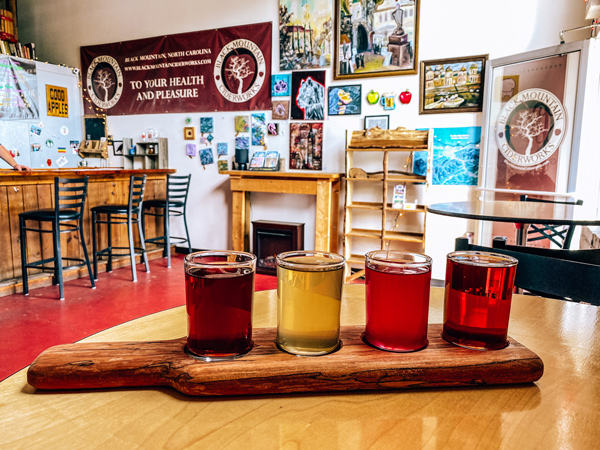 Whenever we travel, we look for Celiac-friendly places for Tom. We loved finding a meadery and cidery in Black Mountain.
Black Mountain Cider & Mead is located off of the beaten path in an industrial community at 104 Eastside Drive, Unit 307, Black Mountain, NC 28711. Driving in, you might wonder where the heck we are sending you, but I promise, it's worth it.
If you are new to the mead and cider world, grab a flight. Personally, we love cherry and coffee flavors. You can sit inside or outside.
8. Order Cocktails At The Distillery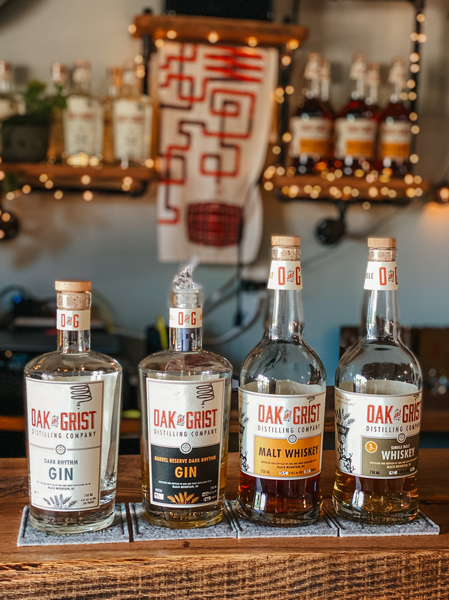 Walk…no, run to Oak and Grist Distilling Company. Located in the same industrial area as Black Mountain Cider and Mead, you'll love this progressive distillery.
When a picture of Ruth Bader Ginsburg greeted us at the door, we knew we were in good hands. Start with a gin and whiskey tasting.
Then, make difficult choices selecting one of their delicious craft cocktails. They also offer distillery tours.
Oak and Grist is located at 1556 Grovestone Road in Black Mountain, NC, 28711.
9. Stay Over At A Quaint B&B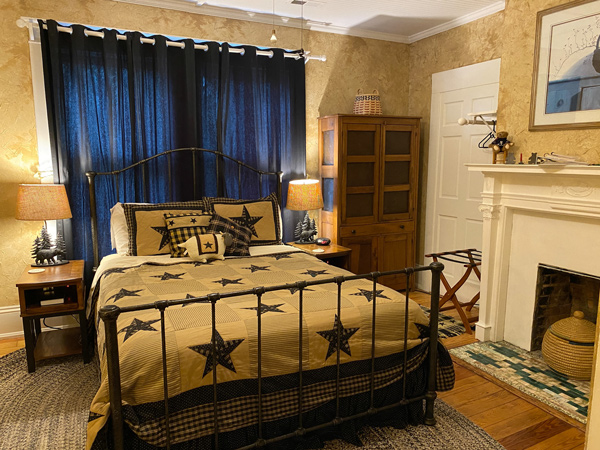 We like to park at Lake Tomahawk and walk downtown Black Mountain. Along the way, you'll pass beautiful B&Bs and neighborhoods with eye-popping architecture. Remind me why I didn't buy a house here?
So, even though we live 25-minutes away, we still like to take a luxurious night 'away,' staying at a Black Mountain Bed & Breakfast. We recently enjoyed an overnight at The Inn Around The Corner.
We also pass the Arbor House along Lake Tomahawk's bank; this property looks heavenly with its gardens and lake view.
The Black Mountain Inn and Red Rocker Inn receive fabulous reviews, too.
Don't miss these cottages, cabins, inns, and hotels in Black Mountain, NC. If you are staying in AVL, see our Asheville accommodation recommendations.
10. Catch Up On History & Local Music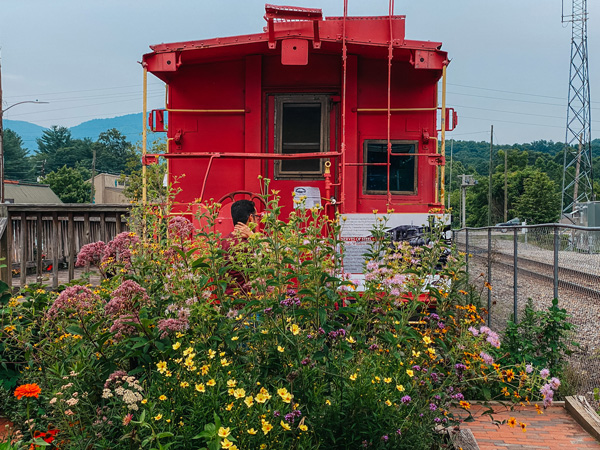 Lastly, catch a performance at White Horse Black Mountain. Tuesdays are Open Mic night.
You may also drop into the Swannanoa Valley Museum and History Center to learn more about Buncombe County history through their exhibits and collections. The museum is located in Black Mountain's 1921 Fire House at 223 West State Street Black Mountain, NC 28711.
If you are walking toward Que Sera, Gear & Beer, or behind the main downtown strip, you'll also come across The Old Depot. Learn more about the railroad, check out the red caboose, and visit The Old Depot Gallery.
Save These Black Mountain Activities For Later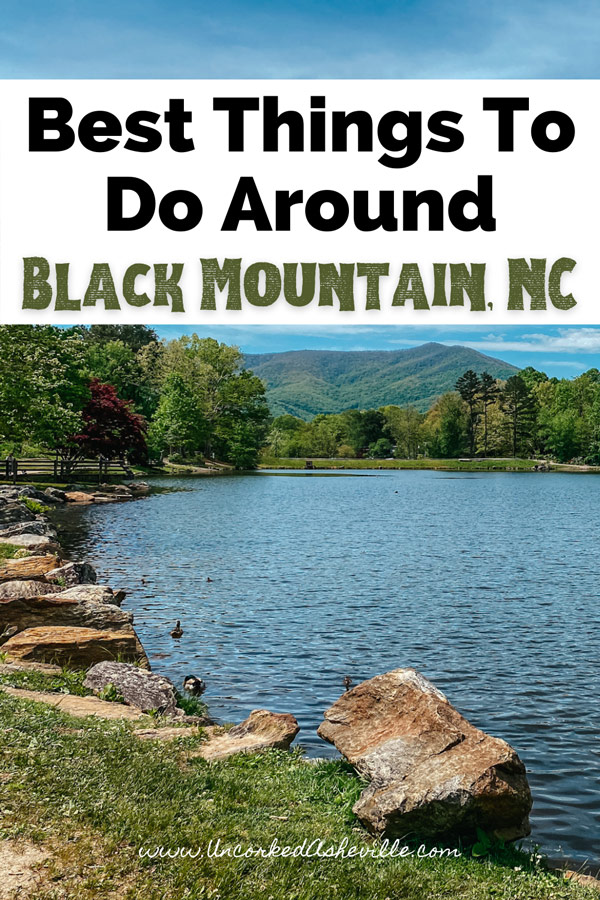 Have you visited Black Mountain, NC?
Black Mountain is absolutely beautiful and full of delicious places. What are some of your favorite things to do in Black Mountain? Where have you stayed and eaten that you loved? Please let us know in the comments.
What Can You Do Next:
Visit Black Mountain's Breweries, Cidery/Meadery, And Distillery
Grab Our List Of Black Mountain Restaurants
Explore the best things to do in Asheville
More WNC Cities & Towns Worth Visiting:
Head out on another day trip to Hendersonville, NC
Explore Things To Do In Weaverville, NC
Best Day Trips & Cities Around Asheville