Although fewer in number than AVL, the Weaverville restaurants are a fantastic alternative. Uncover the best restaurants in Weaverville, NC for gluten-free pizza, fine dining, and drinks.
Weaverville is a gorgeous little mountain town immediately north of Asheville in Western North Carolina. Smaller than Asheville, Weaverville offers an oasis from the bustling city yet has similar amenities and perks.
Think delicious Weaverville restaurants, bakeries, cafes, and breweries. Before or after your meal, you can walk Lake Louise or the Main Street Nature Park.
Don't forget those pre-dinner aperitifs or mid-day local brews. Yes, Weaverville has a fantastic brewery with a permanent taco and burrito truck, too.
Did we mention there's a dog park bar and tons of gluten-free options in Weaverville?
So, if you are looking for the best restaurants in Weaverville where should you go? Below, we are sharing Weaverville, NC restaurants that we love, others have recommended, and a few on our bucket list.
Maybe one day, we'll eat at all of the Western North Carolina restaurants — but remember, there are just two of us, and 'best' is subjective. Are you ready to eat your way through Weaverville? Let's get started!
Explore all that you can do in Weaverville, NC.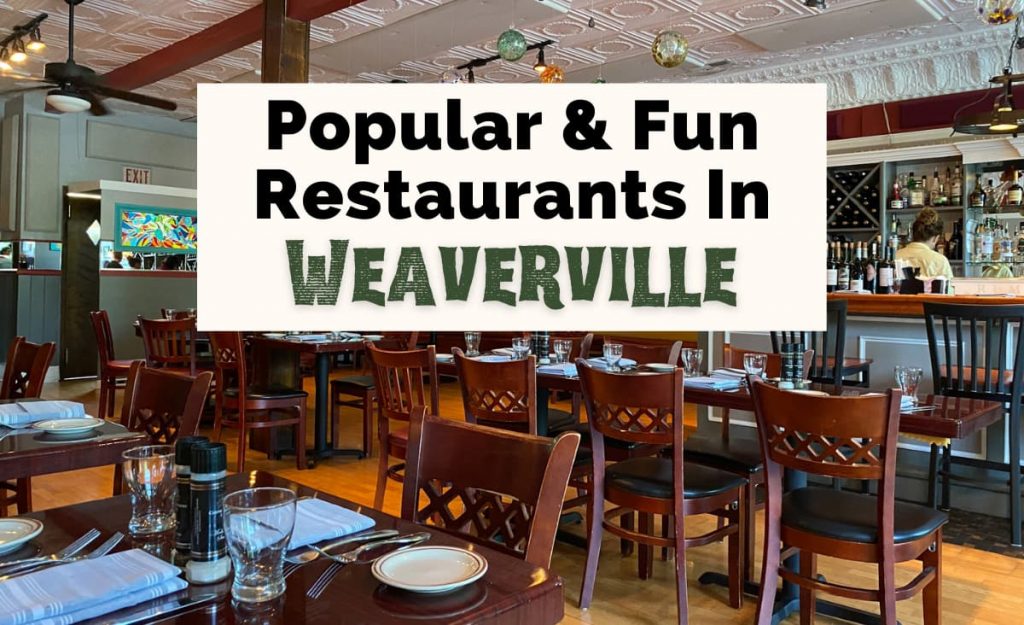 This post may contain affiliate links for products and services I recommend. If you make a purchase through these links, at no additional cost to you, I will earn a small commission. Read the full disclosure here.
Don't miss these Weaverville, NC stays, hotels, inns, and cottages.
See where you can stay in Asheville, too.
11 Popular Weaverville Restaurants For Your Taste Buds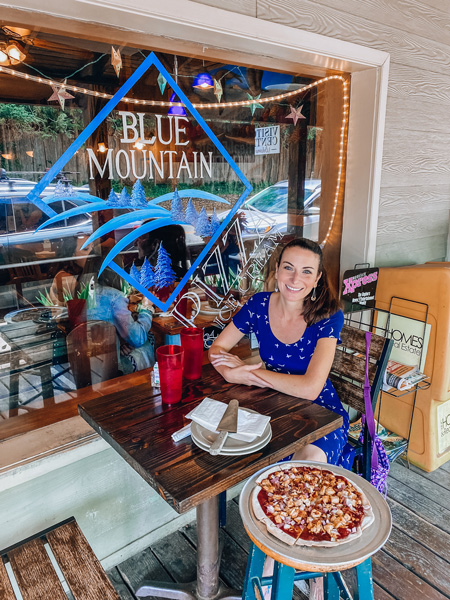 If you are looking for gluten-free pizza in Weaverville, don't miss Blue Mountain Pizza. They even make their own GF crust.
Their kitchen is not dedicated GF, but my Celiac husband loves being able to order a gluten-free pizza with vegan cheese. Blue Mountain Pizza also serves up regular pizza, handmade ice cream, and local craft brews.
Stoney Knob Cafe | 337 Merrimon Ave, Weaverville, NC 28787
On your way into Weaverville from Asheville, you'll pass Stoney Knob Cafe. Reservations are recommended, and they've been voted as one of the best restaurants in Weaverville (& AVL area).
Serving up Greek and European cuisine, they also have Sunday brunch. Think gyros.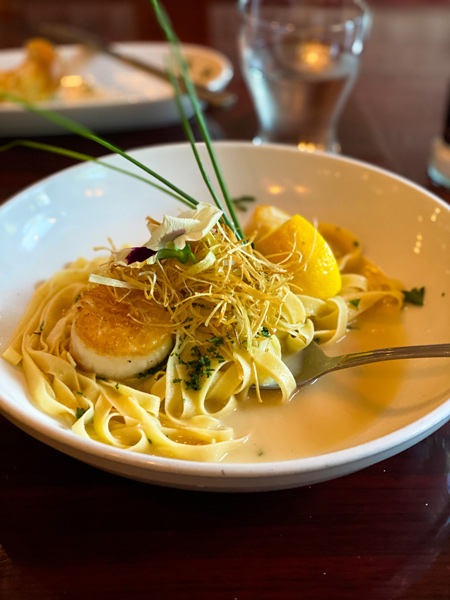 Glass Onion | 18 N Main St, Weaverville, NC 28787
One of the best Weaverville restaurants for 'fine dining,' Glass Onion is a must. We highly suggest making reservations, especially for an evening out.

A tad more expensive — but not stuffy — order delicious beet appetizers and plentiful-portioned meat and seafood entrées. Considered 'global Italian,' you'll love the atmosphere, blown-glass decor, and cocktails.
Never Miss Another Asheville Update
Are you tired of generic Asheville travel itineraries? Do you want to experience the magic of Asheville like a local?
Grab our free Asheville Favorites checklist today, including restaurants, breweries, and hiking. Plus, get local updates straight to your inbox. Sign up here.
Main Street Grill | 5 S Main St, Weaverville, NC 28787
For bar and grill Weaverville restaurants, Main Street Grill is your go-to restaurant. Family-friendy, order wings, Brussels, and salads. Find a large sandwich and burger menu, too.
If you love steak, seafood, and BBQ, The Fireplace Restaurant in Weaverville is for you. Like Stoney Knob, you'll pass The Fireplace on your way into downtown Weaverville. Think all American cuisine.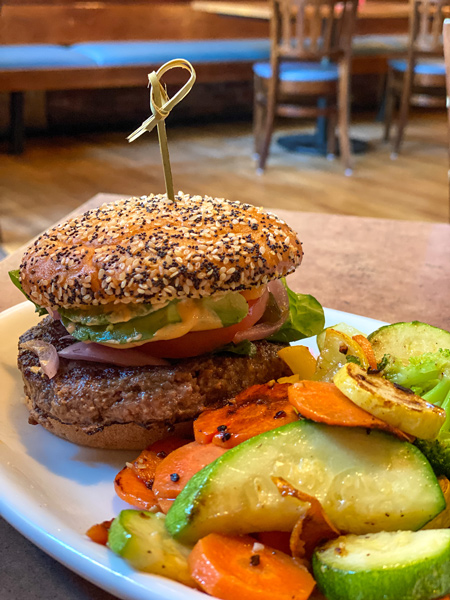 You can find Twisted Laurel in both downtown Asheville and Weaverville. One of our favorite restaurants in Weaverville for local beer, craft cocktails, and food, we suggest stopping in Twisted Laurel if you want to explore downtown.
They also have gluten-free menu substitutions including buns and wraps. Drop-in at the bar for bites and a drink, too.
Well-Bred Bakery | 26 N Main St, Weaverville, NC 28787
With multiple bakeries in Weaverville and Asheville, including Biltmore Village, you can usually spot Well-Bred Bakery by the line out of the door. Follow your nose for lunch, brunch, pastries, and cakes.
They make quiche as well as breakfast and lunch sandwiches. Many of their pastries are gluten-free.
Baa'd Sheep Burritos has locations in Mars Hill and Weaverville, NC along with a traveling WNC food truck. Nothing beats ordering tacos, burritos, and guacamole to pair with your beer from Eluvium Brewing Company.
Eluvium tends to have an eclectic beer tap list along with a few local guest ciders, seltzers, and ginger beers.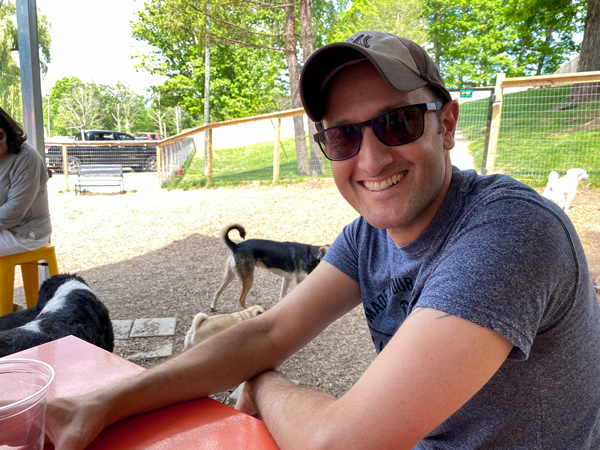 WagBar | 320 Merrimon Ave, Weaverville, NC 28787
For dog-friendly Weaverville, NC restaurants, WagBar is literally for your pooches. If you follow us on social media, you know that we are a cat household. However, that doesn't stop us from grabbing a local brew and watching the pups play at this dog park bar.
WagBar is a 21+ Weaverville restaurant, and you definitely want to read WagBar's rules before visiting. Humans are free, but there are membership fees for dogs and required paperwork.
If you don't have a dog, you can go right in, though.
If you are looking for sushi restaurants in Weaverville, head to Soba Sushi and Noodles. Along with sushi rolls and sashimi, you can find noodle dishes like Pad Thai, Lo Mein, and Teriyaki. Ramen? Yes; please!
Vintage Kava | 141 Reems Creek Rd, Weaverville, NC 28787
For herbal tea in Weaverville, you can also visit Vintage Kava. Personally, we aren't on board the kava train.
Kava is native to the western Pacific islands, allegedly causes relaxation, and has some potential health concerns/drug interactions/may test you positive for workplace drug tests — at least that's our minimal understanding. You can ask Dr. Google.

Know that when Vintage Kava says 'cocktails' or 'mixed drinks,' they mean kava drinks. Their back porch has beautiful mountain views, but this Weaverville restaurant just isn't for us. Maybe it's your jam, though.

We wanted to let you know a little more because we received this bizarre recommendation from our local tourism board, and our experience took us… off guard… Maybe driving up to a house should have been our first warning sign. Haha.
Where can you stay in and around Weaverville, NC?
Don't miss these Weaverville, NC stays, hotels, inns, and cottages.
See where you can stay in Asheville, too.
Save Your Favorite Weaverville NC Restaurants For Later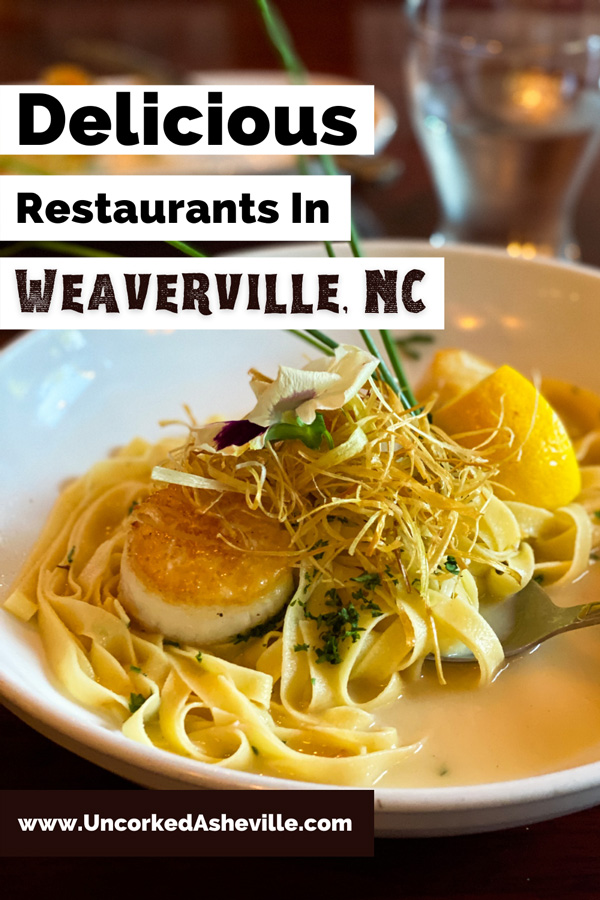 What are your favorite restaurants in Weaverville, NC?
Where do you love to eat in Weaverville? Who makes the best pizza, burgers, and tacos? Where do you love to grab dessert? Let us know in the comments!
What else can you do in and around Weaverville?
Best Things To Do In Weaverville
Asheville, NC Attractions
More Day Trips From AVL
Asheville's Best Restaurants