Whether you are looking for gifts, books, specialty food, clothing, art, and more, discover the best areas and stores for shopping in Asheville – from locals.
Are you hoping to find alien earrings or a t-shirt that says, "Sorry I'm Late, I Didn't Want To Come?" How about a blue shark print dress and a cassette tape wallet?
Have you seen the ostrich painting in our office, overlooking our pet cat as a realistic cat pillow looms behind her? Or, our handcrafted wooden beer flight board and blown glass pumpkin?
After living in Asheville for years, the city seems a little less intimating and dare we say, smaller… But for its size, the area packs in a whole lot of love, including ritzy and funky shops, breweries, and restaurants.
Whether you are local to the area or just visiting, what are the best Asheville shopping neighborhoods, malls, and centers for local gifts like wine, food, and those cheesy souvenirs we just cannot resist?
And, what shops in Asheville sell used books, outdoor gear, cocktail schwag, jewelry, art, home decor, cute print dresses, plants, and more?
Below, travel with us to Downtown AVL, the River Arts District, Biltmore Village, West Asheville, and more, as we share our personal favorite Asheville shops for all budgets and needs.
Then, we'll also disclose a few of our favorite cities for shopping near Asheville, including Hendersonville, Black Mountain, and even Greenville, SC.
Of course, there are so many stores in Asheville, we couldn't possibly name them all. Be sure to tell us your favorites in the comments. Let's get started!
Read more about the best things to do in Asheville – for locals & visitors.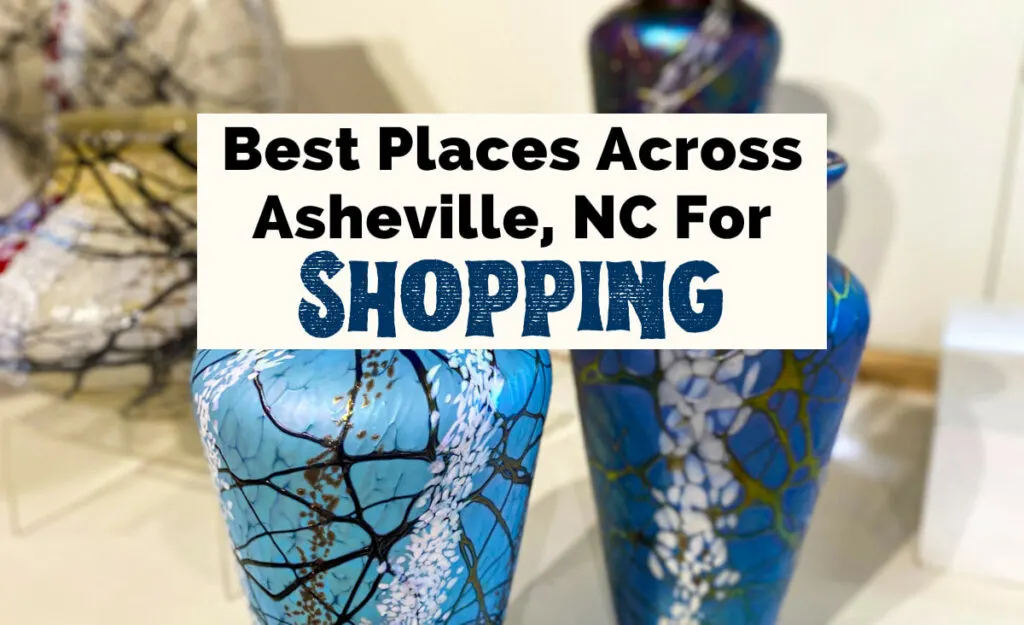 This post may contain affiliate links that earn us a commission at no extra cost to you. If you love these guides, support Uncorked Asheville here.
19 Terrific Stores For Shopping In Asheville
Bookstores, Games, & More
Malaprop's Bookstore/Cafe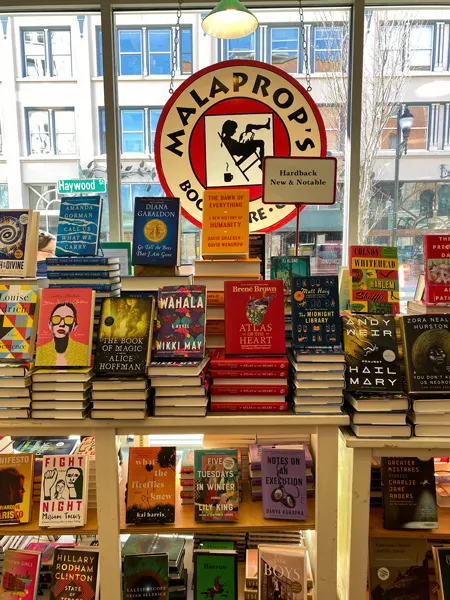 As avid literary travelers, it's no surprise that one of our favorite stores in Asheville includes Malaprop's, what we consider to be the best bookstore for new releases and bookish schwag.
Located in the heart of Downtown, this indie bookshop sells terrific fiction and nonfiction titles, journals and notebooks, and all of your favorite bookish gear, including socks, totes, magnets, mugs, and more.
If you love staying up-to-date on new releases, we highly recommend signing up for their newsletter. They also host events such as author talks and signings, book clubs, and virtual storytimes.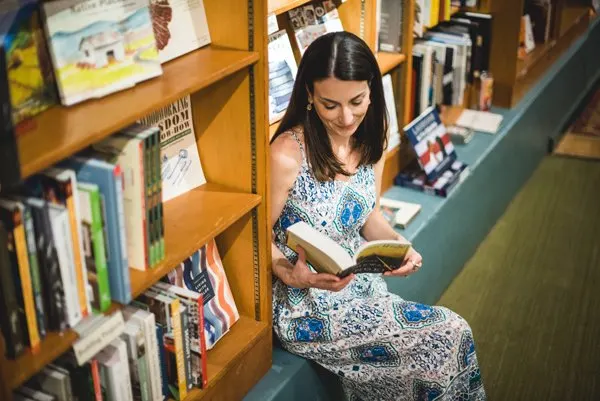 Our favorite displays and sections include staff picks, brand-new releases, and translated and regional literature.
Asheville is full of amazing writers, like Denise Kiernan and Robert Beatty, and find NC authors, including Ron Rash and Sarah Addison Allen.
Malaprop's also has a small cafe, serving coffee, smoothies, and gluten-free and vegan treats. It's just one of the many great coffee cafes in AVL.
Malaprop's Bookstore & Cafe | 55 Haywood St, Asheville, NC 28801
Orbit DVD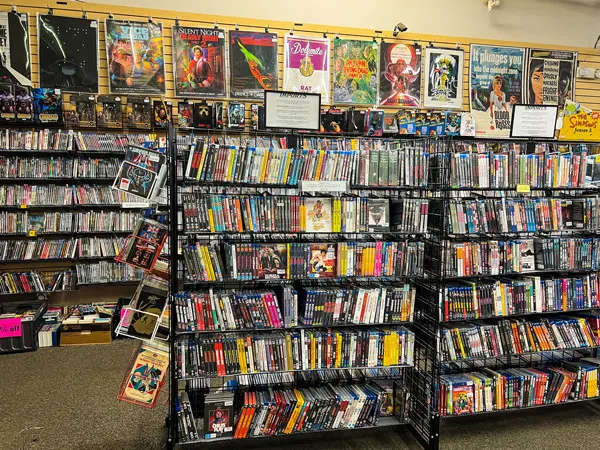 West Asheville is full of great things to do, including eating, shopping, drinking, and checking out the coolest murals like Gus Cutty's Dolly and RuPaul.
For one of the most unique Asheville stores for true crime lovers and those looking for video games, try Orbit DVD.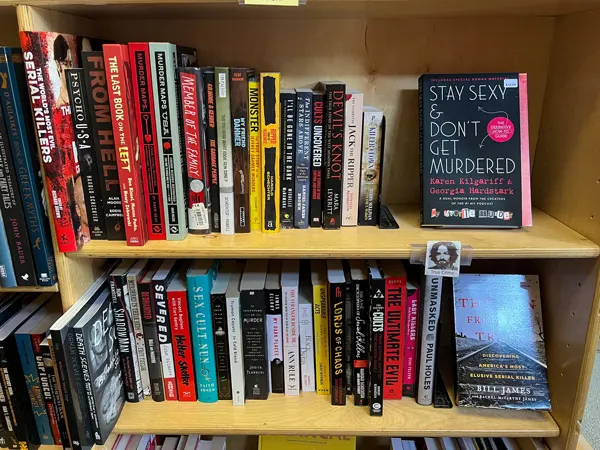 Just look for the Betty White mural out front, and enter a geeky treasure trove for gamers. Find movies, books, gaming consoles, and video games for your Nintendo, Xbox, Playstation, and Sega.
Parts of the store are a blast to the past; VHS (and more dead formats), anyone?
And, for more book shopping in Asheville, Bagatelle Books – an indie used bookstore – is also down the street.
Orbit DVD | 781 Haywood Rd, Asheville, NC 28806
Battery Park Book Exchange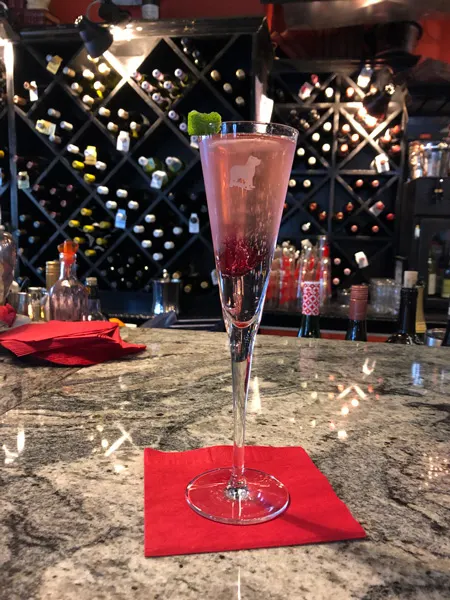 One of the reasons we moved to Asheville? The Battery Park Book Exchange – along with those breathtaking gorgeous Blue Ridge Mountains, of course.
We also run the boozy online book publication, The Uncorked Librarian, and the rogue librarian half of Uncorked Asheville could not resist an indie used bookstore with a champagne bar.
Heck, their cocktails have literary names… and Battery Park Book Exchange serves our favorite food group, charcuterie.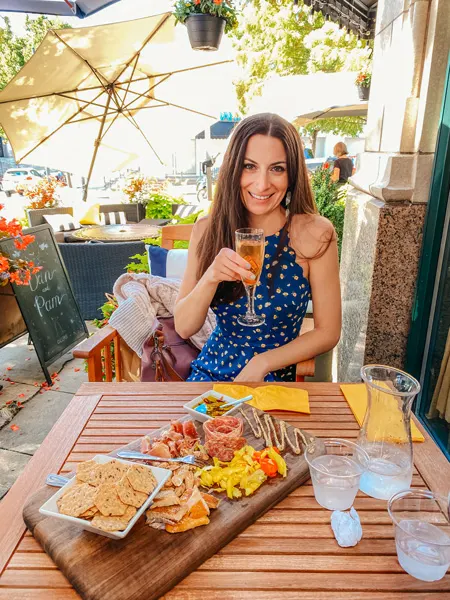 For the best Asheville shopping (with drinks), shop for used books and journals while perusing their extensive libations list at the wine bar.
Battery Park Book Exchange hosts live music, holiday parties, events, readings, and more. It's also a great meet-up space with friends.
Discover even more fun, ritzy, LGBT+, and dive bars around AVL.
Battery Park Book Exchange | 1 Page Ave #101, Asheville, NC 28801
More Book Shopping Near Asheville
Sassafras on Sutton (Black Mountain) – A multi-leveled bookstore with new releases, toys, and games.

M.Judson Booksellers (Greenville, SC) – One of our top bookstores in the South, peruse a highly curated selection of newer books or attend a fun and tipsy author event.

Wall Street Books (Waynesville) – If you are in the Lake Junaluska and Waynesville area, drop into Wall Street Books for a great used book selection.
Arts & Crafts
Foundation Woodworks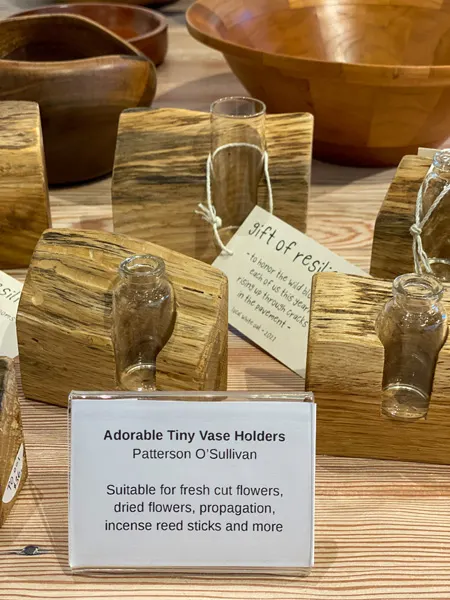 If you are arts and crafts shopping in Asheville, there is certainly no shortage of stores, studios, and galleries; we couldn't possibly name them all.
However, if you are looking for a good start, head to Asheville's vibrant River Arts District. Along with the gorgeous murals, find gallery upon gallery to enjoy.
One of our personal favorite Asheville shops, we frequent Foundation Woodworks, which is full of handcrafted woodworking designs.
Think tables, beer flight boards, cutting boards, earrings, mirrors, wooden ornaments, tables, and more – many of which we now own. We even ask our families for holiday gift cards here.
And, peak through the windows to see one of AVL's woodworking studios. We also think exploring this area is perfect if you are wondering what to do in Asheville when it rains.
Foundation Woodworks | 17 Foundy St Ste 10, Asheville, NC 28801
Grovewood Gallery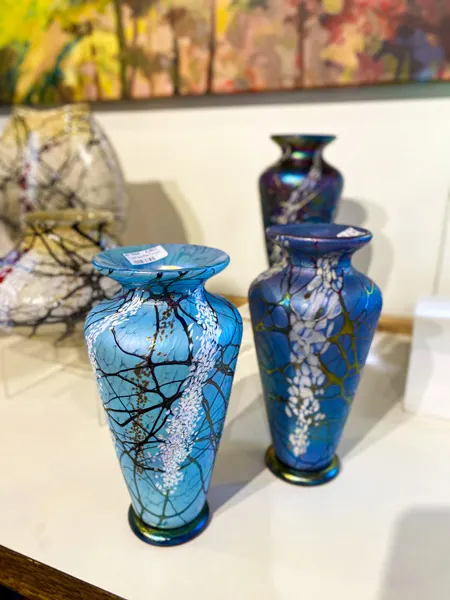 Another one of our favorite artist shops in Asheville, head to the historic Omni Grove Park Inn for Grovewood Village, home to Grovewood Gallery.
Grovewood Village is a terrific specialty Asheville shopping and museum hub, home to Grovewood Gallery, Gallery of the Mountains, Biltmore Industries Homespun Museum, and the Estes-Winn Antique Car Museum.
They also house artist studios for a variety of mediums, and there's a yoga studio in the back.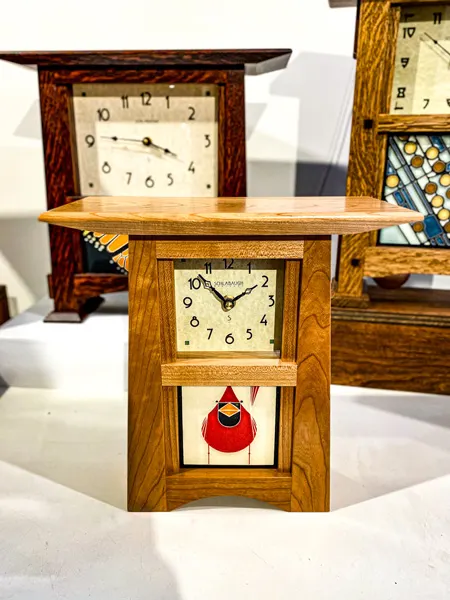 Not to mention that you can grab weekend brunch or breakfast, lunch, and dinner at ELDR, one of our favorite Asheville restaurants.
For shopping in Asheville, Grovewood Gallery features some of the best art, jewelry, home decor, pottery, textiles, glass, and more – from all over the United States.
Find price levels for a variety of budgets. Afterward, enjoy the whimsical garden area out front and head to one of the most niche AVL museums, Estes-Winn, to see an old firetruck and some sleek Cadillacs.
Grovewood Gallery | 111 Grovewood Rd Ste 2, Asheville, NC 28804
Lexington Glassworks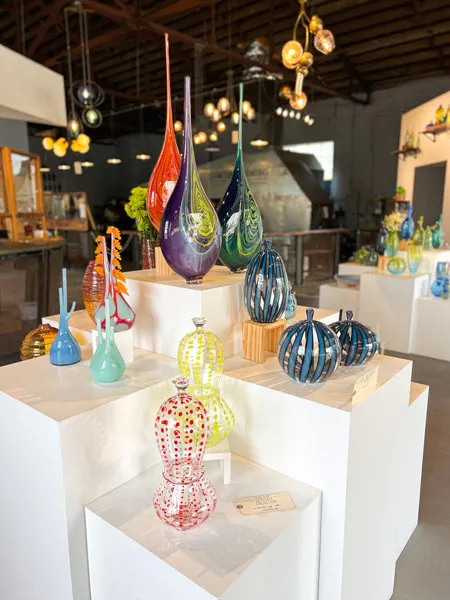 Blown glass is one of our personal favorite art mediums, and for blown glass shopping in Asheville, you cannot go wrong with Lexington Glassworks.
Located in the heart of Downtown near La Bodega – a great wine bar – and Sunshine Sammies, perfect for ice cream with the family, you might just feel Lexington Glassworks before you see it.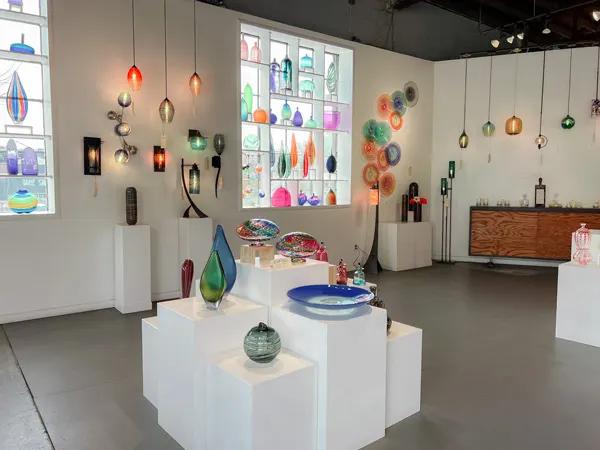 This is an active studio filled with blown glass artists. You might even catch a live demonstration.
We pretty much buy everyone blown glass pumpkin gifts in the fall, and they sell anything from lighting to vases, ornaments, wall decor, paperweights, and jewelry.
Prices range across pieces and sizes, and you'll usually find some neat little scraps for purchase at the register.
Lexington Glassworks | 81 S Lexington Ave, Asheville, NC 28801
More Art Shopping Near Asheville
A Walk In The Woods (Hendersonville) – This whimsical arts and crafts store sits on Main Street in Downtown Hendersonville. Find anything from fox bookmarks to rock glass window wall decor (can you tell what we own?).

Artisun Gallery & Cafe (Hot Springs) – Find coffee and smoothies in an eclectic arts and crafts store. Shop for gems, an ostrich painting (have you seen our home office?), and witchcraft books.
Clothing & Jewelry
Lost and Found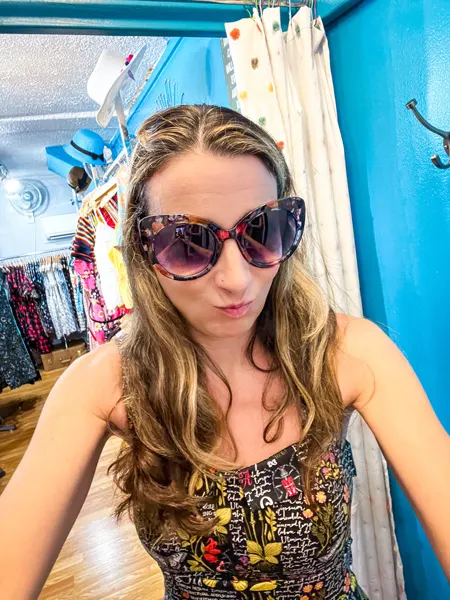 If you are looking for vintage and retro Asheville stores with new clothing – think bright blue dresses with sharks and orange fold-over dresses with oranges – head to Downtown's Lost & Found.
Let's be real: children's librarians would be at home here too. Lost and Found is all about those patterns.
Enjoy vibrant prints and vintage clothing for men, women, and children, including shirts, shorts, dresses, and tops – per season.
Be sure to grab what you love now because it might be a once-in-a-lifetime piece. Match your spruced-up look with some funky sunglasses and hilarious socks or pins.
Then, dip over to the Blue Ridge Hiking Company.
Asheville is full of gorgeous hiking trails, and this is just one of the Asheville shops offering tours and selling minimal (but a tad pricy) hiking necessities.
Lost and Found | 68 College St, Asheville, NC 28801
Second Gear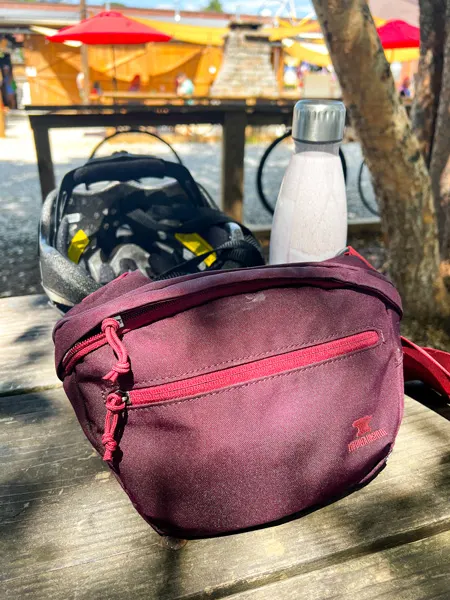 And speaking of hiking, for outdoor adventure shopping in Asheville, Second Gear sells gently used as well as new clothing, tents, hiking poles, sleeping bags, bikes, and more.
Grab a bike helmet and gloves, trendy hiking socks, or ice cream from the cafe at the back.
The list is truly endless, but from yogis and travelers to campers and bikers – and the neighborhood pooch – you are sure to find something you need… or didn't know you needed.
Located in the River Arts District next to Cottonwood Studios, we've purchased anything from solar system-patterned and women-made workout skirts to bear airhorns and fanny packs (they have made a comeback).
P.S. If you love road and mountain biking in AVL, we got our new helmets, bike, and more at the Asheville Bicycle Company on Merrimon Ave. in North Asheville. They are so helpful!
Second Gear | 99 Riverside Dr, Asheville, NC 28801
Moonlight Makers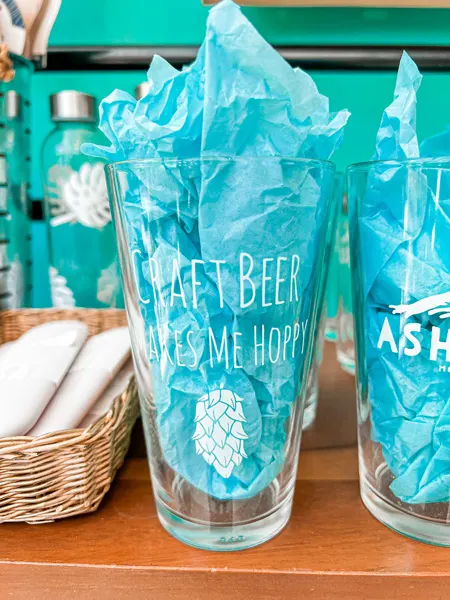 Do craft beers make you hoppy? Are you the unicorn you wish to see in the world? Do you need a HUGe Margarita? More importantly, can you resist a funny tee?
We certainly cannot, and you might recall seeing Tom's "Sorry I'm late, I didn't want to come shirt" in many of our photos. He wears it to the dentist…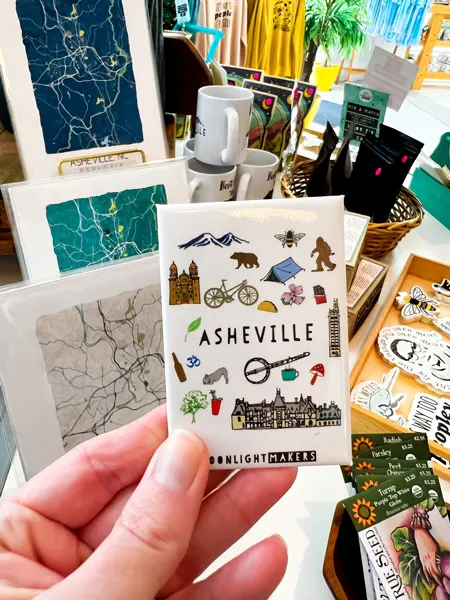 Purchase that shirt and more at Downtown's Moonlight Makers, one of the best Asheville shopping spots for printed shirts, towels, and sweatshirts.
They also sell the best stickers, mugs, candles, and coasters with hilarious and adorable sayings.
This is a women-founded company that should be on everyone's stop for gifts, souvenirs, and just plain fun.
It's one of our "must-visit" Downtown Asheville shops when we are in the area. Noble Cider is next door.
Moonlight Makers | 43 Rankin Ave, Asheville, NC 28801
Bella Fine Jewelry & Piercing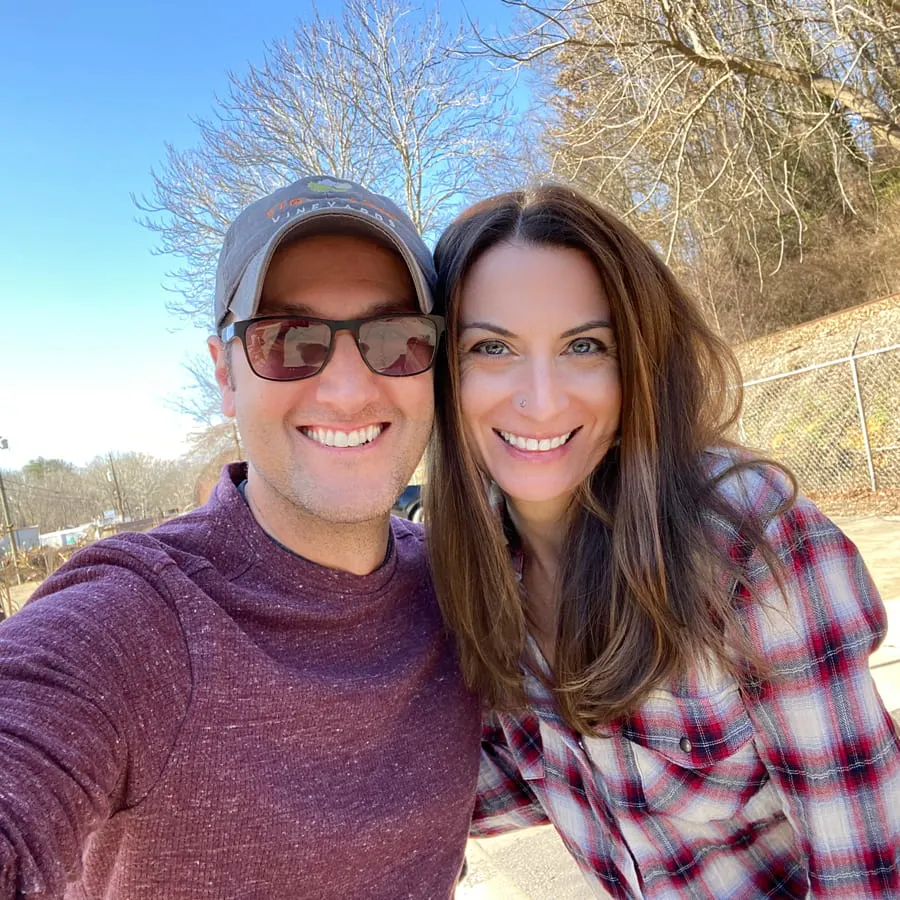 If you ever met teenage Christine, you know she was pretty creative in doing her own piercings and/or cheating the system. And ironically, many of those holes still exist.
However, we all appreciate and understand the art – and sanitation – of a great piercing studio, and for piercing shops in Asheville, we love and recommend Bella Fine Jewelry.
Come here for gorgeous fine piercing jewelry, some of which is handcrafted by one of their personal jewelers and piercers.
Think nose rings, earrings, belly button rings, and more. Our readers have had great experiences getting pierced by them too.
Just know that you will need an appointment to access this Downtown Asheville shop.
Bella Fine Jewelry & Piercing | 51 Coxe Ave, Asheville, NC 28801
Charmed Boutique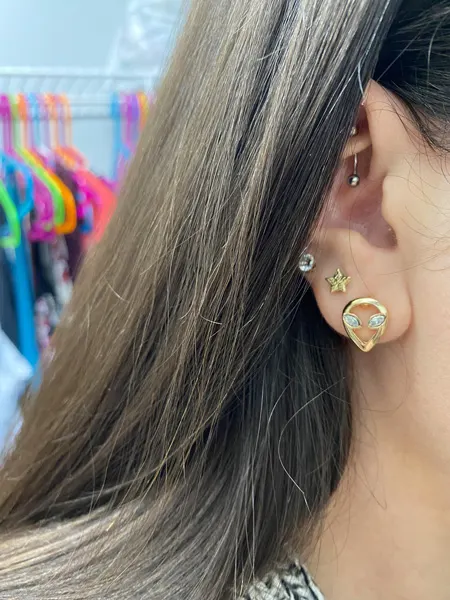 For affordable boutique shopping in Asheville, Charmed Boutique is one of the sweetest, showcasing women's fashion and accessories.
We most definitely own alien earrings from here, and the beer candles are pretty fun.
Find anything from dresses and flowy tops to intimates, hats, scarves, and wallets. There is something here for all tastes and budgets.
Most notably, Charmed has two Asheville shops in Downtown and West AVL. They also sell accessories from many local artists.
Charmed Boutique | Downtown: 8 Biltmore Ave, Asheville, NC 28801 & West Asheville: 46 Haywood St, Asheville, NC 28801
More Jewelry & Clothing Shopping Near Asheville
C.W. Moose Trading Co. (Black Mountain) – We own many a shirt and yoga-moose pajamas from this Black Mountain store, which – along with clothing – sells souvenirs, ornaments, hats, and more.

EmbellishMe (Greenville, SC) – You'll need an appointment, but another piecing and fine jewelry establishment we love, Greenville's EmbellishMe is a must. Just take a peek at our (Christine's) rook piercing and nose ring as examples. Great service; gorgeous jewelry.
Specialty Food & Drink
French Broad Chocolate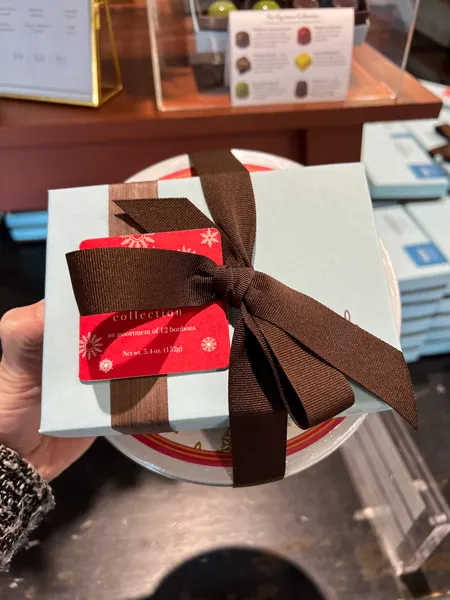 What are the best chocolate shops in Asheville? We love Asheville Chocolate and, of course, the famous French Broad Chocolate Factory (vegan options too!).
They have two locations – Downtown and the River Arts District (RAD) – that are pretty similar except Downtown has more offerings at the cafe and RAD boasts factory tours.
French Broad Chocolate makes some of the best truffles in town, which we eat there as well as bring home by the box as gifts for our families (OK, and also ourselves).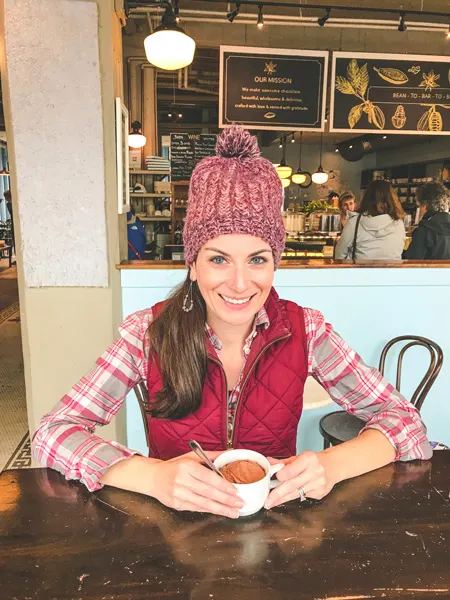 And, don't forget to grab chocolate bars, chocolate-covered coffee beans, and seasonal chocolate creations. While there, take a break and sip an affogato, hot chocolate, or coffee.
We are lactose-intolerant, and French Broad Chocolate has dairy-free options for milk and ice cream – not to mention, they make the best vegan hot chocolate and truffles around.
Discover even more great places to grab dessert around AVL.
French Broad Chocolate | Downtown Lounge: 10 S Pack Square, Asheville, NC 28801 & River Arts District Factory: 821 Riverside Dr #199, Asheville, NC 28801
West Village Market
As a half-Celiac household, you can imagine that eating gluten-free in AVL is pretty important to us – and was another reason why we moved to such a food intolerance-friendly city.
This also means that we search high and low for GF stores in Asheville. Along with large and well-known stores like Earth Fare and Trader Joe's, we love West Asheville's West Village Market.
While the vegan Sunflower Cafe is no longer here, you can still find endless, gluten-free, organic, vegan, and specialty grocery items, including wine and Dare vegan cheese.
They also have grab-and-go deli food sandwiches, salads, and breakfast burritos.
For more gluten-free Asheville shopping, dip into Old Europe Pastries, Asheville cideries like Noble and Urban Orchard, and Black Mountain's Dough House for the best vegan and GF donuts around.
If you are gluten-free, you might also enjoy our gluten-free pizza list (Asheville Pizza and Brewing!) and our gluten-free/gluten-reduced beer list (Ginger's Revenge!).
West Village Market | 771 Haywood Rd, Asheville, NC 28806
Cultivated Cocktails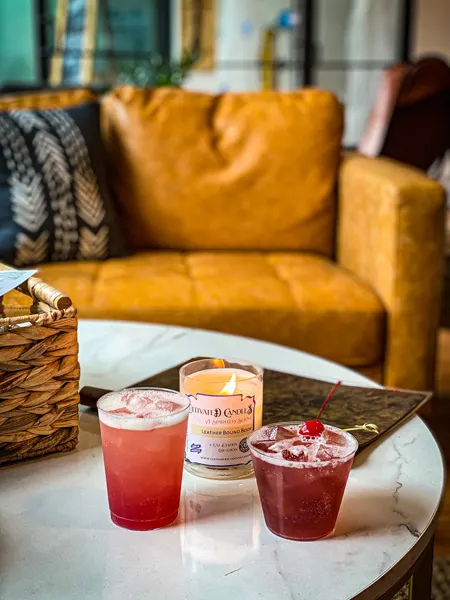 For all of your cocktail-related shopping in Asheville, head to Downtown's Cultivated Cocktails, which is also a great bar.
This is one of our favorite AVL distilleries and spots to grab a drink in the heart of Asheville. Along with their handcrafted cocktails, find anything from cocktail kits and snacks to mixers, glasses, and utensils.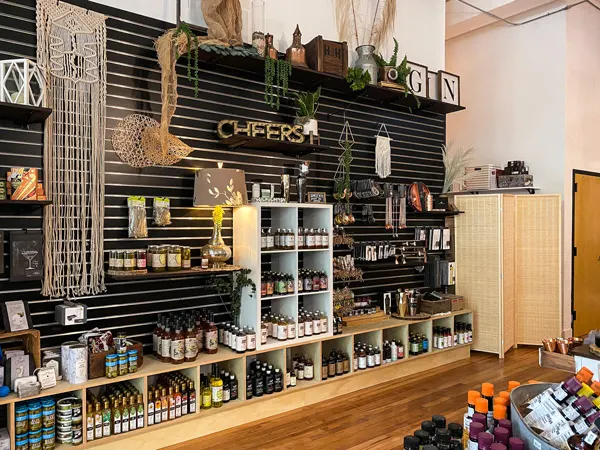 We cannot get enough of their Steel Horse Whisky and coffee liquor, and they also make their own rum, gin, and vodka, which make for great gifts.
On a fun note, we partnered with Cultivated Cocktails to make a few delicious literary bevies for our sister site, The Uncorked Librarian, sharing our love of reading.
If you love drinks, read more about the city's best breweries, many of which sell beer, tees, and cool Asheville gear.
Cultivated Cocktails | 25 Page Ave suite 103, Asheville, NC 28801
More Specialty Food & Drink Shopping Near Asheville
Madison Natural Foods (Marshall) – Grab your picnic snacks for the Laurel River Trail in Marshall, NC. We always stop at this specialty store, which sells organic fruits and veggies, wine, cheeses, and GF and vegan specialty items.

Oak & Grist Distilling Company (Black Mountain) – Along with Cultivated Cocktails, we love Oak & Grist Distillery in Black Mountain. Stop for cocktails, but leave with a bottle of rum or gin. You won't regret it, and know that Black Mountain is full of great places to drink.

Wine Sage & Gourmet (Hendersonville) – Merit, the owner, is the best, and her wine shop/bar is a go-to for a highly curated selection of delicious wines. They also host extremely popular wine and cooking courses, events, and meet-ups. It's one of our favorite wine shops near Asheville.
Gifts & More
Mast General Store Asheville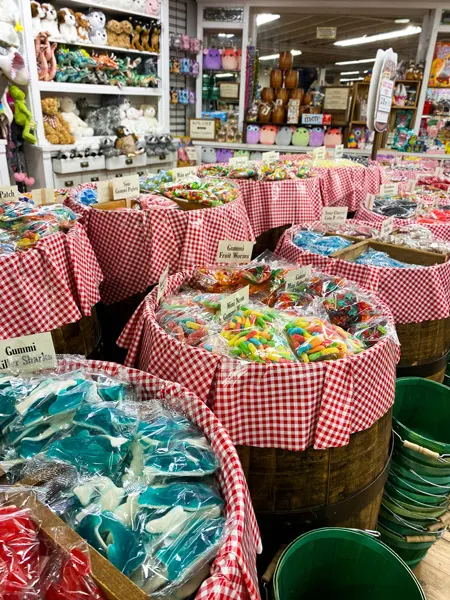 Did you even come to the South if you didn't stop in a Mast General Store? You'll find these stores across Tennessee, South Carolina, and North Carolina.
What is all of the hype about? Well, for Asheville stores this is the mecca; they have pretty much everything you could ever need and are great for families.
Find clothing for adults and children, old-fashioned candy, jam, hats, plushes, games, toys, souvenirs… the list is endless.
It's sort of like a quirky Southern department store that seems to mysteriously and magically suck in all those passing by. The stores are always jumping.
Nearby, head to popular Downtown AVL restaurants like Curate, Itto, Manicomio, Social Lounge/Strada, Posana, and more.
Mast General Store Asheville | 15 Biltmore Ave, Asheville, NC 28801
L.O.F.T. Asheville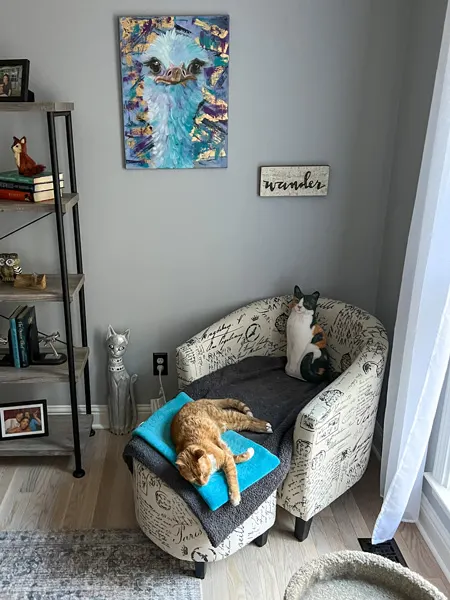 After taking a haunted LaZoom Bus Comedy Tour, we were on the hunt for those dang creepy cool cat pillows in their bar area.
And after months of searching, we found them…
L.O.F.T. Asheville is one of the coolest and most eclectic shops in Asheville for "lost objects, found treasures" like our cat pillow and fox planter.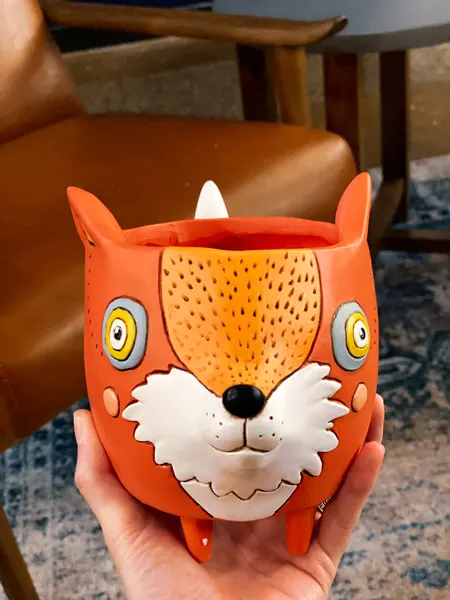 They've got a bit of everything from funky gifts to stickers, party glasses, pillows, clothing, books, candles, cards, ornaments, and stationery.
For quirky Asheville shops, find tarot cards, kitchen supplies, jewelry, and games. It's easy to get lost in L.O.F.T. for a while, especially after a cocktail.
L.O.F.T. Asheville | 53 Broadway St., Asheville, NC 28801
Marquee Asheville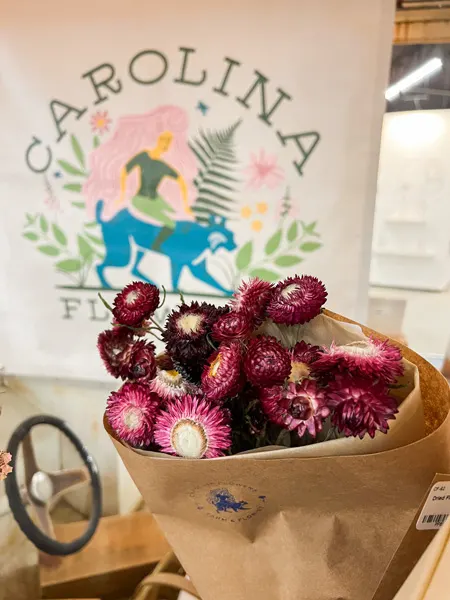 We debated where to drop Marquee on this list – you'll see why – but for the best Asheville shopping for home decor and design, this European-inspired market is a must.
Newer to the River Arts District, and with a conveniently placed bar, shop for local art, plants, vintage Pez dispensers with succulents in them, re-purposed everything, jean jackets, pottery, guitars, and more.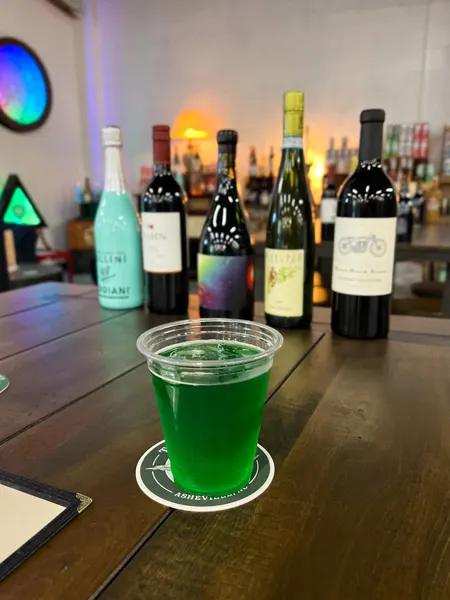 There are antiques, macabre knit animals, jewelry, dried flowers, and even some food specialty items like chips, dips, and cheese.
We honestly recommend grabbing a drink and aimlessly walking around. It's a good time. Some of the stuff you'll love, and others… might just be for entertainment value.
Afterward, enjoy one of RAD's stellar restaurants like 12 Bones or RosaBees.
Marquee Asheville | 36 Foundy St, Asheville, NC 28801
Malls & Shopping Centers
Asheville Mall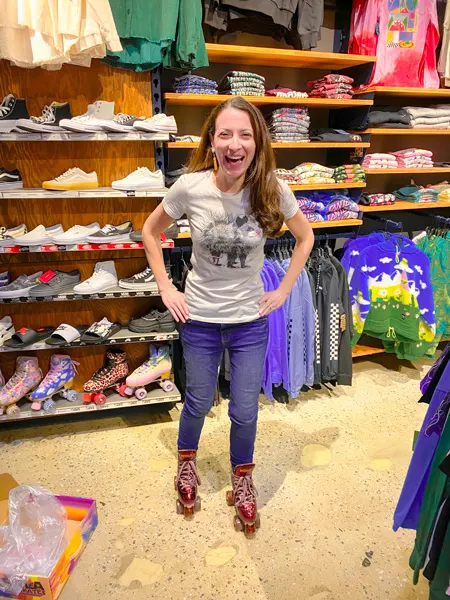 Of course, for the most consolidated area of stores in Asheville, head to the Asheville Mall. We should warn you, though, that this mall is a bit like the Twilight Zone.
For one, even though it's actually really nice inside, much of the time, it's like a ghost mall – we guess everyone does a lot of online and boutique Asheville shopping these days.
And for another, you can head into one of the department stores, Belk, which will loop you back around to the middle of the mall. You'll see…it's bizarre.
Along with food and services like nails, eye care, and car rentals, find your typical retail mall stores.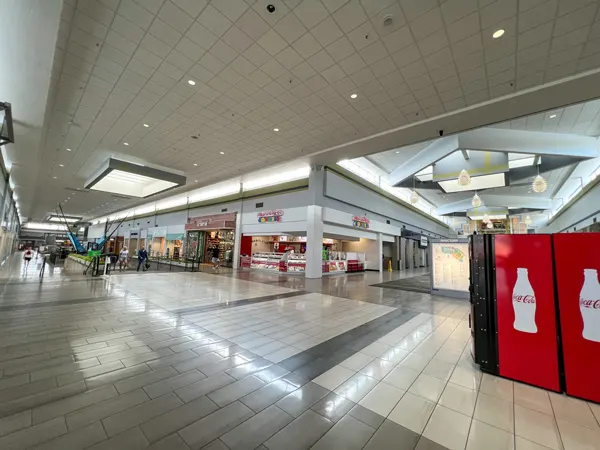 Just a few stores in the Asheville Mall include:
Victoria's Secret
American Eagle
Zumiez
Department Stores: Dillards, JCPenny, Belk, and Sears
Barnes & Noble
Bath & Body Works
Build-A-Bear
Eddie Baur
Shoe Stores: Finish Line, Footlocker, Journeys, Van's
Tunnel Road also houses mainstream Asheville stores like Lowe's, HomeGoods, Walgreens, Ross, and Goodwill.
Asheville Mall | 3 S Tunnel Rd, Asheville, NC 28805
Asheville Outlets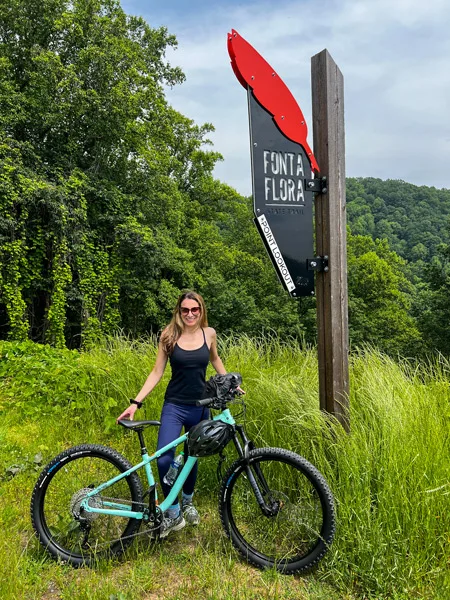 Having lived in Connecticut and Florida, we won't lie: we think the Asheville Outlets are a little pricy for outlets and discount stores in Asheville.
However, we still occasionally shop here, and you might find some great deals.
Just a few popular stores in the Asheville Outlets:
Clothing: Ann Taylor, Banana Republic, J. Crew, Gap, Levi's, Talbots, Under Armour, The Children's Place, and Old Navy

Jewelry & Accessories: Vera Bradley, Pandora, Kay's, Coach, Claires', and Francesca's

Shoes: Sketchers, Nike, Journeys, and Merrell
The Asheville Outlets sit on busy Brevard Road in South Asheville near The NC Arboretum and one access point to popular Blue Ridge Parkway hikes.
Asheville Outlets | 800 Brevard Rd, Asheville, NC 28806
Never Miss Another Asheville Update
---
Tired of generic Asheville travel itineraries? Experience Asheville like a local with our free Asheville Favorites checklist, including restaurants, breweries, and hiking. Plus, get local updates – including events and hidden gems – straight to your inbox. Sign up here.
Best Asheville Shopping Districts & More Stores
Like many happening cities, Asheville is known for its unique neighborhoods, each with its own vibe. Many are full of sought-out restaurants, local pubs, breweries, stores, murals, and just overall feel.
A few sit near huge visitor attractions full of traffic congestion and parking woes – that we all still battle for the best food around – while others remain more residential and local.
Below, find the best shopping in Asheville by neighborhood in case you are having trouble choosing from one of the many shops listed above.
Downtown Asheville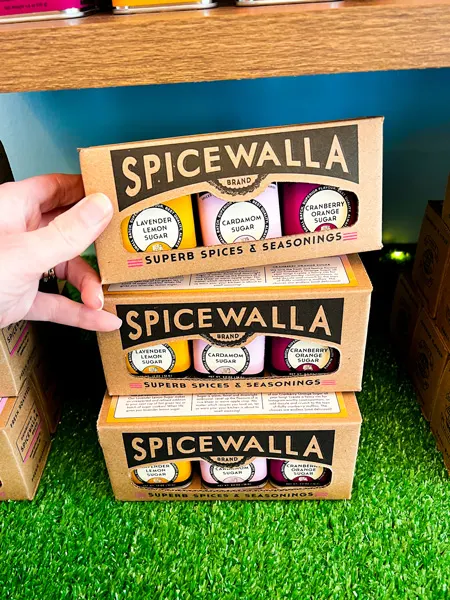 If you are wondering where to find the most boutique stores in Asheville, head Downtown. This area is especially popular if you are in Asheville for a few days or an entire weekend.
Head into the historic Grove Arcade for restaurants and coffee like Bebette's, Asheville Proper, Huli Sue's, and Baba Nahm's.
For Grove Arcade shops, dip into Spicewalla, Battery Park Book Exchange, and Mountain Made Art Gallery.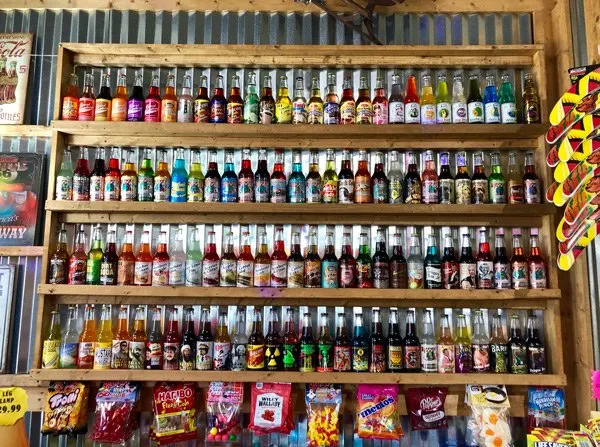 More Downtown Asheville Shops:
Rocket Fizz – Vintage candy and soda pop
Asheville Chocolate – More chocolate, gelato, and coffee options
Hazel Twenty/Lex Twenty Boutique – High-end men's and women's clothing
Asheville Bee Charmer – Small-batch honey, body and skin care, and bee-themed gifts
Dog & Pony Show – Women-owned, curated lifestyle store with home goods and decor
Mentioned Above: L.O.F.T, Malaprop's, Lost and Found, Lexington Glassworks, Moonlight Makers, Bella Fine Jewelry and Piercing, French Broad Chocolate, Cultivated Cocktails, and Mast General
River Arts District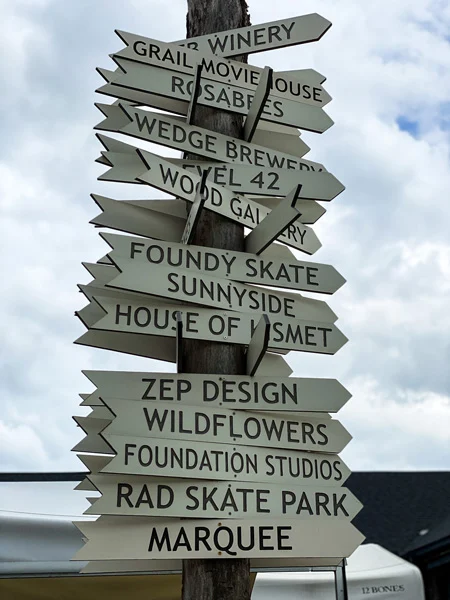 The River Arts District is one of our favorite AVL neighborhoods, perfect if you want to skate the Riverwalk, pop in and out of artist studios, and grab a casual bite to eat.
Watch an indie film at the Grail Moviehouse, one of the best movie theaters in town, and look for the Ruth Bader Ginsburg mural.
Plus, find a plethora of great Asheville shops from locals.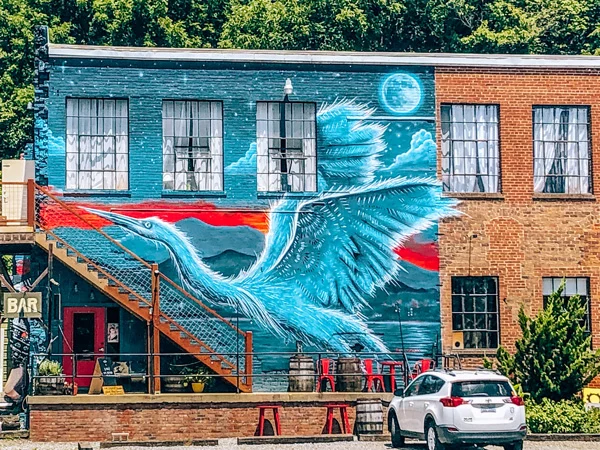 More River Arts District Asheville Shopping Options:
Uncommon Market – Pop-up market filled with art, antiques, jewelry, and more. Be sure to check this market's schedule.
North Carolina Glass Center – Another great glass-blowing shop in Asheville with workshops
Asheville Cotton Mill Studios – Home to numerous artists, photographers, and musicians along with The Asheville Guitar Bar and Guajiro Food Truck
Foundation Studios – A space that serves working artists, peruse a variety of artist stalls filled with pottery, jewelry, photographs, paintings, and more.
Riverview Station – With more than 60 artists and more, shop for plants, art, and more.
Mentioned Above: Marquee, Foundation Woodwords, and Second Gear
Biltmore Village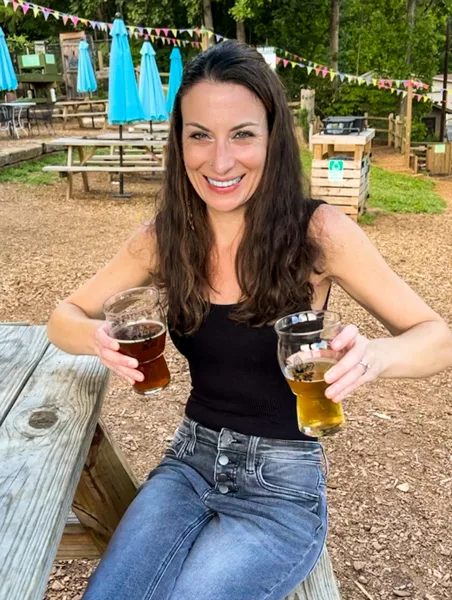 Historic Biltmore Village is popular for its proximity to Biltmore Estate, America's largest home and a historic landmark that visitors flock to.
At its gates, find a variety of boutique Asheville shops and hotels along with jumping Biltmore Village restaurants, including Corner Kitchen, Andaaz, and Well-Bred.
Biltmore Village Shops Include:
Provisions Mercantile – Artisan food, curated gifts, and toys for children and pets
Nest Boutique – Also located in Downtown AVL, find stylish clothing and accessories.
Olde World Christmas Shoppe – It's Christmas every day at this holiday decor store.
Explore all of our Biltmore area guides; we are annual passholders, after all, and find even more delicious restaurants around Biltmore.
West Asheville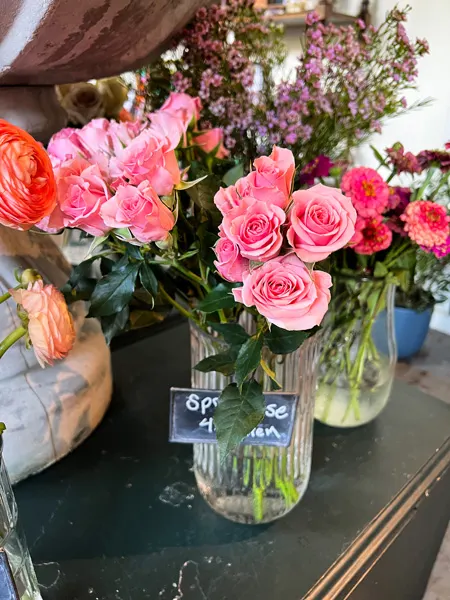 For more of the best shopping in Asheville, the West Asheville neighborhood centers around the hustle and bustle of Haywood Road. Behind the main stretch, find smaller residential communities.
Parking can get a bit tricky over here, but you can usually find something on side streets or in church pay lots.
We most enjoy West Asheville for Haywood Common, Odd's Cafe, and Thai Pearl – the restaurants in West AVL are excellent.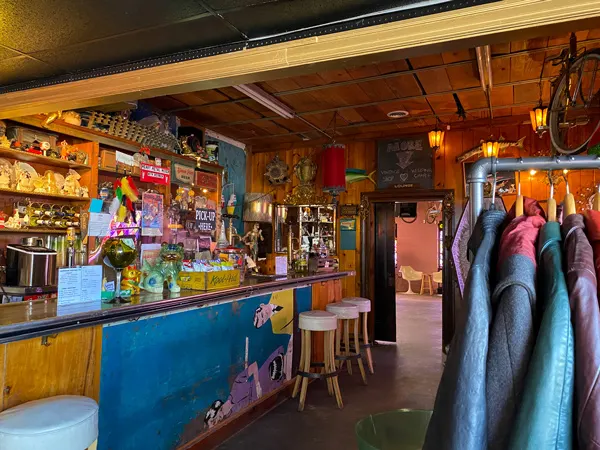 West Asheville Shops We Love:
Flora Asheville – An urban plant shop and tea bar with vases, plants, and more
Firestorm Bookstore Co-op – A radical and feminist co-op bookstore filled with new releases and a children's room
Asheville Goods – Stock up on local Asheville gifts, including food, tea, popcorn, and more.
Fleetwoods Chapel and Bar – Get married, grab a drink, and/or buy a vintage jacket.
Mentioned Above: Orbit, Bagatelle Books, and West Village Market
More popular areas for shopping in Asheville include Biltmore Park Town Square, which has a movie theater, second locations for popular AVL restaurants, and retail stores, and North Asheville, which is home to a variety of specialty (but mainstream) grocery stores.
Nearby Cities & Towns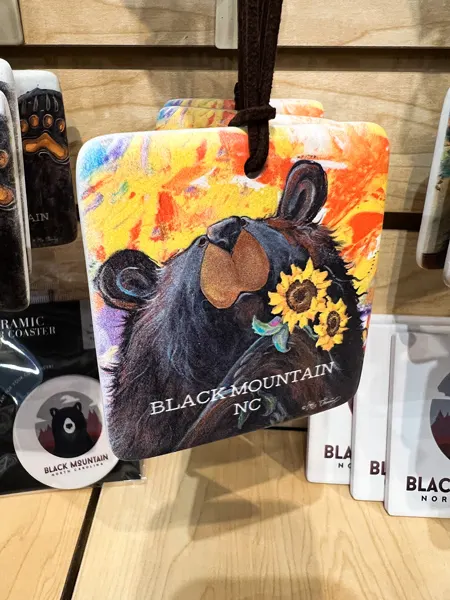 For more shopping near Asheville, head to some of our favorite WNC mountain cities and towns like Weaverville, Black Mountain, and Hendersonville, NC.
At under 1 hour away, all of these make for easy and fun day trips from AVL, filled with shops, hiking trails, breweries, and lesser-known restaurants.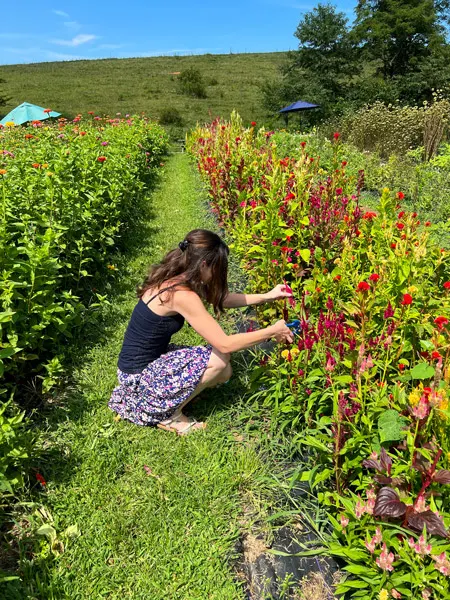 Fun Shops Near Asheville:
Save The Best Shops In Asheville For Later: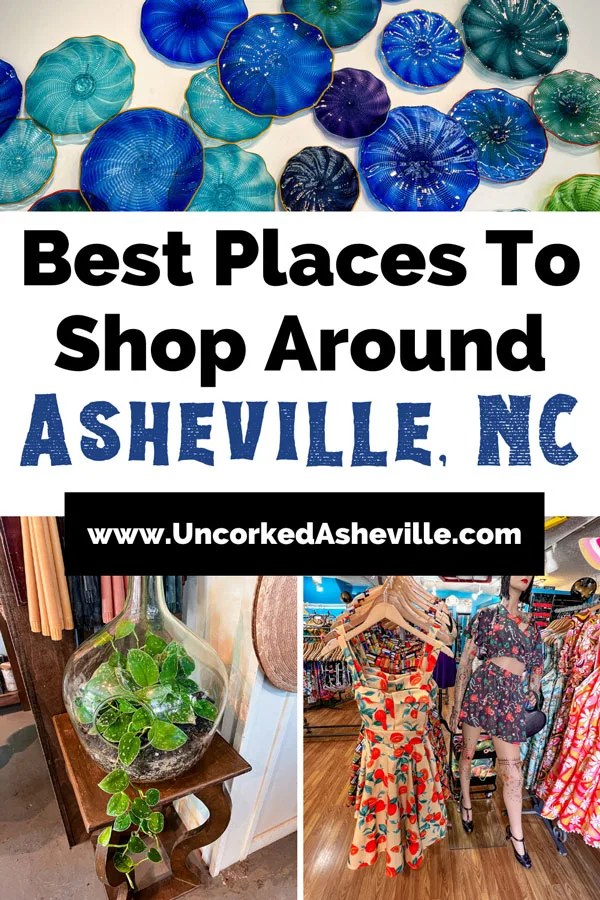 What are your favorite Asheville stores?
Do you have a favorite place to shop in Asheville? Let us know in the comments.
Related Articles: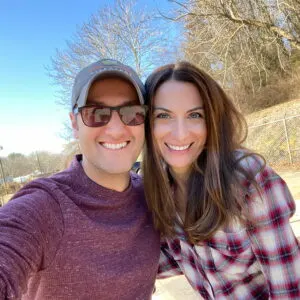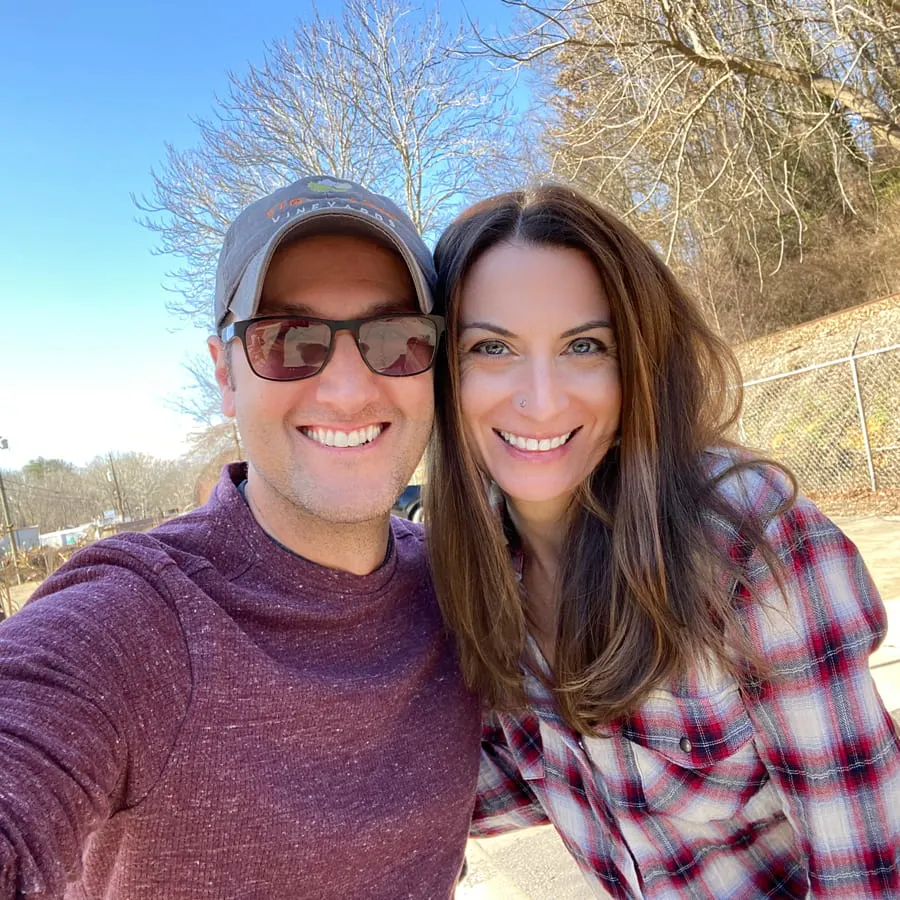 Christine (pronouns: she/her) is the owner and lead writer of Uncorked Asheville. After falling in love with those gorgeous Blue Ridge Mountains, Christine and her husband Tom decided to call Asheville, North Carolina their home. When her pointy Italian nose isn't stuck in a book, Christine is adopting all of the kitties, getting lost in the forest, and drinking an ESB.
Christine has a BA in English and History from Smith College, her MLIS from USF-Tampa, and is a former U.S. Fulbright Scholar - Indonesia. She also owns The Uncorked Librarian LLC with books and movies to inspire travel.