From Asheville locals and Biltmore passholders, decide if getting a Biltmore Annual Pass is right for you.
As America's largest home and the former residence of George and Edith Vanderbilt, Biltmore Estate is one of Asheville's most popular attractions.
It is also one of the pricier ones, and many people debate if they should visit at all, buy a one-time ticket, or purchase an annual pass.
Before moving to Asheville, we bought a Biltmore daytime ticket to take a house tour, walk the gardens, grab lunch in Stable Cafe, and wine taste at Biltmore Winery.
We had never been, and we immensely enjoy historical sites and museums; plus, George's library is pretty spectacular to these bibliophiles.
Needless to say, it was a great day and well worth that ticket price. We could have stayed for hours, and there was so much more that we still wanted to do.
Once we moved to AVL, we immediately knew we'd be purchasing Biltmore annual passes because of our great experience (and to save money in the long run).
It's safe to say that we've renewed our passes every year since.
Below, discover our top reasons for getting a Biltmore Estate annual pass, two of which include unlimited access to the hiking and biking trails and frequent dining on the estate.
We also appreciate our Biltmore passes for discounts on special exhibits and events as well as shopping purchases at Antler Hill Village.
So, keep reading to see if a Biltmore Estate annual pass is right for you – and have all of your questions answered about cost, access, and more. Let's get started.
Explore all of our guides to Asheville's Biltmore Estate.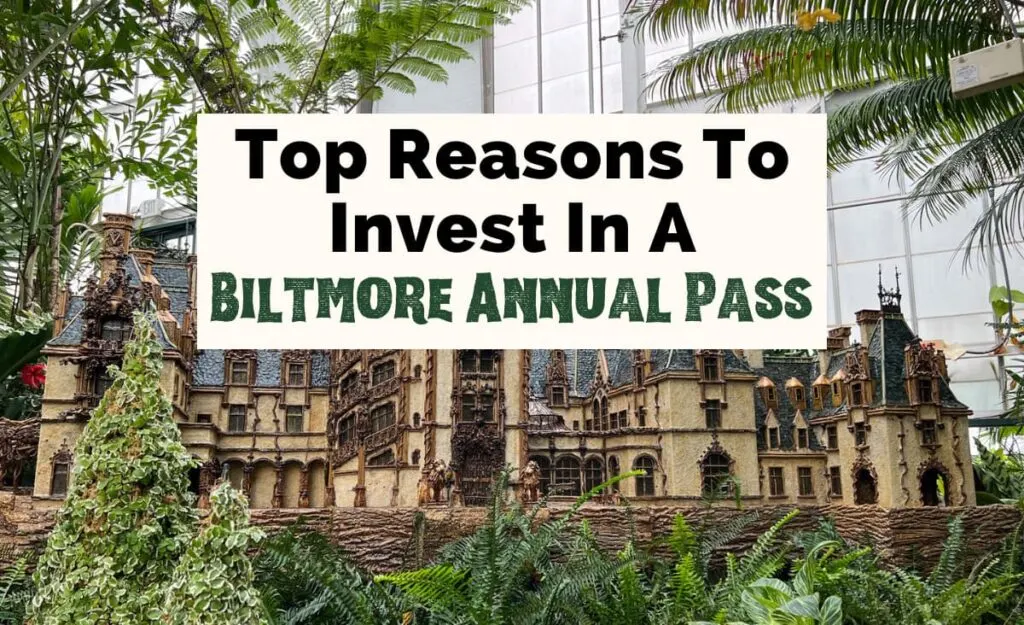 This post may contain affiliate links that earn us a commission at no extra cost to you. If you love these guides, support Uncorked Asheville here.
10 Best Reasons To Get A Biltmore Annual Pass
1. Flexibility To Visit The Estate When You Want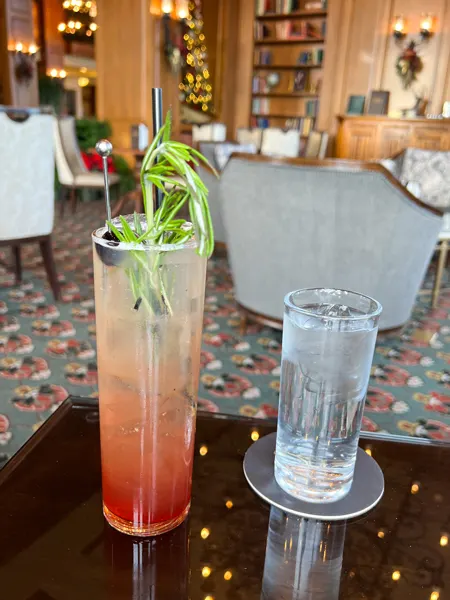 Yes, there was that time when we honeymooned in Greece and Turkey – changing hotels, cities, and islands almost every day – and we quickly caught colds and were exhausted.
We've overbooked and overfilled our vacations so many times – and canceled tickets and plans more times than we can count now – that we've changed tactics.
We appreciate having rest days, buffers, and only a few "must-see" attractions booked in advance, winging it as we go.
Which is part of the reason why Biltmore annual passes are perfect for travelers like us: there is so much flexibility as a passholder.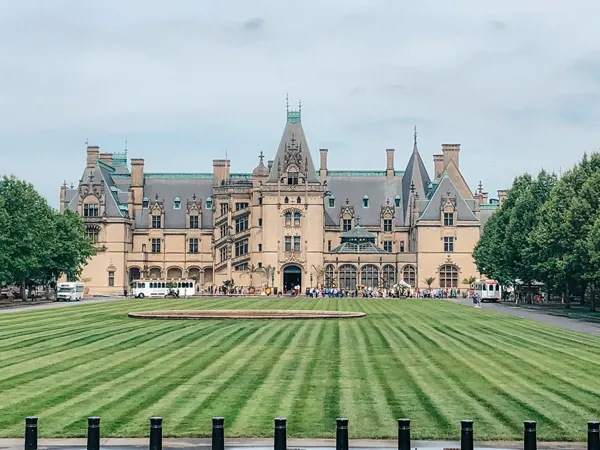 Yes, we still have to select our Biltmore House tour time in advance, but we can hike, stroll the gardens, dine, and enjoy the rest of the estate whenever we want (during operational hours, of course).
For locals like us, this flexibility is convenient; heading to Biltmore to stroll the gardens for the afternoon is just like waking up and deciding to walk the RAD Riverwalk.
And for travelers who have visited the estate before, if you just want to walk the grounds, shop in Antler Hill Village, and try your luck at grabbing a table at Cedric's without reservations, you can with a Biltmore pass with little to no planning.
2. Free Access To Hiking & Biking Trails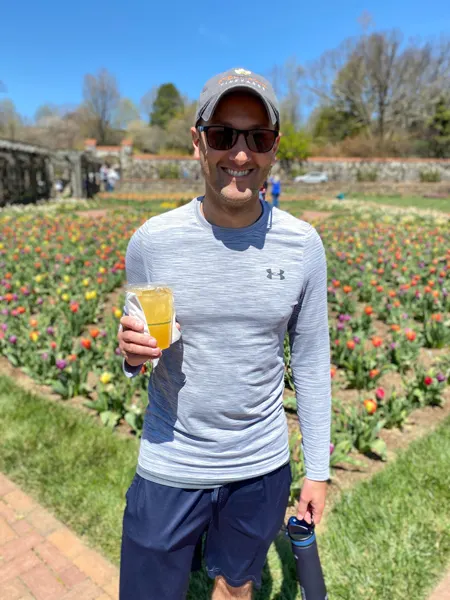 The number one reason why we are Biltmore passholders each year is unlimited access to the 22 miles of hiking and biking trails.
We love mountain biking in the WNC Mountains, and Biltmore has numerous trails varying in lengths and difficulties across the property for a more vigorous workout or scenic ride.
Since we live in Asheville, it's easy for us to bring our bikes, but if you are from out of town, rent bikes for all ages at Biltmore's Bike Barn, which is open seasonally.
If biking riding isn't your jam, though, Biltmore has plenty of gorgeous walking trails, including short and easy hikes perfect for the entire family.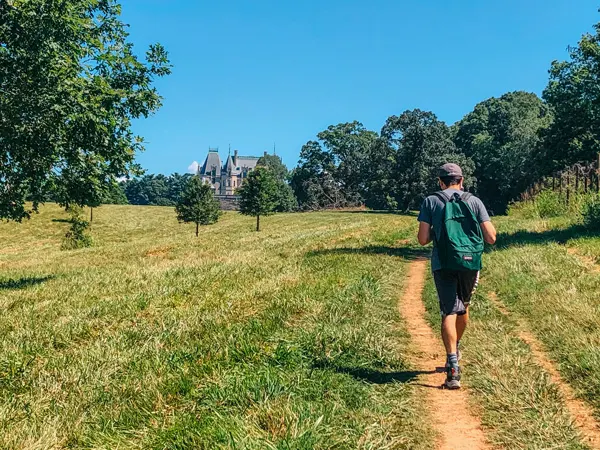 Our personal favorite trek involves parking either right before the Lagoon Trail, or even at Antler Hill Village, and walking up the Deer Park Trail to the side of Biltmore House and the fabulous gardens.
Stop at the Lagoon to see Biltmore from afar too. You'll hear the geese before you see Biltmore Lagoon.
Or, head out behind Antler Hill Village for the Westover Trails; these take you into the forest and closer to the Inn.
Find trail maps and all rental information on Biltmore's website here.
Discover more fun things to do at Biltmore Estate with a Biltmore Estate annual pass, and find even more top Asheville hiking trails.
3. Unlimited Access To Biltmore Winery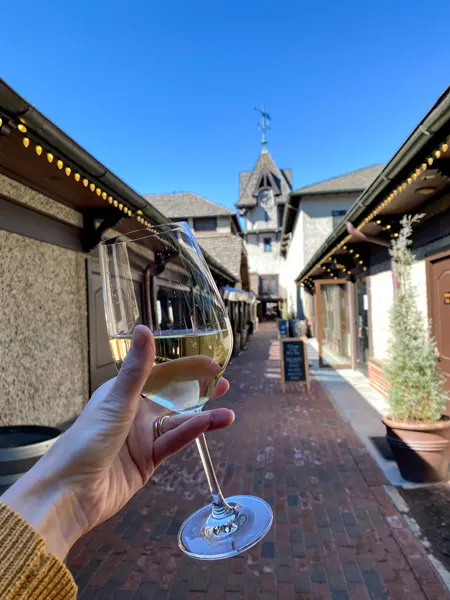 True to our namesake, we love boozy travels, and Biltmore boasts one of the most famous wineries in and around Asheville.
Although wine-tasting reservations are required (a newer policy) – even with a Biltmore annual pass – if you've been to Biltmore before and/or don't wish to wine taste, enjoy the shop and Biltmore Wine Bar anytime you like.
And, while we find many of Biltmore's wines at local grocery stores like Ingles, Biltmore also produces quite a few reserves that can only be purchased on-site.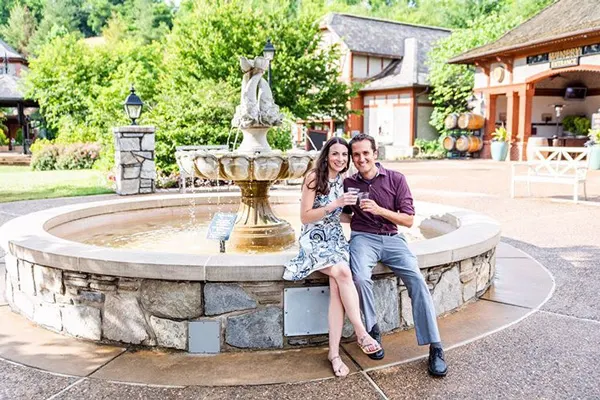 Dip into the shop and peruse the shelves for limited-release, reserve, classic, and newly-released wines.
We also drop into the wine shop a few times a year to pick up holiday gifts for our families. Think wine, ornaments, and souvenirs – at a discounted Biltmore passholder rate.
Not to mention that Biltmore houses one of Asheville's top wine bars serving bottles, charcuterie, flights, and glasses, perfect for people-watching outside in Antler Hill Village.
4. Passholder Appreciation Perks For A Weekend Staycation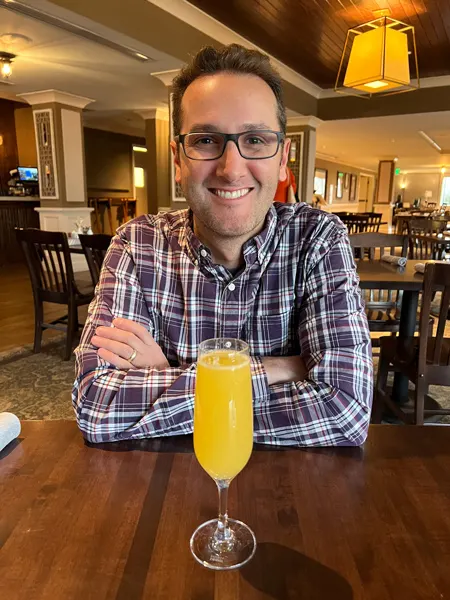 Who doesn't love weekends in Asheville and the breathtaking Blue Ridge Mountains?
Even though we live 15 minutes from Biltmore Estate, sometimes we just need a little pampering and a luxury staycation, which is one reason why having Biltmore annual passes is so great.
We reap the benefits of Biltmore Passholder Appreciation months – typically from January through March – where accommodations, dining, and shopping are heavily discounted.
Late winter is also the off-season for Asheville when crowds die down and locals sneak out to popular restaurants and trails with little to no wait or crowds.
Biltmore quiets down too, and one of the fabulous Biltmore annual passholder benefits is booking a room at the Village Hotel or Inn at Biltmore with a 10% – 30% discount on top of the already lower rates.
How do you choose, though?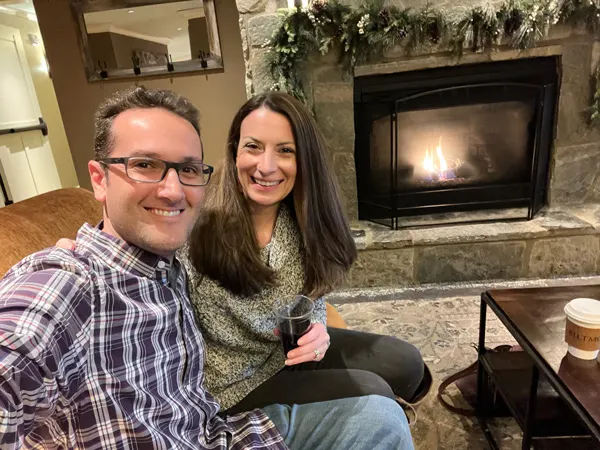 Village Hotel is centrally located in Antler Hill Village. A moderately-priced hotel, we treated ourselves to an overnight here full of wining and dining.
Enjoy the pool, Village Social – a cozy pub serving breakfast, lunch, and dinner – and The Kitchen Cafe, which is a great stop upon your arrival for a specialty latte.
Or, go all out at The Inn On Biltmore Estate, Biltmore's truly luxury hotel. Here, each suite is named after one of George Vanderbilt's friends or relatives.
We enjoy the Inn's sleek Library Lounge – one of the classiest bars in Asheville, featuring an impressive wine selection, handcrafted cocktails, decadent desserts, and sharable bites.
Find even more great accommodations around Asheville.
5. Discounts On Events, Exhibits, Guest Tickets, Food, & Overnights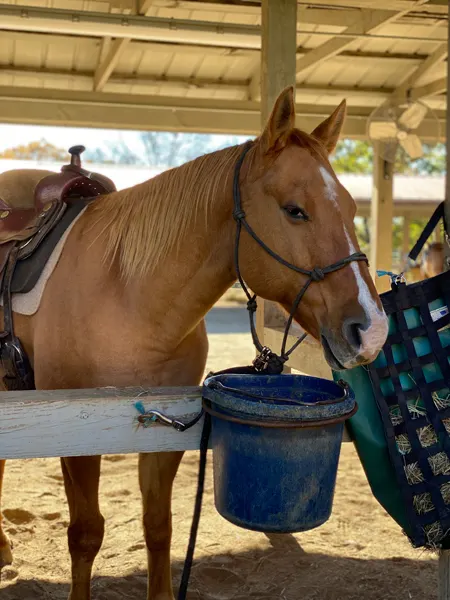 Which, along with Passholder Appreciation months, one of the best reasons to snag a Biltmore annual pass is all of the year-round discounts.
A few Biltmore passholder discounts include:
Ticket discounts for guests – Save on adult admission tickets for family and friends. Sometimes, Biltmore will even run a special promotion where you get two free tickets for guests that year.

Free admission for youth 16 and younger who accompany you on the property.

Dining – While Biltmore will not discount any alcohol consumed on the property, enjoy discounted meals at Biltmore's numerous restaurants. Plus, after 5 PM – and with advanced reservations – bring non-ticketed guests to dinner with you.

Shopping, exhibits, activities, tours, and events – There is so much to do at Biltmore, and many of these activities are discounted with a Biltmore Estate annual pass. We attend special exhibits – like Van Gogh Alive – at a discounted price. Or, enjoy a special Biltmore tour such as the Wine & Chocolate tour.

Lodging – When it's not Passholder Appreciation time, still enjoy 10% off of Biltmore's accommodations.

Biltmore Annual Pass Renewals – Once you are a passholder, it's much cheaper to renew passes each year (usually less than half the price!).

Discount on other area attractions – Save on other area attractions like Grandfather Mountain, Dollywood, and Chimney Rock State Park.
Please always double-check all Biltmore passholder benefits on their website here, as they are subject to change.
6. Delicious Dining Options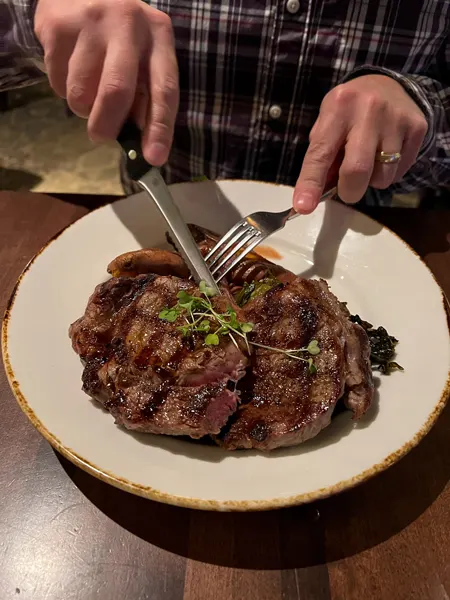 With a nickname like "Foodtopia," it's no surprise that Asheville is full of unforgettable dining experiences, including places like Bouchon, Edison, and La Bodega.
Did you know that Biltmore has plenty of delicious restaurants too?
Whether you enjoy fine dining or want to grab something and go, Biltmore offers something for everyone, which is another perk of Biltmore passes.
Not only do Biltmore passholders get that awesome dining discount, but enjoy unlimited access to the estate's restaurants.
Of course, especially during peak season, you still might need advanced dining reservations.
Our pro tip is to even check OpenTable throughout the day while on the property for last-minute cancellations – if you didn't plan ahead like us.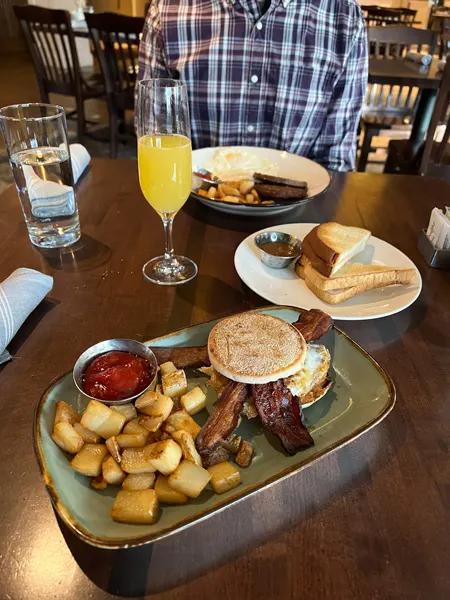 With so many places to eat at Biltmore, we still have our favorites:
For taverns and pubs in Asheville, you cannot go wrong with Village Social or Cedric's Tavern. Cedric's is a tribute to the Vanderbilts' beloved Saint Bernard.
At Cedric's, enjoy burgers, fish and chips, and Southern favorites with a few vegan, vegetarian, and gluten-free options.
Village Social and Stable Cafe are two family-friendly Asheville restaurants. Plus, who doesn't want to dine in the former horse stables (it's a neat experience)?
Village Social promises a little bit of everything, serving all three main meals, and Stable Cafe is your go-to for sandwiches and Southern platters.
7. Endless Visits To The Gardens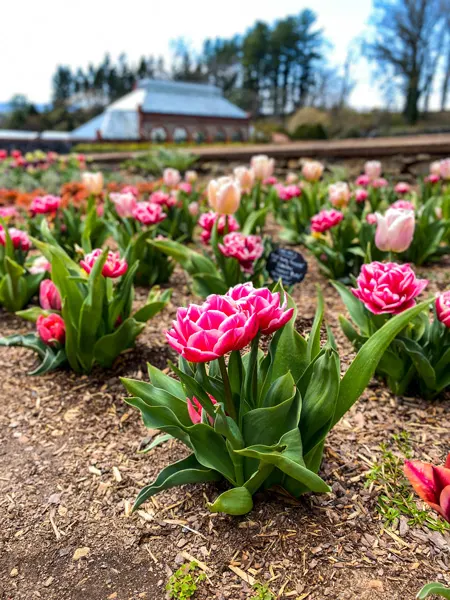 While we have talked about the pros of Biltmore annual passes for unlimited hiking and biking access, the gardens deserve their own feature, especially for those vibrant Biltmore Blooms.
As annual passholders, we can enjoy Biltmore's beautiful gardens any time we like, which is quite a lot.
From about March through October, spy something unique and breathtaking in one of Biltmore's six formal and informal gardens.
We most appreciate the Walled, Shrub, Azalea, and Spring Gardens, which sit close to Biltmore House and were designed by Frederick Law Olmsted.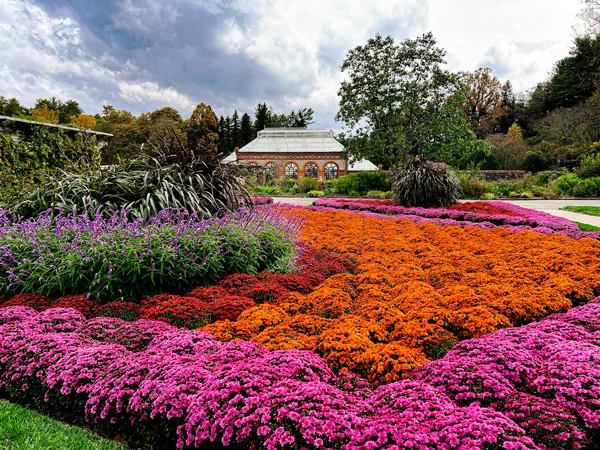 You'll know spring has arrived in Asheville when the Biltmore tulips and daffodils bloom in the Walled Garden around March to April.
In early summer, the roses burst open, and throughout the year, enjoy Biltmore Conservatory which houses many colorful tropical plants.
Spy orchids and cacti along with a model of Biltmore House.
Behind the Conservatory, be sure to check out the little food stand too. Along with rehydrating with water, we enjoy their limoncello spritzer while strolling through the blooms.
Discover even more peaceful parks and gardens in Asheville.
8. More Fun For The Entire Family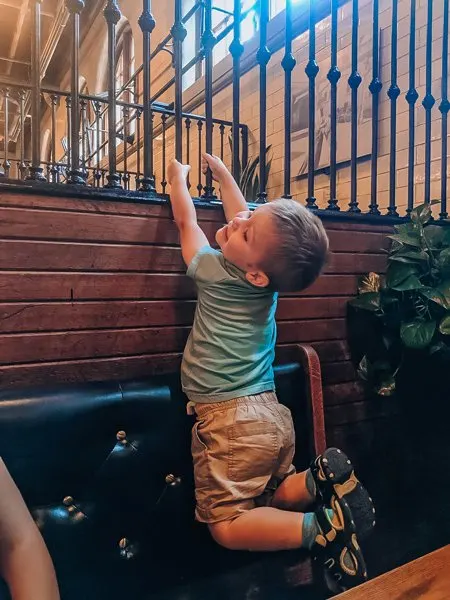 While a big, old, and potentially creepy house might not seem like the best place to take kids, there are plenty of kid-friendly things to do at Biltmore.
Made even more accessible with a Biltmore annual pass, think ice cream dates at the Creamery, bike rides along Biltmore Lagoon, and petting the horses in the farmyard.
Meet baby chicks, and play on the large wooden playground. Learn about how people lived in the past with the special reenactments in Antler Hill Village.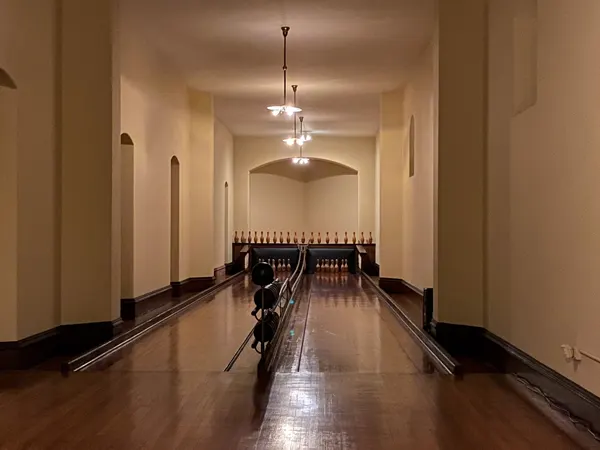 Dine at Stable Cafe, and even enjoy a kids' audio tour of Biltmore House – at your own pace.
And, if you are taking the littles into Biltmore House, be sure to check out the bowling alley, pool, and gym. Those are always a big hit.
If you have to cut your visit short, there's no money wasted with Biltmore annual passes since you can always come back.
Discover even more fun things to do with kids around Asheville.
9. A Great Way To Spend The Winter Holidays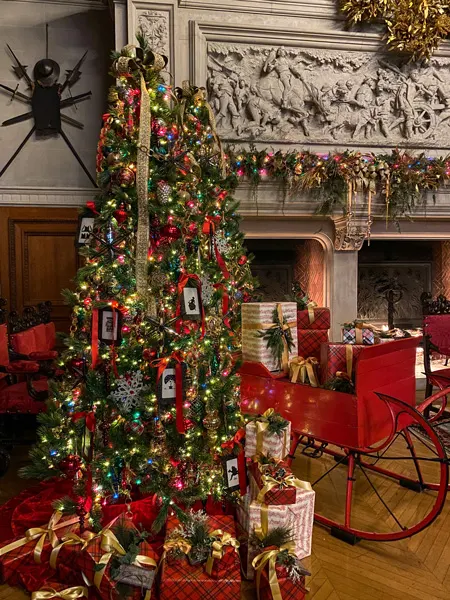 Christmas in Asheville and the Blue Ridge Mountains is magical.
Visitors and locals alike can go skiing in nearby Maggie Valley, find holiday lights across the city, and witness the Grove Park Inn's famous Gingerbread House Competition.
Of course, Biltmore goes all out for Christmas too – and the estate looks like thousands of Martha Stewarts descended upon the property.
Rooms light up with intricately decorated Christmas trees, wreaths, and garlands.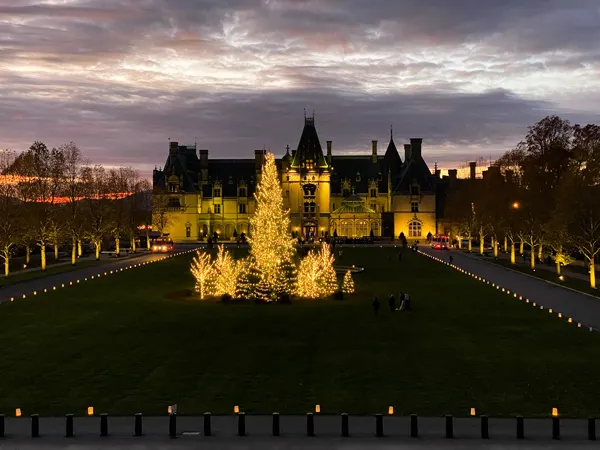 Fireplaces blaze throughout the house with gentle harp and guitar music in the common areas, and there's usually a gingerbread Biltmore House model hanging out in the kitchen.
Notably, Biltmore passholders receive discounts (with some restrictions) on Biltmore's special Candlelight Christmas Evenings, which is a must at least once.
Plus, Stable Cafe opens for a pre-set three+ course dinner, which is pretty romantic for couples.
Antler Hill Village lights up too, and you might just catch a unique international train depot display. Of course, Biltmore is also a great place for safe and easy winter hiking too.
Discover even more winter events and activities around Asheville.
10. Special Passholder Emails & Invitations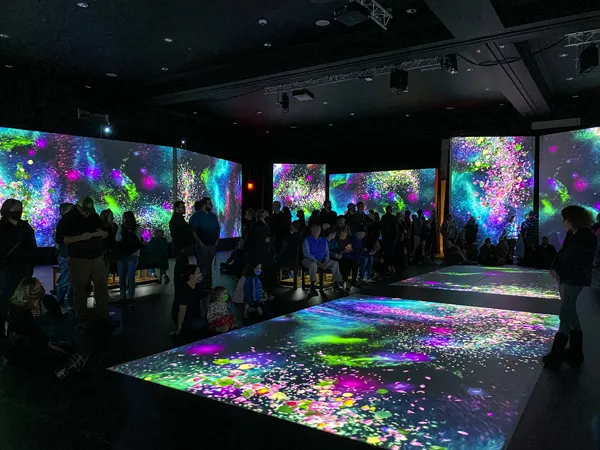 Biltmore passes come with a few more bonuses – if you don't mind emails.
Passholders receive a free online subscription to Ambassador magazine, which has insider tips, upcoming events, discounts, and more.
We also receive emails about special promotions, new exhibits, and upcoming and special events – like Mother's Day brunch – that we might have otherwise missed.
Emails have special dinner and shopping invitations too.
Occasionally, they send great Biltmore blog articles in newsletters, including cocktail recipes with their wines and fun facts about George Vanderbilt's library.
Never Miss Another Asheville Update
---
Tired of generic Asheville travel itineraries? Experience Asheville like a local with our free Asheville Favorites checklist, including restaurants, breweries, and hiking. Plus, get local updates – including events and hidden gems – straight to your inbox. Sign up here.
Frequently Asked Questions About Biltmore Annual Passes
What does the Biltmore Annual Pass include?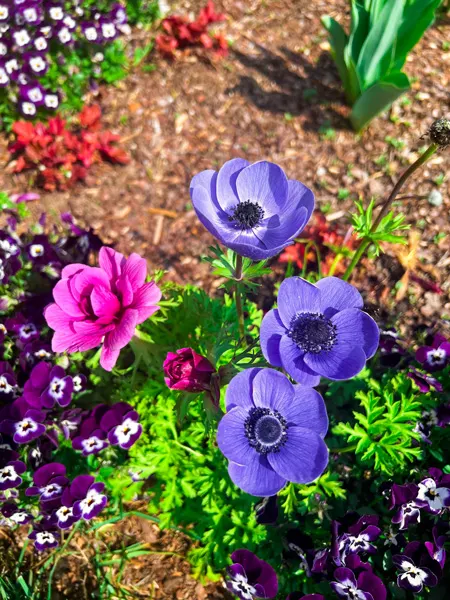 Biltmore passes include unlimited daytime visits to the Biltmore House as well as the grounds and gardens for one year from your date of purchase.
This includes free parking for one vehicle.
Passholders also receive access to all exhibits and special displays at Biltmore – but may have to pay a discounted rate for certain events and special exhibits.
Annual passholders also receive special promotions like Passholder Appreciation months along with regular discounts on dining, events, shopping, accommodations, and activities.
Even better, passholders receive discounts for friends and family.
Of course, there are a few restrictions on passes; always double-check the rules and limitations on Biltmore's website.
How much does a Biltmore Estate Annual Pass cost?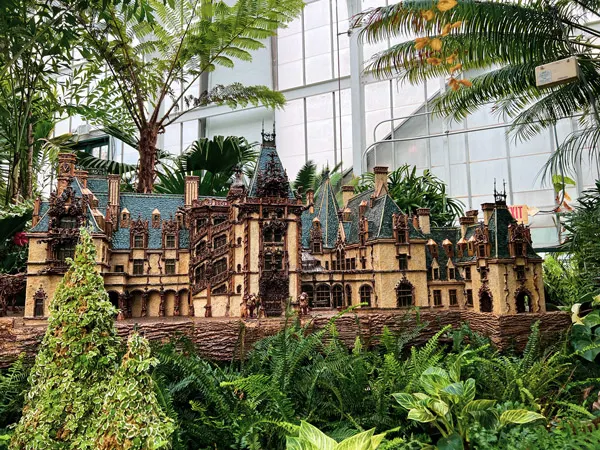 Annual passes range in price, especially if Biltmore is running a promotion.
Generally, one annual pass costs around $299, and when Biltmore has a special promotion, the price drops as low as $200.
For renewal each year, we tend to pay around $139 for each of our passes – and we definitely get that back in how much we use them.
How long is a Biltmore Annual Pass valid?
Biltmore passes are valid for one year from your date of purchase.
How many times can I visit Biltmore Estate with an annual pass?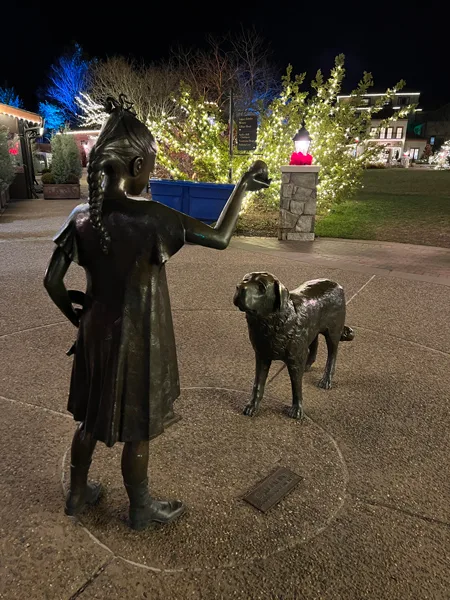 Biltmore passholders can visit Biltmore Estate as many times as they wish while their passes are active/current.
However, some activities require additional purchases or advanced reservations, including special events, house access, and Candlelight Christmas Evenings.
Are there any other restrictions on annual pass visits, such as blackout dates or limited access to certain areas of the estate?
Unlike our Disney annual passes, we have yet to see Blackout dates with Biltmore passes. When the Estate is open, we've been able to go (and Biltmore passholders get a little early and late access too).
Of course, there may be occasional or necessary closures and restrictions due to maintenance, weather, preservation work, and other non-disclosed reasons.
How do I purchase a Biltmore Annual Pass?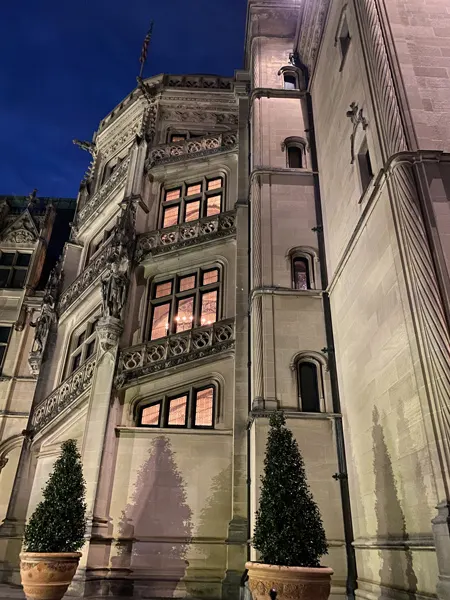 The easiest way to purchase a Biltmore Estate annual pass is on Biltmore's website.
When we bought our passes online, we took our receipts to Guest Services to have our photos taken and cards printed. Then, each year we renew online.
Visitors may also purchase annual passes at the Reservations Ticketing & Sales Center at the estate's entrance or call Biltmore Estate at 800-411-3812.
How do you renew a Biltmore Annual Pass when it expires?
We renew our Biltmore passes online at biltmore.com – and Biltmore will send you an email reminder.
You can also renew via the Biltmore Passholder Priority Line at 800-413-9787 or visit their guest services or ticketing center.
Biltmore Estate Contact Information
Address: 1 Lodge St, Asheville, NC 28803
Website: https://www.biltmore.com/
Phone Number: 1.800.411.3812
Save This Biltmore Passholders Guide For Later: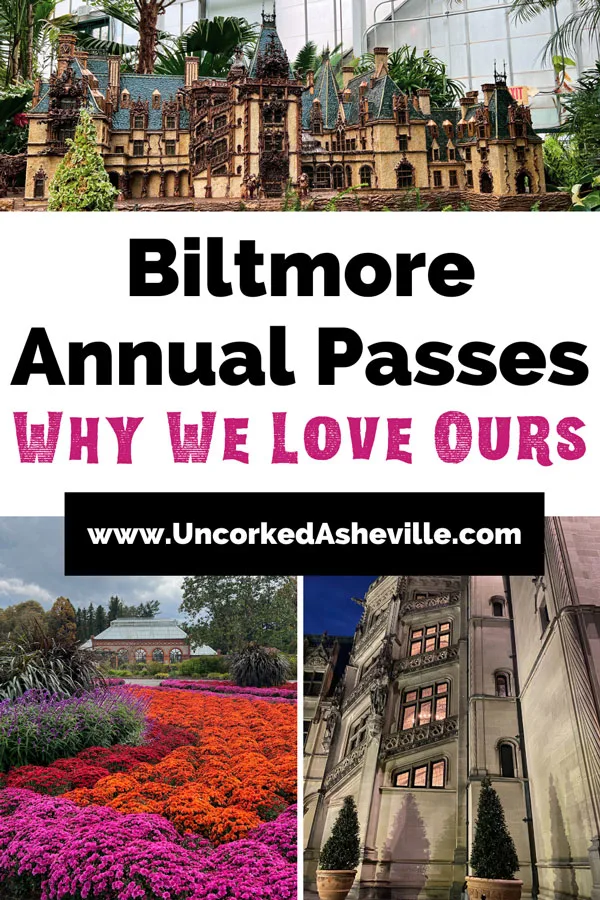 Biltmore Estate Accommodations
Village Hotel – This property is centrally located with moderate prices and spa access. We stayed here and loved it. This is the hotel you see next to Biltmore Winery and Antler Hill Village. The Village Hotel has a pool and houses Village Social, a delicious breakfast, lunch, and dinner restaurant perfect for the entire family. Plus, enjoy The Kitchen Cafe for lighter fare and specialty lattes.
The Inn On Biltmore Estate – The Inn On Biltmore Estate is a gorgeous luxury hotel. The Inn has the most conveniences including those requested mountain views. Each suite is named after one of George Vanderbilt's friends or relatives. Next to the lobby, enjoy the Library Lounge with a huge wine selection, cocktails, desserts, and sharable bites.
Where To Stay Around Biltmore Village
Grand Bohemian Hotel Asheville – Located just a minute from Biltmore Estate's gates, this is a beautiful luxury hotel modeled off of a 19th-century hunting lodge. Home to the Red Stag Grill – a sleek and unique restaurant – fall in love with the blazing fireplaces, chandeliers, and endless modern amenities.
The Residences at Biltmore Asheville – Less than half a mile from Biltmore, enjoy these luxury condos complete with a full-sized kitchen, gas fireplaces, and an outdoor seating area. Find an on-site restaurant, Azalea Bar & Kitchen.
Courtyard Asheville Biltmore Village – Our friends have stayed at this newer 3-star, budget-friendly Biltmore Village hotel with free parking and bike rentals. It's in a great location, has an on-site restaurant, The Bistro, and boasts a pool.
Read more about where to stay in Asheville.
Are Biltmore passes worth it?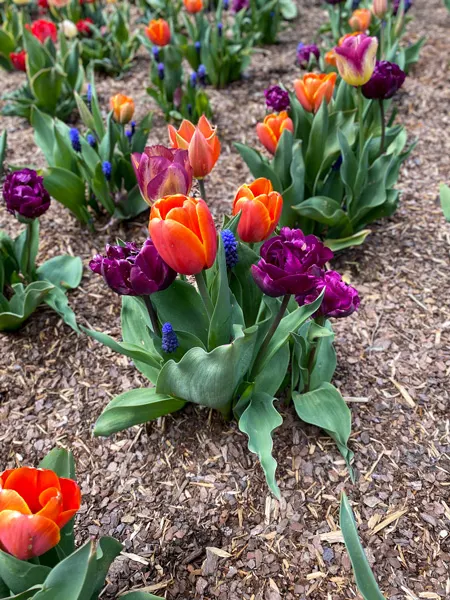 So, are Biltmore annual passes worth it? As Asheville locals, we think so – whether you are a short or long-term visitor or area resident.
We've had Biltmore passes ever since we moved to Asheville, and we continually renew ours every year for access to the hiking and biking trails, winery, special exhibits and events, and restaurants.
Biltmore keeps us endlessly entertained and puts us in the seasonal spirit, whether it be spring with the Biltmore blooms or winter with Candlelight Christmas Evenings.
We are appreciative that such a large tourist attraction can also be a fun place for locals to go in the off-season to refresh and get outside.
You May Also Enjoy:
Facts About Biltmore Estate
Restaurants Near Biltmore Estate
Biltmore Village Restaurants
Top AVL Museums & Historic Sites
Asheville Things To Do Guide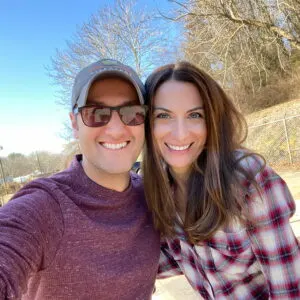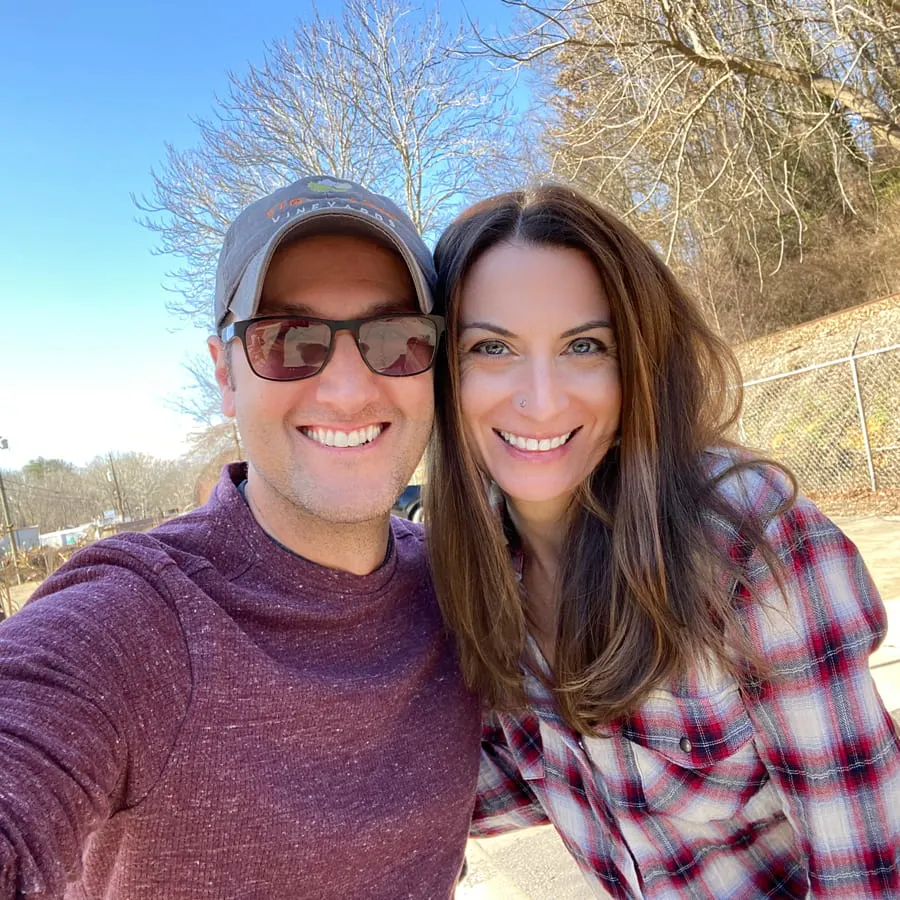 Christine (pronouns: she/her) is the owner and lead writer of Uncorked Asheville. After falling in love with those gorgeous Blue Ridge Mountains, Christine and her husband Tom decided to call Asheville, North Carolina their home. When her pointy Italian nose isn't stuck in a book, Christine is adopting all of the kitties, getting lost in the forest, and drinking an ESB.
Christine has a BA in English and History from Smith College, her MLIS from USF-Tampa, and is a former U.S. Fulbright Scholar - Indonesia. She also owns The Uncorked Librarian LLC with books and movies to inspire travel.