From locals and annual passholders, enjoy the best Biltmore Estate restaurants, cafes, dessert shops, and wine bars.
As one of Asheville's most popular attractions and America's largest home, visiting Biltmore Estate is a must, at least once.
In fact, as locals, we are Biltmore annual passholders because we love the special art and history exhibits as well as the gorgeous grounds filled with over 22 miles of hiking and biking trails.
Not to mention the delicious Biltmore restaurants, bars, and after-dinner treats along with holiday events and decorations.
Did you know that you can eat lunch in the Vanderbilt family's former horse stables, sip cocktails in a library, graze on charcuterie in the sun, and pay homage to their beloved Saint Bernard over housemade pickles?
We also understand that for first-time visitors – and non-passholders – the estate can seem a bit overwhelming, at first. There is so much to explore and squeeze into a day.
Plus, enjoying the restaurants at Biltmore Estate can get a little tricky, especially if you didn't make advanced reservations during the peak visitor seasons.
However, sometimes, there are openings, and not every Biltmore restaurant requires a lot of planning. There are plenty of ways to enjoy Biltmore's foodie scene.
So, keep reading to plan ahead for dining at Biltmore as well as to know what to expect, when to make those reservations, and even what to order. Let's get started!
*Please remember that in order to dine at a Biltmore Estate restaurant, you must be an annual passholder, have a daytime ticket to enter the grounds, or be staying overnight on one of their properties.
Always double-check all information with Biltmore as well. Some establishments have dress codes or exclusive access.
Explore all of our Biltmore Estate Guides, including facts, history, tours, itineraries, and more!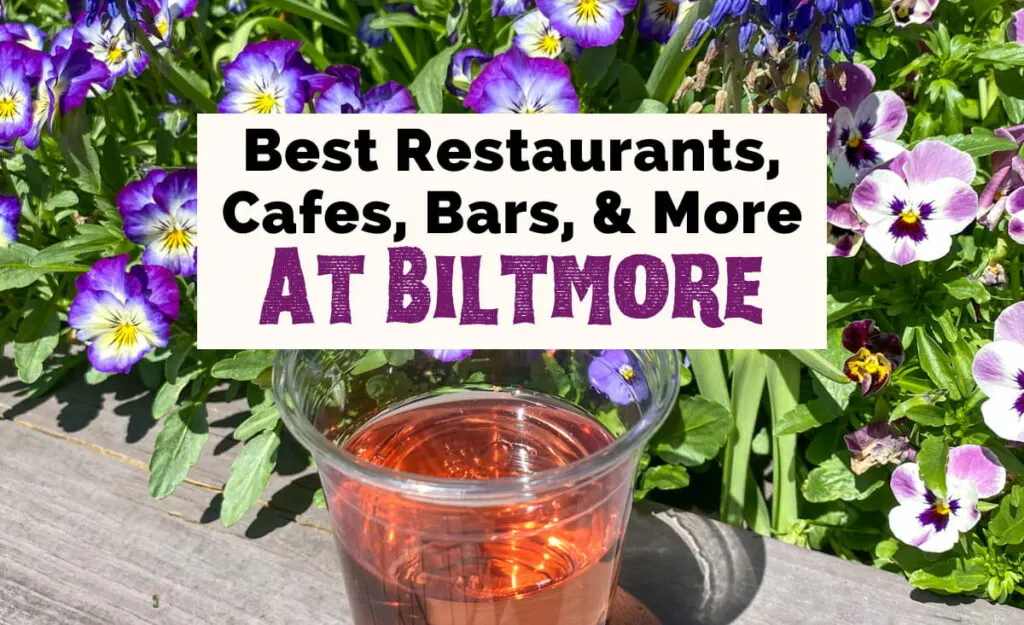 This post may contain affiliate links that earn us a commission at no extra cost to you. If you love these guides, support Uncorked Asheville here.
8 Best Biltmore Estate Restaurants, Cafes, & Bars
1. Cedric's Tavern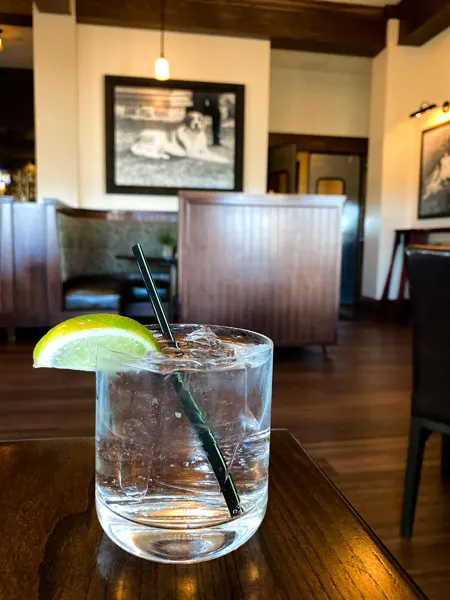 As animal (and pickle) lovers, Cedric's is one of the most memorable Biltmore restaurants, perfect if you enjoy cozy taverns, delicious and fairly priced bites, and seasonal cocktails.
And, if you've toured Biltmore House, you might remember that Cedric was the Vanderbilts' beloved Saint Bernard.
Not only is there a statue of the big guy playing with Cornelia out front, but his collar greets you at the host(ess) stand.
Plus, sit ensconced in black-and-white photos of Cedric with the Vanderbilt family and their friends. Cedric's has bar, booth, and table seating.
Open from lunch through dinner, it's best to make advanced reservations. Cedric's Tavern also accepts walk-ins, but during peak seasons like Christmas and fall, you'll want to avoid long wait times.
Their menu features classic English pub fare. Find anything from fish and chips, pork roast, and salads with Scotch eggs to one of the best burgers in town.
Think Shepherd's pie, creamy soups, wings, and bangers and mash. Ordering the house pickles is a must, and their seasonal and handcrafted cocktails cannot be beaten.
As a lactose intolerant and half Celiac household, Cedric's has gluten-free options – including bread – as well as a few vegan choices – like their soup.
Out of all of the restaurants at Biltmore, Cedric's Tavern is the one we personally frequent the most – and we'd certainly name it one of AVL's top restaurants.
Cedric's Tavern | Antler Hill Village & Winery
2. Village Social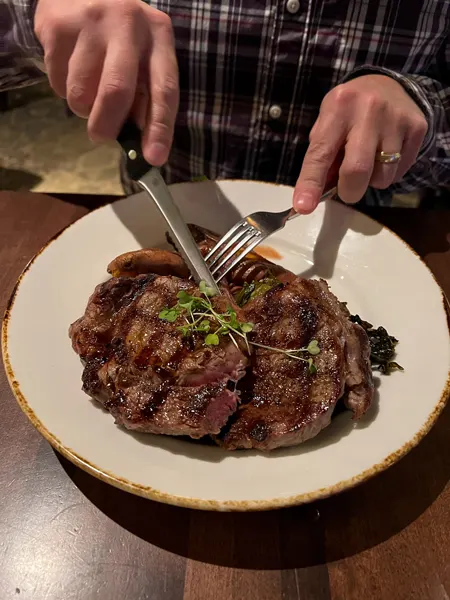 Village Social is one of the most popular Biltmore Estate restaurants, serving breakfast, lunch, and dinner.
We highly suggest making advanced reservations, and many guests staying on the property dine here for their meals.
For breakfast in AVL, select from an egg, potato, and sausage platter, waffles, pancakes, lox, scrambled eggs, and oatmeal.
They also have a housemade biscuit and gluten-free bread. Village Social can make many dishes lactose-free – and our servers always do a great job ensuring the message hits the kitchen.
For lunch, start with roasted beets, deviled eggs, or trout dip. Then, order soup, salad, and a sandwich or select from larger entrees like chicken and waffles or shrimp and grits.
Dinner dishes specialize in Southern appetizers like fried green tomatoes and cheese and pickles. For mains, enjoy ribeye, meatloaf, pot roast, and salmon.
Lastly, Village Social has a kids' menu with breakfast items like waffles, eggs, and pancakes. At lunch and dinner, there are corn dogs, mac and cheese, chicken fingers, and grilled cheese.
For Biltmore dining, Village Social has a little of it all, and the hotel is extremely family-friendly.
Village Social is on the second floor of the Village Hotel, and you can access the dining room from inside the hotel or Antler Hill Village.
Uncover more AVL brunch restaurants near Biltmore.
Village Social | Antler Hill Village/Village Hotel on Biltmore Estate
3. Stable Cafe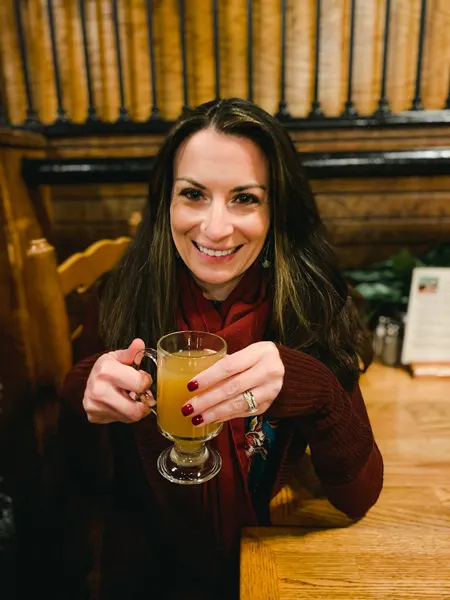 If you are looking for Biltmore Estate restaurants that are kid-friendly, Stable Cafe is a must.
It's one of the coolest dining experiences in Asheville and one of our favorite lunch spots with guests.
And, how often can you say that you ate in horse stables?
(We drank beer in active horses' stables during our Netherlands Heineken Experience – the horses were out – and it's an adventure we won't soon forget.)
However, this might not sound that great to everyone, but the Vanderbilt horses lived like royalty, and their former stables are as gorgeous as the mansion.
Stable Cafe is also one of the more budget-friendly Biltmore restaurants with a lunch menu that showcases Southern favorites like BBQ platters and delicious classic sandwiches and burgers.
Select from soups, salads, meatloaf, shrimp and grits, and a cafe sampler – with vegetarian, dairy-free, and gluten-free options.
Stable Cafe even has a kids' menu with chicken tenders, BLTs, BBQ sandwiches, burgers, and grilled cheese.
While we have dined at Stable Cafe without reservations, we also suggest making them, especially because of its immediate location next to Biltmore House.
Stable Cafe is open for lunch only, except during Candlelight Christmas Evenings when they have a special dinner menu.
During Christmas, Stable Cafe transforms into one of the most romantic restaurants with a preset menu featuring soups, meat and seafood dishes, and dessert.
Read more about how to best enjoy Biltmore with little ones, including a stop by the barnyard and playground.
Stable Cafe | Biltmore House Restaurant
4. Library Lounge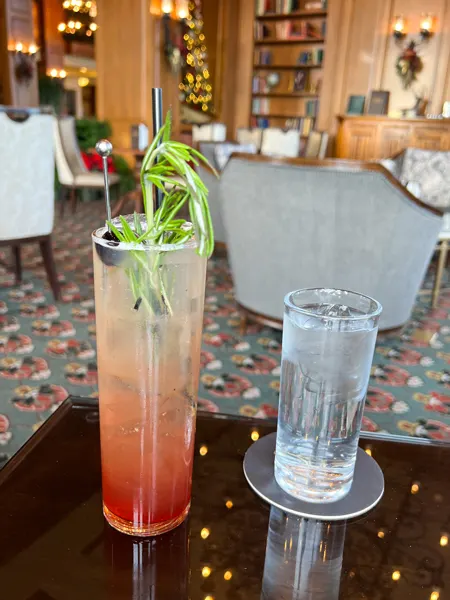 Asheville is the perfect destination for book lovers with its fantastic indie bookshops, Thomas Wolfe Memorial, and the plethora of local authors.
Biltmore is a large part of that literary legacy, especially with George Vanderbilt's gorgeous library complete with first editions and his own reading journal.
Also one of the best places to stay in AVL, be sure to head to The Inn on Biltmore Estate for the classy and sleek Library Lounge. This is Biltmore's 4-star inn, and it's gorgeous.
You don't have to be staying at the inn to enjoy the property, and we love casually dipping in during a late afternoon for cocktails.
Just know that there is a loose dress code requiring "resort casual" wear, which is highly encouraged more so for evening cocktails and entertainment.
Shorts, tank tops, faded jeans, and flip-flops won't fly here.
With that said, we've never felt like this is a stuffy lounge, and for dining at Biltmore, the Library Lounge is a great spot for cocktails and bites.
Find items like charcuterie, French onion soup, sliders, shrimp cocktail, pretzel bites, and desserts like cookies, ice cream sandwiches, and mousse in a jar.
Bites range from $12 to $20, which you'll want to pair with a delicious cocktail – around the $20+ range.
We prefer their seasonal cocktails filled with local flavors. And, the Library Lounge boasts an extensive wine list, by the bottle or glass.
Of course, this is a great spot to try more of Biltmore's wines, and grab a seat near the windows, looking out over the estate and Antler Hill Village. Those mountain views are everything.
While not a full Biltmore restaurant, the Library Lounge is perfect if you just want a light treat with drinks.
Explore even more unique bars across Asheville, including rooftop, LGBT, dive, and wine bars.
Library Lounge | The Inn on Biltmore Estate
5. Wine Bar at the Winery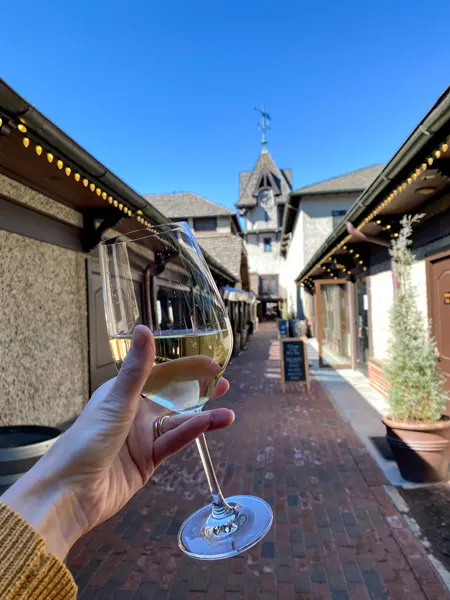 True to our namesake, we just love the Asheville wine bars like Bottle Riot, La Bodega, and Leo's House of Thirst.
And as one of the largest wineries in Asheville, it's no surprise that Biltmore has a wine bar located directly next to the winery where they conduct wine tastings and special tours.
For Biltmore Estate restaurants and bars, we especially love stopping in the Wine Bar at the Winery to try new wines.
Because we've been to Biltmore Estate so many times, we don't usually do guided wine tastings that often anymore.
The Wine Bar is a great way to try new blends or just grab a casual glass with one of the best charcuterie boards around.
With indoor and outdoor seating, order a wine flight, glass, or bottle.
Most notably, you'll find many of Biltmore's delicious limited releases on the menu, including after-dinner and dessert wines.
Of course, cheers with friends over sparkling wine, and enjoy non-alcoholic beverages including grape juice, coffee, and iced tea.
Sharable bites include those cheese and charcuterie boards – you can request gluten-free crackers – and hummus plates, olives, and bonbons.
A fun Biltmore fact: the winery tunnel leading visitors upstairs used to be the cow manure tunnel…
Wine Bar at the Winery | Biltmore Winery & Antler Hill Village
Never Miss Another Asheville Update
---
Tired of generic Asheville travel itineraries? Experience Asheville like a local with our free Asheville Favorites checklist, including restaurants, breweries, and hiking. Plus, get local updates – including events and hidden gems – straight to your inbox. Sign up here.
6. The Creamery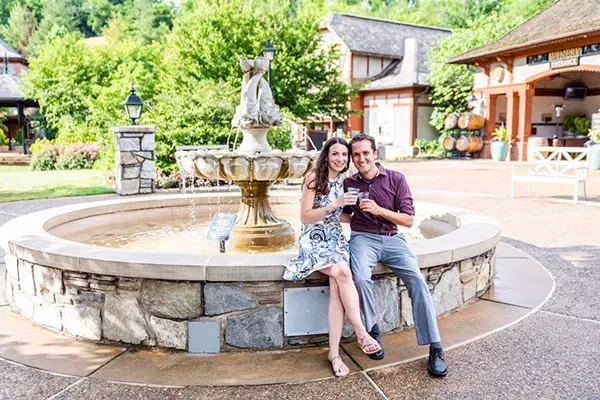 For restaurants at Biltmore designed solely for dessert, head to The Creamery. This is another great stop for families.
Conveniently located in Antler Hill Village, The Creamery sits near the family-friendly Biltmore Farmyard, Bike Barn (you can mountain bike here!), live demonstration area, and playground.
Simply put, this is your go-to spot for dessert on the estate. Here, enjoy ice cream, cupcakes, pastries, and coffee.
We've also ordered a glass of wine or two. Then, sit inside their cafe space or sit outside in Antler Hill Village to people watch.
The Creamery tends to open right before lunch and close around dinner time – although hours will occasionally change.
This isn't the greatest Biltmore restaurant, though, if you are dairy-free.
Read more about the best things to do in Asheville with children.
The Creamery | Antler Hill Village & Winery
7. The Conservatory Cafe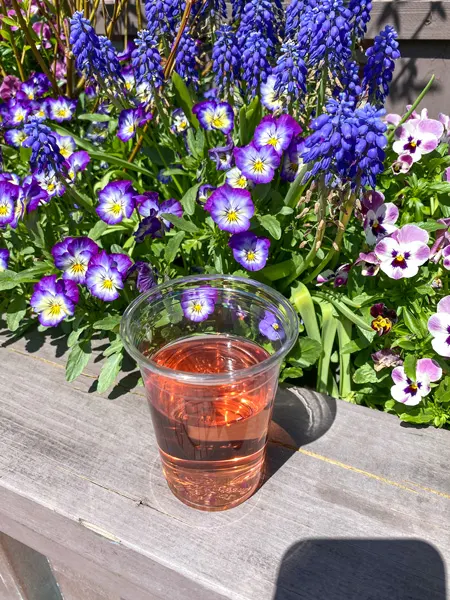 Imagine stumbling upon one of the smallest Biltmore restaurants while wandering the gardens.
That's exactly what happened to us when we saw people with boozy libations enjoying the spring blooms. Where did you get that?
This open-air, casual cafe is a hidden gem behind Biltmore Conservatory in the Walled Garden. On your way there – just past Biltmore House and through the gardens – stop in the Conservatory.
They usually have a replica of Biltmore House hiding among the flora and fauna and sometimes a toy train display (you'll also catch a seasonal pop-up train exhibit around Cedric's Tavern each year).
Due to its nature, the cafe has seasonal hours and is also weather permitting. They offer Biltmore wine, a cocktail or two, local beer, and snacks.
For dining at Biltmore, The Conservatory Cafe is no-frills, but it will hydrate you and help hold over your growling stomach until you find more food.
If you love Biltmore's gardens, explore even more parks and gardens around Asheville.
The Conservatory Cafe | Gardens & Conservatory
8. Smokehouse Food Truck
Asheville's food truck scene is pretty hot, which makes it no surprise that one of the most casual grab-and-go Biltmore Estate restaurants is a vintage food truck in Antler Hill Village.
Typically, find the Smokehouse Food Truck open just in time for an early dinner.
This is a great opportunity to try all of that famous AVL barbeque you've been hearing about. Select from menu items like pulled pork and chicken or beef brisket.
Add a classic BBQ side like coleslaw, hushpuppies, and mac and cheese.
The menu is small, simple, quick, and affordable, with meals starting at $12+. This is a great stop if you cannot get into another Biltmore restaurant too.
Smokehouse Food Truck | Antler Hill Village & Winery
More Biltmore Restaurants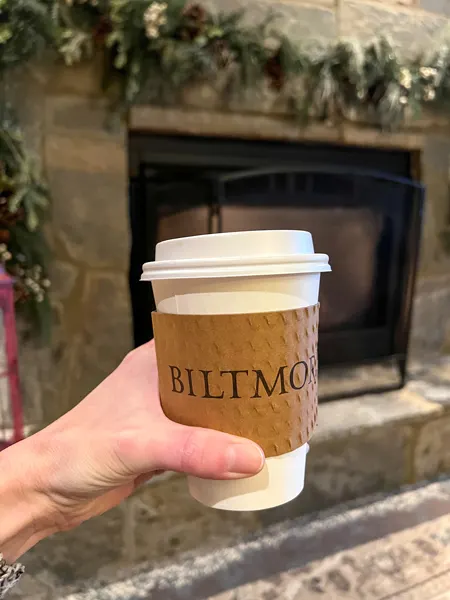 The Kitchen Cafe – For casual and quick restaurants at Biltmore Estate, head inside the Village Hotel for gourmet lattes, breakfast sandwiches, lunch sandwiches, and flatbread at The Kitchen Cafe.
This is also a great stop if you need a snack or pick-me-up upon check-in. Head up the stairs for guest rooms and Village Social.
The Dining Room – For fine dining at Biltmore, head to The Dining Room. Just know that this experience is only available to those staying overnight at their hotels and to annual passholders.
"Resort elegant" attire is required for dinner, and they ask for "Resort casual" attire for breakfast.
The Dining Room offers a breakfast and brunch buffet with a la carte menu items and dishes as well as a $35 to $75 main dinner menu.
Bistro – Did you know that there is a restaurant at Biltmore Estate where you can watch the chefs prepare your food?
Head to the Bistro, which boasts a European-style dinner with soups, salads, and meat and seafood entrees.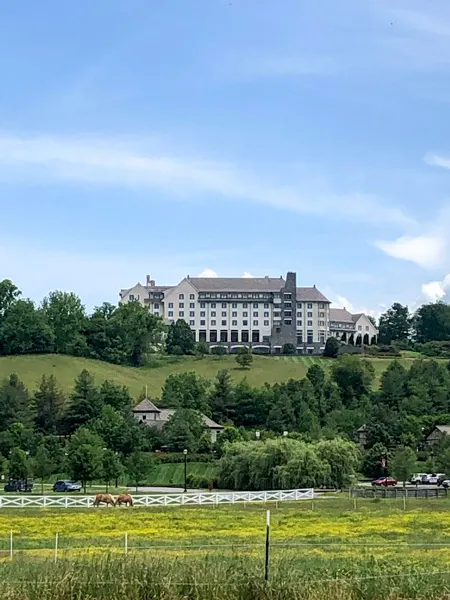 Biltmore Estate Accommodations
Village Hotel – This property is centrally located with moderate prices and spa access. We stayed here and loved it. This is the hotel you see next to Biltmore Winery and Antler Hill Village. The Village Hotel has a pool and houses Village Social, a delicious breakfast, lunch, and dinner restaurant perfect for the entire family. Plus, enjoy The Kitchen Cafe for lighter fare and specialty lattes.
The Inn On Biltmore Estate – The Inn On Biltmore Estate is a gorgeous luxury hotel. The Inn has the most conveniences including those requested mountain views. Each suite is named after one of George Vanderbilt's friends or relatives. Next to the lobby, enjoy the Library Lounge with a huge wine selection, cocktails, desserts, and sharable bites.
Save This Biltmore Dining Guide For Later: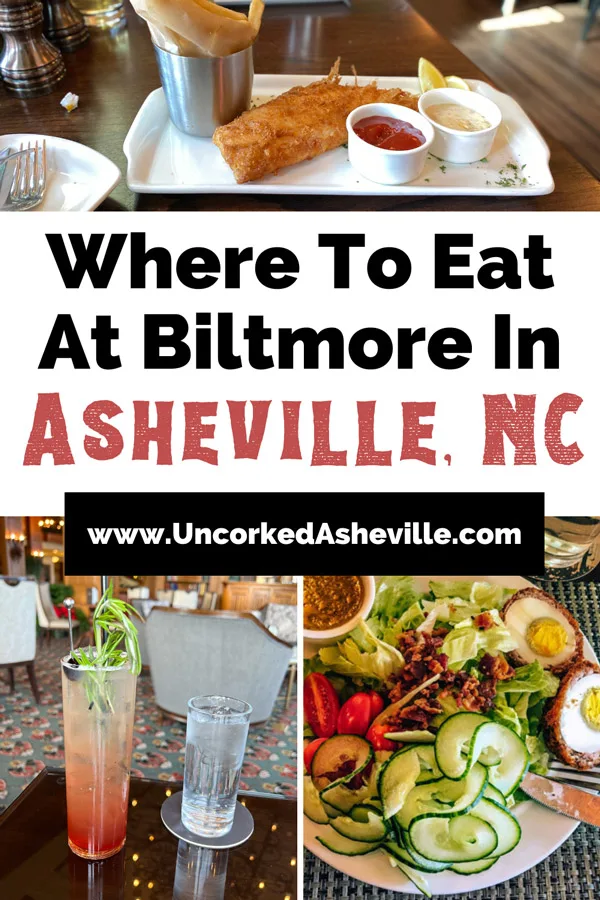 Where To Stay In Asheville
Explore the best places to stay in Asheville. A few of our top suggestions:
Aloft – Downtown Asheville – Centrally located and recently renovated, enjoy a rooftop pool, a gorgeous bar, and trendy rooms.

The Omni Grove Park Inn – Treat yourself to a luxury resort in North Asheville, complete with breathtaking sunsets, terrace bars and dining, and loads of Asheville history.

Hampton Inn And Suites Asheville Biltmore Area – A budget-friendly but renovated hotel on busier Brevard Road that's perfect if you wish to stay between Biltmore Estate, Downtown Asheville, and the Blue Ridge Parkway.

Asheville Cottages – Gorgeous 1 to 3-bedroom cottages with a private deck, housing a grill and hot tub. Find luxurious heated-floor bathrooms with rain showers, a well-stocked kitchen, and the cleanest rooms in town.

Foundry Hotel – An oasis in Downtown Asheville, Foundry Hotel is a nod to AVL's industrial history. Find famous restaurant Benne on Eagle while sleeping ensconced in charm and elegance.

Country Inn & Suites by Radisson, Asheville Westgate, NC – Located off of the highway as you enter AVL, find a sleek and clean hotel at a great price.

Black Walnut B&B Inn – Designed by Biltmore's supervising architect, Richard Sharp-Smith, this 1899 inn is close to Downtown AVL and serves afternoon tea. Two rooms are pet-friendly.
Don't miss out on these Asheville properties on Booking.com, too.
What are your favorite restaurants at Biltmore Estate?
If we had to pick our top three Biltmore Estate restaurants, bars, and cafes, we'd go with Cedric's Tavern for lunch or dinner, Stable Cafe for lunch, and the Wine Bar for drinks and tapas.
All three are fairly easy to access and can be more budget-friendly.
For families dining at Biltmore, we'd recommend Stable Cafe and Village Social – and of course, The Creamery.
For breakfast, though, Village Social is a must.
What is your favorite Biltmore restaurant? Let us know in the comments!
P.S. If you want to dine outside of the estate, don't miss our best restaurants near Biltmore list, including places to eat in Biltmore Village, Downtown, RAD, and North & West AVL.
Think Corner Kitchen, Haywood Common, Neng Jr.'s, 12 Bones, and more!
You May Also Enjoy:
Best AVL Things To Do
Haunted Asheville (Featuring Biltmore)
Top Museums & Historic Sites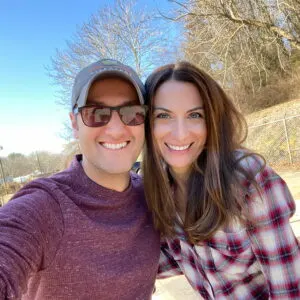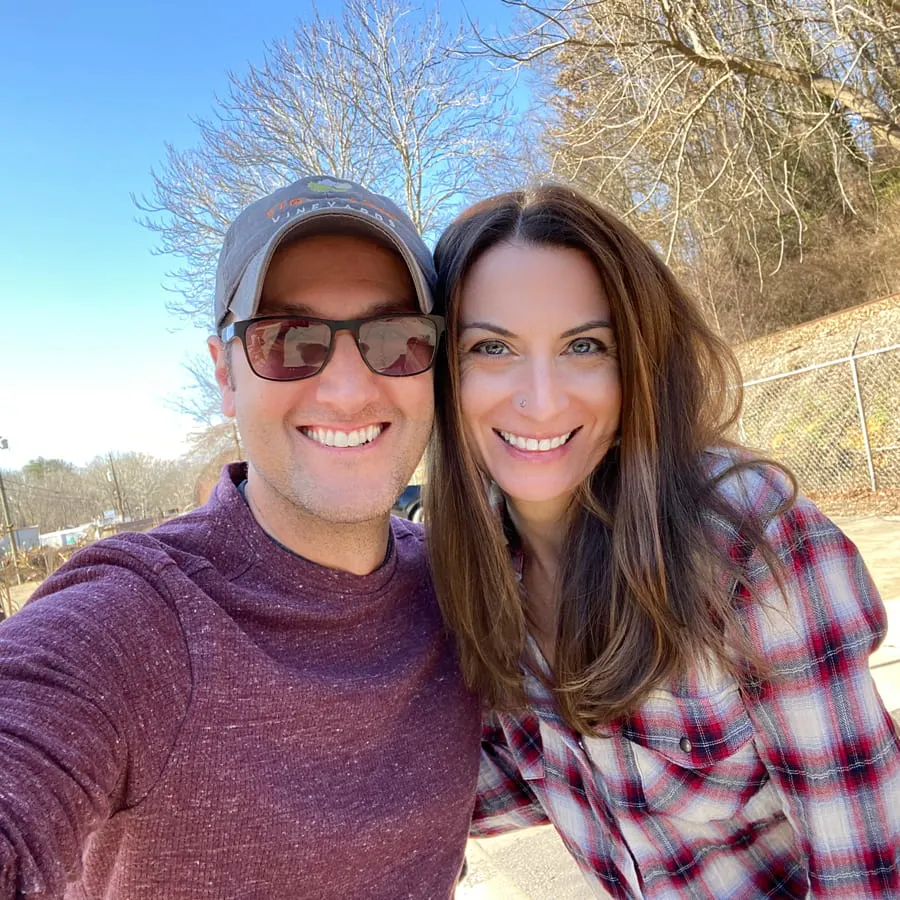 Christine (pronouns: she/her) is the owner and lead writer of Uncorked Asheville. After falling in love with those gorgeous Blue Ridge Mountains, Christine and her husband Tom decided to call Asheville, North Carolina their home. When her pointy Italian nose isn't stuck in a book, Christine is adopting all of the kitties, getting lost in the forest, and drinking an ESB.
Christine has a BA in English and History from Smith College, her MLIS from USF-Tampa, and is a former U.S. Fulbright Scholar - Indonesia. She also owns The Uncorked Librarian LLC with books and movies to inspire travel.