If you are headed to Asheville, North Carolina and looking for a break from the city–but want to stay close by–why not pack a blanket and some snacks and head to the Botanical Gardens At Asheville?
Discover 10-acres of vibrant wildflowers, streams, and critters. You'll wind down and decompress with this FREE Asheville attraction.
---
This post may contain affiliate links for products and services we recommend. If you make a purchase through these links, at no additional cost to you, we will earn a small commission. Read the full disclosure here.
---
One of the things that I love the most about living in the heart of Asheville includes access to the plethora of gardens, trails, and of course, the mountains. Mother Nature is everywhere, even in the city.
Did you know that there are 10-acres of hidden botanical gardens minutes from downtown? The Botanical Gardens At Asheville showcase the plants and habitats of Southern Appalachia. As a non-profit, these Asheville gardens allow visitors to tour the grounds for free.
Plus, the Asheville Botanical Gardens are located on the expansive grounds of the University of North Carolina – Asheville. The area is slightly less congested than downtown and offers another look into Asheville.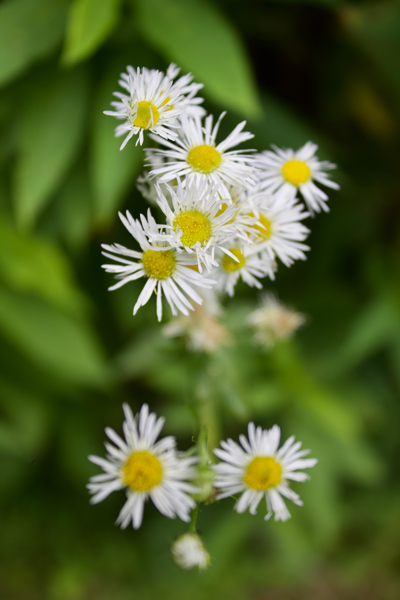 So, should you stop by this North Carolina botanical garden, and who will enjoy the grounds? I'm going to recommend these gardens for an afternoon of downtime and a picnic, for sure.
Also, what can you pack, and how much time should you budget? What other Asheville sights and attractions are nearby? We'll talk activities, pertinent information, food, and beer.
Lastly, though, please know that the Botanical Gardens At Asheville are different than The NC Arboretum. The Arboretum is located in the Pisgah National Forest off of the BRP. The Arboretum is much bigger and offers many more trails to choose from.
Let's get started!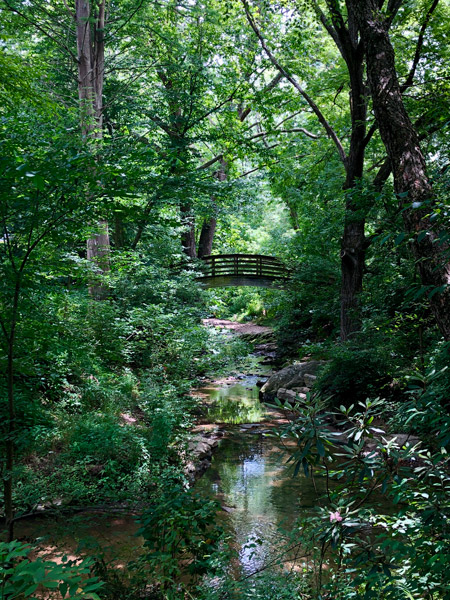 See our Top Places To Stay in Asheville.

Don't miss out on these Asheville properties on Booking.com, too.
Who Will Enjoy The Botanical Gardens At Asheville?
These Asheville, NC botanical gardens are for everyone…except your dogs. Sorry, pups; you are not allowed onto the property. Because so many of the species are endangered or rare, they require a little bit of extra protection.
The Garden rules also note that this is not a "play park." Families are more than welcome, but there is no biking or outdoor games (i.e. frisbee) — again, to help preserve the fragile grounds.
BUT, while all of this is sounding more grumpy and less fun, you most definitely can pack a picnic. Bird watchers, book readers, walkers, loungers, sun goddesses, and artists will love the Botanical Gardens At Asheville. You can leisurely stroll the paths, too.
---
Never Miss Another Asheville Update
Are you tired of generic Asheville travel itineraries? Do you want to experience the magic of Asheville like a local?
Grab our free Asheville Favorites checklist today, including restaurants, breweries, and hiking. Plus, get local updates straight to your inbox. Sign up here.
---
Who May Not Love The Gardens?
My husband…
Also, if you are an avid hiker looking for hardcore trails, you might want to drive on by and hit up the Blue Ridge Parkway or Craven Gap, right before the Craggy area. When we first visited the Asheville Botanical Gardens, we expected the trails to be a little more…existent. Think *very* casual and short walk here.
How Much Time Can You Spend At The Asheville Botanical Gardens?
Unlike The NC Arboretum, the Botanical Gardens at Asheville are fairly small. You can walk the 1/2-mile loop around the grounds fairly quickly. If you are going for a stroll, you won't need more than 45-minutes.
Of course, you could spend a morning or afternoon here stretched out on a blanket or on one of their benches with a book.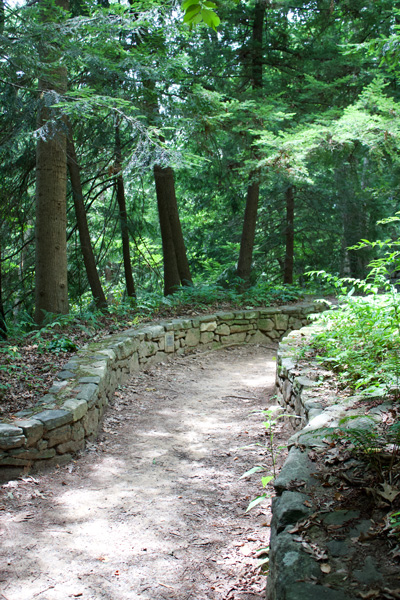 When Is The Best Time To Visit?
The mountain seasons are a tad unpredictable along with the weather. If you are trying to catch peak bloom times, aim for mid-April and mid-August.
Wildflower sightings are best mid-April into May, and the Botanical Gardens boast of their Trilliums. I am not a flower expert, but they also have Spring-beauties, Wild Geranium, and Crested Dwarf Iris.
5 Chill Things You Can Do At Botanical Gardens At Asheville
Since these gardens are pretty low-key, these are the 5 things that you can do at the Asheville Botanical Gardens:
1. Walk The Gardens
What I love most about the botanical gardens includes the quaint pathways, bridges over gentle streams, and areas of wide-open space filled with trees. The grounds just beg for you to take a timeout and digital detox…or let's face it: a beer detox, too.
The Botanical Gardens At Asheville are filled with grasses, ferns, moss, trees, wildlife, and flowers. A few more flowers and species that you might stumble upon include: Joe-Pye Weed, Blazing-Star, Witch-Hazel, and Goldenrod.
---
---
2. Hop On A Short Trail
There is a short and easy 1/2-mile loop trail that follows the boundaries of Botanical Gardens At Asheville. It's quaint and fun but also underwhelming if you are looking for more. That's my truth bomb. You will pass Hayes Cabin to see how predecessors used to live in the mountains, and you'll also find a few runoff trails. Don't miss the creeks along the way.
3. Read A Book Or Picnic
Of course, this is the biggest reason why you'd visit these botanical gardens: a leisure/resting day outside enjoying the beautiful weather and lack of crowds. I've been debating bringing my yoga mat, too.
---
---
4. Visit The Library & Gift Shop
The Cole Library is open during Visitor Center hours. If you are temporarily visiting, you may still peruse the stacks and use the books while there. The library offers botanical and horticultural information.
The gift shop celebrates nature and animal lovers. You can find books about the trails and NC travel from indie and local authors.
5. Take A Class
The Botanical Gardens At Asheville also host plant sales and offer education classes for adults. Some of these classes include learning about black bears in the area or taking garden and bird walks.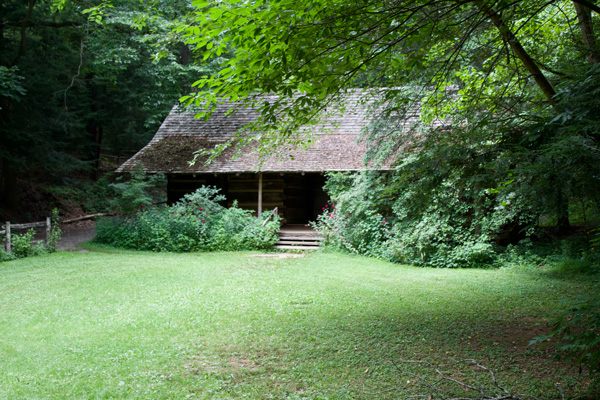 What To Pack For A Picnic At The Botanical Gardens
A few items that you might want to bring to the Botanical Gardens at Asheville:
We worship a little sun and a good book. Since the nearest beach to Asheville is about 4+ hours away, we love spreading out on a blanket and lounging on the grass. Hammocks aren't allowed at the Asheville Botanical Gardens, making a large blanket perfect for a catnap and lunch.
If you are more local, you might want to grab your picnic basket or cooler. Of course, you can make a lunch at home or your Airbnb to bring with you. Or, pick up sandwiches to go at the Green Sage Cafe or Early Girl Eatery – the Merrimon locations are closest. Merrimon Ave. in North Asheville also has a Trader Joes, Whole Foods, Ingles, and Fresh Market for food supplies.
I honestly rarely wear bug spray as I try to leave Mother Nature alone and not douse my body in chemicals–I drink a lot of wine; that's my chemical of choice… But, I will say that these grounds are a little buggy. If you are hiking elsewhere, bug spray isn't a bad idea.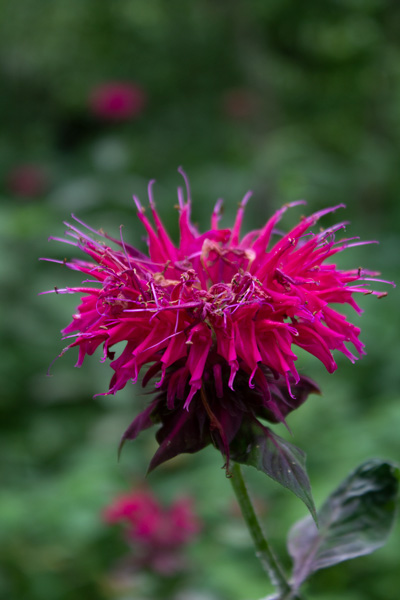 More Attractions Near The Asheville Botanical Gardens
If you love being outside, don't skip a visit to Beaver Lake Bird Sanctuary located at 1056 Merrimon Ave. in North Asheville. Parking is donation-based, and visiting is free. You can either walk the less than .5-mile Sanctuary loop, spying diverse birds, or walk the 2-mile perimeter trail around Beaver Lake. You'll love the Blue Ridge Mountain views and gorgeous lake.
If you are looking for something different in Asheville's brewery scene, you might want to check out Ginger's Revenge located about 5-minutes driving from the Botanical Gardens At Asheville. They brew alcoholic ginger beer, which is gluten-free and 95% organic. They are located at 829 Riverside Drive.
A lesser-known, more local brewery is Zillicoah Beer Company, which is minutes from Ginger's Revenge. We love their outdoor seating along the French Broad River. Zillicoah is located at 870 Riverside Drive.
If you enjoy urban art, don't miss the River Arts District. Discover artists' studios, beautiful murals, hidden shops, Wedge Brewing, pleb winery, cafes, and restaurants.
Of course, downtown Asheville is less than 10-minutes away from the Botanical Gardens At Asheville. Peruse the Asheville bookshops, taste test all of the beer, hit up a candy store, catch a sunset at a rooftop bar, or snack on some Asian tapas.
Botanical Gardens At Asheville Contact Info
Botanical Gardens at Asheville
151 W.T. Weaver Blvd.
Asheville, NC 28804
Telephone: (828) 252-5190
Website: https://ashevillebotanicalgardens.org/
Hours, Directions & Pricing
Hours
Please check the Botanical Gardens At Asheville website for updated hours. As of summer 2020, the hours are the following:
Monday through Friday, 8 a.m. to 7 p.m.
Closed Saturday & Sunday.
Directions
If you are coming from downtown Asheville, follow Merrimon Avenue/US 25 north to W.T. Weaver Blvd. Take a left. The entrance to Asheville Botanical Gardens is on the right shortly after the traffic circle.
There is a free parking lot in front of the gardens.
Pricing – FREE
Admission and parking are free.
Visitors are encouraged to donate or become members. A basic membership costs $40.
Where To Stay In And Around The Botanical Gardens At Asheville
Asheville, NC Hotels: Where To Stay
Hotels and B&Bs tend to book up fast in Asheville, especially in the fall and spring. Make dinner reservations wherever you can, too. A few hotels to consider that either we, our friends, or others highly recommend include:
Downtown Asheville
The Foundry Hotel
AC Hotel By Marriot Downtown Asheville
Hotel Indigo

Near The Asheville Outlets/Biltmore
Hampton Inn And Suites Asheville Biltmore Area
DoubleTree By Hilton Biltmore/Asheville
Grand Bohemian Hotel Asheville

North Asheville/Montford
The Omni Grove Park Inn
1900 Inn On Montford
Princess Anne Hotel

See our Top Places To Stay in Asheville.

Don't miss out on these Asheville properties on Booking.com, too.
Let Us Know If You Visit The Asheville Botanical Gardens
Are you headed into town? We'd love to hear from you. If you visit the Botanical Gardens At Asheville, please let us know what you think.
What did you enjoy and not so much like? What did you do before or after your visit? Would you go back?
If You Like The Botanical Gardens At Asheville, You Might Also Like:
Relaxing Things To Do At The North Carolina Arboretum
Spend A Morning At The Beaver Lake Trail & Bird Sanctuary
Looking For Outdoor Adventures? Head Here:
8 Best Gardens & Parks In Asheville, NC
Perfect Picnic Places Near Asheville
Stunning Hiking In Asheville By Season & Difficulty
Ultimate List Of Things To Do In & Near Asheville