Explore the best things to do in Hot Springs, NC, including dining, breweries, hiking, shopping, and more – from Asheville locals.
Are you wondering what to do in Hot Springs, NC – a Western North Carolina mountain town with less than 600 people?
As Asheville locals, you might think that we'd pass on such a small destination; however, we absolutely love heading here for a bit of TLC, mother nature, and local bites.
Asheville to Hot Springs is about 45 to 50 minutes by car along a mostly quiet but winding road, US 25 N/US 70 W, making it a great day trip.
Not to mention that you'll find some of the best hikes near Hot Springs like Lover's Leap, Max Patch, and the Appalachian Trail.
For more great Hot Springs things to do, there's Big Pillow Brewing, soaking in the actual hot springs, a cozy tavern, and a coffee and art shop.
So, keep reading for a tipsy travel writer and her pilot husband's guide to visiting Hot Springs, North Carolina.
We'll even include the best things to do near Hot Springs like wineries and more Western North Carolina mountain towns. Let's get started!
Discover even more fantastic day trips from Asheville.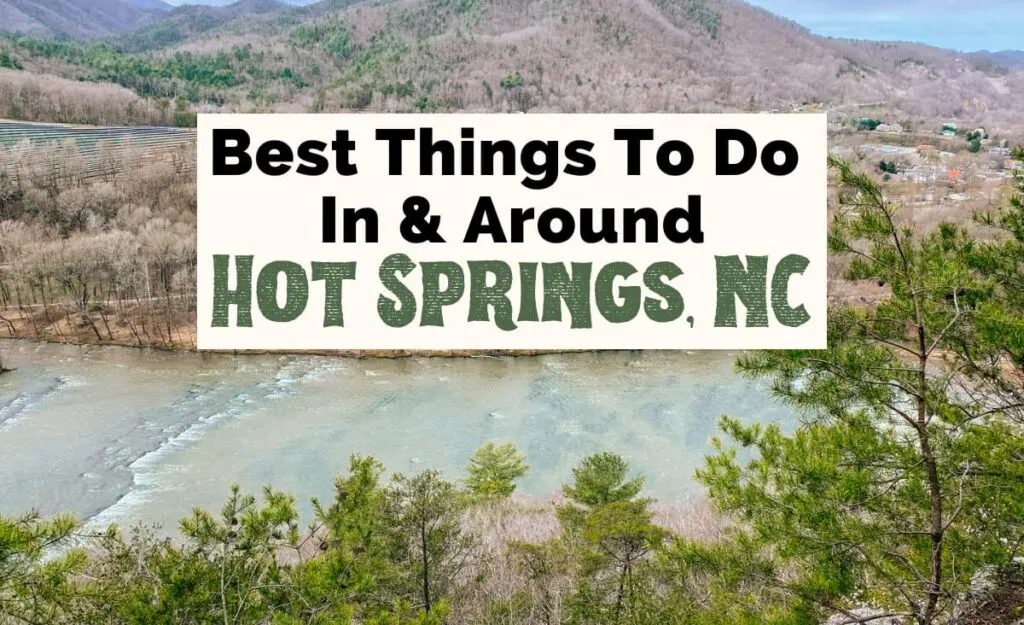 This post may contain affiliate links that earn us a commission at no extra cost to you. If you love these guides, support Uncorked Asheville here.
9 Best Things To Do In Hot Springs, NC
1. Hit The Trails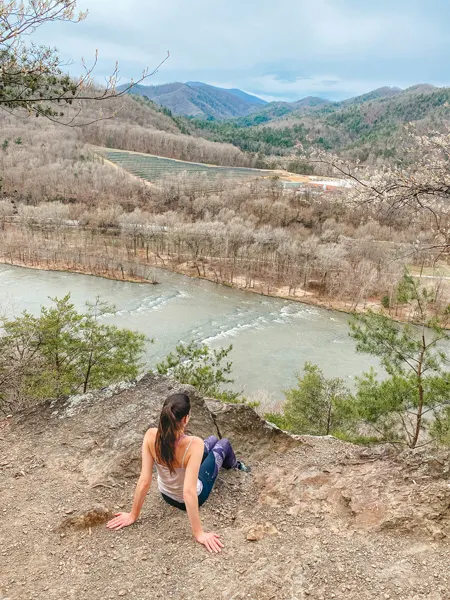 While the area is most well-known for its namesake – those toasty mineral springs – if you are wondering what to do in Hot Springs first, we suggest hitting the trails.
Since they don't fall along the extremely popular Blue Ridge Parkway, the Hot Springs hiking trails are accessible year-round and tend to see a bit less foot traffic.
Favorite local hikes near Hot Springs include Max Patch, Lover's Leap, the Appalachian Trail, and the Laurel River Trail – a great family-friendly trail.
Our top pick, especially as a winter hike when it's not too icy, is Lover's Leap. A bit harrowing with breathtaking views, the loop is just under 2 miles with sharp switchbacks and steep inclines.
Keep your eye on that ledge, and if you are afraid of heights, you might want to pick another Hot Springs hiking trail. You'll feel like a mountain goat.
Lover's Leap (orange blazes) also intersects and starts at parts of the Appalachian Trail (white blazes). At its peak, the views are absolutely stunning.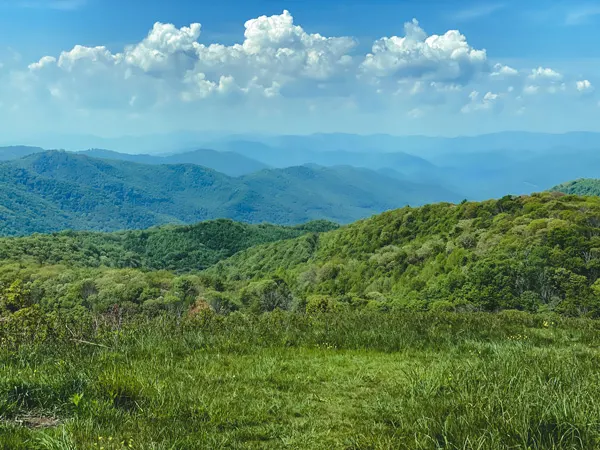 If heights aren't for you, one of the most popular hikes near Hot Springs, Max Patch also intersects with the Appalachian Trail and boasts a gorgeous mountain bald perfect for a picnic.
This is a family-friendly hiking trail with a 1.5-mile and 2.4-mile loop option. Just keep in mind that camping is currently banned at Max Patch as they work to conserve and restore the trail.
The dirt road to get to Max Patch is a bit dark and treacherous after ice and heavy rain. Both of these trails have designated parking lots.
Explore more great hiking trails around Asheville.
2. Grab A Bite To Eat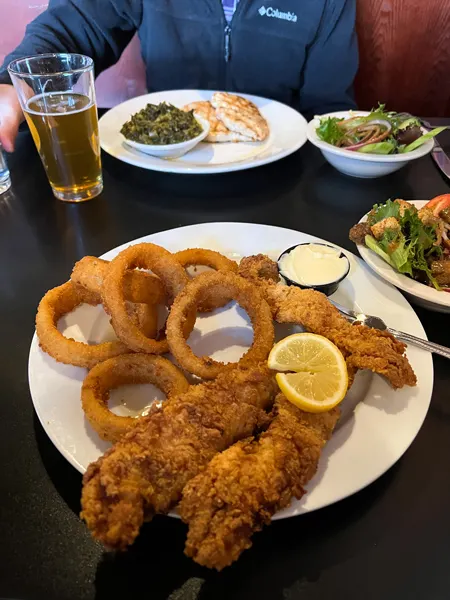 If you follow us on Facebook or are in our FB group Discovering Asheville, you know that we are hardcore foodies and tipsy travel writers.
It's no surprise then that one of our favorite things to do in Hot Springs is eating at the few but delicious restaurants in and around town.
Having moved from Florida after growing up in Connecticut (yes, we are halfbacks), we crave those cozy taverns and pubs with fireplaces, exposed brick, and historical charm.
Iron Horse Station – one of the main inns in Hot Springs – houses exactly this type of restaurant, which is aptly named Iron Horse Station Restaurant and Tavern (24 Andrews Ave S.).
Typically closed Tuesdays and Wednesdays (but always double-check this on their website), enjoy weekday dinner and weekend lunch and dinner.
Iron Horse Station's menu features pub grub like burgers, sandwiches, fried catfish and chicken platters, salads, steaks, and snacks like fried mozzarella sticks. Our catfish platter lasted us three meals.
While they don't have gluten-free bread, our half-Celiac household found plenty to eat. The service is excellent.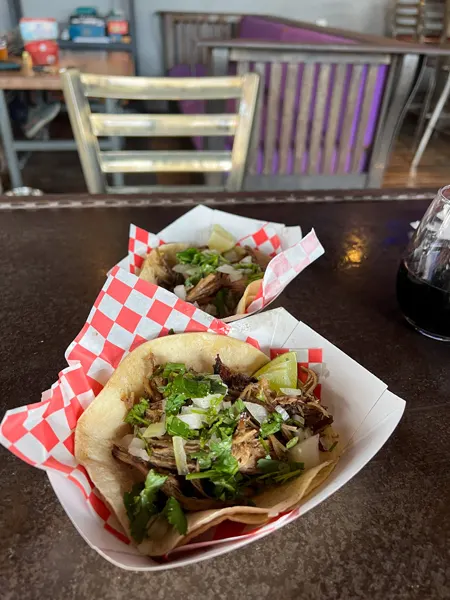 The Grey Eagle Taqueria at Big Pillow Brewing (25 Andrews Ave N.) is our other pick for food in Hot Springs, especially if you consider tacos as its own food group like us.
You might recognize the name as they are also one of the best taco shops in Asheville.
With gluten-free and vegan options, devour corn tortilla tacos, nachos, salads, and quesadillas. Think house-smoked pork shoulder, ground beef, smoked brisket, and Caribbean Jerk shrimp.
If you are on the run, though, or coming from one of the hiking trails in Hot Springs, dip into Vaste Riviere Provisions (158 Bridge St) for weekend brunch, gourmet shopping items, and cafe-style cuisine – with indoor and outdoor seating.
And, keep reading for more Hot Springs things to do for foodies because you know we covet the winery and brewery scene…
3. Soak In A Hot Tub
There is evidence that the Cherokee resided in Hot Springs and used the springs for medicinal purposes.
So, if you are looking for relaxing, healing, and even romantic things to do in Hot Springs, NC why not soak in a mineral springs hot tub at Hot Springs Resort & Spa (315 Bridge St.)?
This 100-acre resort and spa boasts jetted hot tubs filled with mineral waters located next to the French Broad River and Spring Creek.
Visitors can choose from a variety of hot tub packages – some include fire pits and chairs – and know that it's slightly cheaper to soak before 6 PM.
Sessions are usually one-hour to 1.5 hours long.
For those looking to stay overnight, Hot Springs Resort & Spa offers a variety of lodging options including a cabin and luxury suites.
Across the street, they also offer basic camping cabins, tent sites, and full RV hookups.
Explore even more romantic things to do near Hot Springs in Asheville.
4. Shop For Local Art & Treats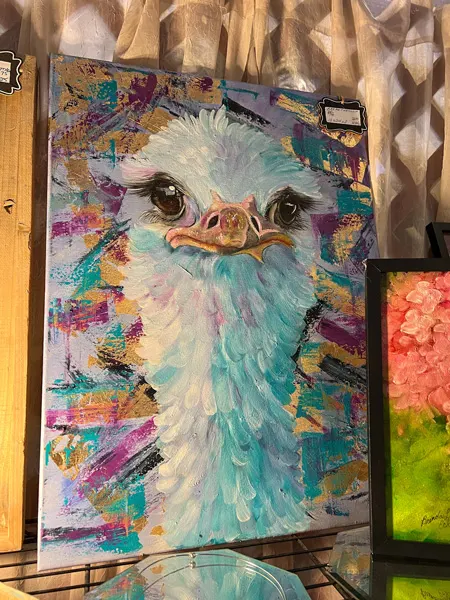 We always thought we weren't big shoppers until we realized that we couldn't resist gourmet grocery stores, local art shops, and coffee houses.
And, if you are wondering what to do in Hot Springs after you've exhausted hiking and soaking up that mineral water, we suggest dropping into Artisun Gallery and Cafe (16 Andrews Ave S.) for a bit of shopping.
It's because of this shop that we now own an ostrich in our home office that stares back at us while we write these articles; we have no regrets.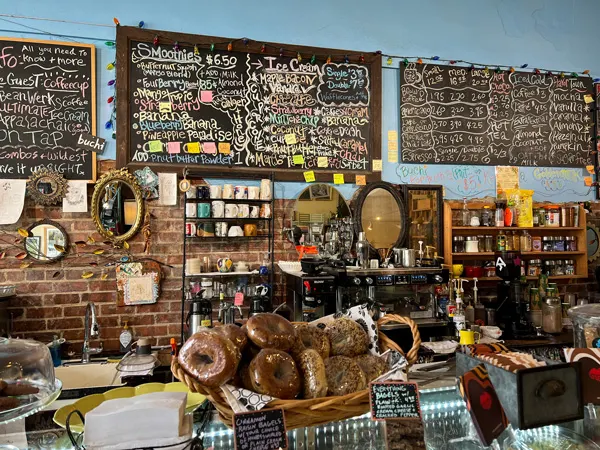 A great little meet-up for smoothies and coffee with friends – with non-lactose options – find anything from books about plants and mushrooms to Big Foot mugs (North Carolina is famous for its legendary monsters).
Shop for gems while sipping on that almond milk peanut butter and banana smoothie. Find jewelry, paintings, indie North Carolina travel guides, stickers, and natural balms.
For more shopping in Hot Springs, we also recommend Vaste Riviere Provisions (158 Bridge St), mentioned above.
Enjoy gourmet olives and trail mixes along with wine, cheese, and refrigerated specialty items.
Read more about the best coffee shops in and around Asheville.
5. Drink A Local Brew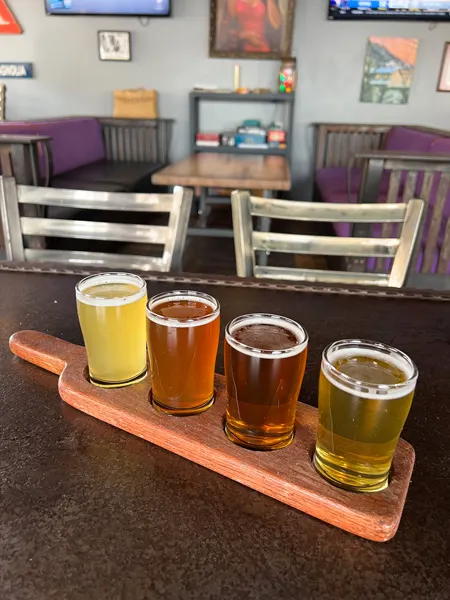 You know that the brewery scene in and around Asheville is pretty hot (and plentiful), making drinking beer one of the best things to do in Hot Springs, NC.
Big Pillow Brewing (25 Andrews Ave N.) is one of our favorite breweries for flavors and that welcoming local vibe. It's incredibly chill.
Head inside to find a wide variety of craft beer. The beer-drinking half of our household enjoys their Pilsner, Irish Red, and Kolsch.
Big Pillow Brewing also brews Vienna-style lagers, Sours, IPAs, Porters, and Pale Ales. Find canned wine, too.
Don't forget to order tacos and burritos from The Grey Eagle Taqueria.
Big Pillow Brewing also hosts events like karaoke and open mic night.
This is an extremely family and dog-friendly brewery, and there is both indoor and outdoor seating.
Never Miss Another Asheville Update
---
Tired of generic Asheville travel itineraries? Experience Asheville like a local with our free Asheville Favorites checklist, including restaurants, breweries, and hiking. Plus, get local updates – including events and hidden gems – straight to your inbox. Sign up here.
6. Attend A Festival
Western North Carolina is known for its large festivals including Lake Lure's Dirty Dancing Festival, Maggie Valley's Motorcycle Rallies and Hillbilly Jam, and Hendersonville's NC Apple Festival.
For summer Hot Springs things to do, head to the Hot Springs Bluff Mountain Festival.
This free and family-friendly festival has been a local annual tradition since 1996 and showcases Bluegrass music, dancing, a silent auction, and vendors selling local crafts.
The event takes place at the Hot Springs Spa and Resort.
See what's happening across Western North Carolina on our Events Calendar.
7. Explore Nearby Mountain Towns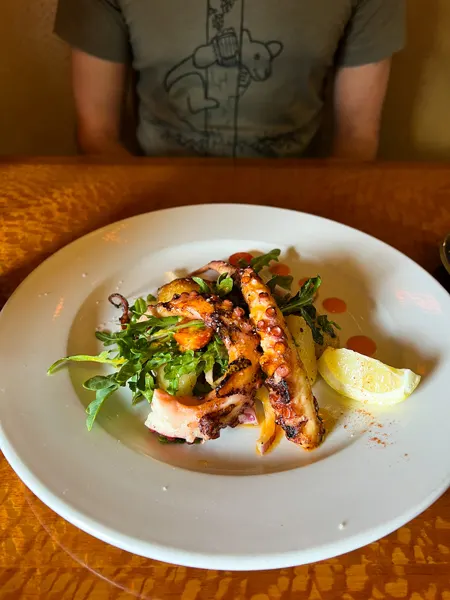 Like Asheville, day-tripping is one of the best things to do in Hot Springs, especially with so many nearby mountain cities and towns.
You have places like Marshall, Weaverville, and of course, our Asheville home.
Marshall is just under 25 minutes by car from Hot Springs and is a similarly small and local town. There are places to eat, drink, hike, and horseback ride.
Or – about 40 minutes away – head into Weaverville for loads of character including a dog park as well as a Bob Ross-themed bar, breweries, Lake Louise, and quirky restaurants like Stoney Knob Cafe.
Since we are biased, we of course recommend stopping in Asheville for its endless activities and attractions like award-winning restaurants, hopping breweries, rooftop bars, and Biltmore.
For more Hot Springs things to do, spend some time at these WNC lakes near Asheville.
8. Wine Taste In Leicester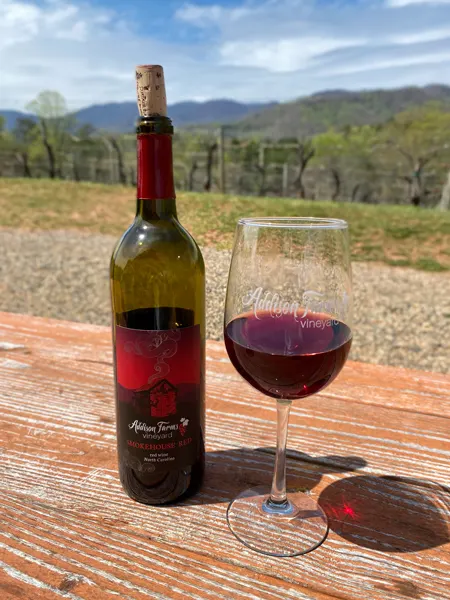 The wineries around Asheville are spectacular, especially in the Hendersonville area (Stone Ashe, Souther Williams, Marked Tree).
However, if you are looking for boozy things to do near Hot Springs, NC we suggest heading to Leicester.
About 40 minutes away – and a stop we've made multiple times on the way home – head to Addison Farms Vineyard (Addison Farms Vineyard, 4005 New Leicester Hwy).
This is a 4th-generation family farm, and they specialize in small-batch, fine wines.
Sip anything from Petit Verdot, Tempranillo, and Cab Franc to Petit Manseng, Chambourcin, and Sangiovese.
Addison Farms Vineyard offers guided wine tastings at the bar and has indoor and outdoor seating overlooking the gorgeous mountains and vineyards.
Our favorite wines include the Five Twenty-Five (Barbera) and Vitalita (Sangiovese). They also sell Alchemy Herbal Wine, which is known for its floral notes and herbal flavors.
If you are heading back into Asheville, try pleb urban winery in the River Arts District or any of Asheville's stellar wine bars like Leo's House of Thirst and Bottle Riot.
9. Hop On The Water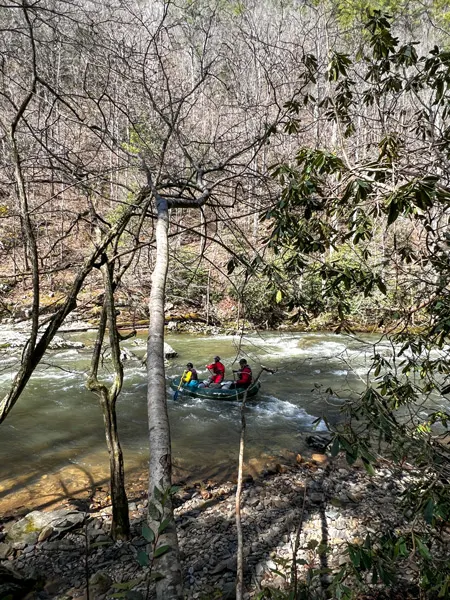 It's no secret that Hot Springs has a variety of recreational outdoor activities including tubing down the French Broad River, whitewater rafting, and kayaking.
While we are not personally whitewater rafters, you might be. This is one of the most adventurous things to do in Hot Spring, NC.
A few highly recommended companies for your outdoor adventures include the Nantahala Outdoor Center – French Broad Outpost, French Broad Adventures, Hot Springs Rafting Company, and Blue Heron Whitewater.
You'll pass many of these adventure tours on your way into Hot Springs.
While walking along the Laurel River Trail, we spied plenty of people learning how to whitewater raft from experienced guides.
Save These Hot Springs, NC Things To Do For Later: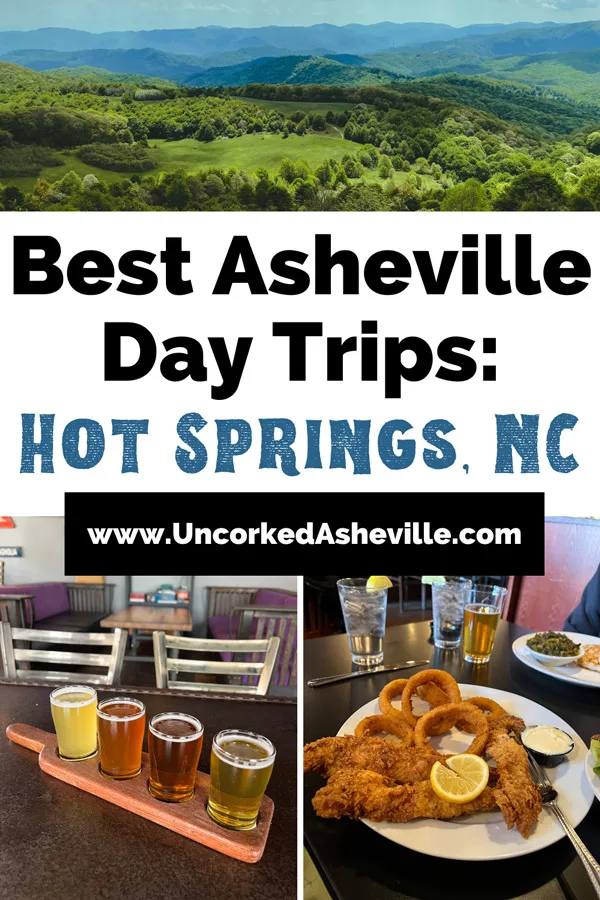 What are your favorite hikes near Hot Springs, NC? How about restaurants and shops?
If we had to pick the best things to do in Hot Springs for a one-day itinerary, we'd hike Lover's Leap or Max Patch, grab lunch and local brew at Big Pillow Brewing or Iron Horse Station, and stop at Addison Farm on the way toward Asheville.
If time allows, we'd also dip into Artisun Gallery and Cafe for some quick shopping and a coffee or smoothie.
What do you like to do in Hot Springs? What should we add to our bucket list?
Let us know in the comments. We are always exploring and re-exploring Western North Carolina.
And, if you love small and quirky towns like Hot Springs, try Old Fort, NC. Old Fort has a free museum, multiple annual festivals, breweries, and advanced mountain biking trails.
Book your stay in Hot Springs here.
You Might Also Enjoy These Nearby Destinations:
Black Mountain
Flat Rock
Hendersonville Area
Maggie Valley Area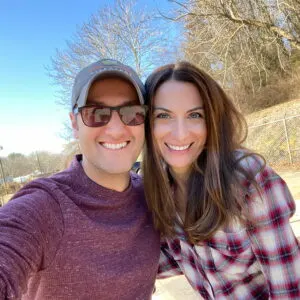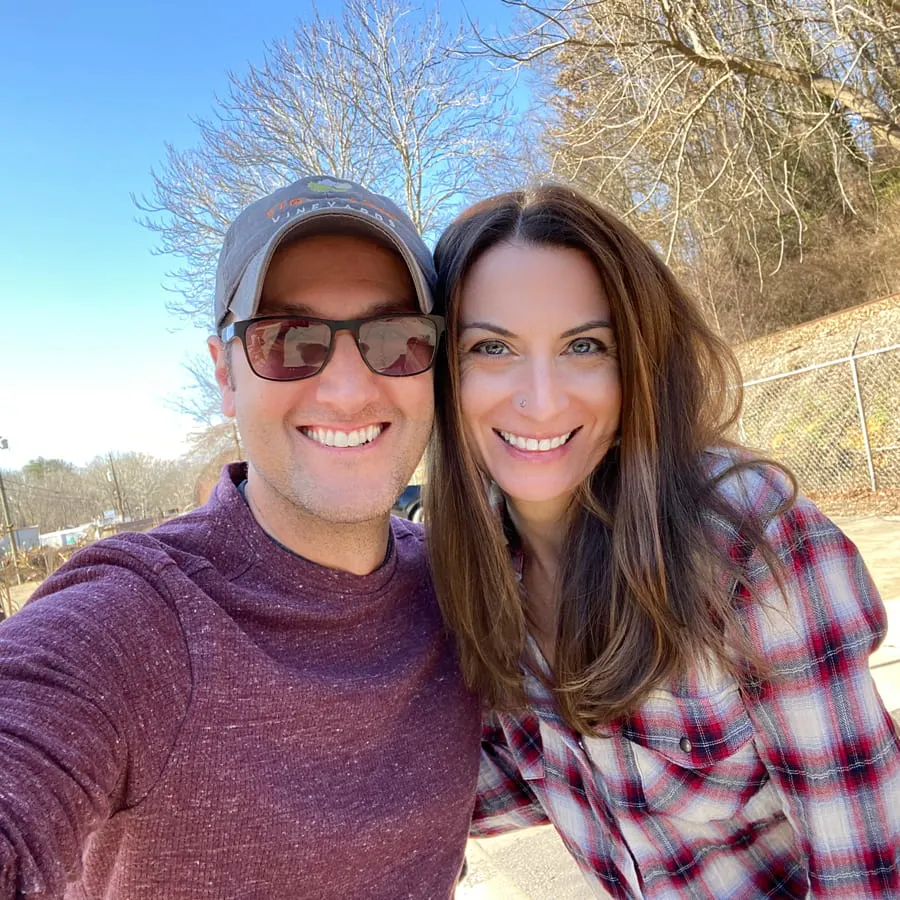 Christine (pronouns: she/her) is the owner and lead writer of Uncorked Asheville. After falling in love with those gorgeous Blue Ridge Mountains, Christine and her husband Tom decided to call Asheville, North Carolina their home. When her pointy Italian nose isn't stuck in a book, Christine is adopting all of the kitties, getting lost in the forest, and drinking an ESB.
Christine has a BA in English and History from Smith College, her MLIS from USF-Tampa, and is a former U.S. Fulbright Scholar - Indonesia. She also owns The Uncorked Librarian LLC with books and movies to inspire travel.