5 Great Movie Theaters In Asheville, NC
Whether it's a rainy day or you cannot wait to catch the newest release, head to the best movie theaters in Asheville, NC – from locals.
If you know us from our sister website, The Uncorked Librarian, you know that we love both books and movies to inspire travel.
Of course, we also covet international indie films, blockbusters, and books made into movies. And, who can resist the 100th sequel to Fast & The Furious?
Plus, the pilot half of Uncorked Asheville had to see the sequel to Top Gun the day it opened just as much as the tipsy librarian half had to see A Man Called Otto (while googling "does the cat die").
So, where can you catch the best movies in Asheville – both indie films as well as old-school and new releases?
If we had to pick, our favorite movie theater in Asheville is also a brewery and pizza joint perfect for the entire family – Asheville Pizza & Brewing.
Of course, we champion a few indie and locally-owned Asheville movie theaters too, one of which sits in a vibrant neighborhood filled with delicious food and artists' studios – Grail Moviehouse.
So, keep reading to see where to watch a movie, including a popular movie theater in Biltmore Park, in Asheville, NC – from locals.
Then, learn what to do nearby, including restaurants, bars, lakes, coffee shops, and more! Let's get started!
Explore more of the best things to do around Asheville.
This post may contain affiliate links that earn us a commission at no extra cost to you. If you love these guides, support Uncorked Asheville here.
5 Best Movie Theaters In Asheville, NC
1. Asheville Pizza & Brewing Co.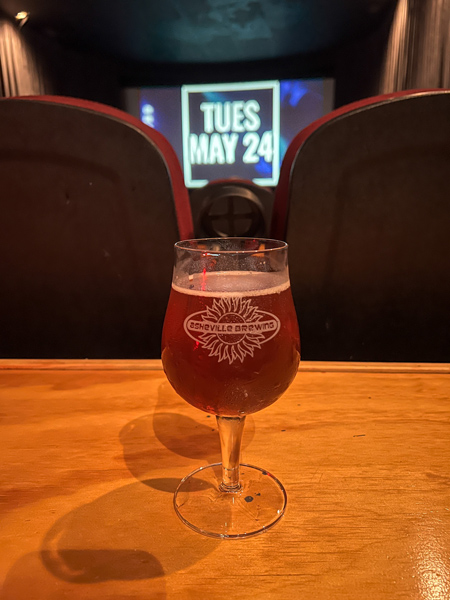 What could be better than eating delicious pizza, drinking local craft beer, and watching both old-school and new-release movies in Asheville?
Perfect for the entire family, Asheville Pizza & Brewing has it all – not to mention that this is one of AVL's top breweries and our number-one pick for movie theaters in Asheville.
While they have multiple locations across the city, only their North AVL location boasts a large indoor theater with comfy seating, including a table in front of your seat to eat at.
Their second theater is a bit more casual, usually playing family-oriented movies, with tables, a play area, and a bar in the back.
Asheville Pizza & Brewing features both discounted old-school and – dare we say – "vintage" movie classics along with hot new releases. Think The Neverending Story alongside the newest Avatar and Top Gun sequel.
Find showings throughout the week with afternoon matinees as well as evening showings. They also host comedy shows. And, how about that food?
Most well-known for serving up some of the best pizza in Asheville – with fun spoofs on movie names – Asheville Pizza & Brewing has salads, burritos, nachos, burgers, and sandwiches to eat while watching a movie.
We've also devoured those fish and chips and famous King Kong wings – also wonderful for takeout. For beer, find Stouts, IPAs, Pale Ales, Porters, Sours, and more.
And, as a part Celiac household, we most appreciate their gluten-free pizza crust – with vegan cheese options.
While Asheville Pizza & Brewing's specialty pies occasionally change, our favorites include the Meathead with items like sausage, pepperoni, and bacon and the Magnum P.I.E. with a coconut crust, ham, and pineapple.
Afterward, explore more of North Asheville, including Beaver Lake – one of our favorite lakes in WNC – the Botanical Gardens at Asheville, and more breweries like Zillicoah and Ginger's Revenge (GF beer!).
Asheville Pizza & Brewing Co. (Theater location) | 675 Merrimon Ave, Asheville, NC 28804
2. Grail Moviehouse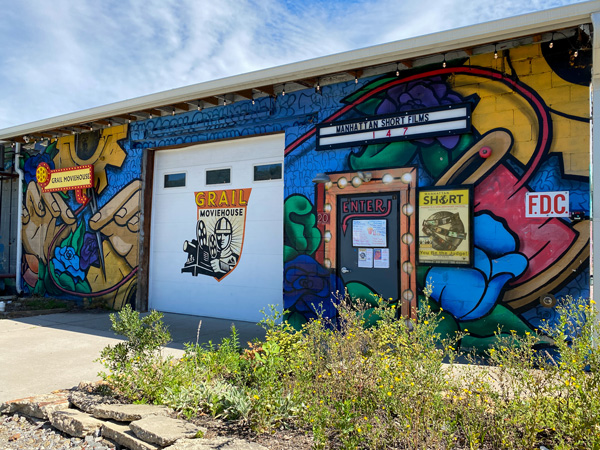 We just love the River Arts District (RAD) along the French Broad River.
This warehouse and industrial area is filled with eclectic artist studios, vibrant street art, and delicious restaurants like RosaBees, Baby Bull, and 12 Bones.
Not to mention pleb urban winery and Bottle Riot.
And, did you know that RAD is home to the Grail Moviehouse, one of the best and more hidden Asheville movie theaters for indie films and award shorts?
They play mostly indie films – along with a few bigger titles like A Man Called Otto – throughout the afternoon and evening.
Find a kitschy concession stand for popcorn, candy, and drinks, and head into the eclectic theater space. They recently added two more theaters (2022/2023).
We enjoy international shorts and movies in their main theater, snuggling into the theater seats, couches, and chairs – it's a more non-traditional set-up.
You may also book their theaters for private screenings with your friends or kids' birthday parties.
For artsy and esoteric Asheville cinema, this is your go-to as a locally-owned, independent, and alternative theater; you'll recognize the theater by the bright threading needle mural out front.
Afterward, consider walking the newly renovated RAD Riverwalk or roller skating at their numerous indoor and outdoor skateparks.
The Grail Moviehouse also makes for one of the best indoor things to do in Asheville on a rainy day.
Grail Moviehouse | 17 Foundy St, Asheville, NC 28801
3. Regale Biltmore Grande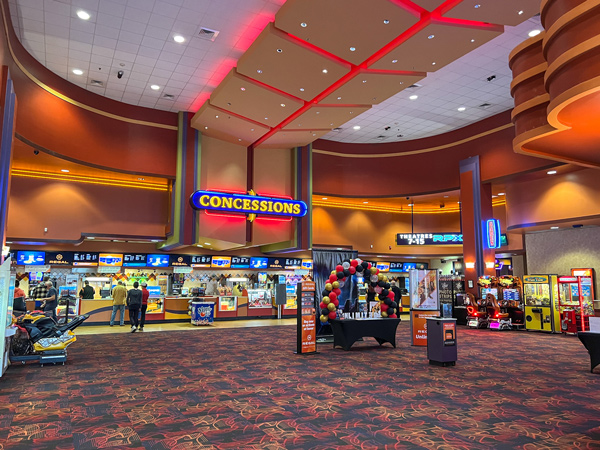 Of course, we cannot forget the best movie theater in Biltmore Park: Regale Biltmore Grande.
This is your go-to if you are craving traditional movie theaters – you know, fancy screens, recliners, and a massive concession stand.
Ticket prices are a steal for what you get, and select your specific theater seat – in advance or when you get there.
Regale Biltmore Grande also offers pre-order tickets for upcoming blockbusters.
If you can go on a weekday – you know we love exploring Asheville during non-peak times – you might have much of the theater to yourself.
Even better, know that Biltmore Park Town Square is a South Asheville destination for shopping, housing, and second locations for some of Asheville's most famous restaurants like Luella's and Nine Mile.
It's quite yuppie – and fancy – with free parking lots and garages throughout the area.
Before heading to the movies in Asheville, grab breakfast or brunch at newer Leo's Italian Social or Another Broken Egg.
On the outskirts, don't miss Ava's – one of the more hidden gems for donuts in Asheville.
Regale Biltmore Grande | Biltmore Park Town Square | 292 Thetford St, Asheville, NC 28803
4. The Carolina Cinemark Asheville
Also located around South Asheville near the Biltmore Forest area (Asheville is big on its neighborhoods), head to The Carolina Cinemark.
This is a great movie theater in Asheville if you live in neighboring suburbs like Arden. It is a bit more dated but usually a tad cheaper than Regale Biltmore Grande.
Enjoy the concession stand and find your typical theater seating and screens with a variety of showtimes for new movies.
Around The Carolina Cinemark, find access to the Blue Ridge Parkway – filled with gorgeous overlooks, hikes, and waterfalls – Lake Julian, and one of our favorite Asian restaurants in Asheville, Wild Ginger.
Hendersonville Road is a bit congested, but if you are out this way, check out nearby Biltmore Village and its great restaurants, Corner Kitchen, Andaaz, and Well-Bred Bakery.
Biltmore Estate is only ten minutes away by car, too.
The Carolina Cinemark Asheville | 1640 Hendersonville Rd, Asheville, NC 28803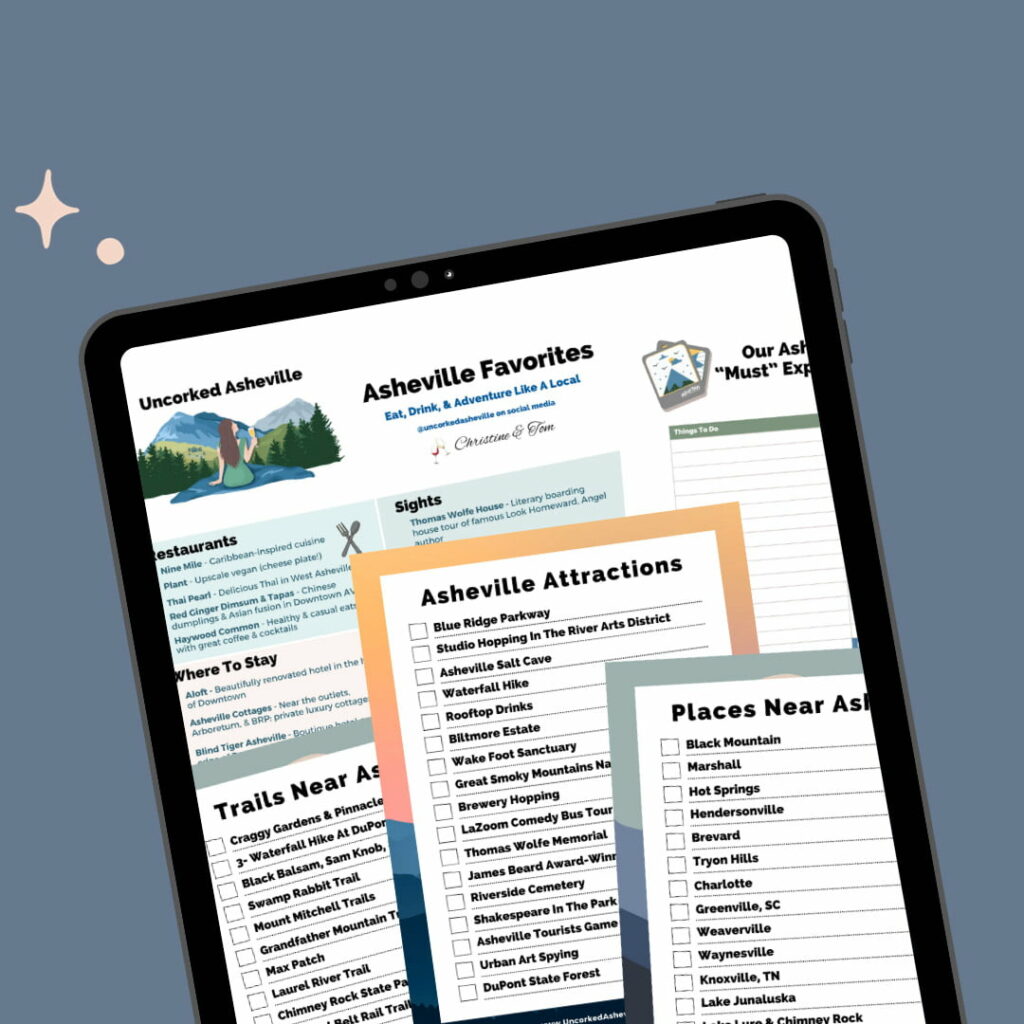 Never Miss Another Asheville Update
Experience Asheville like a local with our free attractions, dining, hiking, and day tripping guides. Get events, updates, and more straight to your inbox from Christine.
5. Fine Arts Theatre Asheville
The Fine Arts Theatre is another one of the best movie theaters in Asheville for first-run, artsy, and independent films.
Plus, it's in a great location: Downtown Asheville; you cannot miss that Art-Deco building.
Attend the Jewish Film Festival or catch a documentary that you might not have seen anywhere else. Many of their showings promise to be inspiring and educational.
Showings run from the early afternoon through the evening and generally cost around the same price as the Asheville movie theaters mentioned above.
Nearby, enjoy top Downtown restaurants and brew pubs like Limones, Shanghai Noodle House, Wicked Weed, and Holeman & Finch.
Find rooftop bars like Social Lounge and Capella on 9 and dessert spots like Asheville Chocolate and French Broad Chocolate Lounge.
Grab coffee at High Five and Old Europe, and head to a wine bar like 5 Walnut or Walls.
And, if you like places like the Fine Arts Theatre, try Shakespeare in the Park put on by the Montford Park Players from spring into late fall in Asheville's Historic Montford District.
Fine Arts Theatre Asheville | 36 Biltmore Ave, Asheville, NC 28801
Save These Asheville Movie Theaters For Later:
Where To Stay In Asheville
Explore the best places to stay in Asheville. A few of our top suggestions:
Aloft – Downtown Asheville – Centrally located and recently renovated, enjoy a rooftop pool, a gorgeous bar, and trendy rooms.

The Omni Grove Park Inn – Treat yourself to a luxury resort in North Asheville, complete with breathtaking sunsets, terrace bars and dining, and loads of Asheville history.

Hampton Inn And Suites Asheville Biltmore Area – A budget-friendly but renovated hotel on busier Brevard Road that's perfect if you wish to stay between Biltmore Estate, Downtown Asheville, and the Blue Ridge Parkway.

Asheville Cottages – Gorgeous 1 to 3-bedroom cottages with a private deck, housing a grill and hot tub. Find luxurious heated-floor bathrooms with rain showers, a well-stocked kitchen, and the cleanest rooms in town.

Foundry Hotel – An oasis in Downtown Asheville, Foundry Hotel is a nod to AVL's industrial history. Find famous restaurant Benne on Eagle while sleeping ensconced in charm and elegance.

Country Inn & Suites by Radisson, Asheville Westgate, NC – Located off of the highway as you enter AVL, find a sleek and clean hotel at a great price.

Black Walnut B&B Inn – Designed by Biltmore's supervising architect, Richard Sharp-Smith, this 1899 inn is close to Downtown AVL and serves afternoon tea. Two rooms are pet-friendly.
Don't miss out on these Asheville properties on Booking.com, too.
What is your favorite movie theater in Asheville, NC?
If we had to pick our top two places to watch both indie and new-release movies in Asheville, we'd go with Asheville Pizza & Brewing and the Grail Moviehouse.
Nothing beats pizza and pub grub paired with local brews in a comfy and casual theater space perfect for the entire family or a low-key indie theater with couches in one of the best AVL neighborhoods.
What movie theaters in Asheville do you love and frequent? Let us know in the comments.
And, did you know that we run a sister website, The Uncorked Librarian, that shares hot new movie releases along with movies to inspire travel?
Lastly, see what else you can do in Asheville with the entire family.
And speaking of movies, you might also like:
Best Movies Filmed In NC
Movies From Wilmington
Asheville Museums & Historic Sites
Arts, Culture, Media, & History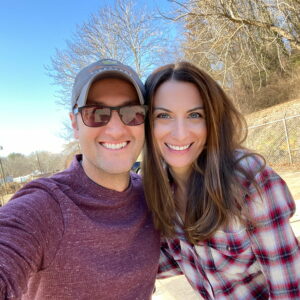 Christine (pronouns: she/her) is the owner and lead writer of Uncorked Asheville. After falling in love with those gorgeous Blue Ridge Mountains, Christine and her husband Tom decided to call Asheville, North Carolina home. When her pointy Italian nose isn't stuck in a book, Christine is adopting all of the kitties, getting lost in the forest, and drinking an ESB. She has a BA in English and History from Smith College, her MLIS from USF-Tampa, and is a former U.S. Fulbright Scholar - Indonesia. Christine also owns The Uncorked Librarian LLC with books and movies to inspire travel.