Marshall, NC Guide: Best Things To See, Eat, and Do
An easy and close Asheville day trip, explore Marshall, North Carolina, including where to eat, what to see and do, and more.
As Asheville locals, we love visiting the surrounding Western North Carolina (WNC) mountain towns for hiking, food, brews, and history.
Along with Weaverville and Black Mountain, one of the closest small towns to AVL filled with big, friendly smiles includes Marshall, NC.
Marshall to Asheville is only about a 30-minute drive and promises great hiking trails along the river, kitschy restaurants, funky shops, and seriously witchy finds.
Who knew that a town with a population of under 800 could have so many vegan and gluten-free treats, one of our favorite specialty grocery stores around, and multiple stops for books?
There's street art, artist studios, and even a brewery – not to mention some pretty memorable festivals.
So, what are some of the top things to do in Marshall, NC? Where should you eat and drink? What are the must-visit Downtown Marshall shops?
Plus, where can you stay, and where should you park? Let's get started, and be sure to share your finds and favorites in the comments.
Discover more great day trips from Asheville, NC.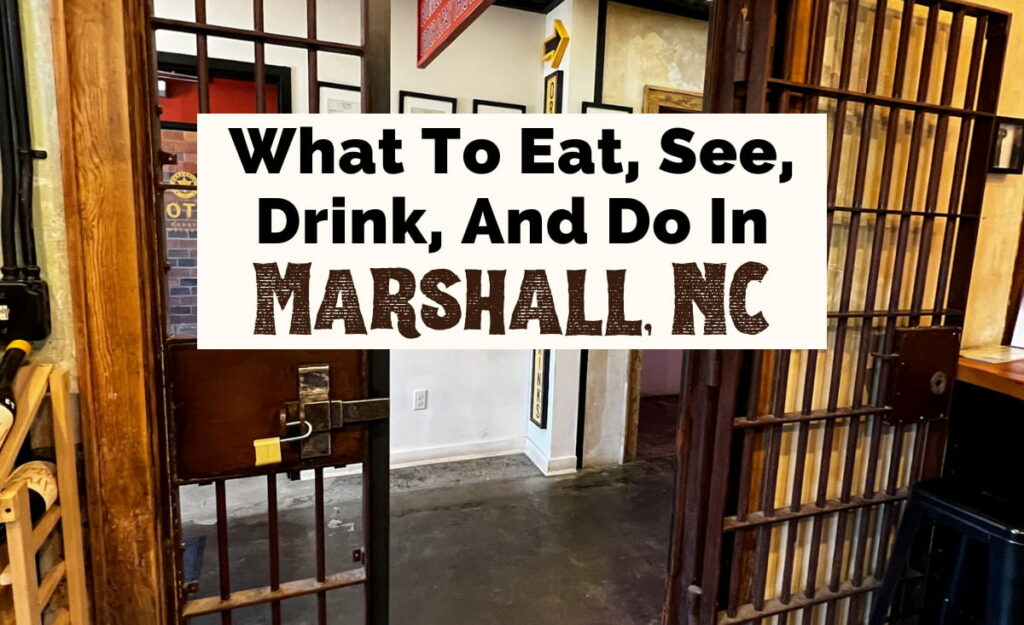 This post may contain affiliate links that earn us a commission at no extra cost to you. If you love these guides, support Uncorked Asheville here.
Marshall, North Carolina Guide
Where Is Marshall, NC?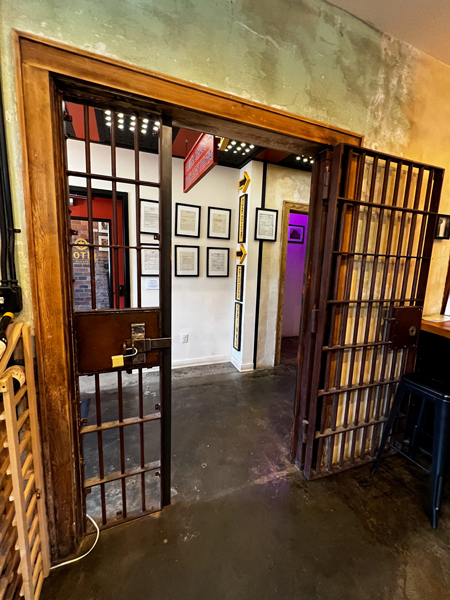 Situated in Western North Carolina, Marshall is a small mountain town in Madison County and is part of the Asheville Metropolitan Statistical Area.
Marshall sits just slightly northwest of Asheville and Weaverville with popular Mars Hill, Hot Springs, and Burnsville as neighbors.
According to the U.S. Census Bureau, as of 2021, the population sat at just under 800 people.
What Is Marshall Known For?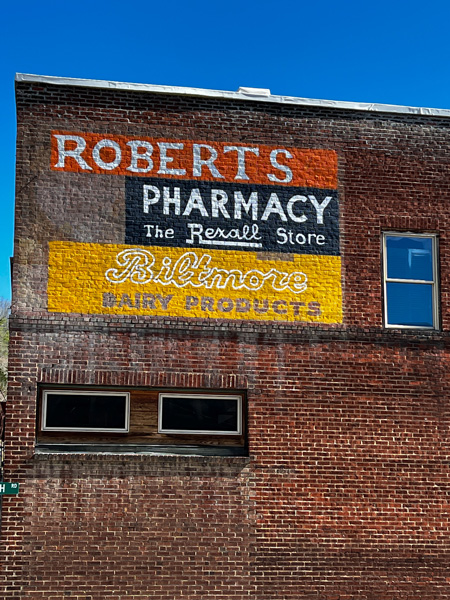 Marshall, North Carolina is a great place to live, especially for those looking to retire and live in the Asheville suburbs.
It is a quieter mountain town with local vibes and far less congestion and tourism than its glitzy, larger neighbors like AVL.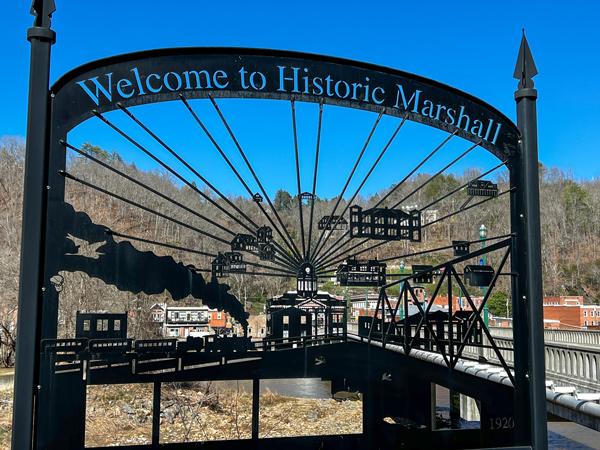 Yet, don't let its size fool you: Downtown Marshall promises shops, cafes, restaurants, artist studios, and quirky festivals.
For travelers, Marshall, NC is known for fishing, river rafting, and great nearby hiking – think Hot Springs and access to the Appalachian Trail.
We especially enjoy this area on the weekends, as it stays much quieter than Asheville and Hendersonville.
Marshall To Asheville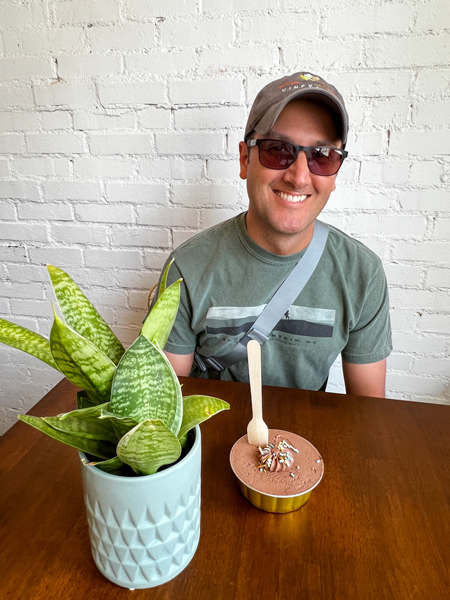 Marshall, NC to Asheville, NC is about a 30-minute drive and just under 20 miles, making it a great day-tripping option.
From Asheville, take I-26 W/US-25 N/US-70 W toward Weaverville to exit 19A to merge onto US-25 N/US-70 W toward Marshall.
Essentially, you'll follow signs for US-70 BUS W – with a few turns along the way. Much of the drive is scenic and follows the French Broad River.
You'll land around Marshall's Main Street, and there is plenty of free street parking along with a few smaller parking lots.
During the weekday, pay attention to all parking signs as some spots have time limits.
Top Things To Do In Marshall (& Nearby)
Hike The Laurel River Trail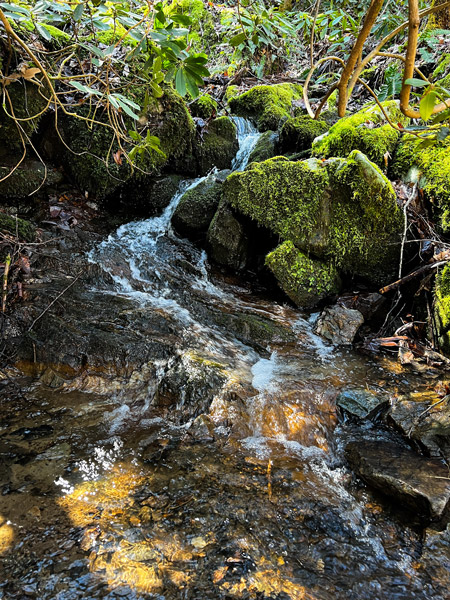 Situated between Hot Springs and Marshall, the Laurel River Trail is a largely flat and pet and family-friendly hike.
Although a total of just over 7 miles, as an out and back, hikers may go as far out as they like, following along Big Laurel Creek.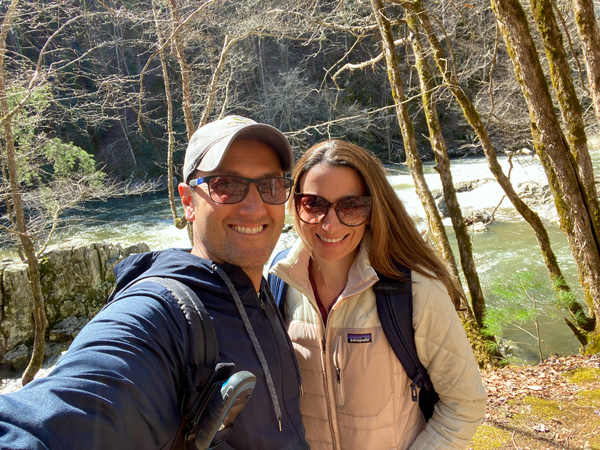 Just note that the first mile sits on private property, which means that hikers must adhere to the trail. The rest of the path follows a former rail bed into the Pisgah National Forest.
Scenic and low-key, the Laurel River Trail is perfect for picnics and watching whitewater rafters from afar.
The trail ends in one of NC's abandoned towns, Runion, which is a former logging area.
Stroll Downtown Marshall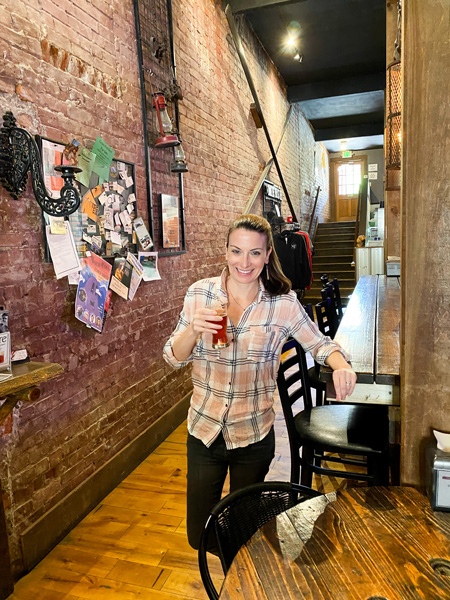 Walkable Downtown Marshall is full of eccentric shops, cafes, bookstores, coffee shops, restaurants, and even a brewery – which we will talk about more in-depth below.
We suggest parking anywhere along Main Street, as the area is not that expansive and has sidewalks.
To us, the Madison County Courthouse is a great grounding historic landmark and starting point.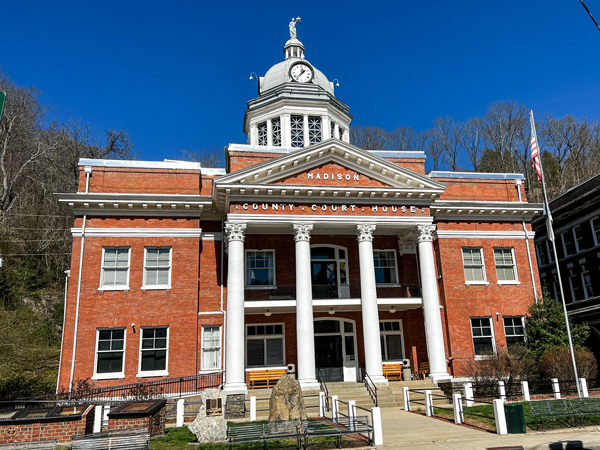 Designed in 1907 by Biltmore architect, Richard Sharp Smith, this two-story brick courthouse sits in the heart of town and faces the French Broad River.
It's nearby here you'll find the former jailhouse, Zuma Coffee, the bridge to Blannahassett Island, train tracks, and nearby signage about the Shelton Laurel Massacre and North Carolina Civil War Trails.
Read more about North Civil War sites.
Listen To Bluegrass At The Marshall Depot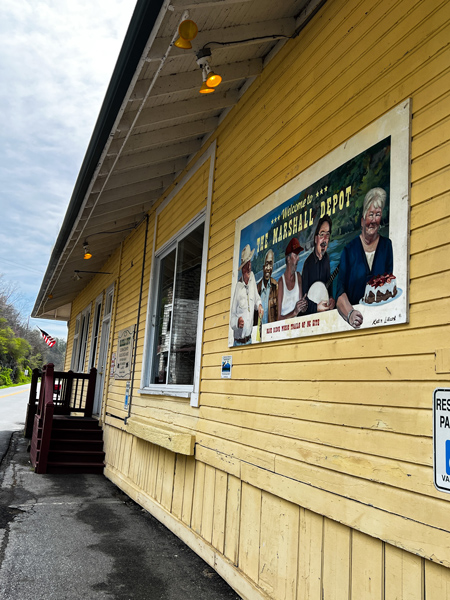 Up until the 1970s, the Southern Railroad Depot served as just that, a depot.
Today, the Depot is home to Marshall's music scene, especially for lovers of folk, old-time country, acoustic, and Bluegrass music.
With free admission and concessions, attend a Monday, Thursday, or Friday night concert, most of which are perfect for the entire family.
The Depot | 282 S Main St, Marshall, NC 28753
Attend A Market At Marshall High Studios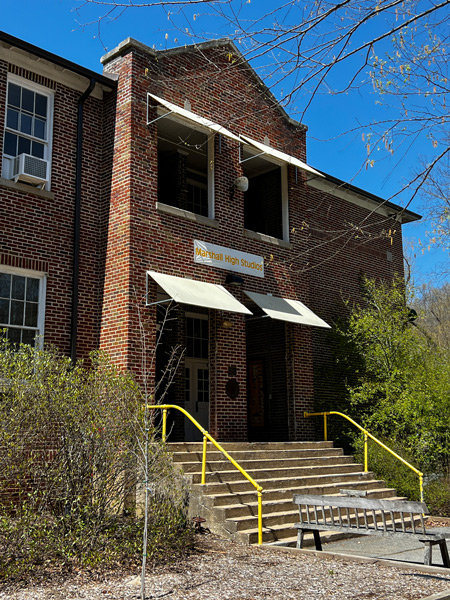 One of the best Marshall, NC things to do for art lovers is to attend a market or event at Marshall High Studios.
Marshall High Studios houses ceramic, film, painting, and drawing artists along with businesses for yoga, wellness, and more, like an apothecary.
The studios sit across from Downtown on Blannahassett Island, and inside the building, visitors will find a rentable auditorium – home to seasonal markets – and a variety of artist studios.
Just know that these studios are not like the Asheville River Arts District, and you cannot necessarily walk in and out of them, shopping and talking with the artists.
You'll want to wait for a market for those doors to open, complete with food trucks.
Marshall High Studios | 115 Blannahassett Island Rd, Marshall, NC 28753
Visit Hot Springs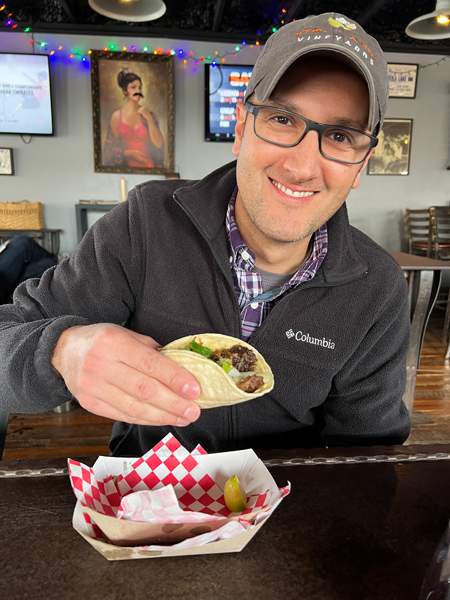 Another one of our favorite quaint towns near Asheville, Hot Springs, NC to Marshall, NC is about a 20-minute drive, or 16 miles away.
Hot Springs is full of fun things to do, including soaking in the famous mineral waters, whitewater rafting, hiking, and grabbing a bite to eat.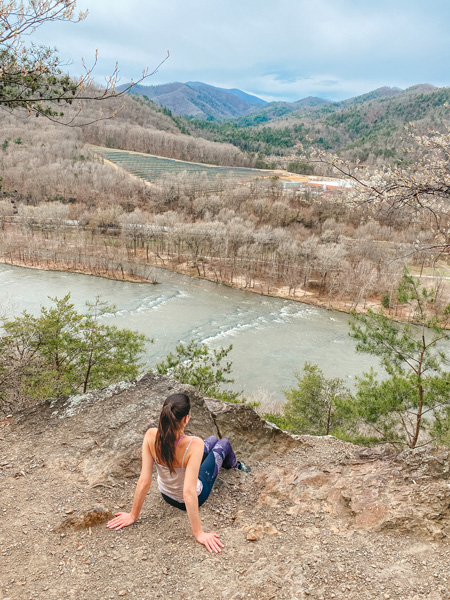 We enjoy trekking Lover's Leap Loop, which is just under a moderate 2-mile hike with Appalachian Trail access.
Spy Hot Springs and Madison County from high above. When not icy or snowy, this is one of our favorite winter hikes in the Asheville area.
Then, grab a local brew at Big Pillow Brewing with tacos from The Grey Eagle Taqueria.
Adventure Outdoors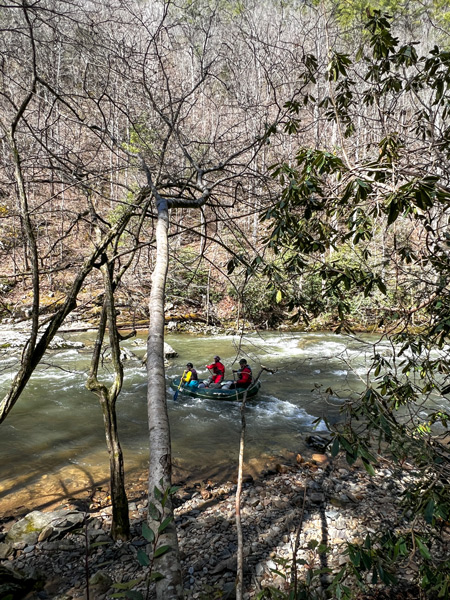 One of the best things to do in Marshall and Madison County is all of the outdoor sports like zip lining, whitewater rafting, canoeing, kayaking, fishing, horseback riding, and more.
In fact, you'll pass quite a few reputable companies on your drive – and see plenty of people engaging in all of the above activities.
A few outdoor adventure companies include the Nantahala Outdoor Center – French Broad Outpost, Hot Springs Rafting Company, French Broad Adventures, and Blue Heron Whitewater.
Where To Eat & Drink
Zuma Coffee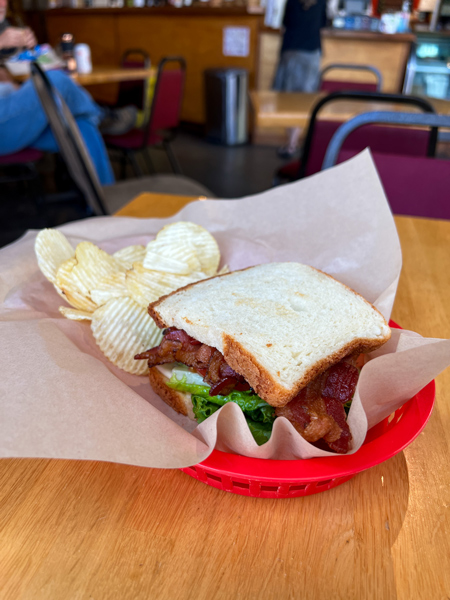 Situated in front of the courthouse in the heart of Downtown Marshall, Zuma Coffee is pretty much a staple.
A bit kitsch, order anything from coffee and smoothies to breakfast and lunch.
Most notably, Zuma labels their menu for vegan and gluten-free diners, which is a bonus for our half-Celiac and fully lactose-intolerant household.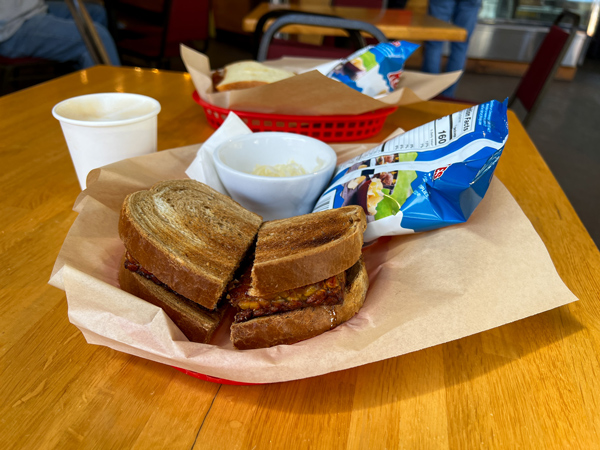 For breakfast, choose from granola, muffins, egg platters, bagels and cream cheese, and breakfast burritos. For lunch, try a gluten-free BLT and tempeh Reuben.
Or, enjoy a variety of your favorite classic sandwiches – tuna, chicken salad, roast beef, turkey, grilled cheese, and ham – as well as salads and wraps.
Read more about eating vegan and vegetarian around AVL.
Zuma Coffee | 7 N Main St, Marshall, NC 28753
Star Diner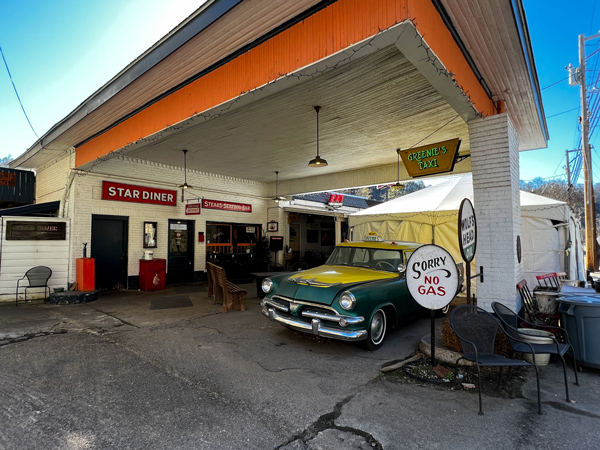 You wouldn't necessarily expect to find fine dining in Marshall, North Carolina, but the Star Diner promises both dinner and brunch – with outdoor and limited indoor seating.
With seasonal menus – labeled for dairy-free, vegan, vegetarian, and gluten-free diners – start with fried oysters, salads, Brussels sprouts, and roasted beets.
Meat and seafood entrees include dishes like sea bass, ribeye steak, bison meatloaf, pasta, and fried chicken.
Star Diner's brunch menu features anything from shrimp and grits to pork schnitzel and jumbo lump crab scramble along with a few items found on their dinner menu.
Read more about eating dairy-free around Asheville.
Star Diner | 115 N Main St, Marshall, NC 28753
Mad Co. Brew House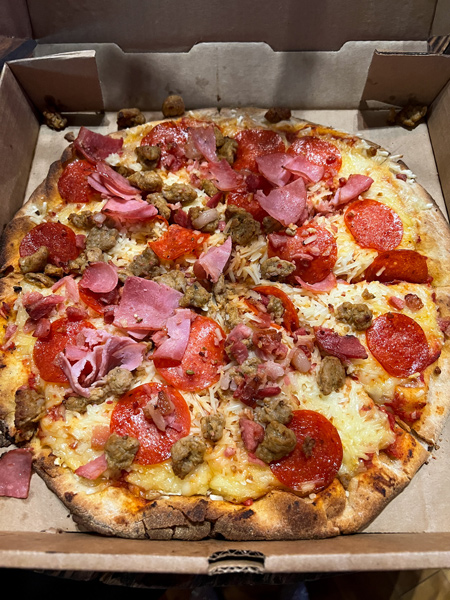 Did you know that Marshall, NC has its own brewery?
Mad Co. Brew House is a must for both mouthwatering pizza and delicious beer with views overlooking the French Broad River.
With a rotating tap list, try anything from an ESB and lager to a strawberry brew or sour. For non-beer drinkers, they have cider and Ginger's Revenge beer.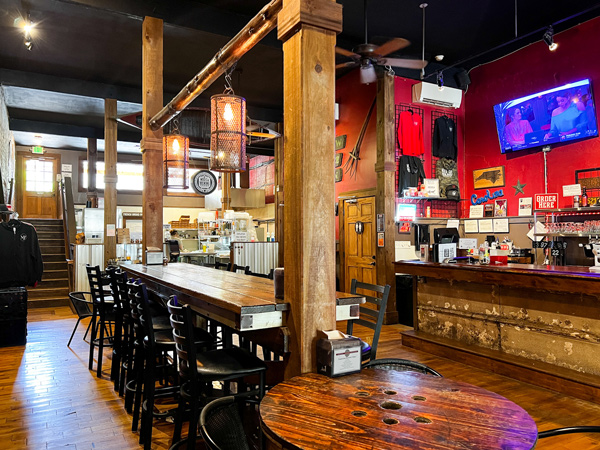 Mad Co. offers a variety of pizza sizes – including a personal pizza – along with gluten-free crust and vegan cheese options.
Select from specialty pies, salads, and calzones. Don't forget dessert. Eat pizza on the deck or take it to go.
We appreciate both the indoor and outdoor seating – it's a large space with fun old-time murals.
Read more about Asheville's famous beer scene. Or, find your next great AVL pizza stop.
Mad Co. Brew House | 45 N Main St, Marshall, NC 28753
Uncover even more great places to eat in Marshall.
Shopping & Stores
French Broad Exchange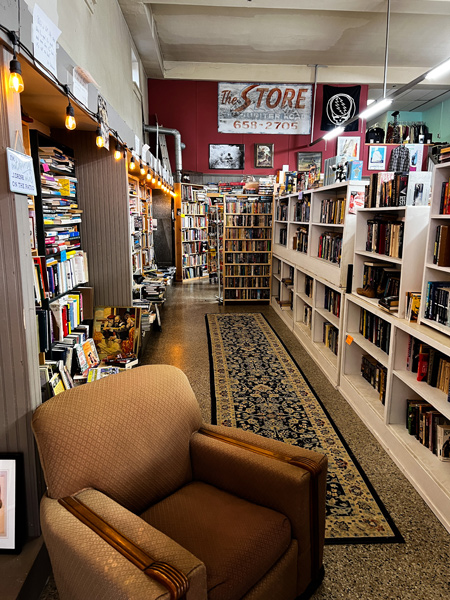 Shopping is another one of Marshall's attractions, and we cannot resist a used bookstore, especially with all of the bibliotourism around Asheville.
French Broad Exchange promises used books, vintage clothing, art, vinyl records, and more at fair prices.
Peruse the stacks with themes like "forgotten realms," and hang out on a comfy couch with your finds. It's pretty hard to leave empty-handed.
Immediately next door, find Natural Canva Tattoo, your local tattoo shop.
Discover more terrific bookstores in Asheville.
French Broad Exchange | 63 S Main St, Marshall, NC 28753
Madison Natural Foods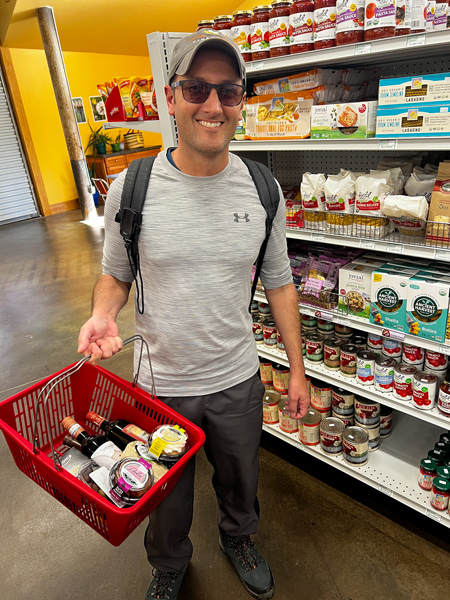 Take all of our money… We can never resist stopping into Madison Natural Foods, which is a great stop if you are looking for picnic-type items.
This is your go-to for specialty food – including gluten-free and vegan items – organic fruits and veggies, local produce and cheeses, wine, and fresh bread.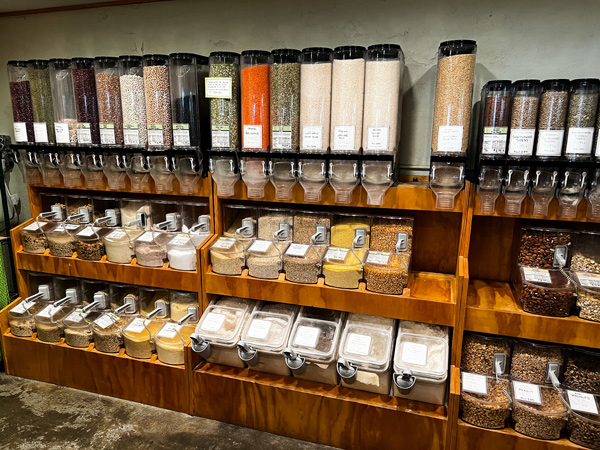 We usually fill up our wine bag, grab some local AVL Dare vegan cheese, and snag some fresh olives along with snack bars, vegan mini-cakes, and jasmine green tea.
Madison Natural Foods has coffee beans, spices, and food to go. Right outside, be sure to check out (and donate to) the Little Free Library.
Madison Natural Foods | 101 N Main St, Marshall, NC 28753
Main Street Comics & Games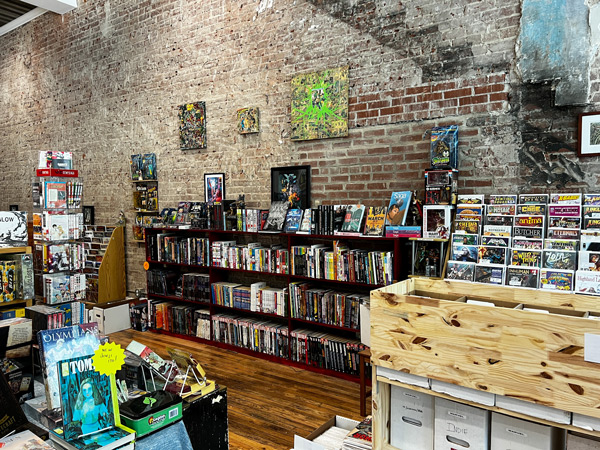 Downtown Marshall is the perfect place to geek out, and Main Street Comics & Games is it, especially if you love D&D, board games, and comics.
As owners of The Uncorked Librarian, our sister book and movie site, a stop here is a must.
Main Street Comics & Games has a terrific graphic novel and manga selection. Plus, buy anything from gaming dice to tradable cards and collectible figurines.
They even host gaming events, including adult D&D and themed game nights.
Main Street Comics & Games | 82 S Main St, Marshall, NC 28753
Of Wand & Earth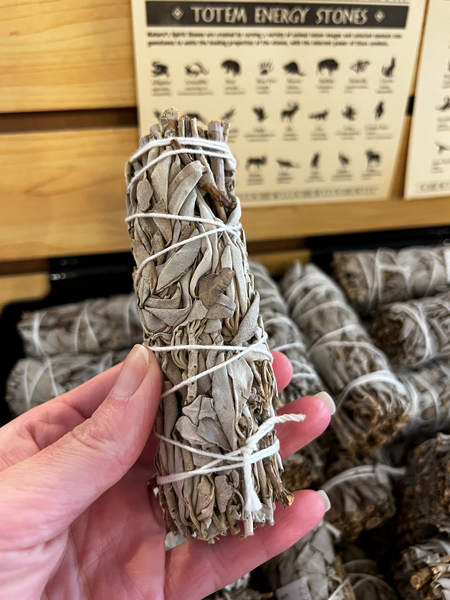 Are you looking for a metaphysical store? Of Wand & Earth might just be for you.
They offer on-site tarot readings and host a variety of free events and pre-paid classes.
Purchase anything from gems and sage to Wicca books, incense, and fantastical and mythical decor.
Head to the back for multiple seating areas and a metaphysical book library. This is your go-to for everything psychic, astrology, witch-esque, and tarot.
Of Wand & Earth | 20 S Main St, Marshall, NC 28753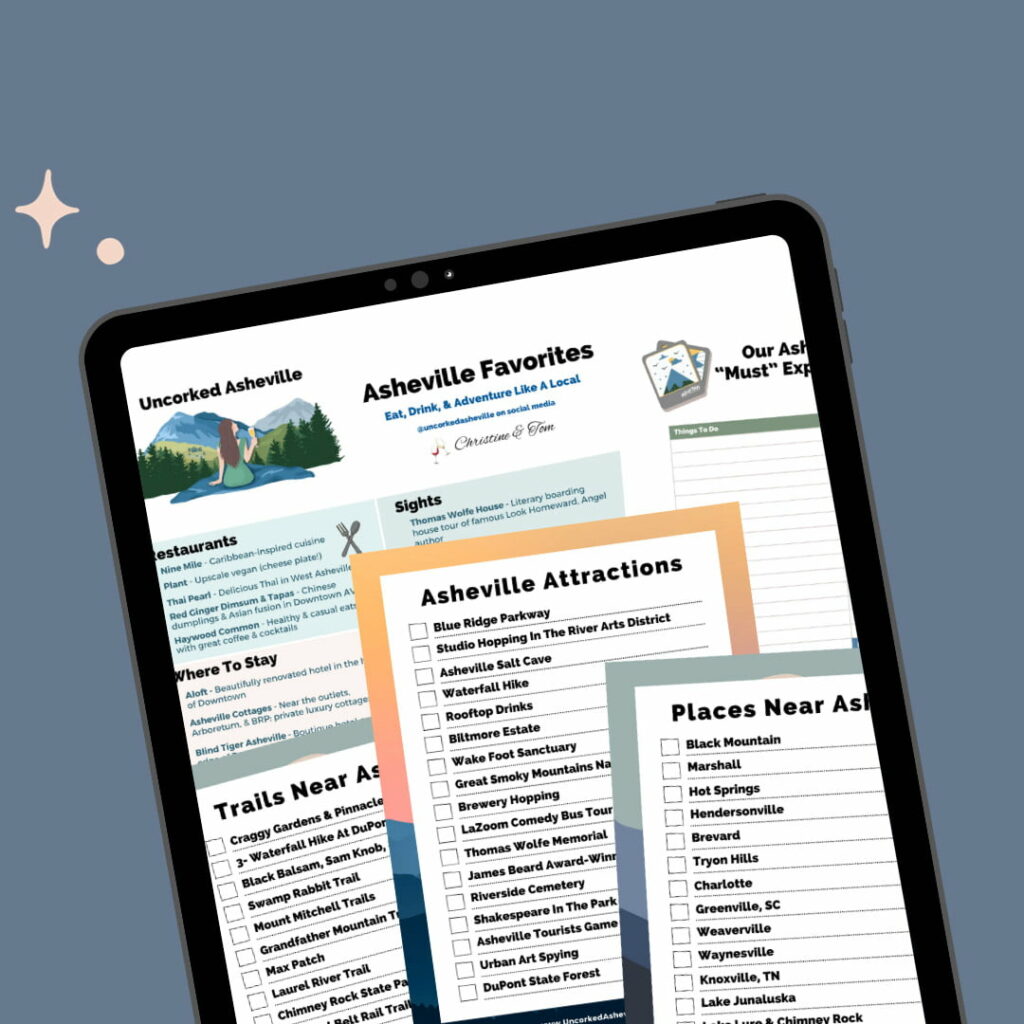 Never Miss Another Asheville Update
Experience Asheville like a local with our free attractions, dining, hiking, and day tripping guides. Get events, updates, and more straight to your inbox from Christine.
Festivals & Events
Marshall Mermaid Parade & Festival
Typically held the first Saturday of June – and since 2007 – one of the most unique things to do in Marshall is to attend the Mermaid Parade and Festival.
With the French Broad River right there, of course, there has to be a celebration of merpeople and sea creatures.
Go on a treasure hunt, shop for arts and crafts, listen to live music, grab food from a food truck, watch the parade, and get dressed up.
Read more about North Carolina's mythical beings, monsters, and more.
Marshall Gras
Celebrate Mardi Gras Marshall-style with Marshall Gras. Held in March, watch a parade, eat some King Cake, and dress up.
Marshall also hosts Fourth of July fireworks, a November Handmade Market, and Jingle Mingle on Main in December.
Check out all of the events in and around Asheville.
Where To Stay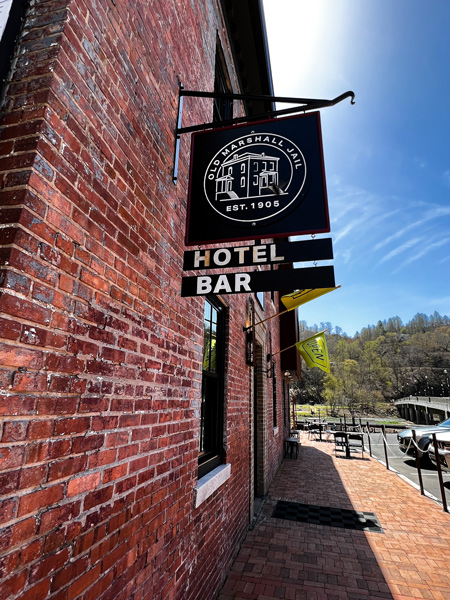 Old Marshall Jail Hotel – Stay at the longest-operating jail in North Carolina history. Built in 1905, this former jail closed in 2012 and has been renovated to now house guests. The hotel sits along the French Broad River in the heart of town.
The Ashe Farm – One mile from the Madison County Courthouse, enjoy a 3-star Bed & Breakfast with a nursery.
Where To Stay In Asheville
Explore the best places to stay in Asheville. A few of our top suggestions:
Aloft – Downtown Asheville – Centrally located and recently renovated, enjoy a rooftop pool, a gorgeous bar, and trendy rooms.

The Omni Grove Park Inn – Treat yourself to a luxury resort in North Asheville, complete with breathtaking sunsets, terrace bars and dining, and loads of Asheville history.

Hampton Inn And Suites Asheville Biltmore Area – A budget-friendly but renovated hotel on busier Brevard Road that's perfect if you wish to stay between Biltmore Estate, Downtown Asheville, and the Blue Ridge Parkway.

Asheville Cottages – Gorgeous 1 to 3-bedroom cottages with a private deck, housing a grill and hot tub. Find luxurious heated-floor bathrooms with rain showers, a well-stocked kitchen, and the cleanest rooms in town.

Foundry Hotel – An oasis in Downtown Asheville, Foundry Hotel is a nod to AVL's industrial history. Find famous restaurant Benne on Eagle while sleeping ensconced in charm and elegance.

Country Inn & Suites by Radisson, Asheville Westgate, NC – Located off of the highway as you enter AVL, find a sleek and clean hotel at a great price.

Black Walnut B&B Inn – Designed by Biltmore's supervising architect, Richard Sharp-Smith, this 1899 inn is close to Downtown AVL and serves afternoon tea. Two rooms are pet-friendly.
Don't miss out on these Asheville properties on Booking.com, too.
Save Our Guide To Marshall, NC For Later: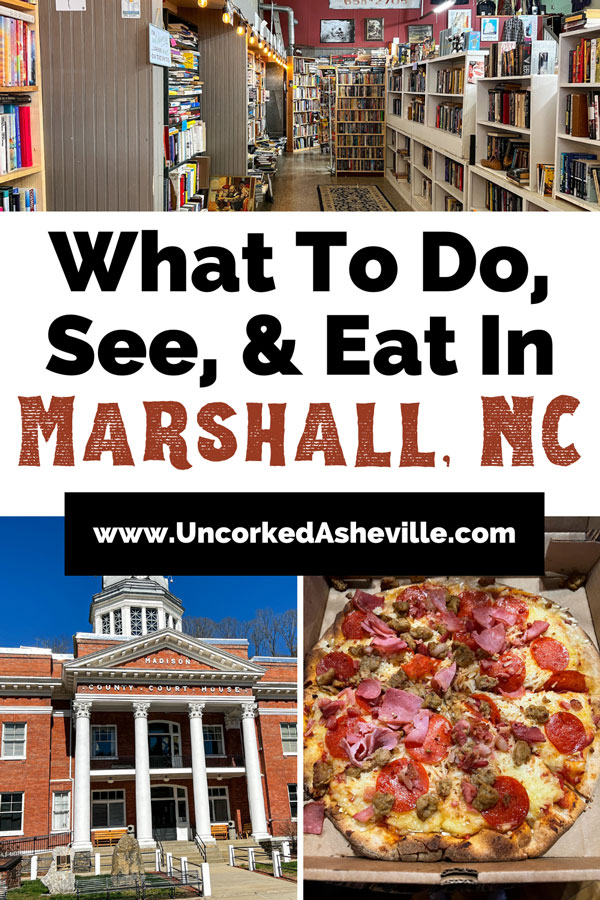 Have you been to Marshall, North Carolina?
Have you visited Marshall? What did you see and do? Where did eat?
If you like small towns with loads of history and character like Marshall, you might also enjoy Old Fort, NC, which is home to adventurous mountain biking trails, a free museum, and breweries.
Let us know your favorites in the comments. We are always exploring as well as adding and updating our lists.
You Might Also Enjoy:
Black Mountain, NC
Asheville Guide
Weaverville Guide
Maggie Valley Guide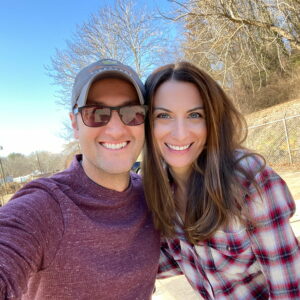 Christine (pronouns: she/her) is the owner and lead writer of Uncorked Asheville. After falling in love with those gorgeous Blue Ridge Mountains, Christine and her husband Tom decided to call Asheville, North Carolina home. When her pointy Italian nose isn't stuck in a book, Christine is adopting all of the kitties, getting lost in the forest, and drinking an ESB. She has a BA in English and History from Smith College, her MLIS from USF-Tampa, and is a former U.S. Fulbright Scholar - Indonesia. Christine also owns The Uncorked Librarian LLC with books and movies to inspire travel.