Uncover the best Weaverville breweries around the Asheville area – from AVL locals.
Weaverville is a residential Asheville suburb – only 15 minutes by car – with a walkable downtown, delicious restaurants, watering holes, Lake Louise, and free parks.
There are also quite a few smaller breweries in Weaverville (and nearby), each with its own unique twist and space.
See which Weaverville brewery pays homage to Doctor Who, and which taproom serves up both pub grub and Sunday brunch.
We'll share kid and pet-friendly breweries along with who has the best hops, most experimental brews, and other alcoholic and non-alcoholic options, especially as a half-Celiac household.
Lastly, explore a few of our favorite breweries near Weaverville on the edge of North Asheville and Woodfin, especially since they are under 10 to 15 minutes by car.
Be sure to let us know your favorite brewery in Weaverville in the comments, and know that for all of the breweries directly in Downtown Weaverville, visitors can park in the free lot at the Main Street Nature Park.
Let's get started!
Explore all of our Weaverville travel guides.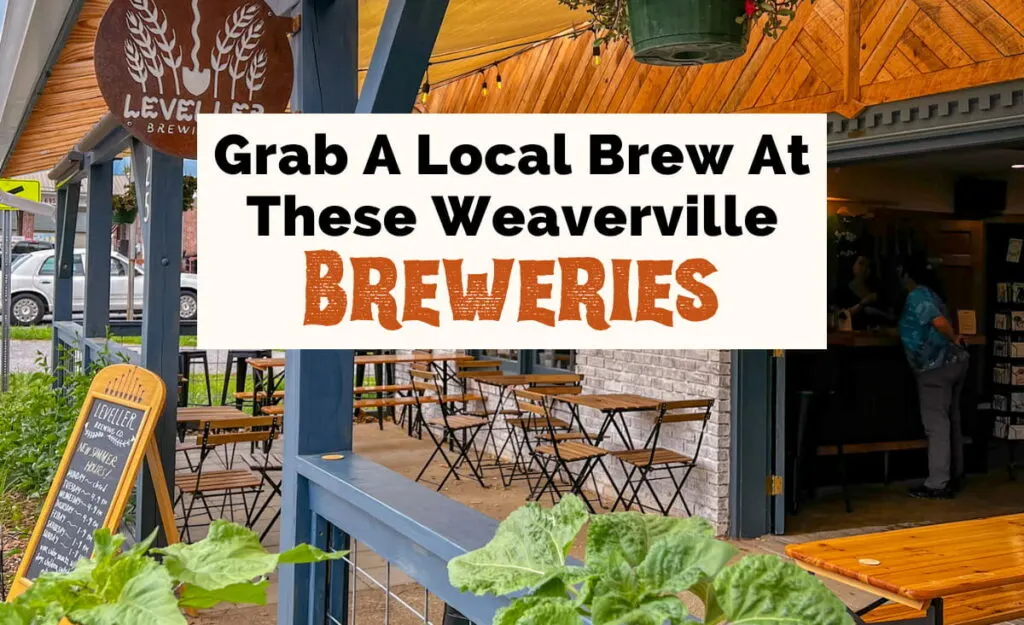 This post may contain affiliate links that earn us a commission at no extra cost to you. If you love these guides, support Uncorked Asheville here.
All Weaverville Breweries
Leveller Brewing Co.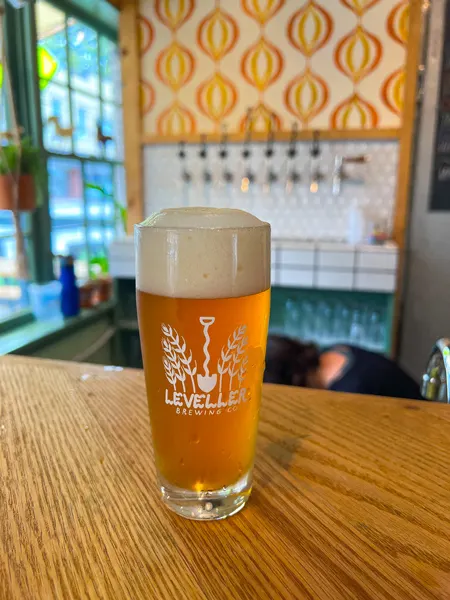 With a soft opening at the end of 2022, Leveller Brewing is one of the newest breweries in Weaverville, NC.
We are obsessed with the design; did Joanna Gaines help decorate? What a cozy and rustic space.
Although a bit smaller than some of those famous Asheville breweries, chill with the beer tanks in Leveller's indoor taproom.
Or, head outside to the covered patio to people-watch along Main Street Weaverville.
Beers tend to showcase the hops, and you might find anything from a Czech Pilsner and Altbier to Farm House IPAs, American Pale Ales, and dark and light Lagers.
For non-beer drinks and our half-Celiac household, select from a unique wine list or cider from local AVL cidery, Botanist & Barrel.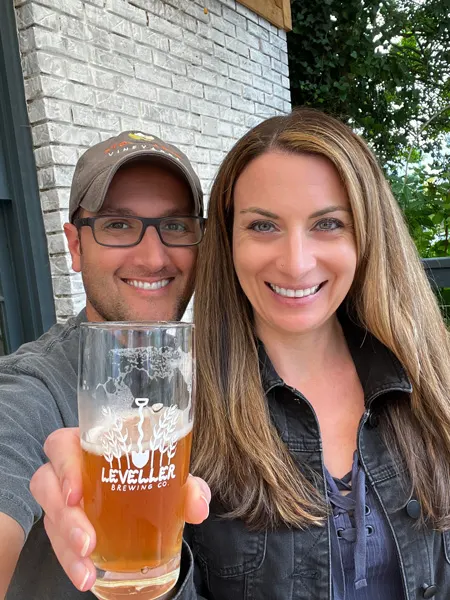 Non-alcoholic options include soda from Devil's Foot, Shanti Jun kombucha elixirs, and seltzers. We spied Dare vegan cheese in the fancy snack fridge.
Although Leveller Brewing has low-key, on-site bites, outside food is also allowed.
This is a kid and pet-friendly Weaverville brewery, but know that space is a tad tight, especially for multiple leashed pooches.
Owned by a husband-and-wife team, find Sally Anne Morgan's art on the walls and purchase her beautifully printed greeting cards.
Leveller Brewing Co. | 25 N Main St, Weaverville, NC 28787
Eluvium Brewing Company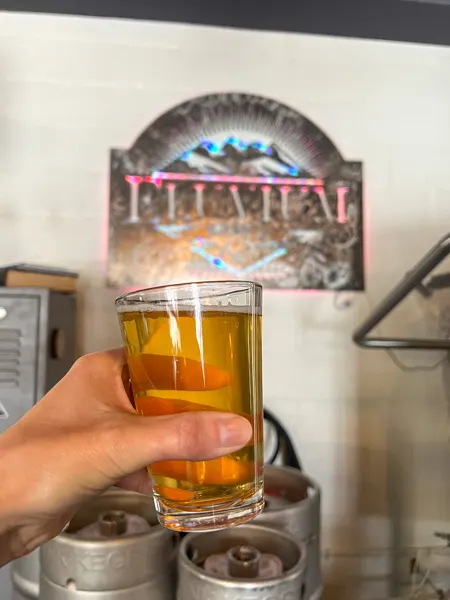 We've watched Eluvium Brewing change and grow over the years, and they've been in town since 2017.
One of the only Weaverville breweries with its own kitchen – opened after Baa'd Sheep Burritos shut down – Eluvium is great for pub grub as well as Sours, Lagers, IPAs, Helles, Wheat, Altbiers, Blondes, Pils, and Brown Ales.
Along with craft beer, non-beer drinkers can enjoy seltzers, guest ciders, and ginger beer.
We appreciate that Eluvium Brewing Company posts when they clean their taps and are family and dog-friendly, with a covered and uncovered outdoor patio and indoor taproom space.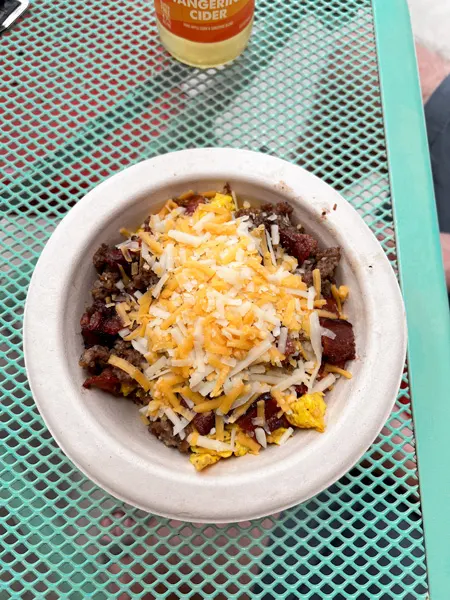 If you are hungry, order anything from pretzels, hush puppies, loaded tator tots, and quesadillas to heartier meals like sandwiches, sliders, burgers, and wraps.
An Asheville area Sunday brunch option, Eluvium's brunch menu has egg sandwiches, breakfast burritos, and scramble bowls.
Menus have vegan and vegetarian items marked – and they have vegan cheese.
More delicious nearby Weaverville restaurants include Stoney Knob Cafe, Glass Onion, and Soba.
Eluvium Brewing Company | 11 Florida Ave, Weaverville, NC 28787
Zebulon Artisan Ales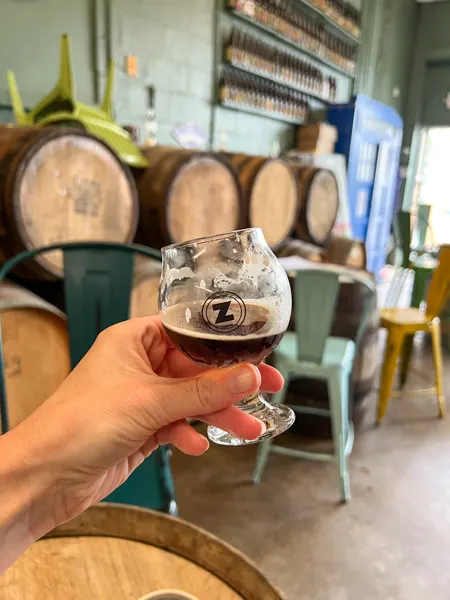 A harder-to-catch but fun brewery in Weaverville, Zebulon Artisan Ales is only open Fridays and Saturdays (always double-check hours on their website versus Google).
The rest of the week, they close to brew and bottle.
Zebulon specializes in Belgian and French Farmhouse beer styles, but they also create plenty of experimental beers.
Select from IPAs, Sours, Whisky-aged Stouts, Saisons, Goses, and more.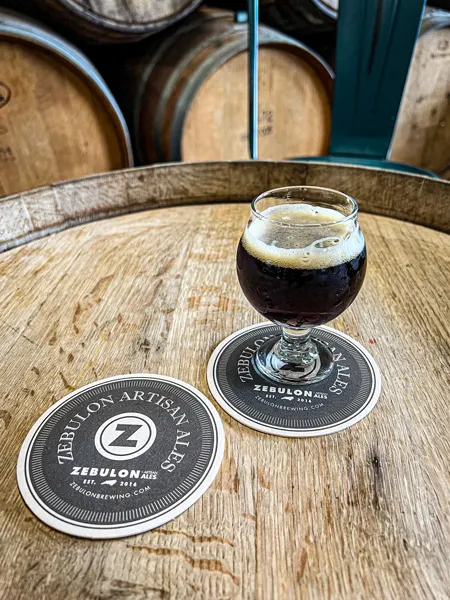 Just keep in mind that Zebeulon Brewing doesn't have flagship beers, and beer selections will change. They also do not have non-beer options like wine or cider.
Our favorite and most memorable part of Zebulon Brewing is their TARDIS; we are huge Doctor Who fans – and you know Rose was the best companion…
Zebulon's taproom/brewing space has indoor seating as well as a few outdoor tables.
Afterward, explore more of Weaverville, including a walk around Lake Louise or the Main Street Nature Park.
Eluvuium Brewing is right across the way if you are Weaverville brewery hopping, and Hoppy Trees is a great Bob Ross-themed bar to grab an Aperol spritz.
Zebulon Artisan Ales | 8 Merchants Alley, Weaverville, NC 28787
P.S. None of the Weaverville breweries currently offer gluten-free or gluten-reduced beer, but we do have a list of gluten-reduced breweries in and near Asheville, which is from our personal experience and research with Celiacs.
Breweries Near Weaverville (under 15 minutes)
Zillicoah Beer Co.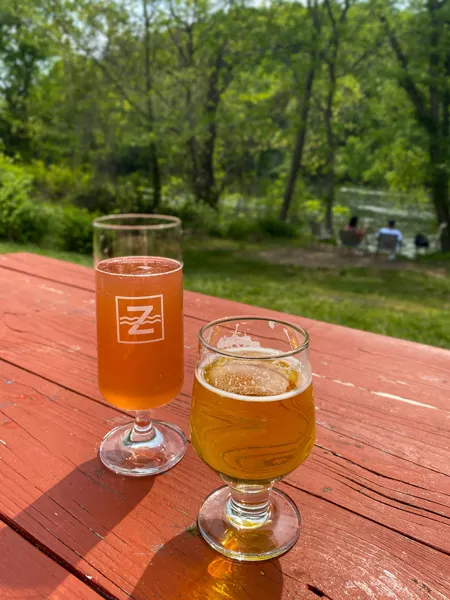 Less than 10 minutes from Downtown Weaverville – along the French Broad River around the intersection of North Asheville, Woodfin, and the River Arts District – Zillicoah is one of the best breweries near Weaverville.
In fact, it's our favorite brewery in all of Asheville for the tacos, covered and uncovered outdoor seating along the river, and light beer flavors.
Hands down, Zillicoah makes the best smoky Helles and Czech Pilsner – if you catch them on tap. Select from more craft beer styles including Pils, Lagers, Stouts, Pale Ales, and Sours.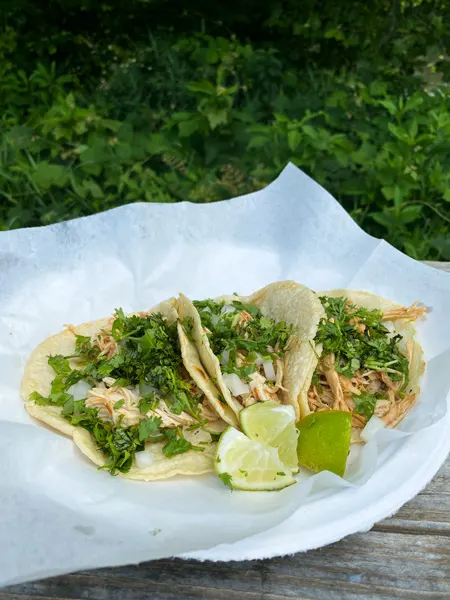 Just know that Zillicoah Beer Co. doesn't offer samples or flights. For non-beer drinkers, find hard seltzers, wine, and ciders.
Non-alcoholic beverages include Devil's Foot products, kombucha, and seltzers/sparkling waters – and this list has grown over the years.
And, the best part of Zillicoah Beer Co. is their permanent food truck, Taqueria Munoz. Order simple tacos, burritos, empanadas, and more – with vegan, veggie, and gluten-free options.
Zillicoah will I.D./card guests before parking, and this is a 21+ brewery near Weaverville, Monday through Saturday. Sundays are all-ages-welcome family days.
Leashed dogs are also welcome.
Zillicoah Beer Co. | 870 Riverside Dr, Woodfin, NC 28804
Asheville Pizza & Brewing (Merrimon Ave.)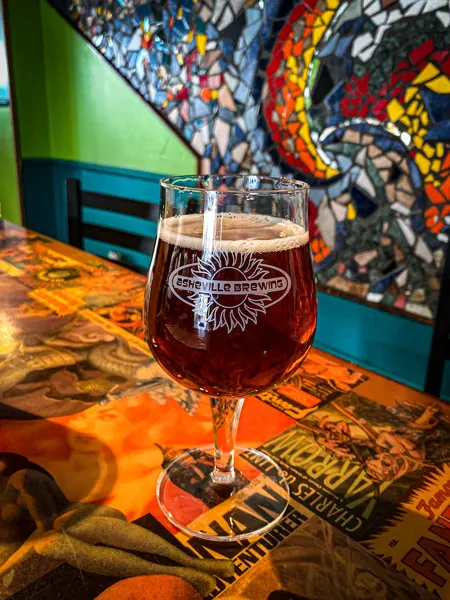 While Asheville Brewing has multiple locations across the city, for our Weaverville breweries list, we wanted to talk about their more unique Merrimon Ave./North AVL taproom, which is just under 15 minutes from Downtown Weaverville.
Why? Asheville Pizza has it all: some of the best pizza in town, a movie theater that is great for family-friendly AVL activities, and delicious craft beer.
Personally, we nominate Asheville Brewing as one of the best breweries for darker brews like Stouts, especially their chocolate and coconut concoctions.
Also enjoy Lagers, ESBs, Pale Ales, Sour Blondes, Rye Bocks, Milk Stouts, and IPAs along with local cider and ginger beer.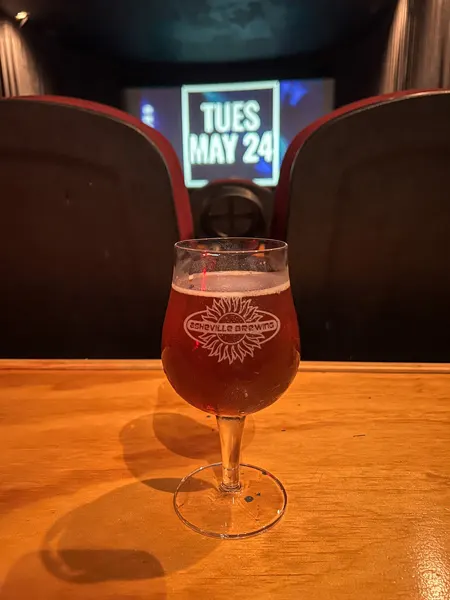 A family-friendly restaurant, devour punny movie-themed pizzas as well as burgers, burritos, bowls, sandwiches, and wraps.
Think waffle fries, cheese curds, and tater tots. Or, try their spicy King Kong wings, guac, salads, and fish and chips.
We most appreciate Asheville Pizza and Brewing for the gluten-free pizza crust and vegan cheese; along with Celiacs, we are a lactose-intolerant household.
Asheville Pizza & Brewing North AVL Location | 675 Merrimon Ave, Asheville, NC 28804
Never Miss Another Asheville Update
---
Tired of generic Asheville travel itineraries? Experience Asheville like a local with our free Asheville Favorites checklist, including restaurants, breweries, and hiking. Plus, get local updates – including events and hidden gems – straight to your inbox. Sign up here.
Salt Face Mule Brewing Co. (Coming soon/Summer 2023)
With a potential opening in July 2023, we constantly pass Salt Face Mule Brewing Company as Merrimon Ave. turns into the Weaverville Highway.
This North Asheville and Weaverville brewery is going to be grand, promising Appalachian-inspired pub grub comfort food and Lagers and Ales.
The pictures look fantastic, and this brewery is just minutes from Downtown Weaverville.
We'll keep you posted – as you know we'll be checking out the space as soon as we can.
Salt Face Mule Brewing Co. | 450 Weaverville Hwy, Asheville, NC 28804
Save Your Favorite Breweries In Weaverville For Later: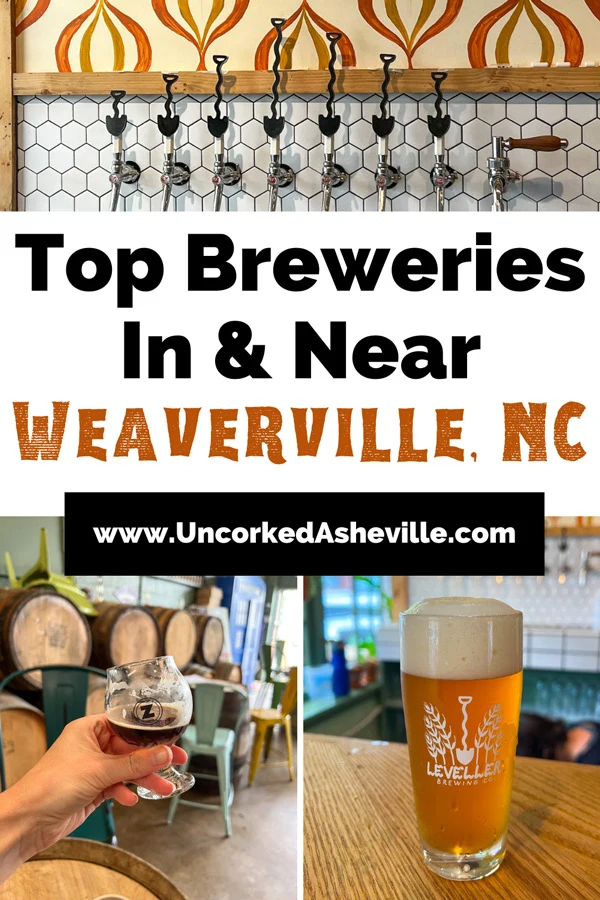 What is your go-to Weaverville brewery?
What are your favorite Weaverville, NC breweries? How about Asheville breweries? Western North Carolina breweries? Let us know in the comments.
More Breweries Near Weaverville & Asheville:
Black Mountain Watering Holes
Brevard Breweries (near waterfalls)
Mills River Breweries (near hiking trails)
Hendersonville Breweries (near DuPont)
You Might Also Enjoy:
Day Trips From AVL
More Mountain Towns To Explore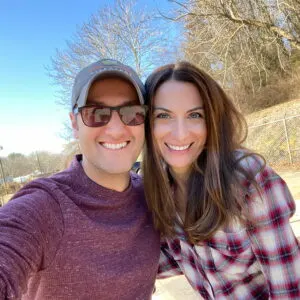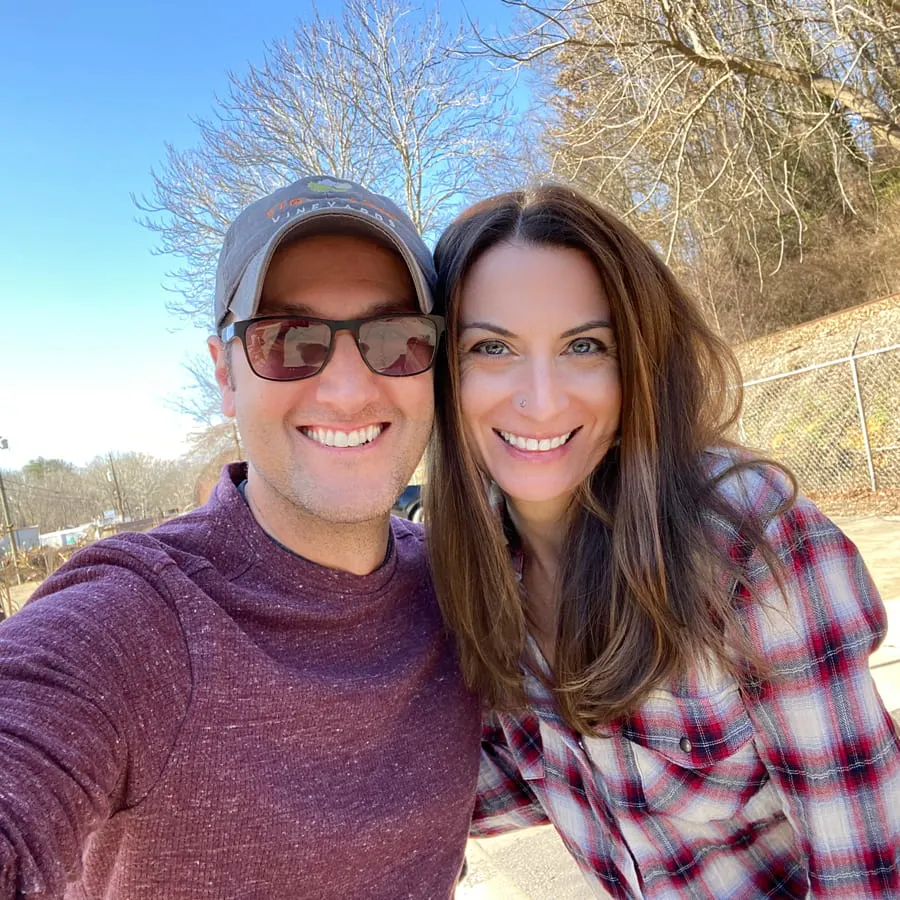 Christine (pronouns: she/her) is the owner and lead writer of Uncorked Asheville. After falling in love with those gorgeous Blue Ridge Mountains, Christine and her husband Tom decided to call Asheville, North Carolina their home. When her pointy Italian nose isn't stuck in a book, Christine is adopting all of the kitties, getting lost in the forest, and drinking an ESB.
Christine has a BA in English and History from Smith College, her MLIS from USF-Tampa, and is a former U.S. Fulbright Scholar - Indonesia. She also owns The Uncorked Librarian LLC with books and movies to inspire travel.