8 Great Restaurants in Marshall, NC (& Nearby!)
Uncover the best restaurants in Marshall, NC – and a few nearby – for breakfast, brunch, lunch, dinner, and dessert.
Being Asheville locals, we enjoy Marshall for its quirky shops, cafes, bookstore, and nearby hikes. Hot Springs is also less than 20 minutes away.
And as such a small Western North Carolina mountain town, you might be wondering where to eat in Marshall – especially with a population of around 800 residents.
While Asheville is nicknamed "Foodtopia" and has James Beard award-winning establishments, the Marshall restaurants are a lot more budget-friendly, low-key, and even kitsch.
Even more surprising – and as a half-Celiac and fully lactose-intolerant household – some of the best places to eat in Marshall have plenty of gluten-free, dairy-free, vegan, and vegetarian options.
Below, discover where to get breakfast, brunch, lunch, dinner, and dessert in Marshall as well as a few Hot Springs restaurants near Marshall that we enjoy.
Devour pizza, tacos, wraps, and more along the French Broad River. Sip on a local brew or cup of coffee.
Get all of the details from a tipsy travel writer and her pilot hubby. Let's get started!
You might also enjoy our guide to visiting Marshall, North Carolina.
This post may contain affiliate links that earn us a commission at no extra cost to you. If you love these guides, support Uncorked Asheville here.
8 Delicious Restaurants In Marshall, NC
1. Mad Co. Beer House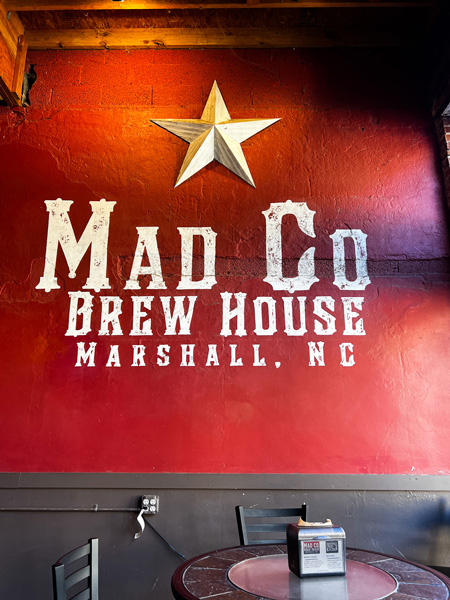 One of our favorite places to eat in Marshall (and drink!) includes Mad Co. Beer House, Marshall's first – and so far, only – brewery.
Talk about a huge space serving up delicious pizza and local craft beer along the French Broad River.
With both indoor and outdoor seating – be sure to head upstairs to the outdoor patio – choose from their rotating draft list which showcases anything from sours and IPAs to fruity lagers, cider, and our favorite, ESBs.
Then, order some pub grub, including calzones, pizzas, salads, and small bites like garlic sticks and pretzels.
For pizza, we especially appreciate the gluten-free crust (just note that this isn't a dedicated GF space) and vegan cheese options.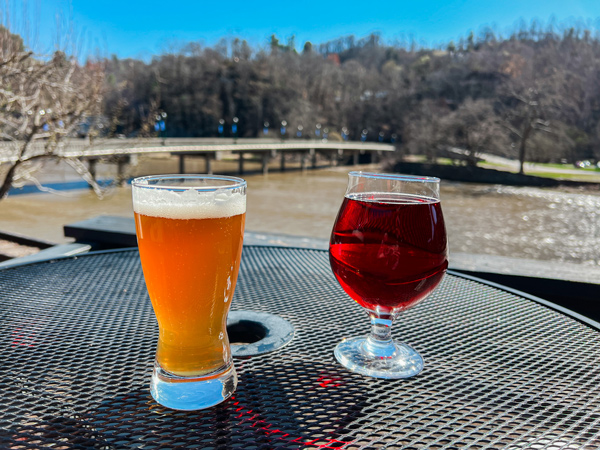 Plus, order a personal-sized or 12-inch pizza, with specialty pies like fig and bacon, meat lovers, Hawaiian, and Buffalo chicken. Mad Co. Brew House also has dessert.
Coming from Asheville's hopping brewery scene, Mad Co. is a strong contender with incredibly local and chill vibes and neat old-school murals.
We also appreciate Mad Co. as a great Marshall pizza takeout option on our way home from a hike like the Laurel River Trail.
Read more about grabbing pizza in nearby Asheville.
Mad Co. Brew House | 45 N Main St, Marshall, NC 28753
2. Zuma Coffee And Provisions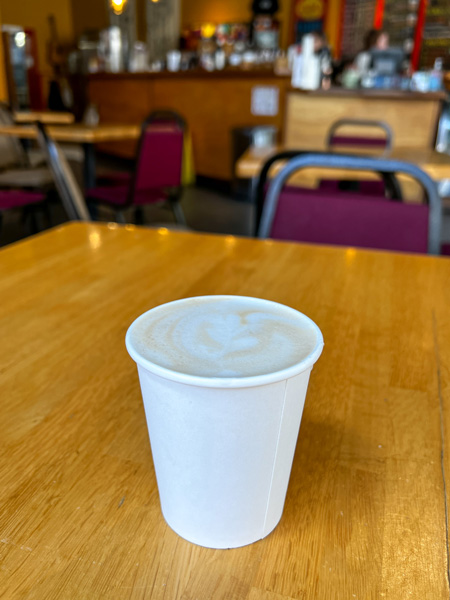 You know Asheville is famous for its coffee shops, and Marshall has a few great stops too.
One of the best restaurants in Marshall for breakfast, lunch, coffee, and smoothies, head to Zuma Coffee.
Located in the heart of Downtown, immediately across from the Madison County Courthouse, Zuma promises a kitsch and low-key cafe with great counter-service.
We especially appreciate the wide variety of vegan, vegetarian, and gluten-free options, which are labeled on their menu.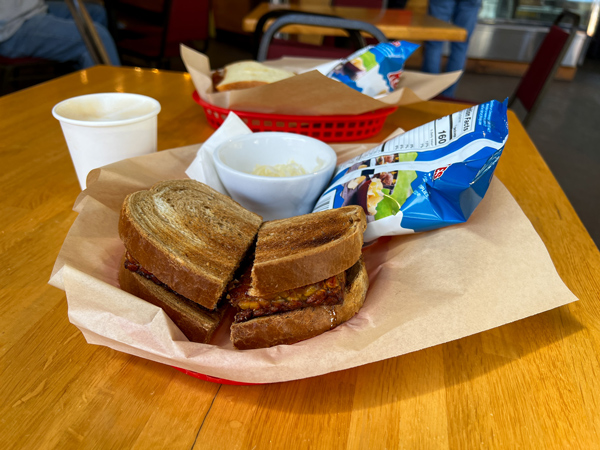 If you are dropping into Zuma for breakfast, find anything from muffins and egg and meat platters to breakfast burritos, bagels, quiche, and breakfast sandwiches.
For lunch, find simple and classic sandwiches, salads, and wraps. Think BLTs, tuna, roast beef, grilled cheese, chicken salad, tempeh Reubens, and turkey.
They also have Chipotle turkey, black bean hummus, and chicken pesto wraps. Pair any of the above with fresh smoothies, shakes, iced coffee, and more.
Zuma Coffee & Provisions is budget and family-friendly with indoor and outdoor seating.
They also host live music and are not open on Sundays (but always check their website for official hours).
Read more about eating gluten-free around Asheville.
Zuma Coffee & Provisions | 7 N Main St, Marshall, NC 28753
3. Star Diner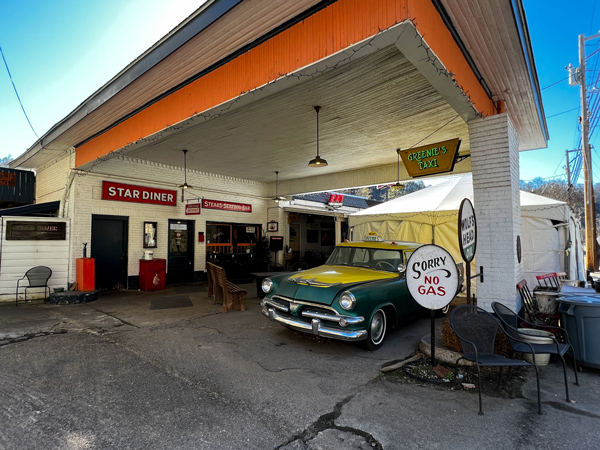 For Marshall restaurants that are considered "fine dining" – but aren't stuffy, budget-breaking, or gimmicky – head to Star Diner for dinner or weekend brunch.
With outdoor and limited indoor seating, you'll want to make reservations.
While menus are always subject to change, find vegan, veggie, dairy-free, and gluten-free cuisine.
Dinner starters may include salads, Brussels, fried oysters, soups, fried brie, and beets.
Then, select from entrees like lobster fettuccine, spicy sea bass, bison meatloaf, ribeye, and vegan-friendly pasta.
For weekend brunch, enjoy scrambled eggs, pork schnitzel, shrimp and grits, and jumbo lump crab scramble. They also host special holiday meals – like Easter brunch.
Discover more of Asheville's fine dining restaurants.
Star Diner | 115 N Main St, Marshall, NC 28753
4. Grateful Organic Diner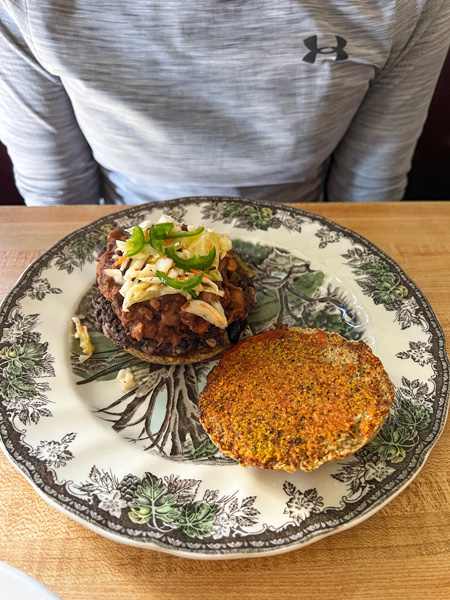 Formerly The CBD Cafe, Grateful Organic Diner is one of the quirkiest restaurants in Marshall and another great stop for vegan, veggie, and GF diners.
Enter an extra kitschy and airy space with funky murals, counter-service, and a stage. Find a few hemp-filled items too.
Although the Grateful Organic Diner sits immediately along the French Broad River – and across from the former jail – they have some outdoor and largely indoor seating.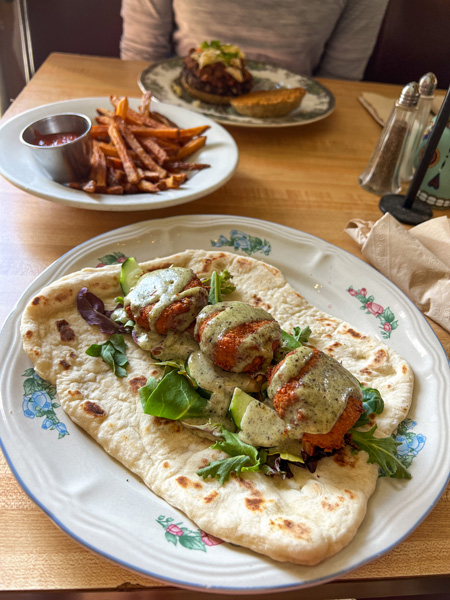 The best part: Grateful Organic Diner serves breakfast all day, including tofu scramble, avocado toast, vegan and regular breakfast burritos, French toast, biscuits and gravy, and egg platters.
For lunch and dinner, their menu showcases veggie and meat burgers, falafel wraps, quesadillas, grilled cheese, rice and beans, and sandwiches.
Order a smoothie – with alternative milk options – or grab a coffee. We enjoyed their gluten-free and vegan desserts.
Read more about eating vegan and vegetarian around AVL.
Grateful Organic Diner | 38 Baileys Branch Rd, Marshall, NC 28753
5. Zadie's Market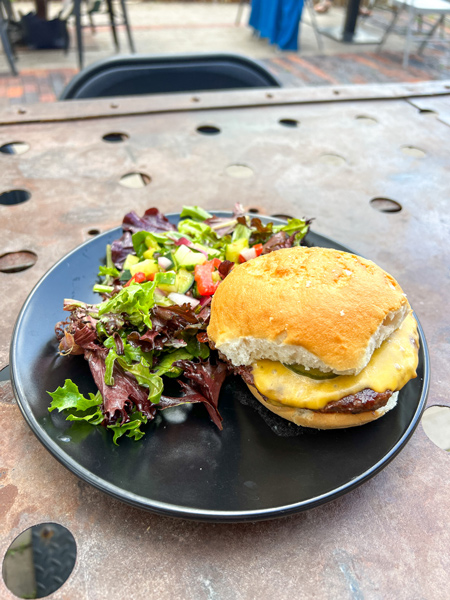 For more Marshall, NC restaurants along the water, head to Zadie's, which boasts a gourmet shop, bar, and waterfront indoor and outdoor restaurant with counter service.
Even more unique, Zadie's Market is part of the former and historic Old Marshall Jail, which was North Carolina's longest-operating jail.
All across the indoor space, find old jail bars/gates along with historic and educational photographs, artifacts, and ledgers.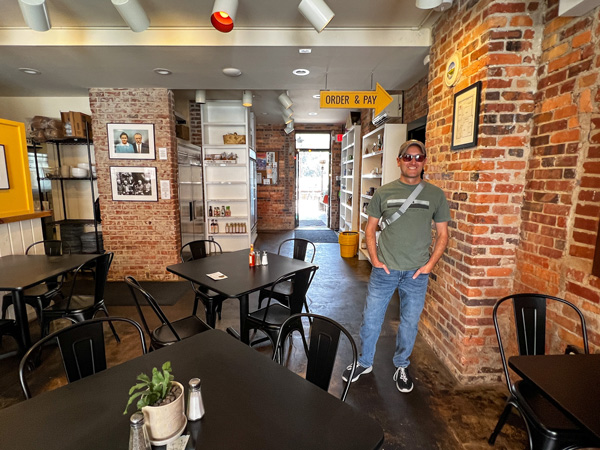 Zadie's seasonal menu features sandwiches, bowls, salads, and small bites.
Find anything from Mac & Cheese and shrimp and grits to a Beyond, veggie, or meat burger. Sides include fries, salads, soups, and slaw.
Vegan and veggie diners will find a few delicious choices here. They also have gluten-free options and GF bread.
Enjoy non-alcoholic beer or local craft beer, soda, and wine.
Zadie's small store includes local produce, meats, jams, and specialty items.
Zadie's Market, Bar, & Restaurant | 33 Baileys Branch Rd, Marshall, NC 28753
6. Ivy & the Poet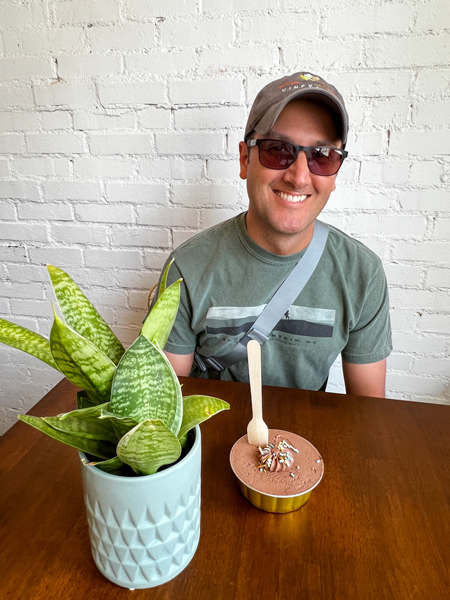 Although not a "restaurant" per se, we had to include one of our top places to eat in Marshall for coffee & dessert: Ivy & the Poet.
This is more of a tiny, chic cafe with both indoor and outdoor seating. For us, we go for vegan and gluten-free desserts like their chocolate cake.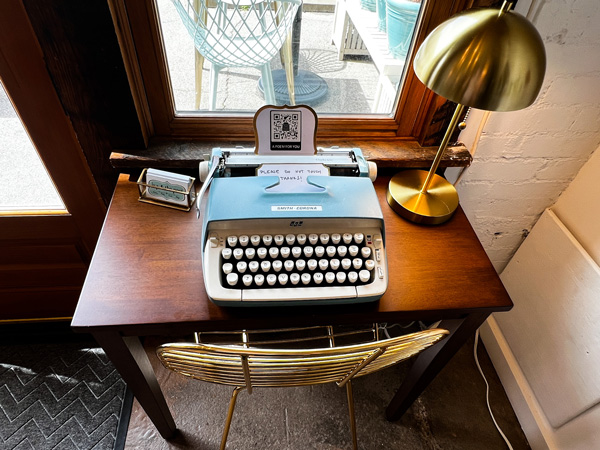 At Ivy and the Poet, you'll find both dairy and vegan pastries, including cannolis, cookies, cakes, and muffins.
Order a cup of coffee or get beans to go as we did!
Read more about eating dairy-free around Asheville, and discover some of our favorite AVL dessert shops.
Ivy & the Poet | 133 S Main St Unit 101, Marshall, NC 28753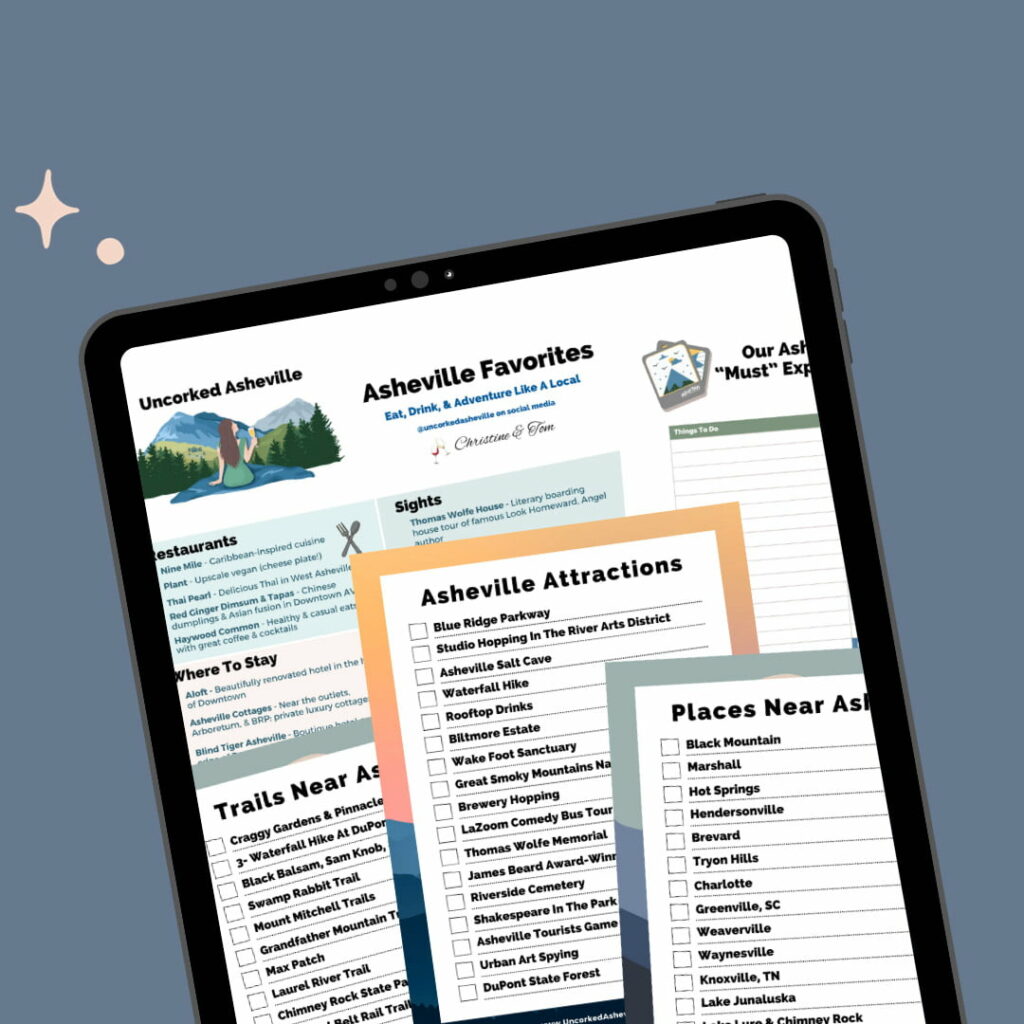 Never Miss Another Asheville Update
Experience Asheville like a local with our free attractions, dining, hiking, and day tripping guides. Get events, updates, and more straight to your inbox from Christine.
More great restaurants near Marshall, NC
7. Iron Horse Station Restaurant & Tavern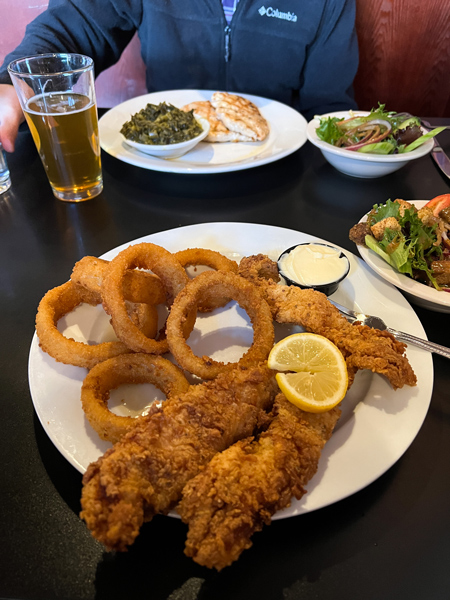 We love day-tripping around WNC from Asheville, and along with Marshall, Hot Springs is another small and quiet – but worthy – mountain town to visit.
Hot Springs to Marshall is about 20 minutes by car.
The area has terrific things to do like soaking in those mineral waters, whitewater rafting, shopping for art, hiking Lover's Leap, and grabbing a bite to eat.
In fact, you'll find some of the best restaurants near Marshall in this area, including Iron Horse Station – which also boasts lodging.
If you covet cozy pubs, Iron Horse Station Restaurant & Tavern won't disappoint with its brick walls, large fireplace, bar, and two levels of quaint seating.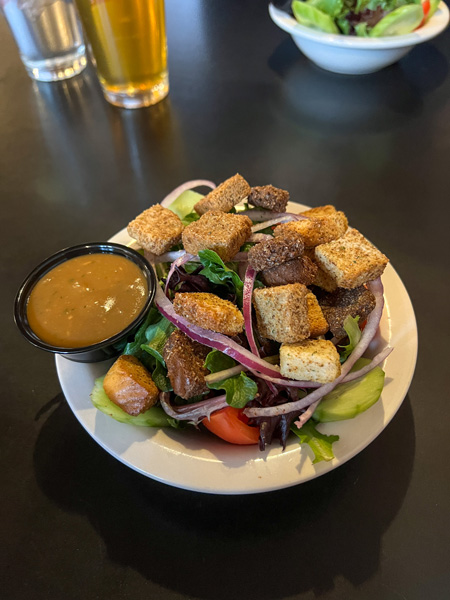 Expect exceptional service, and for lunch and dinner, select from sandwiches, platters, salads, bar snacks, and burgers.
Order a chicken sandwich, heaping fresh salad, spring rolls, or fried green tomatoes.
Who can resist Southern fried catfish, steak, baby back ribs, pasta, and local trout? Find a few vegan, vegetarian, and gluten-free options (no GF bread) too.
Just know that Iron Horse Station Restaurant is typically closed on Tuesdays and Wednesdays – but always double-check hours on their website.
Discover more great taverns and local pubs in AVL.
Iron Horse Station Restaurant & Tavern | 24 Andrews Ave S, Hot Springs, NC 28743
8. The Grey Eagle Taqueria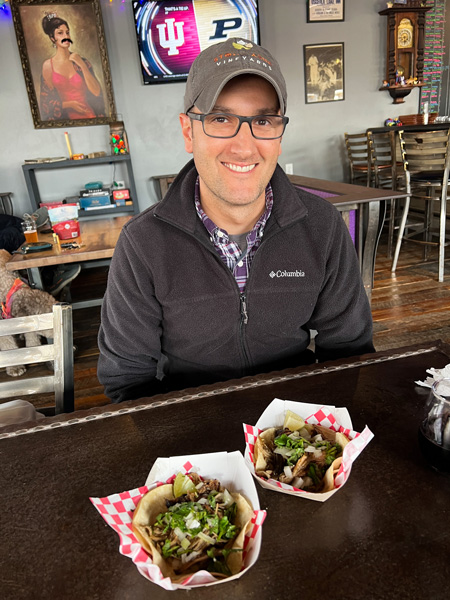 For more delicious restaurants near Marshall, NC, Hot Springs also houses Big Pillow Brewing with The Grey Eagle Taqueria.
This is truly the best of both worlds: tacos and beer.
The Grey Eagle Taqueria is one of Asheville's many amazing taco joints – located in the River Arts District – and their Hot Springs location is a bonus, especially if you are craving tacos.
With both vegan and gluten-free options, select from nachos, corn tortilla tacos, salads, and quesadillas.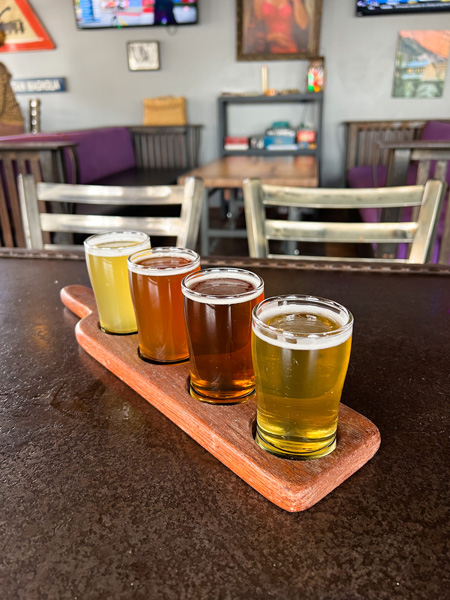 Find mouthwatering smoked pork and brisket, ground beef, and Caribbean Jerk shrimp.
The Grey Eagle Taqueria also serves up apps like Mexican street corn, fried plantains, and pretzels with beer mustard.
Then, grab one of Big Pillow's brews such as Sours, Kolschs, Vienna-style lagers, IPAs, Pale Ales, and Porters. They also have canned wine.
Sit indoors or out and all spaces are pet-friendly.
Big Pillow Brewing | The Grey Eagle Taqueria | 25 Andrews Ave N, Hot Springs, NC 28743
Wondering Where Else To Eat Near Marshall?
Consider trying one of the great Weaverville restaurants like Stoney Knob Cafe or the Glass Onion. Marshall to Weaverville is about 20 minutes by car.
And, of course, you have all of the delicious Asheville restaurants like Haywood Common, Thai Pearl, Nine Mile, Chai Pani, and La Bodega by Curate. Marshall to Asheville is 30 minutes by car.
Save These Marshall, NC Restaurants For Later: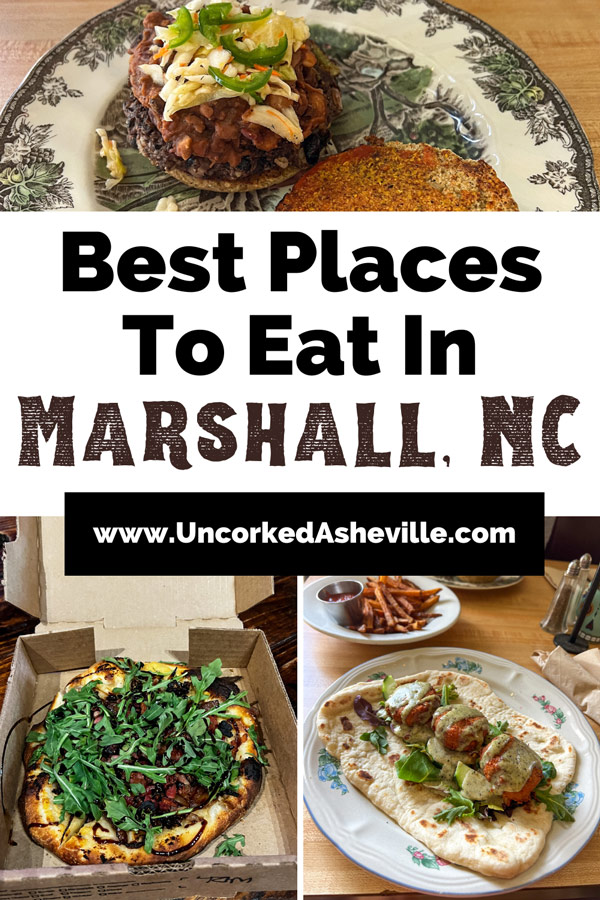 What are your favorite places to eat in Marshall, NC?
If we had to pick – and with the help of our friends and readers – the best restaurants in Marshall include Mad Co. Brew House, Zuma Coffee, and Star Diner.
What are your favorite Marshall restaurants? Let us know in the comments.
You Might Also Enjoy:
Black Mountain Restaurants (40 minutes from Marshall)
More Nearby Mountain Towns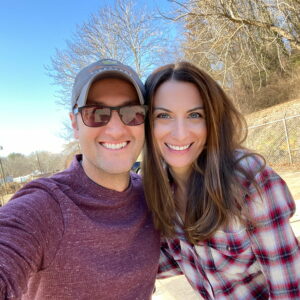 Christine (pronouns: she/her) is the owner and lead writer of Uncorked Asheville. After falling in love with those gorgeous Blue Ridge Mountains, Christine and her husband Tom decided to call Asheville, North Carolina home. When her pointy Italian nose isn't stuck in a book, Christine is adopting all of the kitties, getting lost in the forest, and drinking an ESB. She has a BA in English and History from Smith College, her MLIS from USF-Tampa, and is a former U.S. Fulbright Scholar - Indonesia. Christine also owns The Uncorked Librarian LLC with books and movies to inspire travel.