11 Great Things To Do In Old Fort, NC
Explore the best things to do in Old Fort, NC for beer, history, and mountain bike lovers – from nearby Asheville locals.
We are pretty obsessed with Western North Carolina's (WNC) quirky small towns filled with character, delicious local brews, and lesser-frequented trails.
If you've been around WNC and covet places like Hot Springs and Marshall, Old Fort, North Carolina might just be for you, especially with a population of just over 800 residents. We absolutely love Old Fort.
Asheville to Old Fort, NC is only a 30-minute drive, and the area is part of the NC Gold Trail.
Our favorite Old Fort things to do include hitting the mountain biking trails, grabbing a bite to eat with craft beer at Hillman Beer, and sprucing up our garden with help from Painters Greenhouse.
Walkable Downtown Old Fort is small but fun and hosts a variety of festivals along with a free heritage museum.
Not to mention that there are plenty of great places to visit and things to do near Old Fort, including chasing waterfalls, Blue Ridge Parkway access, Black Mountain, Lake James, and our Asheville home.
So, what are Old Fort's top attractions and activities? Keep reading as we share our favorites – with a few truth bombs too (think Andrews Geyser; cough, cough).
Let's get started, and experience WNC like a local from an indie travel writer and her pilot hubby, who love to mountain bike, eat, drink, and explore.
Explore all of our Old Fort travel guides to help you better plan your trip.
This post may contain affiliate links that earn us a commission at no extra cost to you. If you love these guides, support Uncorked Asheville here.
11 Fun Things To Do In Old Fort, NC
1. Learn about the past at Mountain Gateway Museum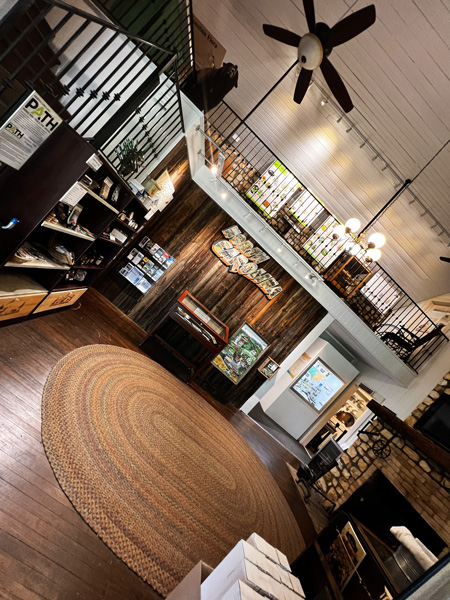 If you love small-town history and character, visiting the Mountain Gateway Museum in Downtown Old Fort is a must.
Free, self-guided, and quite charming with its fountain, creekside location, historic cabins, outdoor amphitheater seating, and secret bridges, get a feel for what the area looked like in the past.
With a focus on Appalachia heritage – spanning 38 counties – start with the museum's indoor permanent and traveling exhibits.
On the first floor, spy an old high school band uniform, yearbook, and paraphernalia from the police and fire department. The old photographs of Old Fort are pretty fascinating.
On our visit, we also saw a seasonal display showcasing a vintage Western North Carolina tourism campaign, enticing visitors to the Smoky Mountains.
Upstairs, take a peek at a 19th-century cabin, which makes our traditional homes today look pretty grand and even excessive. Find a bed, fireplace for cooking, and kitchen table in one tiny room.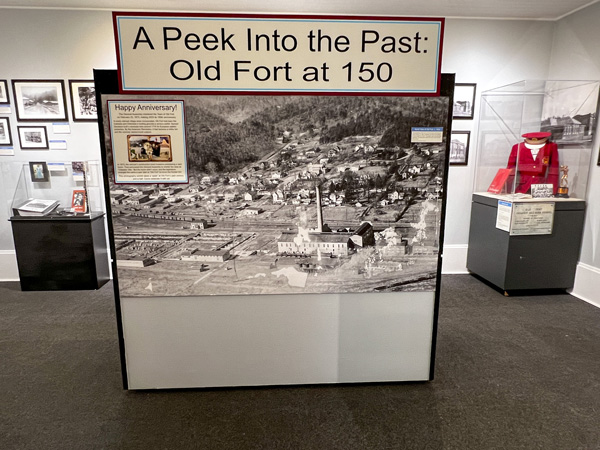 Then, gently stroke a display of animal furs – there is some taxidermy – including fur from a black bear, and find weaving looms throughout.
Learn more about local plants and their medicinal purposes along with how to make moonshine, sure to put you in good spirits.
Outdoors, walk through two cabins from the 1800s, both of which still have fireplaces.
On many Sundays, the Mountain Gateway Museum hosts fun music jams. We could hear the music throughout the grounds, truly setting the mood.
Find parking along the side of the museum, and expect to spend anywhere from 30 minutes to an hour here. While admission is free, they encourage donations.
The Mountain Gateway Museum is typically closed Mondays and state holidays, but please double-check all hours on their website.
Mountain Gateway Museum | 24 Water St, Old Fort, NC 28762
2. Shop for local art at the Arrowhead Gallery & Studios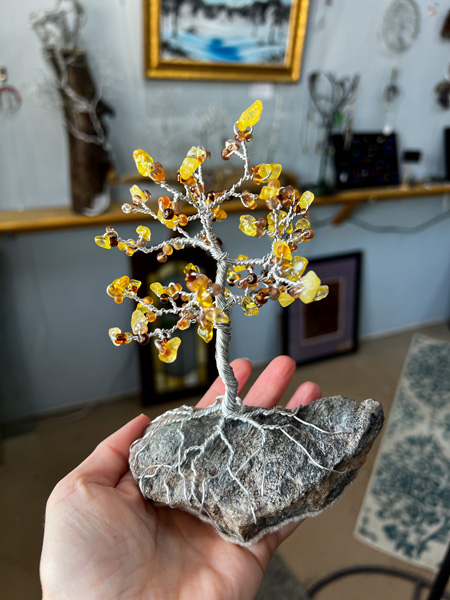 We are absolutely obsessed with Asheville's River Arts District, which is full of artists' studios, galleries, and shops.
So for us, one of the best things to do in Old Fort, North Carolina, includes a visit to Arrowhead Gallery & Studios, which is a non-profit filled with local art, jewelry, paintings, pottery, woodworking, and photography.
Head inside to a treasure trove of artist studios and a few common areas filled with unique creations from local artists.
Find hand-knit scarves, wire trees filled with gems, wooden cutting boards seared with electricity, handmade journals, and silver Blue Ridge Mountain necklaces.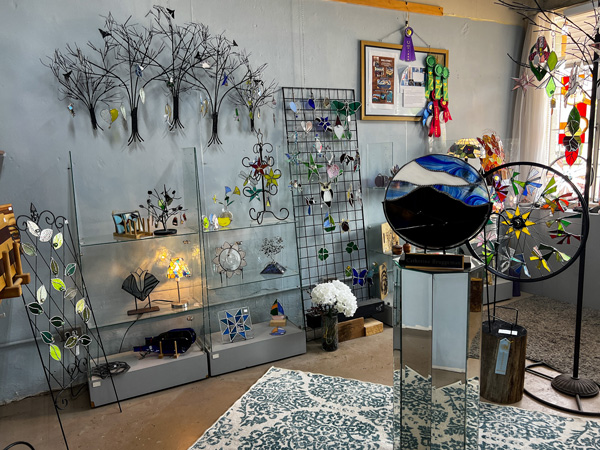 Debate between buying painted and framed Bible-themed book pages, charcuterie boards, dangly earrings, and clay mugs decorated with flowers.
Plus, Hillman Beer is right next store, and The Blue Ridge Traveler Visitor Center is across the street (91 Catawba Ave, Old Fort, NC 28762).
The Arrowhead Gallery is typically closed on Mondays.
Arrowhead Galley & Studios | 78C Catawba Ave, Old Fort, NC 28762
3. Taste a local brew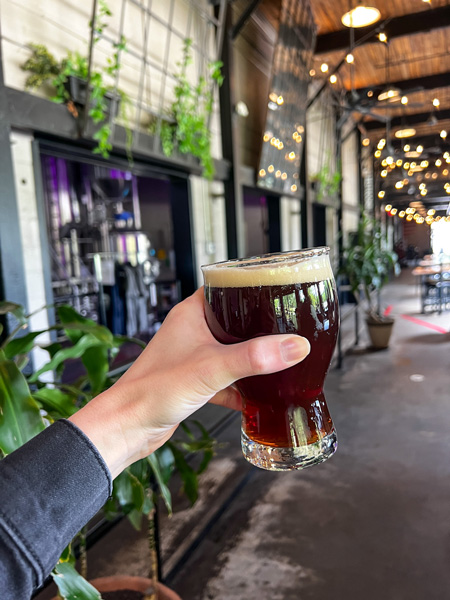 Of course, we always have to live up to our namesake at Uncorked Asheville, and we are first and foremost, boozy travelers.
For Old Fort things to do, the small brewery scene is terrific.
Hillman Beer is a family-owned business, and they also have a gorgeous taproom with food in Asheville's Biltmore Village.
In 2020, they opened their Old Fort location, and this brewery is spectacular – and massive! Sit along the creek with an ESB, Kolsch, American Brown Ale, IPA, and more.
Inside, find expansive seating with that charming Tuscan lighting, and take a peek at those steel tanks. They even host Saturday yoga.
If you are hungry, select from a large pub grub menu, including burgers, sandwiches, salads, and traditional bar apps like pretzels, wings, and spinach and artichoke dip.
Order items like a Cuban with a kale salad, Reuben, falafel wrap, turkey salad wrap, grilled cheese, or fried chicken sandwich.
If you have a lactose intolerance, like us, let them know! They are great at preparing your food with care.
For our half-Celiac household, Hillman Beer has gluten-free bread and housemade hard cider and seltzer. They collaborate with AVL's pleb for wine, too.
They are truly one of our favorite AVL breweries.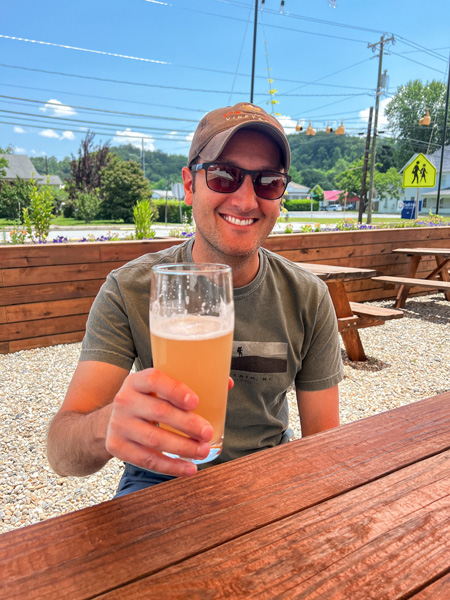 Then, less than a minute or two away, head to Whaley Farm Brewery, which even has a few gluten-reduced beers on tap.
Typically open Fridays to Sundays, find pop-up food stands or food trucks and shop for produce and snacks in their fridge – local eggs and Dare vegan cheese included.
For beer, we've enjoyed their Czech Pale Lager, Smoky Helles (emphasis on the smoke!), Farmer's Wit, and an Oat Stout. Whaley Farm Brewery has indoor and outdoor seating.
Both Downtown Old Fort breweries are dog and family-friendly with their own parking lots. Whaley Farm Brewery's lot may fill up, though, so it might be easier to park nearby.
Hillman Beer Old Fort | 78 Catawba Ave, Old Fort, NC 28762
Whaley Farm Brewery | 178 Catawba Ave, Old Fort, NC 28762
4. Walk by the caboose, former train depot, and Arrowhead Monument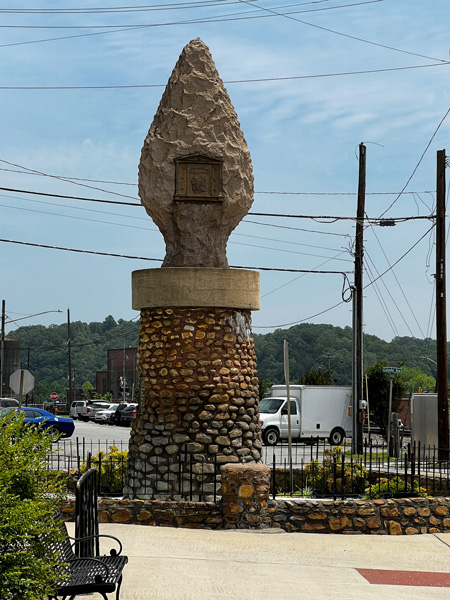 Directly in the heart of Downtown, more things to do in Old Fort, NC include a visit to the Old Fort Railroad Museum area.
Just know that although the museum says "open" on Google, it hasn't been open for years, except as a private event venue.
However, you can't miss seeing it, as the red caboose greets visitors entering Downtown Old Fort with its iconic Arrowhead Monument and yellow depot exterior.
As you will see through much of the South, the railroad has a murky past, being built by mostly Black convicted men, many of whom lost their lives during the blasting and digging in the late 1800s.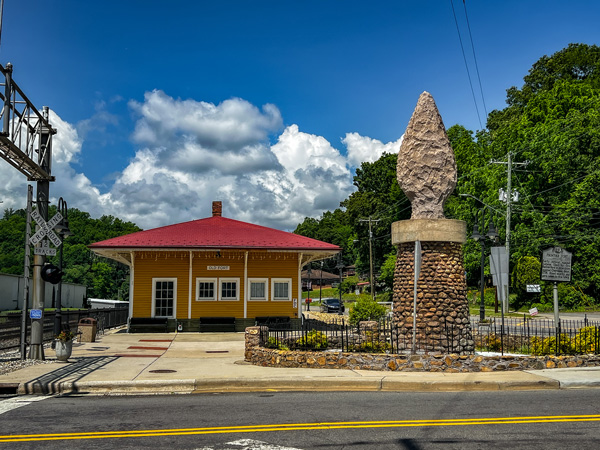 For some, the Old Fort Railroad Museum will be a slightly underwhelming and quick experience since you can see everything just driving by.
When the museum was open, it showcased a few old tools, signal lights, and old photographs.
It's certainly also fun just to walk by and snap a few pictures as you explore more of Downtown Old Fort.
Old Fort Railroad Museum & Depot | 25 W Main St, Old Fort, NC 28762
5. Spruce up your garden at Painters Greenhouse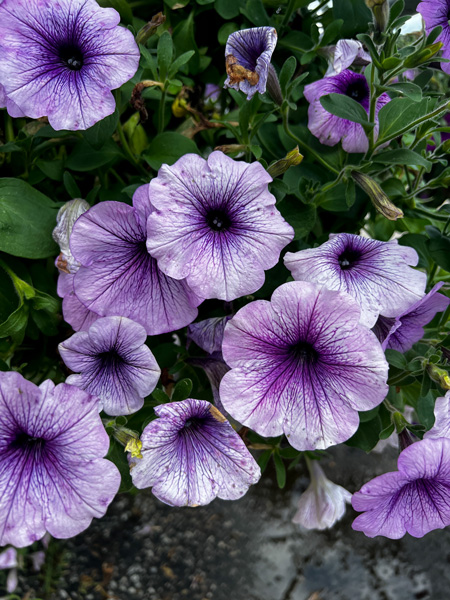 Outside of the downtown area and great for Western North Carolina locals, one of the best things to do near Old Fort includes shopping for native perennials at Painters Greenhouse. Make a day trip out of it!
Gardening is a newer North Carolina hobby for us, and we are – and may forever be – in that experimental stage.
Our Asheville home is full of amazing but pesky – and hungry – wildlife, including black bears, wild turkeys, bobcats, deer, and more.
While Lowe's is a great start for newbie garden shopping, both our friends and readers had recommended Painters Greenhouse in Old Fort, North Carolina.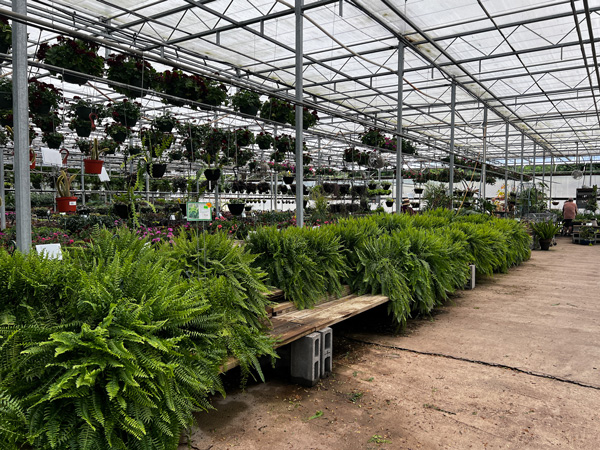 This is the mecca of local gardening, and Painters has been around for 50 years. They sell everything from pots and planters to hanging plants, vegetables, herbs, and more.
Think trees, shrubs, houseplants, edibles, tropicals, natives, annuals, and perennials.
Of course, those coveted natives are their superpower, and you'll see Painters' flowers at many of the businesses in Downtown Old Fort.
Painters Greenhouse is typically closed on Mondays and Tuesdays. They have multiple parking areas, including spots farther out on the grass.
Painters Greenhouse | 734 Roy Moore Rd, Old Fort, NC 28762
6. Hit the mountain biking trails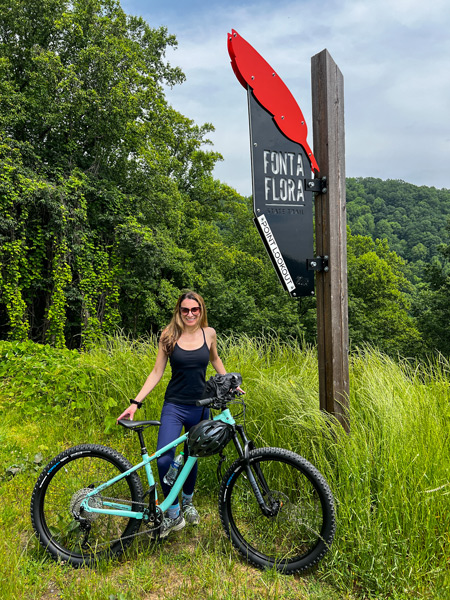 Immediately upon moving to the Blue Ridge Mountains, we had to hit the trails, including those fun and sometimes difficult mountain biking trails.
This also means that we had to upgrade our bikes because these trails are no joke.
You really want a professional mountain bike, hardcore gear for safety, and basic necessities for navigating and surviving in the forest.
It's also no secret that both hiking and biking are two of the best things to do in Old Fort for outdoor adventurers.
While some of the Old Fort, NC trails are a bit too advanced for our current skill level (looking at you Kitsuma), a mix of trails to check out include: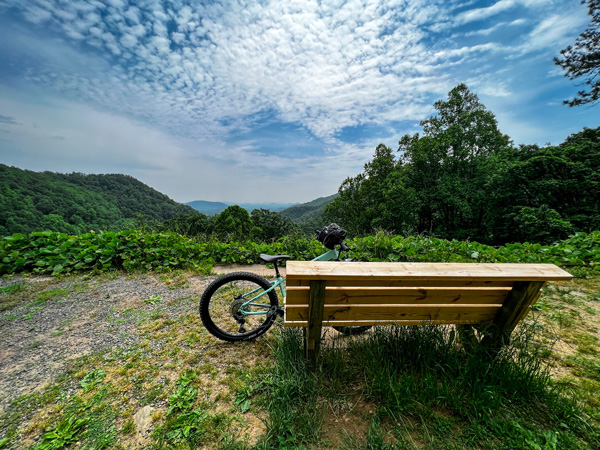 Find even more of our favorite biking and hiking trails around the Asheville area.
7. Chase those waterfalls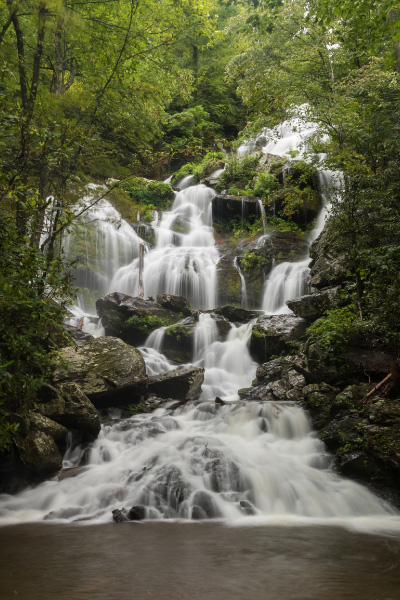 Although temporarily closed – please double-check when this trail will open; construction has already been delayed a bit- hiking Catawba Falls is one of the most breathtaking things to do near Old Fort, North Carolina.
Less than ten minutes from Downtown Old Fort in the Pisgah National Forest, Catawba Falls is a scenic and moderately easy trail perfect for families, pets, and waterfall chasers.
Enjoy lichen, moss, bridges, and babbling brooks and creeks as you take the 2.7-mile roundtrip hike to the 100-foot falls.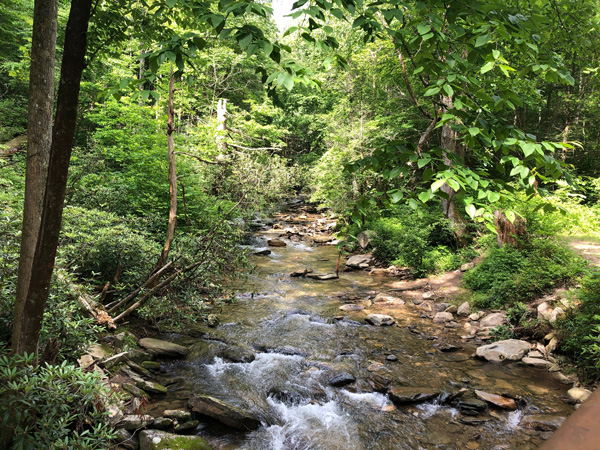 Please exert extreme caution as parts of the trail grow slippery and muddy. Your feet might dip into some shallow water crossings.
When the trail is open, this popular waterfall hike gets extremely busy and the lot may fill up on weekends. Get there early, and weekdays are best. We'll keep you updated!
Discover even more gorgeous waterfalls around Asheville, NC.
Catawba Falls | 3074 Catawba River Rd, Old Fort, NC 28762
8. Enjoy a picnic at the Old Fort Picnic Area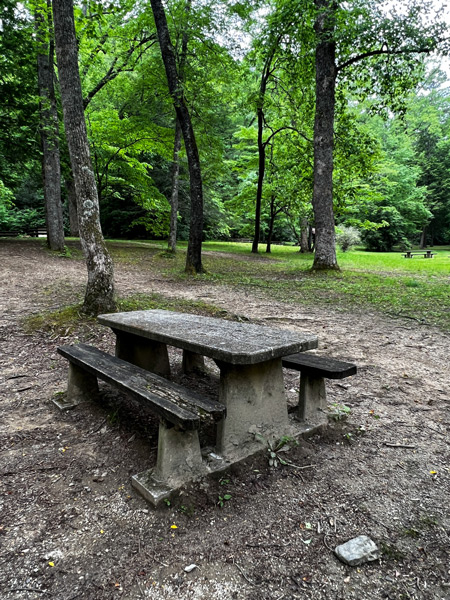 We are all about the great picnic spots near Asheville, including the Blue Ridge Parkway and Pisgah National Forest.
Managed by the U.S. Forest Service, find a scattering of picnic tables, a creek, a cute bridge, and trailhead access for Young's Ridge Trail, which connects to the Kitsuma trail at the Old Fort Picnic Area.
Along with tables, this more secluded picnic area includes grills and vault toilets; the bathrooms have toilet paper but are extremely primitive; bring hand sanitizer and wipes.
For more outdoor things to do in Old Fort, and as mentioned above, you can also use this lot to head over to the Point Lookout Trail.
Turn left out of the lot, and follow the private road and signs to the well-marked trailhead.
The Old Fort Picnic Area is typically open from April 1st to November 1st, but please always double-check hours with Forest Services.
Old Fort Picnic Area | 2415 State Rd 1400, Old Fort, NC 28762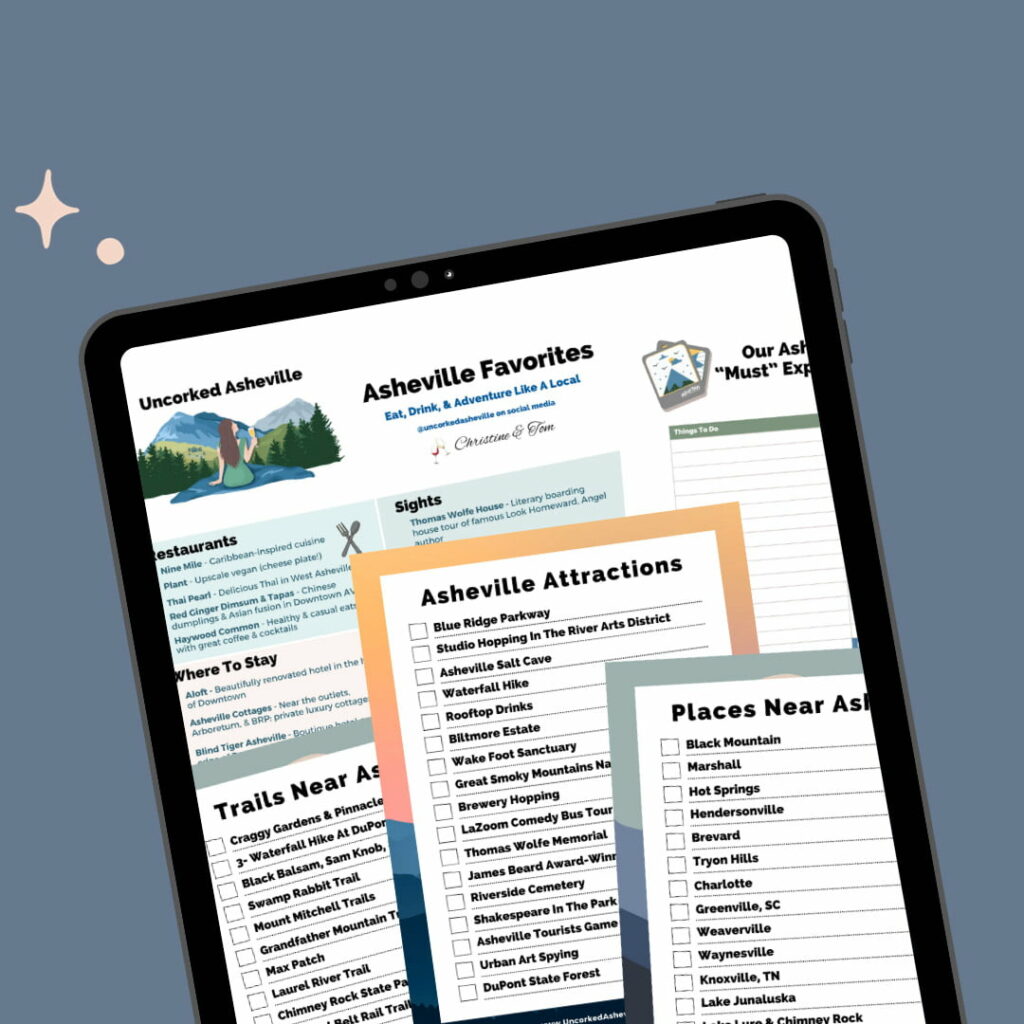 Never Miss Another Asheville Update
Experience Asheville like a local with our free attractions, dining, hiking, and day tripping guides. Get events, updates, and more straight to your inbox from Christine.
9. See Andrews Geyser (Fountain)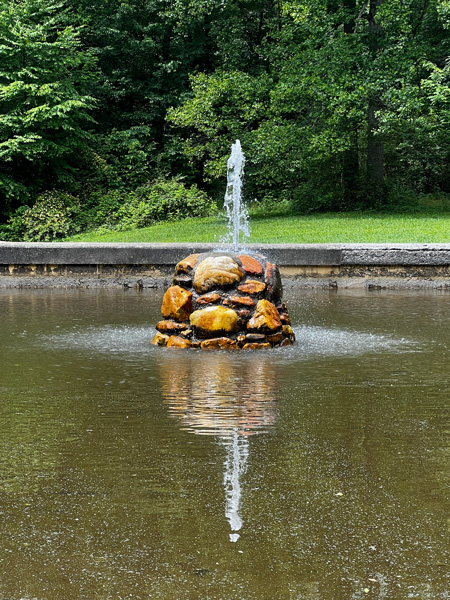 Let's be real, after chasing geysers in Iceland, seeing a man-made "geyser" – spoiler, it's a glorified fountain – isn't honestly on the top of our Old Fort things to do itinerary.
However, families and picnickers might enjoy this activity, and the parking lot is useful to hit the biking trails.
Witness a piece of history with Andrew's Geyser, named after Colonel Alexander Boyd Andrews, one of the men responsible for the railroad – and the VP of the Southern Railway Company – between Old Fort and Asheville.
Constructed in 1885, the fountain was a part of the now burned-down Round Knob Hotel and a tribute to the men who died, forced to build the railroad.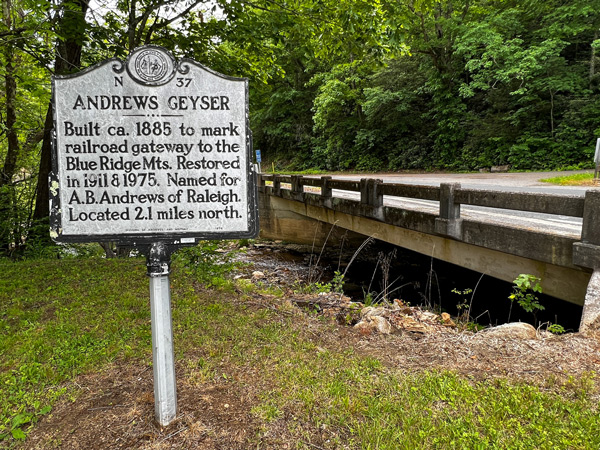 Passengers on the train were said to have seen the fountain coming through Old Fort, and the NC DCR has a great historic photo of the original hotel and fountain.
Seeing Andrews Geyser is a quick stop and only worth a peek if you are in the area/interested in these kinds of things. It certainly isn't one of the "must" things to do in Old Fort.
Know that currently, there's a display about the Confederate army and leadership posted here – which we don't support and wasn't a part of the original fountain.
This is quite frustrating as it contradicts and disrespects the original intent of the fountain.
Andrews Geyser | 2111 Mill Creek Rd, Old Fort, NC 28762
10. Attend a festival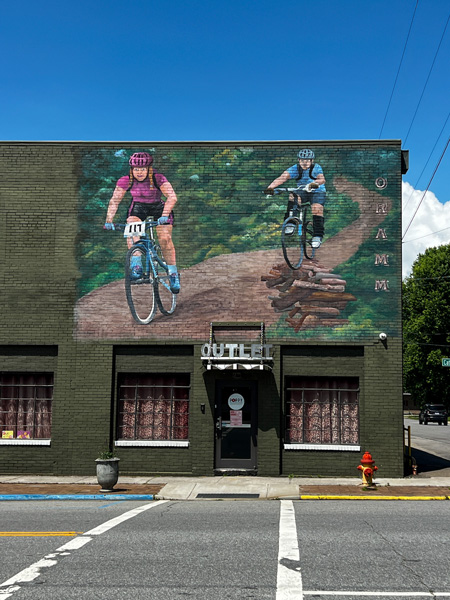 Old Fort, North Carolina is known for a series of fun events and festivals. Some of the top events and annual things to do in Old Fort include:
Pioneer Day – Typically held on the 4th Saturday of April and hosted by the Mountain Gateway Museum, watch demonstrations such as blacksmiths, woodworkers, and weavers at work. Find games for the kids, and see vintage farm tools. Listen to music, and shop for crafts from local vendors.

North Carolina Gold Festival – Also hosted by the Mountain Gateway Museum and typically the first weekend in June, join in a gold and gem panning contest. There are demonstrations, inflatables, music, food, and more!

Old Fort Trails & Trains Festival – New in 2023 in and around the old train depot, expect live demonstrations and food trucks as well as a celebration of NC's trails.

Old Fort 4th of July Fireworks Celebration – Enjoy Old Fort, NC's annual firework display.

Old Fort Christmas Parade – Hosted by the Mountain Gateway Museum at the beginning of December, enjoy an old-fashioned Christmas party with food, drinks, shopping, and a parade.
11. Visit neighboring mountain cities and towns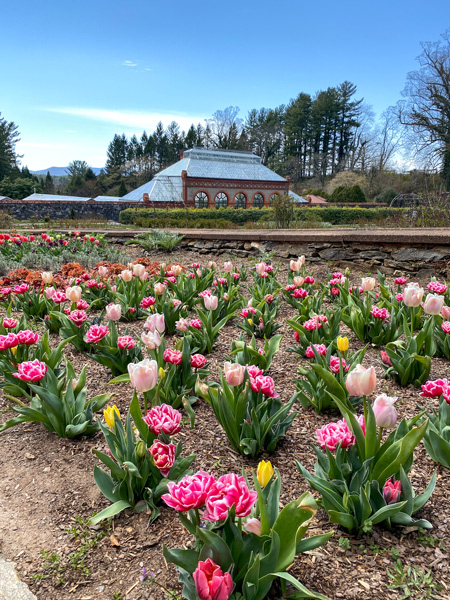 While visitors can easily spend a day exploring Downtown Old Fort, know that there are plenty of great things to do near Old Fort too.
Just a few neighboring cities and towns around AVL and Old Fort that we recommend include:
Book your stay in Old Fort, NC here.
Save These Old Fort, NC Things To Do For Later: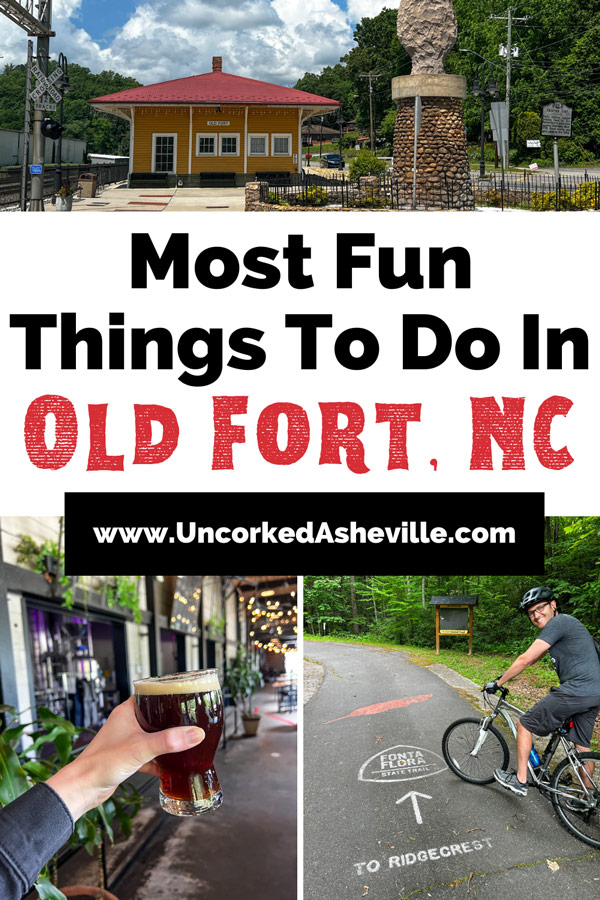 See what other mountain towns you might enjoy, and let us know your favorite things to do near Old Fort, North Carolina.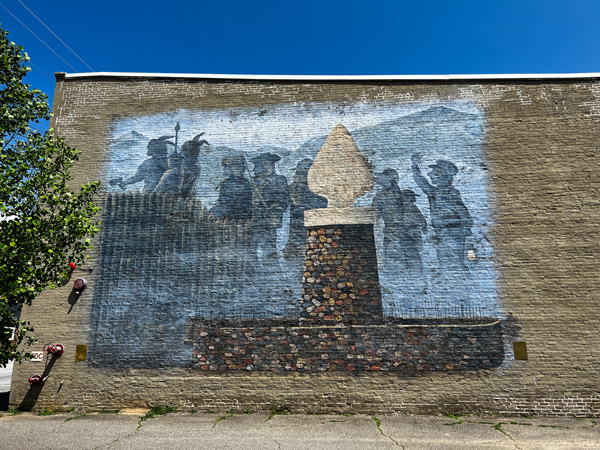 If you only have one day to spend in the area, our top three things to do in Old Fort, NC include hopping on a mountain biking trail in the morning, grabbing lunch with a local brew at Hillman Beer, and shopping in Downtown Old Fort.
Old Fort will most speak to locals and travelers who covet that quiet, dare we say sleepy, small-town life with scenic views, historic buildings, and the kindest residents.
And, if you enjoy WNC mountain towns like Old Fort, be sure to explore similar towns and villages like Flat Rock, Hot Springs, and Marshall, NC.
Hot Springs is famous for its toasty mineral waters, access to the Appalachian Trail, and quirky restaurants and shops.
Marshall is home to equally kitschy restaurants, a mermaid festival, and the Laurel River Trail – one of our favorite low-key trails in all of WNC.
Flat Rock sits just outside of Hendersonville and boasts a gorgeous park, playhouse for theater lovers, Sky Top Orchard, and Marked Tree Vineyards.
We'd love to know your favorite small WNC towns as well as what you like to do in Old Fort, North Carolina. We are constantly exploring and updating our guides. Let us know in the comments!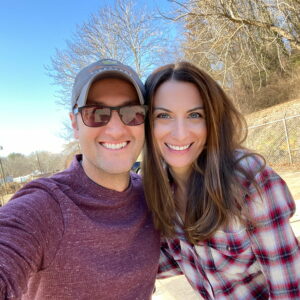 Christine (pronouns: she/her) is the owner and lead writer of Uncorked Asheville. After falling in love with those gorgeous Blue Ridge Mountains, Christine and her husband Tom decided to call Asheville, North Carolina home. When her pointy Italian nose isn't stuck in a book, Christine is adopting all of the kitties, getting lost in the forest, and drinking an ESB. She has a BA in English and History from Smith College, her MLIS from USF-Tampa, and is a former U.S. Fulbright Scholar - Indonesia. Christine also owns The Uncorked Librarian LLC with books and movies to inspire travel.