For dark tourists and history lovers, explore the creepiest abandoned places in North Carolina to learn more about and visit.
Like much of the South, you'll find quite a few abandoned places in NC, including towns, theme parks, construction areas, and even a plane wreckage site.
Today, some of the NC ghost towns are popular visitor attractions, including Henry River Mill Village – think The Hunger Games' District 12 – and Outer Bank's Portsmouth Village.
Others have a much darker, tragic, and somber history with limited to no access. However, they provide invaluable lessons so that history may never repeat itself.
Witness quite a few broken promises too.
Below, explore the most prominent abandoned places and ghost towns in North Carolina – and know that a few are in the works to be restored or repurposed (potentially).
Some of these abandoned North Carolina places have been brought back to life through tourism.
Take a hike in the forest, catch the glow of a ghost on camera, and walk down a yellow brick road.
Don't forget to share the ghost towns in NC that you've visited or want to know more about. Let's get started!
If you enjoy eerie places, read more about Asheville's haunted houses and landmarks.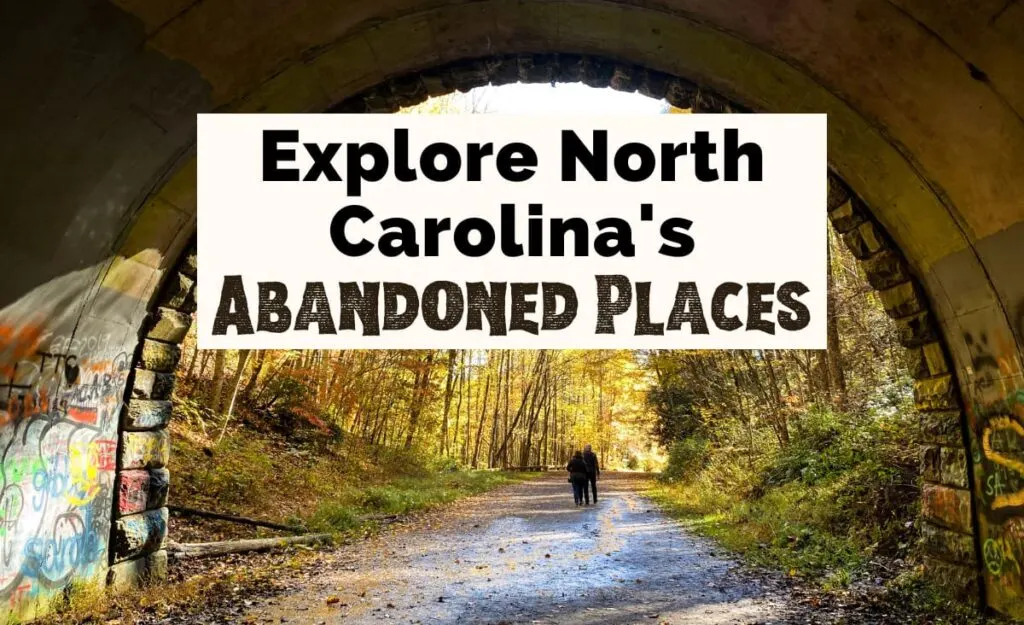 This post may contain affiliate links that earn us a commission at no extra cost to you. If you love these guides, support Uncorked Asheville here.
11 Abandoned Places In North Carolina
1. The Road to Nowhere, Bryson City NC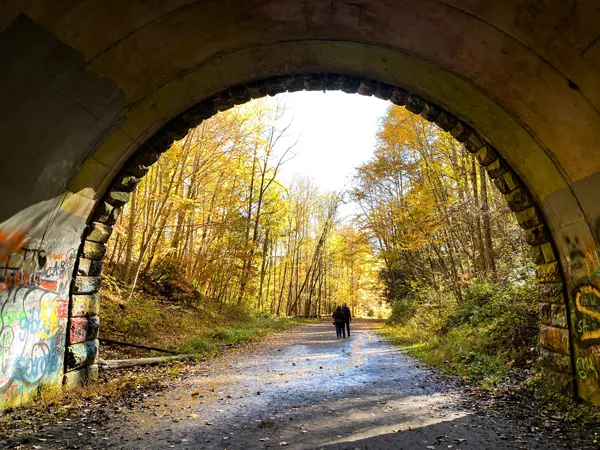 Decades before the Talking Heads sang their famous song, Swain County NC was working hard in the 1940s on creating the Great Smoky Mountains National Park and Fontana Lake and dam.
In order to do this, many people had to relocate, leaving behind the villages they'd lived in for generations.
Obviously, this didn't go down too well, especially when it turned out the government was also planning on removing the Old Highway 288 which connected those communities to the outside world.
The residents were promised that the road would be replaced (and – most importantly – would provide access to the cemeteries that the residents had to leave behind).
Unfortunately, an environmental issue stopped construction of the new "Lakeview Drive" just six miles into the park, and because of the expense, it hasn't been completed since.
So instead of being one of the many NC ghost towns, Smoky Mountain National Park has a "Road to Nowhere" as the locals call it, ending at a dark, echoing tunnel instead.
Drive six miles to the tunnel, and park in a designated dirt lot to explore the area. Lakeview Drive also has multiple pullovers, including a stunning view of Fontana Lake.
This is one of the most bittersweet abandoned places in NC since the Road To Nowhere is a sore spot for locals yet also provides a beautiful recreational strip for hiking, cruising, and biking.
As a small mountain town, Bryson City promises the Great Smoky Mountains Railroad, multiple hopping breweries, and delicious local restaurants – an easy 1+-hour Asheville day trip.
While here, enjoy one of WNC's prettiest lakes, Fontana Lake.
Fun fact: The United Kingdom also has a "road to nowhere" – the M25.
2. Stonewall Jackson Manual Training and Industrial School, Concord NC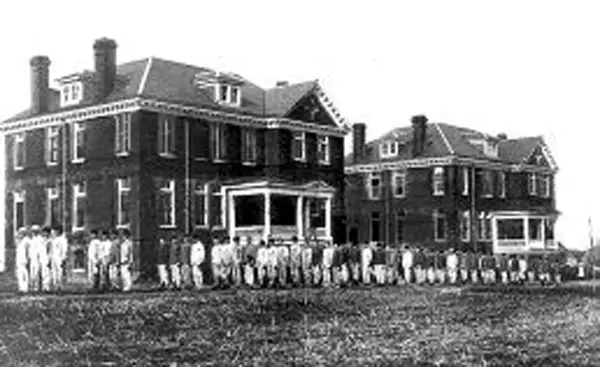 This monument to mistreatment sits off of Old Charlotte Rd SW in Concord NC. Be warned; this was a place of cruelty and horrific crimes against children.
Back in the 19th century, there weren't as many laws about processing juveniles for petty crimes.
In fact, any young boy who was convicted of a minor crime was given the same sentence as an adult would have been given, meaning some teenagers ended up doing years of hard labor.
To combat this, local residents – led by a man named James Cook – petitioned to have a place where young offenders could be sent and reeducated rather than be sent to full-on jail.
And so, in 1909, the Stonewall Jackson Training School was born.
For a while, the school operated in a strict but tolerable manner. But following the end of World War II, the school descended into something quite inhumane, with beatings, sterilizations, and much worse.
Over the years, the population dwindled as prison reforms took place and the treatment of juveniles changed.
Now the buildings of the original complex stand empty, surrounded by a recent placement of barbed wire fencing.
The Stonewall Jackson Manual Training and Industrial School is undeniably one of the darker abandoned places in North Carolina on this list.
3. Portsmouth Village, Ocracoke NC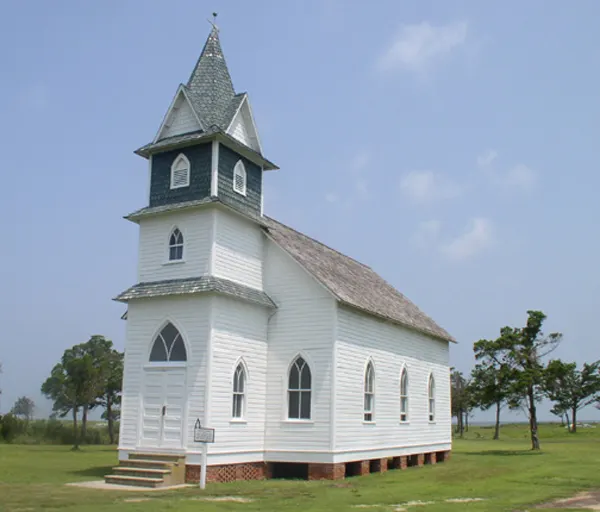 If you're excited about the prospect of abandoned places in North Carolina, picture an entire abandoned island.
That's right – situated just across from Ocracoke Village on the Outer Banks is Portsmouth Island, home to Portsmouth Village in all its abandoned glory.
Established in 1753, this tidal island settlement remained inhabited for over 200 years until the last resident left in 1971.
Walking around this area is like stepping back in time.
Find 21 buildings still standing in Portsmouth Village, including a church, a post office, and a general store as well as plenty of wood-paneled period-style housing.
What visitors won't find: drinkable water, food, or electricity.
The weather is also often inhospitable, and camping is not allowed in the village (although it is allowed on the beach).
So, if you're planning on staying overnight make sure you really enjoy the great outdoors!
Ocracoke Island Visitor Center | 38 Irvin Garrish Hwy, Ocracoke, NC 27960
4. North Wilkesboro Speedway, Wilkesboro NC
This former NASCAR racing track sits just 5.5 miles outside of the town of Wilkesboro NC and is originally the passion project of a local resident.
Inspired by witnessing a stock car race over the border in South Carolina in 1945, Enoch Staley decided to build his own racetrack on farmland he purchased near North Wilkesboro.
Originally a dirt track, the North Wilkesboro Speedway held its first race in 1947.
After receiving a huge amount of attendance, the track began holding higher profile races and eventually became part of the NASCAR group of racetracks.
But by the 1980s, the track started to fall into decline, and they held the final race on September 29th, 1996.
Since then, the Speedway has looked like something from one of the abandoned towns in NC – a prominent reminder of what once was for the local residents, who see it clearly as they drive along Route 421.
However, racing fans can rejoice in the fact that the Speedway has recently had some renovations and will host grassroots racing events after the summer of 2022.
North Wilkesboro Speedway | 381 Speedway Ln, North Wilkesboro, NC 28659
5. Land of Oz Theme Park, Beech Mountain NC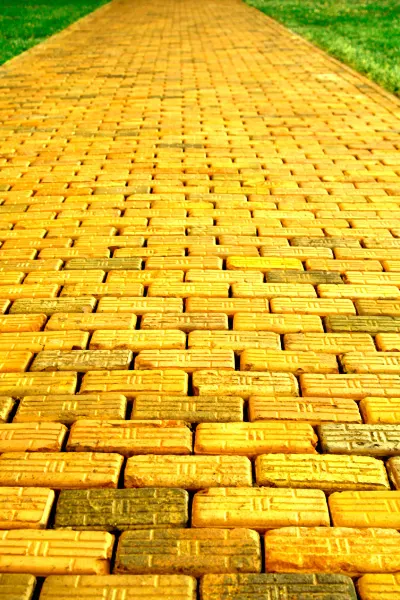 Do you know how themed attractions for kids can be unwittingly creepy? To that end, let's talk about the Land of Oz Theme Park.
Originally opened in 1970 (by Debbie Reynolds and her daughter Carrie Fisher, no less), the park ran for five years until a fire destroyed some of the buildings and many of the props and costumes.
After that, the park never recaptured its former glory and was forced to close in 1980. For a long while, everything sat and gradually decayed, overgrew, or got stolen by interlopers.
Then in the 90s, a restoration project began, with former employees deciding to open the park to outsiders once a year in the summer/fall period.
That's right: you too can skip down the (heavily cracked and broken) Yellow Brick Road on your way to the (burned-out husk of) the Emerald City.
This is certainly one of the more outlandish and colorful ghost towns in North Carolina.
The great thing is, you can still stay here (book early to avoid disappointment) and even have your wedding here!
Uncover more great events around Asheville.
Land of Oz Theme Park | 2669 Beech Mountain Pkwy, Beech Mountain, NC 28604
6. Endor Iron Furnace, Cumnock NC
Nestled in amongst a 426-acre nature reserve and park, this is one of the oldest abandoned places in North Carolina on this list.
Constructed to make use of the iron deposits along the Deep River in Lee County, this 35-foot tall pig iron furnace first operated in the 1860s and worked up until 1874.
It's one of the oldest structures still standing in Lee County, and as such, conservationists maintain it with an eye toward full restoration in the future.
Because of the delicate nature of this historic relic, the site is not easily accessible by the public.
In fact, it is recommended that you contact the NC Historical Society before visiting. In recent times the area around the Endor Iron Furnace has been fenced off.
7. Castle Mont Rouge, Rougemont NC
A European castle is not something you might expect to find among the ghost towns in NC, but thanks to one American artist, you can!
Tucked away in the forestry of Rougemont NC, half an hour's drive north of Durham, stumble upon one of the most unusual buildings in the state.
Castle Mont Rouge was the brainchild of sculptor Robert Mihaly and was intended as an artistic retreat – a combination private home and studio in which Mihaly could create art in peace.
Starting in the year 2000, the structure boasts a turret, 18 pinnacles, gargoyles, cone rooftops, and absolutely no blueprints, which may explain why it looks like a bit of a mess.
Romantic rumors began to spread about the reasons why the castle wasn't finished, such as the idea that the builder's wife died and he was too broken-hearted to continue.
This myth has been debunked by Mihaly himself; he and his wife split up, and he had other projects to work on for a while.
So, the castle became a hangout for graffiti artists for a number of years until, in 2017, Mihaly began work on it once again.
Castle Mont Rouge | 957 Mountain Brook Rd, Rougemont, NC 27572
Never Miss Another Asheville Update
---
Tired of generic Asheville travel itineraries? Experience Asheville like a local with our free Asheville Favorites checklist, including restaurants, breweries, and hiking. Plus, get local updates – including events and hidden gems – straight to your inbox. Sign up here.
8. St. Agnes Hospital, Raleigh NC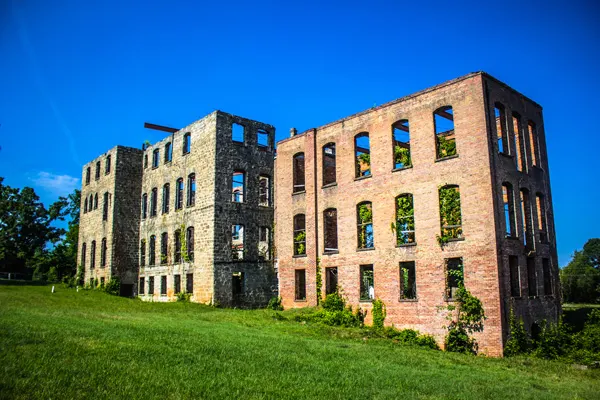 While the original St. Agnes Hospital building opened in 1896, the structure still standing today was not fully completed until 1909, after a fire in 1904 rendered the original building unusable.
For all of its lifetime, St. Agnes Hospital was one of the most important medical and nurse training facilities for African Americans.
During segregation, it was the only hospital to treat Black patients between Atlanta and Washington.
The hospital eventually closed to the public in 1961.
Quite rightly, St. Agnes Hospital became a Raleigh Historical Landmark in 1979 and still sits on the southwest corner of the grounds of Saint Augustine's University in Raleigh to this day.
It is one of the most important historical abandoned places in North Carolina on this list.
Saint Augustine's University | 1315 Oakwood Ave, Raleigh, NC 27610
9. Crashed Passengers Aircraft, Waterrock Knob near Balsam NC
*Please note that as of summer 2023, the plane has officially been removed from this site, and the Parkway asks that visitors no longer hike there.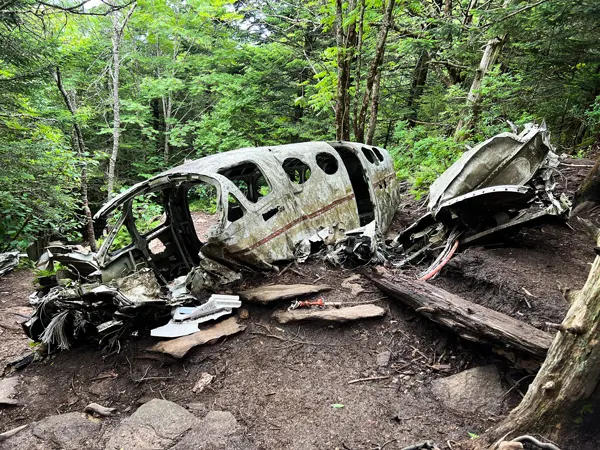 OK, so this one is one of the more morbid abandoned places in NC. That is because this was the site where two people lost their lives in the winter of 1983.
Pilot Ernest Martin and his secretary passenger Centa Jarrett were flying down from Illinois, intending on landing at Jackson County Airport.
Unfortunately, in low-lying clouds and rain – and without having filed a proper flight plan – their Cessna 414A airplane crashed into the side of Waterrock Knob in the Smoky Mountains.
Both Martin and Jarrett were killed on impact. While their bodies were recovered, the remains of their aircraft remain on the mountain to this day.
Located near the top of Waterrock Knob, this is (quite literally) peak dark tourism.
Before its removal, the site itself used to be accessible by hiking from Waterrock Knob up to Browning Knob and then veering down a side trail.
Abandoned North Carolina wreckages don't get much creepier than this! Uncover more NC Blue Ridge Parkway hikes.
Waterrock Knob Visitor Center | BRP Milepost 451.2 (Basic restrooms, no running water on-site)
10. Ghost Town Village/Ghost Town in the Sky, Maggie Valley NC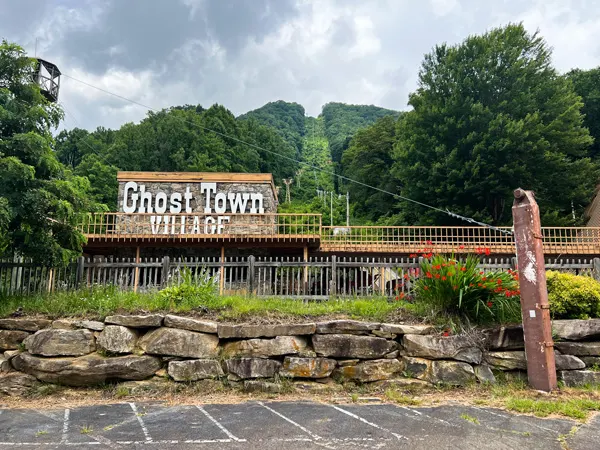 High up on the peak of Buck Mountain sits one of the most extensive abandoned towns in North Carolina.
NC has its fair share of theme parks, but Ghost Town Village (also known as Ghost Town in the Sky) has a richer history than most.
First opened on May 1st, 1961, Ghost Town Village's location at the top of a mountain gave it the distinction of being "North Carolina's mile-high theme park."
This wild west-themed complex could only be reached via the 3,370-foot-long chair lift or a funicular railway, had mock gunfights in the main town "street," and averaged half a million visitors every year.
Then on one day in 2002, the chairlift got stuck for over 2 hours, causing the park to close.
This was the latest in a long list of malfunctions and necessary renovations, so the owners put it up for sale.
Since that day, Ghost Town Village has been something of a ghost town (haha), aside from a very brief spell where the park was renovated and reopened in May 2007 only to close again in 2009.
Today, Maggie Valley's top attractions include the Wheels Through Time Motorcycle Museum, BearWaters Brewing, a quirky motel scene, and fun festivals.
Nearby Maggie Valley, head to Waynesville where you might just catch a spooky sighting of one of North Carolina's notorious cryptids, the Boojum.
Ghost Town In The Sky | 16 Fie Top Rd, Maggie Valley, NC 28751
More ghost towns in North Carolina from AVL local, Christine
11. Henry River Mill Village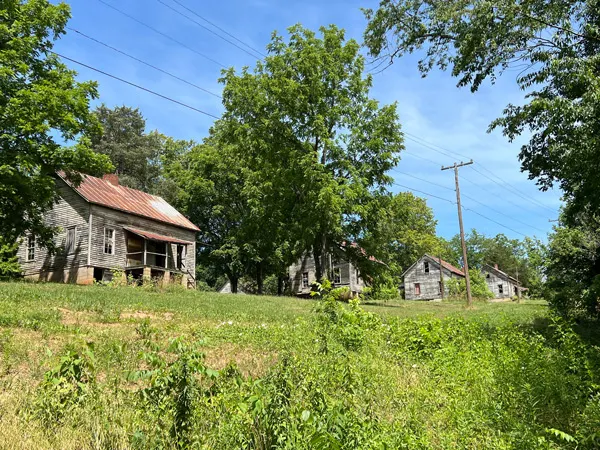 So many iconic movies were filmed across NC, and for famous NC ghost towns, you might recognize Henry River Mill Village from scenes in The Hunger Games.
In fact, welcome to Katniss and Peeta's home, District 12.
Located in Burke County, this is a 116-year-old textile village – specifically cotton – that visitors may tour with a ticket.
Abandoned in the 1970s, there never was running water, but you'll now find powerlines. This cotton mill village essentially created its own insular community.
Workers lived on the property, and the mill also employed their children until the government implemented child labor laws.
Laborers would earn one dollar a day, and for a short period, the village had its own currency, the "doogaloo."
Families would use this money at the on-site grocery store, and eventually, a boarding school was added to the property (which has since burned down).
Along with a somber and interesting history – filled with unsavory stories – channel your inner movie buff. These days, Henry River Mill Village is a site for book lovers.
One of the only houses you can safely enter on the property, see where the Everdeen's lived. Look ahead to see Peeta's bakery – the former general store – and spy where Katness hunted in the woods.
Along with guided tours, find special events, an on-property Bed & Breakfast, and a surge of potential renovation plans. You can even book a photoshoot.
While there are no on-site restrooms, find a porta-potty. Please exert extreme caution around the homes, carefully paying attention to posted signs.
Henry River Mill Village can be a dangerous site since many of the homes have been falling apart for decades – please heed staff members' advice. You don't want to fall through a crumbling floor.
Although one of the spookiest abandoned places in North Carolina, Henry River Mill Village has largely made a comeback thanks to the movie, even if the owners denied access for the sequels after realizing the production team blew up one of the dilapidated houses without permission.
And, if you enjoyed The Hunger Games, trek one of the many gorgeous WNC waterfall hikes at DuPont State Forest. Triple Falls is another filming location for the movie.
Henry River Mill Village | 4255 Henry River Rd, Hickory, NC 28602
Save These Abandoned Places In NC For Later: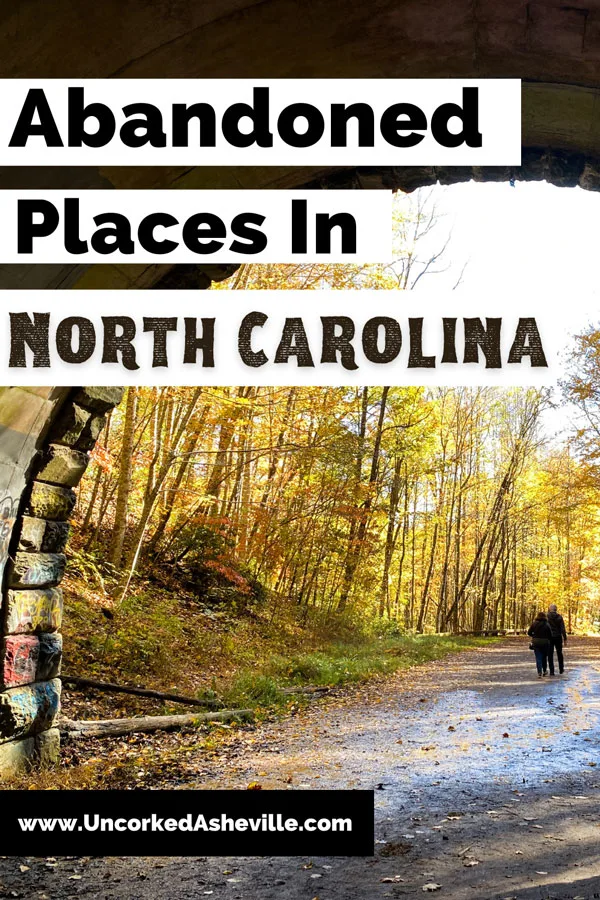 A few great areas to stay to best tour these abandoned North Carolina places:
Asheville Stays
Bryson City
Maggie Valley
Outer Banks
Raleigh
Durham
What are your favorite NC ghost towns?
Which ghost towns in NC intrigue you? Do you have a favorite ghost story?
And, have you visited any of these abandoned places in North Carolina? What did you think? Which ones are on your bucket list?
What can you do next?