Are you looking for the best Asheville attractions and activities? Discover top things to do In Asheville, NC from locals, including hiking, Biltmore, and seasonal activities.
We'll talk about shops, bookstores, waterfalls, and gardens, too. Experience Asheville like a local.
Did you just land in Asheville? Or, have you been here all along and are looking for new places to explore? Visiting and living in Asheville, North Carolina never gets old. We are always busy having fun.
As Asheville locals, we'll share everything that we know about Asheville and Western North Carolina to help you plan your day, vacations, or even your move here. We want you to have a magical experience just like we did.
Below, find all of the Asheville attractions and activities that we love, including things to do like hiking, waterfalls, shops, and seasonal hikes.
We'll share history, best breweries, restaurants that are our second home, and so much more. We'll even talk about vintage arcade games and soda pop.
Plus, find classics like Biltmore Estate, Battery Park Book Exchange, and the Thomas Wolfe Memorial. I promise that you'll never grow restless in Asheville with Uncorked Asheville. Experience Asheville like a local.
Explore 50+ of our favorite Asheville attractions and activities here.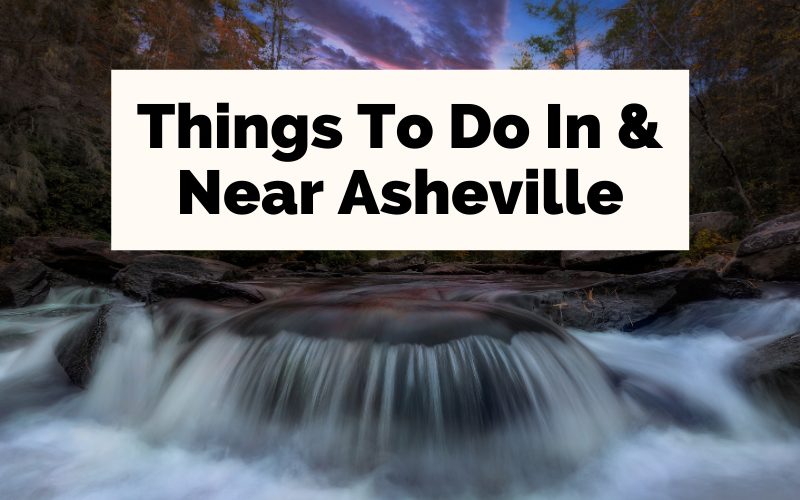 Ultimate List Of Asheville Attractions & Activities
Check out our Asheville Events Calendar. You may also love these Day Trips & Itineraries.
Hiking & Biking Trails To Explore
We are hiking obsessed here in Asheville, and there is never a shortage of trails.
Don't miss these biking and hiking trails in and around Asheville, including the Pisgah National Forest, along the Blue Ridge Parkway, and near the Great Smoky Mountains.
We'll also break down hikes by trail with more tips for having a successful outing.
Waterfalls Hikes Near Asheville
Welcome to the land of waterfalls. Don't miss these gorgeous waterfall hikes in and around Asheville, NC.
---
Head over to our Asheville Food & Drink section to learn about where to eat along with boozy spots like breweries and wineries.
Asheville Parks, Gardens & Nature Walks
If you want to get outside but are not an avid hiker, we have a list of places just for you. Don't miss Asheville's beautiful parks and gardens.
Below, find free public parks along with Asheville attractions like The NC Arboretum. Find spots to birdwatch or picnic, too.
Visiting Biltmore Estate
Did you even visit Asheville if you skipped Biltmore?
As annual passholders, we'll share why the Biltmore ticket price is worth it and make sure you get your money's worth.
We spend so much time at Biltmore, I'm surprised we don't have a room…yet…
Are you wondering if the Biltmore ticket price is worth it? Alleviate your wallet woes while learning all of the fun things that you can do at Biltmore to get your money's worth.
Discover the best tours at Biltmore Estate to enhance your visit. If you love chocolate, wine, and history, this post is for you! Some of these tours come with your ticket while others are add-ons.
Does the Biltmore sound too stuffy for families and kids? We asked one of our favorite mom bloggers if she recommends bringing kids to Biltmore. Her answer: YES! Discover kid-friendly activities at Biltmore here.
---
Asheville Art, History, & Shopping
Shop until you drop with our Asheville shopping recommendations. Asheville's shopping districts are filled with open-air markets and indie boutiques.
Along with food and booze, Asheville is filled with art, science, and history museums. See which museums we recommend as AVL locals. From spooky houses and cemeteries to modern art and dinosaur bones, this post has something for everyone.
Don't miss these gorgeous Asheville murals. Learn more about AVL's famous artists and the meaning behind the street art. Say hi to Dolly Parton as a 10-foot rooster towers over you. See fairy doors and listen to a ghost story, too.
Did you know that Asheville has a champagne book bar, a queer & feminist co-op bookstore, and a bookshop in a location where they used to auction cows?! Don't miss these Asheville bookstores.
Fall Asheville Attractions
If you haven't experienced an Asheville fall, you are missing out. The vibrant fall foliage will perk up your hipster soul.
We'll share the best fall foliage hikes near Asheville, tell you what should be on your bucket list, and showcase apple orchards you don't want to miss.
Plus, who has our favorite corn maze? Where can you eat the best cider donut?
Asheville Winter Attractions
Looking forward to an Asheville winter? Don't miss our favorite things to do in Asheville in the winter, including special events and indoor and outdoor activities.
We'll share the magic of a Biltmore Christmas, The NC Arboretum's Winter Lights festival, favorite winter hikes and waterfalls, and where to warm up by the fire with delicious seasonal drinks.
Does the gloomy winter weather have you down? Don't miss these Asheville winter hikes and waterfalls. Plus, we'll share tips for hiking in the winter and BRP closures. Go prepared and hike safely.
Don't forget to sign up for our mailing list.
Never Miss Another Asheville Update
Are you tired of generic Asheville travel itineraries? Do you want to experience the magic of Asheville like a local?
Grab our free Asheville Favorites checklist today, including restaurants, breweries, and hiking. Plus, get local updates straight to your inbox. Sign up here.