Montford Park Players' Shakespeare In The Park (Asheville): 9 Best Things To Know
The Montford Park Players produce the best Shakespeare in the Park in Asheville, NC. Learn what to bring and expect for one magical evening.
One of our favorite things to do in Asheville from May through October includes attending a weekend performance of Shakespeare in the Park performed by the Montford Park Players.
This donation-based, non-profit theater puts on hilariously fun productions of Shakespeare's famous and lesser-known plays along with a few non-Shakespearean classics.
Below, learn what to expect, what to bring, and where to park to have the most magical evening under the stars watching Asheville's Shakespeare in the Park, fireflies included.
Grab your chairs or picnic blankets, and get ready to head to the Hazel Robinson Amphitheatre in the Historic Montford District.
Shakespeare in the Park in Asheville makes for the perfect romantic evening out and will sing to bibliotourists. Let's get started!
Explore more of the best things to do while in Asheville.
This post may contain affiliate links that earn us a commission at no extra cost to you. If you love these guides, support Uncorked Asheville here.
Montford Park Players: 2023 Season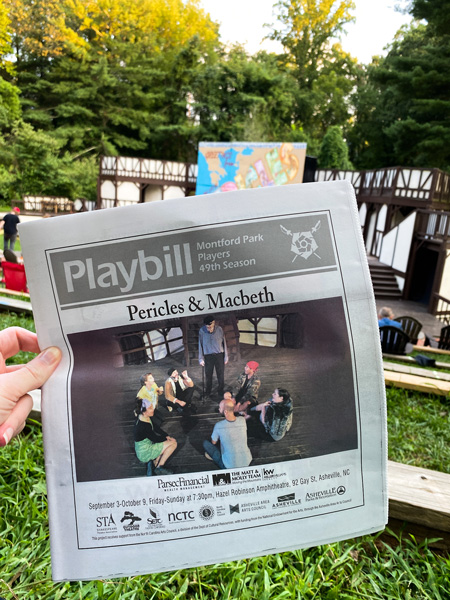 Shows run on most Friday, Saturday, and Sunday evenings, typically starting at 7:30 PM; we suggest arriving around 7:00 to 7:15 PM and expect a 2 to 3+ hour experience with intermission.
Please double-check the Montford Park Players website for all official showtimes – just in case something changes.
Their 2023 season is as follows:
May 26 – June 17: Wendy & Peter (A Peter Pan Story and a world premiere, written and directed by Skyler Goff)

June 23 – July 22: Twelfth Night (By William Shakespeare, and directed by Fable Wilde Day)

July 28 – August 26: Treasure Island (A world premiere, written by Honor Moor, and directed by David Doersch)

September 1 – September 30: The Tempest (By William Shakespeare, and directed by Dwight Chiles)

October 6 – October 28: Wonderland Legacies: Alice's Adventures in Murderland (A Halloween show and world premiere; written by Will Storrs, and directed by Deanna Braine Smith)
See what other events are happening around Asheville.
Past Seasons
2022 Asheville Shakespeare plays (and more): As You Like It (Shakespeare), The Little Prince (Drama by Rick Cummins & John Scoullar & book by Antoine de Saint-Exupéry), Much Ado About Nothing (Shakespeare), The Three Musketeers (Catherine Bush), and Hamlet (Shakespeare).
9 Best Things To Know About Shakespeare In The Park In Asheville
1. Parking is free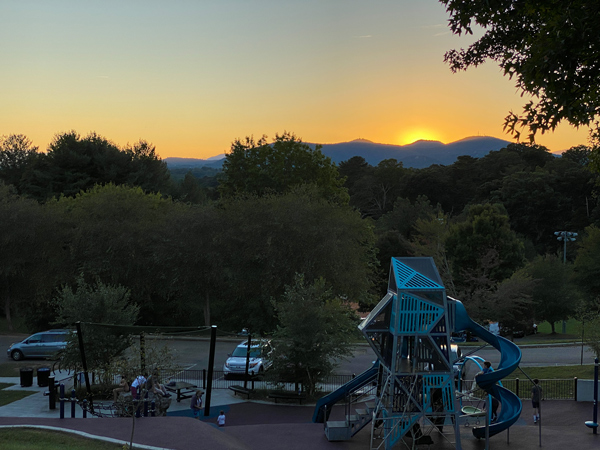 Parking is free for Asheville's Shakespeare in the Park.
You will find a two-tiered lot at the Hazel Robinson Amphitheatre, which is located at 92 Gay St, Asheville, NC 28801.
If these lots are full, find additional parking around the Tempie Avery Montford Center at 34 Pearson Drive and in the lower lots at the Asheville Chamber of Commerce located at 36 Montford Ave.
There's a small playground on the hill around the Montford Center before entering the outdoor theater.
You may also park around many of the further surrounding Montford streets, being mindful and respectful of people's residences. Please pay attention to all posted street signs.
You cannot park on the narrow streets directly around the Montford Center.
2. Performances are free; donations are encouraged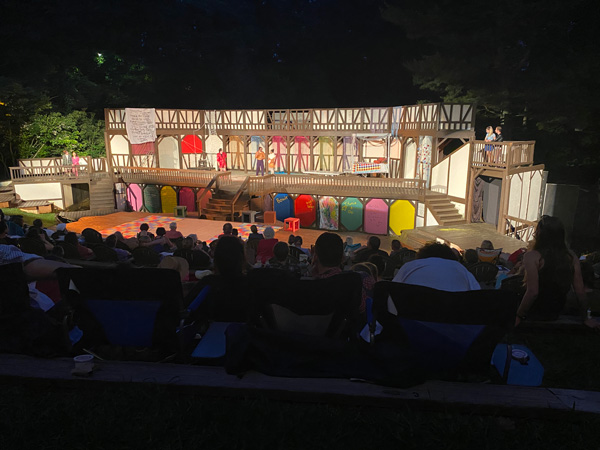 Like parking, Montford Park Players provide free performances.
You do not have to purchase tickets online or in person (although there is an option on their site). You may just arrive and enjoy.
During intermission or online, donate as much as you like or are able to. Performers typically come around at intermission with hats and buckets to collect your donation.
Montford Park Players suggest a donation of around $10 to $15 per person on their website.
3. You may purchase chair rentals online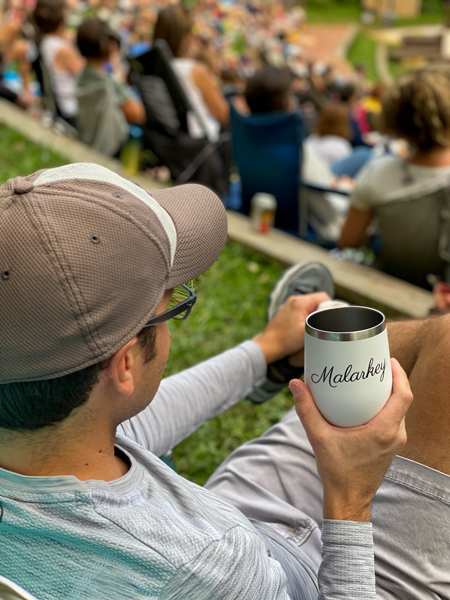 While attending Shakespeare in the Park in Asheville does not require advanced planning, if you'd like to rent Adirondack chairs for the evening, you may do so online.
Lawnchair rentals in 2023 cost about $8 plus a service fee.
If you do not wish to rent chairs, bring your own lawn chairs or a blanket.
Or, sit on the (harder) wooden Amphitheatre tiers – there are seven of them. The Hazel Robinson Amphitheatre can accommodate around 1,000 people.
It can sometimes be harder to see the stage from the ground or a beach chair. It is also harder to hear in the back of the theater.
Seating is first-come, first-serve, and there is no smoking in this area.
Many people around you will be enjoying a glorious and mouthwatering picnic.
4. Seating is uncovered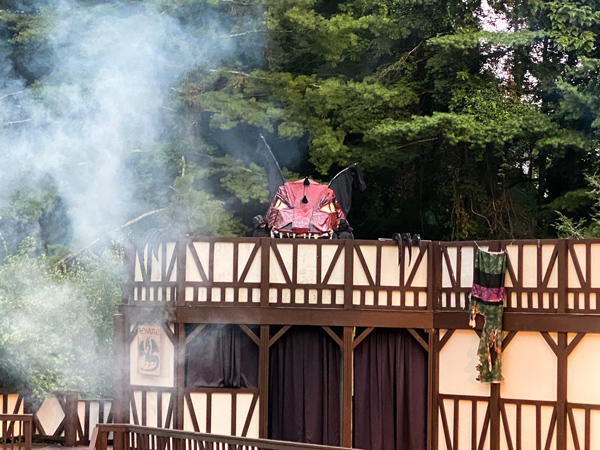 All seating at the Hazel Robinson Amphitheatre is uncovered. Arrive prepared for the weather as well as bugs. We highly recommend wearing or bringing bug spray.
In the summer, the uncovered seating also offers gorgeous views of the stars and fireflies.
Small umbrellas are allowed, but please always keep in mind the people around and behind you.
5. Concession stands sell local beverages and treats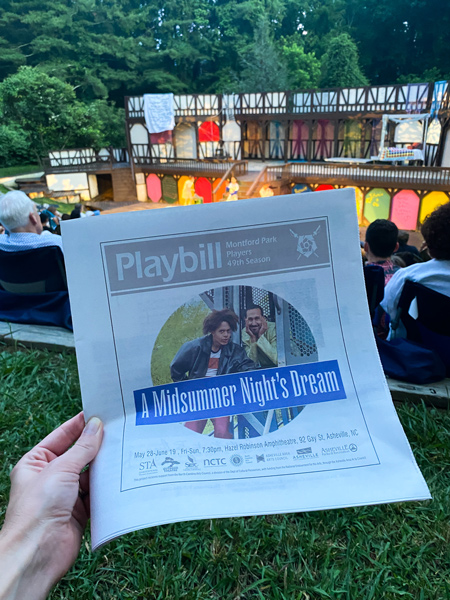 While you may bring your own food and drinks for Shakespeare in the Park in Asheville, know that there are multiple concession stands.
These vendors sell local beer, wine, ice cream, water, other non-alcoholic drinks, and more.
Coolers are allowed.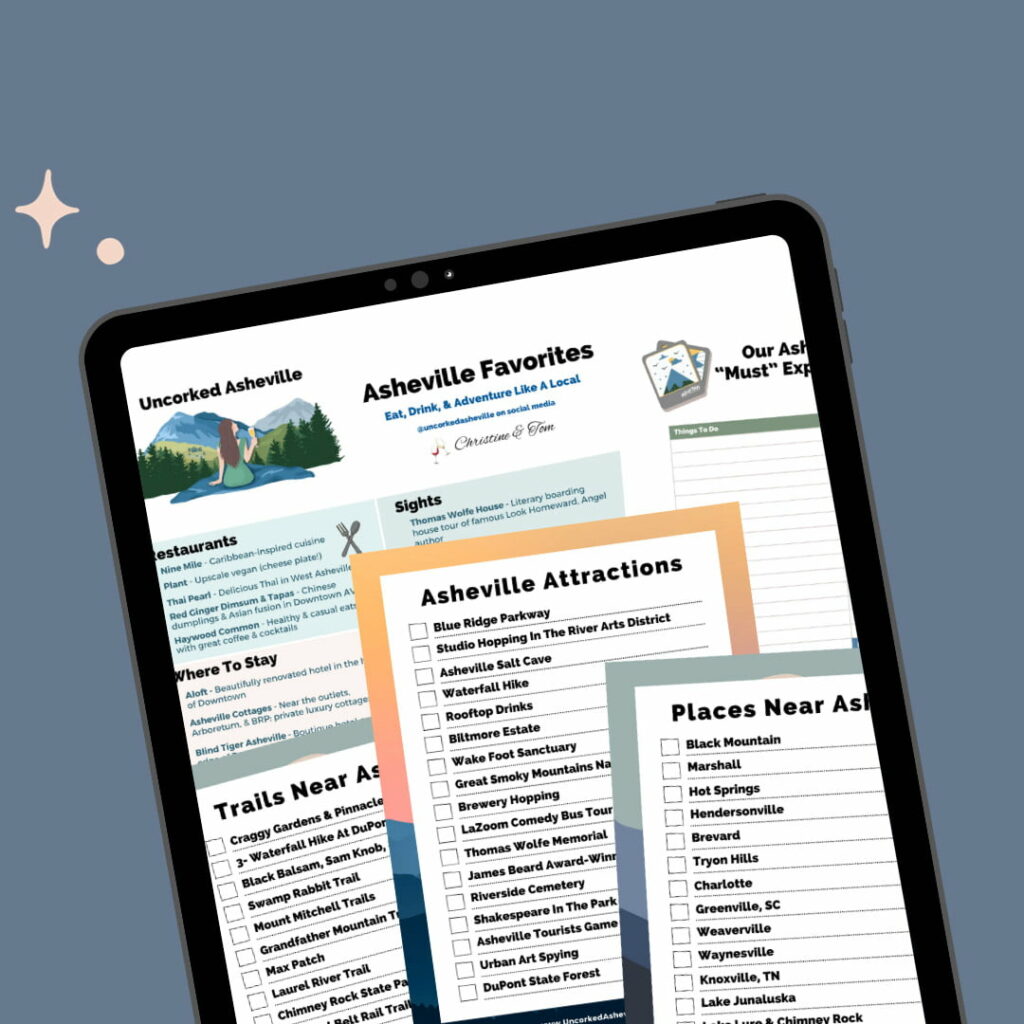 Never Miss Another Asheville Update
Experience Asheville like a local with our free attractions, dining, hiking, and day tripping guides. Get events, updates, and more straight to your inbox from Christine.
6. There are on-site public restrooms
Since you might be drinking beer – or water – know that there are public restrooms on-site. Basic facilities include toilet stalls, water and soap for handwashing, and hand driers.
As the evening grows darker, you may wish to have a flashlight or your cellphone flashlight handy. There is minimal lighting and cleared dirt walking paths.
7. Families, pets, and couples may enjoy Shakespeare in the Park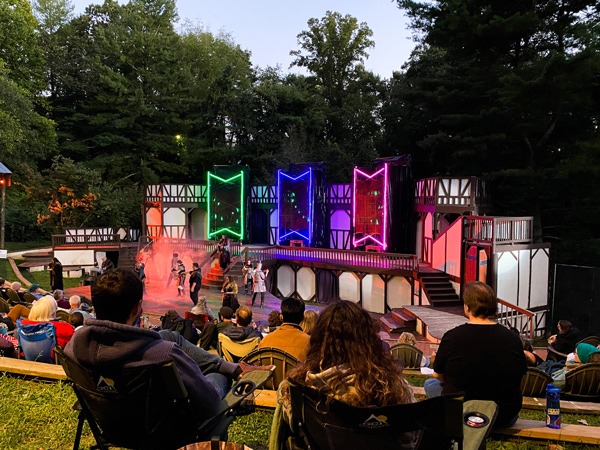 For many, Asheville's Shakespeare in the Park is one of the great family-friendly things to do in Asheville.
In previous years, the Montford Park Players performed The Sword In The Stone at a special 5:30 PM showing.
However, some of the shows go late into the evening, last over three hours, and might be boring and hard to understand for the littles. You know your family members best.
Leashed and well-behaved dogs are also allowed.
Performances are one of the most romantic things to do in Asheville, especially perfect for couples. Or, enjoy a fun night out with your best friends.
You'll see a variety of people attending, especially Asheville locals.
8. This is not your average Shakespeare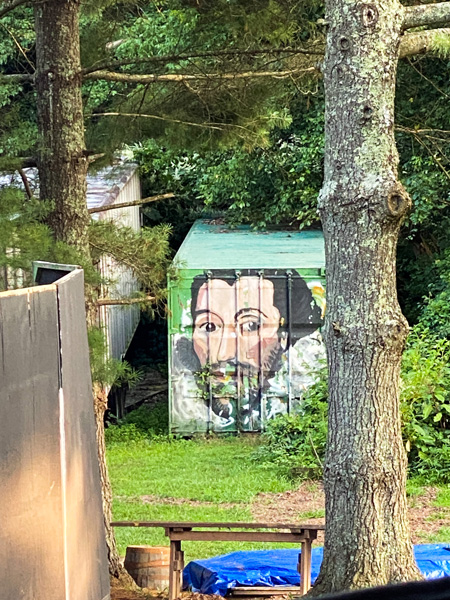 Although no longer in business, our favorite restaurant – Chiesa – "warned" us that Asheville's Shakespeare in the Park was a bit…different…and best enjoyed with a beverage.
You might catch actors in body glitter, hilarious dancing, and sometimes (lower-budget) vibrant costumes – and we are all here for it.
This is not your average Shakespeare. Enjoy twists, turns, quite a few laughs, and modern takes.
9. There are plenty of sights & restaurants nearby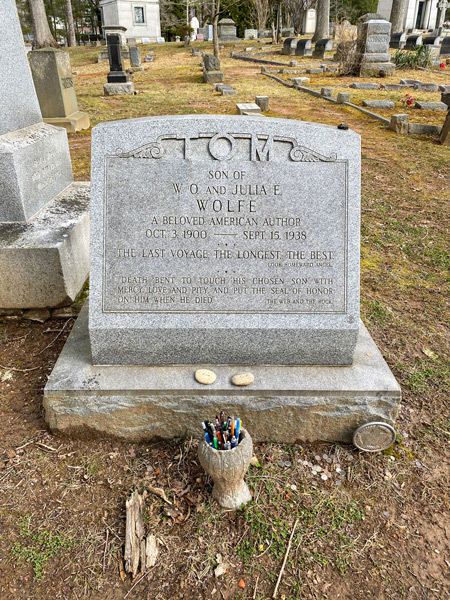 While in Historic Montford, before you watch a play, catch a Caribbean-inspired dinner at Nine Mile – one of the best restaurants in the city.
Then, talk a walk around Montford, passing Montford Park, many Free Little Libraries, and gorgeous historic Bed & Breakfasts.
Asheville is full of spots for book lovers too. Nearby, pay homage to literary greats, O. Henry and Thomas Wolfe at Riverside Cemetery.
The cemetery is said to be one of Asheville's haunted places…
Asheville's North Asheville neighborhood resides next to Montford and also houses fabulous local restaurants, breweries, and distilleries.
Head to Rye Knot for beer, whiskey, and grub, Asheville Pizza and Brewing for the best AVL pizza, or The Madness AVL for stellar sushi and burgers.
For another quick stroll before catching a performance, drive to Beaver Lake for its 2+-mile perimeter trail and bird sanctuary.
Where To Stay In Asheville
Explore the best places to stay in Asheville. A few of our top suggestions:
Aloft – Downtown Asheville – Centrally located and recently renovated, enjoy a rooftop pool, a gorgeous bar, and trendy rooms.

The Omni Grove Park Inn – Treat yourself to a luxury resort in North Asheville, complete with breathtaking sunsets, terrace bars and dining, and loads of Asheville history.

Hampton Inn And Suites Asheville Biltmore Area – A budget-friendly but renovated hotel on busier Brevard Road that's perfect if you wish to stay between Biltmore Estate, Downtown Asheville, and the Blue Ridge Parkway.

Asheville Cottages – Gorgeous 1 to 3-bedroom cottages with a private deck, housing a grill and hot tub. Find luxurious heated-floor bathrooms with rain showers, a well-stocked kitchen, and the cleanest rooms in town.

Foundry Hotel – An oasis in Downtown Asheville, Foundry Hotel is a nod to AVL's industrial history. Find famous restaurant Benne on Eagle while sleeping ensconced in charm and elegance.

Country Inn & Suites by Radisson, Asheville Westgate, NC – Located off of the highway as you enter AVL, find a sleek and clean hotel at a great price.

Black Walnut B&B Inn – Designed by Biltmore's supervising architect, Richard Sharp-Smith, this 1899 inn is close to Downtown AVL and serves afternoon tea. Two rooms are pet-friendly.
Don't miss out on these Asheville properties on Booking.com, too.
Save our guide to Asheville's Shakespeare in the Park for Later:
Have you attended Shakespeare in the Park in Asheville, NC?
As the Montford Park Players' playbill notes, they are one of the only 15 theaters in the world to have staged all of Shakespeare's 37 plays.
They are also the longest-running Shakespeare theater company in North Carolina and one of the few in the U.S. that remains free.
They offer scholarships for youth aged 9-17 for their theatre-in-residence program, the Montford Moppets.
They are utterly fabulous!
Have you attended a Montford Park Players' performance of Shakespeare in the Park? Which one, and what did you think? Let us know in the comments.
Where to head next:
Explore Asheville's Hippest Neighborhoods
More Parks & Gardens
Where To Catch A Movie
All Art, Books, & History Posts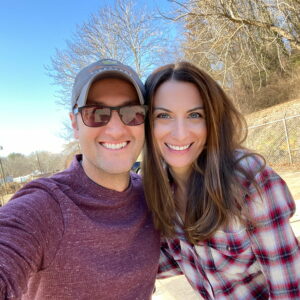 Christine (pronouns: she/her) is the owner and lead writer of Uncorked Asheville. After falling in love with those gorgeous Blue Ridge Mountains, Christine and her husband Tom decided to call Asheville, North Carolina home. When her pointy Italian nose isn't stuck in a book, Christine is adopting all of the kitties, getting lost in the forest, and drinking an ESB. She has a BA in English and History from Smith College, her MLIS from USF-Tampa, and is a former U.S. Fulbright Scholar - Indonesia. Christine also owns The Uncorked Librarian LLC with books and movies to inspire travel.