Hike, bike, and skate the scenic and paved 28+-mile Swamp Rabbit Trail in Greenville, SC – with tips from Asheville locals.
As AVL residents, you might be wondering why we'd head all the way to Greenville, South Carolina for hiking and biking trails, especially when we live in the famous Blue Ridge Mountains.
Western North Carolina (WNC) has endless waterfalls, scenic overlooks, trails ranging in length and difficulty, and plenty of greenways. Plus, the weather is a bit cooler, and of course, we have fall foliage.
However, we love a good Asheville day trip, and at under 1.5 hours away, Greenville never disappoints.
Greenville is filled with delicious restaurants, theaters, scenic attractions, and plenty of unique trails.
Similar to WNC's Thermal Belt Rail Trail, Greenville boasts the Swamp Rabbit Trail for walkers, hikers, all types of bikers, and even skaters.
This well-labeled, largely safe, and fun rails-to-trails system is surrounded by restaurants, cafes, breweries, and scenic attractions, including Falls Park on the Reedy with Liberty Bridge.
At 28+ miles, there is so much to explore: sculptures, pavilions, bridges, a zoo, and parks.
If you are planning to hit the trails, keep reading to learn more about Swamp Rabbit Trail bike rentals, parking, and maps.
We'll tell you the best spots to take breaks, find food, and hydrate – in all senses of the word. Spot a plane memorial, stop for photos by the falls, and spy a community mural.
Let's get started, and be sure to share your favorites along the Swamp Rabbit bike trail in the comments; new places are always popping up, and we are constantly exploring.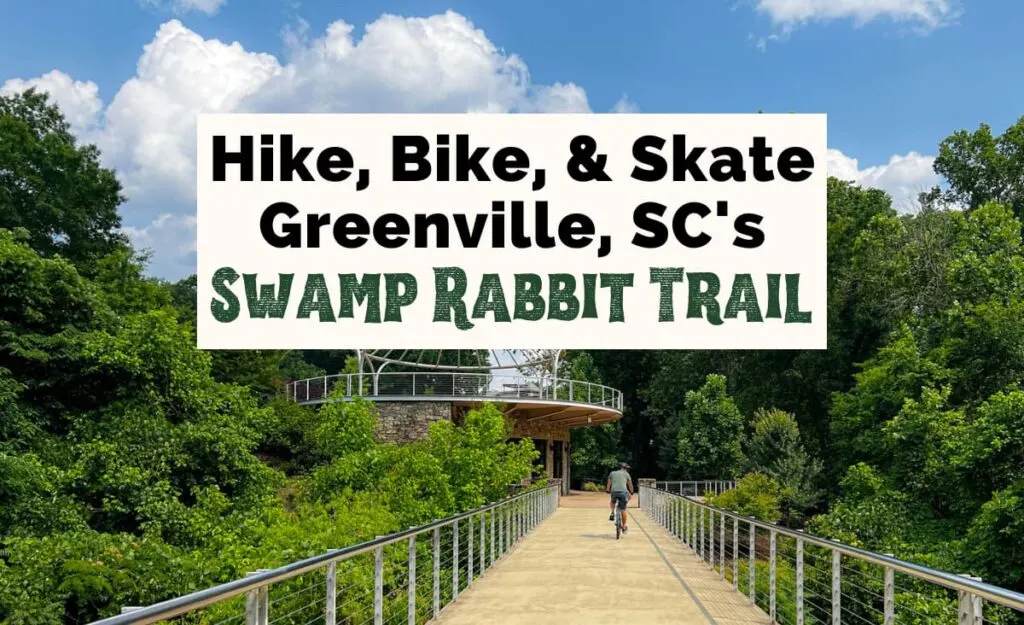 This post may contain affiliate links that earn us a commission at no extra cost to you. If you love these guides, support Uncorked Asheville here.
Swamp Rabbit Trail Guide
Quick Stats & FAQs To Get You Started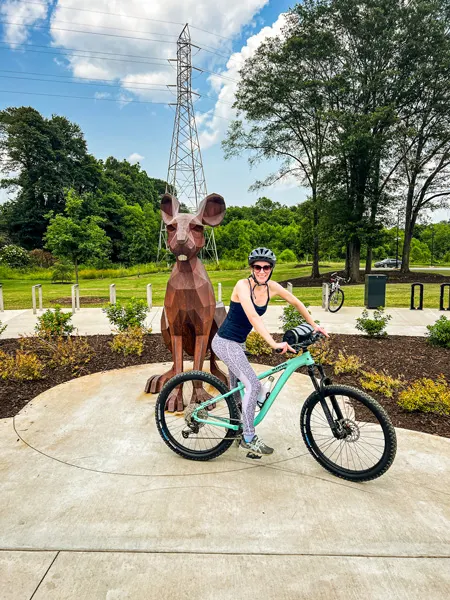 Name(s): Prisma Health Swamp Rabbit Trail; Swamp Rabbit Trail (SRT)
Distance From Asheville, North Carolina: Just under 1.5 hours, especially if you hit traffic; 67 miles
Difficulty Level: Easy
Length: 28+ miles (new portions added in June 2023)
Type Of Trail: Relatively flat with some hills; out and back; paved for hiking, biking, and skating; crosses roads and railroad tracks; find ample green signage with mileage to trail highlights; concrete and asphalt
Related Guides: Best Mountain Biking Near Asheville & Top AVL Hiking Trails
Where To Stay Nearby: Book your stay in Greenville, SC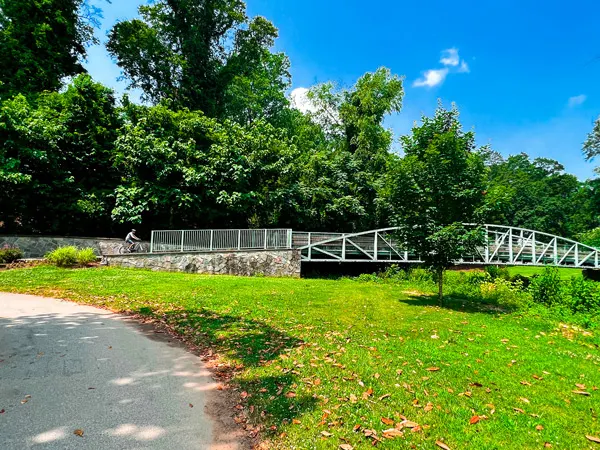 How long is the Swamp Rabbit Trail?
The Swamp Rabbit Trail is currently a 28+-mile multi-use, greenway trail that runs through Greenville, SC's parks and attractions. The trail is perfect for road and mountain bikers, skaters, walkers, and hikers.
Where does the Swamp Rabbit Trail begin and end?
From South to North, the Swamp Rabbit Trail currently runs from Greenville Technical College to Travelers Rest, passing through the Greenville Zoo, Falls Park, Downtown Greenville, and Furman University. The trail has a variety of access points, and you may ride North to South, too. The greenway also traverses the Reedy River.
Is the trail pet and family-friendly?
The Swamp Rabbit Trail is both pet and family-friendly. Dogs should be well-behaved and remain leased. Please clean up after them. For families, find gentle inclines/declines, multiple parks, shaded spaces, picnic areas at parks, restroom stops along the way, and benches for breaks.
Top trail tips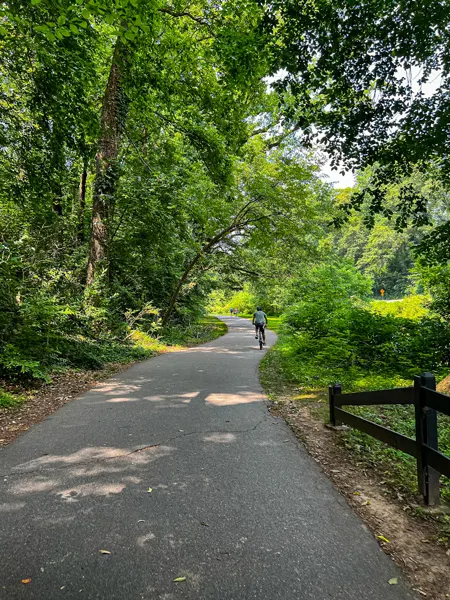 There are just a few of the tips we've learned from experience:
In the summer months, head out earlier in the morning and bring plenty of sunscreen; parts of the trail are in direct sunlight

If you aren't renting bikes via a shop, make sure to have a water bottle, bike lock, storage pouch, and helmet; a basic portable bike tool kit is a great idea too (you'll also find a few repair shops and tool stations along the trail)

Know your limits; for every mile you go, you have to bike back to your starting point

Starting South to North is our preferred route; the ride back is a bit more of a descent when you are tired

Exert extreme caution around train tracks and road crossings; pay attention to stop signs; make sure traffic has stopped (and is not running lights); there has been a fatality here

And as always, leave no trace, and respect the environment.
Swamp Rabbit Trail Map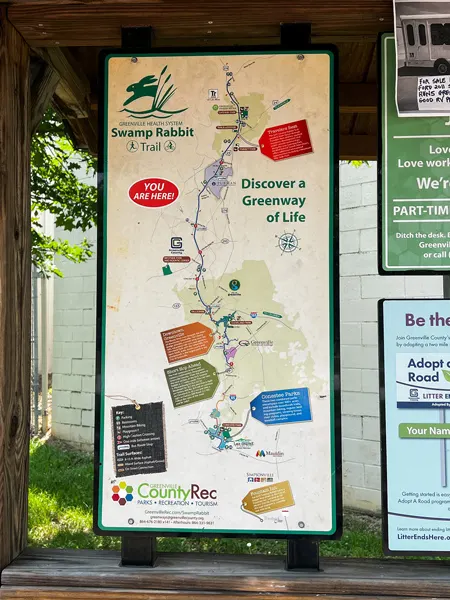 For an interactive Swamp Rabbit Trail map, head over to the city of Greenville Parks, Recreation, and Tourism's website.
Don't get us wrong, we appreciate their information, but the map itself can get a little wonky or hard to use, especially for the larger picture of what exists along the trail. However, it's a solid start.
You'll also find maps and informational boards posted along the trail at biking stations as well as see plentiful signage posting mileage and arrows, especially near stops, larger turns, and attractions.
It's not easy to get lost or accidentally veer off the greenway, but the trail maps are great if you are looking for your next restroom stop or water fill-up station.
Trail Parking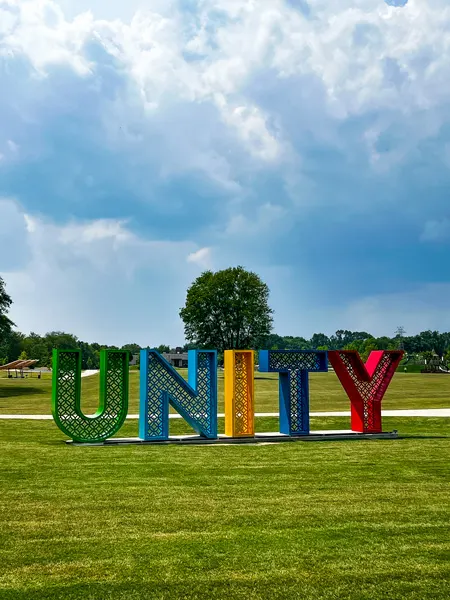 There are plenty of places to park to access the trail, both free as well as pay lots and garages. For Swamp Rabbit Trail parking, we recommend:
Cleveland Park/Greenville Zoo (150 Cleveland Park Dr, Greenville)
Falls Park (601 S. Main St, Greenville)
Unity Park (320 S Hudson St, Greenville)
Gateway Park (115 Henderson Dr, Travelers Rest)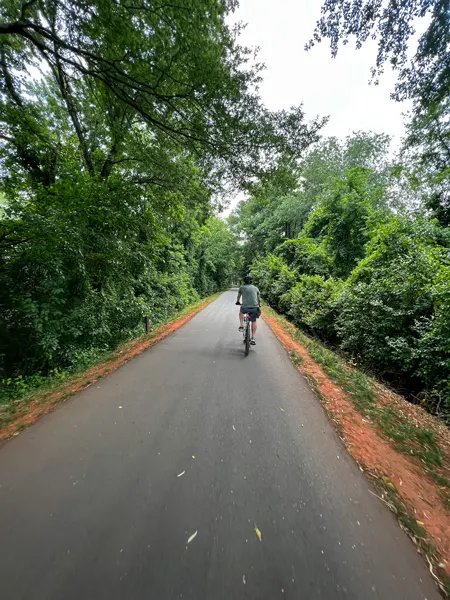 Where is the best place to get on the Swamp Rabbit Trail?
Cleveland Park is one of our preferred lots to access the Swamp Rabbit Trail. There's plenty of free parking and facilities as well as bike rentals at the Zoo entrance. The ride seems easier on the way back when you are a bit tired, too.
Falls Park is another solid option if you are already staying downtown or don't mind paying for a garage or lot.
For families, Unity Park is a gorgeous public park and boasts a seasonal splash pad, play areas, restrooms, picnic shelters, and scenic bridges. However, this will put you further into the trail (it's an 18-minute walk to Falls Park).
We've also started at Gateway Park in Travelers Rest; the bathrooms are a bit… beat up here, but there's a fun little mountain biking track.
You also have to cross the busy Main Street – and when we say busy, we mean it.
However, starting at Gateway Park allows you to enjoy a mostly quiet stretch of greenway versus biking through much of Downtown Greenville.
Plus, on your way back to the car, there are plenty of stops for food and beer. Not to mention the extra Downtown Greenville traffic you miss heading back to Asheville.
Swamp Rabbit Trail Bike Rentals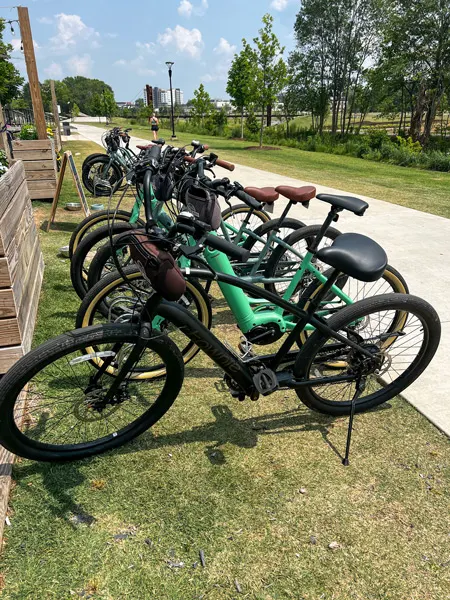 While we have our own bikes – and travel with them via a car bike rack – know that you can easily rent road bikes, e-bikes, and mountain bikes across Greenville, especially if you are last-minute planning on enjoying the trails.
We passed riders on personal bikes as well as rentals, and we saw a plethora of easy-to-access rental stations along parts of the trail.
Two popular spots for Swamp Rabbit Trail bike rentals include:
Reedy Rides (50 S Richardson St, Greenville)
Greenville BCycle (Stations across Greenville)
Reedy Rides in Downtown Greenville offers bike rentals seven days a week, and you'll spot these 7-speed comfort cruisers all over the trail…and breweries.
Rentals come with a bike lock, helmet, storage bag, and trail map. Choose from mountain, electric, tandem, and kids' bikes. They also rent out child seats and single and double trailers.
Always double-check prices on Reedy Rides' site, but an adult bike for half the day starts at around $30 and goes up to $45 for the full day.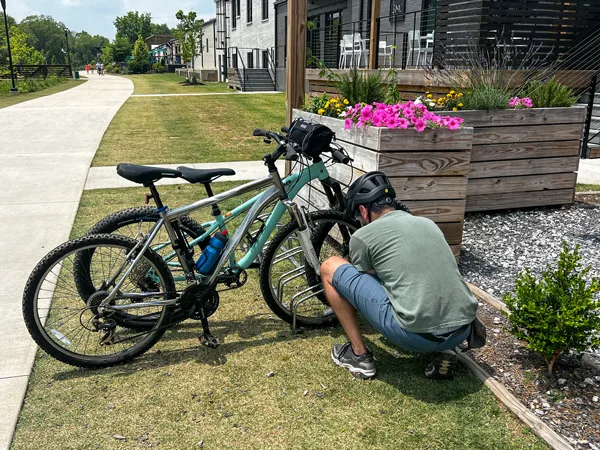 Or, look for Greenville BCycle's stations – a partnership with Reedy Rides. You will need your own biking gear, though, including a helmet.
Unlock electric bikes with your phone. Just a few spots we saw stations include the Greenville Zoo, close to The Commons, and near Falls Park. The Falls Park ones tend to "sell out" more quickly.
Specifically for the Swamp Rabbit bike trail, a 4-hour pass starts at around $35. A single 30-minute ride is $5, and you can also purchase guest, monthly, and annual passes.
Trail Highlights
Greenville Zoo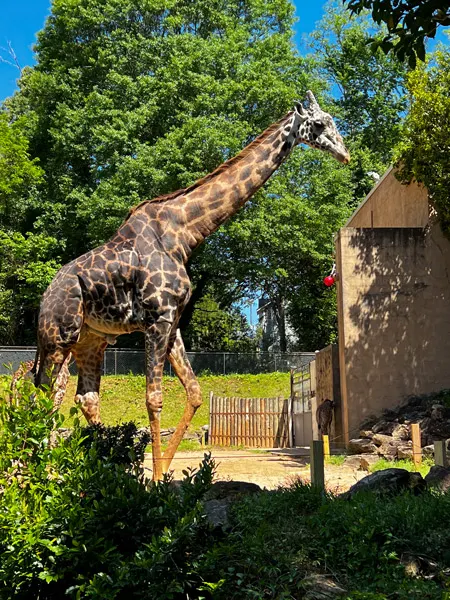 Cleveland Park and the Greenville Zoo are our go-to's for Swamp Rabbit Trail parking. You'll have easy access to picnic areas, playgrounds, restrooms, and, of course, the zoo.
Parking is free, and there are plenty of people around for safety; the zoo also sits on the outskirts of busy downtown.
While the SRT doesn't go through the actual zoo enclosures, it runs parallel, and if you have time, we highly recommend spending an hour or so seeing the well-cared-for animals.
The giraffe family is extremely popular and find orangutans, snakes, turtles, monkeys, owls, and more. The Greenville Zoo is also a great activity if you are traveling with kids.
Purchase tickets online or at the gates. As mentioned above, find one bike rental station here too.
Greenville Zoo | 150 Cleveland Park Dr, Greenville, SC 29601
Cleveland Park & F-86 Sabre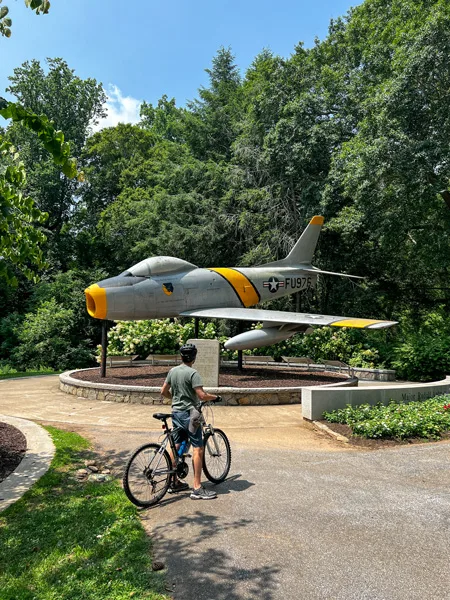 The pilot half of Uncorked Asheville can never resist anything airplanes, and there's an F-86 Sabre along the Swamp Rabbit Trail in Cleveland Park.
The plane is a memorial to Greenville native, Major Rudolf Anderson Jr., the only American causality of the Cuban Missile Crisis. Anderson was shot down over Cuba in 1962 in his spy plane.
The plane on display is said to be similar to the ones he flew in Korea.
Along with this memorial, Cleveland Park is home to 122 acres of trails, workout stations, picnic areas, playgrounds, and tennis, volleyball, and basketball courts.
On the way to Falls Park on the Reedy from Cleveland Park, you'll also pass Cancer Survivors Park, which has sculptures, walkways, and a pavilion.
Cleveland Park | 150 Cleveland Park Dr, Greenville, SC 29601
Falls Park on the Reedy/Downtown Greenville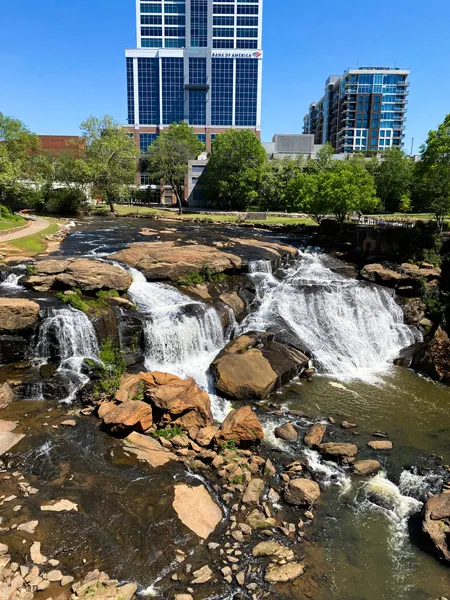 One of the most iconic Greenville attractions, Falls Park on the Reedy and its Liberty Bridge are pretty much the cover photo for every visitors' guide to Greenville. It's not hard to see why.
Stroll pathways to gorgeous wildflowers and gardens, around cascading waterfalls, and through numerous seating areas and vantage points.
The 20-acre park is close to restaurants and hotels, has public restrooms, and is filled with couples on romantic dates, runners, dog walkers, and families.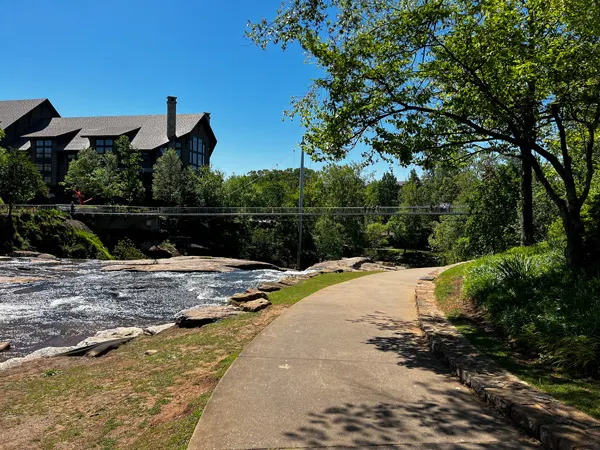 Falls Park's biggest attraction, though, is Liberty Bridge, a 345-foot-long and 12-foot-wide curved bridge supported by a single suspension cable.
If you aren't afraid of heights or slightly swaying bridges, Liberty Bridge promises breathtaking views of the falls and Downtown Greenville.
The Swamp Rabbit bike path curves into the park around the stage area and up to a concrete pathway along the water through food, artist studios, and hotels.
Falls Park on the Reedy | 601 S Main St, Greenville, SC 29601
Swamp Rabbit Station At Berea/Mural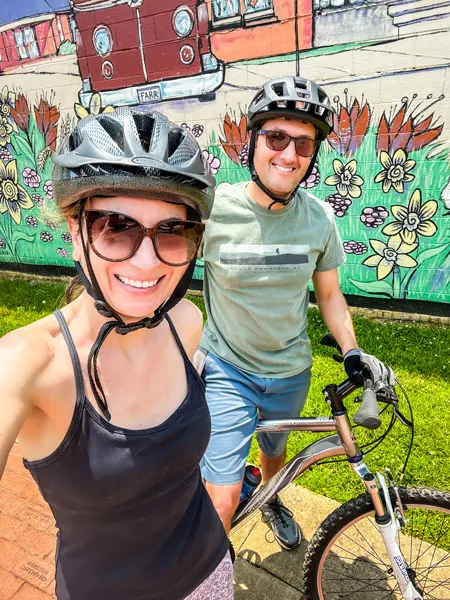 We love the comfort of the greenway systems in both Carolinas.
Like Western North Carolina's Thermal Belt Rail Trail, the Swamp Rabbit bike trail has numerous places to stop to fill water bottles, tune up bikes with emergency tools, and double-check maps.
One of the most iconic stops includes Swamp Rabbit Station at Berea, which you can't miss with its green train car and colorful mural.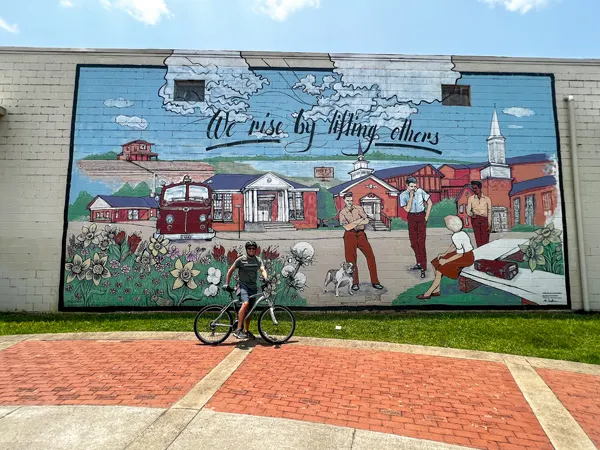 A project by Adam Schrimmer of Blank Canvas Mural Company, the mural reads "We rise by lifting others" and is an ode to Berea's history.
Just past the mural, there is also a small and heartbreaking memorial to local teacher, Carli Brewer Soukup, a hit-and-run victim who was crossing the trail at Sulphur Springs Road.
Furman University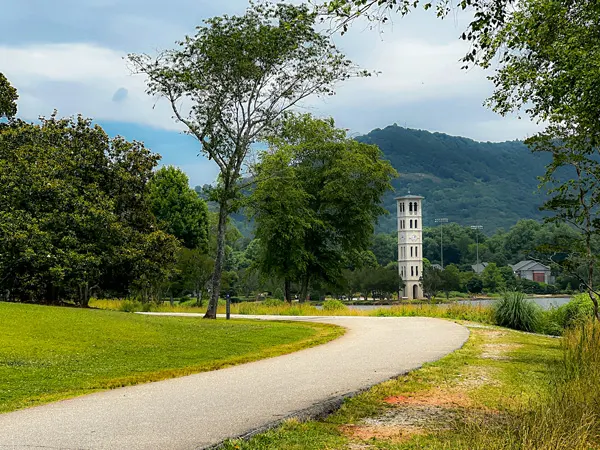 Pass a gorgeous private liberal arts college, Furman University, along the Swamp Rabbit Trail.
This is another access point to the trail from the campus, and there's a public, 1.5-mile scenic pathway along Furman Lake with a Barnes & Noble on the other side.
Most notably, spy the gorgeous Florentine bell tower, which has a history dating back to 1854 when Furman was originally an all-male campus.
The tower you see today is a replica.
Travelers Rest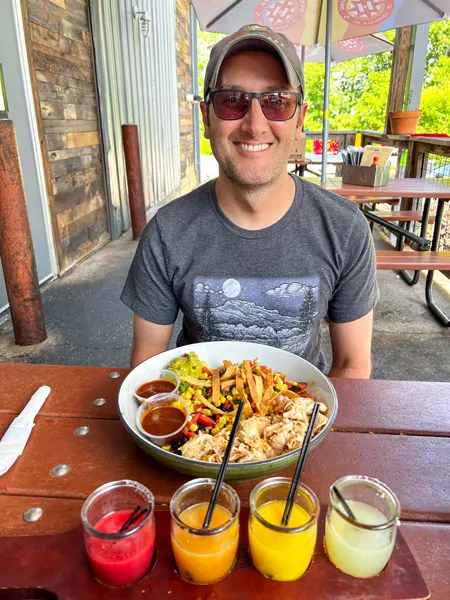 Another Swamp Rabbit Trail parking area and access point, Travelers Rest is an especially great starting point if you are coming from the Asheville/Hendersonville area and wish to shave off some driving time.
Eleven extra miles to and from the Greenville Zoo area doesn't seem so long until you hit 4 PM traffic…
If you are parking in Travelers Rest, as mentioned above, Gateway Park isn't a bad free option.
Travelers Rest has a busy but walkable downtown and Main Street that is filled with restaurants, cafes, an outdoor adventure store, and shops.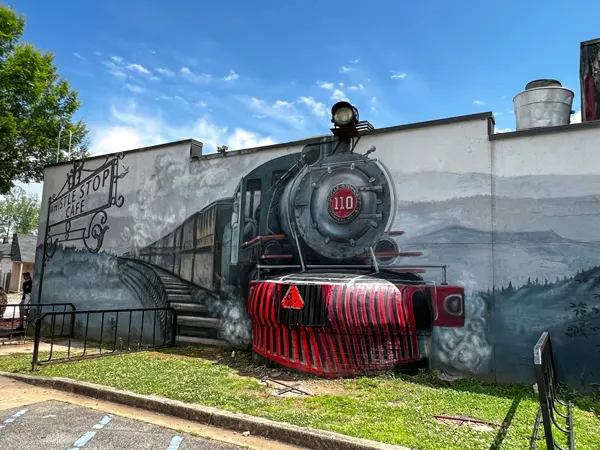 Think ice cream, pizza, and the Swamp Rabbit Brewery and Taproom, with indoor and outdoor seating and plenty of rabbit decor.
We enjoy a margarita flight from Farmhouse Tacos, and book shopping at As the Page Turns.
Not to mention the quirky and fun Whistle Stop at The American Cafe, which has Hawaiian ice and pub grub.
City of Travelers Rest | 125 Trailblazer Drive, Travelers Rest, SC 29690
Never Miss Another Asheville Update
---
Tired of generic Asheville travel itineraries? Experience Asheville like a local with our free Asheville Favorites checklist, including restaurants, breweries, and hiking. Plus, get local updates – including events and hidden gems – straight to your inbox. Sign up here.
Food & Drink Along The Trail
Swamp Rabbit Cafe & Grocery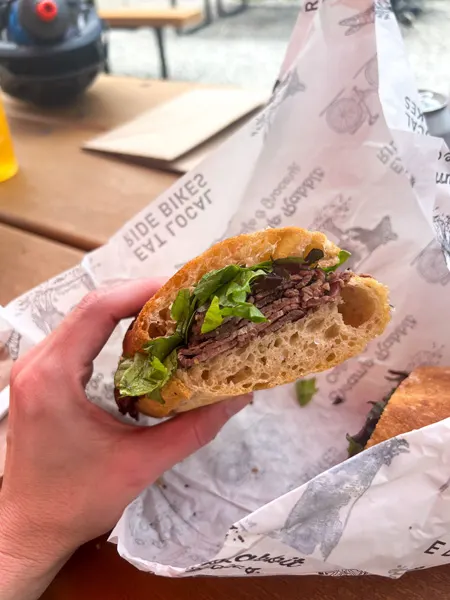 Ask anyone where to stop along Greenville's Swamp Rabbit Trail, and they will most likely say Swamp Rabbit Cafe. It's a must.
Along with a gourmet grocery store filled with flowers, local produce, gourmet items, and wine, head to the free-standing cafe stand for lunch or dinner.
As a half-Celiac and lactose-intolerant household, we love the Swamp Rabbit Cafe for lunch on the trail. Enjoy vegan, vegetarian, and gluten-free treats – including gluten-free bread.
Select from a variety of classic sandwiches and wraps along with salads, smoothies, and baked goods.
Park your bike out front near the little library, and eat at covered and uncovered tables. Littles can enjoy the play area.
Swamp Rabbit Cafe & Grocery | 205 Cedar Lane Rd, Greenville, SC 29611
Pangaea Brewing Company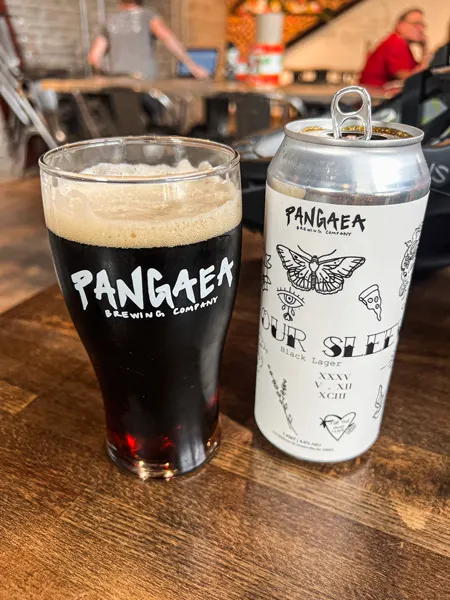 Did someone say a bike trail with booze?
Of course, we all need to drink and ride responsibly as well as stay hydrated with WATER, but there are plenty of breweries along the Swamp Rabbit bike trail.
Pangaea Brewing Company is a great brewery stop with indoor and outdoor seating. Plus, our half-Celiac household can drink gluten-reduced beer, which they have – canned and brewed by them.
If it's your first time, grab a flight, selecting from IPAs, Goses, Hefeweizens, Helles, Wheat Ales, and more. Pangaea has non-alcoholic kombucha and hard seltzers.
For food, find a small menu featuring pizza, salads, and a few sharables like breadsticks and hummus.
Leashed dogs are welcome outside on the trailside patio/garden, and this is a kid-friendly brewery.
Discover even more great gluten-reduced breweries around Greenville.
Pangaea Brewing Company | 115 Welborn St Suite A, Greenville, SC 29601
Southernside Brewing Co.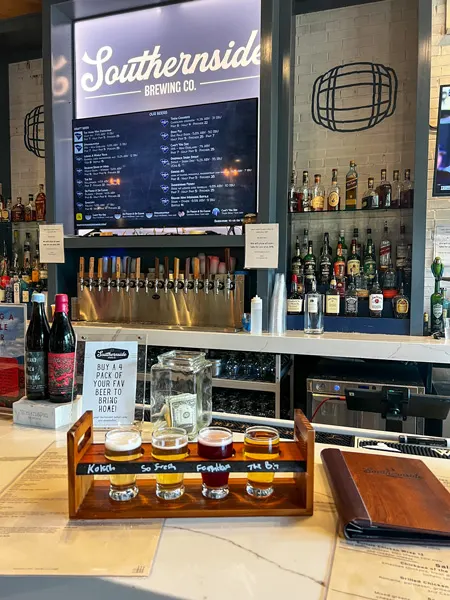 Another brewery on the Swamp Rabbit Trail, Southernside Brewing is quite massive and sits across the small bridge from Pangaea and The Commons.
They have a huge indoor space with plentiful seating, a comfy outdoor patio, and games. Plus, enjoy beer, cocktails, and pub grub.
Food includes anything from wings and dips to sandwiches, burgers, wraps, and salads. Their kids' menu features items like chicken tenders, grilled cheese, and hot dogs.
Sometimes, Southerside Brewing will have a gluten-reduced beer on tap, and non-beer drinkers can enjoy cider and wine along with seasonal and fun handcrafted cocktails.
Southernside also hosts markets, live music on weekends, and special events and promotions. Park and lock your bike out front on their numerous bike racks.
Southernside Brewing Co. | 25 Delano Dr. Unit D, Greenville, SC 29601
More places to stop include Swamp Rabbit Brewery & Taproom (mentioned above with Whistle Stop) and The Commons.
More Tips For Our Asheville Readers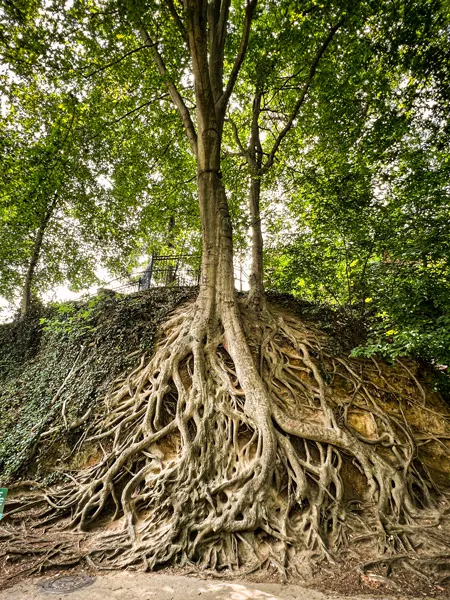 If you visiting the Prisma Health Swamp Rabbit Trail from Asheville, NC, you might also enjoy stopping in WNC mountain towns like Hendersonville and Flat Rock.
Flat Rock is a small village next to Hendersonville with a large public park, theater, cafes, and a coffee shop. The Carl Sandburg Home is also here, filled with history and hiking trails.
Much larger, Hendersonville is famous for its seasonal apple orchards, walkable downtown, beautiful wineries and vineyards, museums, and proximity to DuPont State Forest.
If you are only spending a day in Greenville, traffic back to AVL can get pretty congested.
Consider stopping for dinner at one of Hendersonville's delicious restaurants like Haus Heidelberg or Umi Sushi to break up the drive.
Save our Greenville, SC Swamp Rabbit Trail Guide For Later: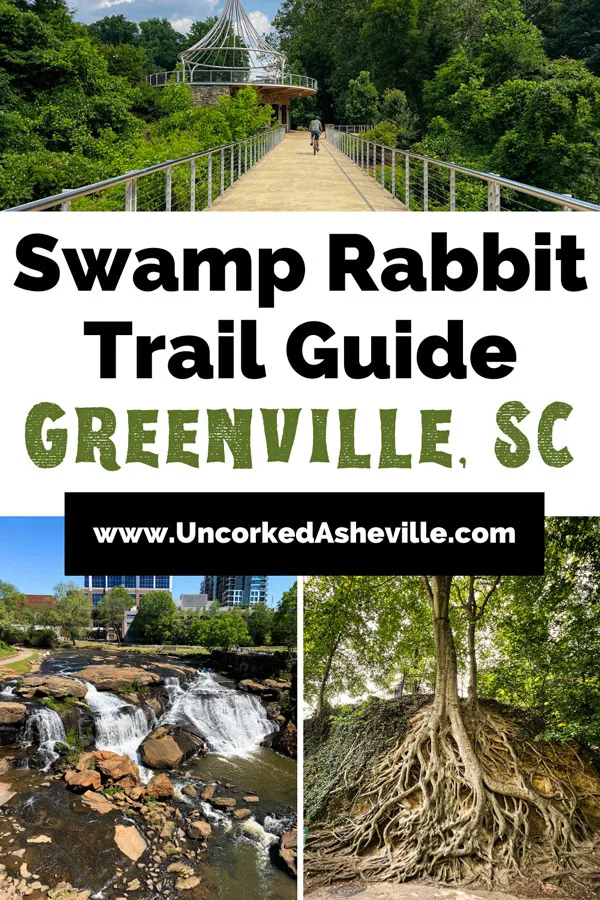 Have you hiked or biked the SRT in Greenville?
Have you walked, skated, or biked Greenville's gorgeous Swamp Rabbit Trail? Where did you stop to rest, eat, and drink?
We are constantly exploring new places in Greenville and updating our guides. Let us know in the comments.
Related Articles: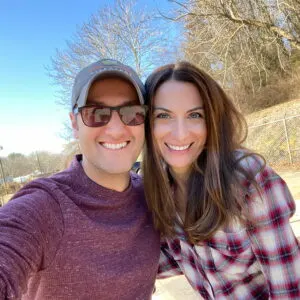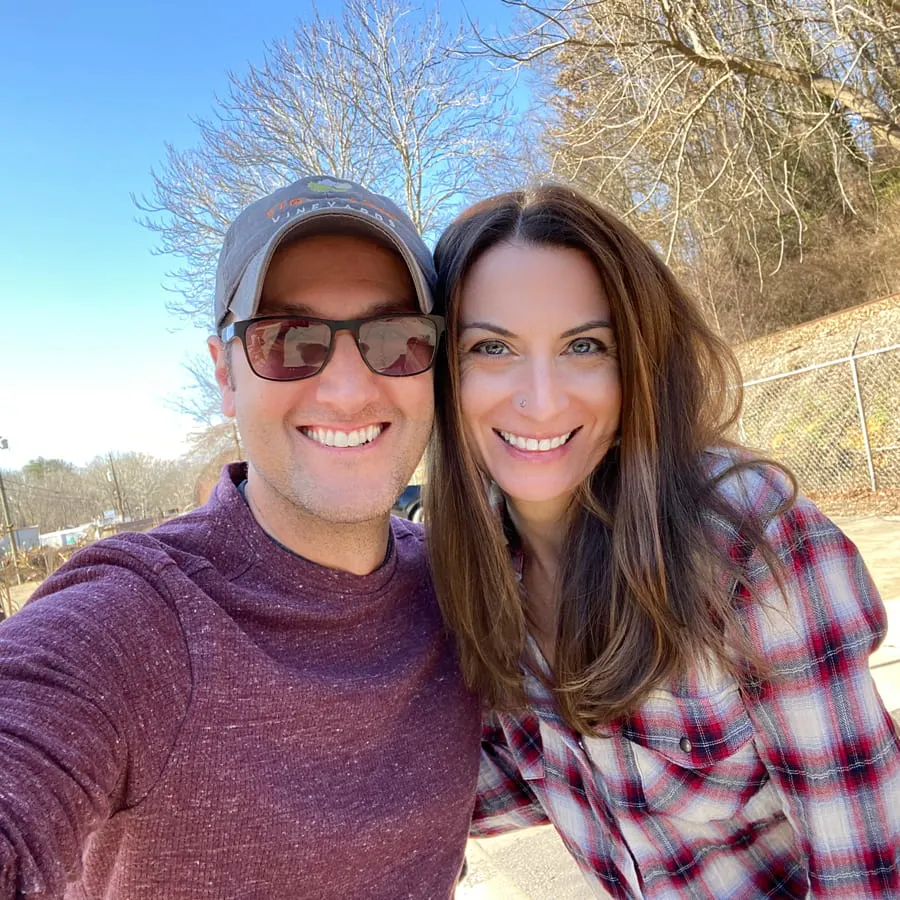 Christine (pronouns: she/her) is the owner and lead writer of Uncorked Asheville. After falling in love with those gorgeous Blue Ridge Mountains, Christine and her husband Tom decided to call Asheville, North Carolina their home. When her pointy Italian nose isn't stuck in a book, Christine is adopting all of the kitties, getting lost in the forest, and drinking an ESB.
Christine has a BA in English and History from Smith College, her MLIS from USF-Tampa, and is a former U.S. Fulbright Scholar - Indonesia. She also owns The Uncorked Librarian LLC with books and movies to inspire travel.