Asheville For Book Lovers: 9 Best Ways To Get Your Literary Tourism On
Explore the best things to do in Asheville for book lovers, including The Hunger Games waterfalls, a champagne bookstore, and Biltmore's library.
Hike The Hunger Games waterfalls, tour Biltmore Estate's library, leave a penny for O. Henry, shop for The Little Prince socks, and meet a young boy dreaming of so much more.
Asheville's literary tourism is a book lover's dream.
The city boasts of infamous homes, incredible authors, bookstores you never want to leave, literary festivals, and bookish waterfalls.
Did we mention Shakespeare in the Park and sprawling libraries? George Vanderbilt even created his own version of Goodreads.
So, grab a literary cocktail and get your book nerd on with our specially tailored Asheville for book lovers itinerary – from AVL locals.
Learn more about Asheville's authors, writers, and poets. See their final burial grounds.
Uncover books set in Asheville, and enjoy charcuterie in a used bookstore. Let's get started.
Don't miss our massive guide of things to do in AVL.
This post may contain affiliate links that earn us a commission at no extra cost to you. If you love these guides, support Uncorked Asheville here.
9 Best Things To Do In Asheville For Book Lovers
1. Visit Asheville's Local Bookstores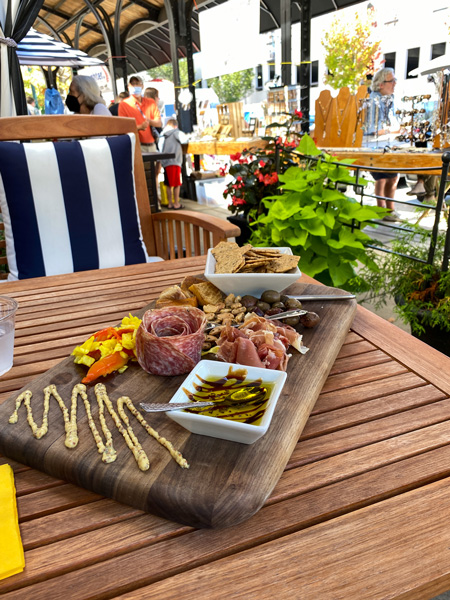 Asheville houses amazing bookstores. While we will share our top two below, be sure to read our complete guide to Asheville's bookstores:
Battery Park Book Exchange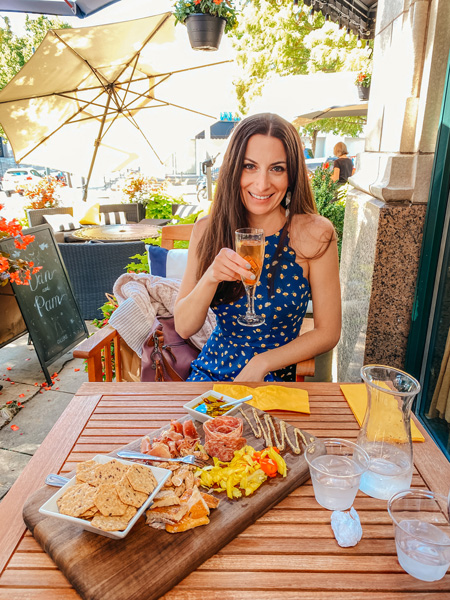 We are not going to lie: One of the reasons why we moved to Asheville includes Battery Park Book Exchange, one of the best Asheville bars for book lovers.
If you know us from our sister site, The Uncorked Librarian – filled with books and movies to inspire travel – then you already get it. Books and drinks? Yes, please!
The Battery Park Book Exchange is a used bookstore with a Champagne and wine bar.
Located in the historic Grove Park Arcade in downtown Asheville, they sell used books and have an extensive wine, cocktail, and Champagne list.
Battery Park Book Exchange also hosts readings, live music, and themed events.
Order a literary cocktail with some of the best charcuterie boards around and meet up with friends. Circulate their two floors of eclectic books, and eavesdrop on a book club.
Malaprop's Bookstore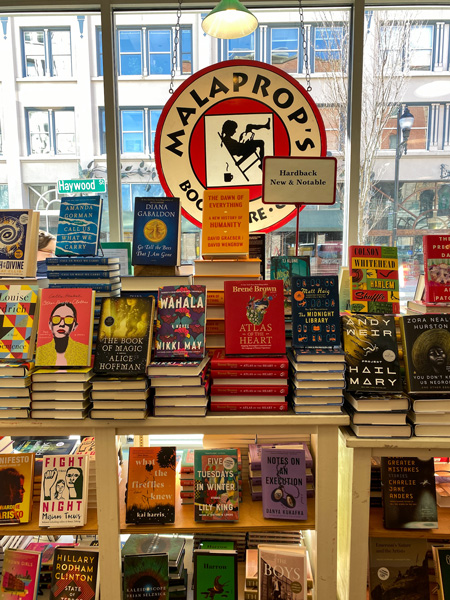 Literary travelers in Asheville will never want to leave Malaprop's, one of the most famous bookshops in North Carolina.
Local book displays – including books about NC – and bestsellers await residential and travelers' wandering eyes.
Be sure to check out their unique book recommendations and fun bookish schwag.
Malaprop's hosts numerous author events and has a fabulous newsletter, which points out new releases and notable indie reads.
They have a cafe, book clubs, and children's storytime.
Malaprop's founder, Emoke B'Racz, is a local Asheville writer and poet who emigrated to the United States as a Hungarian refugee.
The bookstore is iconic in Asheville, and we are pretty sure it's impossible to leave empty-handed.
In West Asheville, liberal readers will covet Firestorm, which is a self-proclaimed queer, feminist collective.
Or, head to Black Mountain for Sassafras on Sutton, which is both a toy and bookstore.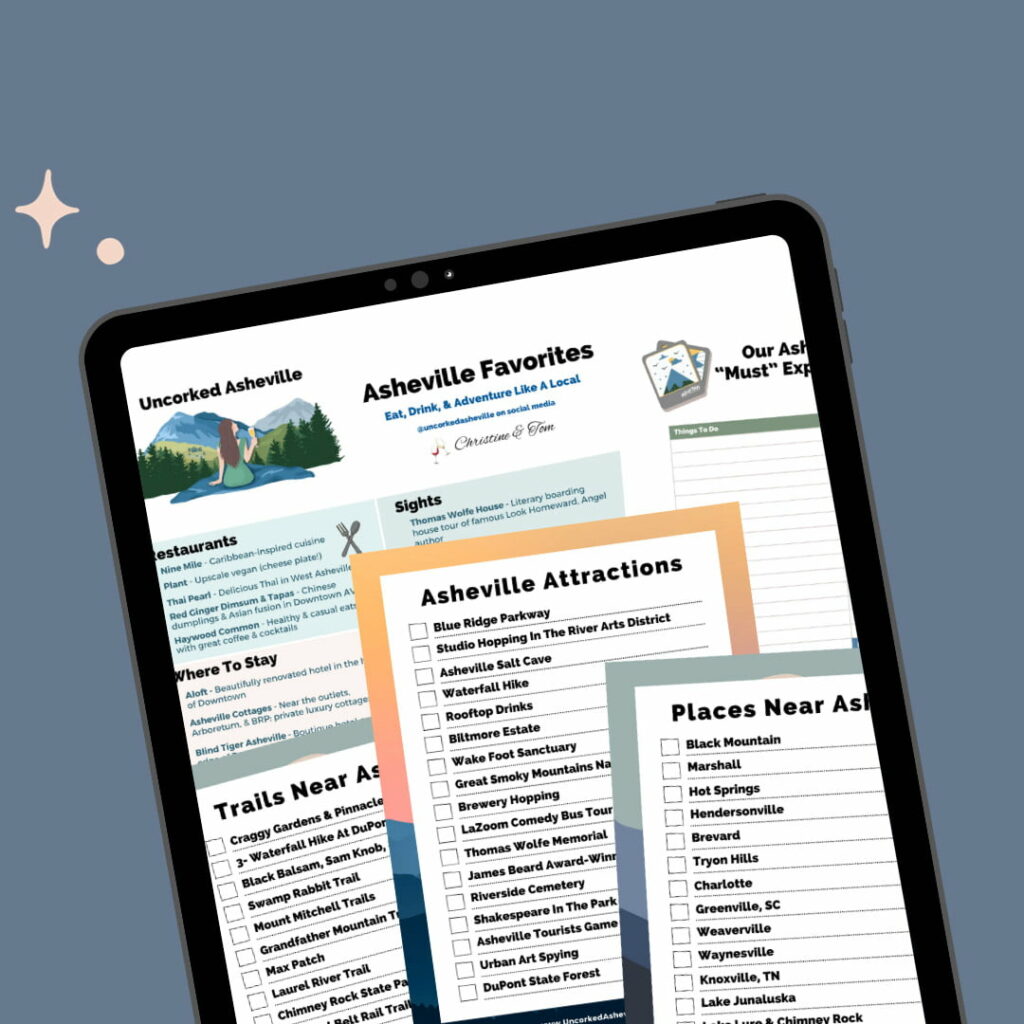 Never Miss Another Asheville Update
Experience Asheville like a local with our free attractions, dining, hiking, and day tripping guides. Get events, updates, and more straight to your inbox from Christine.
2. Tour Asheville's Literary Residences
Thomas Wolfe Memorial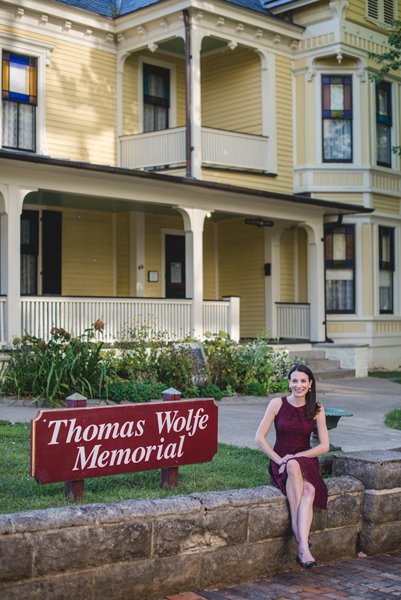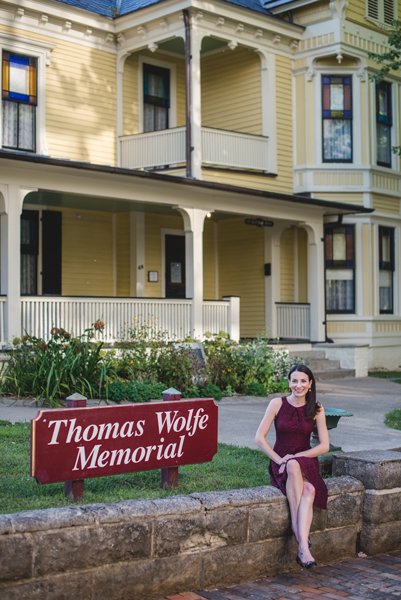 If you are looking for an Asheville literary tour and one of the best things to do on a rainy day, don't skip the Thomas Wolfe Memorial, even if you have never read Thomas Wolfe's books.
In fact, if you don't know who Wolfe is, go go go go! Everyone we have ever taken to the Wolfe boarding house has loved it.
It's one of Asheville's lesser-known tourist attraction gems. Thomas Wolfe is most famous for his Asheville-based novel, Look Homeward, Angel.
Although a well-known, American historical fiction novel, the story is a loose retelling of Wolfe's life growing up in Asheville, NC.
Most notably, Wolfe barely changed the names and spellings of his Asheville community – it's hilarious.
With that said, Asheville residents weren't too thrilled to see their dirty laundry aired out for the world – until Wolfe's fame grew.
Although a bit long-winded, Look Homeward, Angel paints a vivid picture of Asheville in the early 1900s. The story follows a young boy dreaming of escaping a 'provincial' life through higher education.
The Market Street residence is actually Wolfe's mother's boarding house. His nearby childhood home no longer stands.
Wolfe spent most of his youth in this residence, and his mother was quite the character. Independent and entrepreneurial, her story is both inspirational and a tad frustrating.
Visitors can take a guided tour of the home, drop into the museum, and watch a short film.
As one of North Carolina's most famous authors, you won't regret getting to know Wolfe better.
Carl Sandburg Home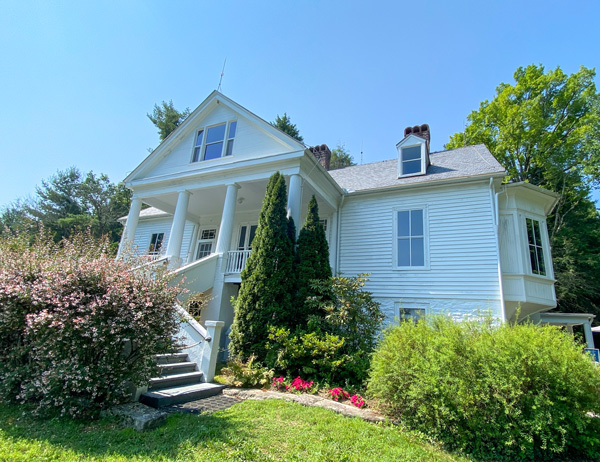 Deemed the "Poet of the People," Carl Sandburg lived in Connemara, NC (Flat Rock), right outside of Hendersonville.
Although not in Asheville, Flat Rock is 40 minutes away and full of fun things to do, including catching a play at the Flat Rock Playhouse and visiting the Carl Sandburg Home.
Visitors of the home can take a guided tour, walk the grounds, or visit the bookstore. Be sure to say hello to the goats at the barn, hike the Glassy Mountain Trail, and come for a special event.
In his lifetime, Sandburg won three Pulitzer Prizes, two for his poetry, and a third for his biography of Abraham Lincoln. Sandburg was also a Civil Rights activist.
Born in Illinois, Sandburg and his wife moved to Connemara in 1945.
The Carl Sandburg Home along with "The Hunger Games waterfalls," playing in Flat Rock, and exploring Downtown Hendersonville makes for a great Asheville day trip.
If you enjoy history, don't miss our favorite museums in Asheville, NC.
3. Wander Asheville's Libraries
Biltmore Library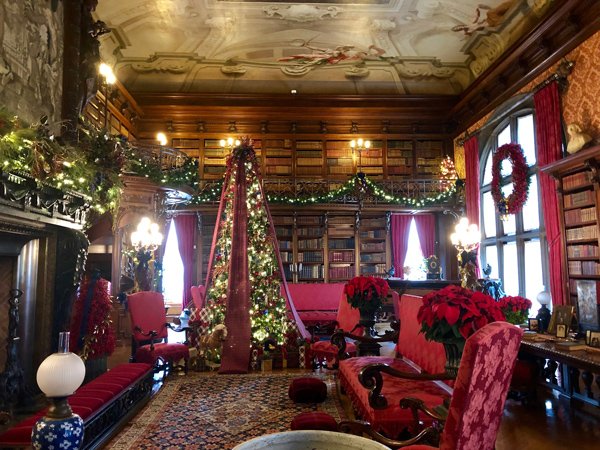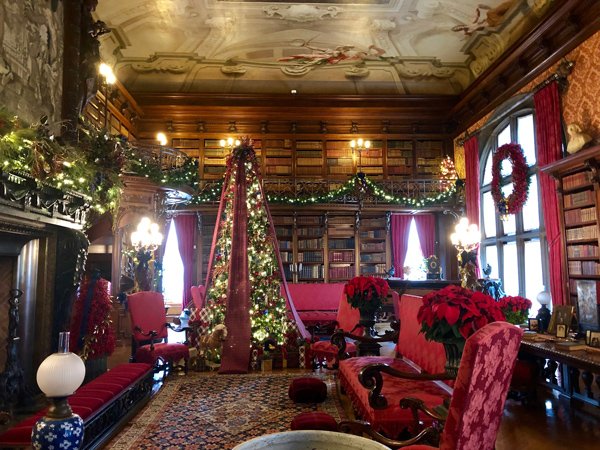 It's no secret that we recommend visiting Biltmore Estate during your time in Asheville. George and Edith Vanderbilt's grand home – the largest in America – is an Asheville must.
You can easily spend all day at Biltmore, touring the gardens, eating lunch in the old horse stables, checking out their indoor pool, and of course, wine tasting.
Not to mention the endless trails and pathways around the estate.
For Asheville literary tourists, though, the Vanderbilt library will sing to you. Yes, yes: it's a tad ominous and creepy.
However, at Christmastime, the library is stunning with festive decorations, lit fireplaces, and Christmas trees.
A few fun Biltmore library facts: At the age of 12, George Vanderbilt started recording everything that he read in a journal – similar to an old-school Goodreads.
He would send the books he collected to a bookbinder and ultimately accumulated over 22,000 volumes.
After visiting the Biltmore library, head to the Library Lounge located within The Inn On Biltmore Estate. They serve lunch, snacks, and cocktails.
Pack Memorial Library
Although one of the local libraries, Pack Memorial Library in downtown Asheville is a must for biblio-tourists. Please keep in mind that this is a working public library and a reprieve for locals.
Pack is also the main Buncombe County public library and was first built in 1911. The space you see today is the newer building designed in 1978.
Drop in and head to the used bookstore. See what art exhibits they are showcasing throughout the library. You will find Asheville history scattered throughout too.
While you are spending time in downtown Asheville, you will see references everywhere to Pack.
Head into High-Wire Brewing (South Slope) – one of Asheville's top breweries – for example, and you might spy photo archives from Pack hanging in the restrooms.
4. See Where F. Scott & Zelda Fitzgerald Spent Summers
Omni Grove Park Inn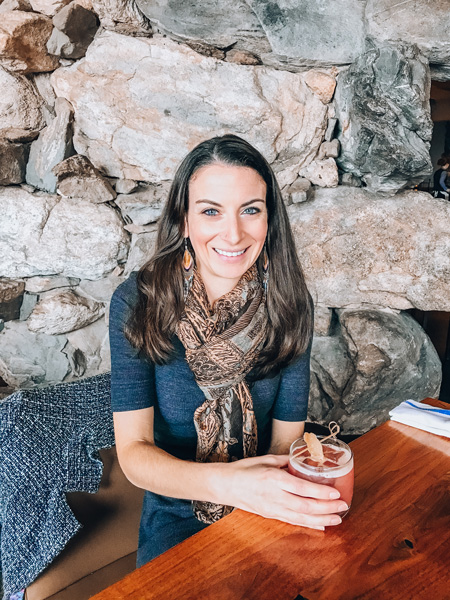 The Omni Grove Park Inn is well-known for its gorgeous sunsets over the mountains. In fact, the Grove Park Inn was the inspiration for Uncorked Asheville's logo.
Enjoy dinner and drinks at Grove's rooftop restaurants on Sunset Mountain while looking out upon downtown Asheville and the Blue Ridge Mountains.
The Grove Park Inn used to be the rising destination – during the Vanderbilt's time – of the elite wishing to escape into the mountains and also cure their ailments.
Nothing beats fresh mountain air and… quinine for tuberculosis.
What is the Omni's mark in literary history? Our personal favorite: F. Scott Fitzgerald spent two summers here in 1935 and 1936.
Rumor has it that he drank a lot and got booted out for shooting at the ceiling…
Today, you can stay overnight on this luxurious property. Or, enjoy the best restaurants in Asheville, including fine dining and drinks at Sunset Terrace or Edison.
The fireplaces will warm your soul for an Appalachia Christmas filled with gingerbread house displays.
In the fall, the foliage will blow you away. You don't have to be an overnight guest to visit the property either.
Visiting the Grove Park Inn is also perfect for couples looking for a romantic and cozy date night.
Former Highland Hospital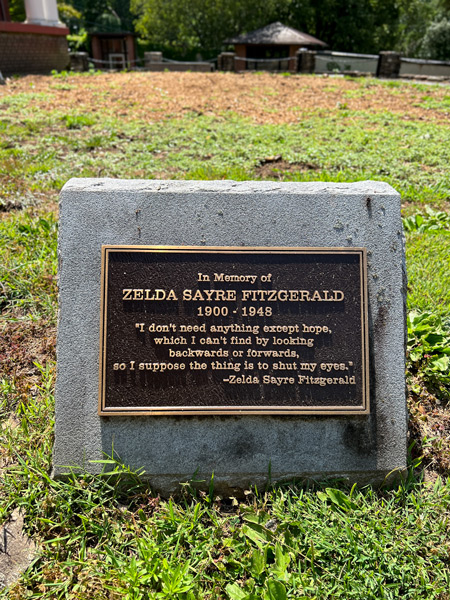 Along with F. Scott Fitzgerald, let's not forget his wife, Zelda, who was also a writer. Zelda suffered from mental health issues and stayed at Highland Hospital.
Unfortunately, she perished in the 1948 fire, a story that Lee Smith captured in her novel, Guests On Earth.
Relocated in Montford in 1912, psychiatrist Dr. Robert S. Carroll founded "Dr. Carroll's Sanatorium" or Highland Hospital.
He believed that diet, therapy, and exercise could help cure sick and anxious patients – which was pretty progressive for that time.
Highland Hospital no longer exists. Today, the area is a commercial district filled with businesses located on Zillicoa St.
The area is still said to be one of Asheville's many haunted places, and we just love a good North Carolina urban legend.
5. Hike To The Hunger Games Waterfalls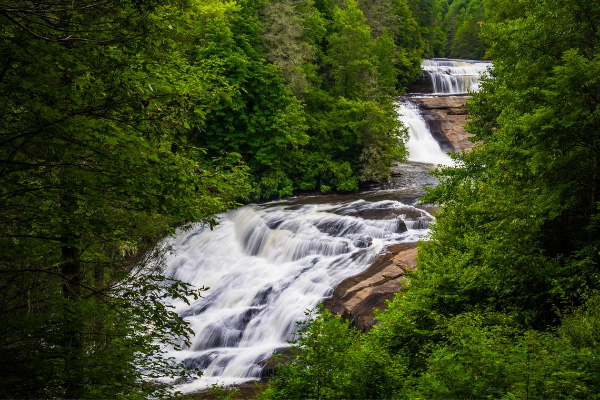 North Carolina is famous for its incredibly cool movie filming locations.
One of our favorite outdoor Asheville recommendations for book lovers is visiting The Hunger Games waterfalls at Dupont State Forest. DuPont is around 40 minutes from Asheville.
Triple Falls is both breathtaking and famous for the filming of The Hunger Games. Remember the scene where Katniss almost steps on Peeta's face in the waterfalls? That's Triple Falls.
Further in the forest, find Bridal Veil Falls where Katniss cools her burning leg from the fireballs. Bridal Veil Falls is also a filming location for The Last Of The Mohicans.
Producers shot a few more scenes around the Craggy Pinnacle Trail area at the tip of North Asheville, including the Arena.
Much further away in Henry River Mill Village, you can find the filming for District 12. Parts of the Capitol were filmed at the Charlotte Convention Center.
The list goes on and on, especially with those massive filming studios in Wilmington.
Read more about Asheville's incredible hiking trails as well as WNC's famous waterfall hikes.
P.S. If you are a movie buff, head to Lake Lure – which might look familiar from Dirty Dancing.
6. Pay Your Respects To Famous Authors At Asheville's Cemeteries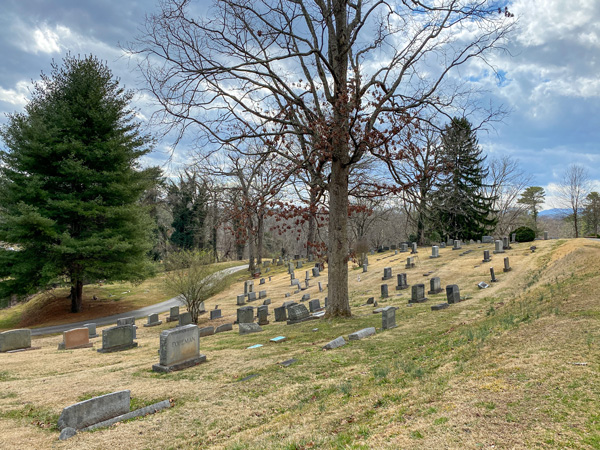 Many famous Asheville authors and writers are buried around the city, especially at Riverside Cemetery in Asheville's Historic Montford District (which is also an NC Civil War site):
Thomas Wolfe
Head to Riverside Cemetery to find tombstones for Thomas Wolfe and his parents. Signs will mark the way or grab a self-guided map at the entrance.
O. Henry
Another famous writer, O. Henry is also in eternal slumber at Riverside. You'll need to look for his real name, William Sydney Porter, though.
Wilma Dykeman
Lesser known, Wilma Dykeman is buried at Lewis Memorial Park.
Dykeman's books include The French Broad and Family Of Earth. She wrote both American fiction and nonfiction, chronicling Appalachian life.
Dykeman grew up in the Beaverdam area of North Asheville and attended Biltmore Junior College, which is now UNC-Asheville.
She advocated for economic protection and development along the French Broad River.
7. Watch Shakespeare In The Park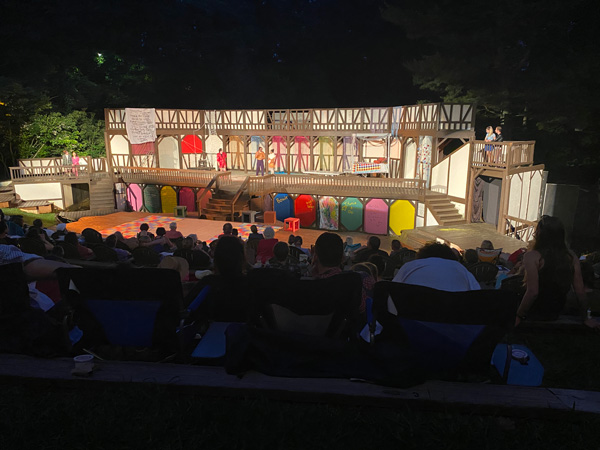 Literary tourism in Asheville doesn't get any better than Montford's Shakespeare in the Park.
Free to the public – but you may leave a generous donation – head to the Hazel Robinson Amphitheatre in Historic Montford.
From May until mid-fall, watch Shakespeare and other classic plays performed under the stars. Even better, vendors sell local beer and wine, and this is one of the best picnic spots in Asheville.
In the summer, fireflies descend, and the entire evening feels utterly magical.
Keep in mind that this isn't your average Shakespeare, though, and you'll laugh at the fun costumes, body glitter, and hipster music with dancing.
This is an evening you won't soon forget – or regret.
Explore even more of Asheville's parks and gardens.
8. Enjoy A Literary Tea Party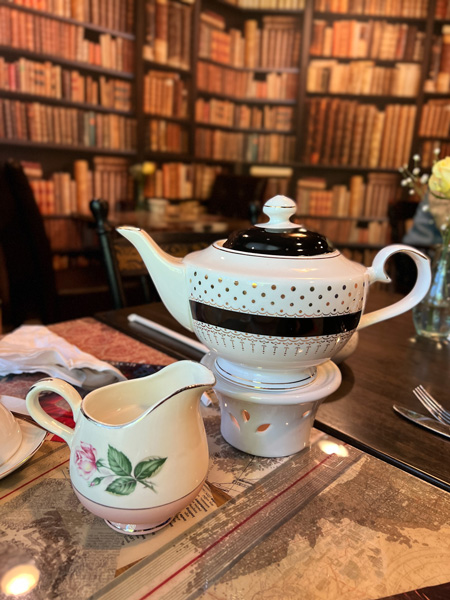 The city of Hendersonville, NC has the best things to do – shopping, beer, hiking, museums, and wineries.
One of our favorite HVL restaurants, The Book And Bee Cafe is a book lover's dream. Head here for brunch, lunch, and afternoon tea.
As you pull into the parking lot, a bright red British phone booth and colorful book spine-labeled stairs greet visitors. Glimpse the book page decor as you enter tea heaven.
Make reservations for afternoon tea, which includes finger sandwiches, sweet treats, and scones with jam.
Breakfast and lunch – with a large pot of tea – are first-come, first-serve seating with traditional American and Southern cuisine.
Dishes have fun bookish names, and you'll find gluten-free and dairy-free options. The soups, salads, and sandwiches are delicious.
While you are out day-tripping across WNC, explore Hendersonville's wineries, breweries, and fall apple orchards.
The Book & Bee Cafe and Tea | 795 Mountain Rd, Hendersonville, NC 28791
9. Tour An Abandoned Village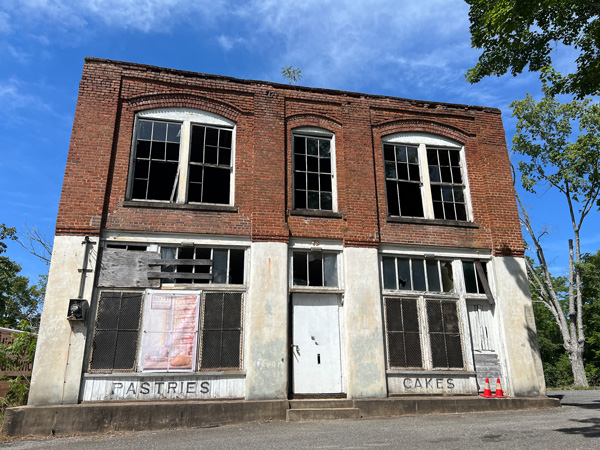 Asheville's literary tourism doesn't just stop within the city limits. Plus, for dark tourists and history lovers, you'll want to check out all of NC's creepiest ghost towns and abandoned places.
Henry River Mill Village in Hickory is about an hour away from Asheville.
Like DuPont – and as mentioned above – Henry River Mill Village is a filming location for The Hunger Games. Picture District 12.
Here, see where the Everdeen's lived, walk the grounds where Katness hunted, and picture Peeta standing on his family's bakery's steps.
Abandoned in the 1970s, this cotton mill village once housed an entire community of workers – even boasting its own currency, general store, and boarding school.
Much of the village is in disrepair – a victim of neglect, unexplained fires, and vandalism – but the site has big plans and renovations.
For now, buy a ticket to enter the grounds, take a short tour, or attend a special event.
Book an overnight stay on the property at their Bed & Breakfast or plan a photo shoot. Just be careful and follow all posted signs and warnings – you don't want to fall through a floor.
Nearby, explore Lake James, Morganton, and Nebo.
Henry River Mills Village | 4255 Henry River Rd Hickory, NC 28602
Literary Festivals In & Near Asheville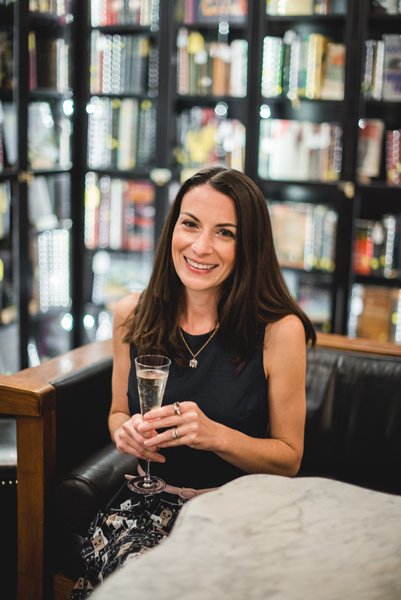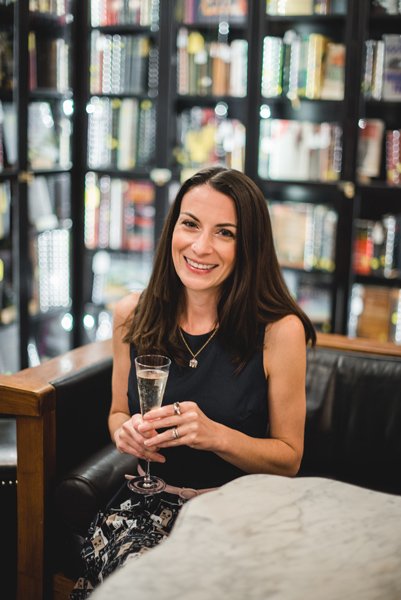 Asheville is a writer's dream with those wistful Blue Ridge Mountains.
A few literary festivals include the Carolina Mountains Literary Festival in nearby Burnsville, NC, and the WNC Spring Literary Festival.
Explore all of Asheville's top events and festivals.
See our Top Places To Stay in Asheville.

Don't miss out on these Asheville properties on Booking.com, too.
Loving This Asheville Literary Itinerary? Save It For Later:
Are you an Asheville bibliotourist?
Asheville's literary heritage is wild, inspiring, and thirst-quenching.
Are you ready to take a literary tour of Asheville, NC? What are your favorite things to do in Asheville for book lovers? Let us know in the comments!
You may also enjoy:
Murals In Asheville
Less Than 2 Days In Asheville
Asheville Weekend Itinerary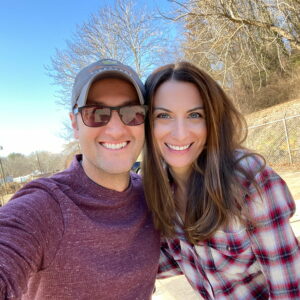 Christine (pronouns: she/her) is the owner and lead writer of Uncorked Asheville. After falling in love with those gorgeous Blue Ridge Mountains, Christine and her husband Tom decided to call Asheville, North Carolina home. When her pointy Italian nose isn't stuck in a book, Christine is adopting all of the kitties, getting lost in the forest, and drinking an ESB. She has a BA in English and History from Smith College, her MLIS from USF-Tampa, and is a former U.S. Fulbright Scholar - Indonesia. Christine also owns The Uncorked Librarian LLC with books and movies to inspire travel.