Is The NC Arboretum's Winter Lights in Asheville, NC worth it? Absolutely! Learn all that you need to know – from locals.
In 2022, The North Carolina Arboretum's Winter Lights show runs from November 18 – December 31, 2022.
As locals and Arboretum members, we attend Winter Lights in Asheville every year. In fact, the event is one of our annual Christmas traditions.
Even better, Winter Lights always looks a little different each year. The grounds are filled with new and creative displays throughout the main gardens and buildings.
The Education Center hosts a pop-up Christmas shop. Visitors can devour delicious peppermint hot chocolate, steaming apple cider, and holiday cookies.
For adults, enjoy wine and craft beer while walking the gardens.
Encounter s'more stations and firepits (weather permitting), live music, and special exhibits, sometimes including a wishing tree and storybook display.
And yes, the North Carolina Arboretum's Christmas lights festival is a walk-through event once again (versus a drive-thru).
So, if you are looking for holiday lights in Asheville, The NC Arboretum is one of the best spots to go with the entire family. It's also great for couples and solo travelers.
Below, uncover all that you need to know about Winter Lights at the Arboretum to plan the best trip – what to expect, what to do, ticket information, and when to go.
Then, explore more guides about visiting Asheville in the winter. Let's get started!
Discover all of the best places to see holiday lights in Asheville.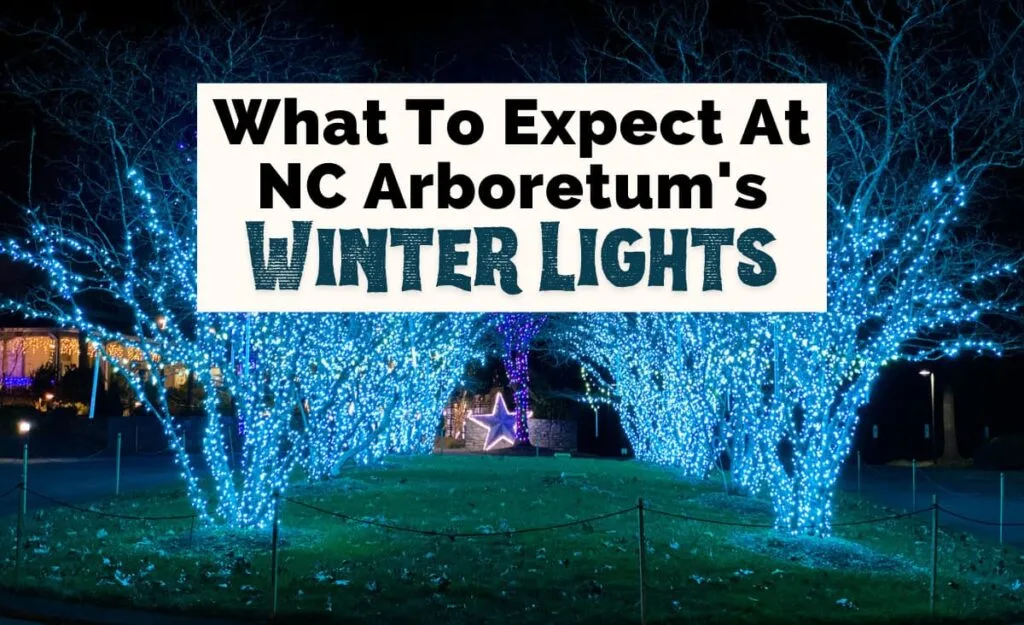 This post may contain affiliate links that earn us a commission at no extra cost to you. If you love these guides, support Uncorked Asheville here.
See our Top Places To Stay in Asheville.

Don't miss out on these Asheville properties on Booking.com, too.
What Are The Best Things To Do At The NC Arboretum's Winter Lights?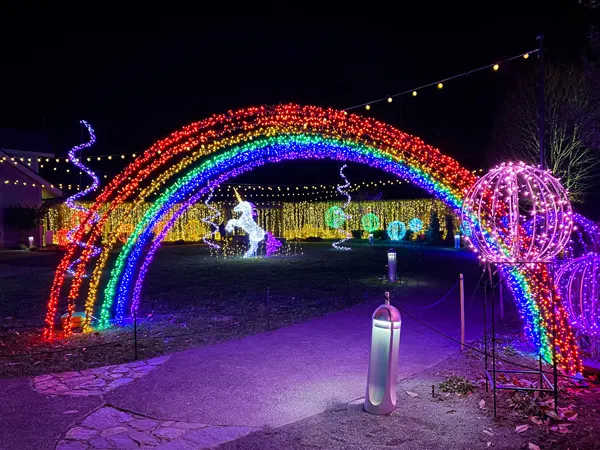 Winter in Asheville is breathtaking. Nothing beats a Biltmore Christmas or those purple and hot pink mountain sunsets.
If you are headed to Asheville for the holidays, The North Carolina Arboretum's Christmas lights are a must along with the Omni Grove Park Inn's Gingerhouse Display.
Plus, Winter Lights in Asheville is one of our favorite places to see holiday lights in all of Western North Carolina.
What can you do at Winter Lights?
Walk the gardens to see all of the vibrant and creative light displays. Find forest critter shadow boxes and nature-themed installations. Stroll under lighted tunnels.
Lights dance on trees to music and chirping birds. There's the iconic Christmas light tree past the quilt garden with chairs and firepits. The quilt garden's light show is brilliant.
Throughout the property, find s'more stations with kits sold at the Bent Creek Bistro and garden snack shack – weather permitting.
Each year, the Arboretum adds more and more unique displays, including a very hungry caterpillar and a unicorn with a rainbow arch.
We couldn't get enough of those garden gnomes (added in 2021). We might just have to make our own at home now.
Catch live music in the Bistro. Shop at the pop-up Christmas store filled with ornaments and warm winter apparel.
There is a bear storybook exhibit (2021) leading to the wishing tree at the Education Center. We wished for international travel. Everyone else wrote "world peace." What are you gonna do…
Of course, you'll see the Arboretum's winter gardens at night. The electric model trains are all lit up for the holidays and chugging along too.
Jovial volunteers will answer all of your questions and help guide your visit. While you may occasionally hit crowds at popular displays, everything is well-spaced out.
Be sure to check out our complete guide to The NC Arboretum to see all that you can do here. We love our membership to have access to the great hiking and biking trails.
Who Will Enjoy The North Carolina Arboretum's Christmas Lights?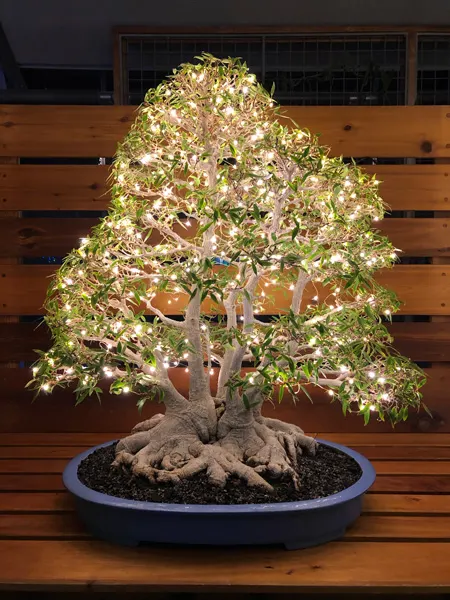 The NC Arboretum's Winter Lights is truly a magical event sure to get you in the holiday spirit – young or old.
This is one of the most family-friendly things to do in Asheville in the winter. We also think it's a great event to attend with friends and is quite romantic for couples.
Solo travelers will be surrounded by smiling people.
Just know that while The NC Arboretum is pet-friendly most times of the year, you cannot have a dog/pet at Winter Lights unless it is a service animal.
The event is also accessible for guests with limited mobility and wheelchairs. Find paved pathways throughout the gardens.
There are on-site restrooms at the Visitor Center and Bistro/Education Center.
You cannot enter with or use bicycles, roller skates, rollerblades, or skateboards while at Winter Lights
The North Carolina Arboretum's Winter Lights Tickets & Pricing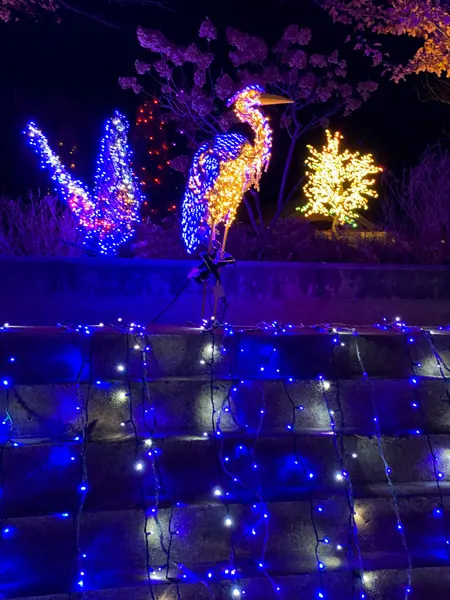 How Much Does It Cost To See Winter Lights At The Arboretum?
Tickets are sold by vehicle (based on vehicle size) and not by person. Show your ticket at the gatehouse as you are driving into the festival.
If you don't have advanced tickets – which we highly recommend – they charge an additional $10 for at-the-gate purchases between 7 to 9 PM, if there is space available.
The North Carolina Arboretum's Winter Lights tickets are both date and time specific. They are also non-refundable unless you purchase a Flex Ticket.
The cost of Winter Lights varies by date. Expect to pay about $30-$75 per personal vehicle. Prices rise in December through Christmas and New Year's.
Members receive a $5 discount. Just keep in mind that this information is subject to change; always double-check their website.
You may also contact The NC Arboretum with questions at winterlights@ncarboretum.org.
What Time Do Winter Lights Start?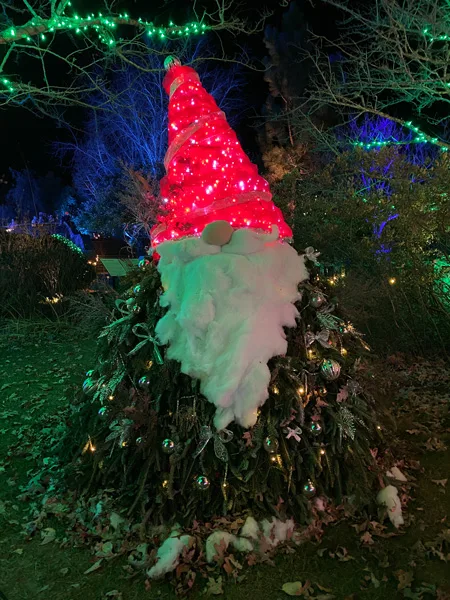 Winter Lights at The NC Arboretum goes from November 18 – December 31, 2022.
Tickets are timed for the event, and you select a 6, 7, or 8:00 PM entry slot. Ticket holders may enter any time between their chosen entry time and 9:00 PM.
Gates close at 9 PM, and the event commences at 10 PM. You must leave the property by 10:30 PM.
Be sure to check all other policies on the Arboretum's website.
We try to attend on a Monday or Tuesday evening in November to beat the crowds. By 7:30 PM, entering traffic may thin out versus the opening time slot.
Do You Have To Pay To Get Into The NC Arboretum (Besides Winter Lights)?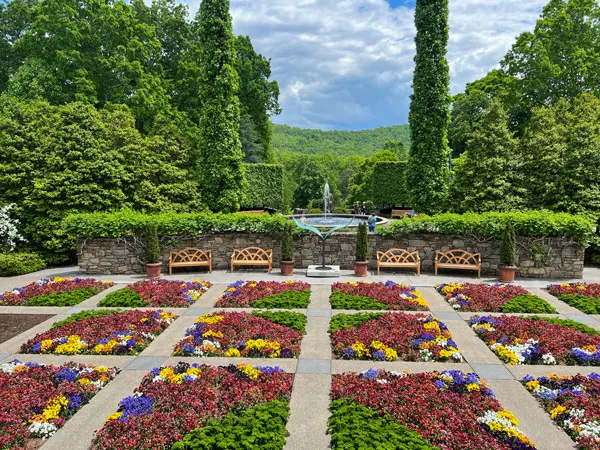 Yes; if you are visiting the Arboretum during the day and not for their Winter Lights Festival – which requires a separate ticket – you can either pay for a one-day parking pass or show your annual membership card.
A non-event parking pass starts at $16.00 for a personal/standard vehicle and $50 for larger vehicles.
Members park for free, and they have numerous tiered memberships. The two basic plans start at $50 for an individual and $75 for a household.
Aside from the parking fee and special events, there are no other admission charges on the property.
You may wish to purchase food and drinks at the Bent Creek Bistro, though, or buy gifts in their shop.
We've been NC Arboretum members since moving here, and we think the price is worth it for unlimited access to the trails and gardens.
The North Carolina Arboretum also has gorgeous picnic spots. You are allowed to bring your own food and drink. Just be sure to throw away your trash to keep the grounds and wildlife safe.
As members, we also receive discounts on special events including the NC Arboretum Winter Lights Festival.
How long will you spend at Winter Lights in Asheville?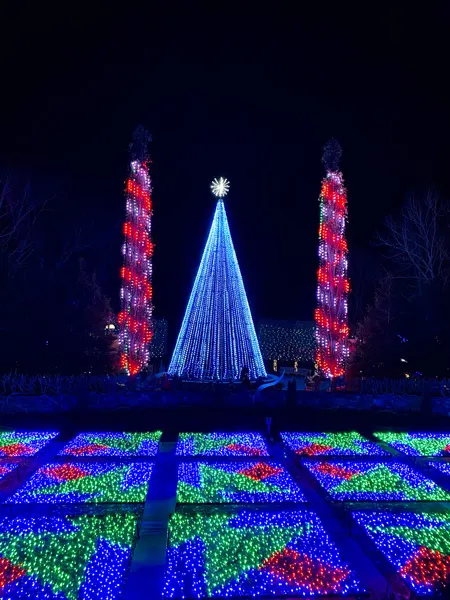 Although everyone is different and the weather may be for or against you, we personally budget about 1 to 1.5 hours for the North Carolina Arboretum's Christmas lights.
This includes parking, walking around the numerous light displays, stopping for hot cider and local craft beer, and lingering at the gift shop or for a live music performance.
Know that it may be chilly and the WNC mountains see freezing temperatures in the winter. However, you may also catch a 60-degree day.
Winter Lights also goes on rain or shine – unless the Arboretum closes for a weather-related emergency.
Never Miss Another Asheville Update
---
Tired of generic Asheville travel itineraries? Experience Asheville like a local with our free Asheville Favorites checklist, including restaurants, breweries, and hiking. Plus, get local updates – including events and hidden gems – straight to your inbox. Sign up here.
The North Carolina Arboretum Information & Contact Info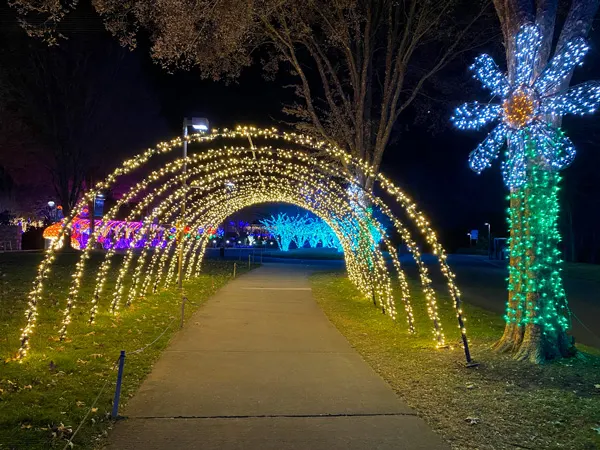 Address:
The North Carolina Arboretum
100 Frederick Law Olmsted Way
Asheville, NC 28806
Phone: 828-665-2492
Website: https://www.ncarboretum.org/

Located in southwest Asheville off of the Blue Ridge Parkway and NC-191/Brevard Road, The NC Arboretum is a part of the Pisgah National Forest.
Use "The North Carolina Arboretum" for GPS or "20 Frederick Law Olmsted Way Asheville, NC 28806." If you are coming from downtown Asheville, expect a 25+-minute drive.
Read more about Asheville's other parks and gardens.
Save This NC Arboretum Winter Lights Guide For Later: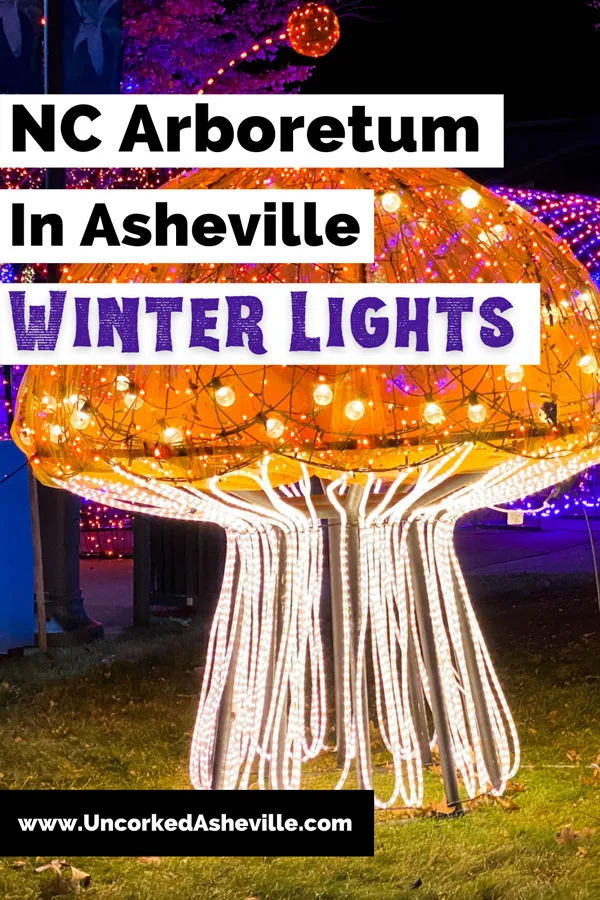 Asheville, NC Hotels
Hotels and B&Bs tend to book up fast in Asheville, especially in the fall, spring, and around holidays. Make dinner reservations wherever you can, too. A few hotels to consider that either we, our friends, or others highly recommend include:
Downtown Asheville
The Foundry Hotel
AC Hotel By Marriott Downtown Asheville
Hotel Indigo
Aloft – Downtown Asheville *One of our top picks; they renovated in 2020
Near The Asheville Outlets/Biltmore
Hampton Inn And Suites Asheville Biltmore Area *Our second favorite pick. We stayed here before we moved.
DoubleTree By Hilton Biltmore/Asheville
Grand Bohemian Hotel Asheville

North Asheville/Montford
The Omni Grove Park Inn *We frequently stop by the Grove Park Inn for sunsets, drinks, and food.
1900 Inn On Montford
Don't miss our Top Asheville Hotel, Resort & B&B Picks Here.
Have you been to Winter Lights in Asheville, NC?
Have you seen the Arboretum's Christmas lights? What did you think? What is your favorite light display in Asheville? Let us know in the comments!
For the holidays in Western North Carolina, you may also enjoy:
Farms To Get A Christmas Tree
AVL Winter Hikes
Best Things To Do In Asheville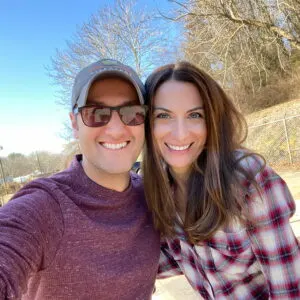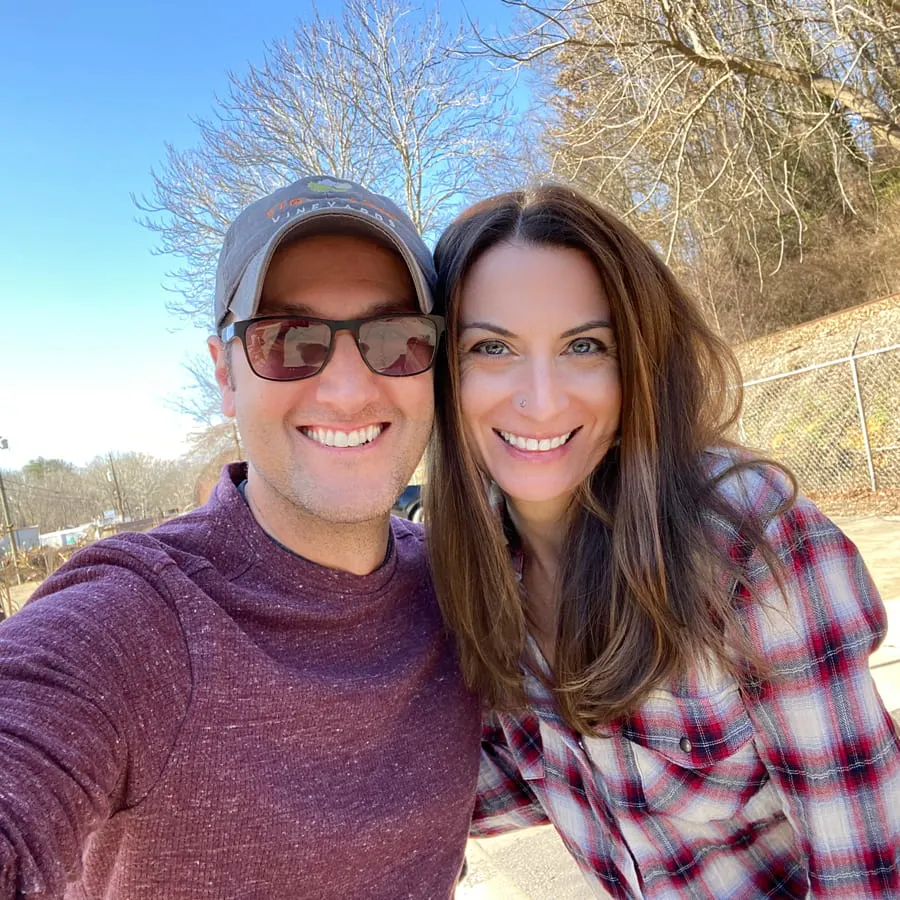 Christine (pronouns: she/her) is the owner and lead writer of Uncorked Asheville. After falling in love with those gorgeous Blue Ridge Mountains, Christine and her husband Tom decided to call Asheville, North Carolina their home. When her pointy Italian nose isn't stuck in a book, Christine is adopting all of the kitties, getting lost in the forest, and drinking an ESB.
Christine has a BA in English and History from Smith College, her MLIS from USF-Tampa, and is a former U.S. Fulbright Scholar - Indonesia. She also owns The Uncorked Librarian LLC with books and movies to inspire travel.