Established in 1885, Asheville's Riverside Cemetery is the burial place for famous authors and prominent citizens – and a must for history lovers.
When people talk about the best things to do in Asheville, we are pretty sure that very few recommend a Sunday morning stroll through the local cemetery.
But, that's why we are here. As literary travelers and history enthusiasts, we travel wanting to know so much more about a place.
Sure, Asheville has stellar food and beer, but it also has spunk, ghosts, and loads of spooky and juicy stories.
Historic Riverside Cemetery in the Montford District of Asheville, North Carolina is perfect for diving deeper into the beauty of the city's beating heart.
Thomas Wolfe, for example, aired out Asheville's jovial dirty laundry in Look Homeward, Angel. What a gossip.
Along with his parents, pay homage to Wolfe at Riverside Cemetery. Literary great O. Henry is also buried here.
In fact, you'll find many of Asheville's groundbreaking citizens and key historical players laid to rest at Riverside.
Plus, encounter intricate tombstones as well as 3.5 miles of paved walking trails.
So, is a stroll through Riverside Cemetery right for you?
As Asheville locals, we'll share what to see and expect at Historic Riverside Cemetery. We, of course, think it's worth a visit or ten. Let's get started.
*Much of our information was cross-referenced from the thorough handout provided at the gates of Riverside Cemetery.
Thank you to the overseeing cemetery and park staff for laying out such a comprehensive map and guide.
See what else you can do in Asheville's Historic Montford District.
This post may contain affiliate links that earn us a commission at no extra cost to you. If you love these guides, support Uncorked Asheville here.
Riverside Cemetery Walking Information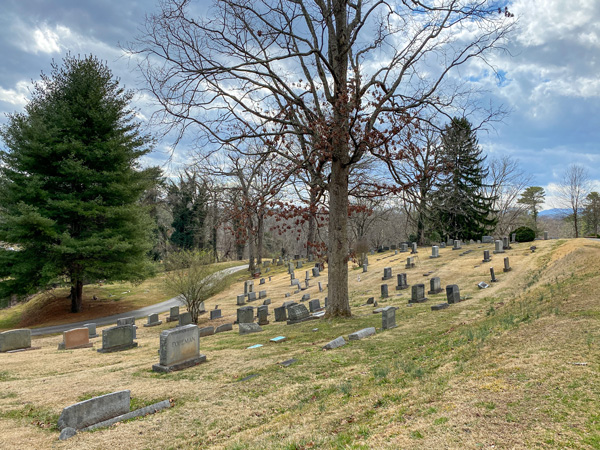 Address: Riverside Cemetery, 53 Birch St, Asheville, NC 28801
Parking: Along the paved roads
Walk Difficulty: Easy
Length: 3.5 miles of roads to explore
Duration Of Walk: One hour
Type Of Walk: Casual stroll and kid-friendly

Explore more of Asheville's short walking trails.
Why Visit Historic Riverside Cemetery?
About Riverside Cemetery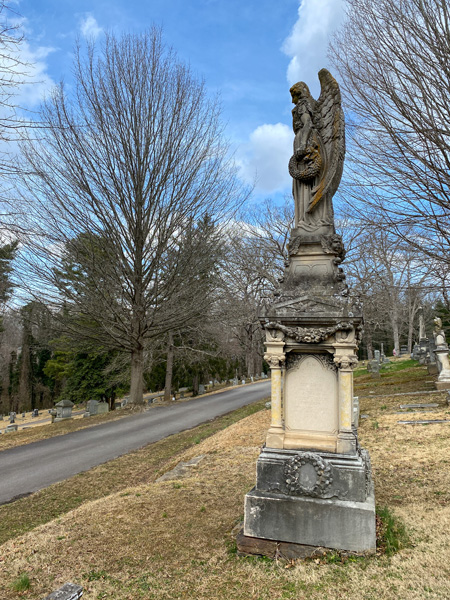 Designed and built in 1885, Historic Riverside Cemetery is a must for history and literature lovers.
Explore 87 acres of picturesque grounds filled with flowers that overlook the French Broad River.
Plus, you'll learn a lot about Asheville's rich history – good and bad. North Carolina is full of local folklore, ghost stories, and urban legends.
Asheville Cemetery Company bought this land and named the burial site "Asheville Cemetery" before it became Riverside Cemetery.
As of the 1950s, when funds were low, the City Of Asheville's Parks and Recreation Department adopted and now maintains the grounds.
Riverside Cemetery is still an active cemetery – you can purchase a plot. According to the National Park Service, 13,000+ people are buried here.
There are also 9,000 monuments and 12 family mausoleums. Many of the structures are Victorian-style.
Today, you'll find 3.5 miles of paved roads perfect for a stroll.
Many of the gravestones are intricately designed and don't miss a detailed map with descriptions of notable spots at the cemetery entrance and information board.
The most famous graves, like Thomas Wolfe and O. Henry, have signs along the road to indicate where to look.
According to Asheville Parks and Rec, about 4,000 people visit Riverside Cemetery each year.
For historical and genealogical research or cemetery tours, you can call (828) 350-2066 to schedule an appointment.
While here, explore even more of Asheville's parks and gardens.
Famous Graves At Riverside Cemetery
Thomas Wolfe (1900-1938)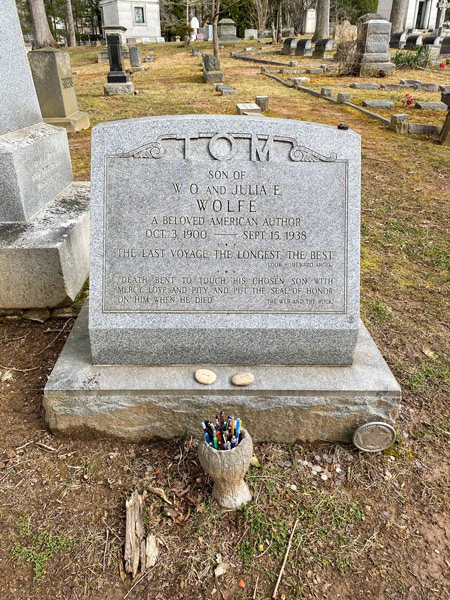 Around .25 miles past the cemetery entrance on a small hill, discover the final resting spot for beloved local author, Thomas Wolfe.
Thomas Wolfe is most famous for his Asheville-based novel, Look Homeward, Angel.
Although a well-known American historical fiction novel, the story is a loose retelling of Wolfe's life growing up in Asheville, NC.
Most notably, Wolfe changed the names and spellings of his Asheville community members – but barely. They all recognized each other.
Of course, Asheville residents weren't stoked to see their dirty laundry aired out for the world – until Wolfe's fame grew.
Although a bit long-winded, Look Homeward, Angel is a vibrant tale of Asheville in the early 1900s.
The story follows a young boy – presumably Wolfe – dreaming of escaping a 'provincial' life through higher education.
Some visitors leave pens in a vase to honor Wolfe.
William Oliver (W.O.) Wolfe (1851-1922) and Julia Elizabeth Westall Wolfe (1860-1945)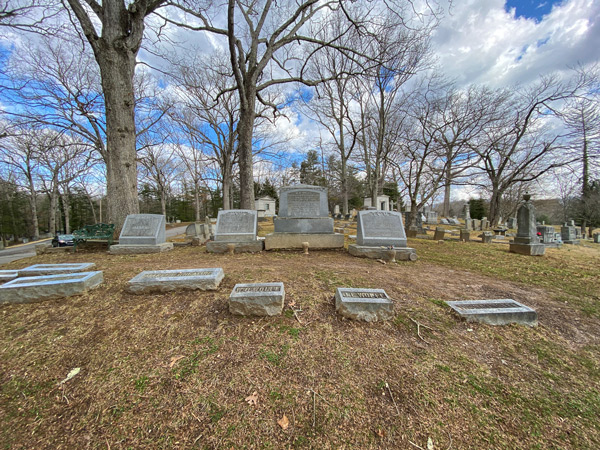 Along with Thomas Wolfe's grave, find W.O. Wolfe and Julia Elizabeth Westall Wolfe – his parents. Julia is famous for her downtown boarding house that you can tour today.
As a monument mason, you'll see W.O.'s "Angels" throughout Riverside Cemetery. They are labeled on Riverside Cemetery's map, too.
Look for the Buchanan Angel imported from Italy and installed by W.O. Many think this is the "Look Homeward Angel" from Wolfe's novel, but it's technically not.
W.O. also built the McElveen Mausoleum in 1900, which dons a Wolfe angel on top from Carrera, Italy.
William Sydney Porter (O. Henry) (1862-1910)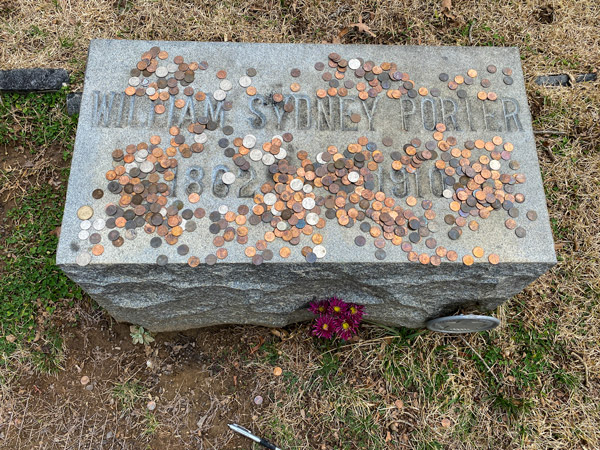 Although William Sydney Porter is said to have died in NYC, he is buried at Riverside.
Also, note that some of the remains at Riverside Cemetery were removed from other burial grounds and reinterred here.
William Sydney Porter is most famously known as O. Henry. His short stories encapsulated the life of the everyday people of New York.
Visitors leave pennies in honor of a few lines from "The Gift of the Magi:"
ONE DOLLAR AND EIGHTY-SEVEN CENTS. That was all. She had put it aside, one cent and then another and then another, in her careful buying of meat and other food. Della counted it three times. One dollar and eighty-seven cents. And the next day would be Christmas.

The Gift of the Magi by William Sydney Porter
O. Henry penned this short story in 1905, and it's about an impoverished couple saving pennies to buy each other Christmas gifts. Read the complete short story here.
P.S. If you are intrigued by these NC authors, you might enjoy touring the Carl Sandburg Home in Flat Rock, NC.
Deemed "Poet of the People," Sandburg won multiple Pulitzer Prizes for his poetry and biography of Abe Lincoln.
Today, his home is National Historic Site with a farmyard and hiking trails.
Read more about North Carolina's most famous writers.
Never Miss Another Asheville Update
---
Tired of generic Asheville travel itineraries? Experience Asheville like a local with our free Asheville Favorites checklist, including restaurants, breweries, and hiking. Plus, get local updates – including events and hidden gems – straight to your inbox. Sign up here.
More Notable Burial Sites & Monuments
The Walking Guide provided at the gates of Riverside marks 76 notable sites, including prominent Asheville citizens, educators, doctors, politicians, generals, city developers, and ministers.
To name just a few more:
Born a slave, you'll find the burial site for Isaac Dickson (1839-1919). After the Civil War, Dickson became the first African American on the Asheville City School Board.
George Masa (1881-1933), born Masahara Iizuka, was an influential Japanese photographer.
He started out in Asheville as a valet at the Grove Park Inn and was instrumental in the creation of the Great Smoky Mountains National Park.
In addition, James Harrison Posey (1833-1917) was one of Abraham Lincoln's bodyguards.
Lillian Exum Clement Stafford (1894-1925) was the first woman elected to the North Carolina General Assembly at 26 years old.
You will also find Confederate generals including Robert B. Vance, and NC's governor during the Civil War, Zebulon Baird Vance.
There are sections for veterans of war, as well.
Fred Miles constructed a monument in memory of the stone masons that worked on Biltmore Estate. Many passed away from accidents or illnesses before completing the project.
Is Riverside Cemetery Haunted?
Many say that Riverside Cemetery is haunted. In fact, it might be one of the most haunted cemeteries in NC. How's that for clickbait?
There are most likely unmarked graves, and people claim to have heard gunshots and cannon fire.
The Battle of Asheville took place decades before in 1865 around what is today the University of North Carolina – Asheville.
People have mentioned sightings of marching Confederate soldiers. Others have seen ghostly children running around and playing, reminding visitors of a yellow fever epidemic.
During WWI, Hot Springs, NC was an internment camp for German officers. Eighteen of the interred officers died from typhoid fever and are buried at Riverside Cemetery.
We think Riverside Cemetery is more peaceful than haunting, but atrocities, tragedies, and wars have occurred around this area.
Explore even more of Asheville's haunted places.
When Is The Best Time To Visit Riverside Cemetery?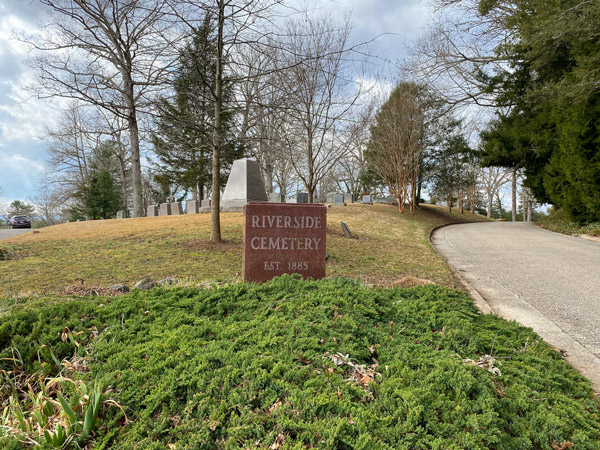 Riverside Cemetery is open all day, every day during daylight hours, usually around 8 AM.
We find the cemetery especially beautiful and peaceful early in the morning on a spring day. Others love a walk in the mist and fog.
Tom says that he might have been hesitant to go on a second date if he knew we'd enjoy walking a cemetery 'for leisure' on a Sunday morning.
Where In Asheville Is Riverside Cemetery?
Find Riverside Cemetery at 53 Birch Street in Asheville, NC 28801.
Drive through gates and can park anywhere alongside the paved roads. Just drive slowly and watch for pedestrians.
Located in one of the best Asheville neighborhoods, Historic Montford, you'll find multiple areas here that land on the National Register of Historic Places.
Montford sits between downtown Asheville and North Asheville, showcasing the diverse architecture around Asheville's big boom, including the construction of The Grove Park Inn and Biltmore.
Encounter Neo-Classical apartment buildings, Victorians, Colonial Revivals, and bungalows.
Montford was also home to Highland Hospital, a progressive mental health institution back in the day. Zelda Fitzgerald along with 8 other people died in the Highland Hospital fire.
She and F. Scott Fitzgerald would visit Asheville in the summers. He would stay at the Grove Park Inn.
While Montford is a mostly residential area, visitors will find a plethora of quaint Bed & Breakfasts, restaurants, and easy access to downtown.
Also, catch Shakespeare in the Park by the Montford Park Players.
Don't miss our complete neighborhood guide to Montford. If you love history & literature, be sure to read more about Asheville's bibliotourism.
What Can You Do After Visiting Riverside Cemetery?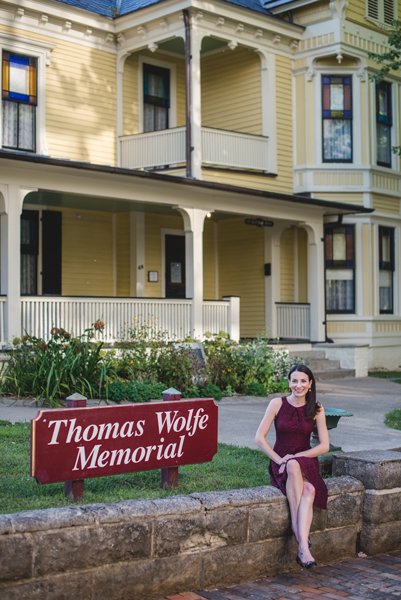 Tour The Thomas Wolfe Memorial
Are you inspired by the history of Riverside Cemetery and craving more?
Even if you have never read Thomas Wolfe's books, we highly suggest taking a tour of the Thomas Wolfe Memorial. We've been multiple times and love it.
This memorial on Market Street is Wolfe's mother, Julia's, boarding house. His childhood home no longer stands.
However, Wolfe spent most of his youth at this boarding house. Julia was quite the character, entrepreneur, and feminist.
Visitors can take a guided tour of the home, drop into the museum, and watch a short and educational film. Go for the stories…they are incredibly entertaining.
Soak Up More History At Biltmore Estate
Think George and Edith Vanderbilt, Frederick Law Olmsted, and Richard Morris Hunt as just a few prominent names behind America's Largest Home, Biltmore Estate.
Constructed in the late 1880s with 250 rooms, George W. Vanderbilt built this iconic Châteauesque-style mansion. You'll love the gardens, hiking trails, Estate tours, and winery.
As annual passholders, we always recommend visiting Biltmore at least once. Grab our complete guide to making the most of Biltmore.
Explore The Local Murals Around Downtown
If art and history are your jam, you'll love Asheville's mural scene.
Find street art that honors some of Asheville's most noteworthy citizens as well as one giant canvas for stellar local artists.
Grab A Drink At The Omni Grove Park Inn
Don't miss a breathtaking sunset at The Omni Grove Park Inn.
Another historic Asheville icon, enjoy a romantic dinner at the Edison along with seasonal cocktails and that famous mountain sunset.
The Grove Park Inn boasts the best "rooftop" bars.
Explore Asheville's Museums
If you love history, art, and science, be sure to check out these must-visit Asheville museums.
Find exploratory museums for children, modern art, and haunted historic sites.
Save This Post For Later
Where Can You Stay Around Asheville?
Where To Stay In Asheville
Explore the best places to stay in Asheville. A few of our top suggestions:
Aloft – Downtown Asheville – Centrally located and recently renovated, enjoy a rooftop pool, gorgeous bar, and trendy rooms.

The Omni Grove Park Inn – Treat yourself to a luxury resort in North Asheville, complete with breathtaking sunsets, terrace bars and dining, and loads of Asheville history.

Hampton Inn And Suites Asheville Biltmore Area – A budget-friendly but renovated hotel on busier Brevard Road that's perfect if you wish to stay between Biltmore Estate, Downtown Asheville, and the Blue Ridge Parkway.

Asheville Cottages – Gorgeous 1 to 3-bedroom cottages with a private deck, housing a grill and hot tub. Find luxurious heated-floor bathrooms with rain showers, a well-stocked kitchen, and the cleanest rooms in town.

Foundry Hotel – An oasis in Downtown Asheville, Foundry Hotel is a nod to AVL's industrial history. Find famous restaurant Benne on Eagle while sleeping ensconced in charm and elegance.

Country Inn & Suites by Radisson, Asheville Westgate, NC – Located off of the highway as you enter AVL, find a sleek and clean hotel at a great price.

Black Walnut B&B Inn – Designed by Biltmore's supervising architect, Richard Sharp-Smith, this 1899 inn is close to Downtown AVL and serves afternoon tea. Two rooms are pet-friendly.
Don't miss out on these Asheville properties on Booking.com, too.
Have you been to Riverside Cemetery in Asheville?
Have you visited Riverside Cemetery? What parts of Asheville's history fascinated you the most? Which memorials and sites did you visit? Let us know in the comments.
Are you a literature and history lover? You may love these posts:
Must-Visit Asheville Bookstores
Top Books Set In NC
More helpful posts for your Asheville visit:
Our Guide Of The Best Things To Do In Asheville
Asheville Hiking Guide